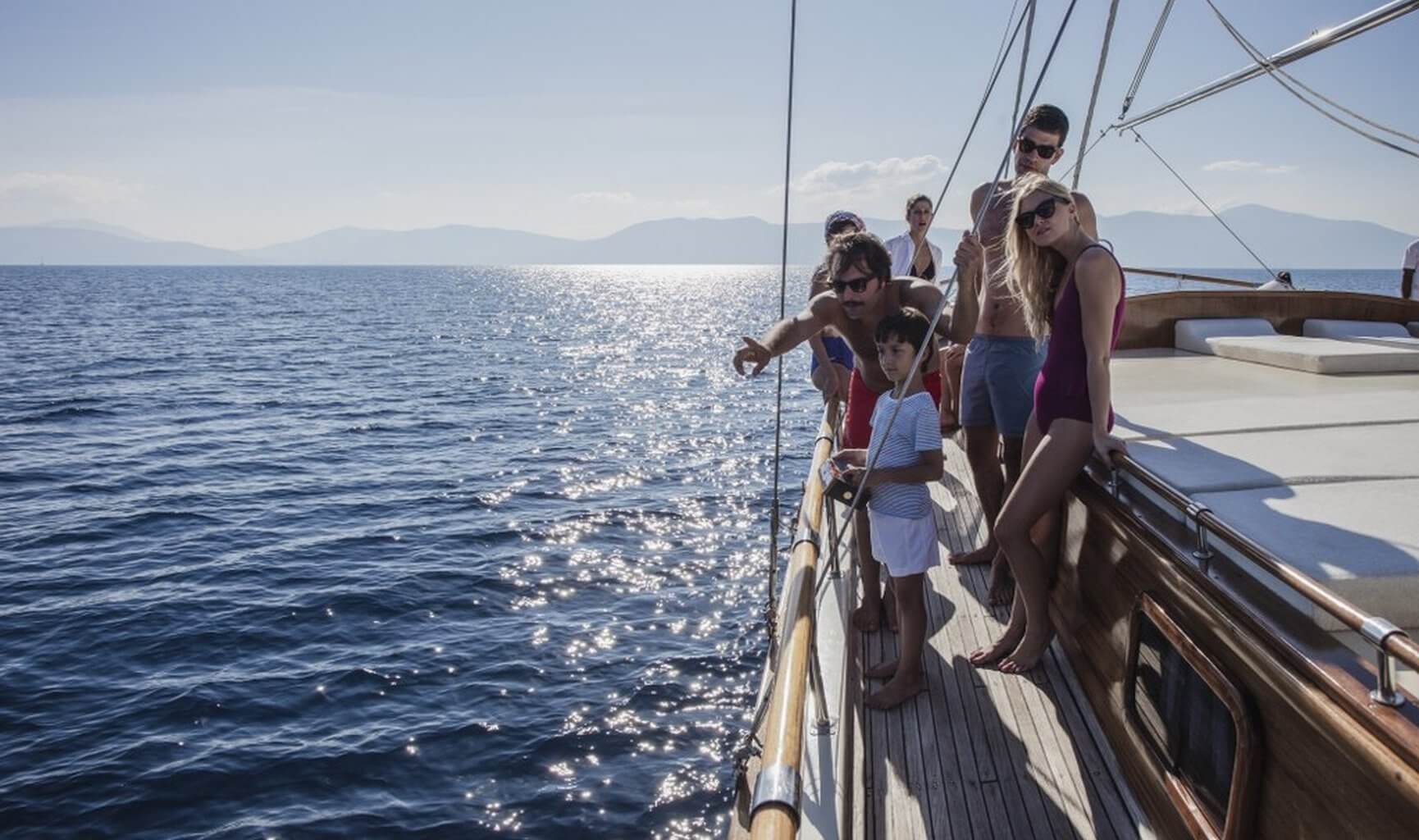 The best Croatia sailing tours for families with small kids
If you are interested in a family sailing vacation in Croatia – keep reading. The itinerary described in this post is 100% modified for Families that prioritize kids and their safety.
You know what they say.
Happy Kids = Happy Wife
Happy Wife = Happy Life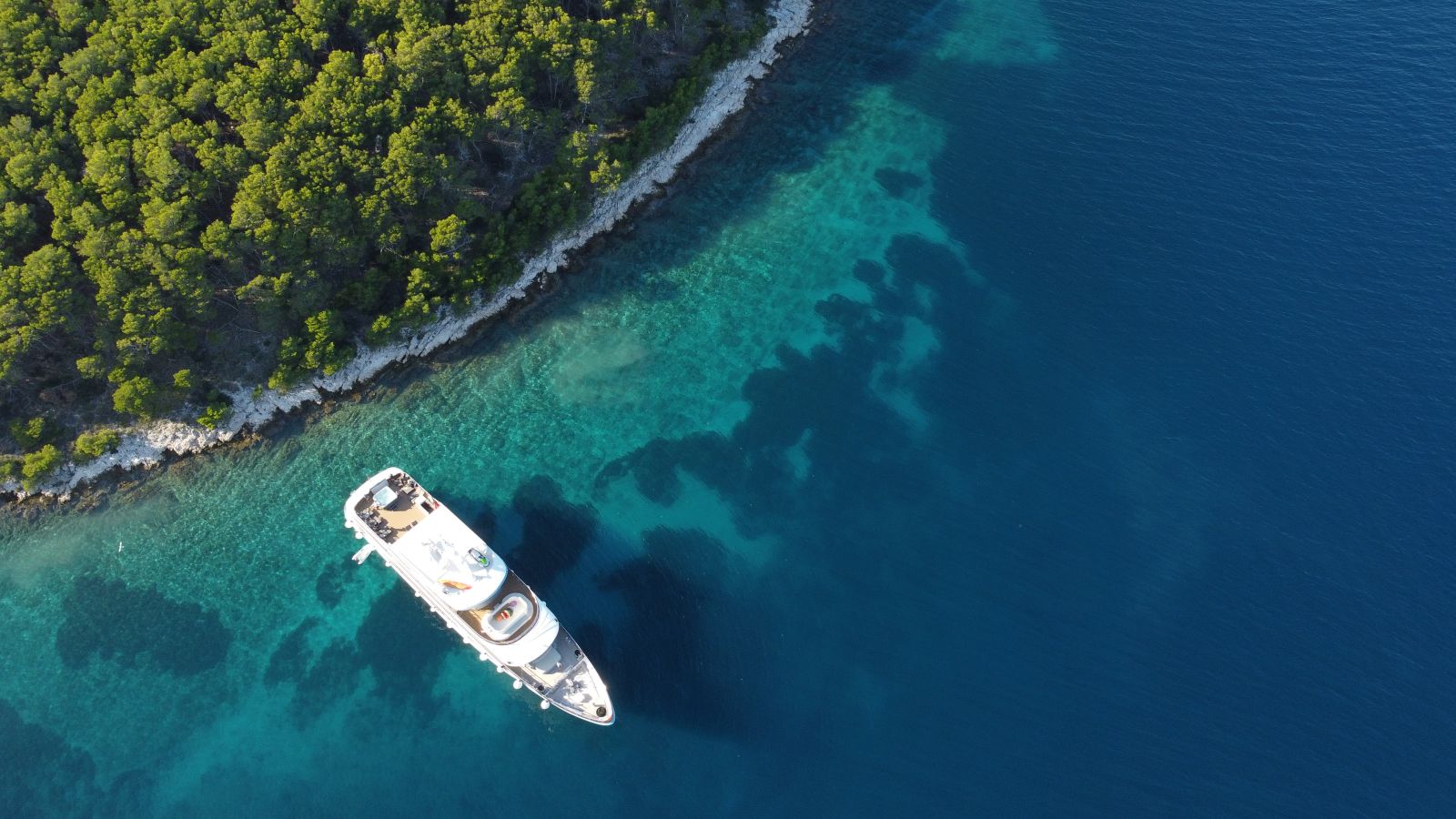 Family sailing tour in Croatia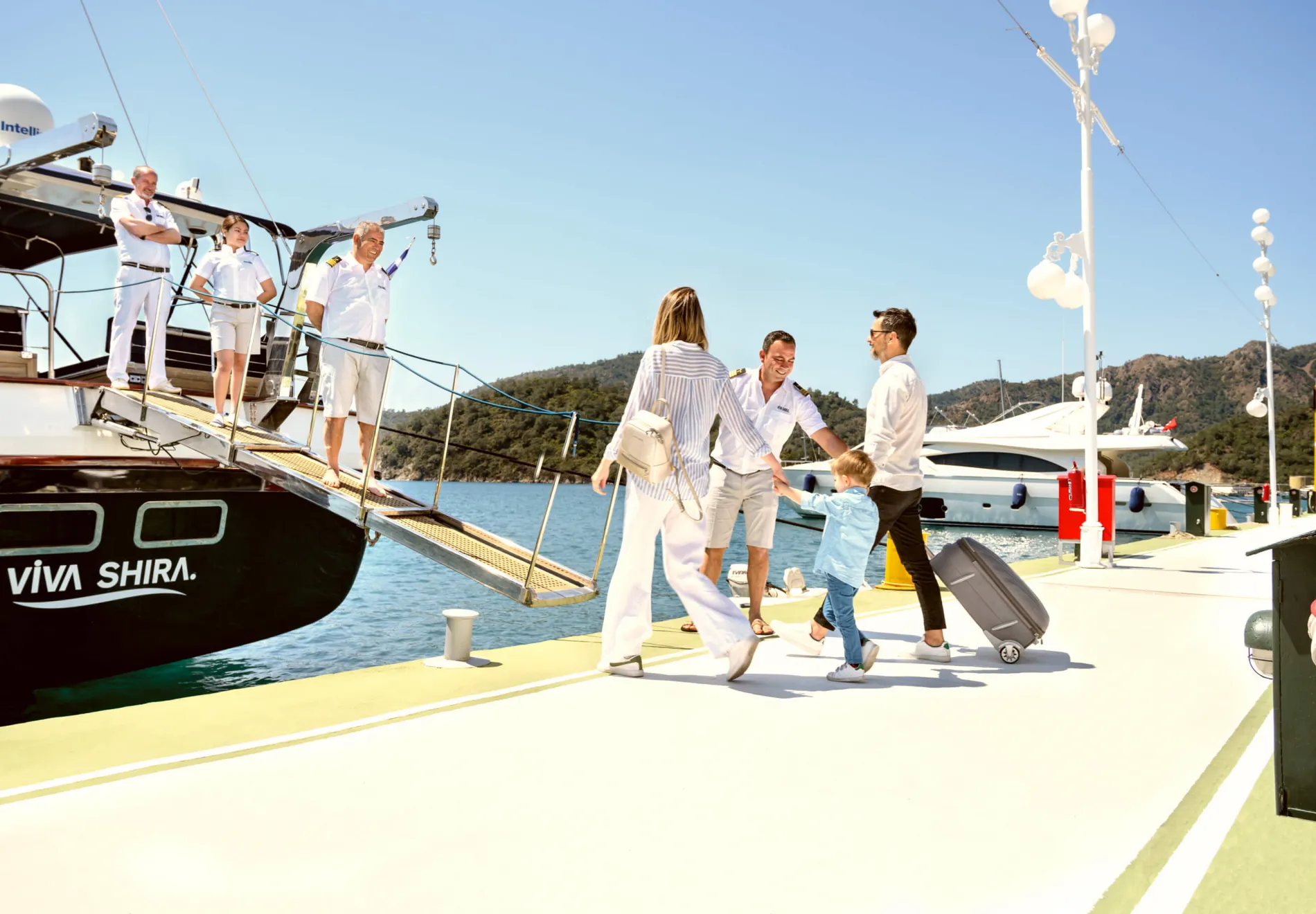 An important note
Different things matter to different groups. What is incredibly important on a cruise for a group of active seniors is completely UNIMPORTANT to people going on a family sailing holiday in Croatia with small kids.
This is what we learned from our 16 years of experience in organizing sailing tours for different types of groups in Croatia.
But regarding family sailing, Goolets 24/7 assistance provides you with a completely private and safe vacation in which your kids will be happy and you will feel rested.
To sum it up – 80% of the time our groups with small children were the happiest when: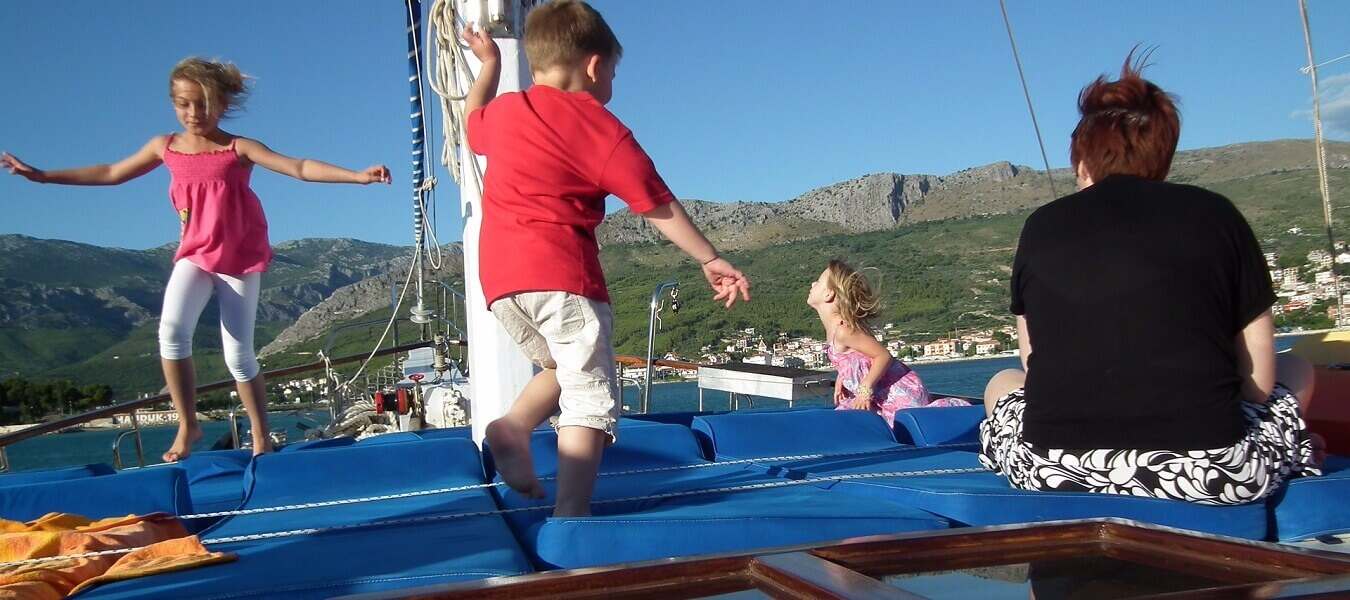 The kids enjoyed the sailing trip the most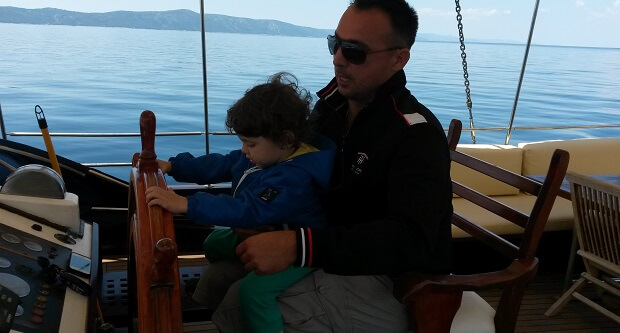 When the gulet was safe and the crew was "children oriented" and helpful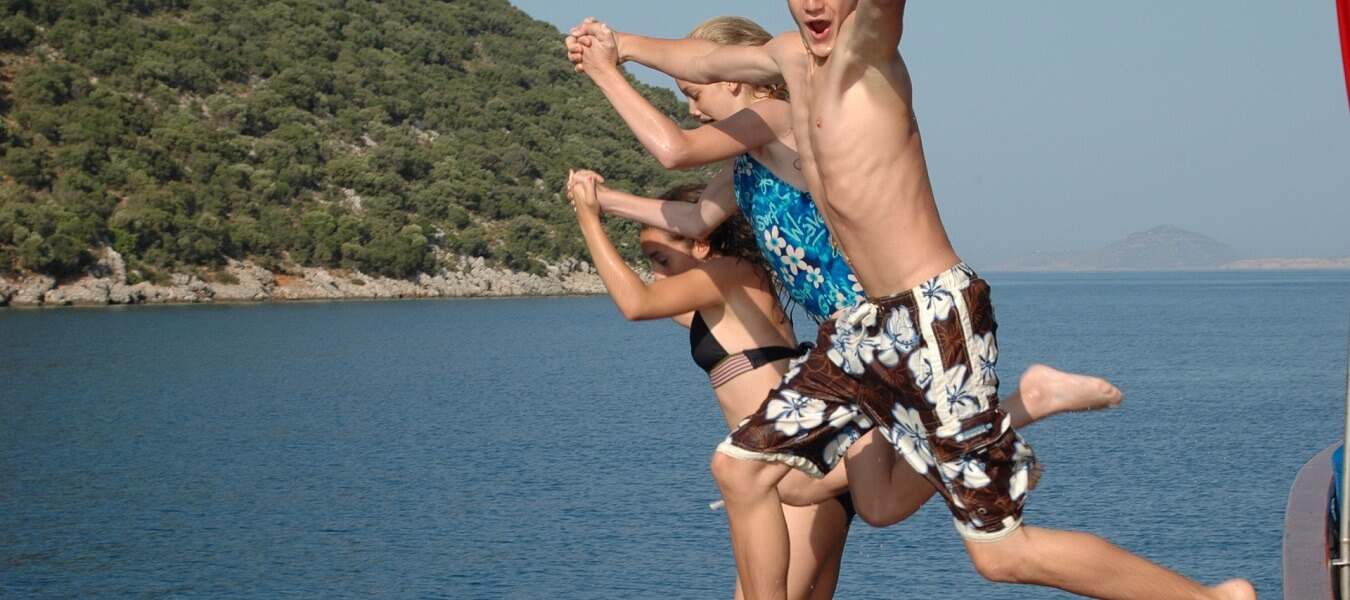 The sailing itinerary included lots of different beaches and spots perfect for the kids
When the cruise was organized in a way that parents could also take a breather
These are the most important points from the "parents' side". When we talked with yacht owners who have tons of experience, here is what they told us matters the most.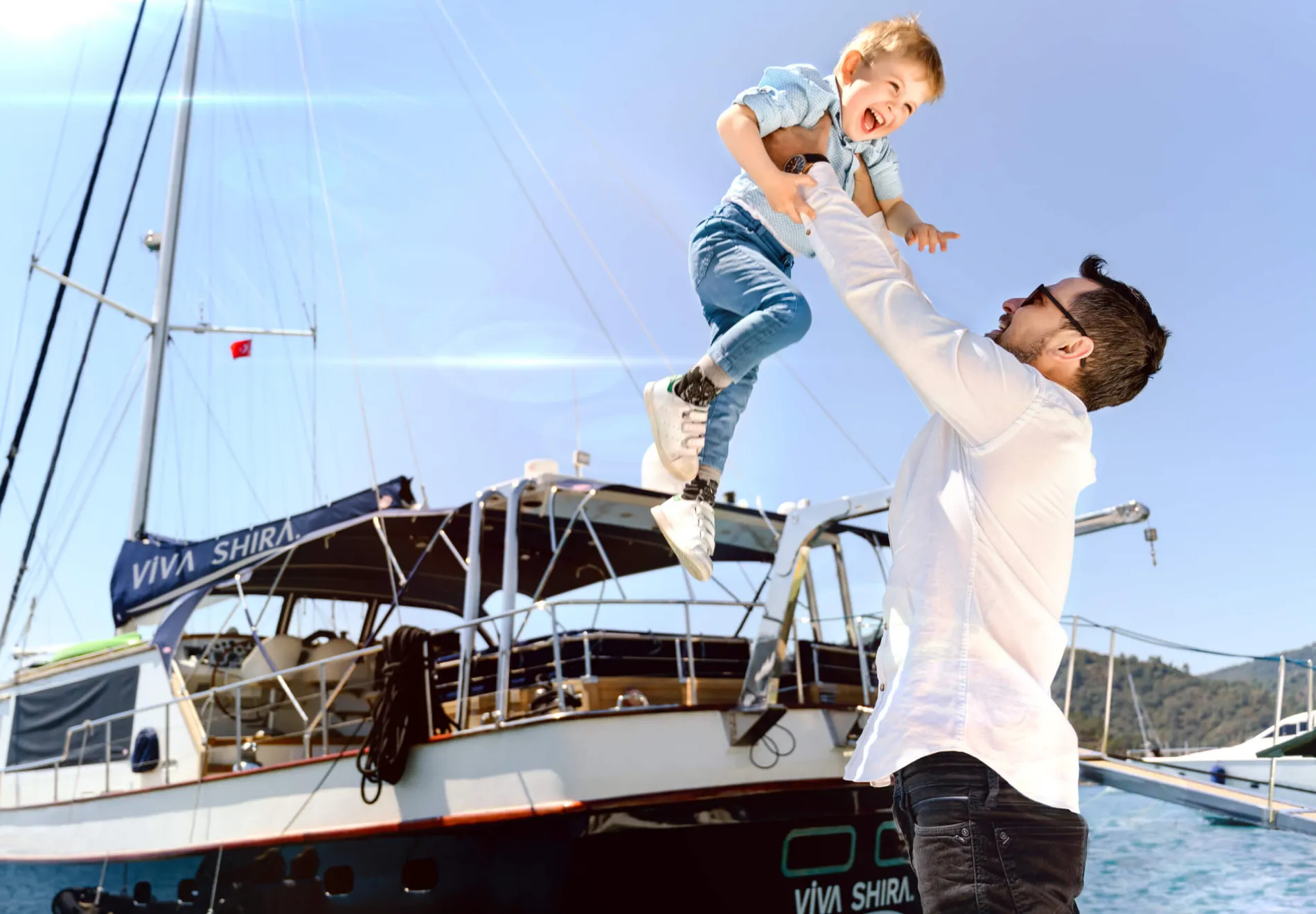 Cruise Distances should be shorter – Less Motoring
When a yacht is cruising from one destination to another for parents it usually means reading a nice book, having a cold beer or just taking a nap.
Forget about it if you are traveling with small children (especially if they had some sugar for breakfast).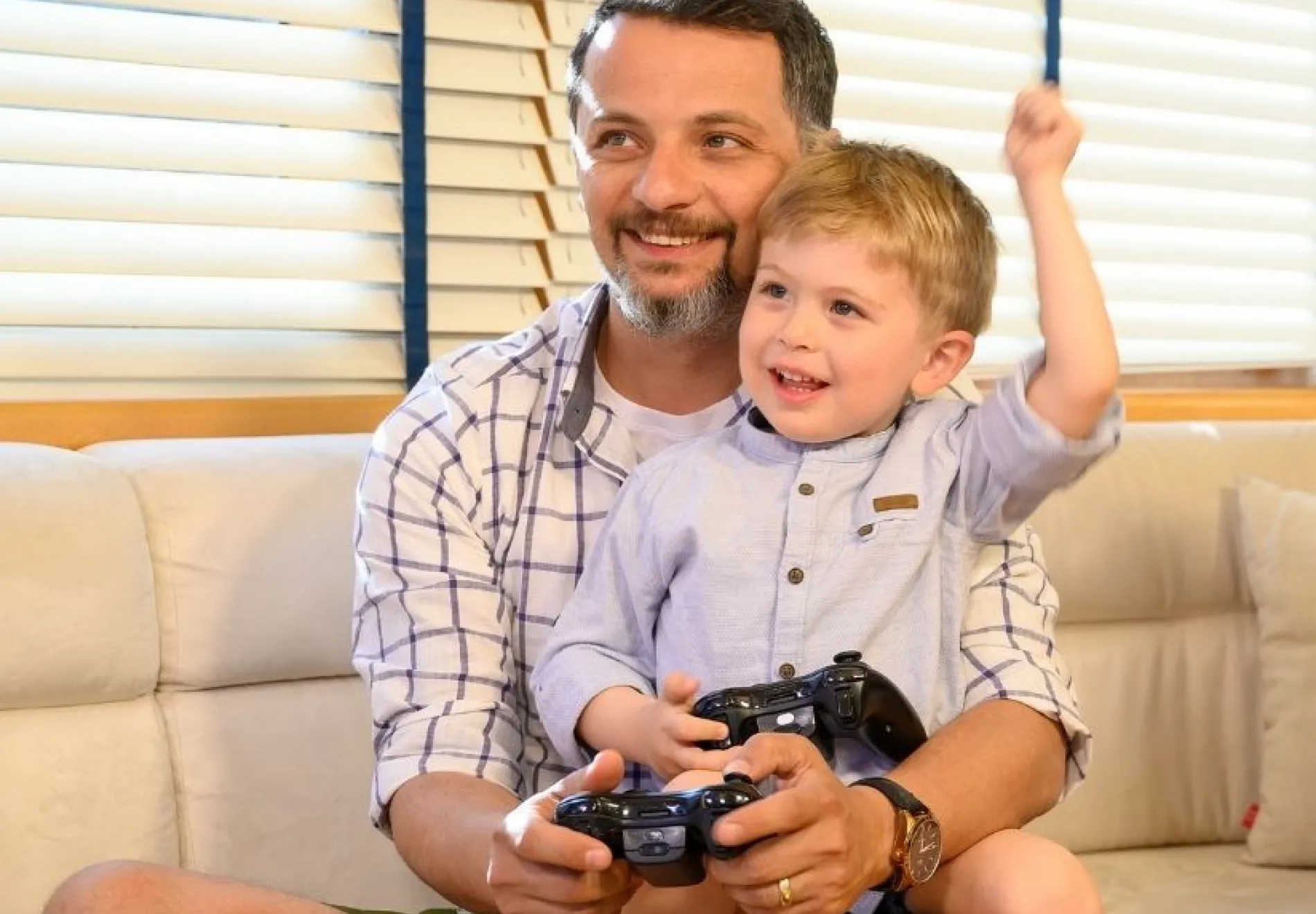 While a yacht is sailing or cruising children can do only 2 things:
Watch TV in the salon or on your computer in a cabin
Jump around the yacht and play
Both options are okay, however, you always need to keep an eye on what they are doing – which will mess up with your "beer" and "book" plans.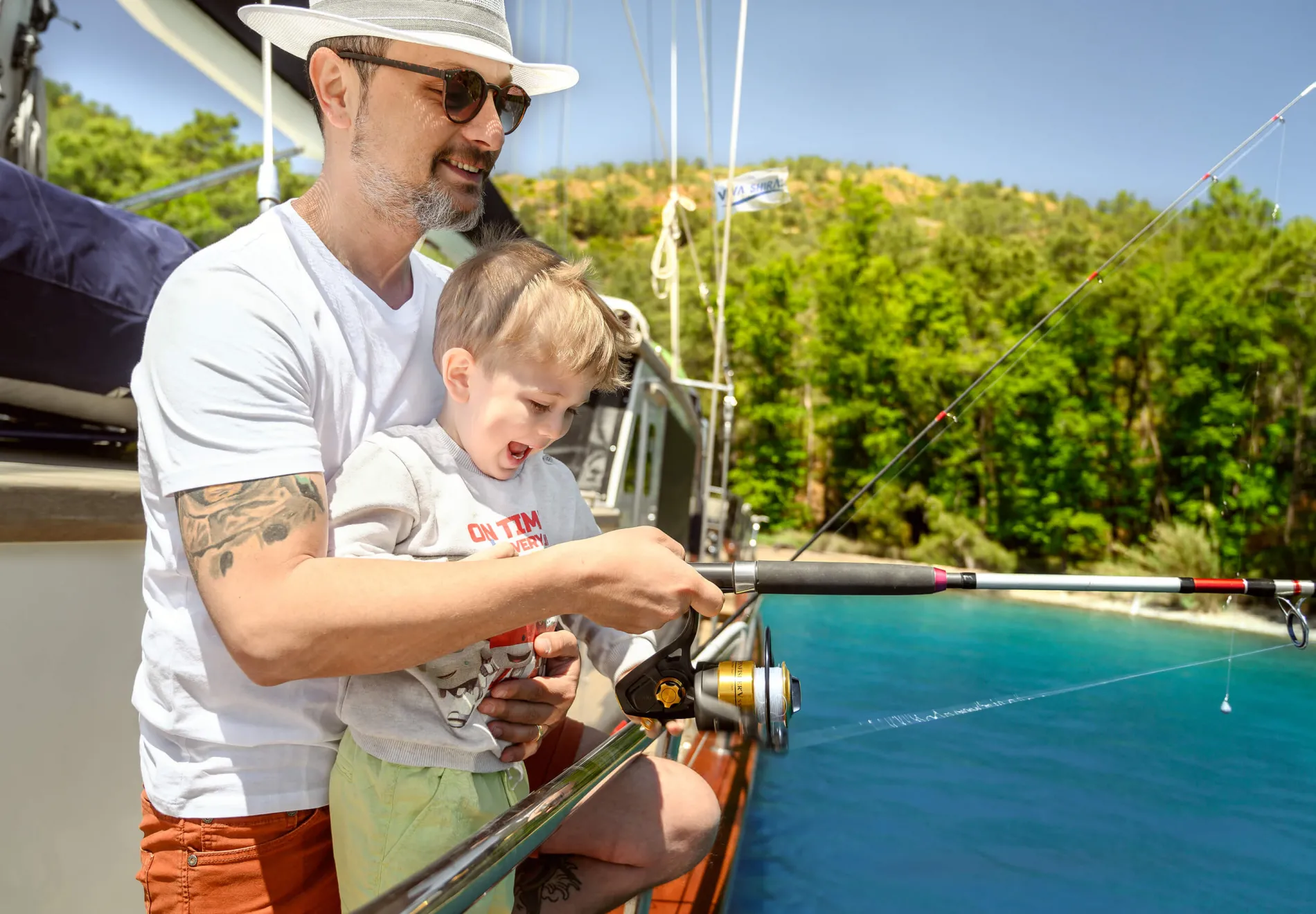 When the yacht is moored in a nice bay the options for kids become almost unlimited (swimming, snorkeling, jumping in the sea, driving to the beach, water sports).

The more activities they have – the more tired they will be in the evening.
For parents, this means a more relaxed and romantic evening.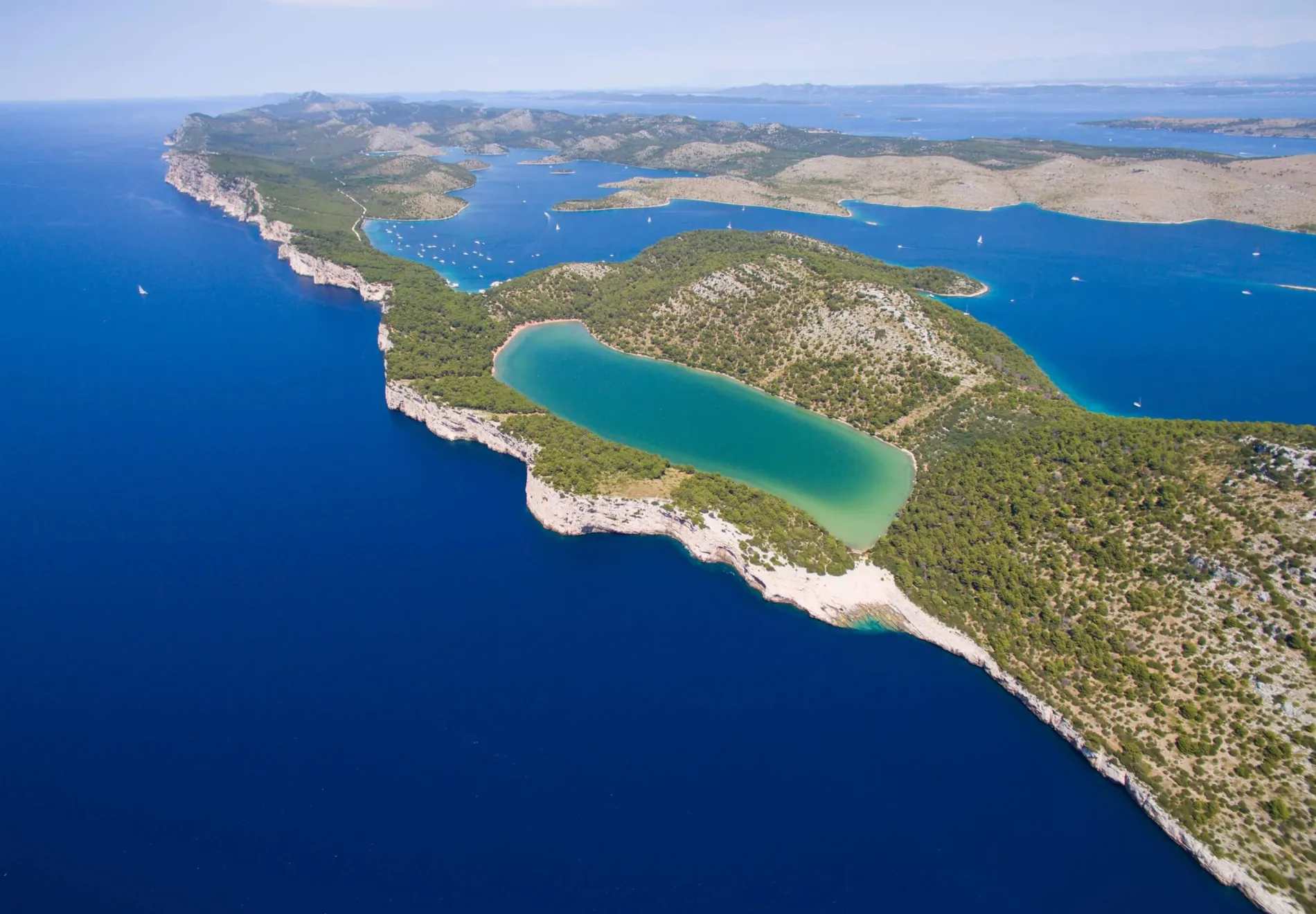 Easy Go – Easy Stay
The itinerary should not be 100% SET IN STONE and fixed. It should be short and flexible.
If the winds pick up or the weather goes bad it should not be a problem. The yacht should always be in safe, secure places.
The open seas should be avoided. If you like to stay in 1 place for 2 days. stay there. If you wish to move to another place close by – you also do it.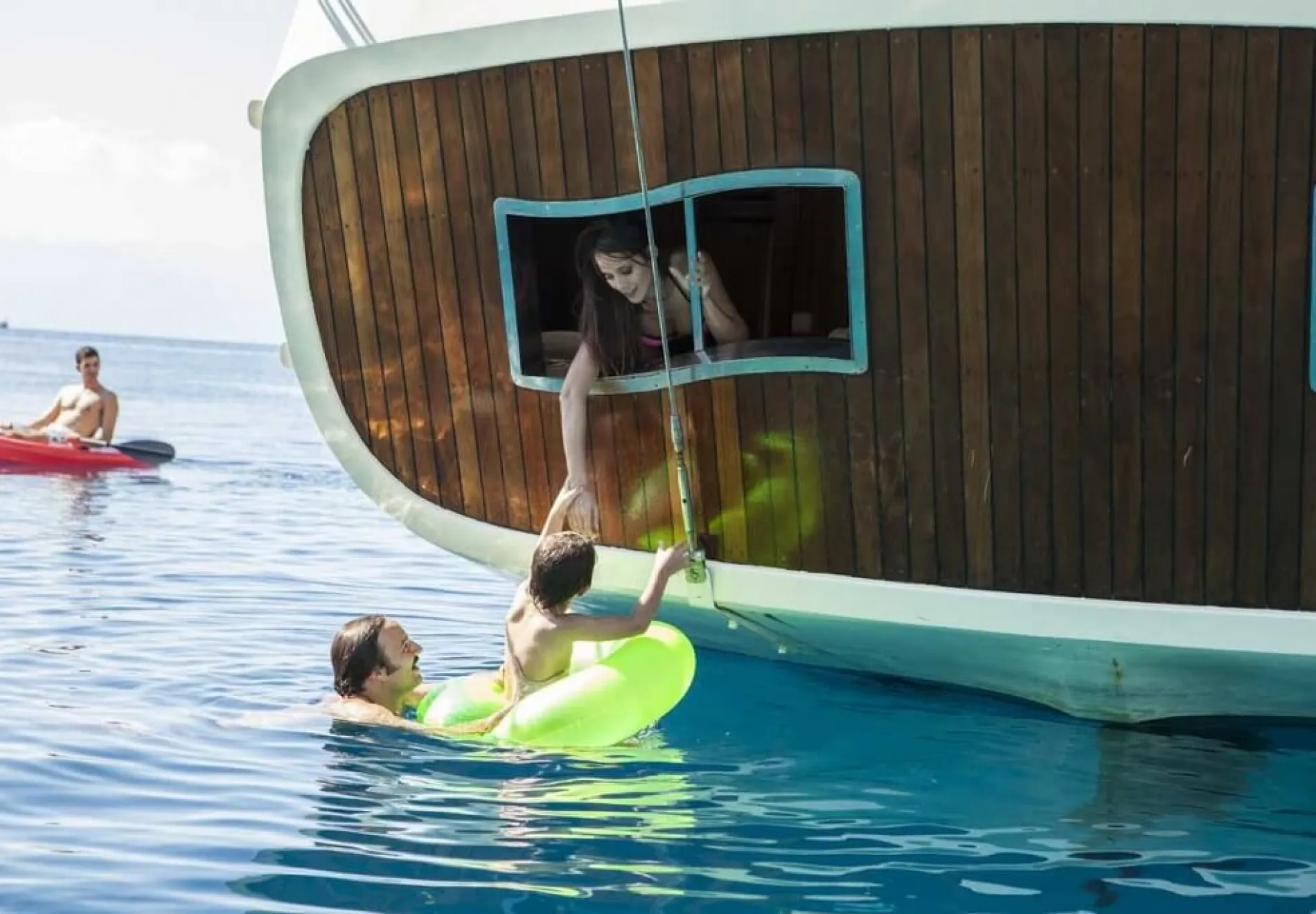 Nice combination of beaches, towns, islands & interesting activities
The itinerary with children needs to make everyone happy.
Children need to be super active and happy during the day (lots of water sports options on board).
The route should have nice pebble beaches inside, where kids can play.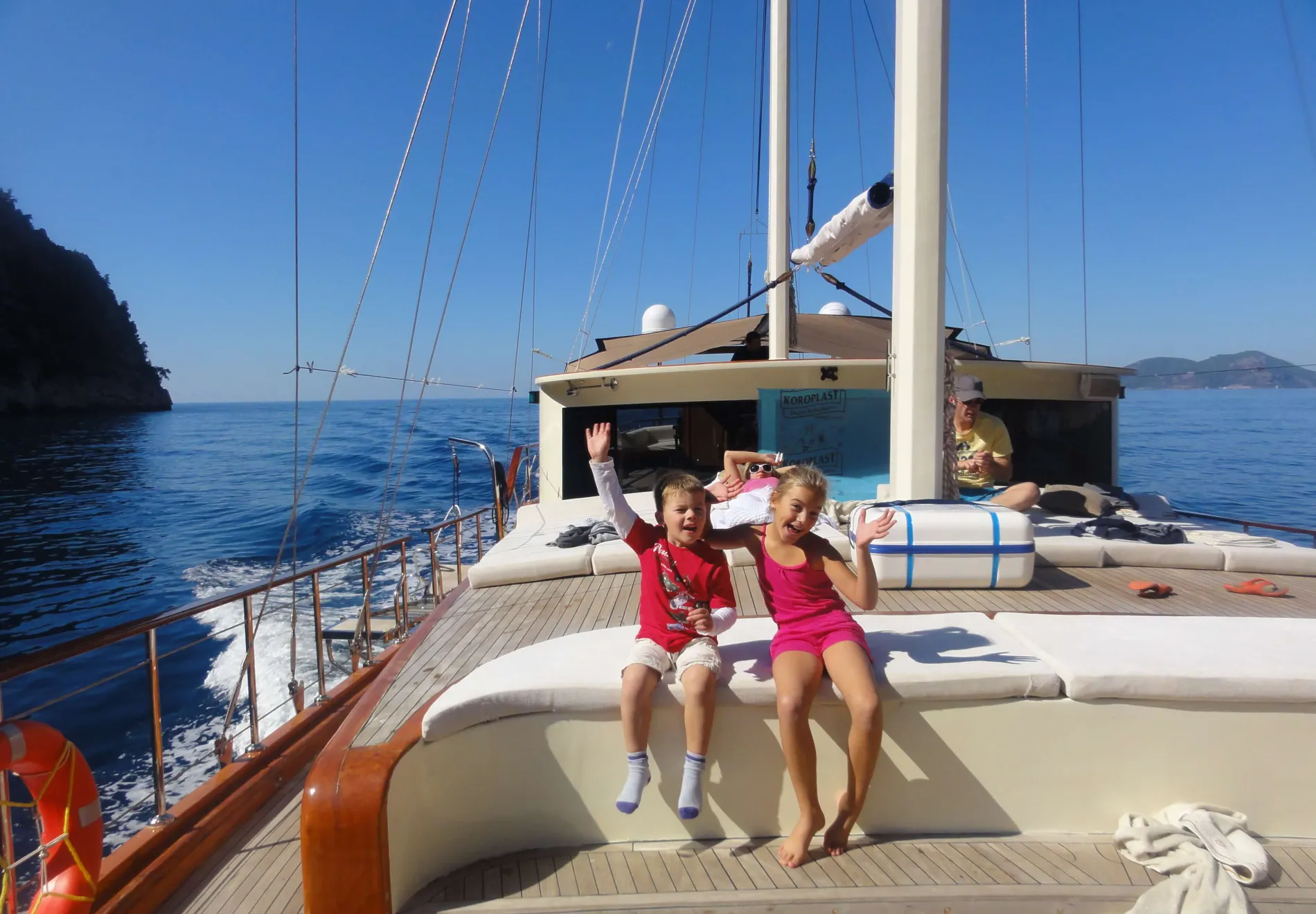 Extra activities are very welcome for all. Things like riding donkeys in Korčula, Jeep Safari on Hvar or visiting Aquarium and checking amazing sea life on the first day make everyone happy.
In the evening you should be in nice safe easygoing towns, where you can take kids on a stroll or on a shopping spree or leave them on a yacht to watch TV and just have a nice trip alone with your spouse.
Example of a perfect cruise route for kids in Croatia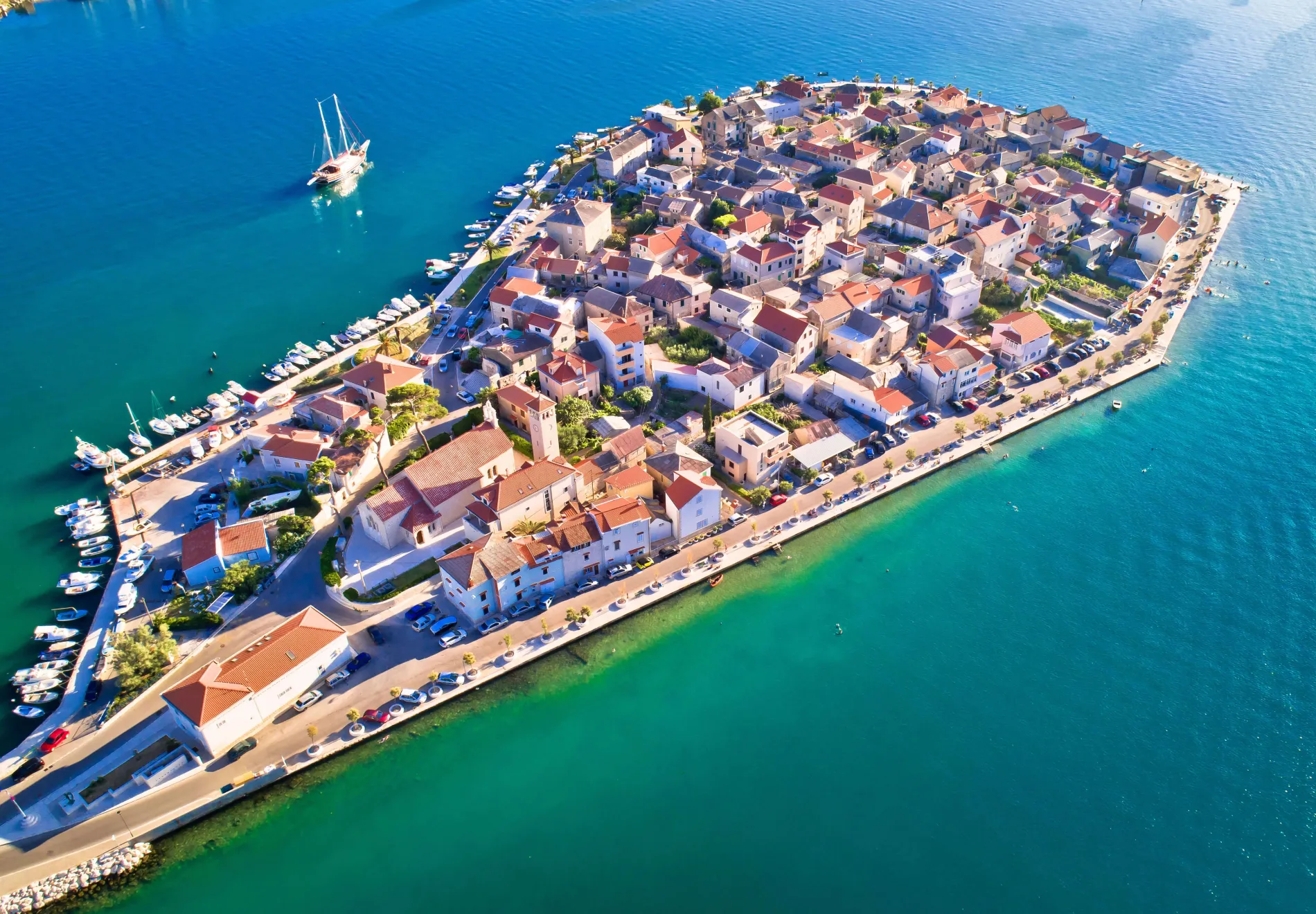 Day 1 (Saturday)
Port Vranjic near Split or Okrug Gornji bay on peninsula Čiovo near Trogir.
Both of these places are very close to the Split Airport, around 30 minutes with a car.
We suggest Port Vranjic if you would be interested to check out the famous Aquarium before departure. It is really amazing.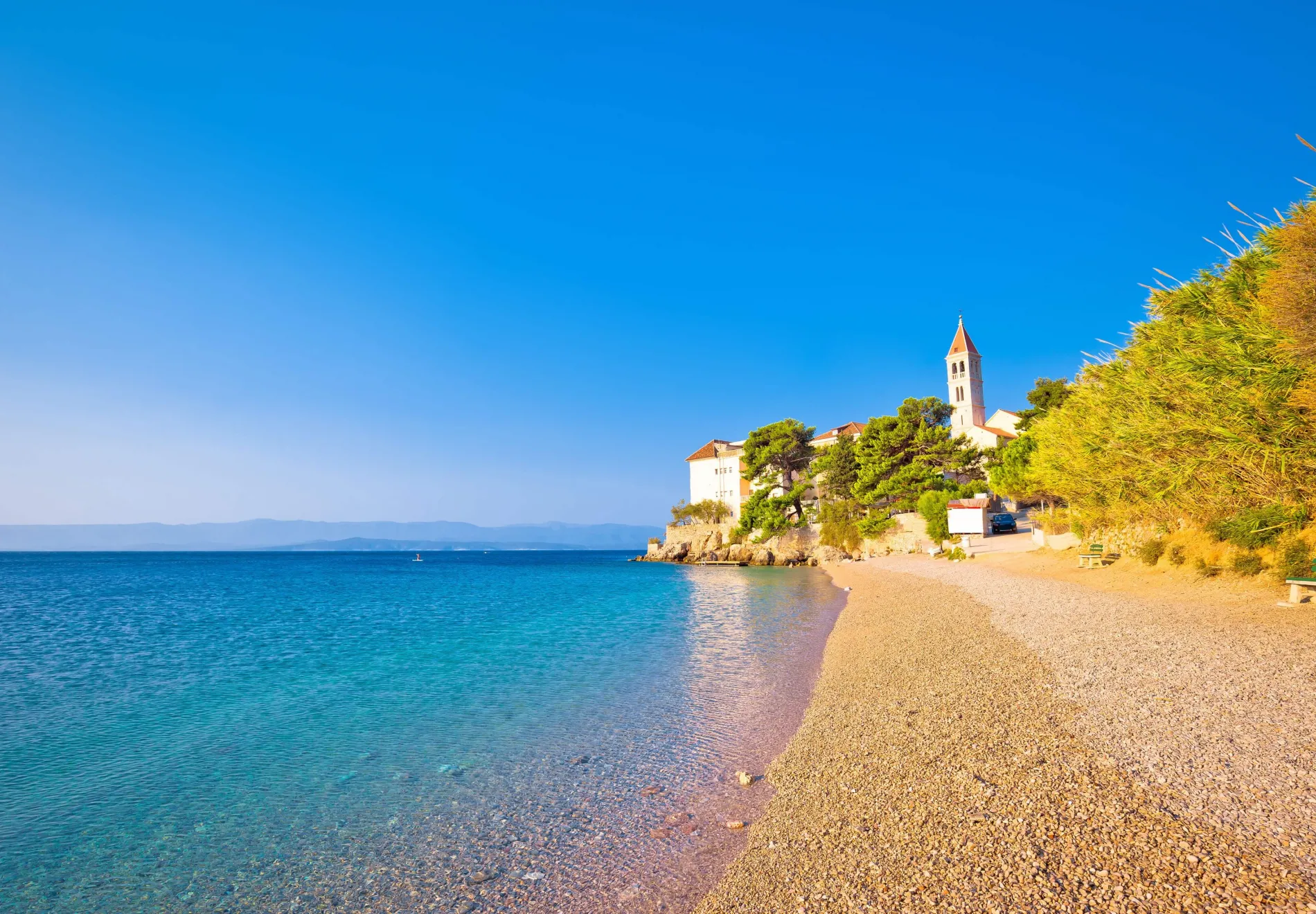 Port Okrug on Island Čiovo is perfect if you will stay there for the first day. It has amazing pebble beaches, it's easy-going and the kids LOVE IT.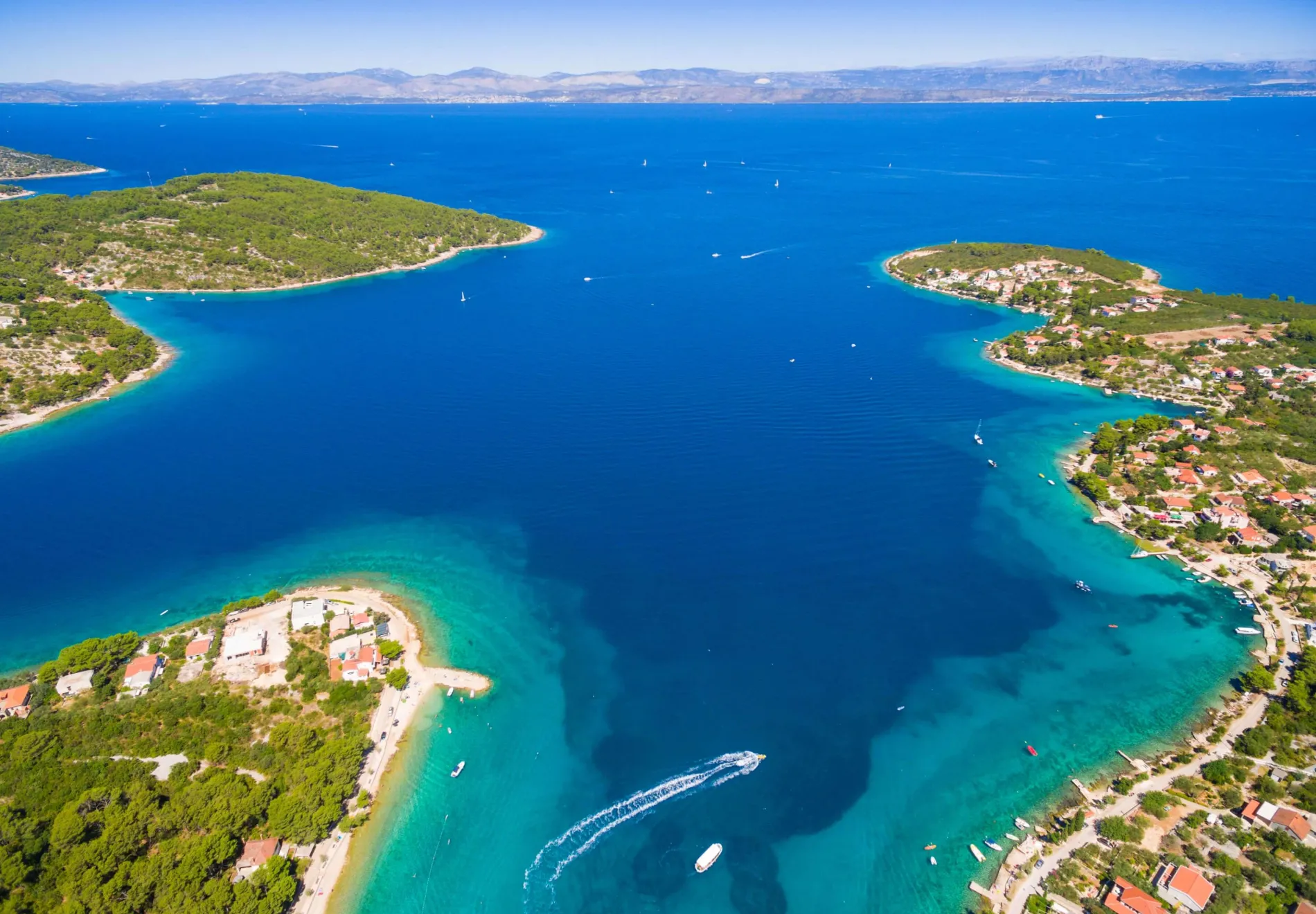 Day 2 (Sunday) Spinut bay – Nečujam Šolta
Island Šolta is also close. The nature there is amazing and it's very safe. Some good swimming and easy walk around the town will prepare you nicely for your adventure.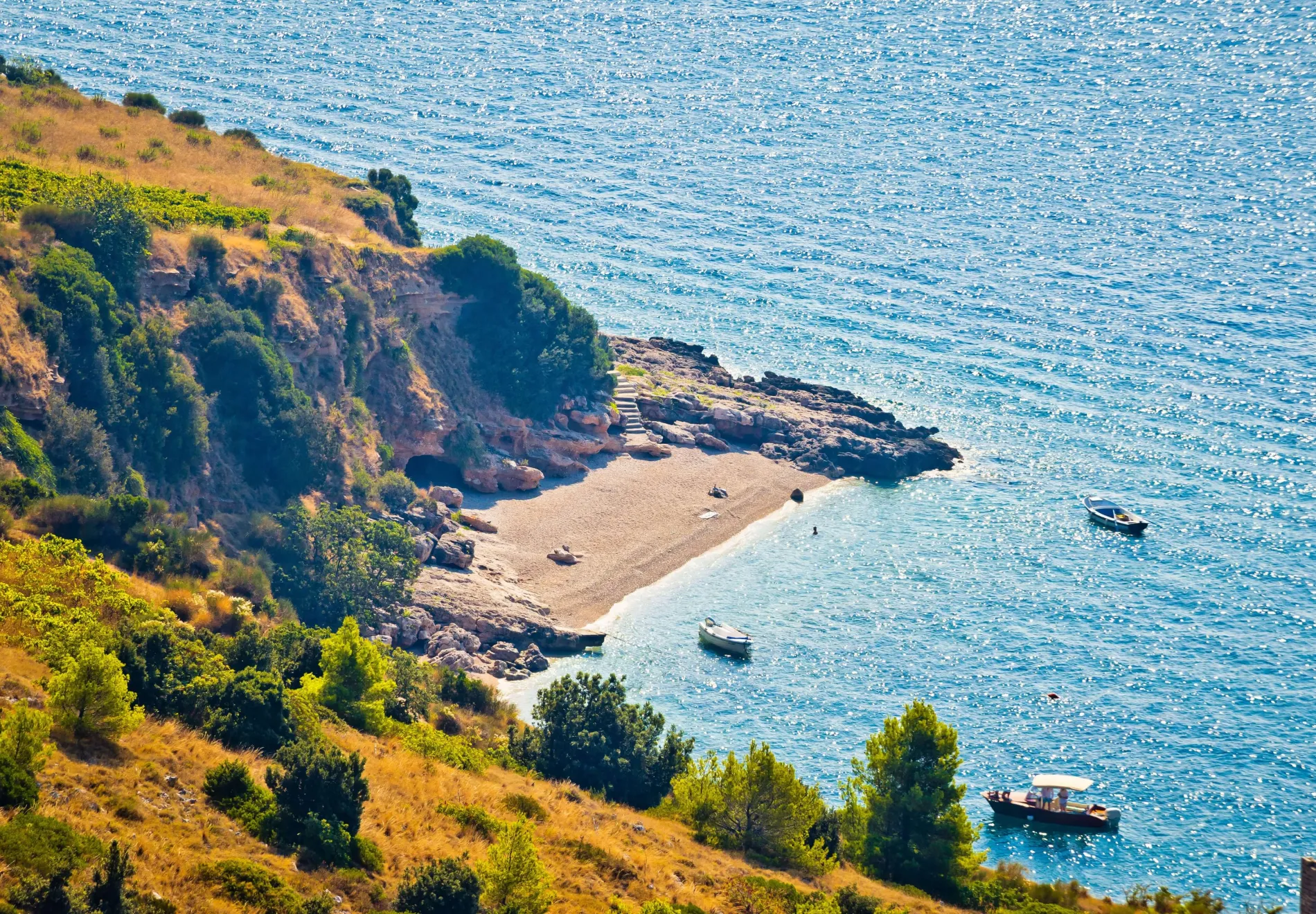 Day 3 (Monday) bay Blace & Bol
Bol is the most famous beach in Croatia and visiting it with a gulet (where you avoid the crowds) is amazing and good for water sports.
The kids will love it. And you will love it.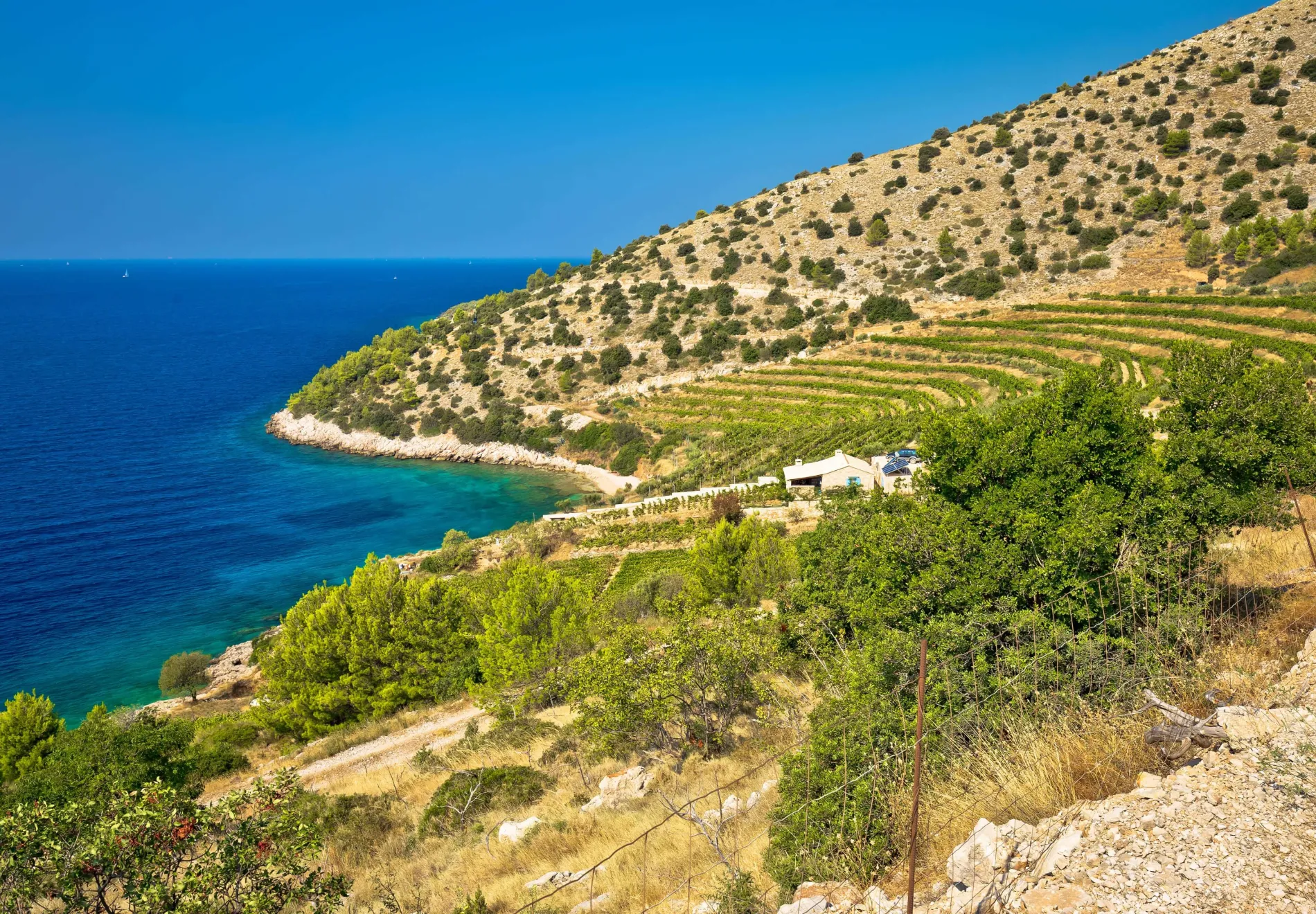 Day 4 (Tuesday) Bol – bay Žukova Stari Grad
During the day lots of spots for swimming. Žukova bay is super nice.
In the evening Starigrad town. Very nice – but less crowded. Good for parents as well as nice for the kids.
Day 5 (Wednesday) Stari Grad – Vis, Hvar, Pakleni islands
Flexibility is the key here because it all depends on the weather. If you wish to check town Hvar, the gulet will go to Pakleni Islands. This will allow you to sleep in a nice secluded bay away from crowds. But it will also allow you to check Hvar town (lots of options for daily trips here).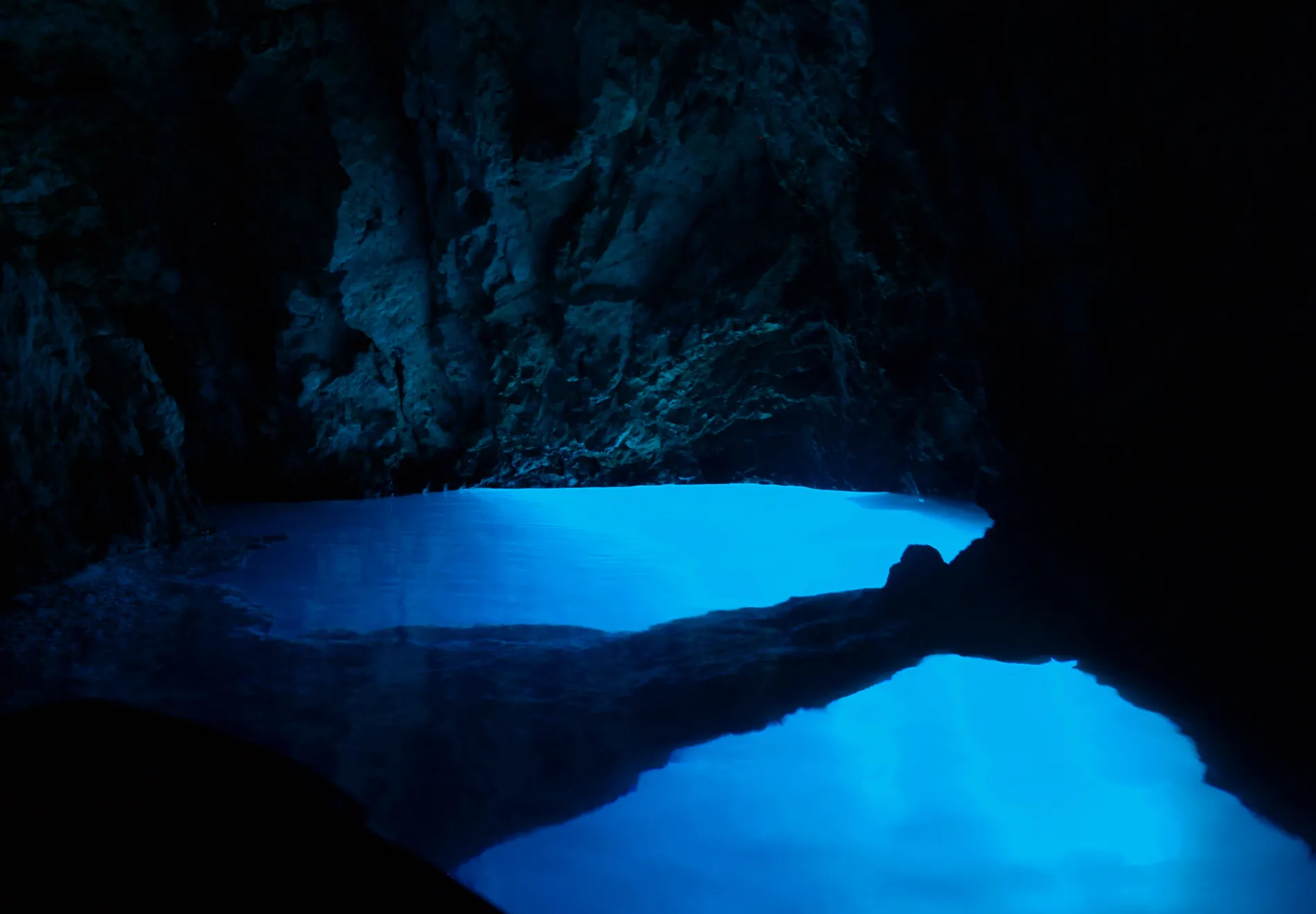 Or you can go to Island Vis, which is also incredibly interesting. You can visit a Rocket base, go on a daily trip to the Blue Cave, have a stroll around this nice town, or check some nice taverns on the island.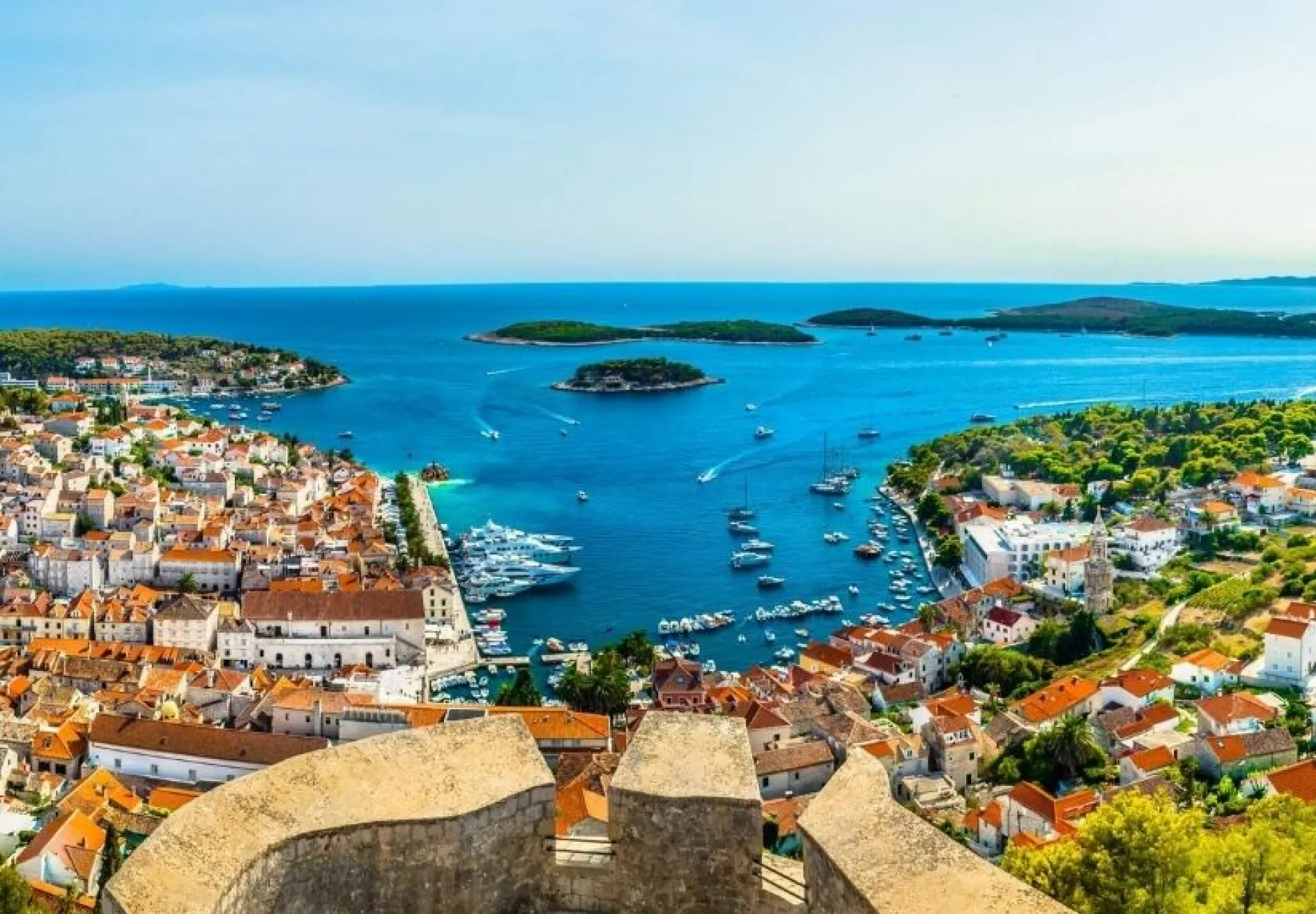 Day 6 (Thursday) Vis- Hvar Vis
If the weather is good you can go around the Island Vis, or also check more amazing beaches around Hvar like this one.
It is all about fun times with your family.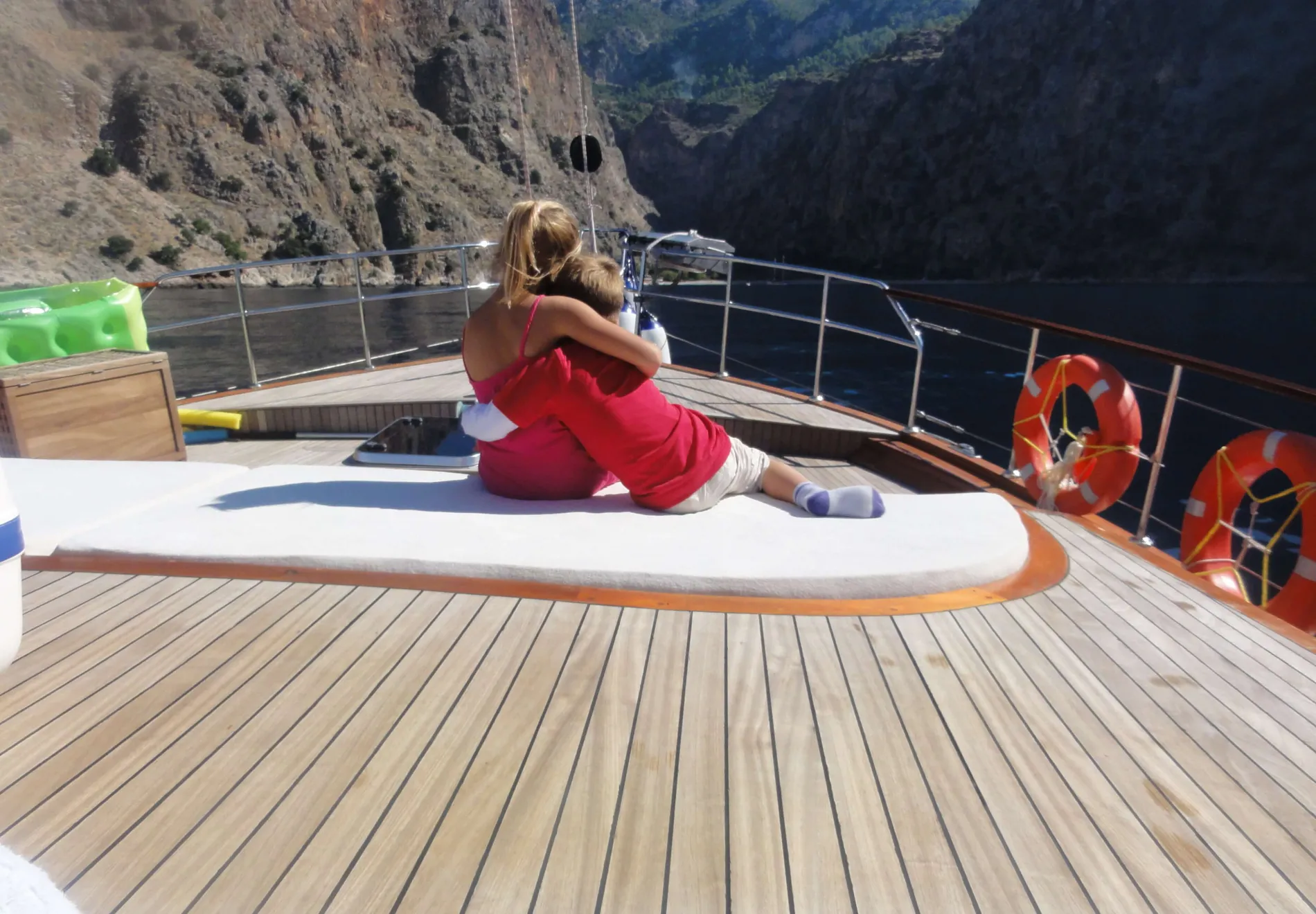 Day 7 (Friday) What do you wish to do?
For the last day before departure, we like to leave some space for clients wishes. Here we ask the kids what they wish to do.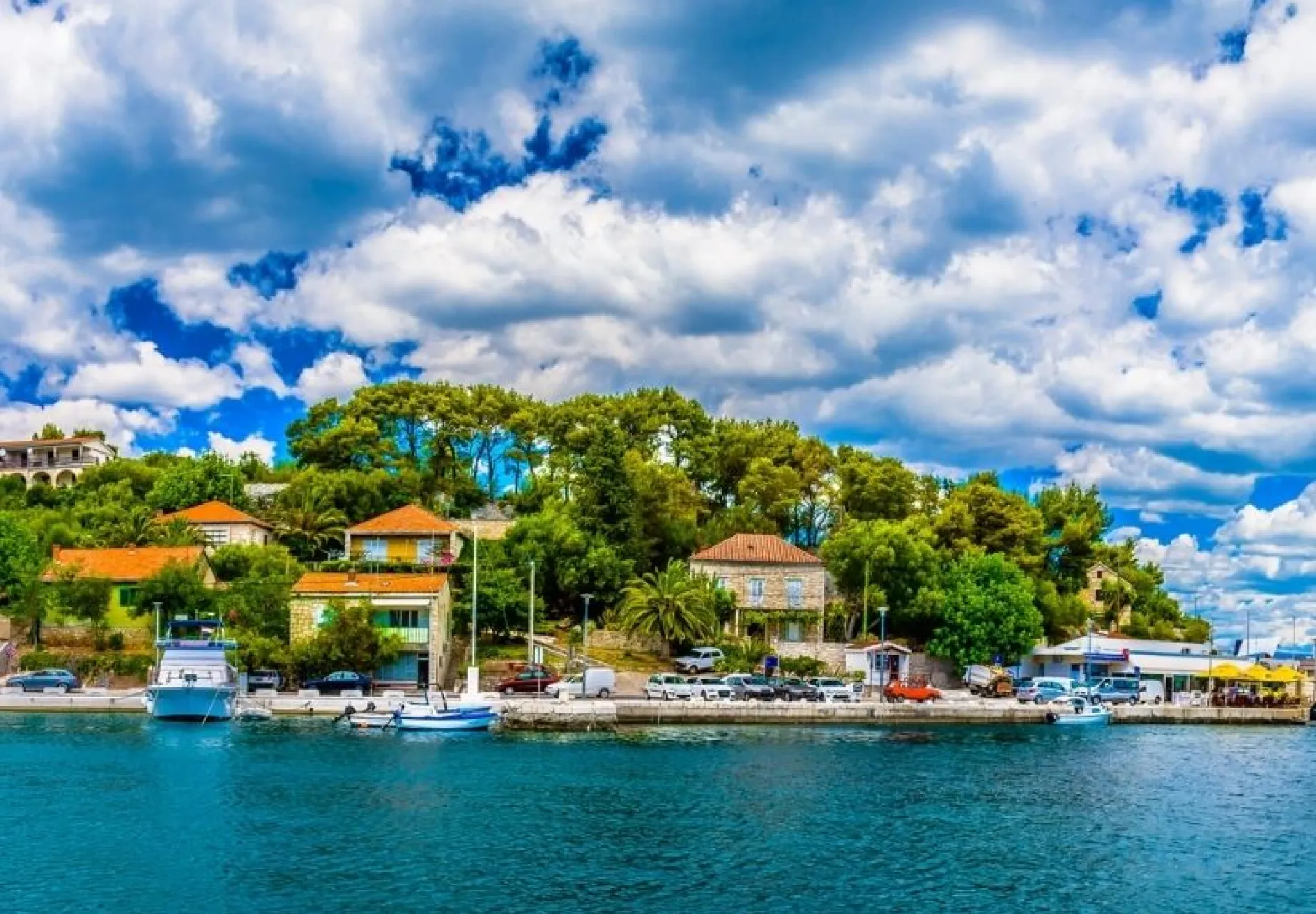 Day 8 (Saturday) Šolta – Trogir (Čivo, Okrug Gornji)
The cruise ends after breakfast.
If you have late flights, you can take another trip to Split airport.
Or, go to Omiš for the Aquapark / Rafting.
Recommendations for the best family holiday yachts in Croatia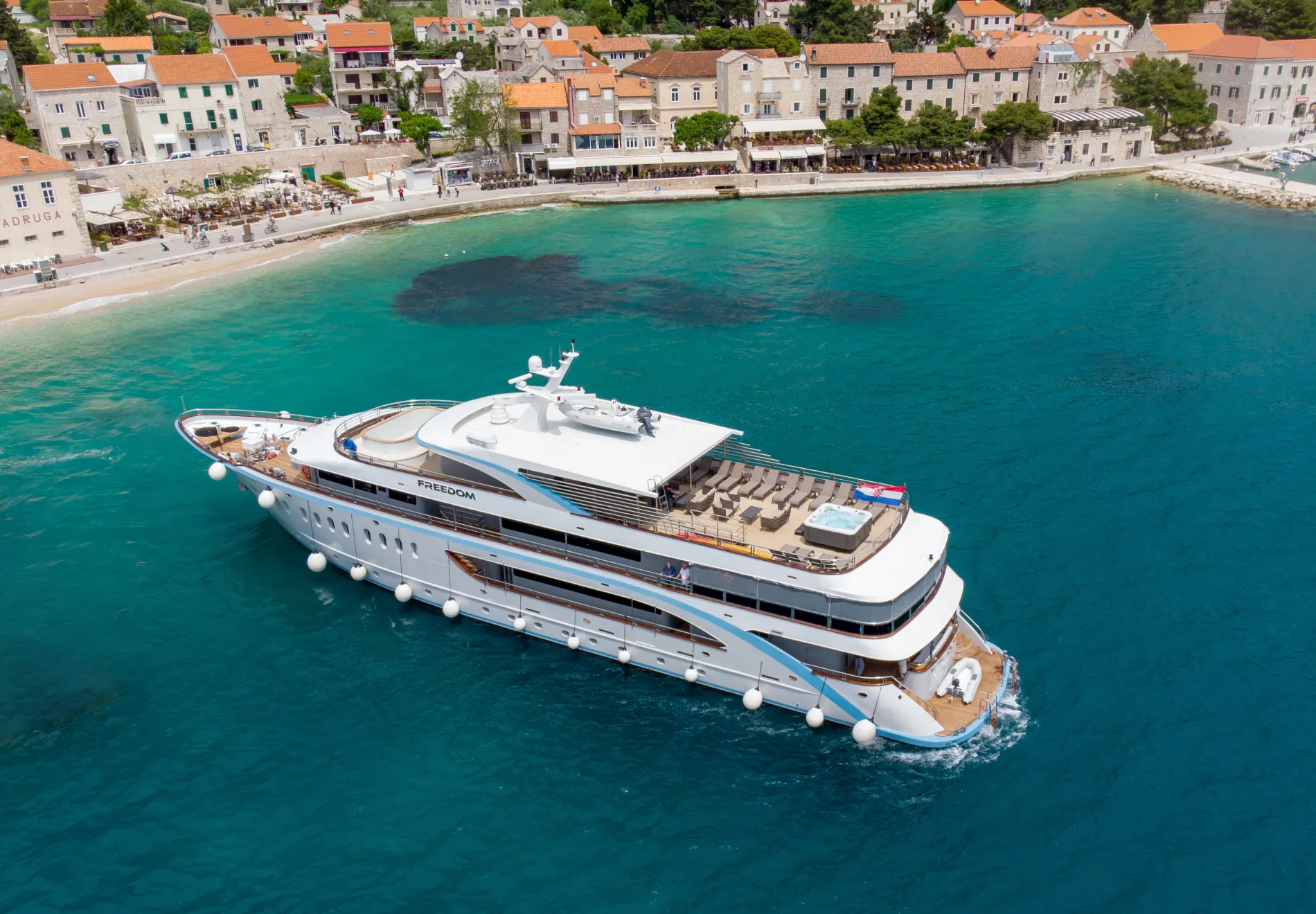 Freedom
Freedom is in the process of becoming a superyacht in 2022 with 11 luxury cabins and 3 luxury decks with a rich variety of amenities for the kids. The yacht will even have a cruise manager, fitness instructor, masseuse, and a babysitter on board.
Learn more about Freedom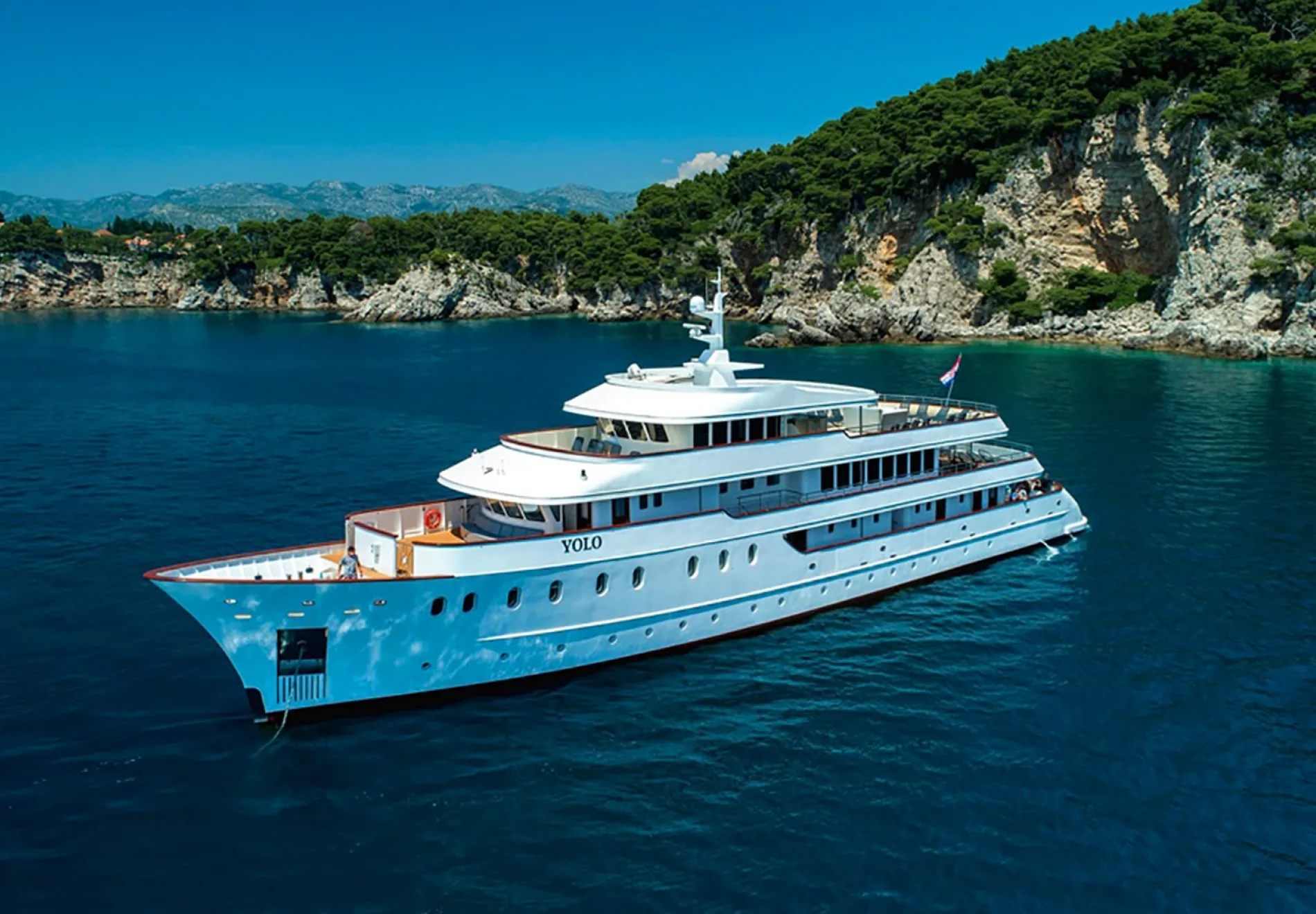 Yolo
Featuring stylish and comfortable 18 cabins with up-to-date amenities and ensuite bathrooms. Yolo is a great option for larger family groups who want to explore the beauty of Croatian islands.
Learn more about Yolo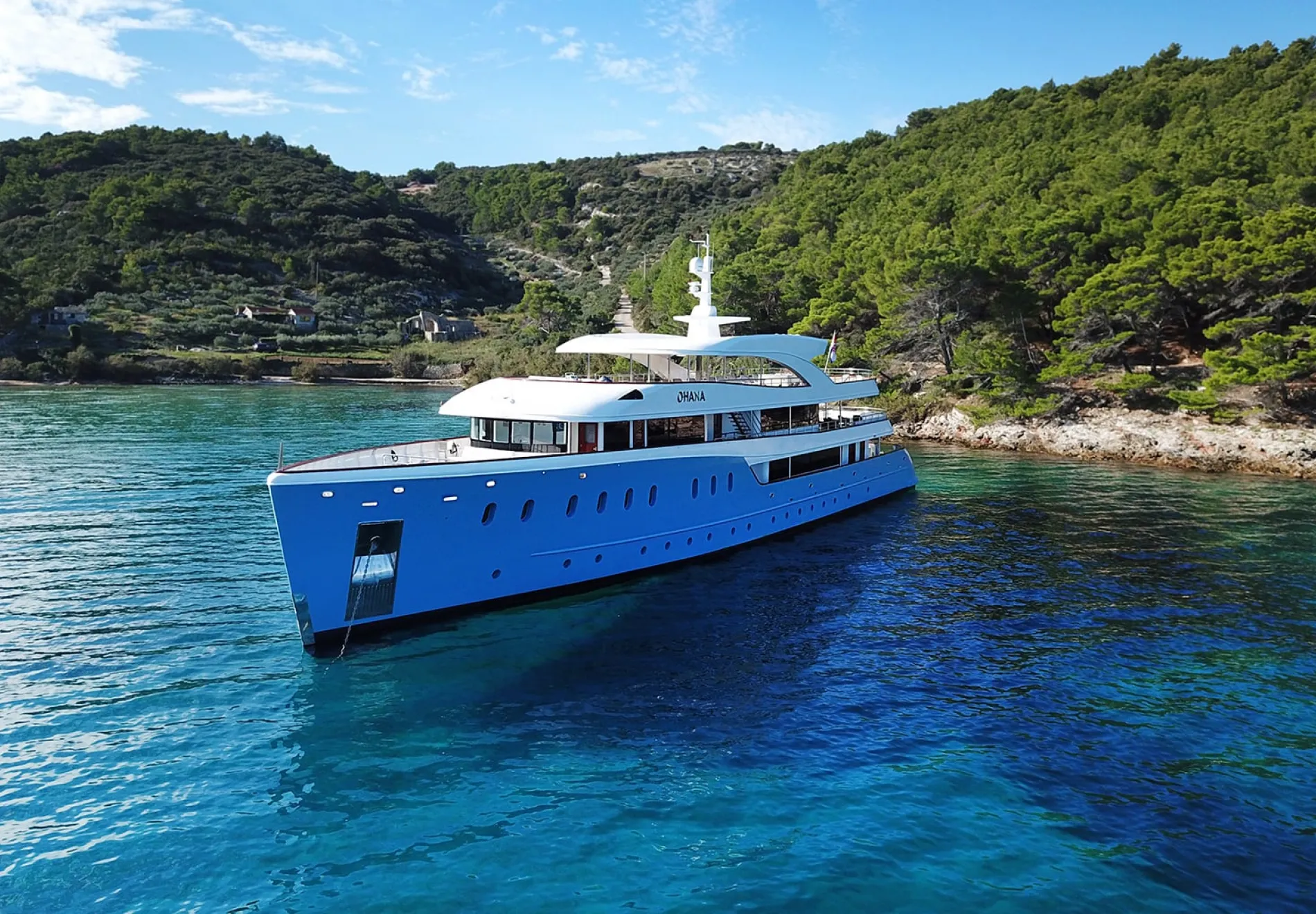 Ohana
Launched in 2021, she has a capacity for 38 people. Members of the Ohana crew want to make a spectacle for every group. There are very cozy indoor and outdoor lounges and a bright and spacious saloon that offers 4 dining tables, each with 8 chairs for your group.
Learn more about Ohana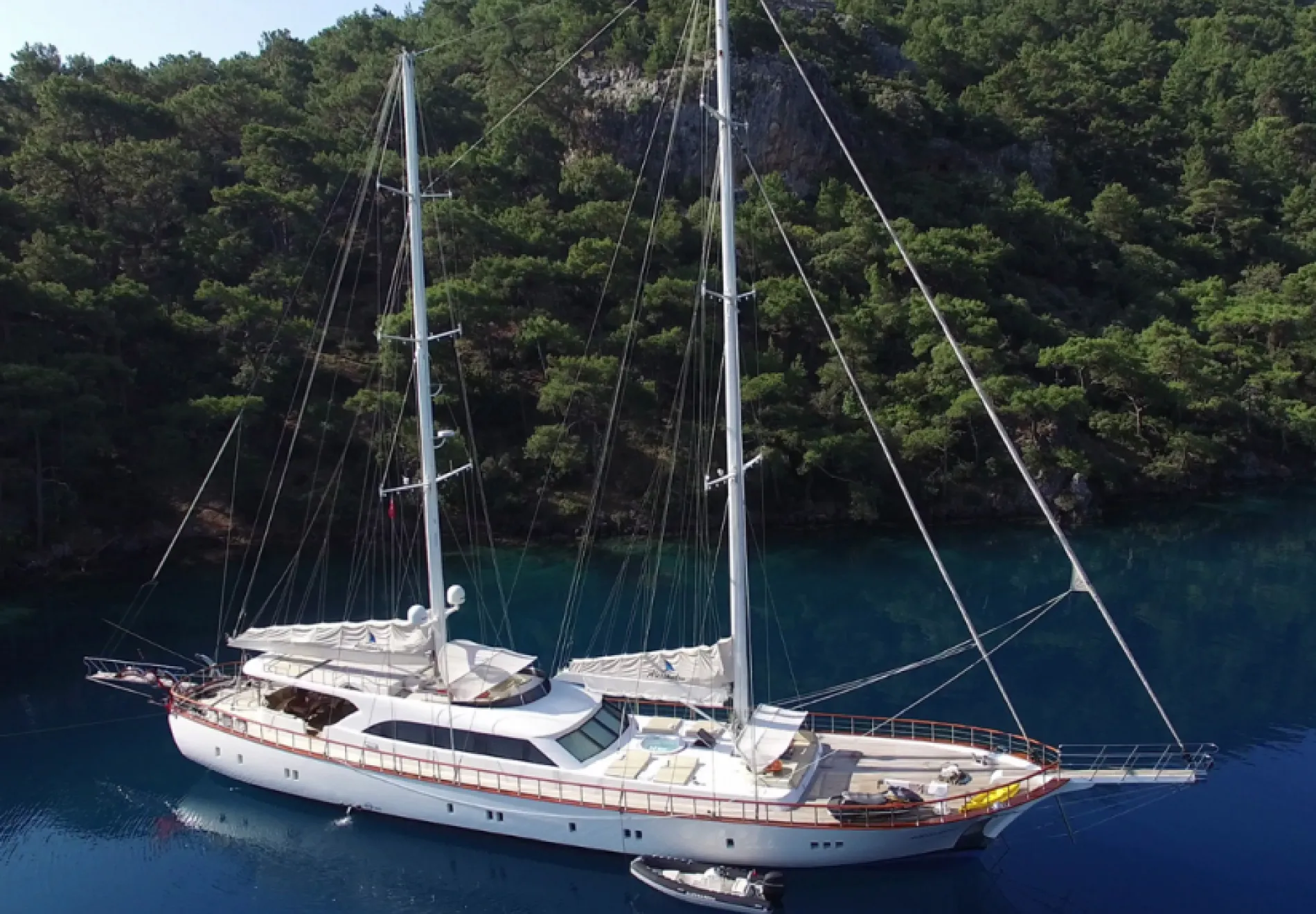 Alessandro I
Alessandro I is a luxury 40-meter gulet with 5 cabins and 6 crew members. Aboard Alessandro you can choose to be as active or lazy as you like with a wealth of water toys from skiing to fishing, swimming to a cool soaking in the on-deck jacuzzi, or if you're not warm enough, try the onboard sauna.
Learn more about Alessando I
Nautilus
Ideal for families with small children, Nautilus has a spacious salon and guard rail netting to keep kids safe. With 8 double cabins, the choices of how to accommodate both kids and adults are simple.
Learn more about Nautilus
Very important!
Not all gulets are okay if you have children in your group.
Gulets that are perfect for kids should have a nice salon with a TV if possible.
It is smart to accommodate children safely while the gulet is cruising.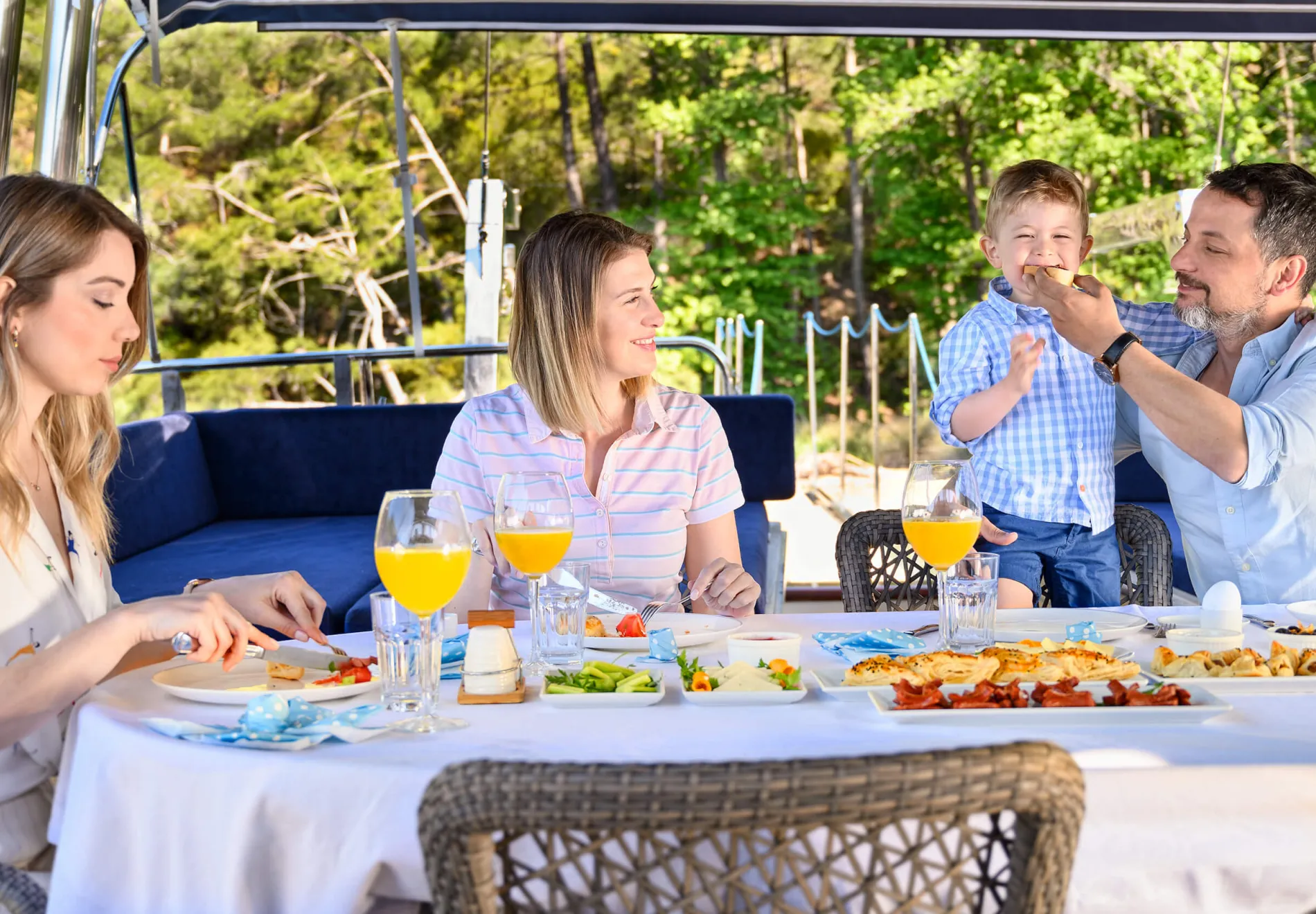 The chef should have the flexibility to prepare meals modified for kids because most of them prefer pizza or pasta over shrimps.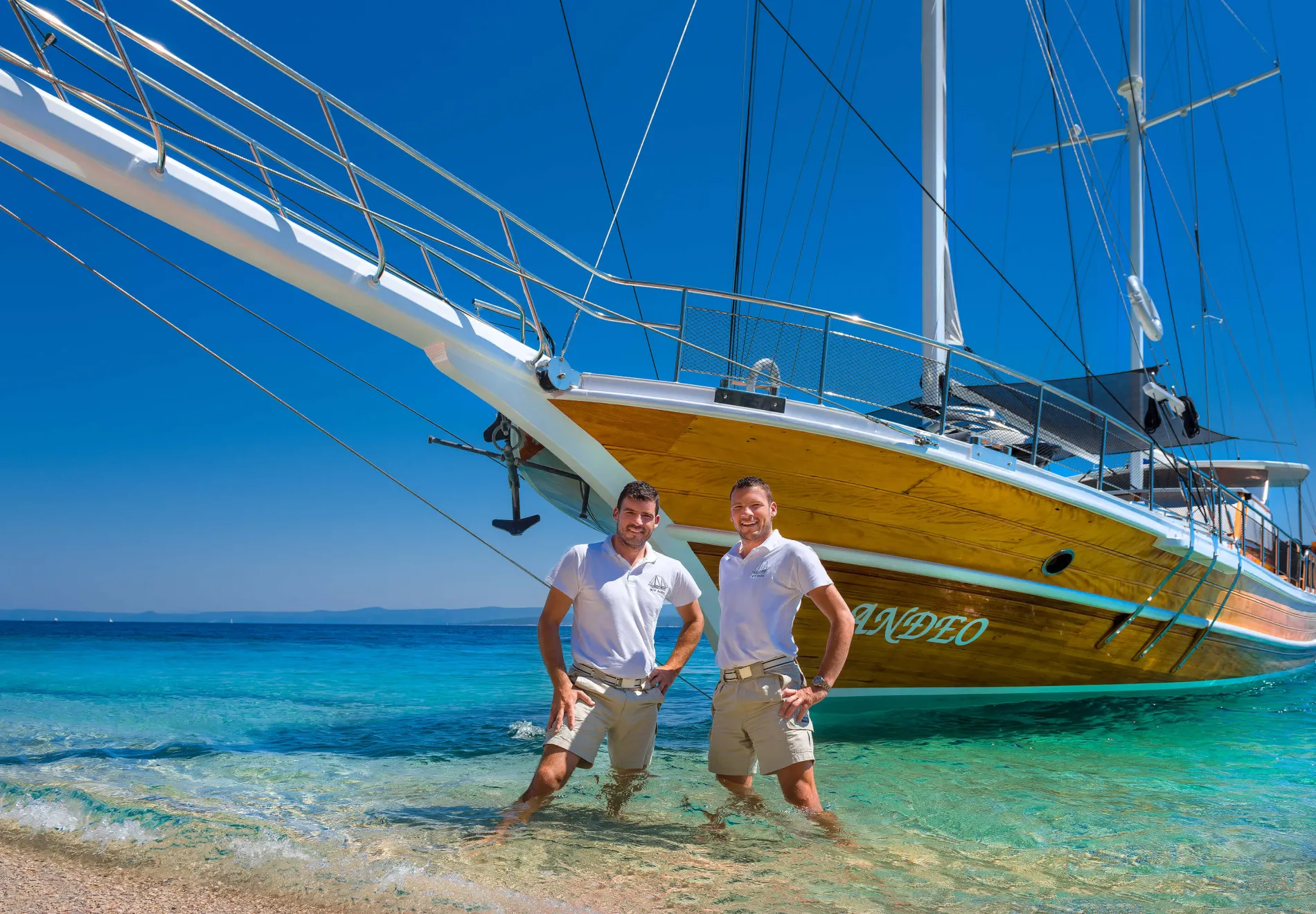 The crew should be children friendly.

They are not there to watch over your kids (you can rent a babysitter for the time during the cruise for this) but if the crew likes the children they will be more than happy to drop an eye on them while you go to town for a glass of wine alone with your wife/husband.
Chartering a yacht is more than a holiday - it's a way of celebrating life with your loved ones!
So, when you describe your family to us, we will find the most suitable yacht for you, create a personalized itinerary, plan your food menus and arrange all fun and safe activities for the kids.