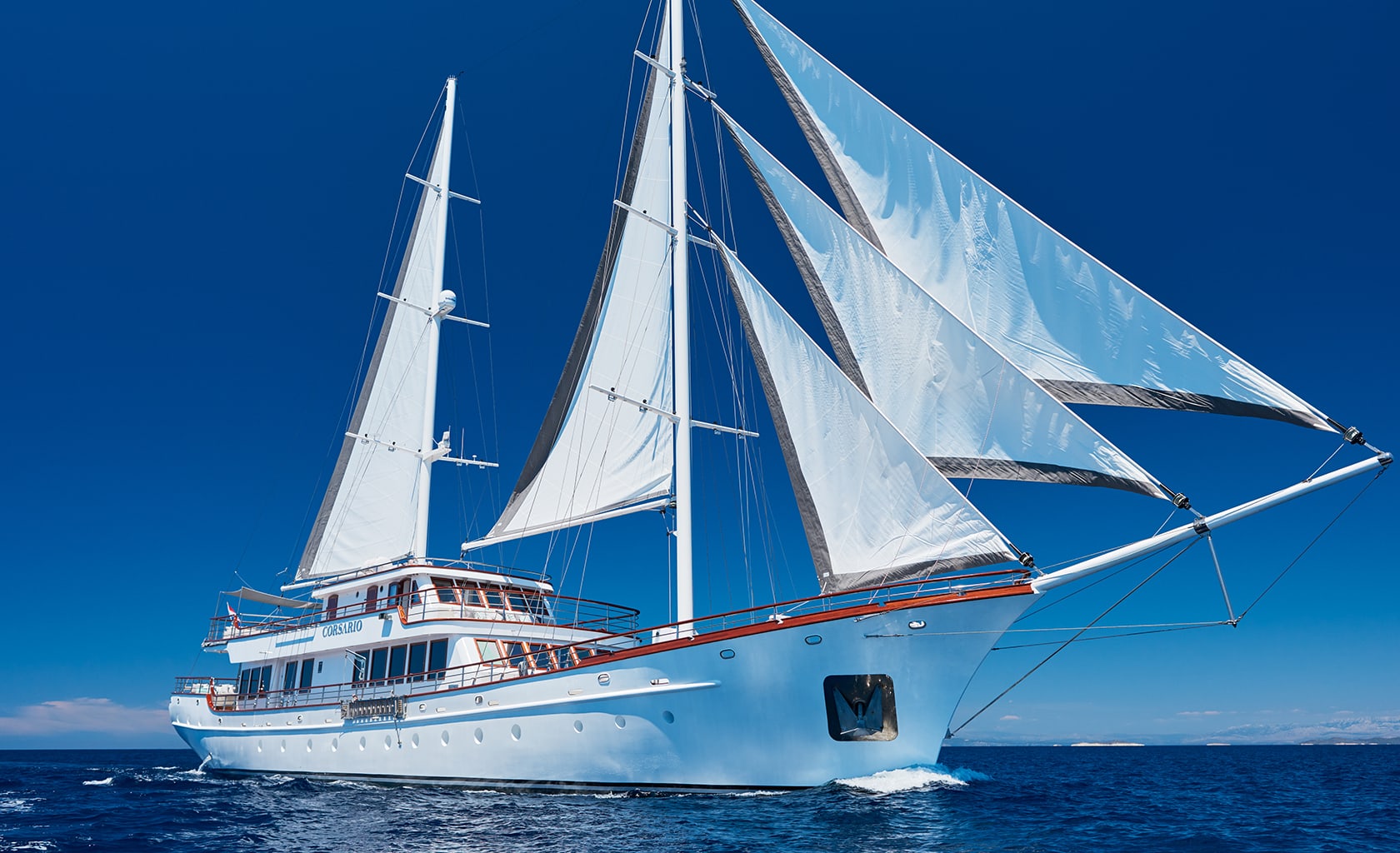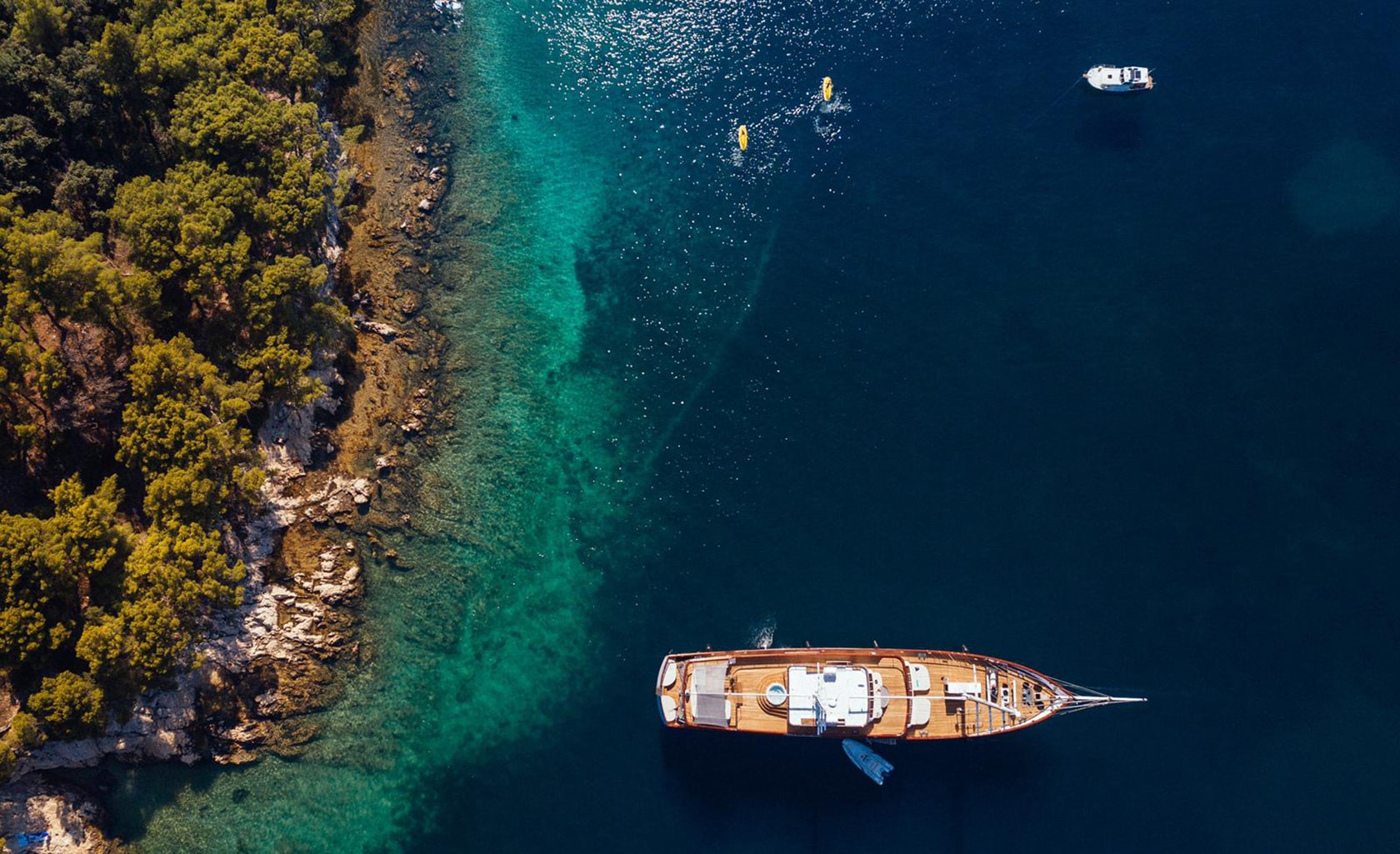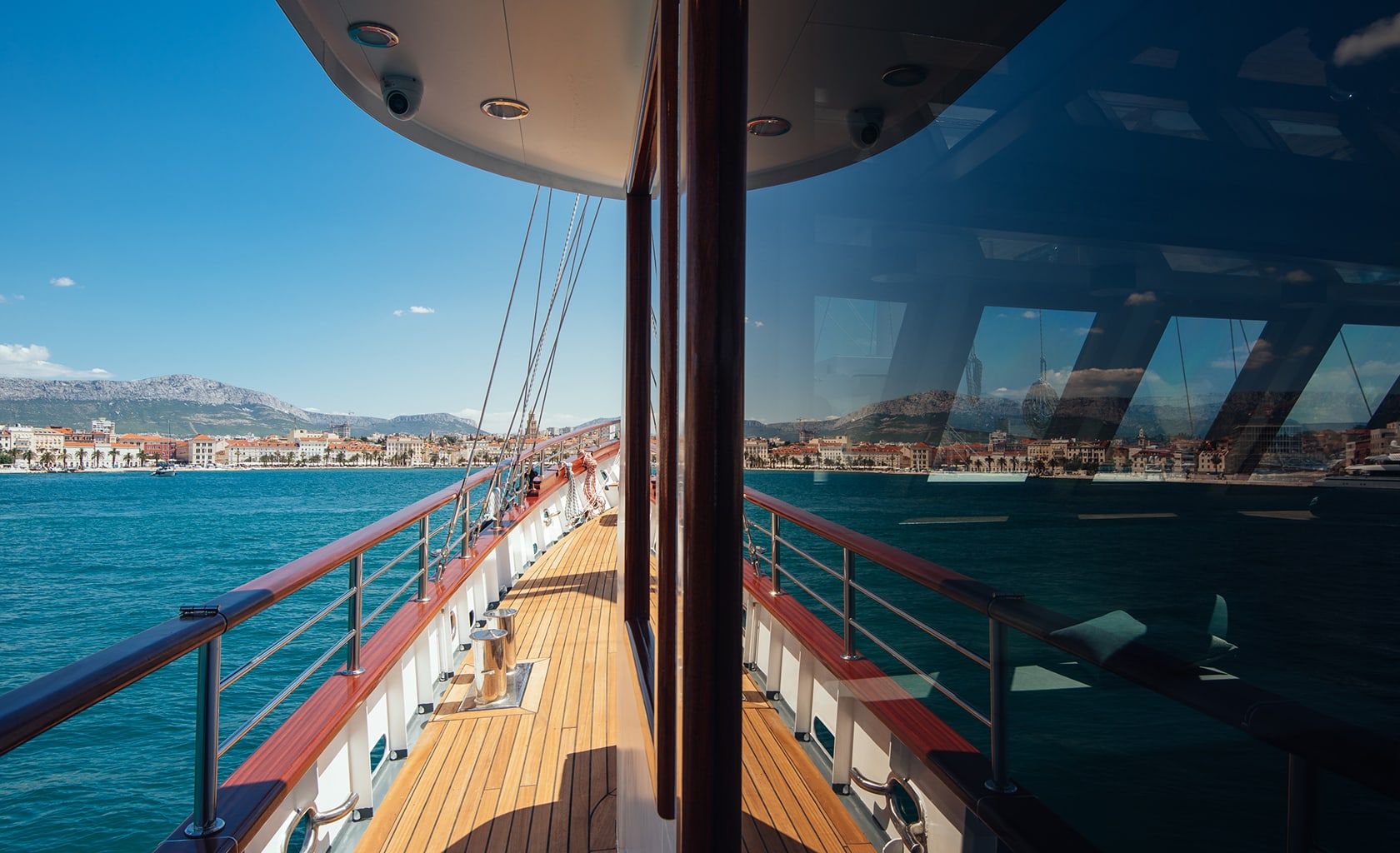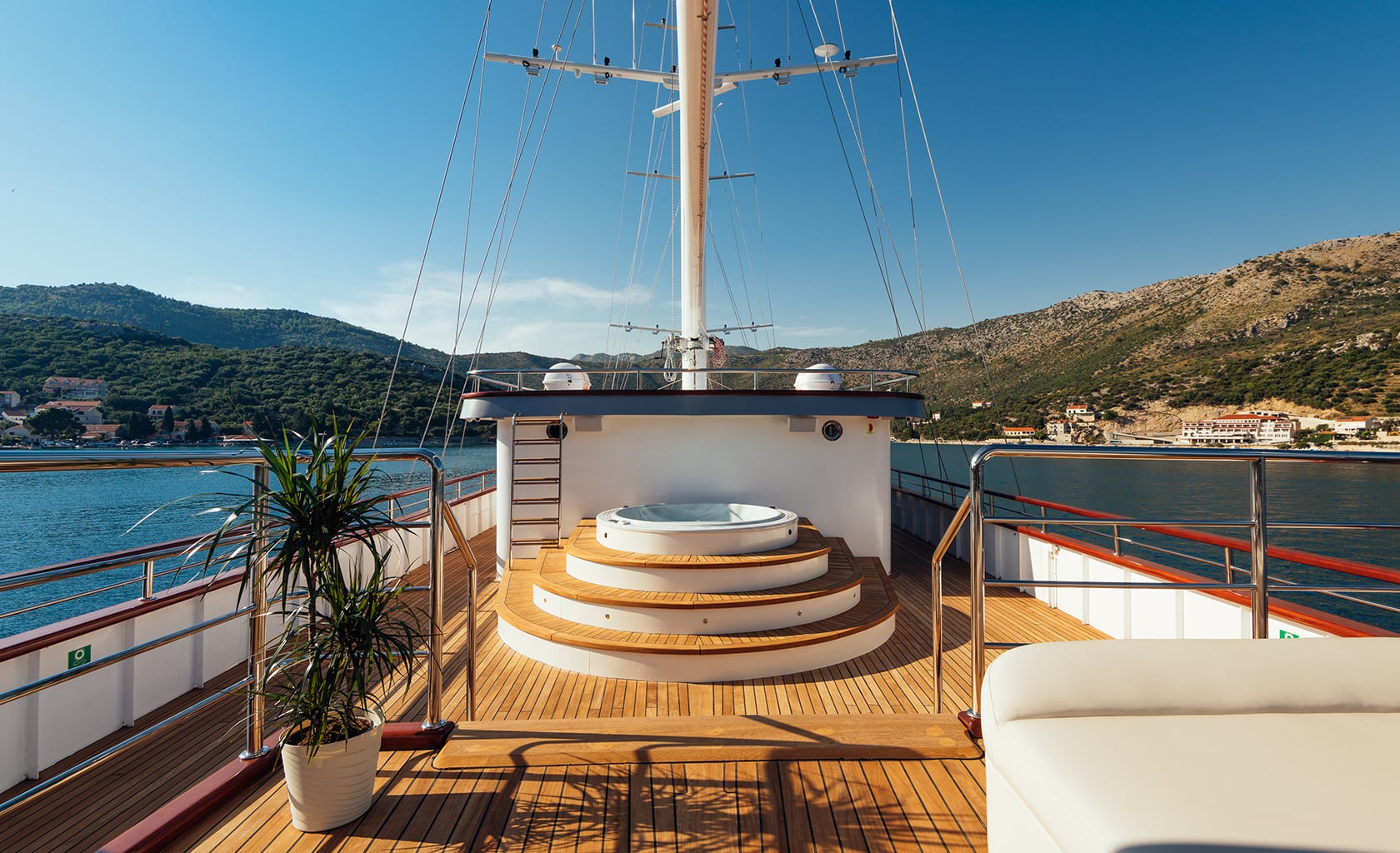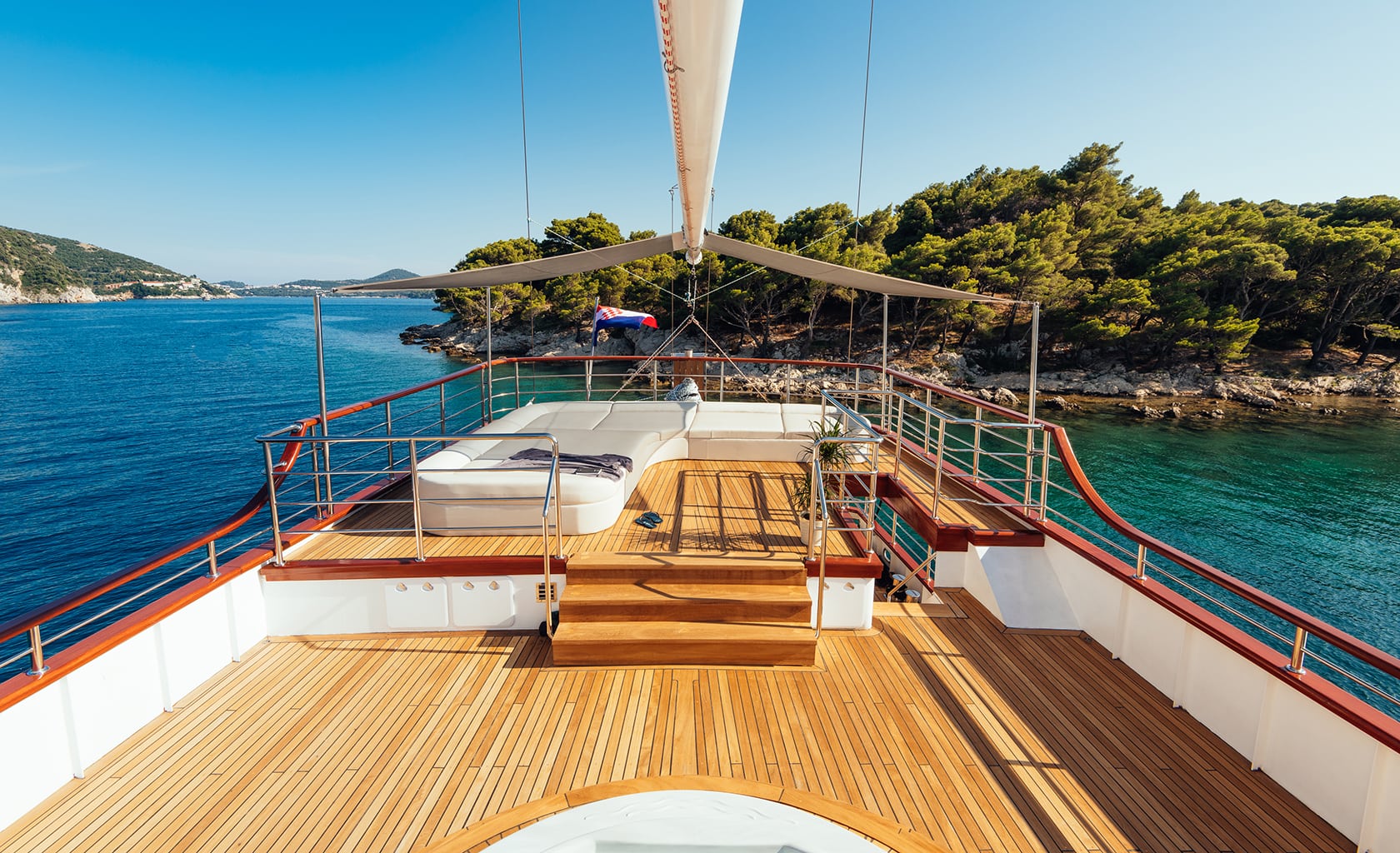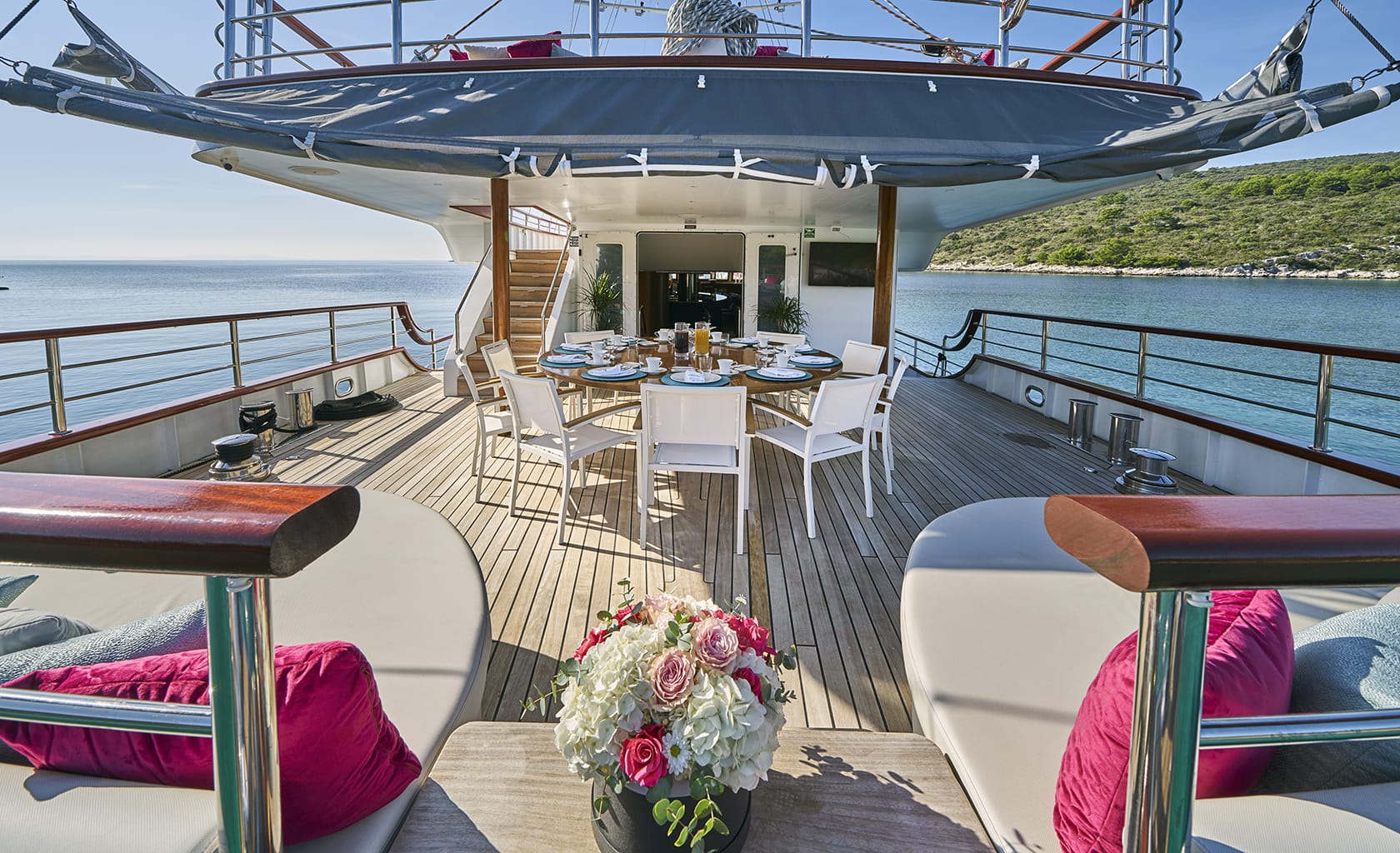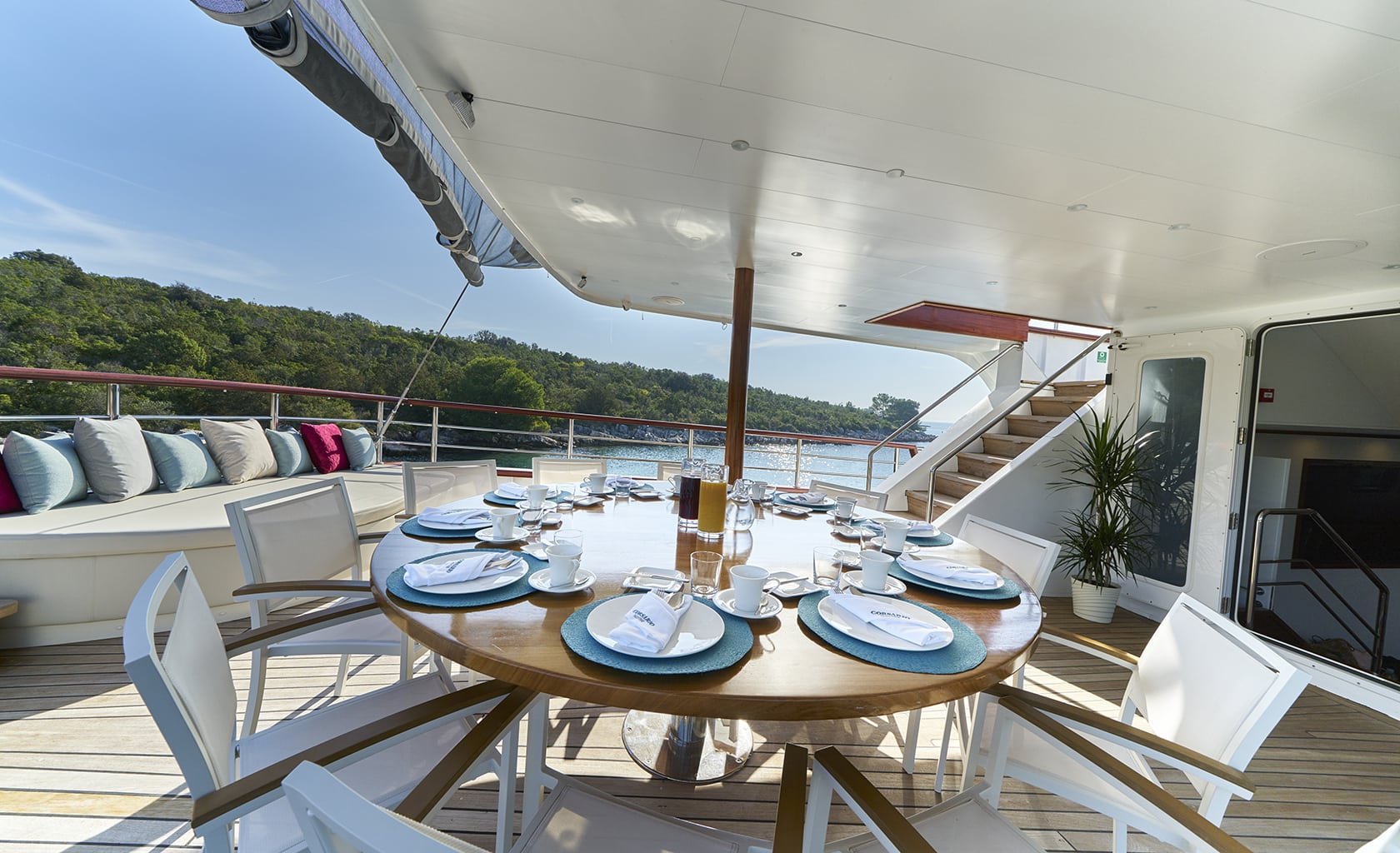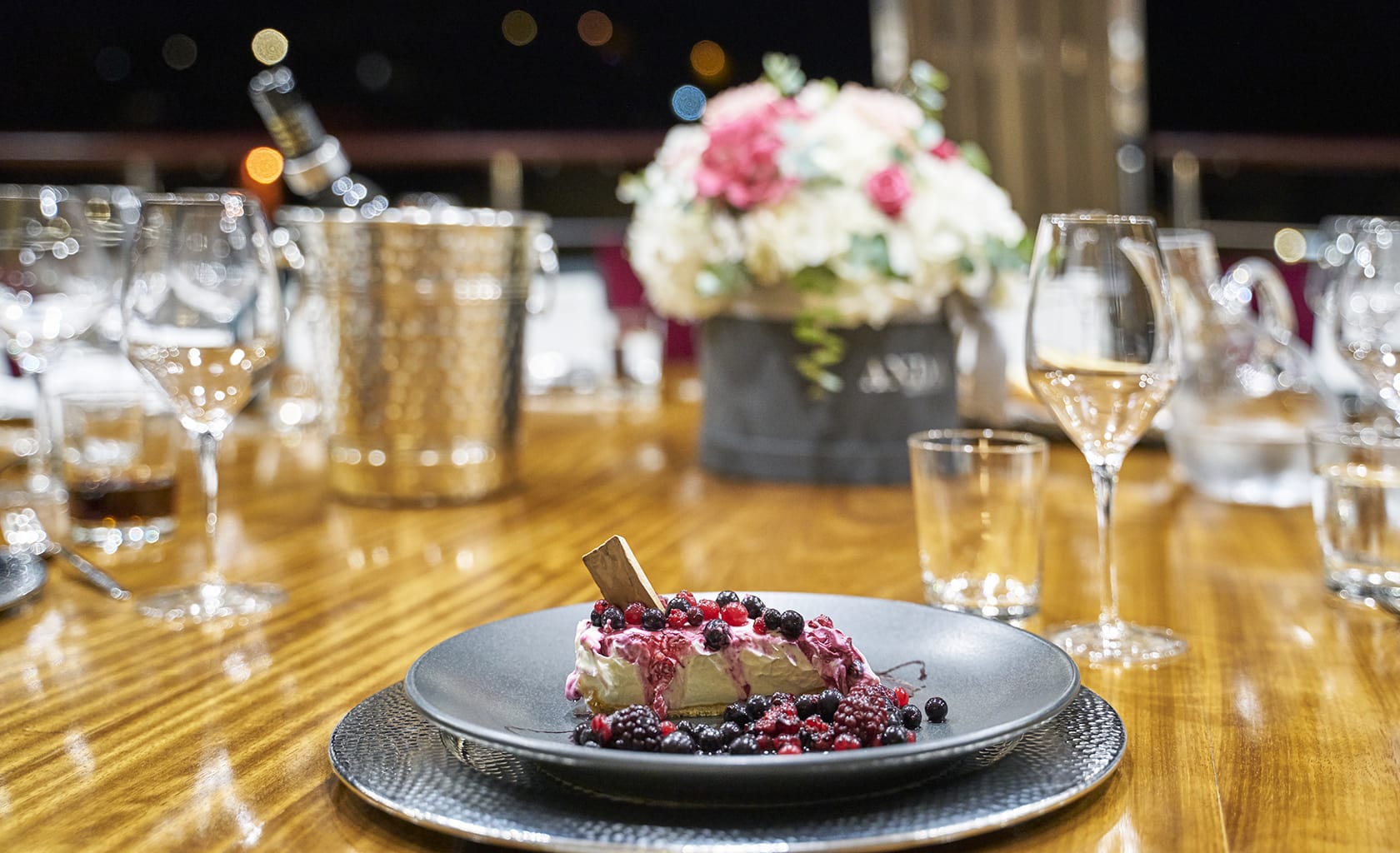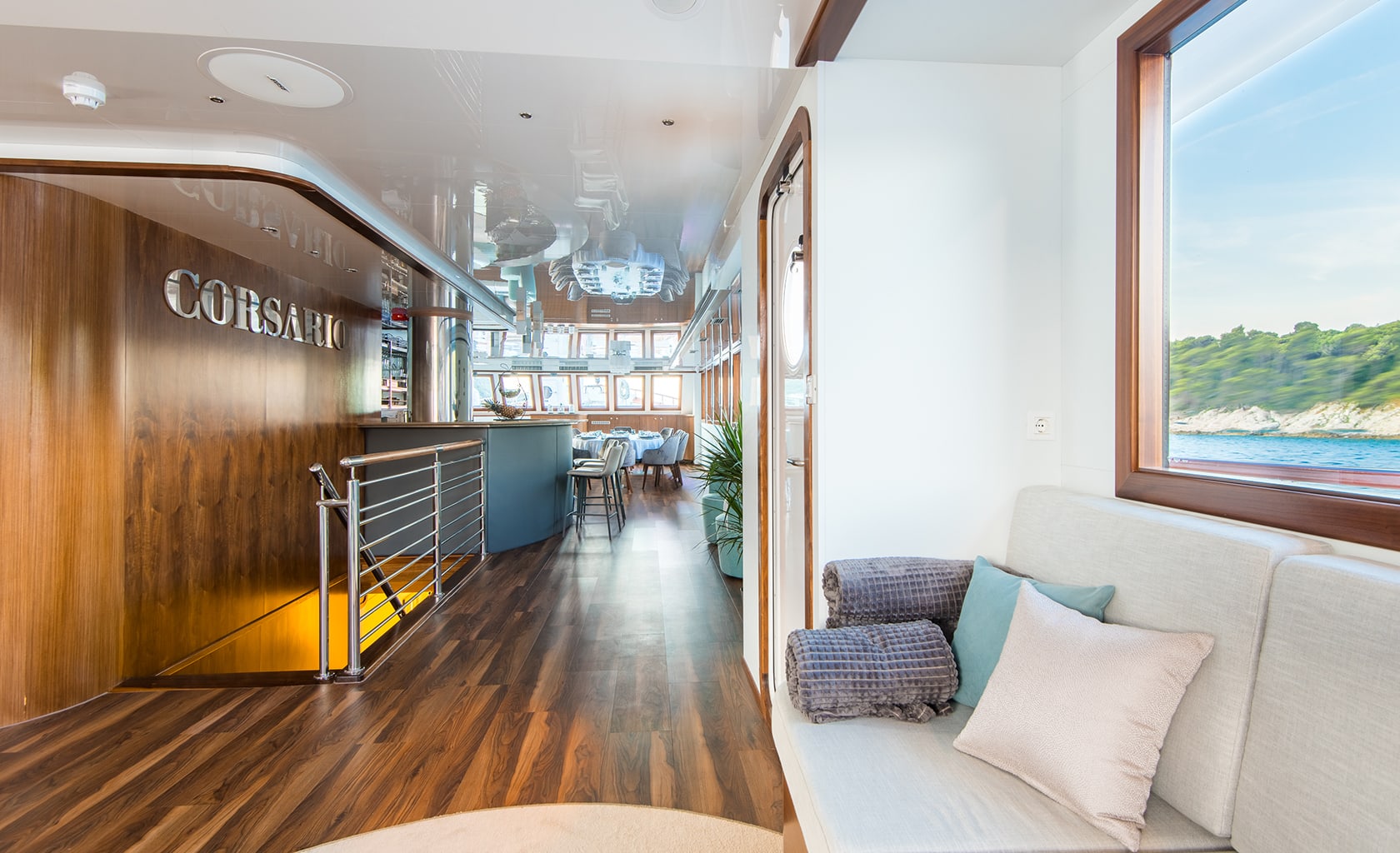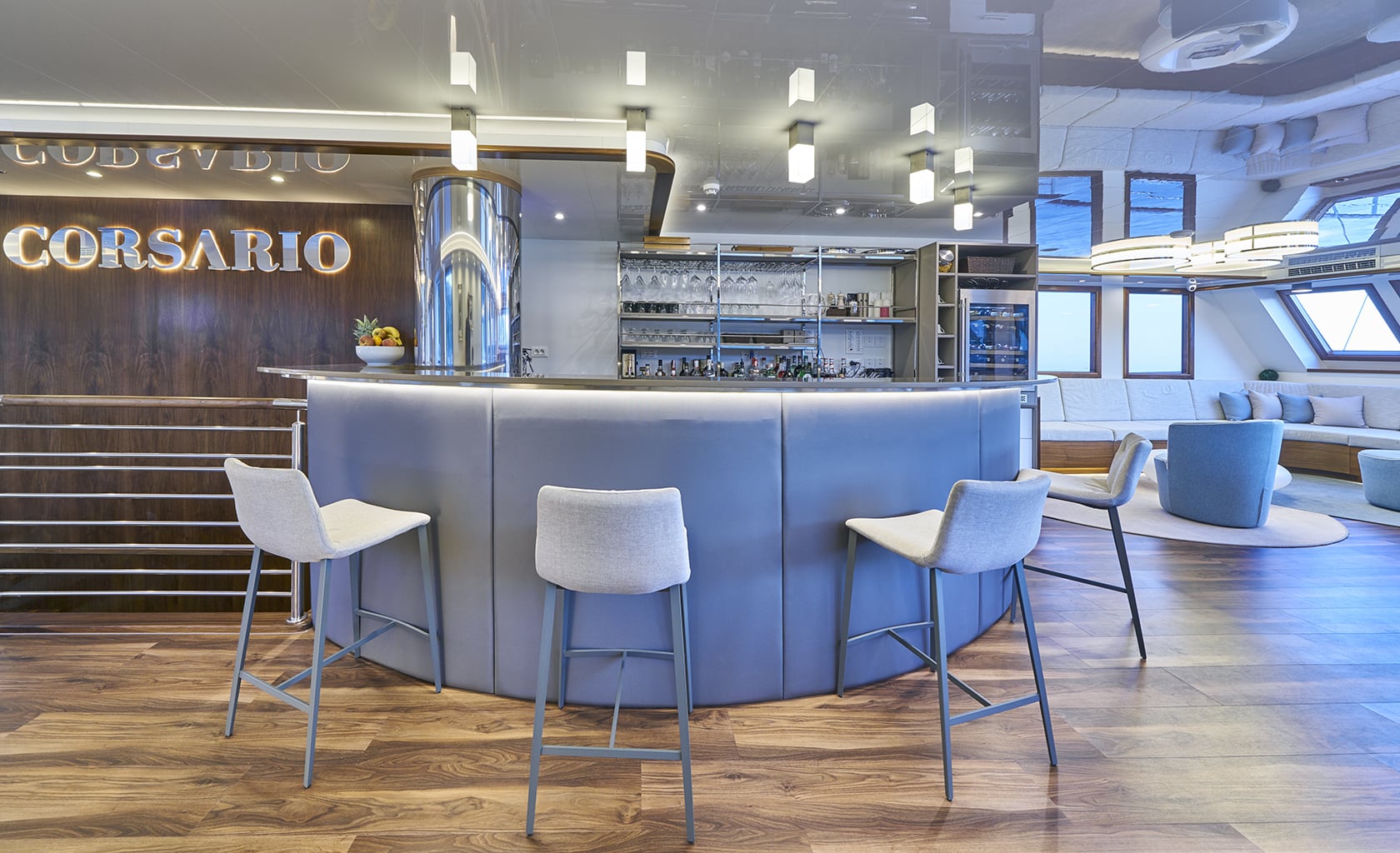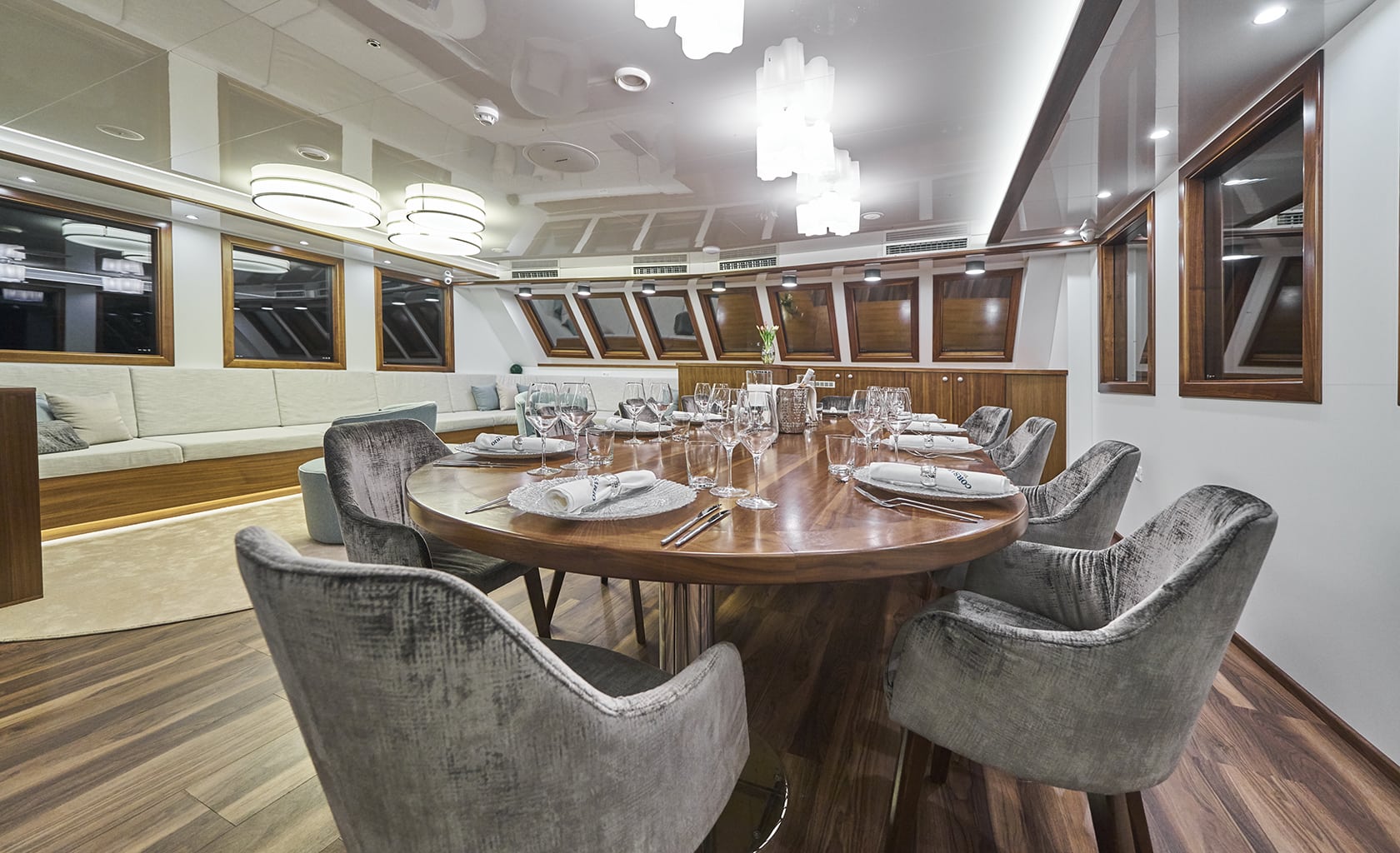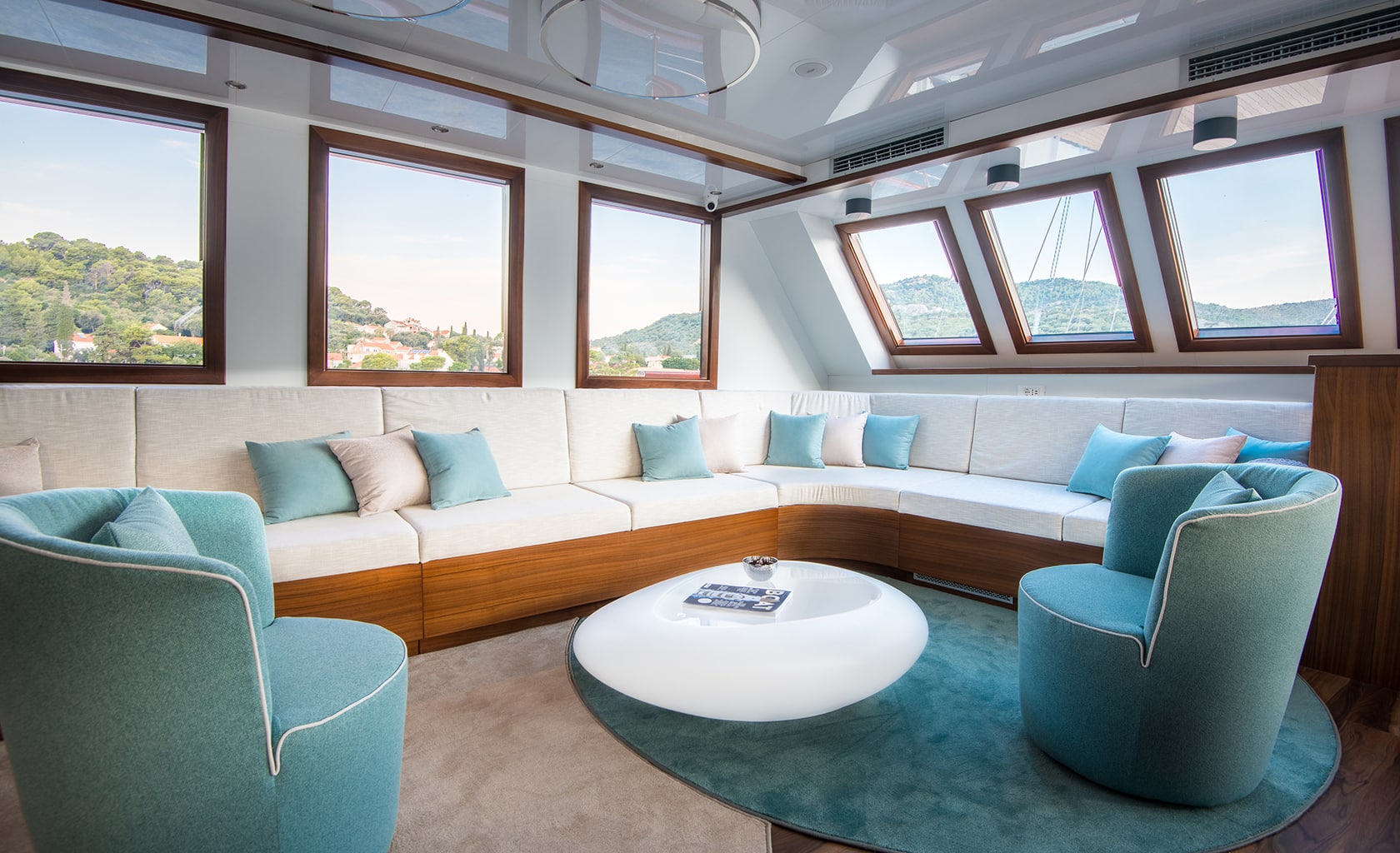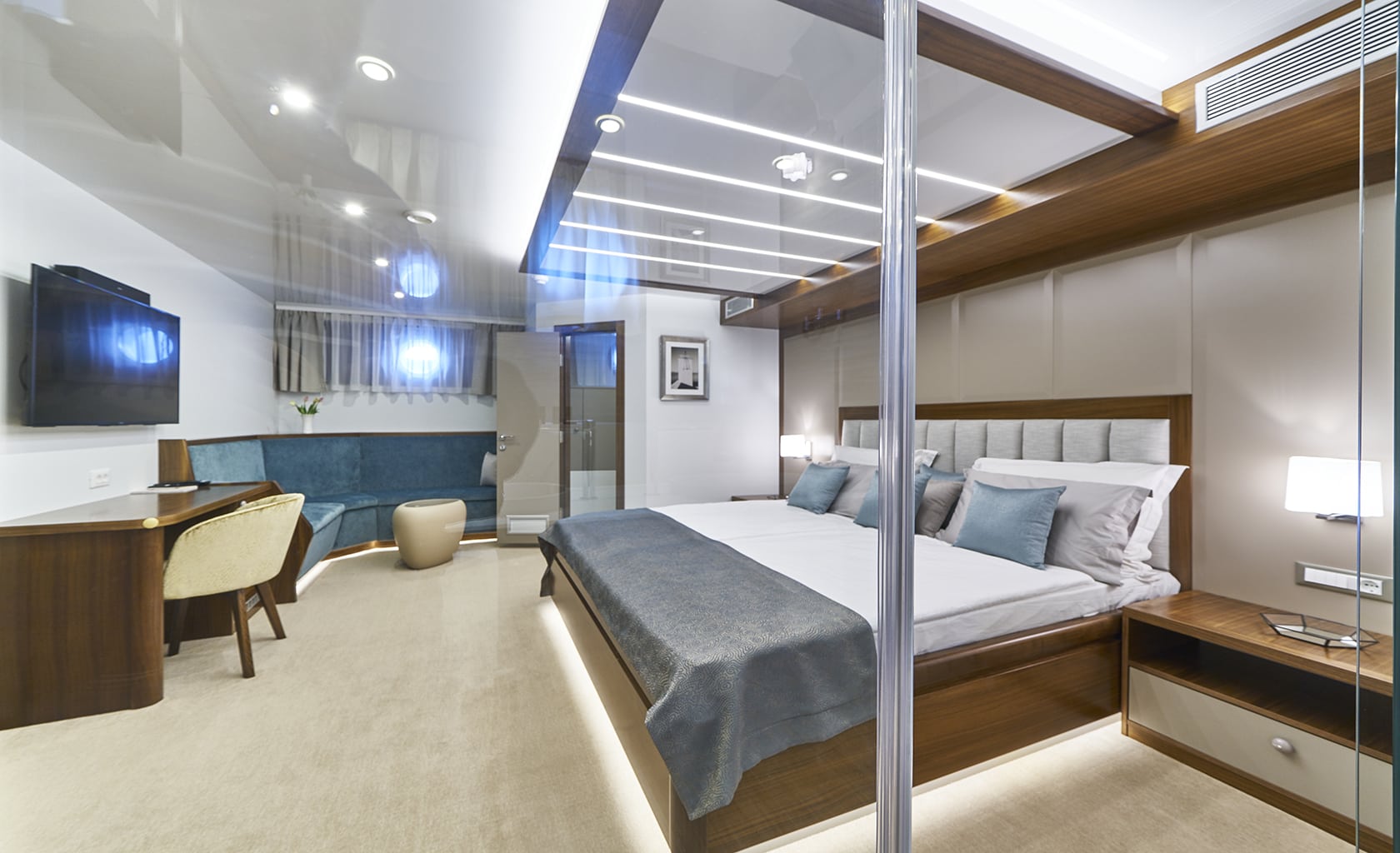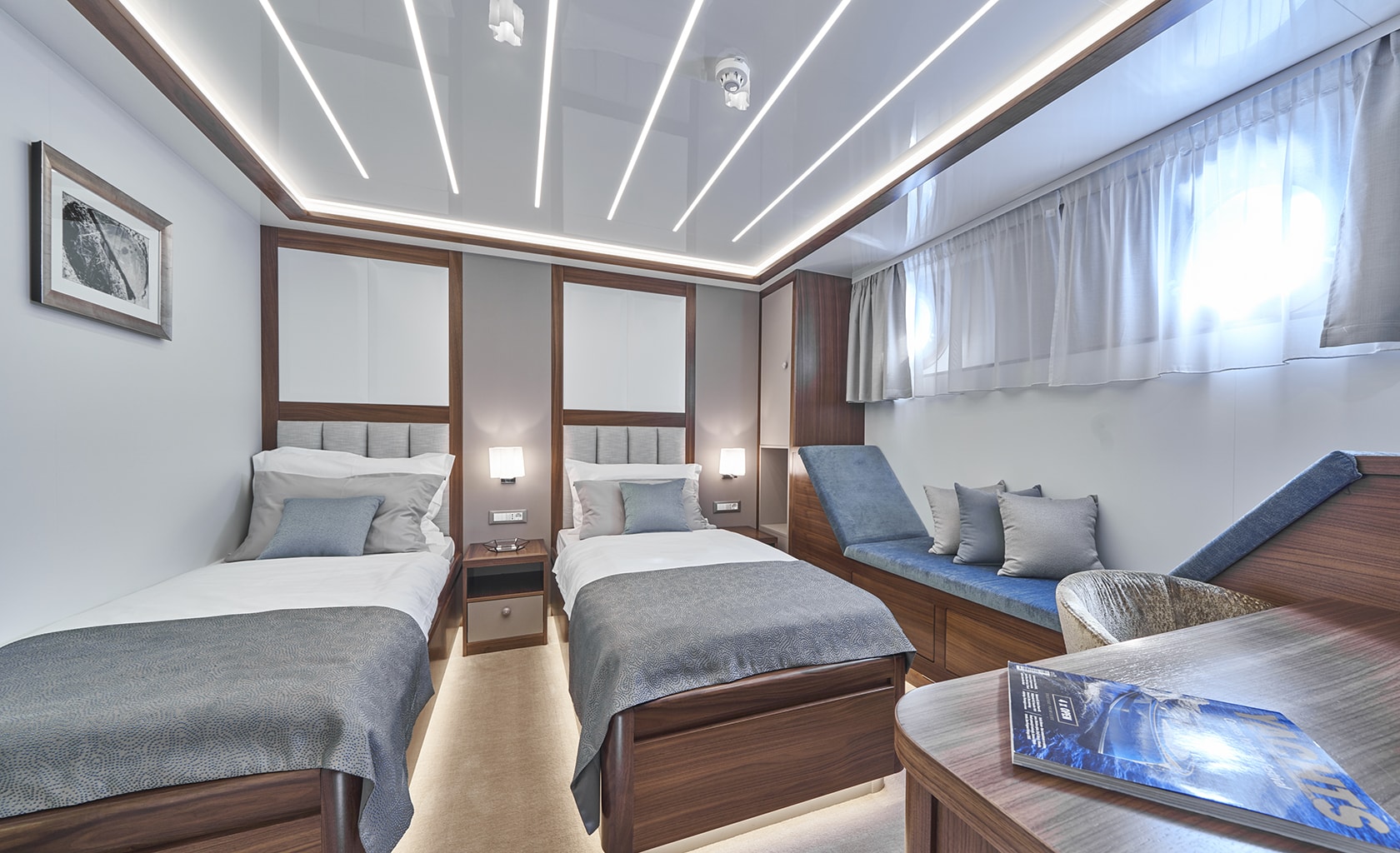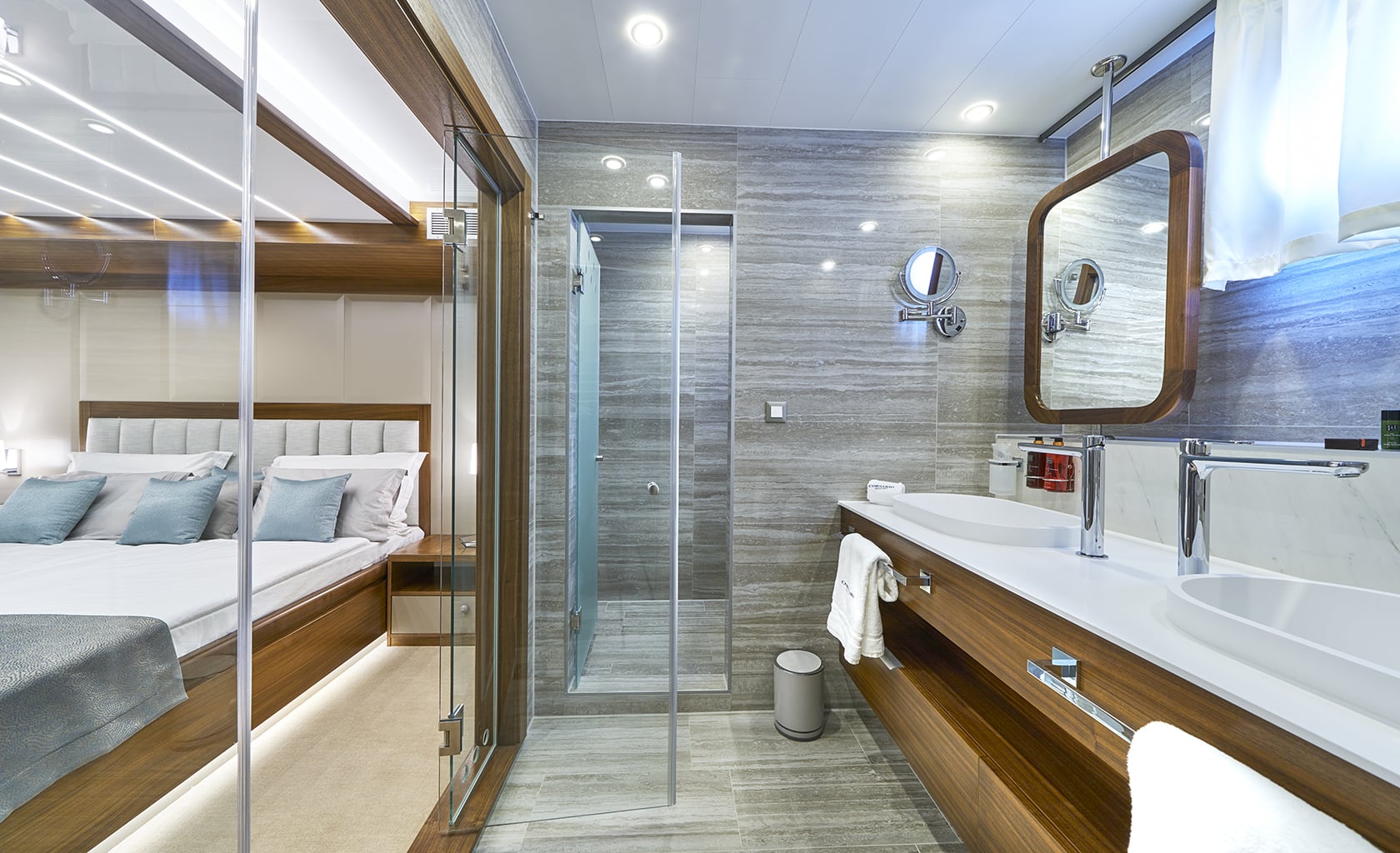 Corsario
The luxury "tall ship" Corsario comes close to living up to her (Spanish) Pirate name. Not only does her tall schooner rig look the part, she's a genuine sailing yacht of great power and elegance.
'Special' seems inadequate
Corsario is a 48m / 147ft rare find, hosting up to 12 guests in her six sumptuous cabins and huge saloon whose white paint and timber combination give her a New England feel.

All her air-conditioned cabins are wonderfully well appointed, include Satellite TV, DVD player, Wi-Fi mobile internet, USB connection; even PlayStation 4 (and if the weather isn't warm enough for you, try the onboard sauna)
As charming at night as in daylight
Corsario's acres of deck space, beautiful in sunlight is almost more magical at night with her spectacular lighting of decks and rig which make her seem to float above the water.

During the day, suntan on the foredeck, hide in the shade of the aft deck, or wallow in the top deck's jacuzzi, later, under the stars. That's when you've exhausted yourself from water skiing, jet skiing, canoeing, and paddle boarding, of course.
Fabulous Culinary experience
One of the main highlights of this amazing yacht is the culinary experience you will have time to enjoy. You can expect fish, meat, or vegetarian menus; just tell the chef your preferences. Some plates of the Corsario's chef's specialities include barbecued Mackerel, Kapesante, Sea Bream, and Tangerine Pannacotta.

Ah, the choices…
Specification
Water Sports
Jet ski, Water Skiing, 3 Paddleboards, 2 Kayaks
Crew Description
Captain, Chef, Sous Chef, 2 Hostesses, Deckhand, Steward, Maid, Engineer

Season A
From 23 April 2022
till 25 June 2022
66.670 €
Season B
From 25 June 2022
till 03 September 2022
73.450 €
Season C
From 03 September 2022
till 22 October 2022
66.670 €
GOOLETS SUPPORT: complimentary assistant who will guide you through your entire yacht journey
SHIPBOARD ACCOMMODATION: maximum number of 12 guests sleeping in 6 cabins
FUEL FOR CRUISING: 4 hours/day
CREW: Captain, Chef, Sous Chef, Deckhand, 2 Hostesses, Steward, Cleaning lady, Engineer
AIR CONDITIONING: unlimited hours/day
LINEN: bed sheets, bathroom, and beach towels
SNACKS: 5 o'clock tea and snacks, welcome drink on embarkation day
WI-FI
VAT
Mandatory Extras:
Food Options
HALF BOARD (breakfast, lunch): 500 €/person/week
FULL BOARD (breakfast, lunch, and dinner): 750 €/person/week
Drink Options
DRINKS FROM YACHT'S BAR: according to the bar price list
ALL-INCLUSIVE ALCOHOLIC DOMESTIC PACKAGE: 300 €/person/week (Croatian beer, quality Croatian wines – not premium, water, soft drinks, coffee, tea, and all domestic alcoholic drinks)
ALL-INCLUSIVE ALCOHOLIC PACKAGE: 500 €/person/week (beer, quality, and premium Croatian wines, water, soft drinks, coffee, tea, and all domestic and foreign alcoholic drinks)
ALL-INCLUSIVE NON-ALCOHOLIC DRINKS: 100 €/person/week (domestic non-alcoholic drinks, water, carbonated drinks, juices)
Port and Tourist Taxes
PORT TAXES: A.P.A. (Advance Provisioning Allowance) is an estimate of 10.000 € paid with the balance for covering running costs during the charter: port and marina fee, jet ski (100 €/h), national park entrances, custom fees, and charter licenses if chartered outside of Croatia, drinks which are not included in beverage packages, and anything else that guests might need while on charter. A strict set of accounts is held by the captain throughout the charter and any funds not spent are refunded to the client in full. *To drive a Wave Runner in Croatia one needs to have a boat driving permit with him/her when on the Wave Runner. It is forbidden to allow a person to drive a Wave Runner if one does not have a license with him/her.
Non-Mandatory Extras:
Private Marinas:
Tips:
It is customary to tip from 5% to 10% from charter price, according to satisfaction.
Additional Motorized Water Sports:
Other Options on request
Land transfers, fishing licenses, guided tours, excursions, restaurants, bike rentals, car rentals.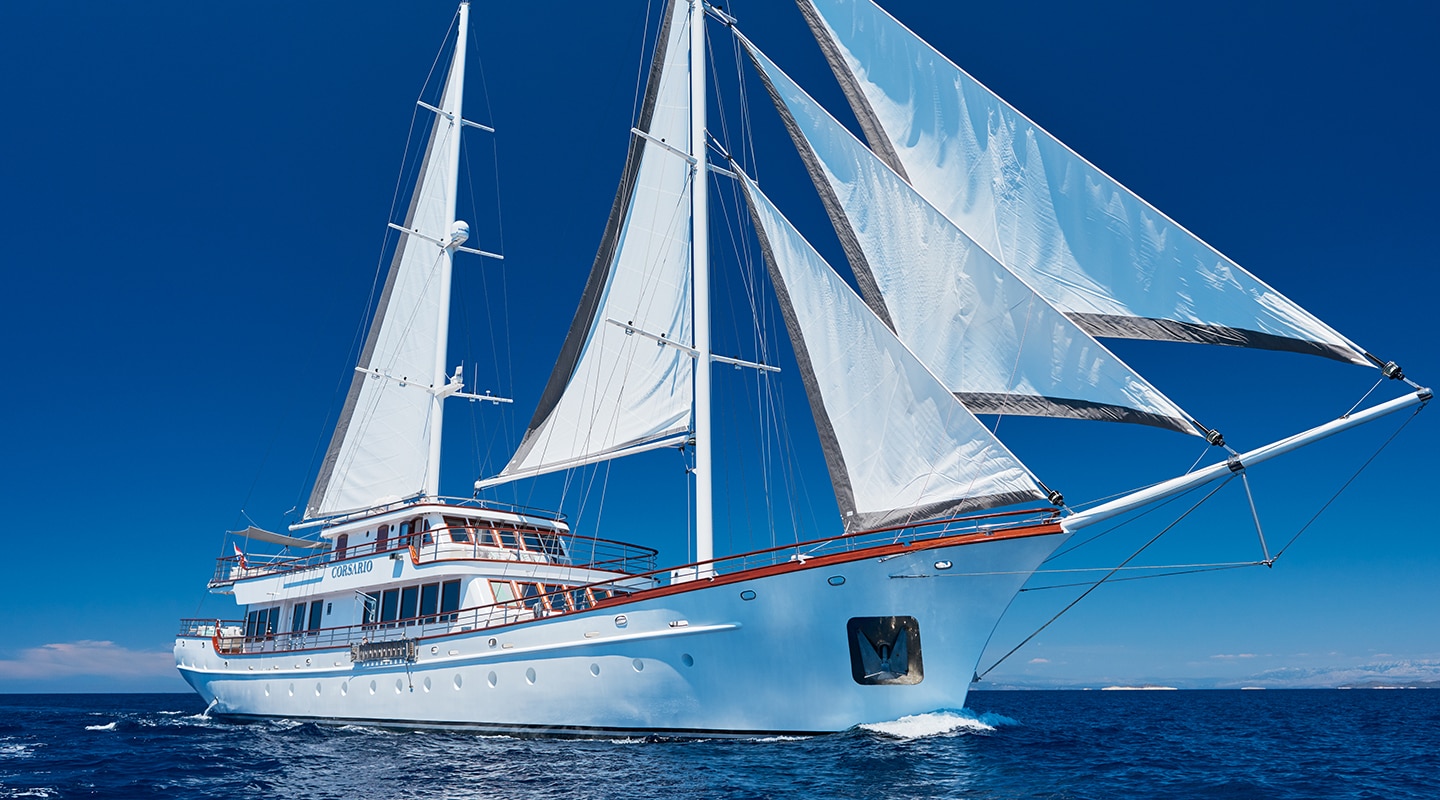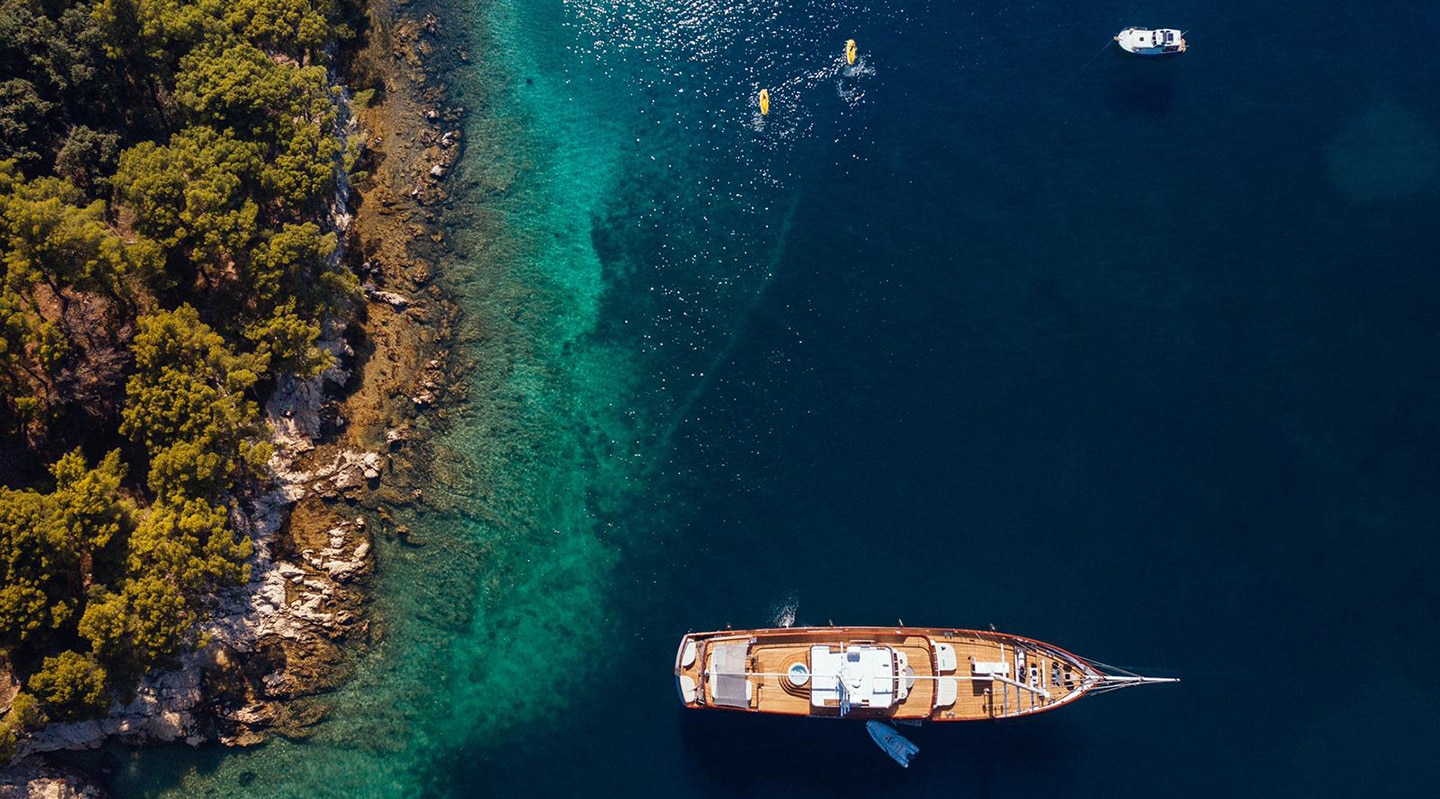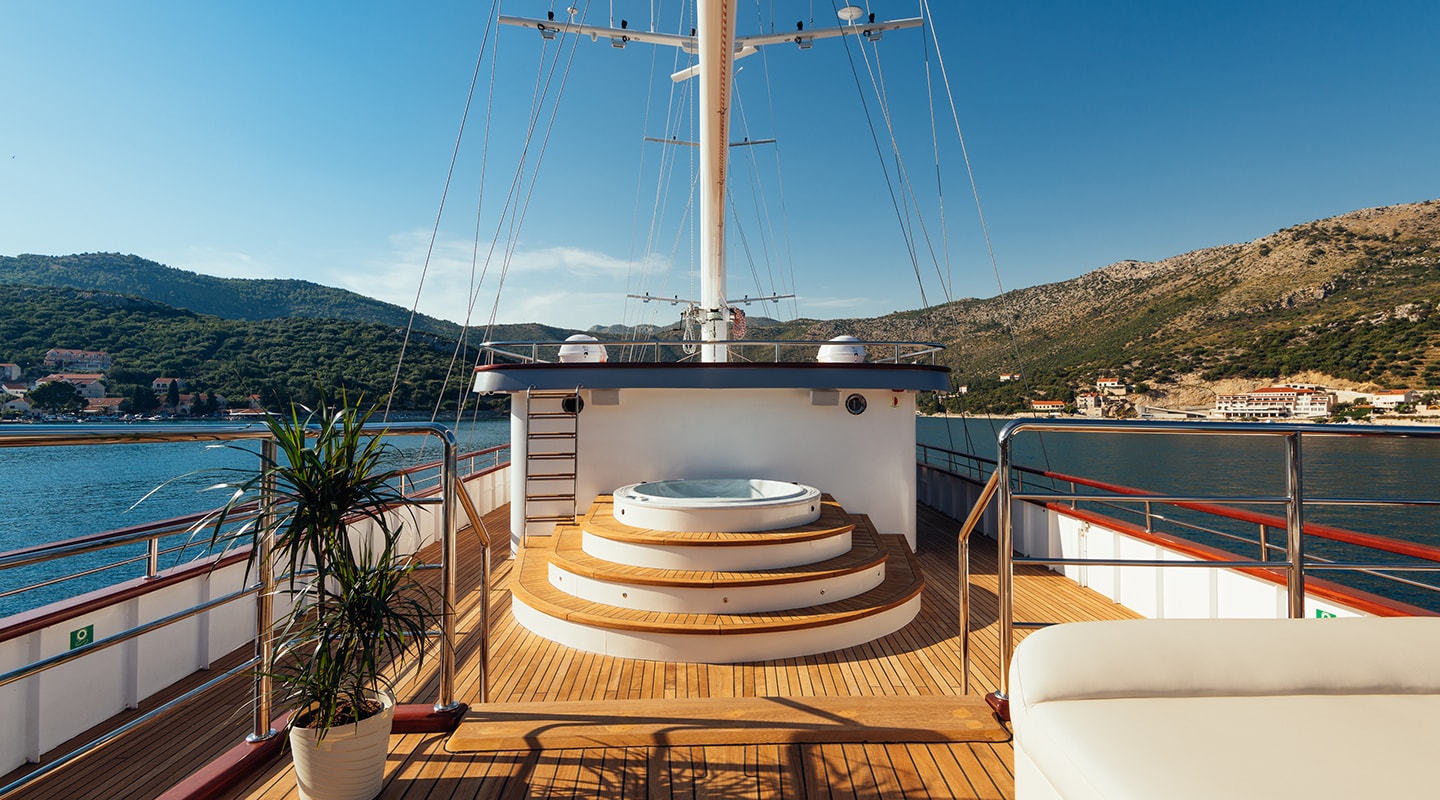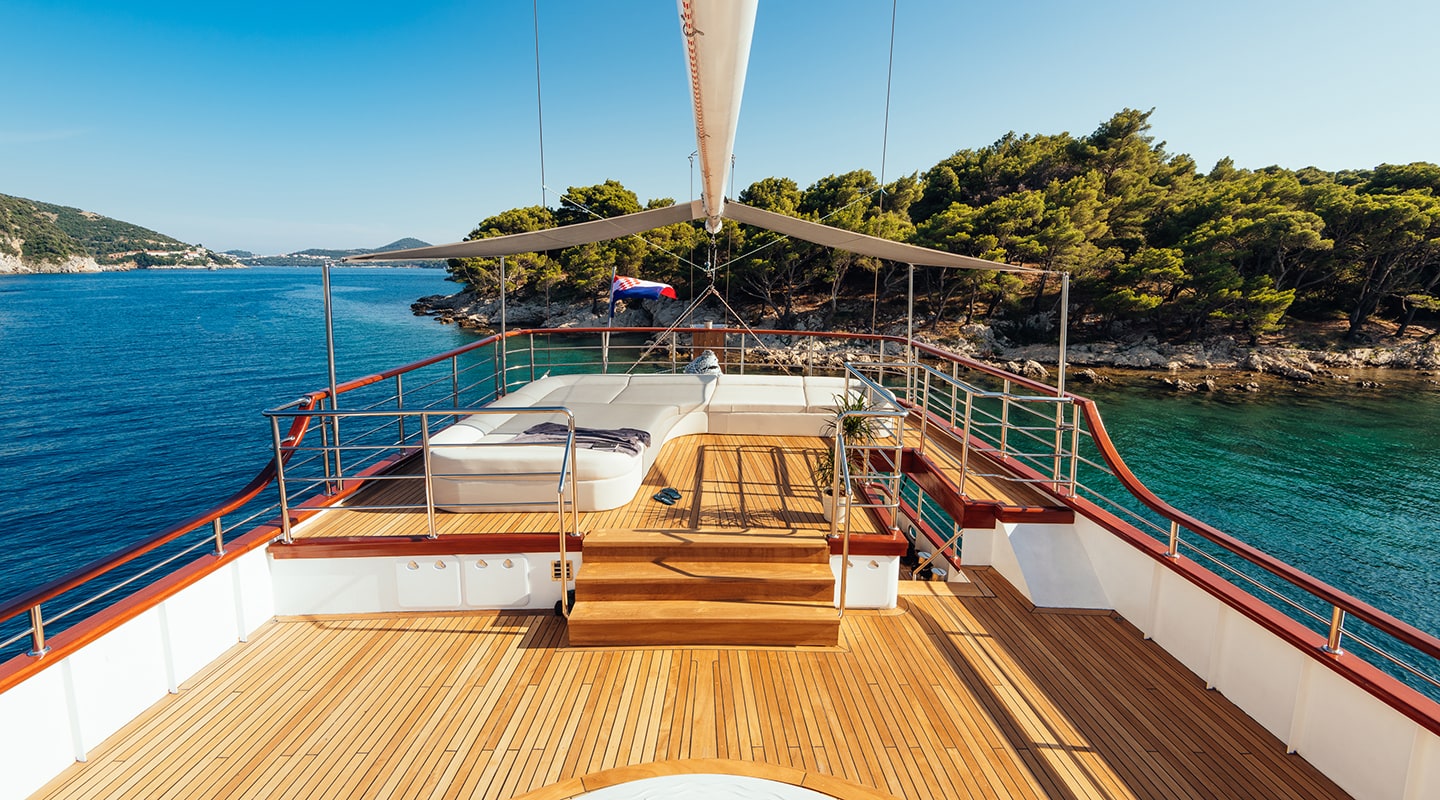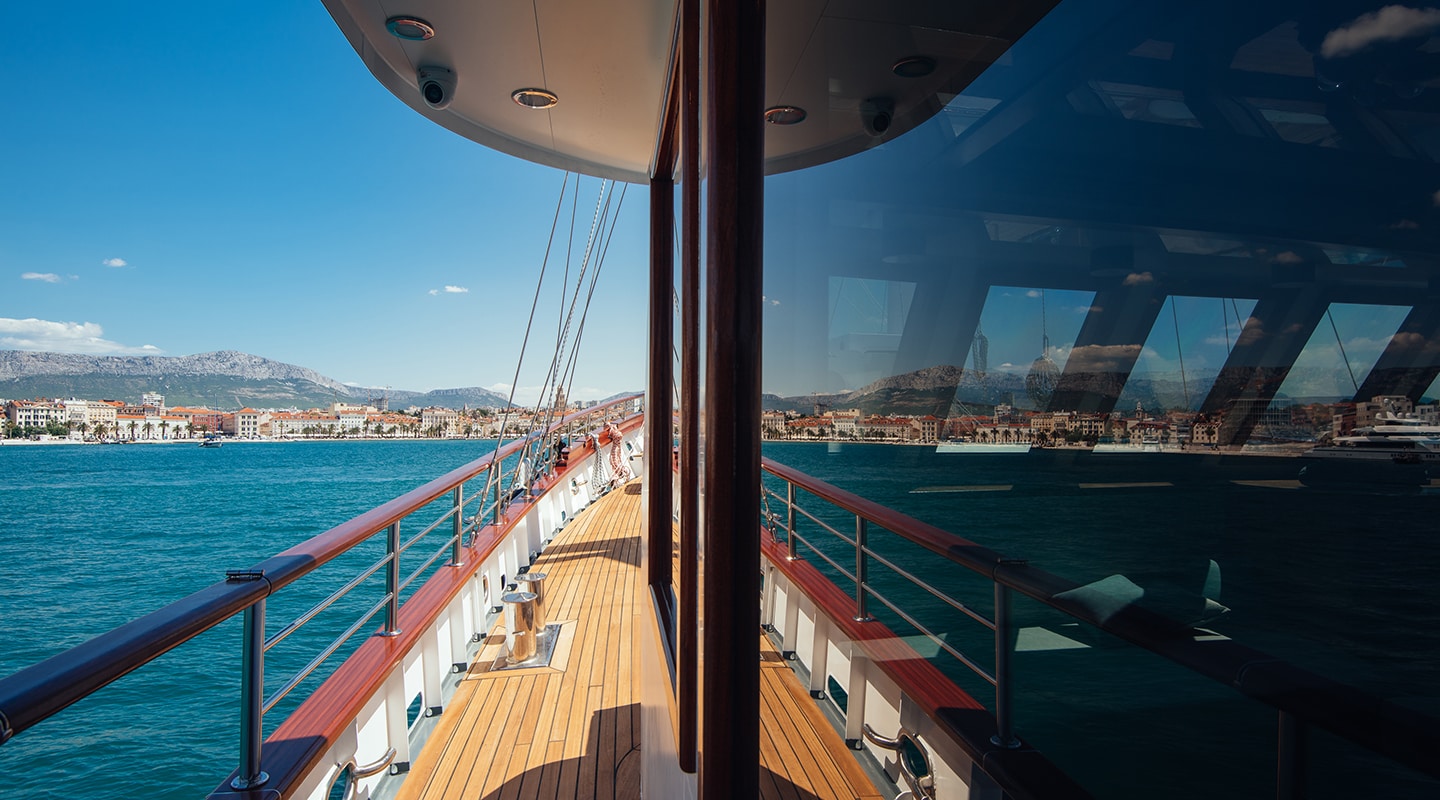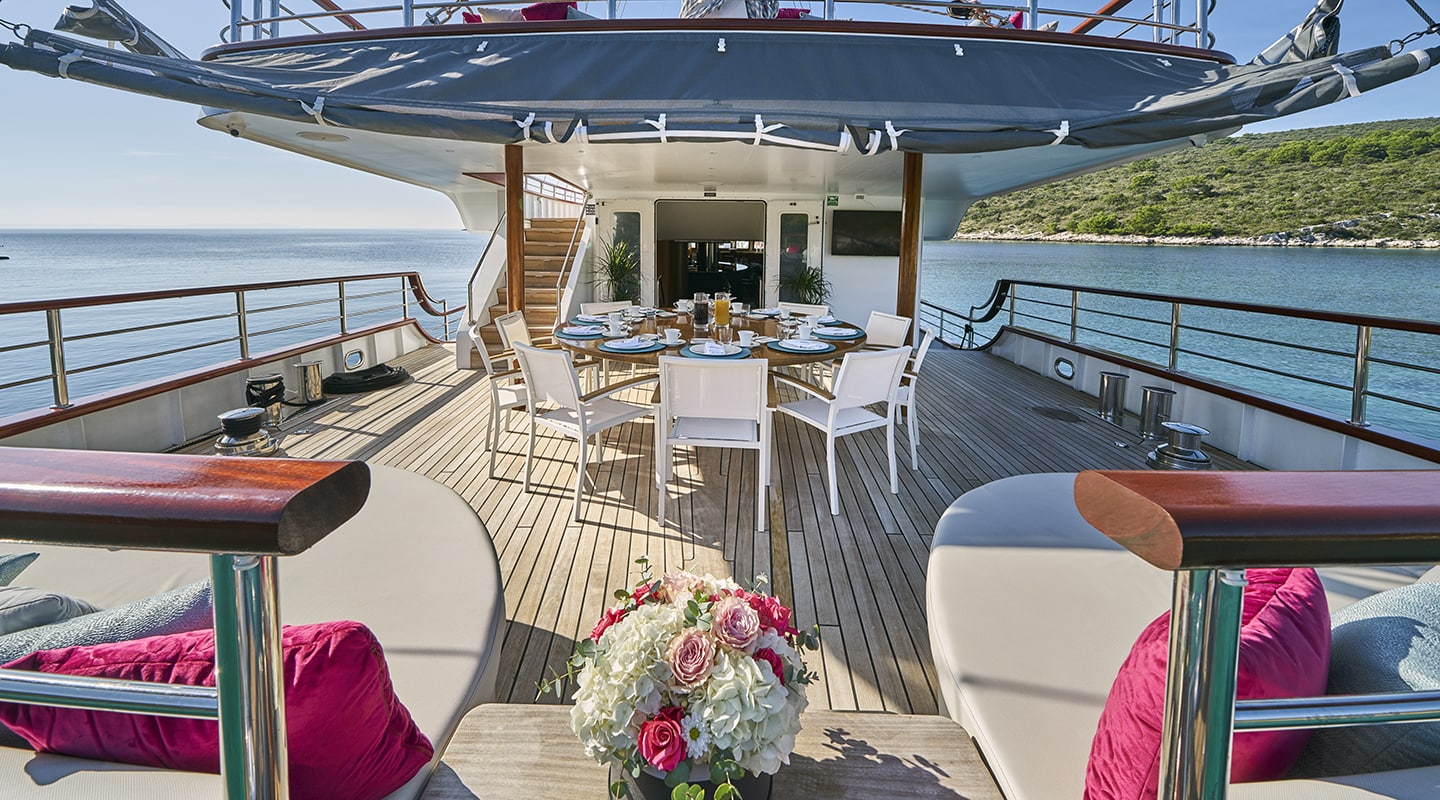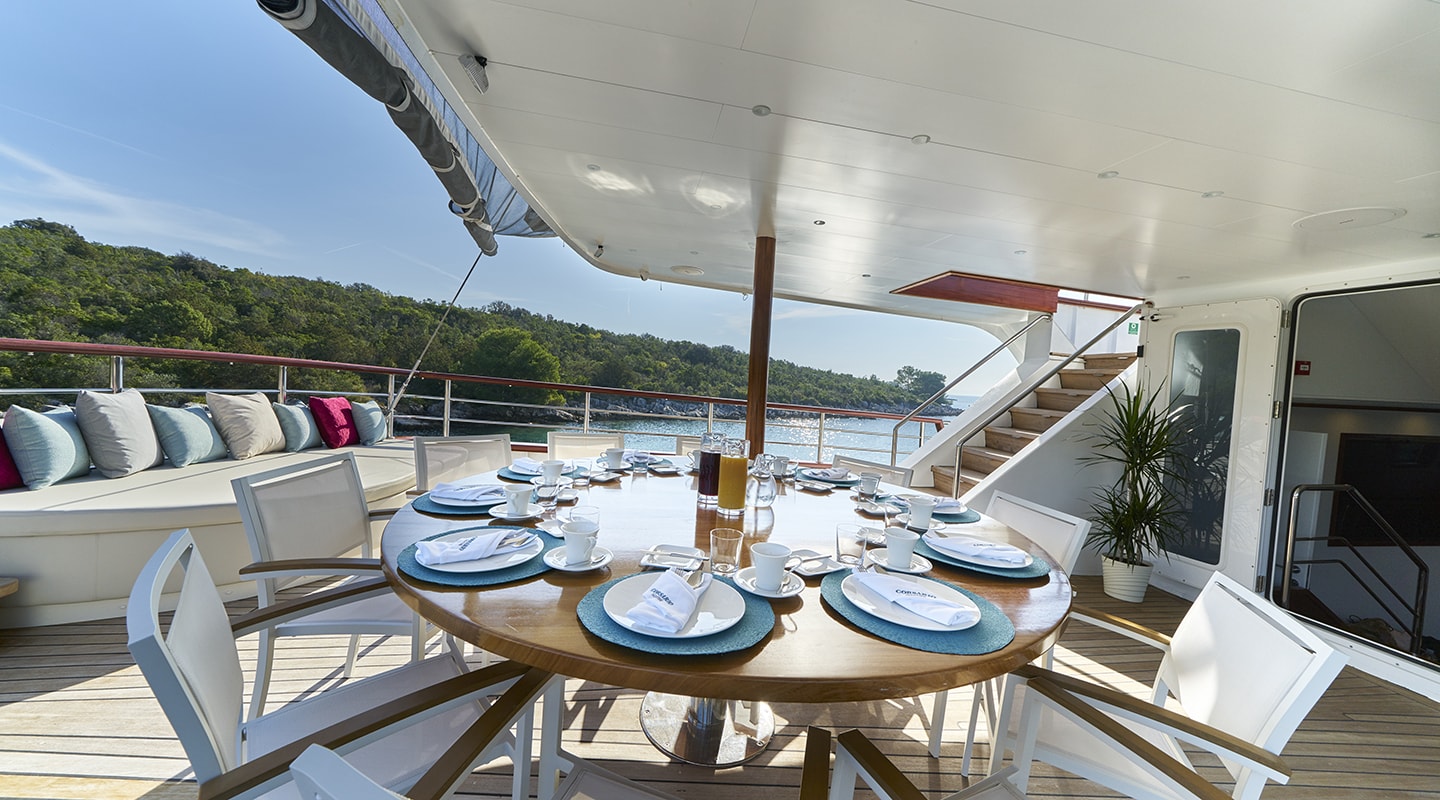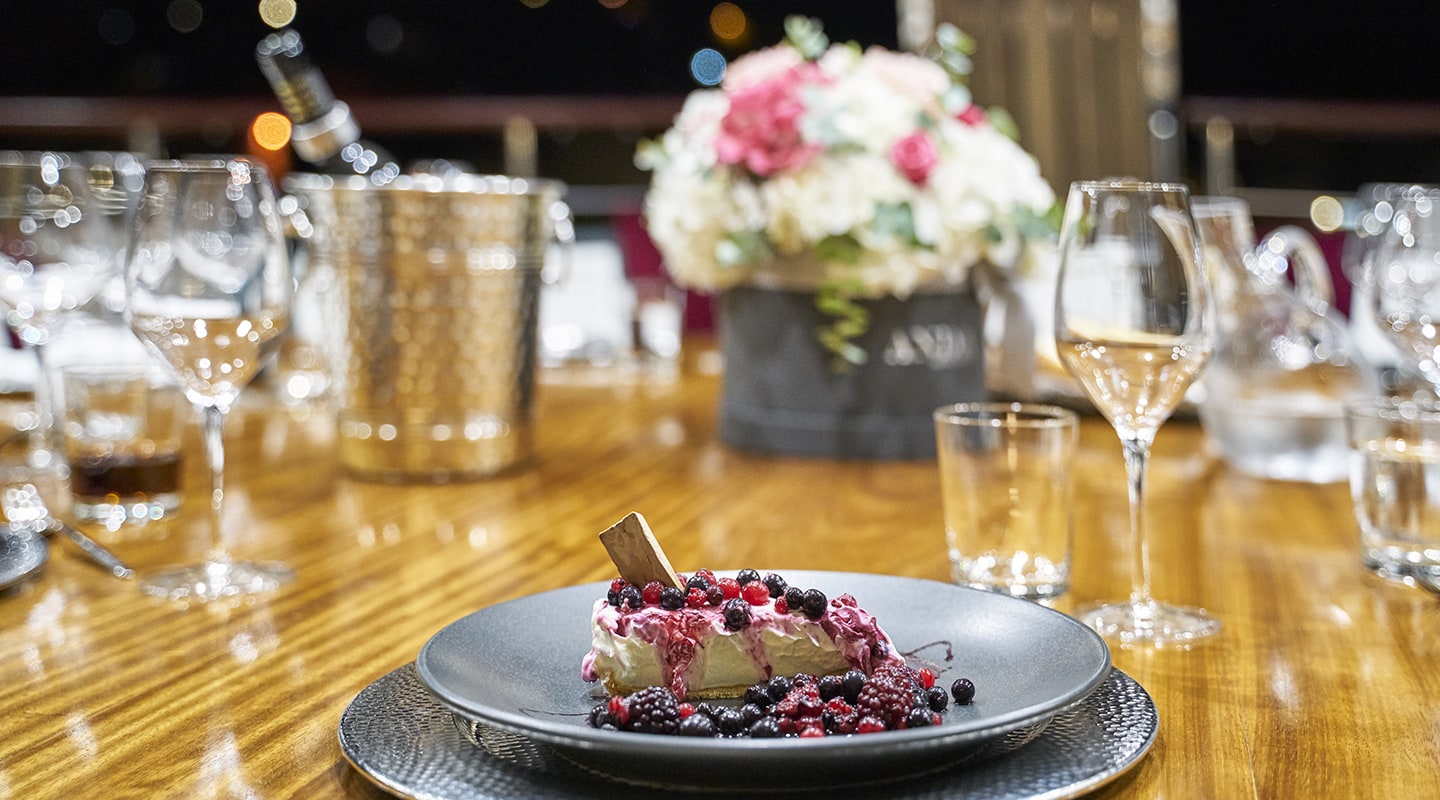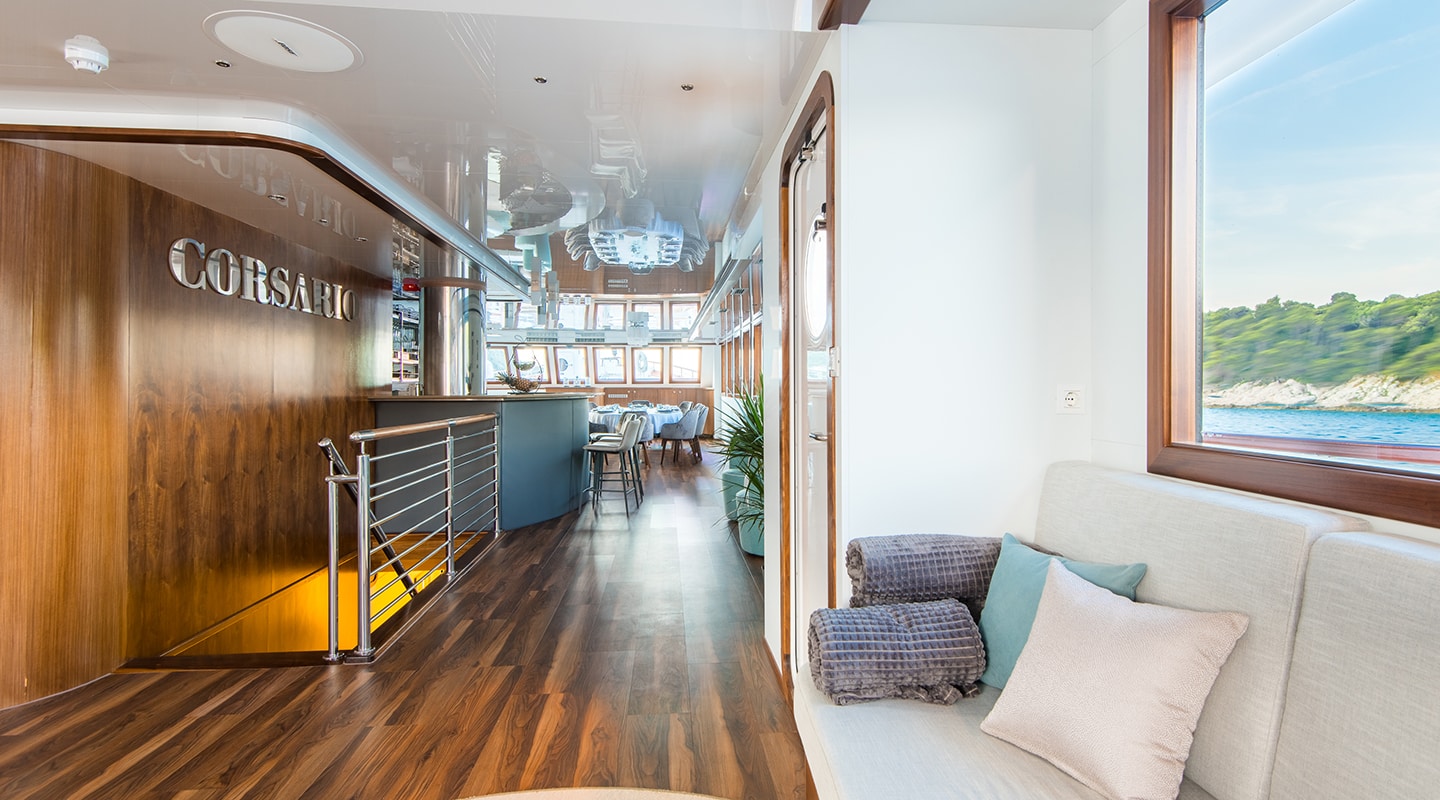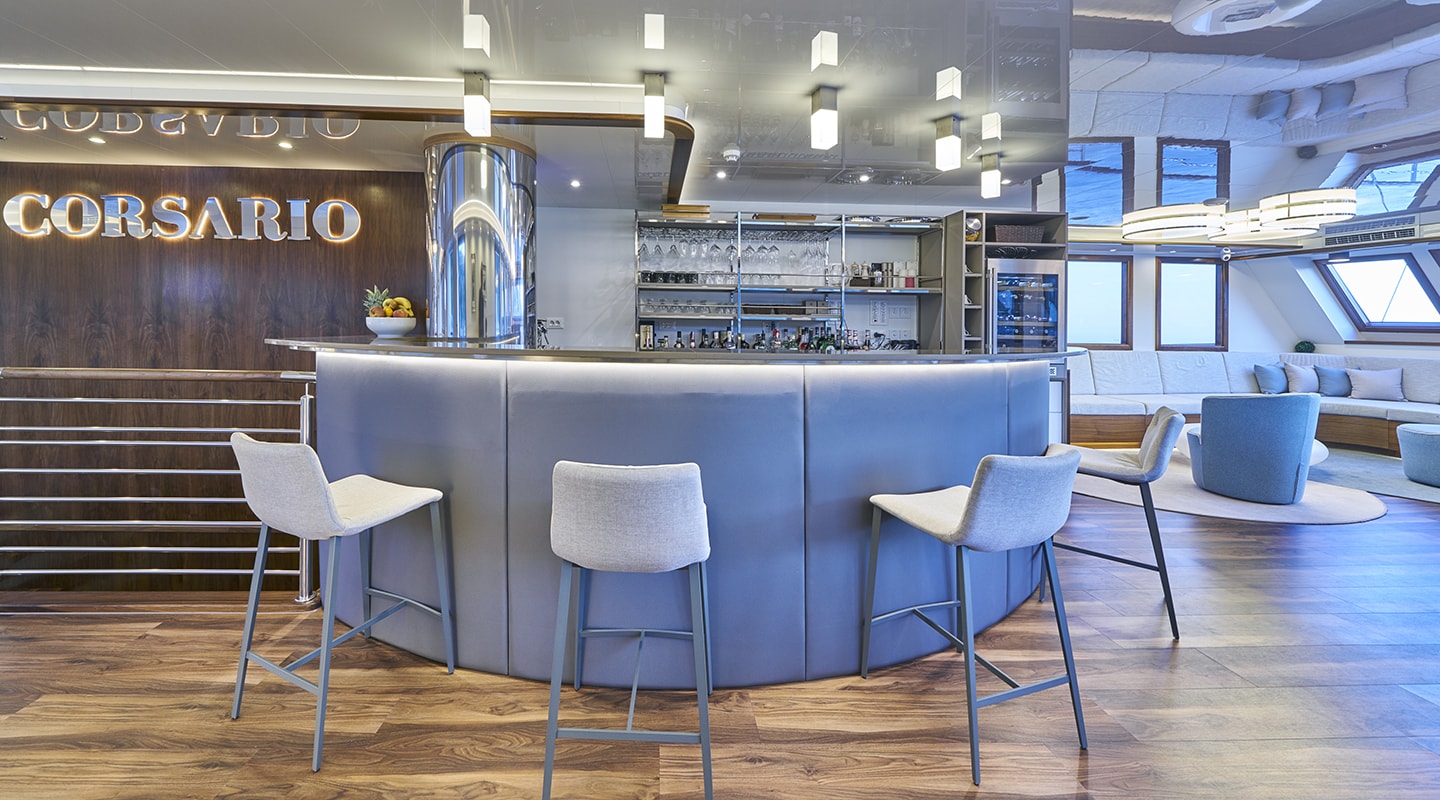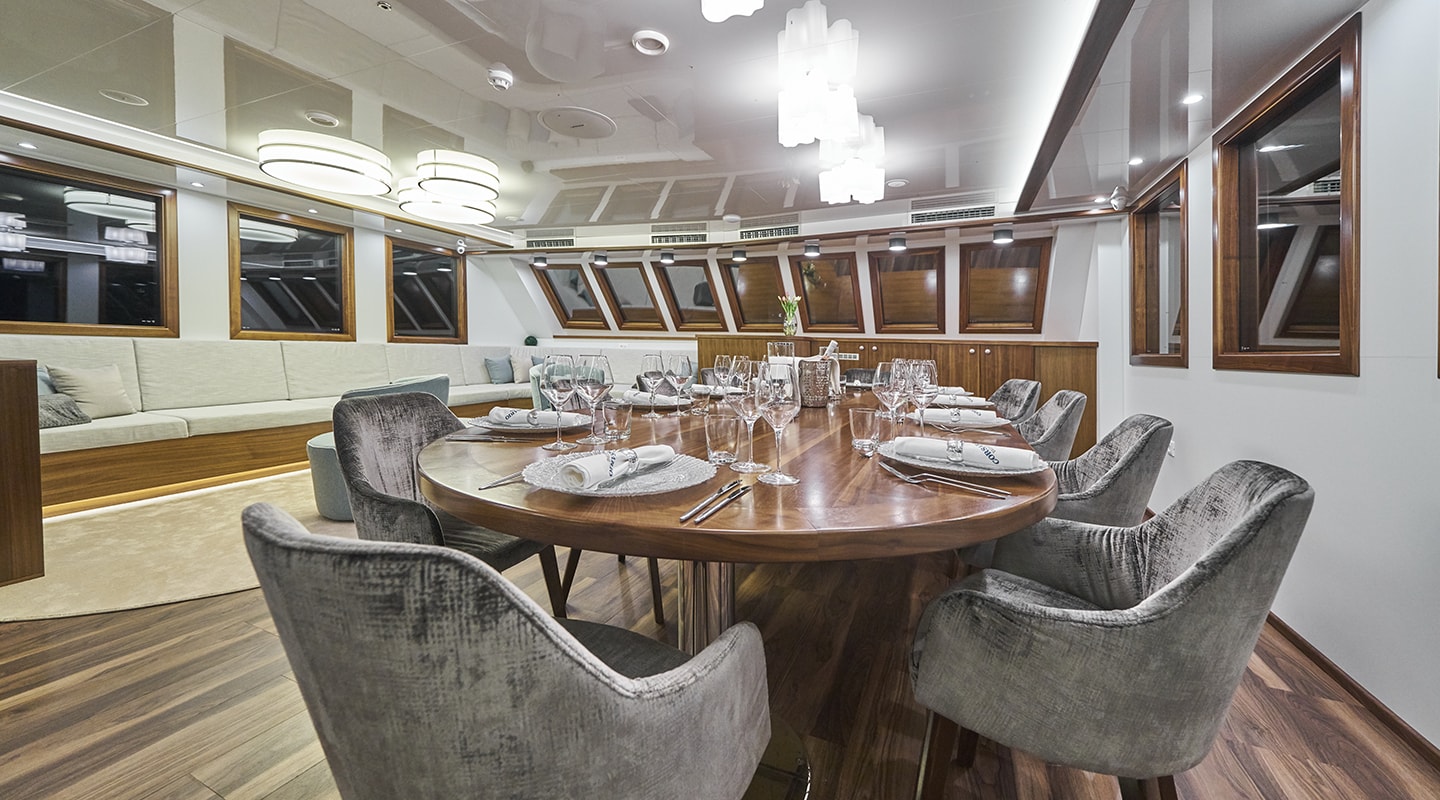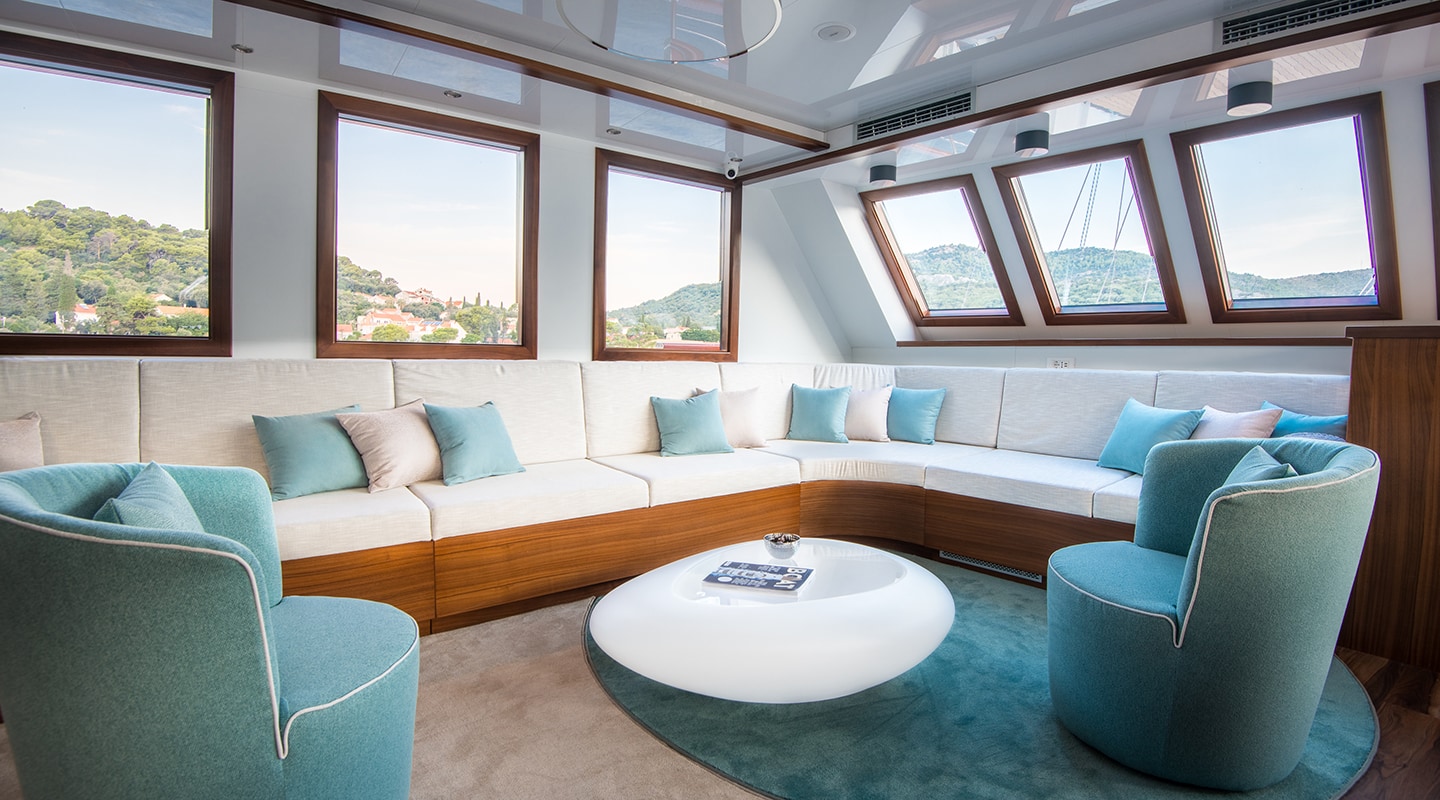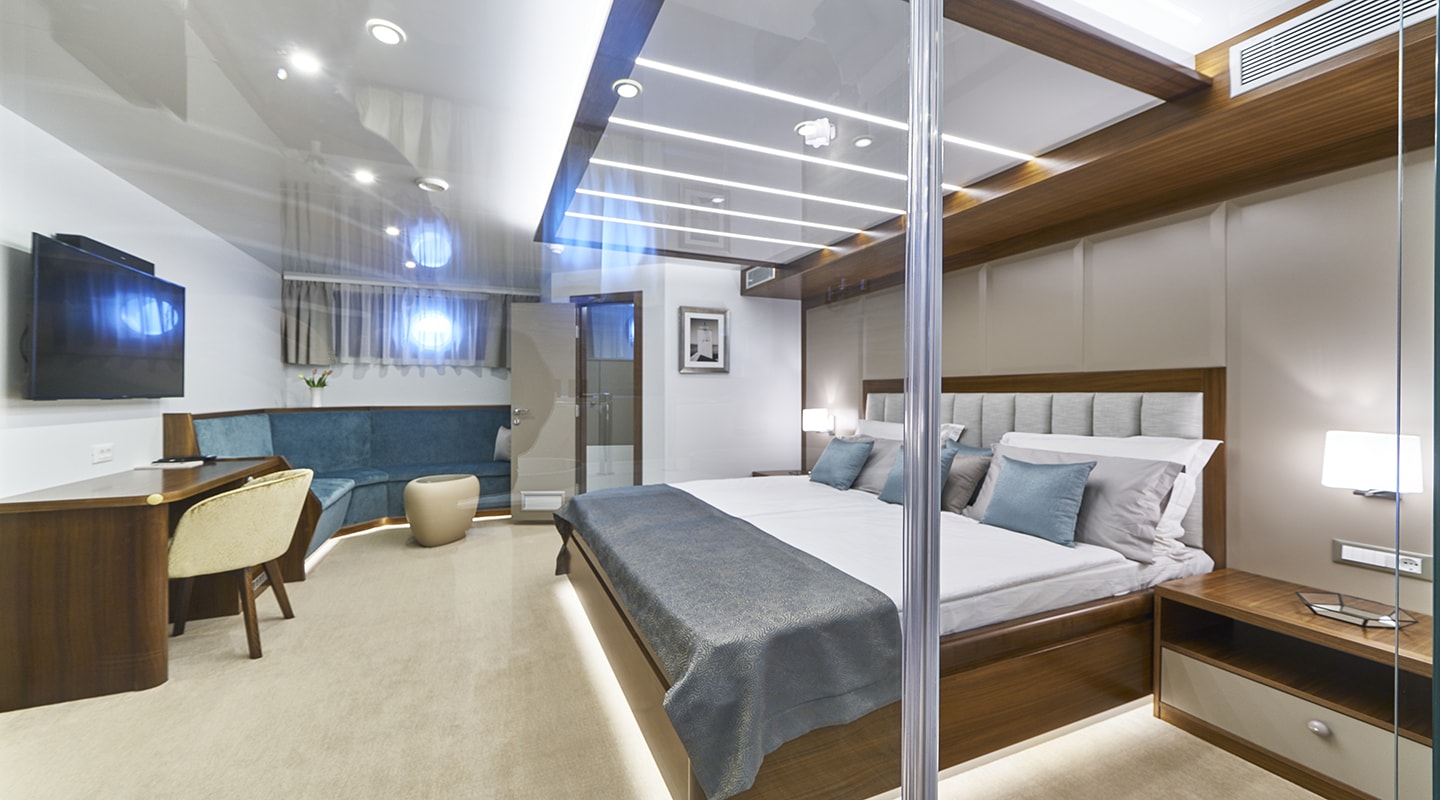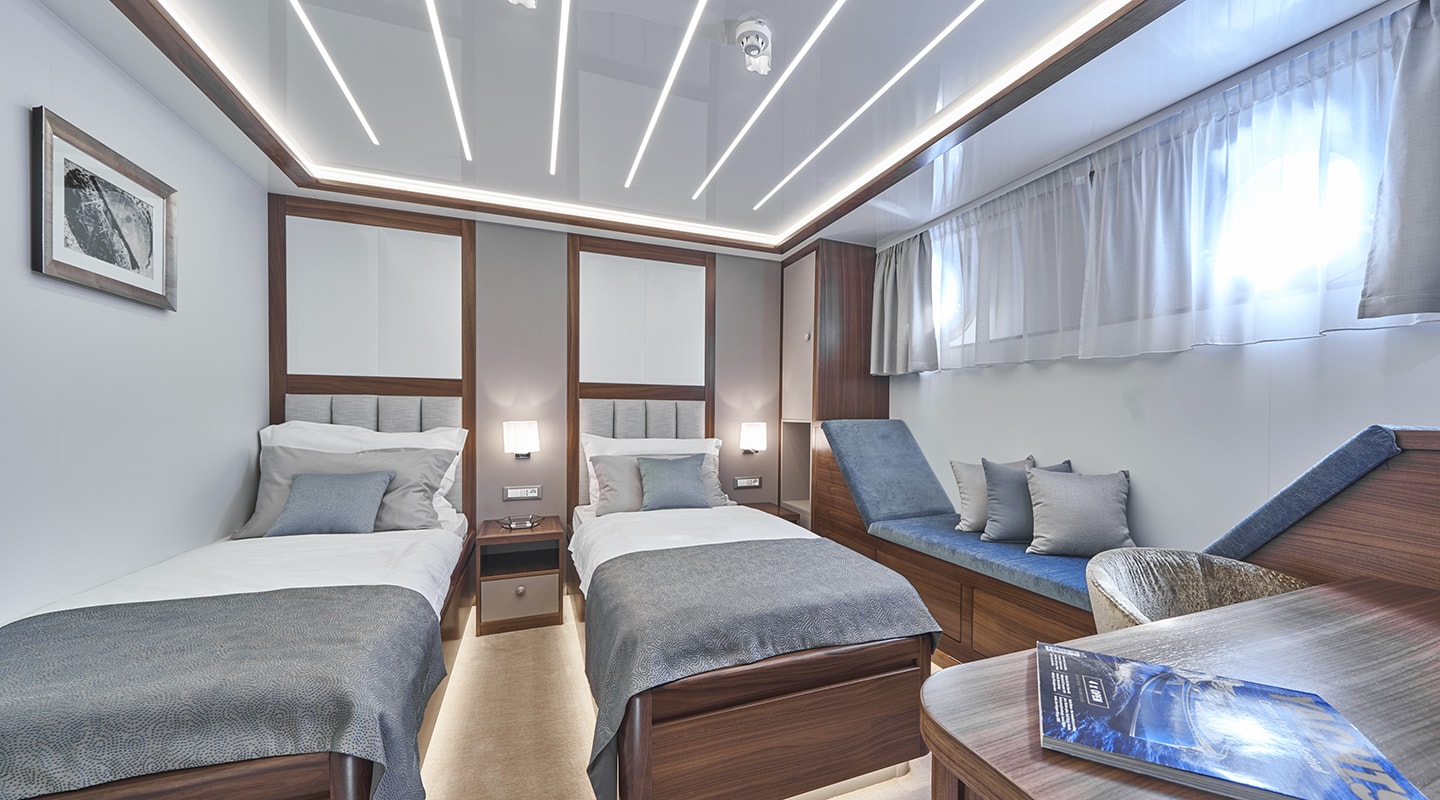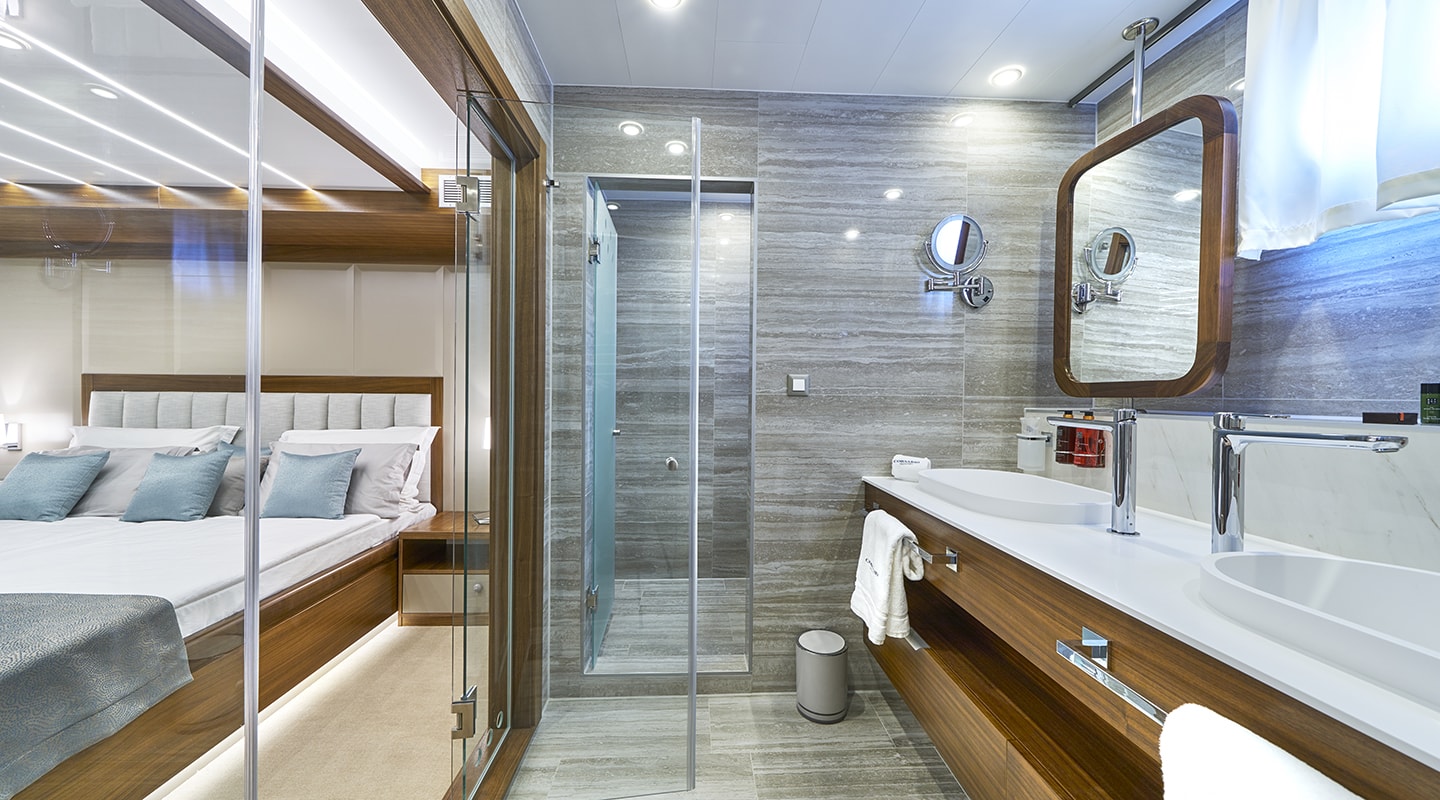 Finding the right yacht is important. But finding the perfect combination of the yacht, the crew (including the chef), itinerary, and activities that are all tailor-made to align with your group's structure, requires significant effort and forward planning.
This is what we pride ourselves on doing best.
A: Understanding your group structure, wishes, philosophy, and priorities.
B: Making sure your entire holiday is organised in a way that accommodates your whole group.
We are a customer-service company first, and a yacht broker second. We look forward to being of assistance to you.
The entire yacht search process at Goolets is organised in a way that we always find the best ''value for money'', most suitable yacht available for your group.
First, we review as many vessels as possible to ensure all bases are covered.
Then, we refine the selection to 2 or 3 options, any of which would be a good choice.
We always ensure you receive the best possible deal and the best possible service on these suggestions.
We concentrate on a yacht's overall value based on your search criteria first, then we look for discounts.
The amount of any discount will vary depending on the yacht's availability at the time of booking.
If according to your search criteria, there are dozens of yachts available at the destination you want, on the dates you request, there will be more room for negotiation on price.
If what you are looking for is a yacht in high demand, there is little or no flexibility on pricing.
Each yacht's charter rate varies, depending on destination, type of yacht, and various additional expenses.
To arrive at an estimate of how much the entire charter will cost (including the charter of the yacht itself, food, drinks, fuel, VAT, port taxes, crew tips, national park entry fees, and so on), the rule of thumb is to take the base charter price and add 30%.
Sometimes the cost will be lower, sometimes higher; but for the best guesstimate, this formula will give you a good idea of the overall expenses.
For example, if the base charter price of a yacht is quoted at 30,000 €/week, with all the additional costs the total payment due (not including flights or transfers) would be around 39,000 €/week.
When you inform us about your preferences, our charter experts will always break down the expenses in detail, so there are no hidden costs when you arrive on your yacht or during your trip.
Most yacht charter destinations have a handful of the most popular itineraries that are being used 90% of the time. Our yacht experts will be happy to advise which one would be the most suitable for you.
The most important part of route planning is not so much which route you take, but what you will do at each port of call, and how you wish to personalise each day to suit your preferences.
The same itinerary will be structured in an entirely different way if, for example, you are a group with small children; or if you have teenagers; or if you like to party; or you are a group of active seniors interested in sightseeing.
We are experts in tailoring your route in a bespoke way that optimizes every moment of your holiday.
We monitor the live availability of all yachts via various systems - either directly through Goolets' online booking lists, or via yachting portals such as Yachtfolio, Charter Index, CYA, Nausys, or Booking Manager.
Bookings are changing on an almost hourly basis, so each date needs to be frequently monitored.
You can check the real-time availability of the vessel either by submitting the inquiry form, sending an email to info@goolets.net, calling us on the phone, or contacting us via the ''live chat'' function (if you reach us inside our working hours).
We pride ourselves on replying promptly and will do everything we can to respond quickly.
Luxury boat charter in
Croatia
Croatia has more than 4,800 yachts available for charter. We compiled a list of "award-winning" yachts, recommended by industry experts. This list provides an overview of Croatia's top charter yachts in terms of quality, value, and performance.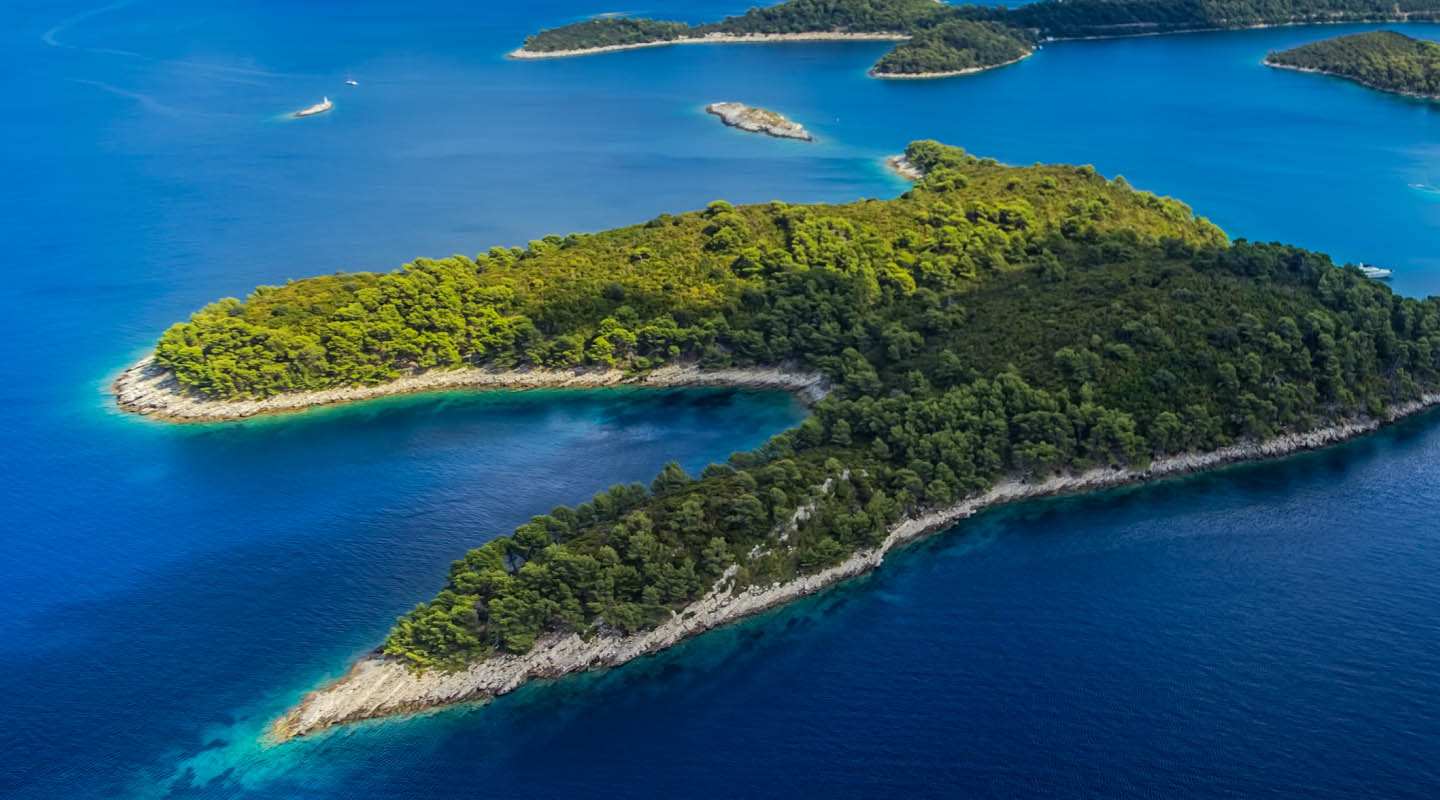 Understanding your wishes
We continuously monitor availability, quality, and accuracy of pricing, of well over 500 gulets and yachts in eleven different charter destinations.
Start planning now
What kind of boats are for you?
Find out which boat will suit you best in this short and fun quiz.