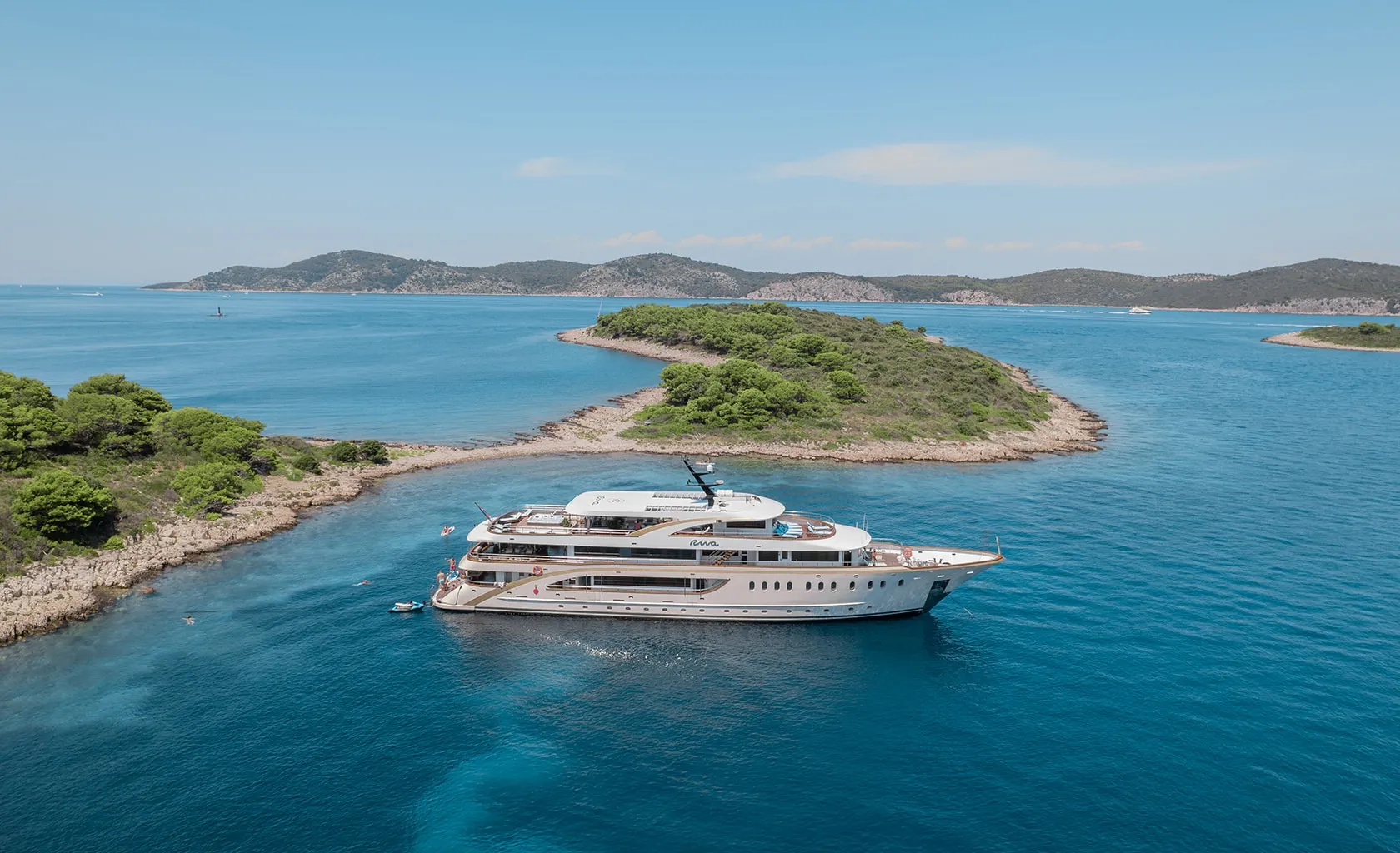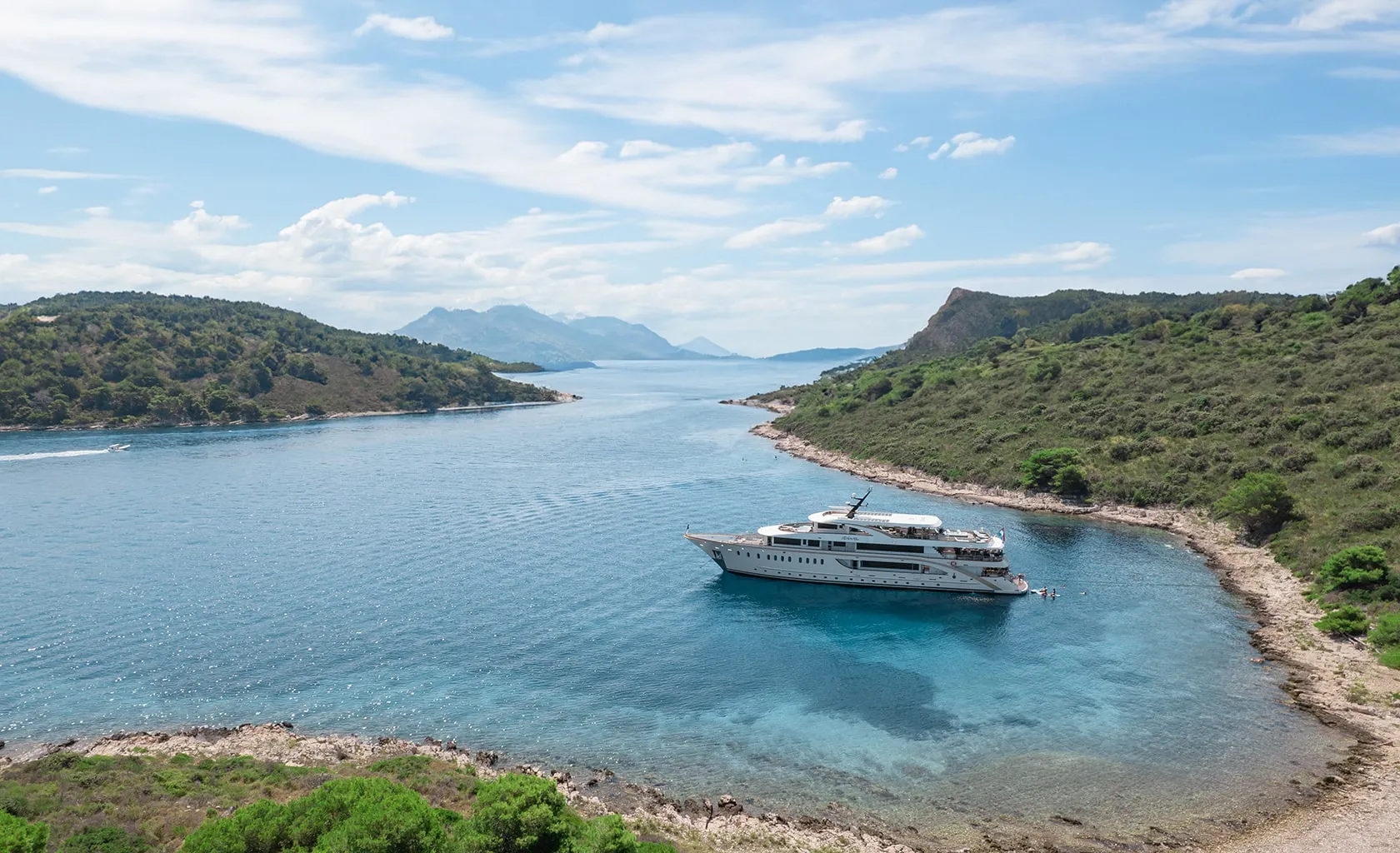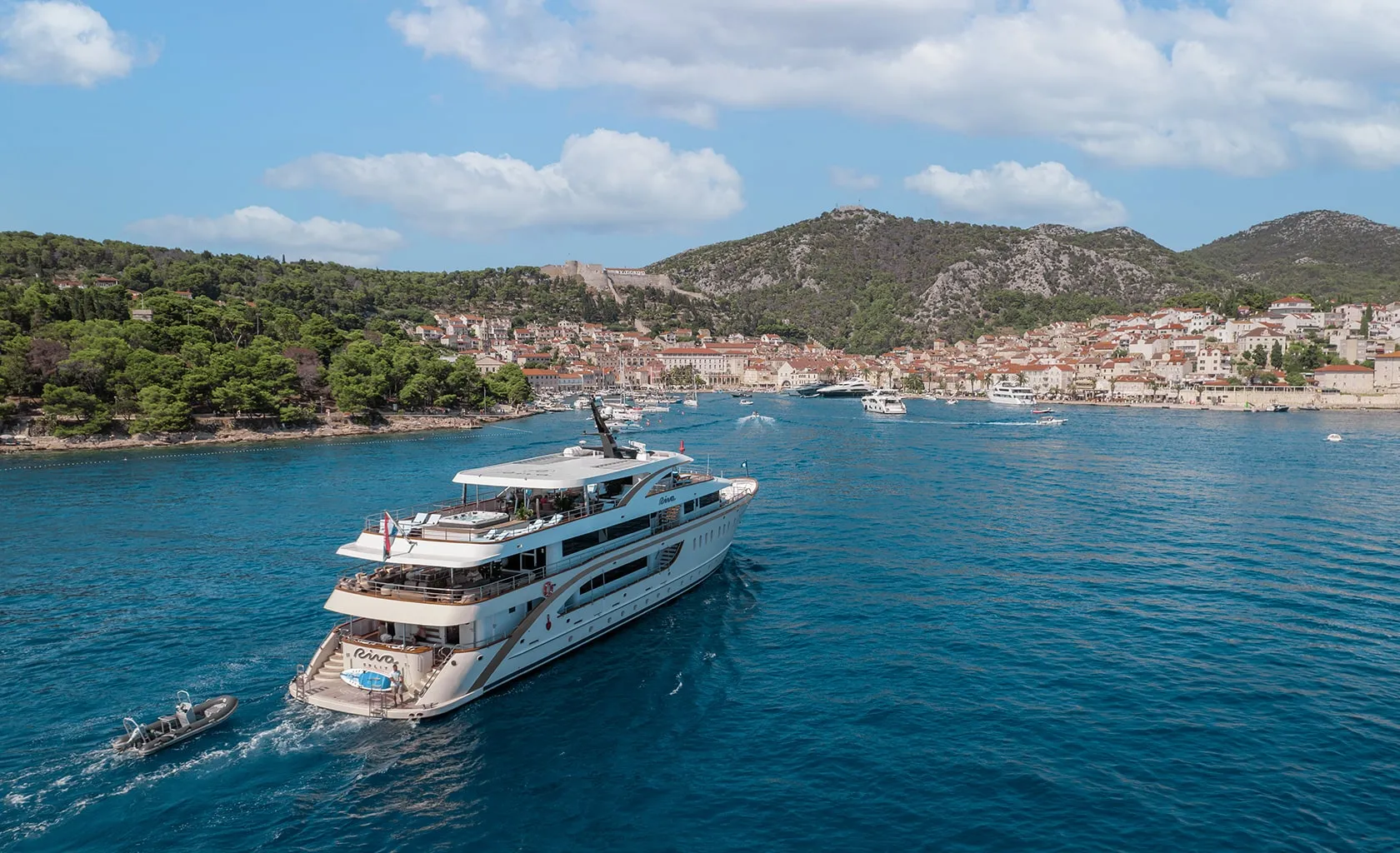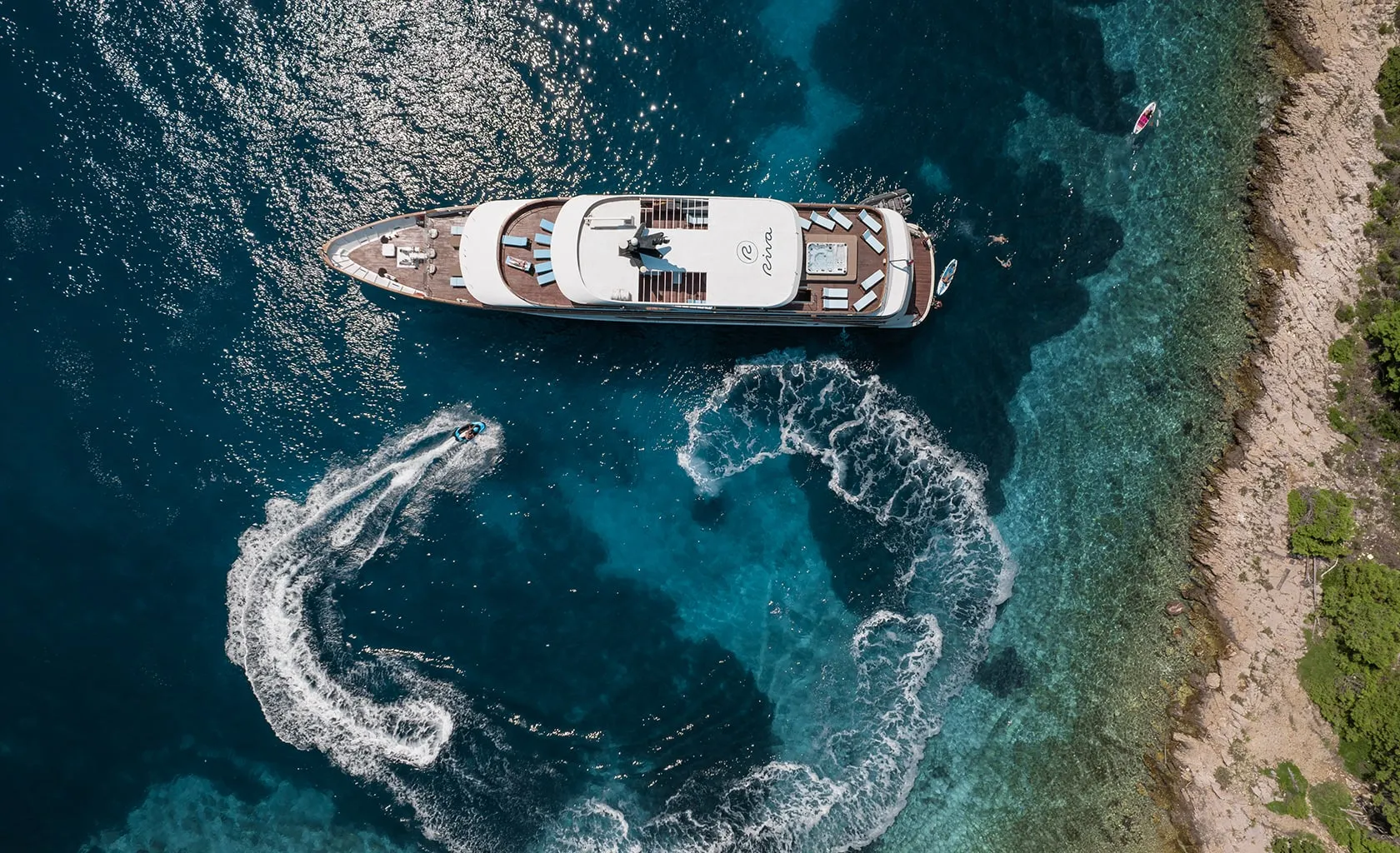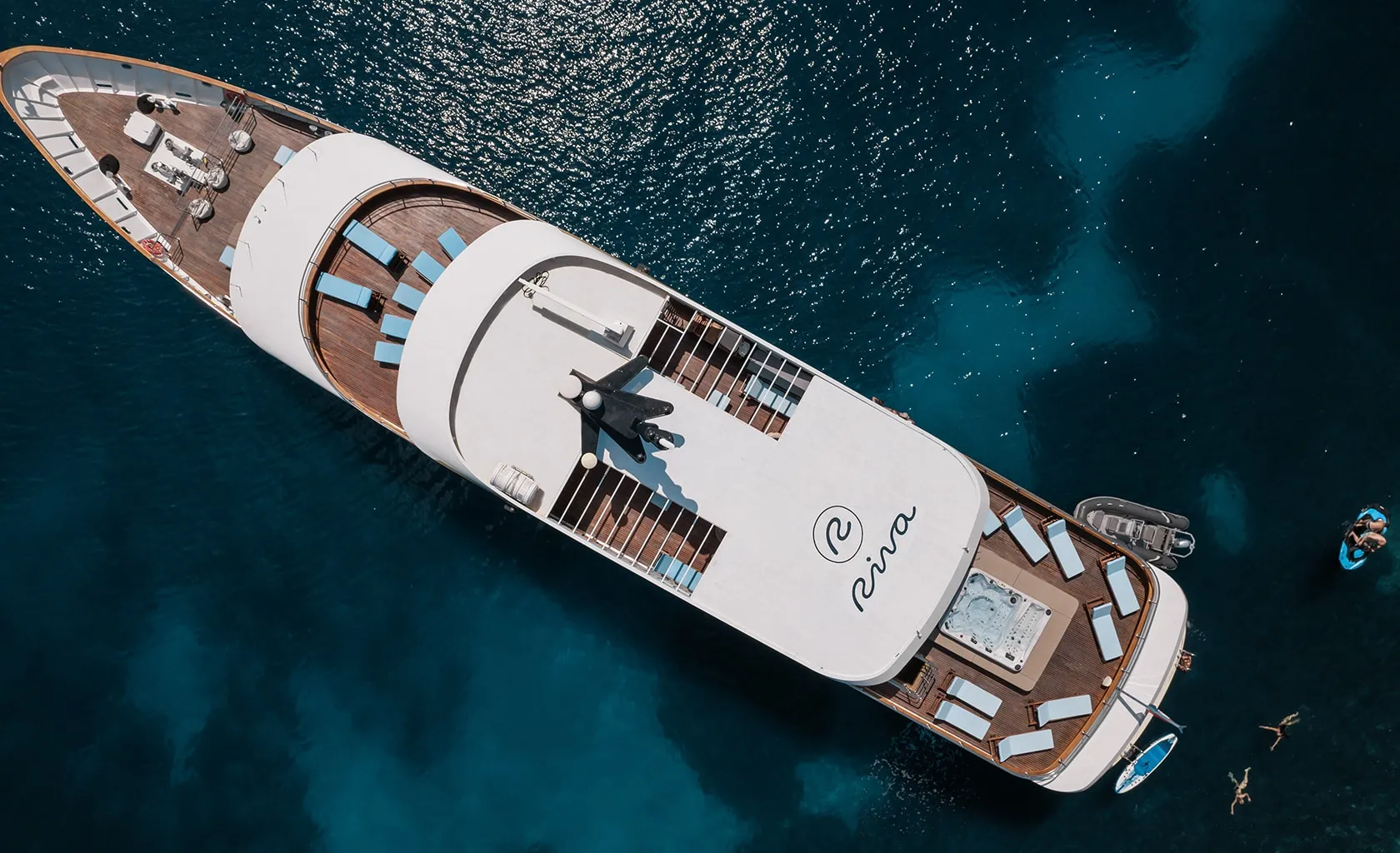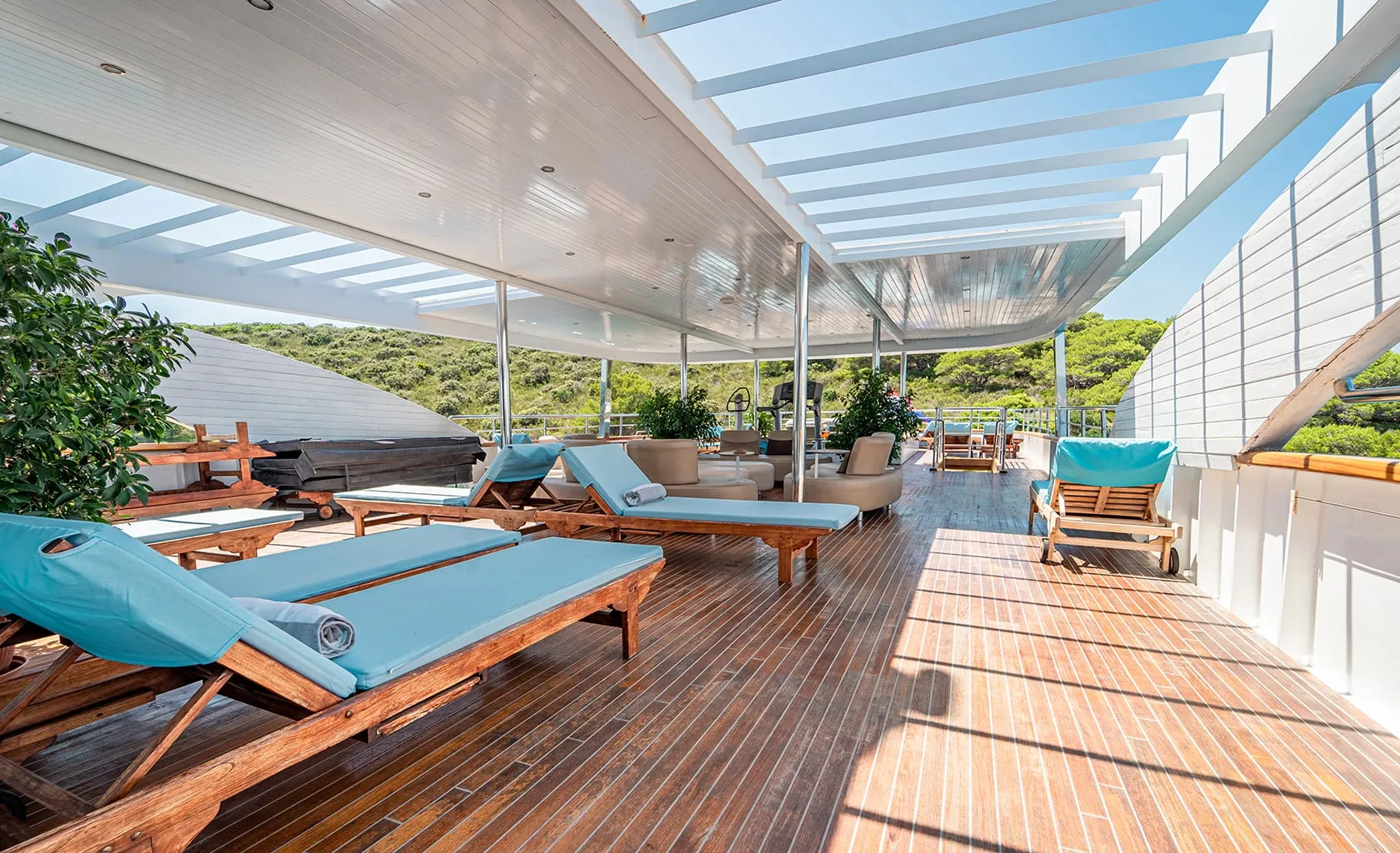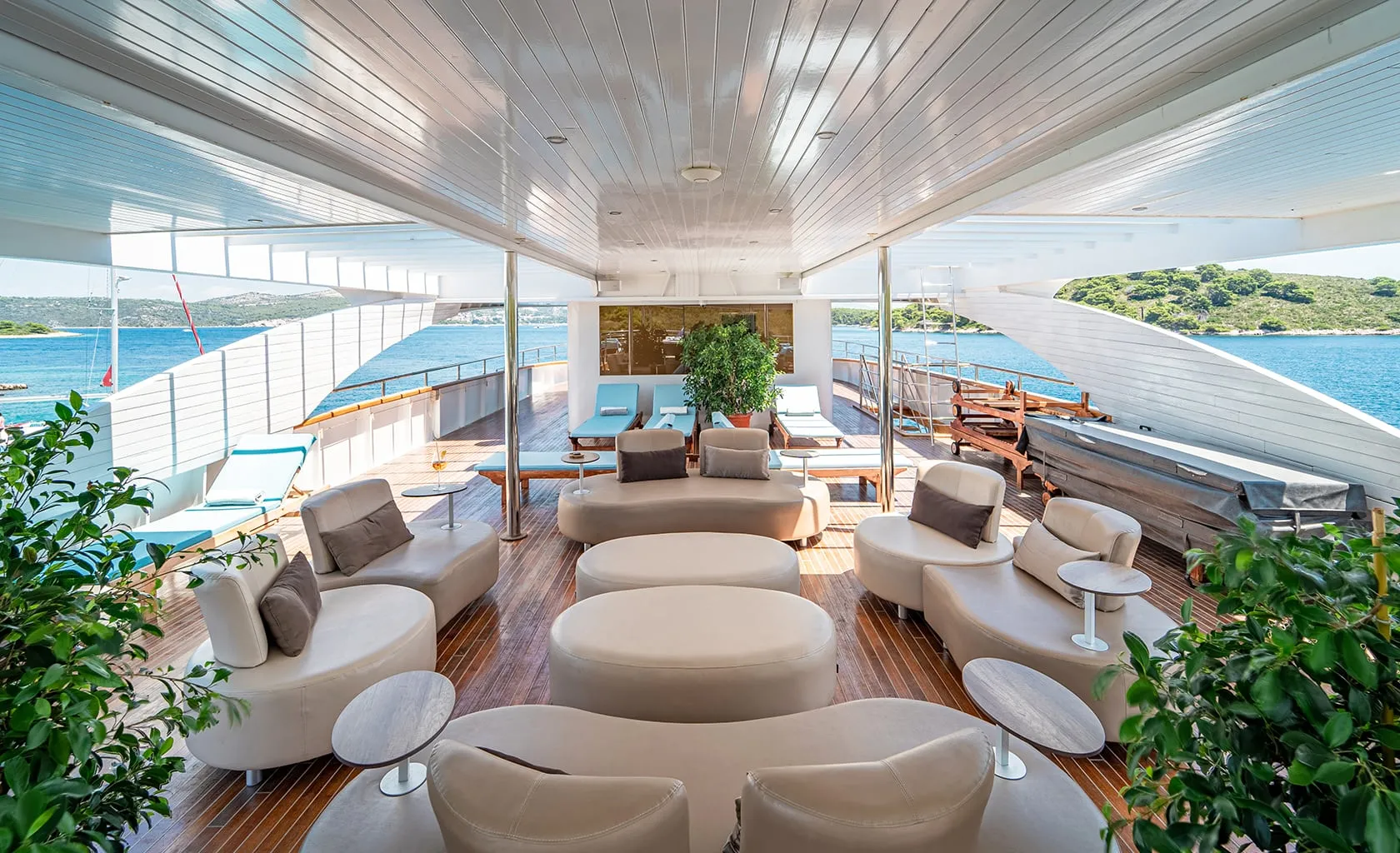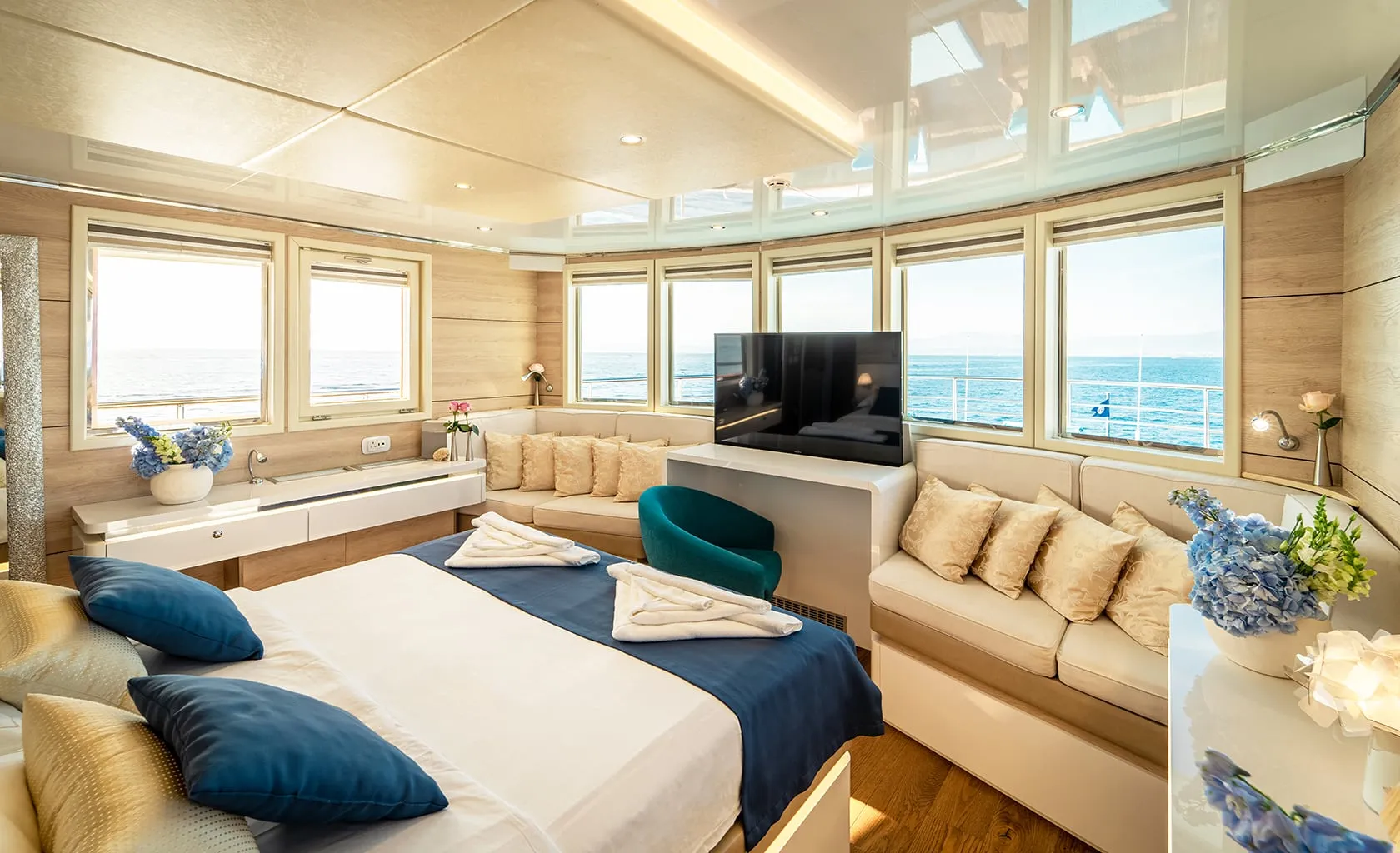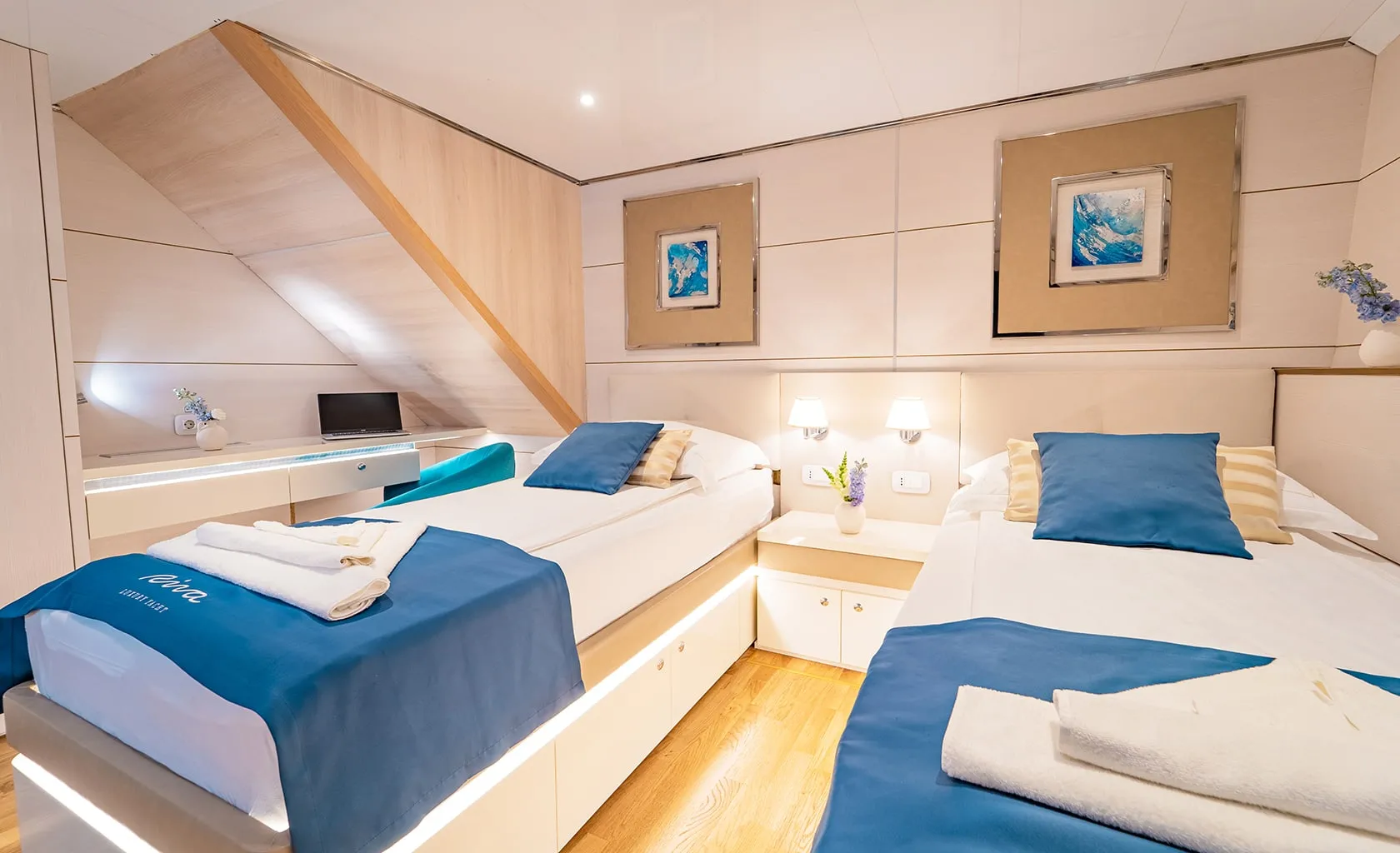 Riva
A modern yet traditional family-owned yacht ensures a carefree yachting experience in Dalmatia.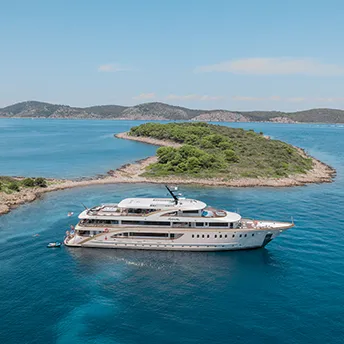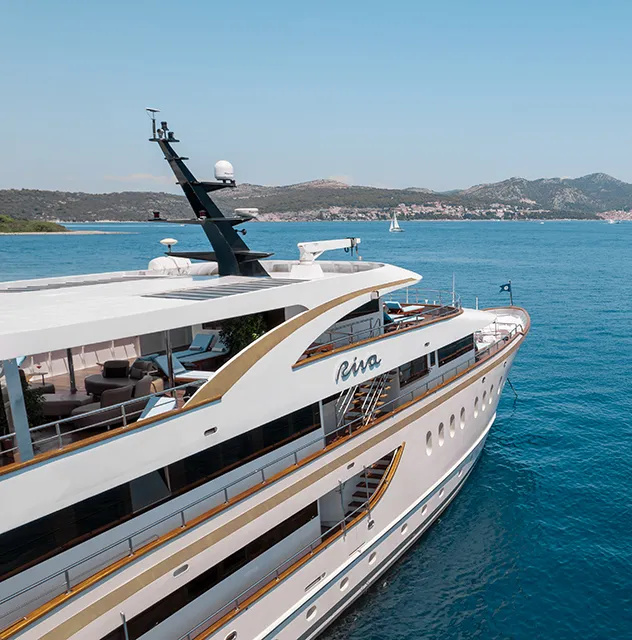 A fully functional and elegant yacht
Yacht Riva was built by ship craftsmen with a long tradition. Upgraded with the latest technology, she offers a comfortable sailing voyage. She features 18 beautiful cabins with ensuite bathrooms and can fit up to 36 guests. Her crew of 11 tends to all the guests' needs and wishes at all times.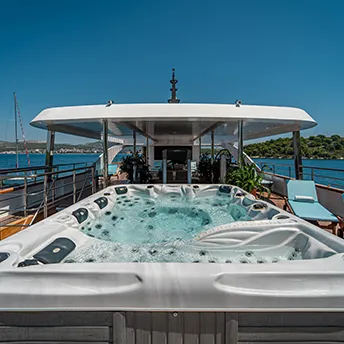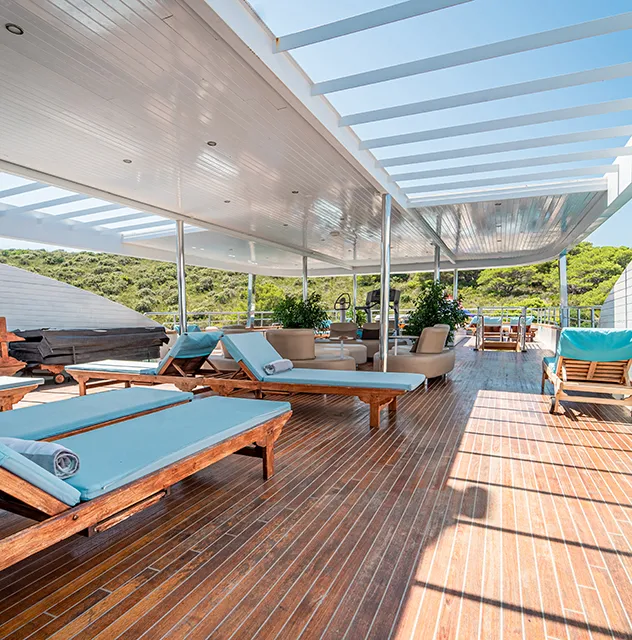 The exterior
All decks are covered with Burmese teak, giving the yacht a touch of luxury. Across the sundeck, there are 30 teak deckchairs, a jacuzzi, and a gym. All decks and staircases feature led lighting and are equipped with Bose speakers. The whole yacht is under video surveillance, ensuring maximum safety for everyone.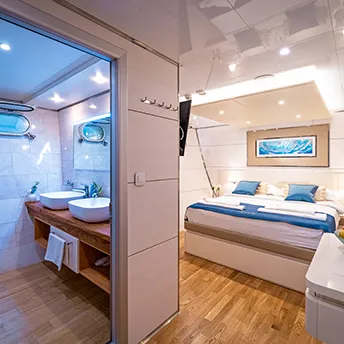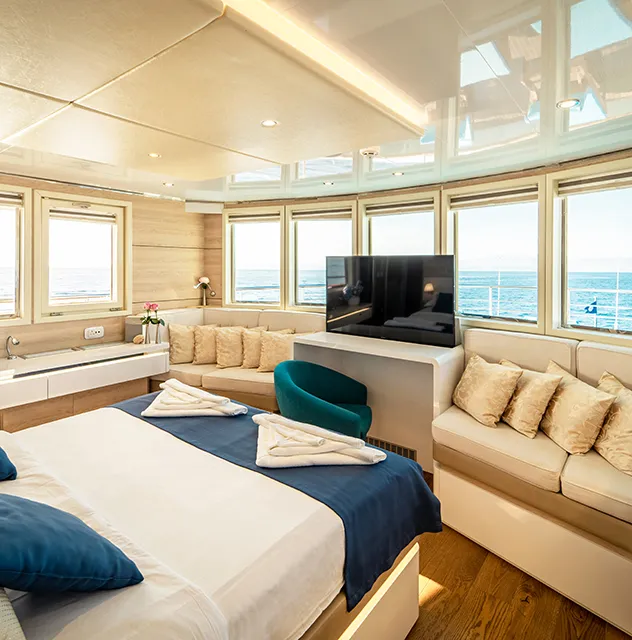 The Interior
The state-of-the-art ensuite cabins have a self-regulating temperature system, so no matter the weather, you will feel comfortable at all times. The bathrooms with Marazzi ceramic tiles and Grohe fixtures will give you a feeling that you are in a luxury hotel suite instead of a yacht. Another amazing feature is the smart lock system, allowing the locking and unlocking of the cabin doors with the simple use of a magnetic card. There is also Wi-Fi thorough the whole yacht, in case you need to do some work or want to surf the internet.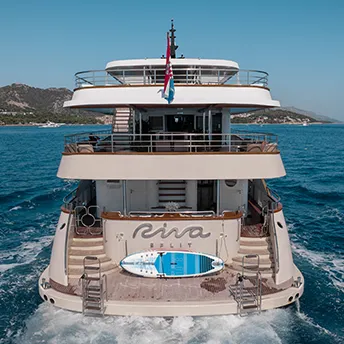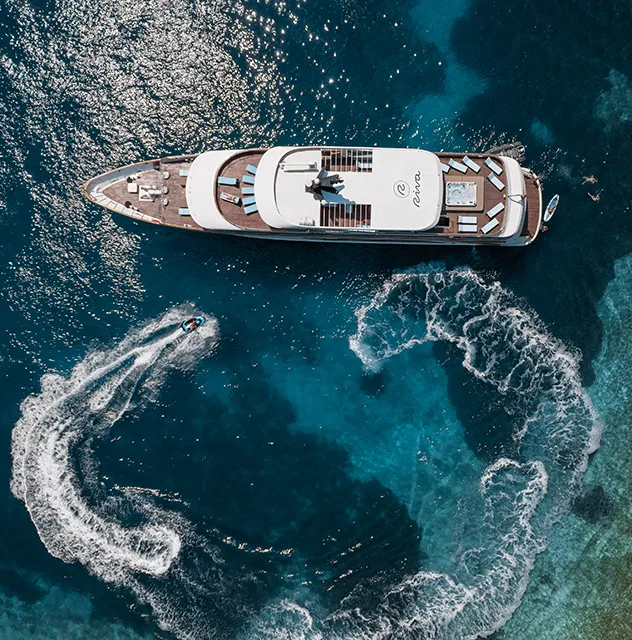 Activities onboard
Riva is also packed with a variety of fun water toys and a Highfield patrol 540 – Honda HP 50 tender. You and your group can choose between jet ski, waterskis, a Ringo ride, 2 paddleboards, and 2 kayaks. An exciting adventure on the crystal clear Adriatic sea awaits you.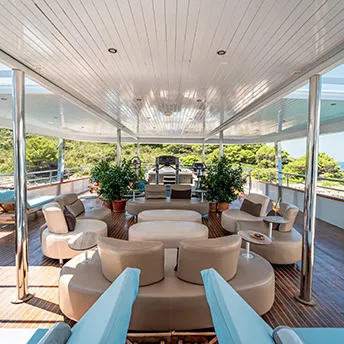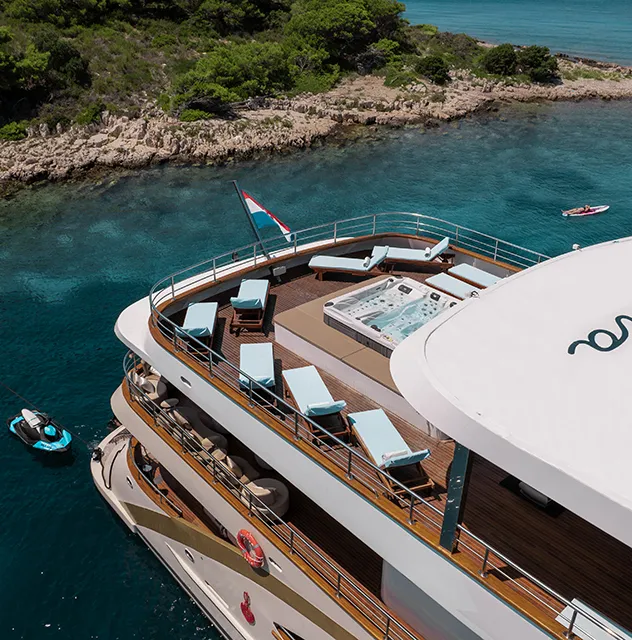 Special features
To ensure a quiet and comfortable yachting experience, Riva has one of the best thermal and sound insulation systems. The wireless microphone for the salon and decks is compatible with all positions on board, ensuring seamless communication.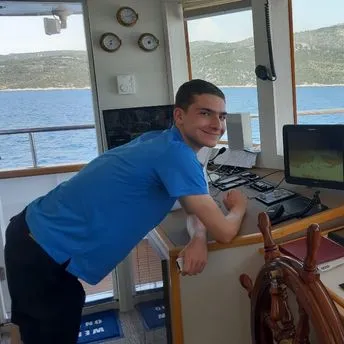 The crew
All crew members on Riva are highly qualified, with years of nautical and hospitality experience. The owner Marin has many years of managerial experience, captain Dino comes with several years of experience sailing on mini cruisers, and the chef has previously worked on mega yachts and mini cruisers. Their knowledge of local traditions and stories, combined with their friendly personality make them the perfect choice to explore Dalmatia.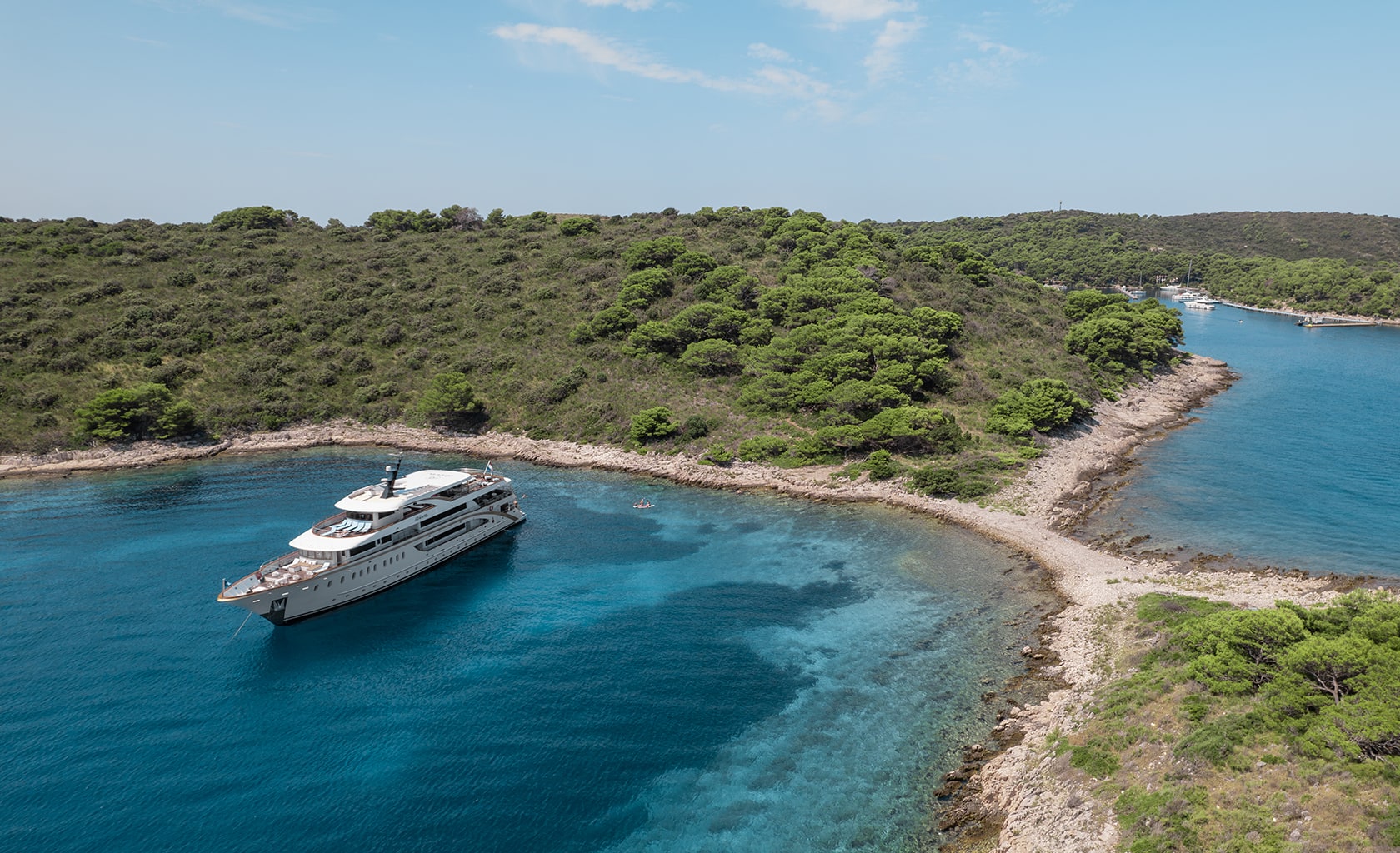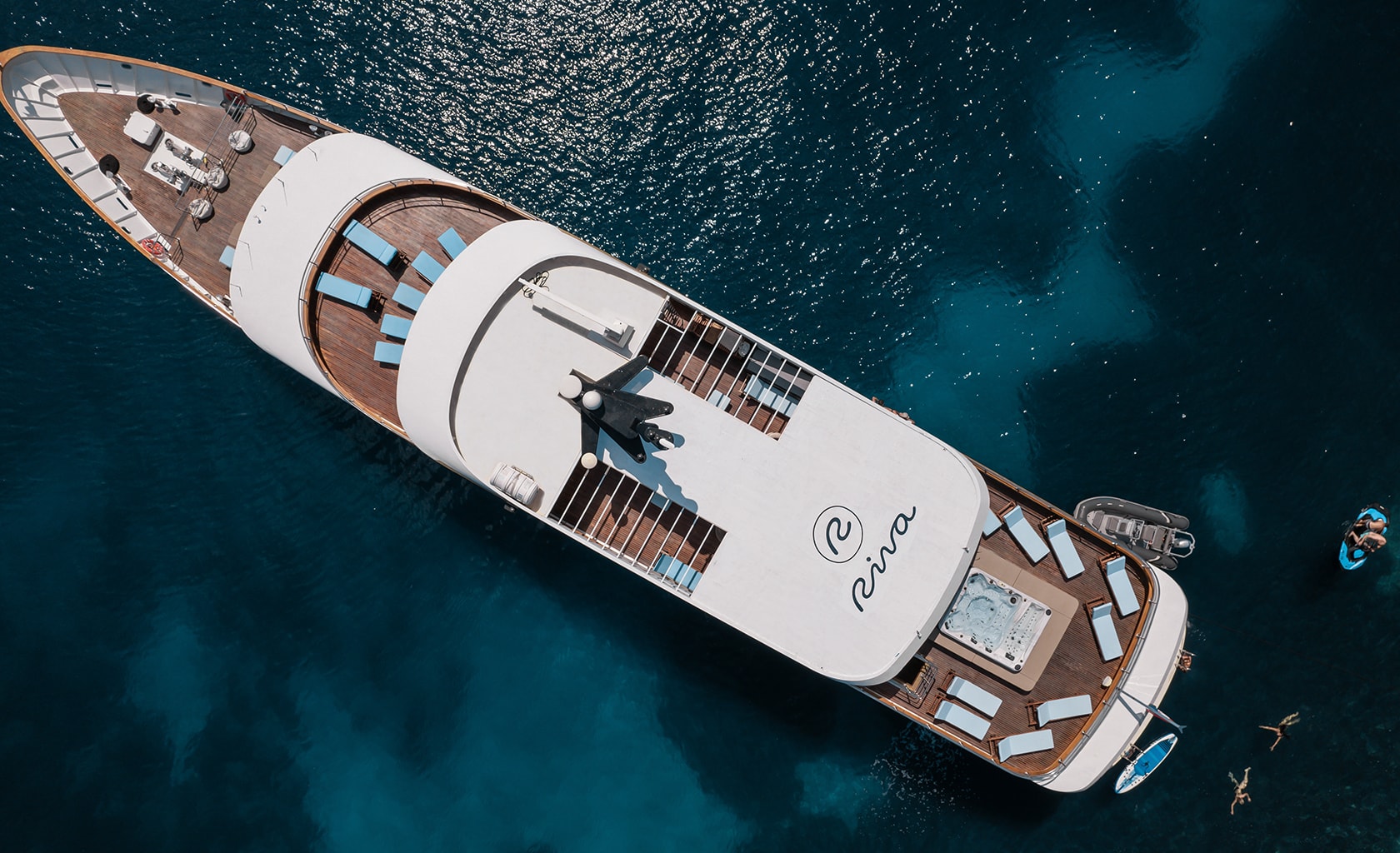 Here is our latest video of yacht Riva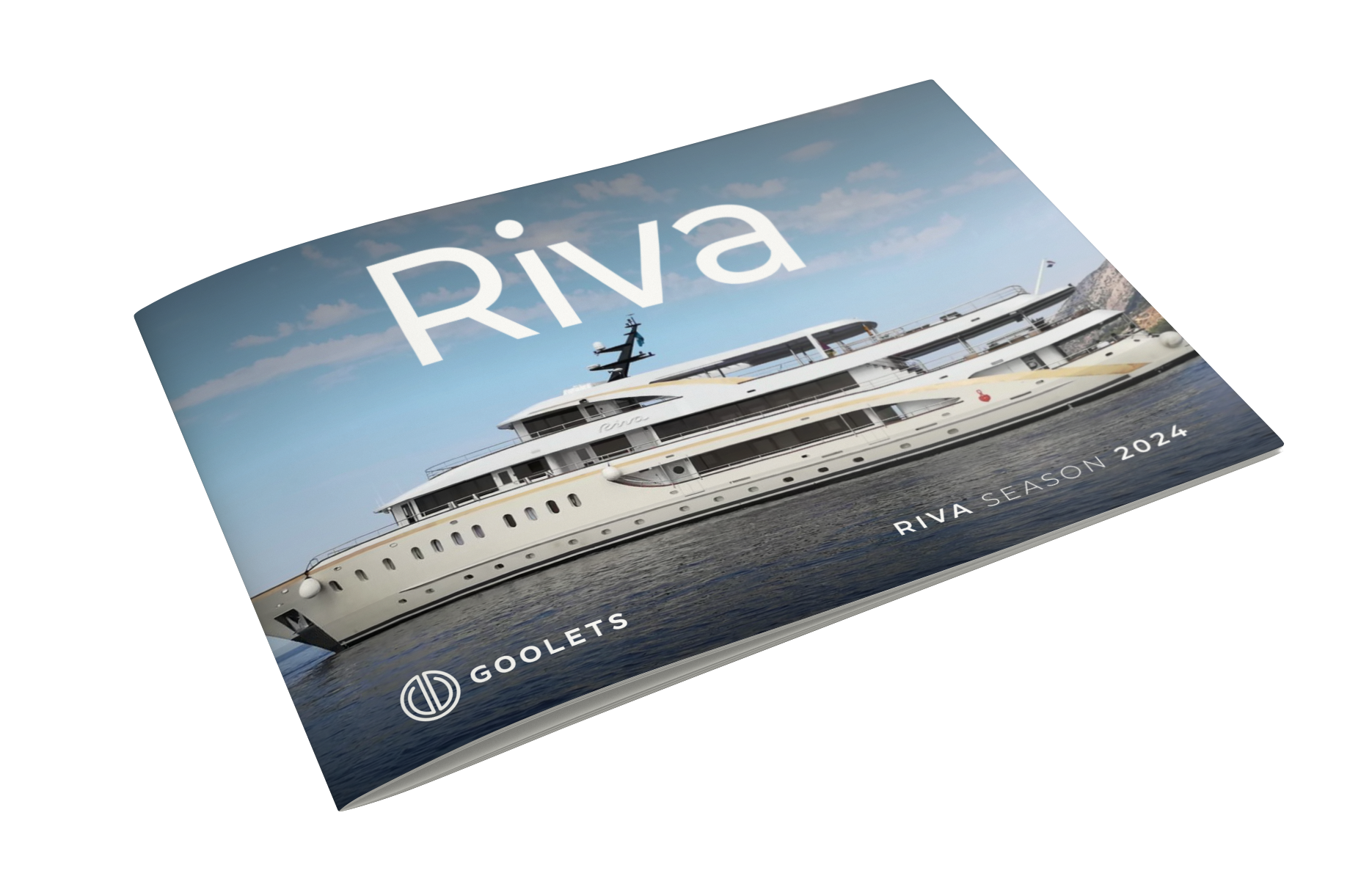 Brochure for 2024 Season

This brochure offers a detailed overview of our luxury yacht Riva.
Specification
Water Sports
Jet ski, Water skiing, Ringo ride, 2 Paddleboards, 2 Kayaks
Crew Description
11 members

MAIN DECK:
VIP cabin (13.49 m2) with double bed (180x200 cm). Private bathroom (3.66 m2)with shower box and home type toilet.
6 Double cabin (9.96 to 11.13 m2) with double bed (160x200 cm). Private bathroom (3.06 to 3.49 m2) with shower box and home type toilet.
LOWER DECK:
4 Double cabin (8.45 to 11.06 m2) with double bed (160x200 cm). Private bathroom (2.79 to 3.87 m2) with shower box and home type toilet.
2 Twin cabins (9.42 & 10.86 m2) with 2 single beds (90x200 cm). Private bathroom (2.79 & 3.57 m2) with shower box and home type toilet.
2 Triple cabins (13.54 & 13.65 m2) with double (160x200 cm) and single bed (90x200 cm). Private bathroom (2.79 & 2.97 m2 with shower box and home type toilet.
SUN DECK:
VIP cabin (14.39 m2) with double bed (180x200 cm). Private bathroom (3.87 m2) with shower box and home type toilet.
UPPER DECK
2 VIP cabins (13.3 m2) with double bed (180x200 cm). Private bathroom (4.15 m2) with shower box and home type toilet.
Season A
From 20 April 2024
till 18 May 2024
60.000 €
Season B
From 18 May 2024
till 29 June 2024
70.000 €
Season C
From 29 June 2024
till 31 August 2024
80.000 €
Season D
From 31 August 2024
till 21 September 2024
70.000 €
Season E
From 21 September 2024
till 26 October 2024
60.000 €
GOOLETS SUPPORT: complimentary assistant who will guide you through your entire yacht journey
SHIPBOARD ACCOMMODATION: maximum number of 36+2 guests sleeping in 18 cabins
FUEL FOR CRUISING: 4 hours/day
CREW: 11 crew members
AIR CONDITIONING: unlimited hours/day
LINEN: bed sheets, bathroom, and beach towels
WI-FI
VAT
Mandatory Extras:
Food Options
HALF BOARD (breakfast, lunch): 400 €/person/week
ADVANCED HALF BOARD (breakfast, lunch, and 3 dinners): 500 €/person/week
FULL BOARD (breakfast, lunch, and dinner): 650 €/person/week
Drink Options
ALL-INCLUSIVE NON-ALCOHOLIC DRINKS PACKAGE: 100 €/person/week (domestic non-alcoholic drinks - water, carbonated drinks, juices)
ALL-INCLUSIVE DOMESTIC DRINKS PACKAGE: 200 €/person/week (domestic non-alcoholic and alcoholic drinks - water, carbonated drinks, juices, bottled wine, beer, local spirits, coffee, tea)
ALL-INCLUSIVE ALCOHOLIC PACKAGE: 500 €/person/week (Croatia quality wines Rose, Red, White, Croatian Lager beer, Croatian Pale Ale beer, water, carbonated drinks, juices. Gin Sapphire Bombay or Tanqueray, Johnnie Walker Red Label or Jameson, Absolut Vodka or Finlandia, Tequila J. Cuervo Silver, Amaretto, Malibu, Prosecco)
Port and Tourist Taxes
A.P.A. (Advance Provisioning Allowance): is an estimate of 5.000 € paid with the balance for covering running costs during the charter: ports and marina fees (the check-in and check-out ports are also considered here), tourist taxes, motorized water sports, national park entrances, custom fees, and charter licenses if chartered outside of Croatia, drinks which are not included in beverage packages, and anything else that guests might need while on charter during the week. A strict set of accounts is held by the captain throughout the charter and any funds not spent are refunded to the client in full. If A.P.A. does not cover complete costs, the customer will pay the exceeding amount on board in cash.
Non-Mandatory Extras:
Tips:
Tips are not included in the price of the charter and are a voluntary way of showing appreciation for a good service. Usually, it is 10% to 15% of the charter price, according to your satisfaction, paid to the captain at the end of the charter and distributed equally by the captain to the rest of the crew.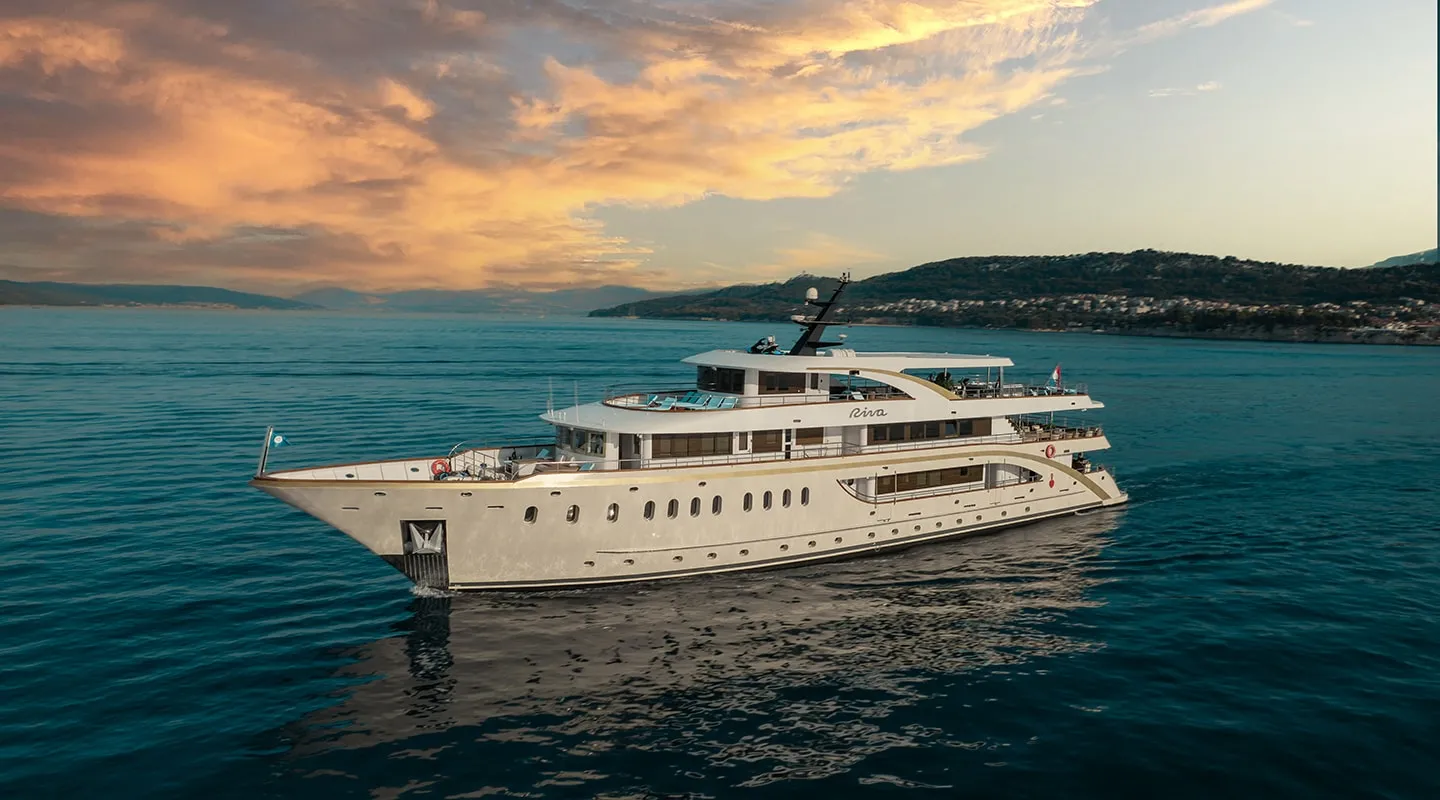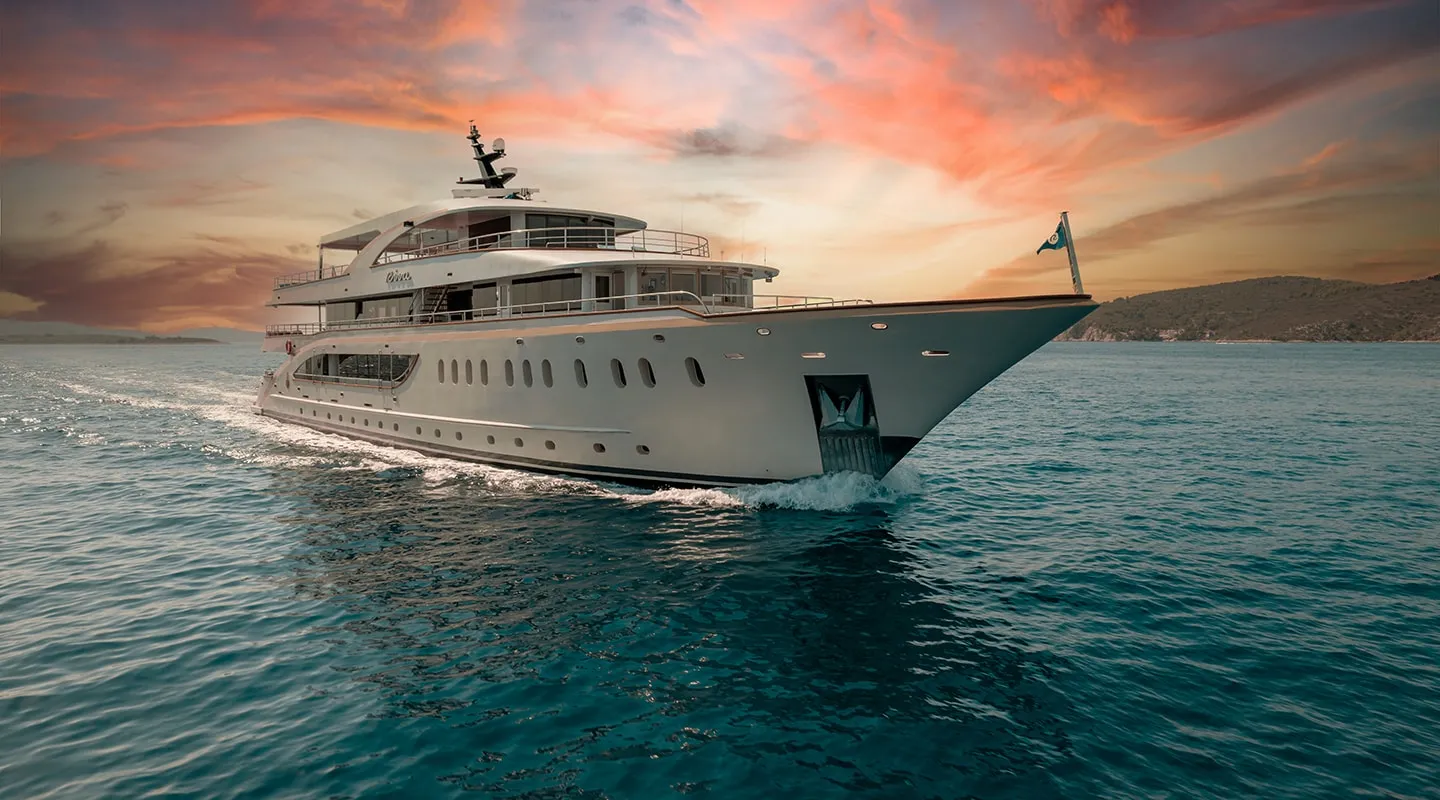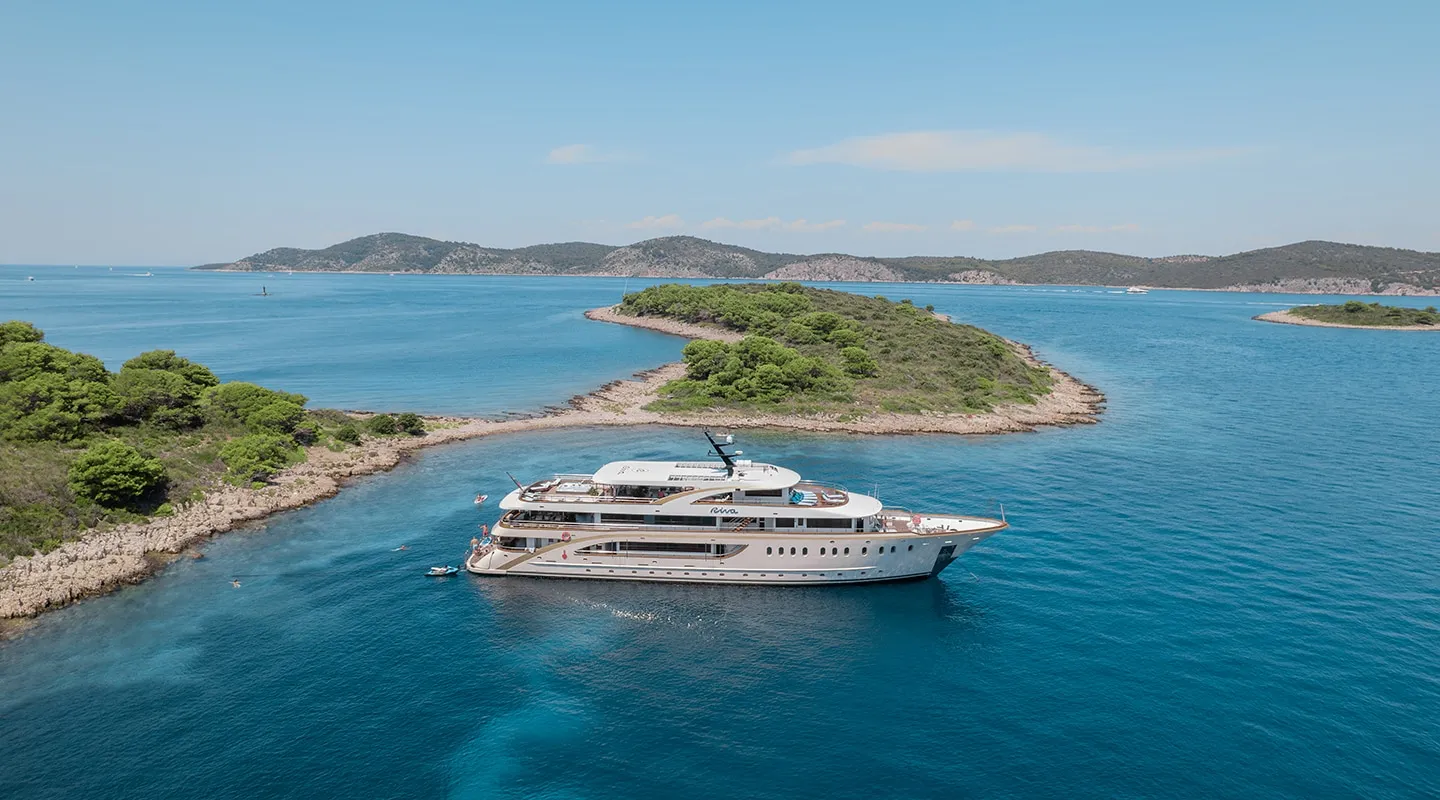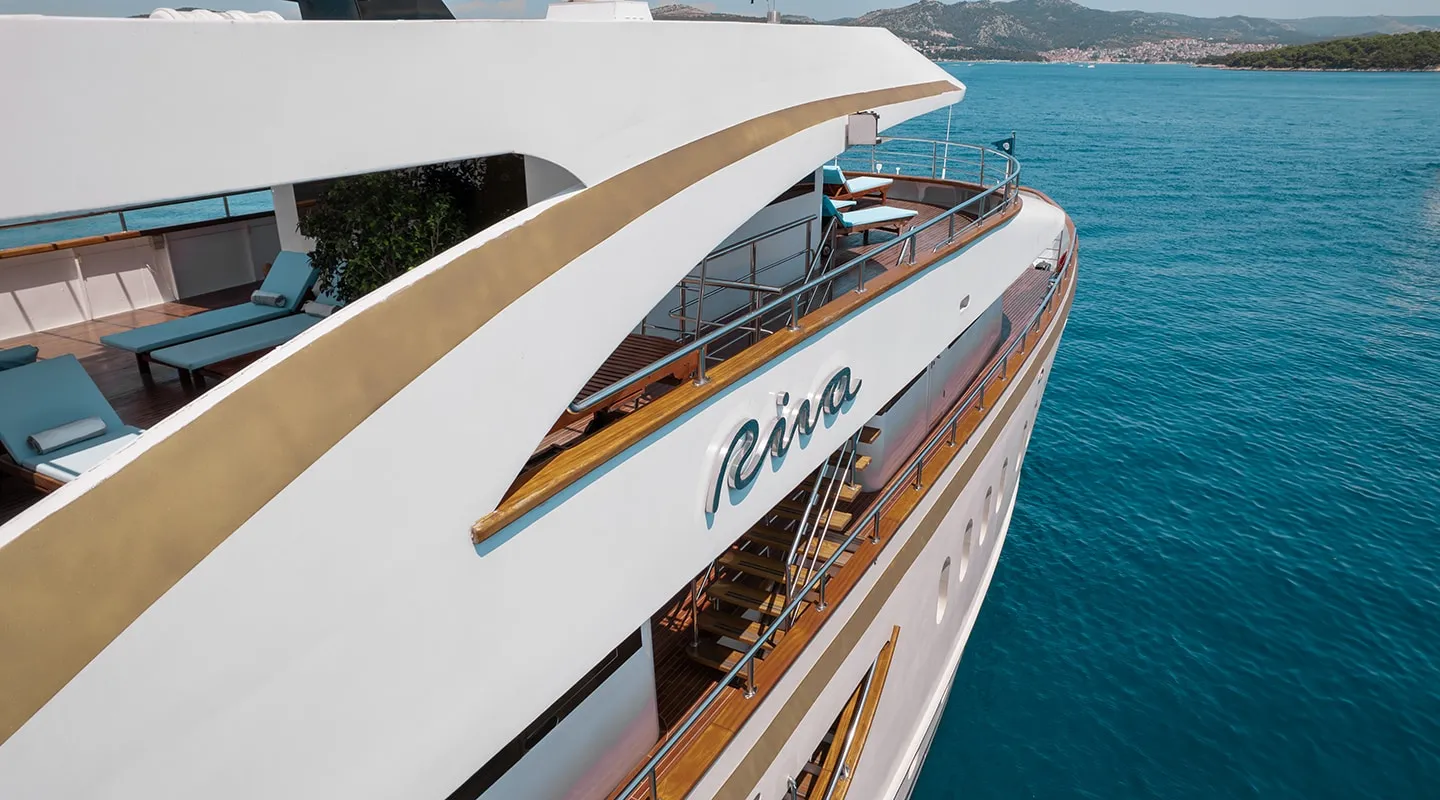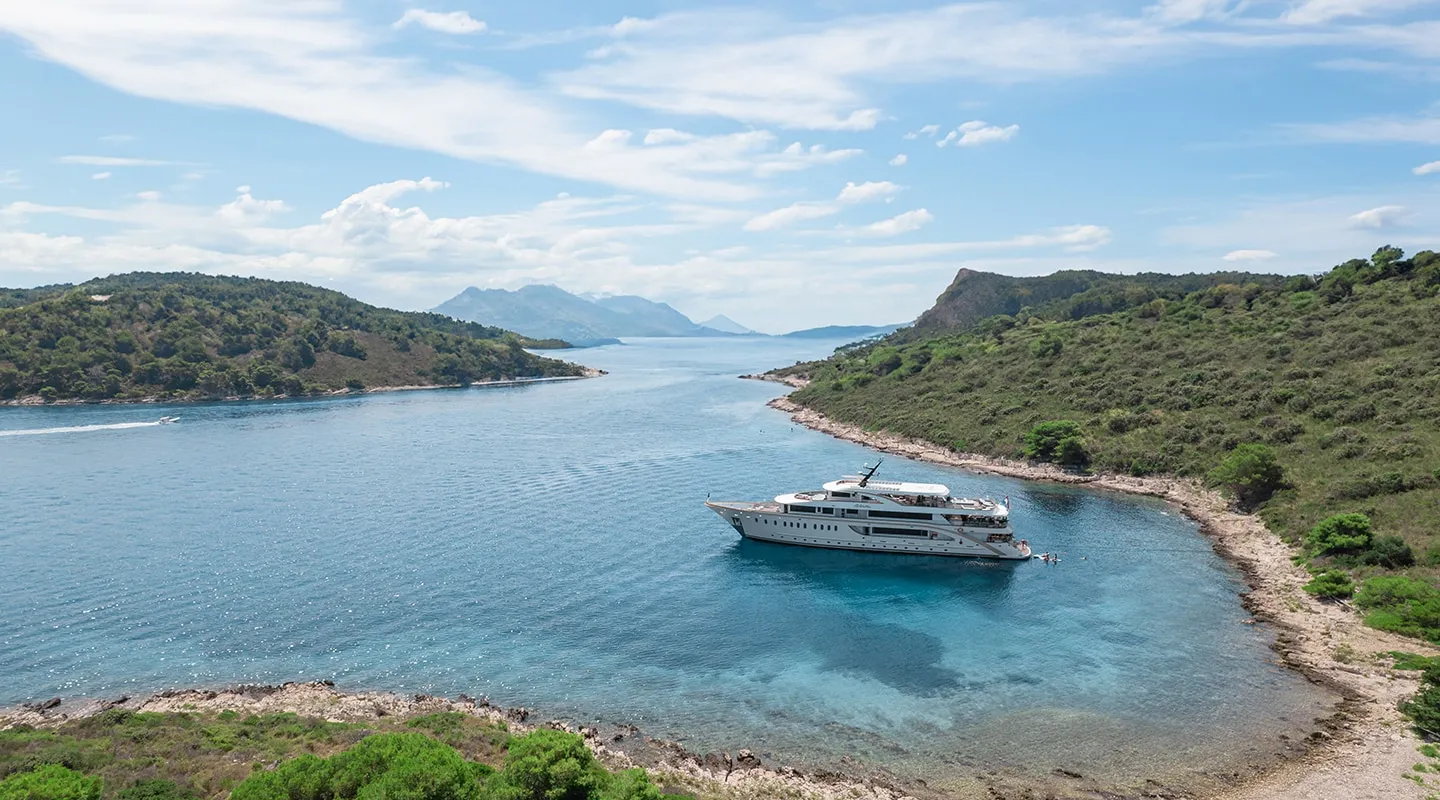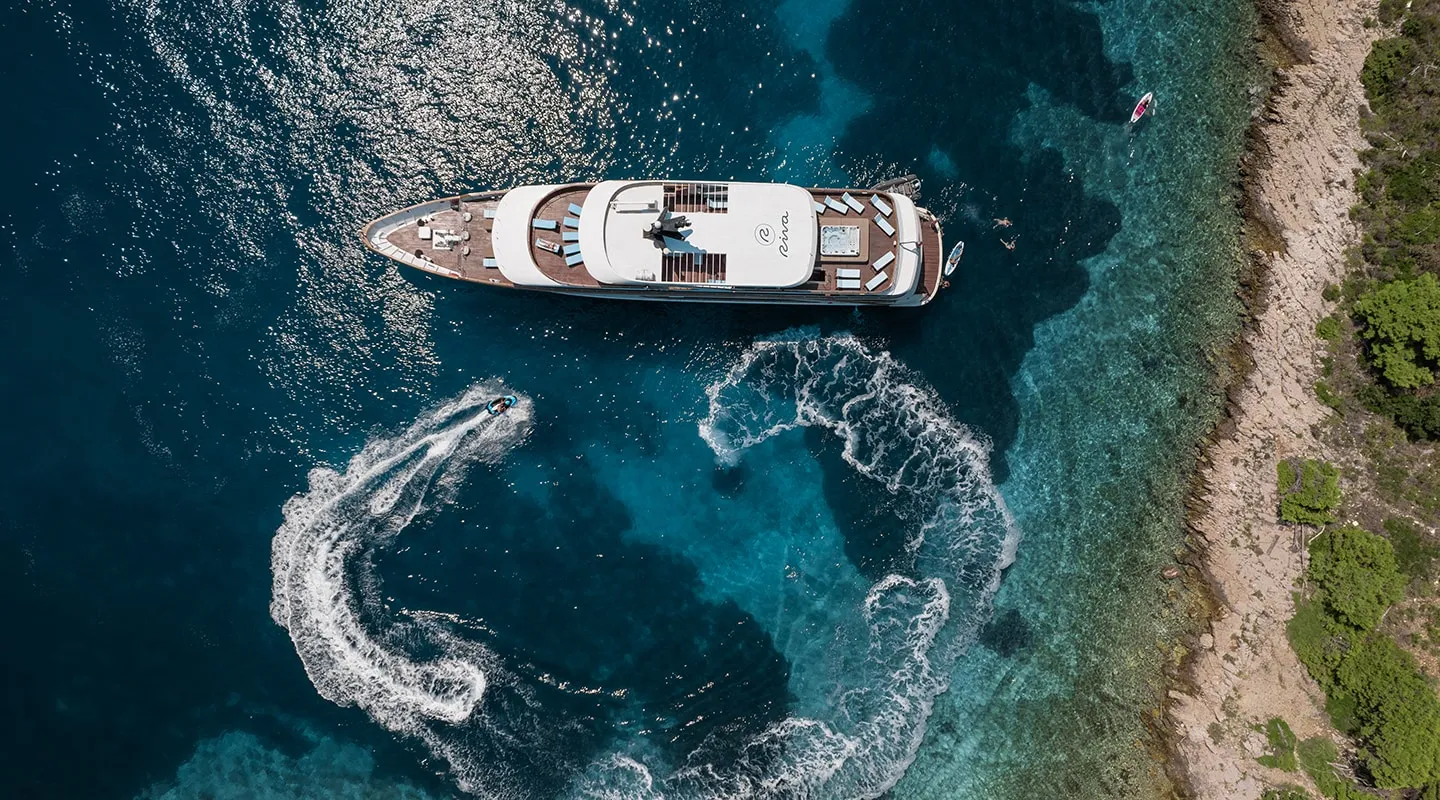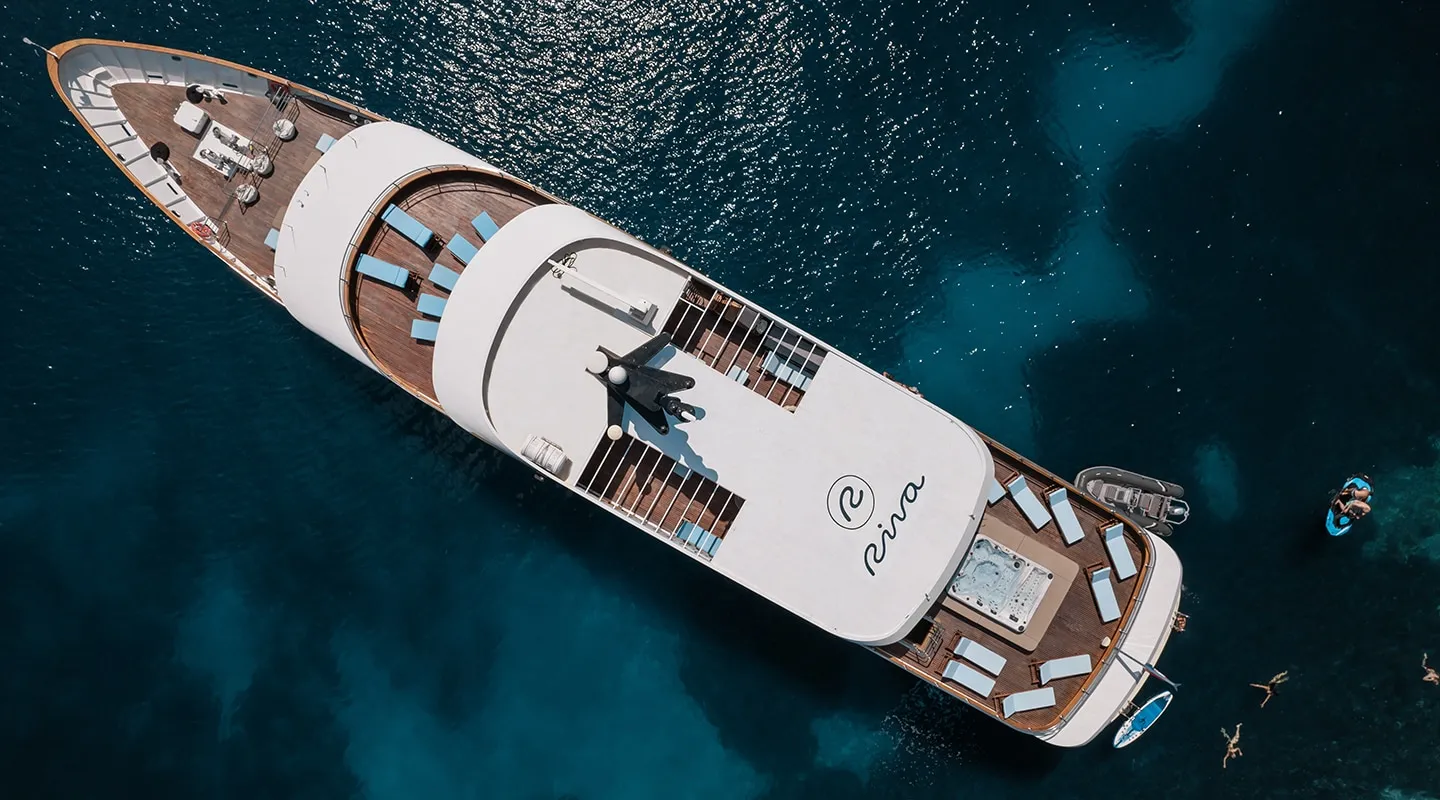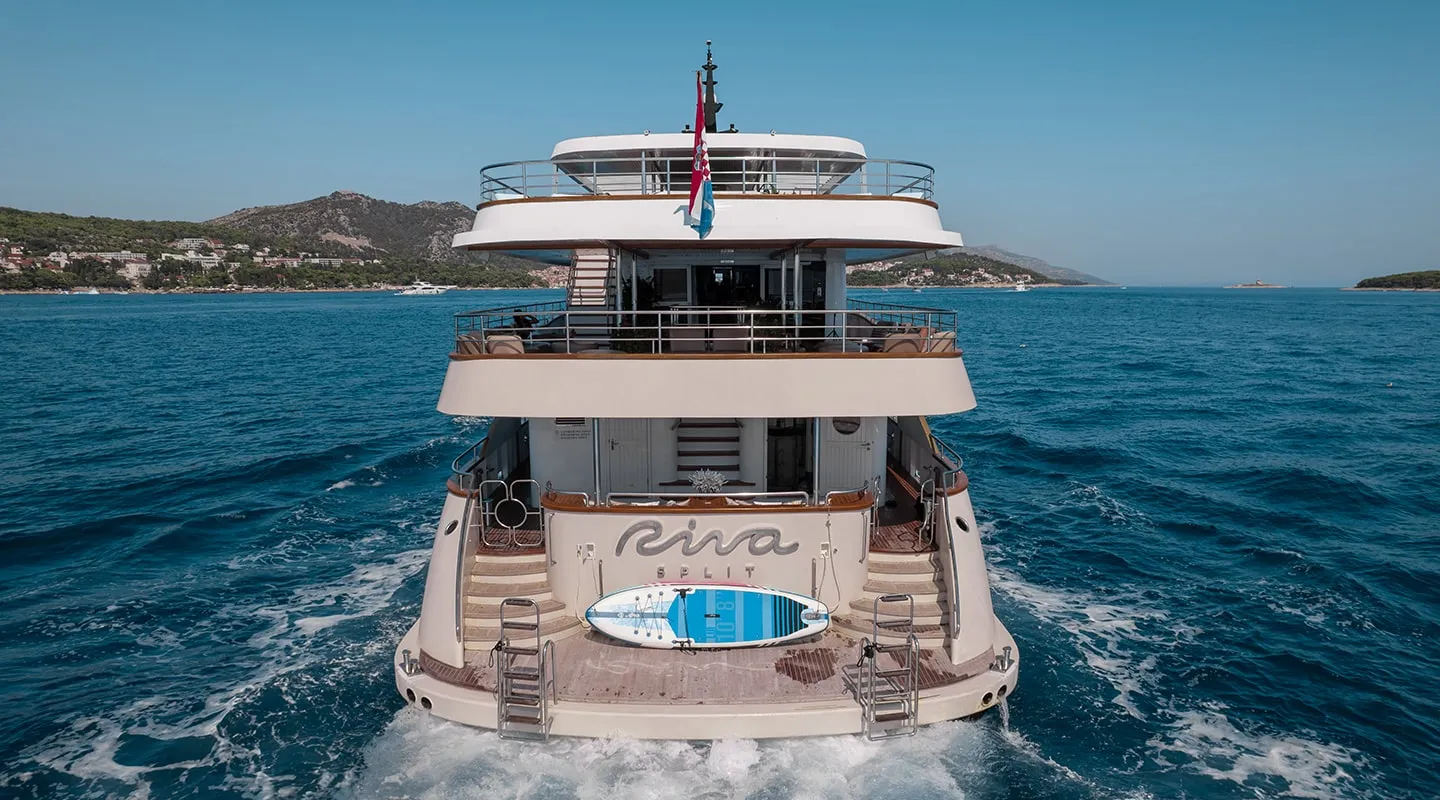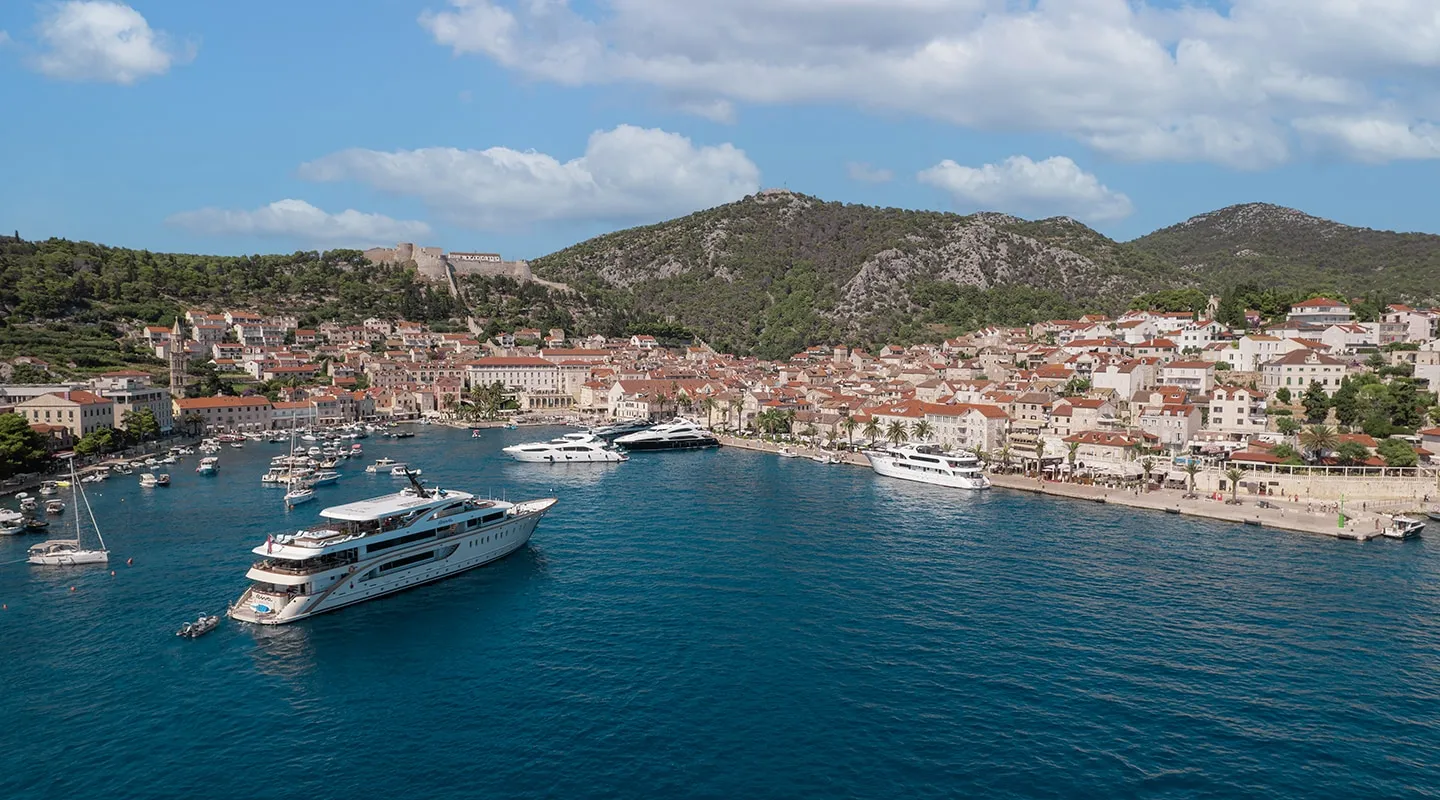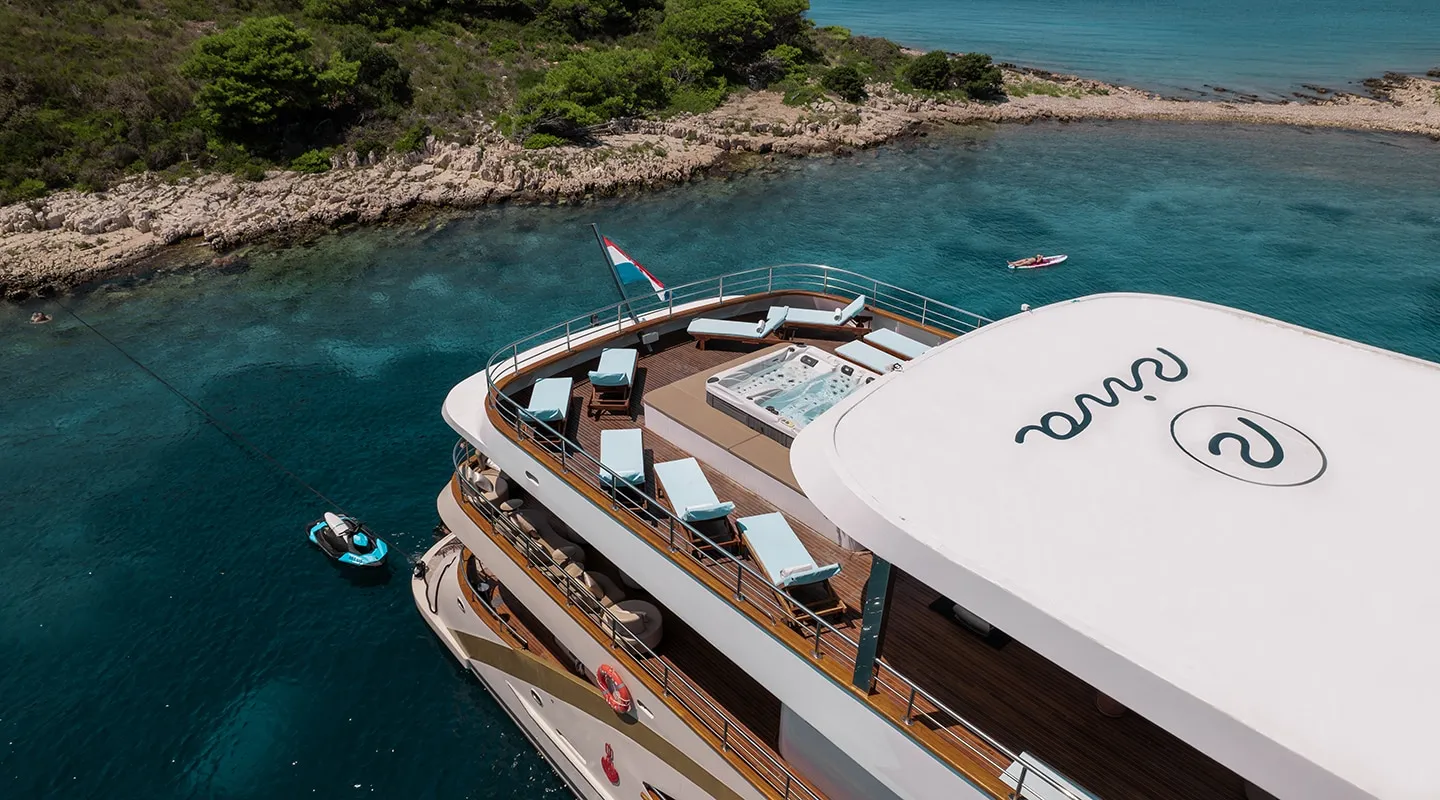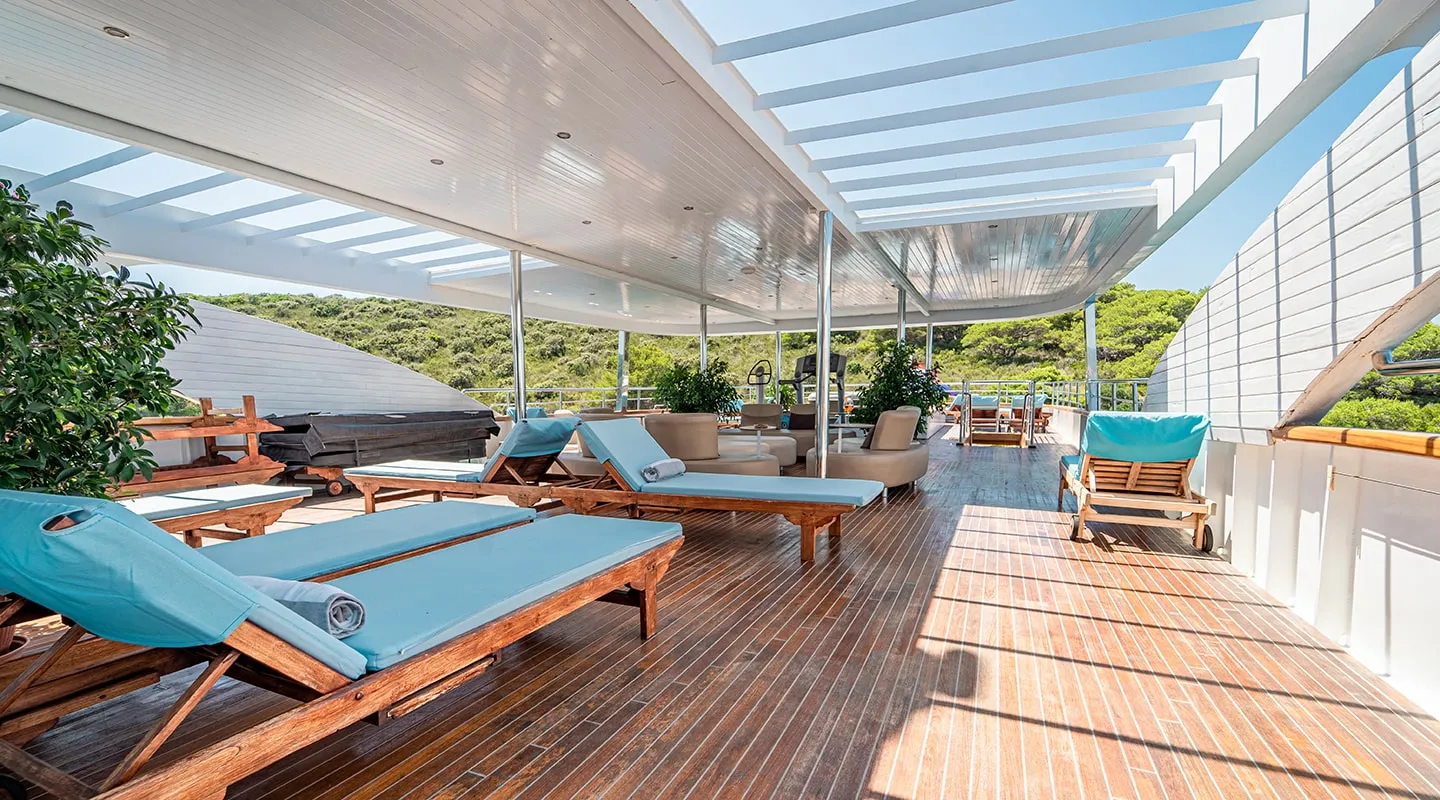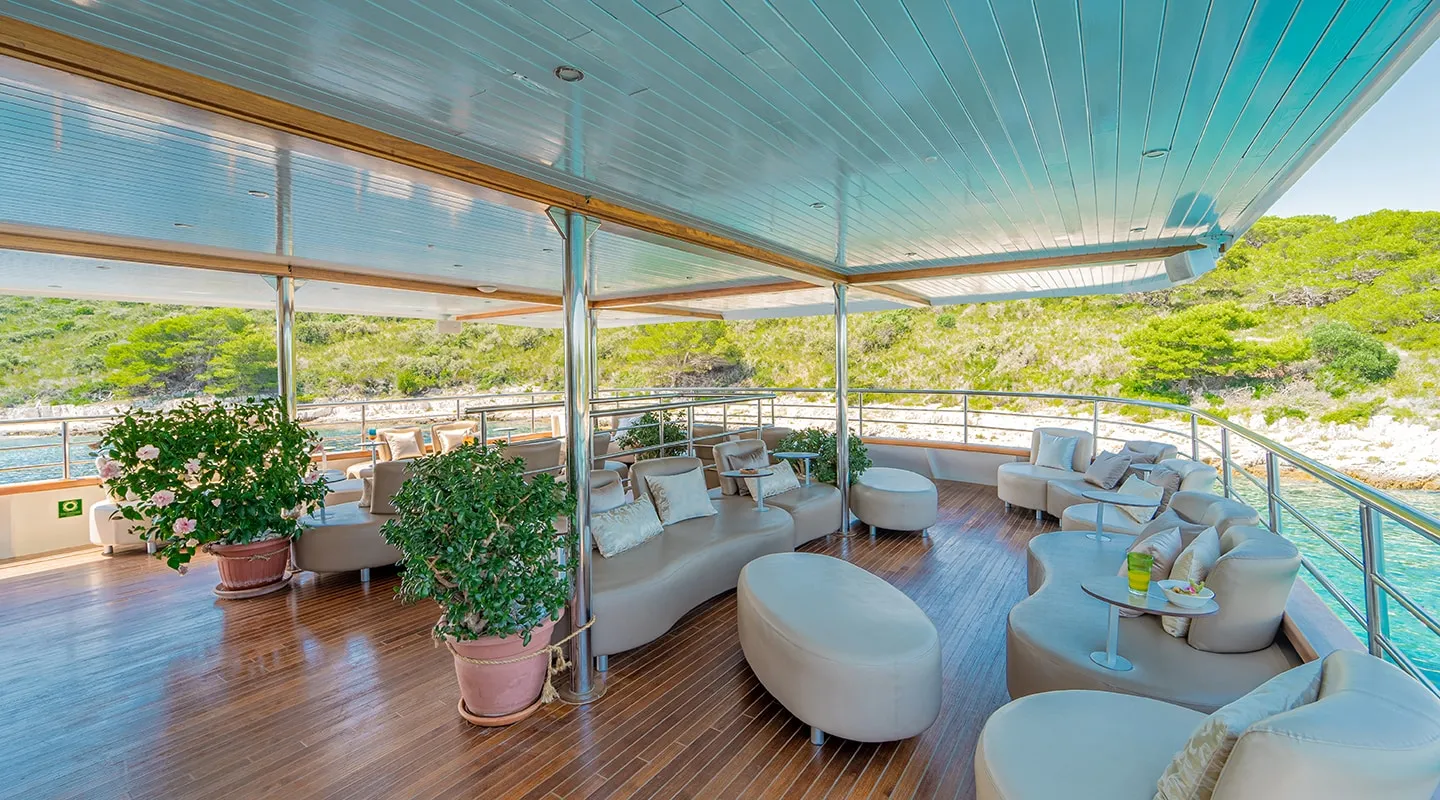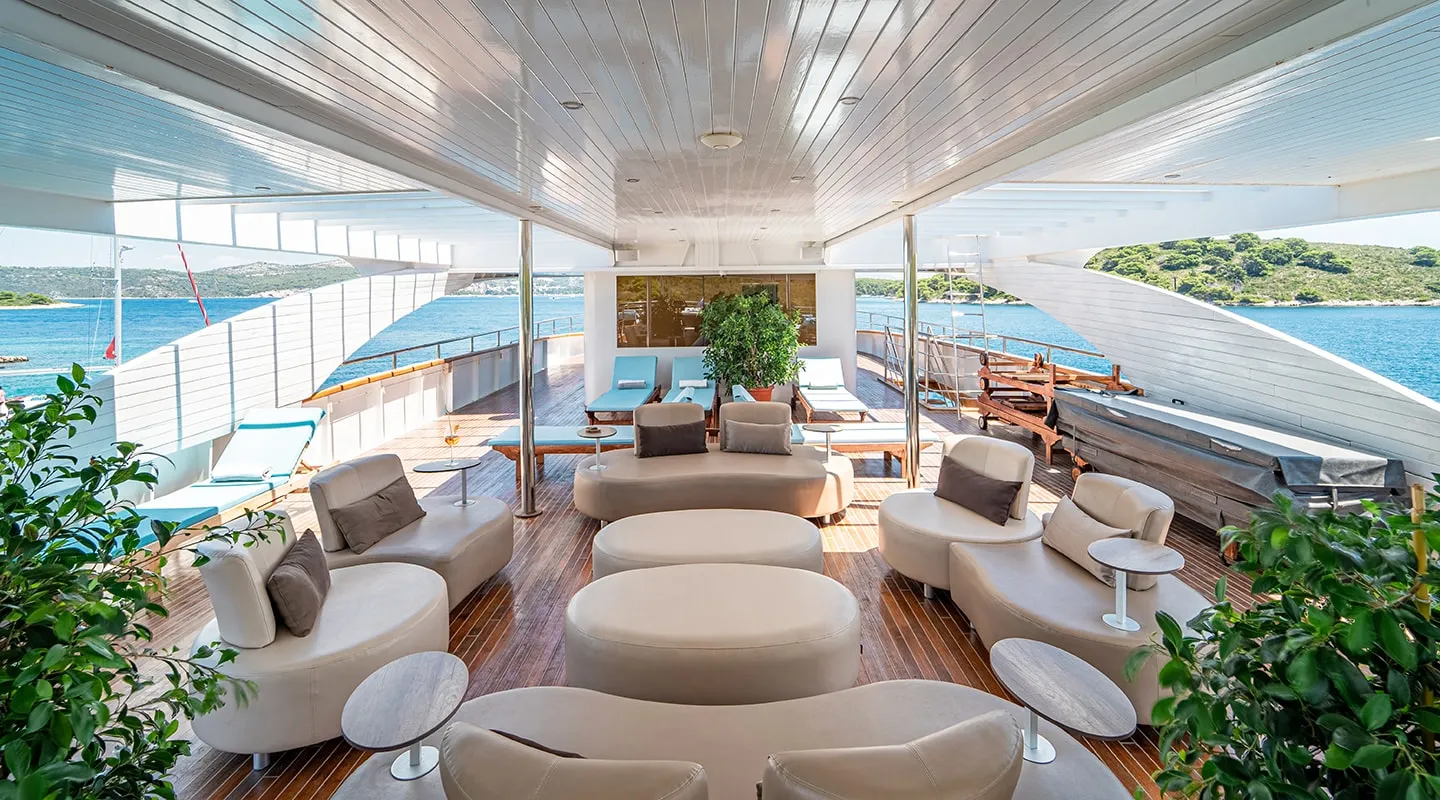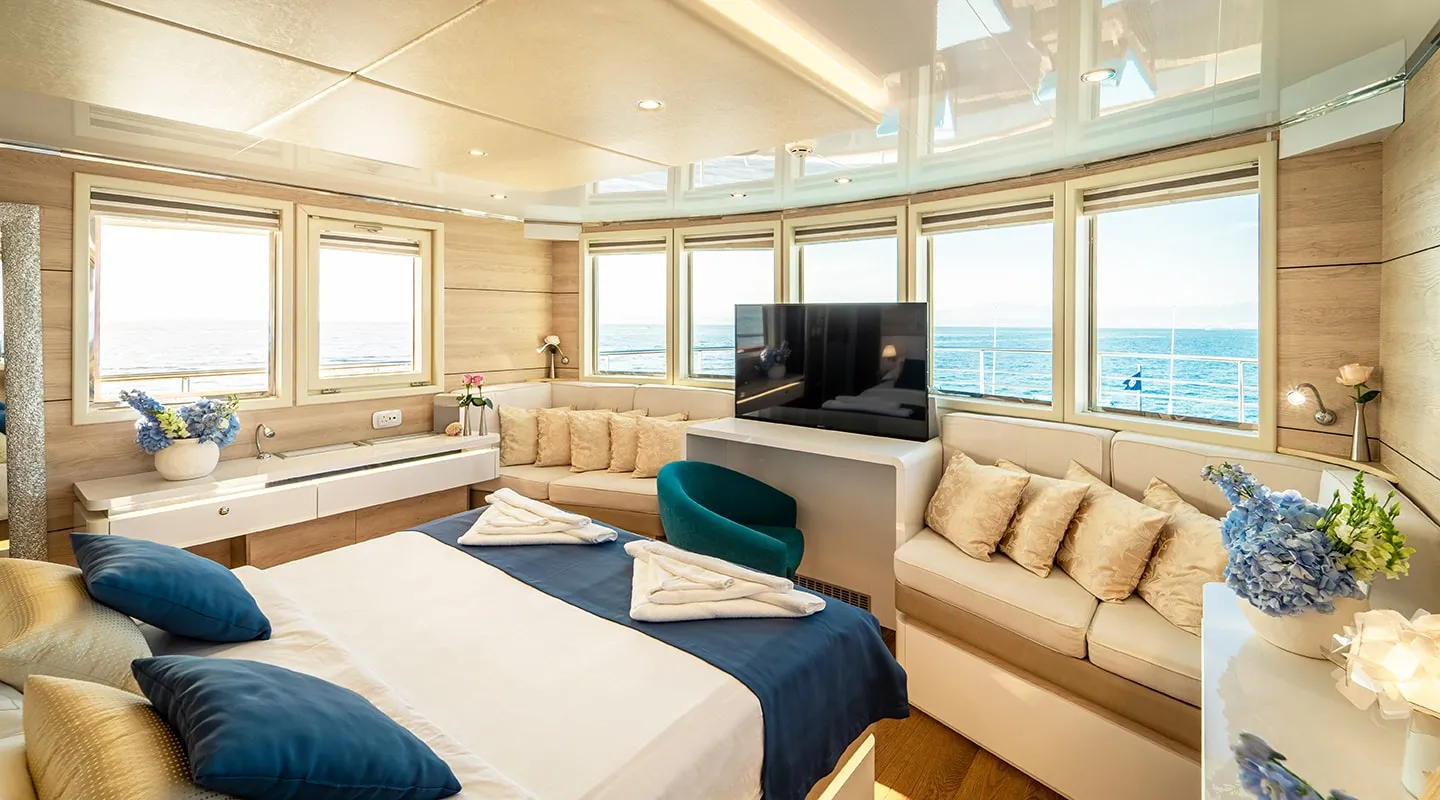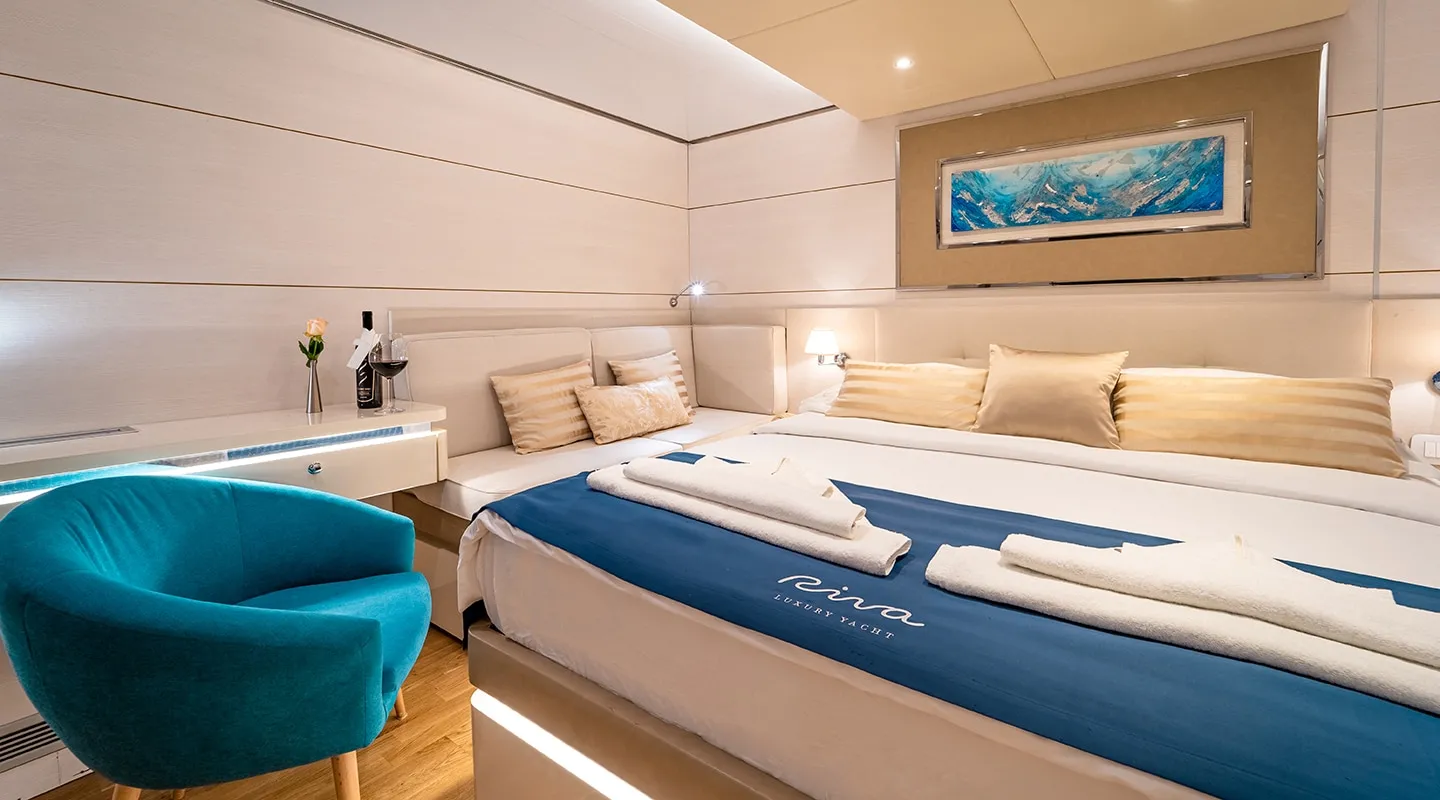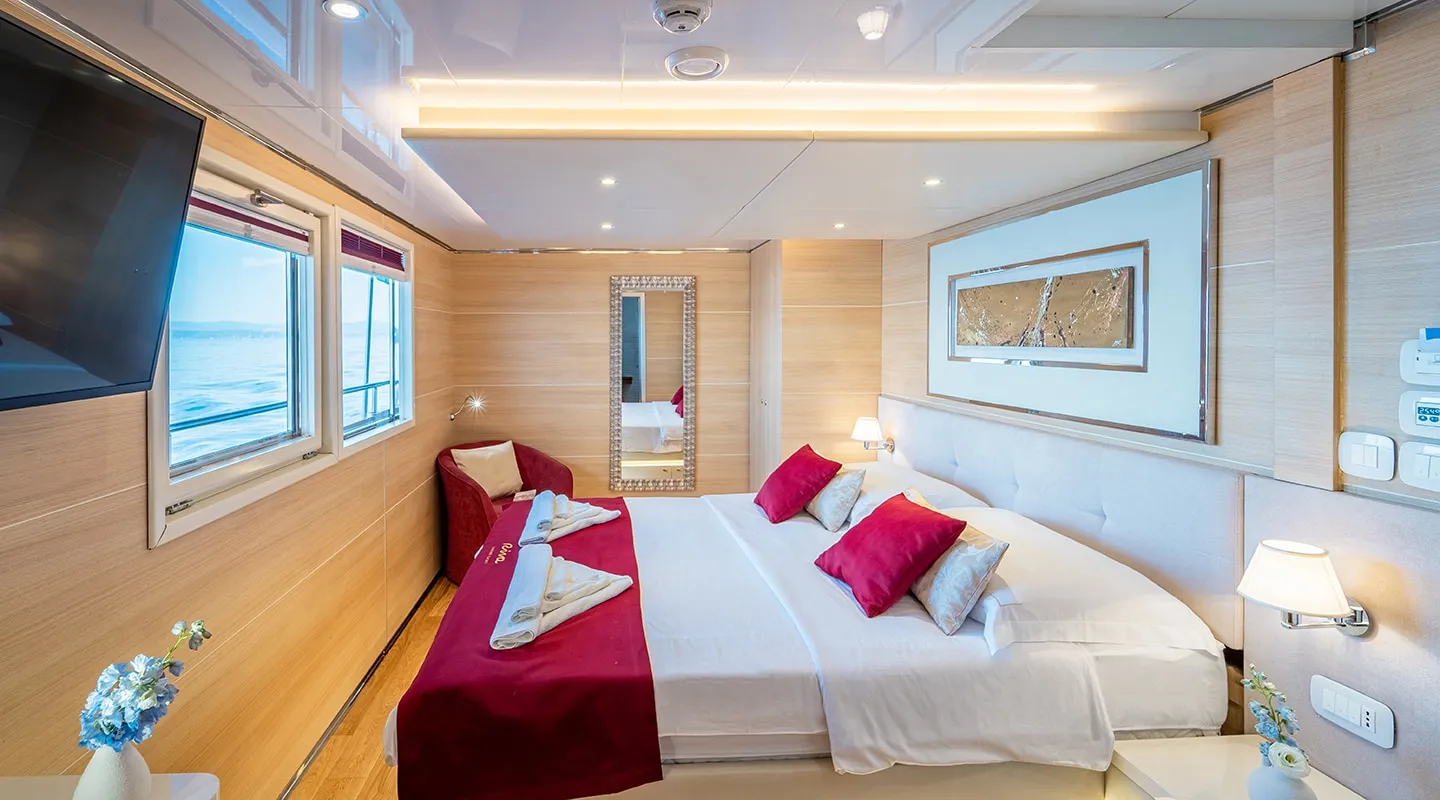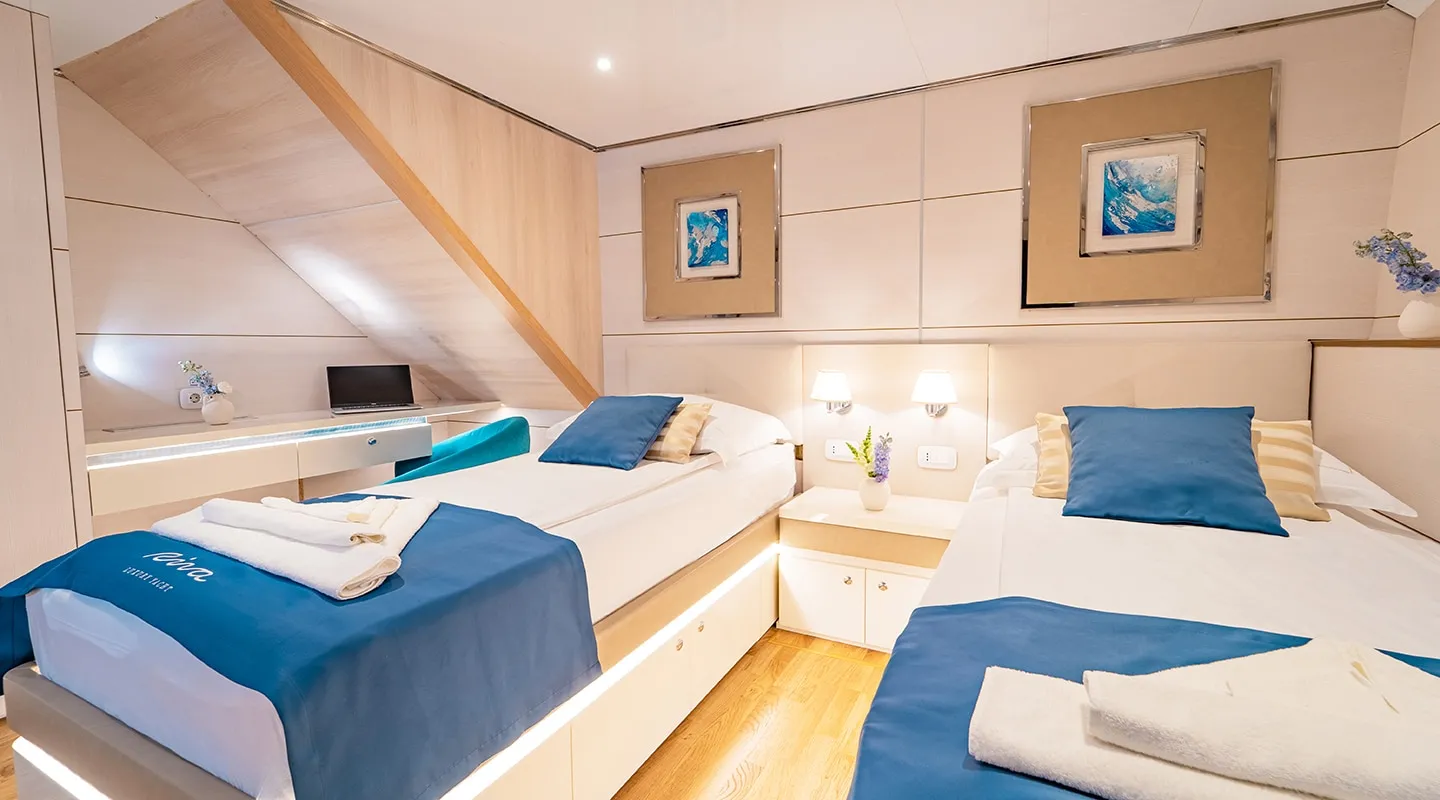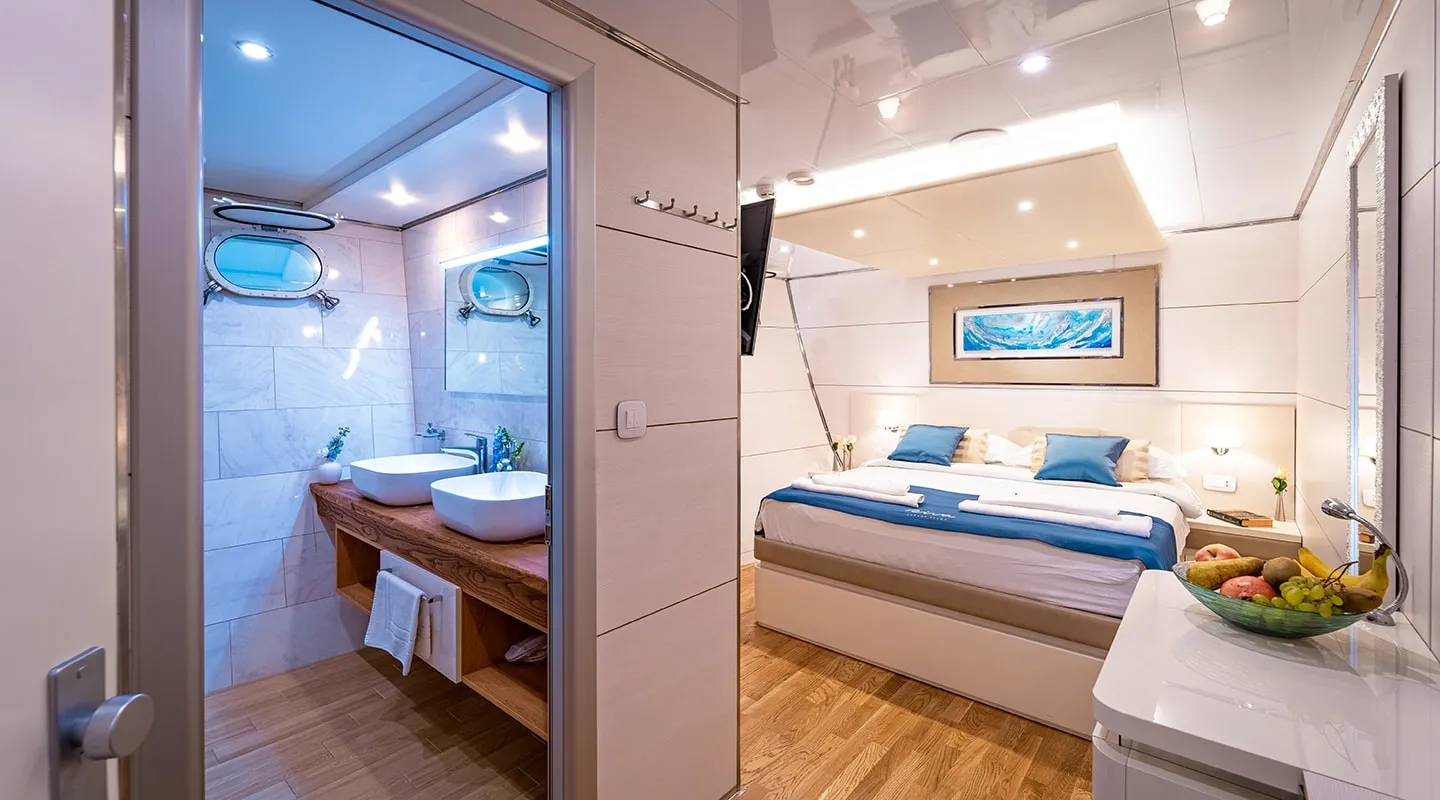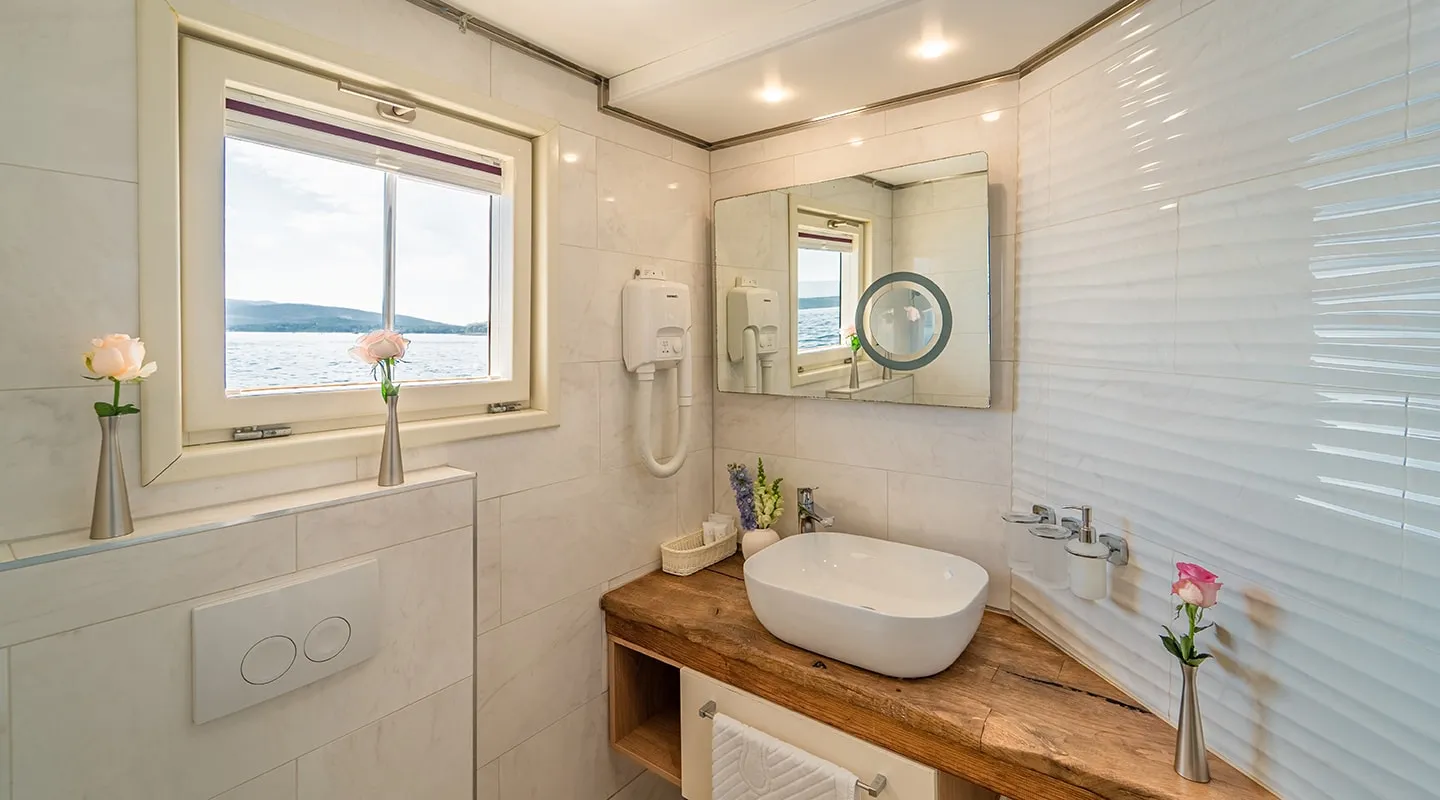 Once your chosen yacht has been confirmed, we will send you a standard MYBA or Goolets charter agreement that needs to be signed. If your chosen cruise route requires a different embarking or disembarking place other than the yacht's central harbor, delivery/redelivery fees may apply.
After signing the MYBA or Goolets charter agreement, a deposit of 50% of the total charter cost is required. You can pay the fee via bank transfer or credit card (only Visa or MasterCard). The other 50%, an Advance Provisioning Allowance (if applicable), taxes, positioning fees, and any previously agreed charges are payable via bank transfer eight weeks before departure.
and any previously agreed charges needs to be settled via bank transfer six weeks before departure.
Once you made the final payment of the charter, you pay the Advance Provisioning Allowance (APA). Under MYBA terms, this fee is usually between 30% - 40% of the total charter cost.
This covers the operating expenses of a charter (explained under Charter Terms), such as fuel, food, drinks, port fees, and ad hoc incidentals. The APA is given to the captain before the start of your charter. Some yachts and gulets also offer food/drinks packages which are normally paid in cash during embarkation, while the port taxes are paid during embarkation according to the costs presented by the captain. The Captain ensures that the yacht is fully fuelled and stocked when you step on board.
While an up-to-date summary of accounts can be requested at any time during your charter, a full set of accounts will normally be submitted by your captain at the end of the cruise.
In case of surpassing the amount of money already paid during your yacht charter (with the APA), additional funds (in cash) will be required at once. If there is an outstanding balance from the yacht charter, it should be settled in cash or by bank transfer before you disembark. In case of a remaining credit at the end of your charter, you will be fully reimbursed.
If a transfer by car to and from the yacht is required, it can be arranged either by the charter company or by the yacht's captain, payment for which will be deducted from your APA.
To ensure a unique and tailor-made charter experience, we will send you a detailed questionnaire eight weeks before you embark on your yacht. You can tell us your group's preferences and special requirements, such as dietary or medical needs, any particular wishes regarding exercise, entertainment, or if you are celebrating a special occasion.
In case you really need to get some work done during your vacation, no worries. On most yachts, there is mobile broadband internet and satellite TV, so you will stay connected to the rest of the world. Just keep in mind that the service can be limited in some areas (you are in the middle of the sea after all). If you anticipate regular usage of the internet, let us know prior to embarking, as upgrades might be subject to availability and additional fees may apply.
Smoking is permitted only on the outside decks, and on some yachts, only in dedicated outdoor areas. Please consult our charter brokers for more information. For safety reasons, smoking indoors is strictly prohibited on all yachts.
Even though tips are not mandatory, the guests normally extend a gratuity to the devoted crew. The amount depends on the guest's satisfaction, but it is approximately 10% of the charter fee. The tips are equally distributed among all crew members by the captain.
In case of unforeseen circumstances that might prevent the charter, we highly recommend taking out the Cancellation and Curtailment Insurance to protect the investment. Besides that, the guests should be covered by Personal Accident and Medical Insurance, and their belongings are insured against theft, loss, or damage. Charterers' Liability insurance is also highly recommended. Contact your broker for further assistance and additional advice regarding the insurance.
Charter rates are estimated weekly. If a charter exceeds seven days, they are calculated pro-rata against the weekly rate divided by seven and multiplied by the number of charter days. Keep in mind that some yachts are only chartered on a weekly (Saturday-Saturday or Sunday-Sunday) basis, especially during the high season.
High and low season rates vary depending on charter locations and types of yachts. The high rates apply to the most popular charter periods (July/August and Christmas/New Year), and to all major events. Low season rates apply to all other periods.
The charter rates on our website are up to date but may be subject to change.
Most charter rates are based on MYBA Terms, which entail that the yacht is in full commission, with all necessary equipment, properly insured for marine risks, and managed by a crew, whose wages, food, and clothing are the owner's expense.
All other operating expenses are charged to the charterer and include (but are not limited to): fuel and lubricating oils for the yacht and her tenders; local taxes; pilotage; port, harbor, and marina dues; customs clearance; water and power; personal laundry; all provisions, wines, beers, spirits, soft drinks and consumables for the charterer's group; shoreside excursions, telecommunication, and internet costs.
Please note that, occasionally, a yacht may offer an alteration on the terms described above. For further information about specific yachts, consult your broker.
For charters in European waters, Value Added Tax and delivery costs may be charged on the gross Charter Fee, due to the European Union tax legislation. In other countries, local taxes may also apply. Depending on your chosen charter destination, our brokers will provide any prevalent rates.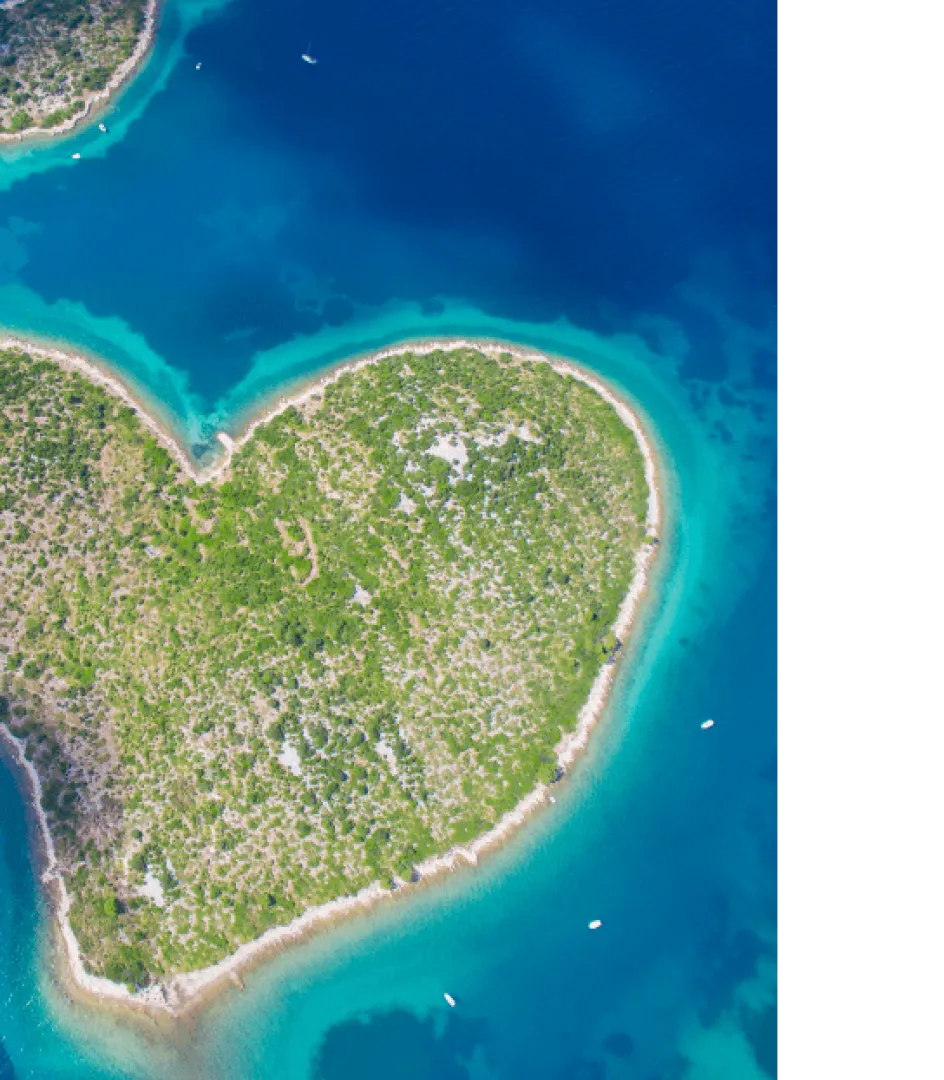 Luxury yacht charter in
Croatia
Croatia has more than 4,800 yachts available for charter. We compiled a list of "award-winning" yachts, recommended by industry experts. This list provides an overview of Croatia's top charter yachts in terms of quality, value, and performance.
Popular yachts in Croatia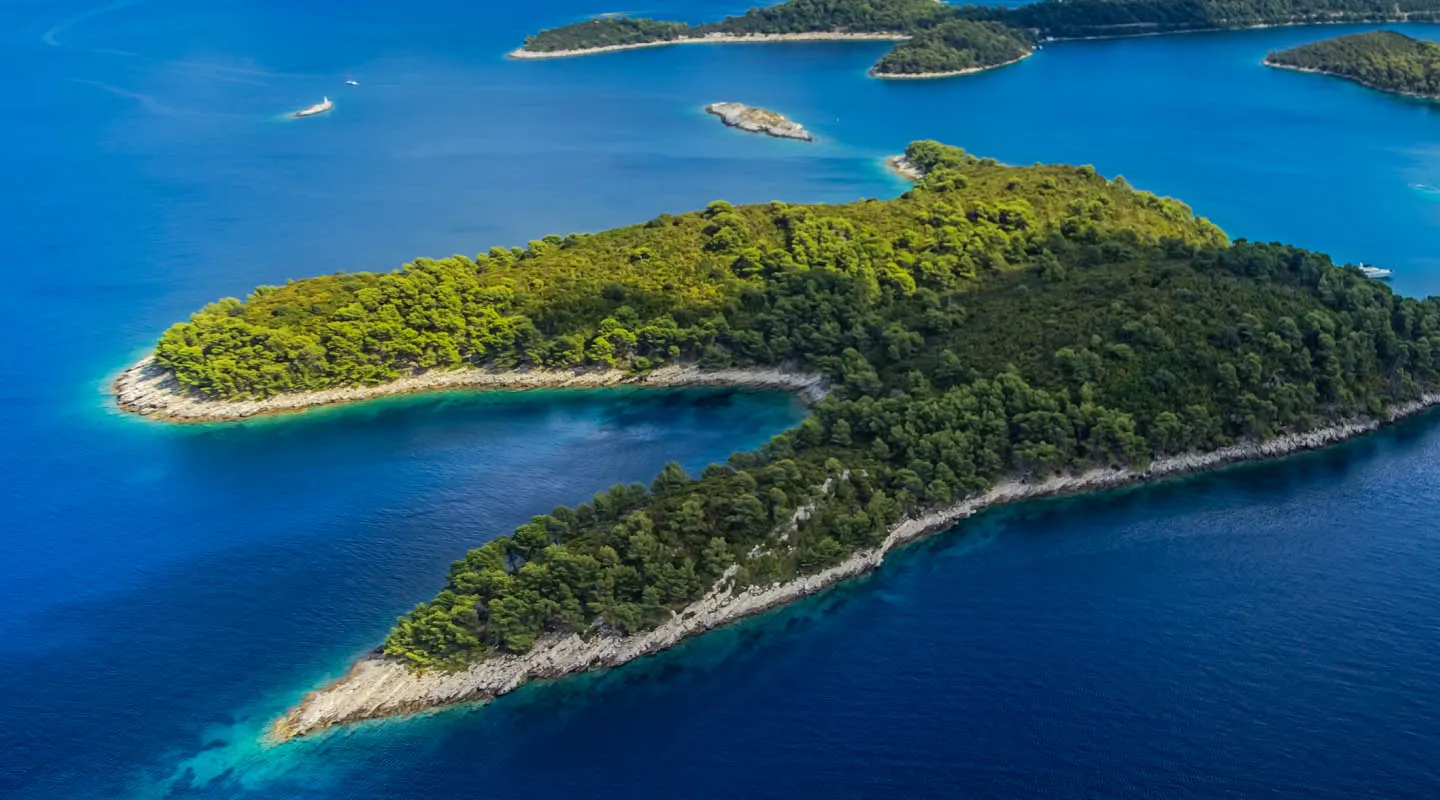 Understanding your wishes
We continuously monitor availability, quality, and accuracy of pricing, of well over 500 gulets and yachts in eleven different charter destinations.
Start planning now
What kind of boats are for you?
Find out which boat will suit you best in this short and fun quiz.