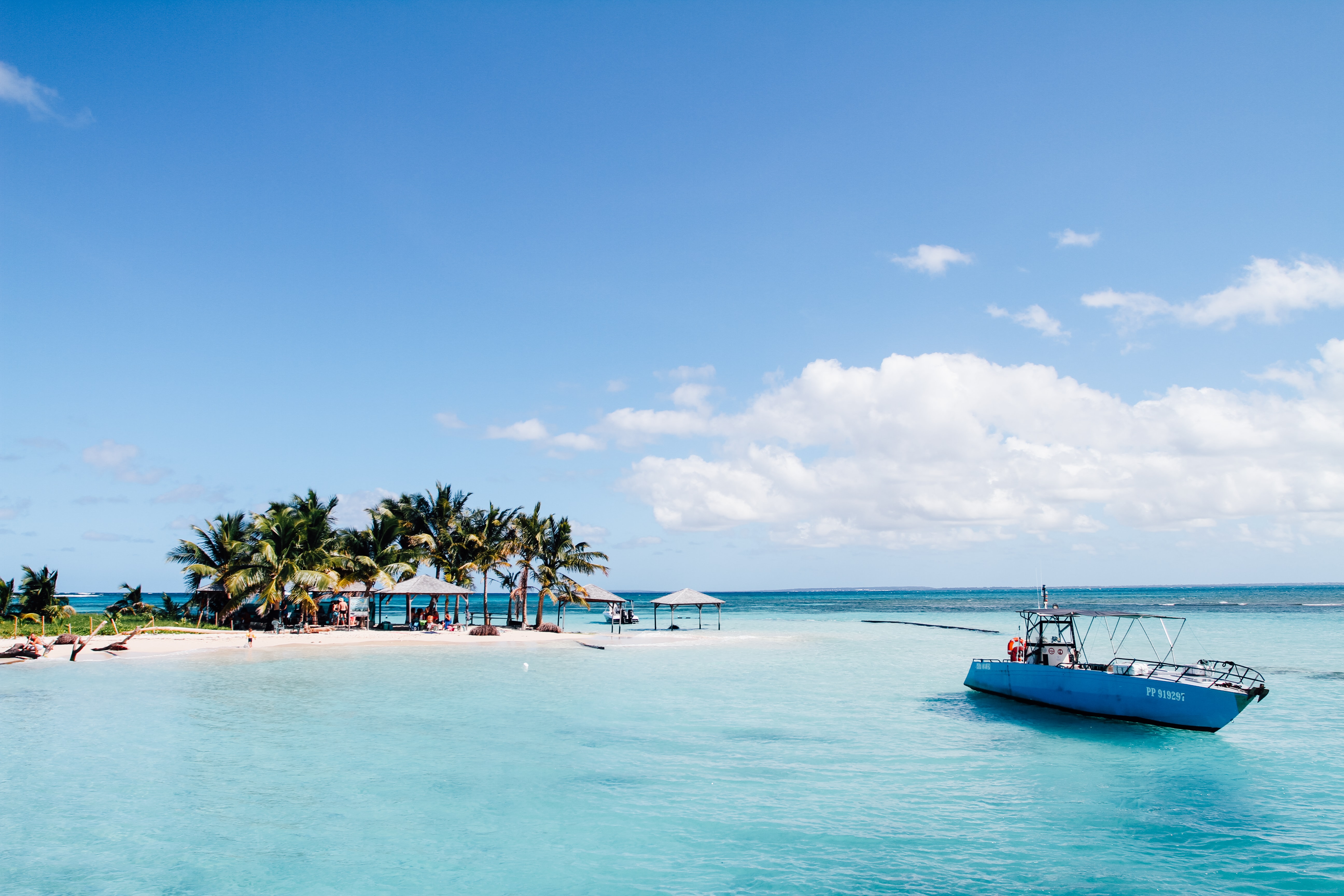 Yacht charter in the Caribbean: Creating a dream holiday
Imagine yourself exploring stunning culturally diverse islands with countless white sand beaches and extraordinary turquoise bays surrounded by tropical forests. You can expect nothing less than paradise when chartering a private yacht in the Caribbean.
Only behind Meditteranean as a yacht charter destination, the Caribbean offers amazing opportunities for a stress-free holiday and a vast choice of stunning yachts to choose from.
You can view some of the private yachts available for charter. Please have in mind that there are countless other yachts available for you, so don't hesitate to contact one of our experts in Goolets and we will find a perfect match for you.
Yachting in the Caribbean
Caribbean is one of the hotspots in the world for sailing and cruising holidays only after the Meditteranean. Bigger yachts often spend the winter time in the Caribbean and then head to Europe for the summer season in the Meditteranean.
You can find an abundance of amazing options for you.
1. Mega yachts and superyachts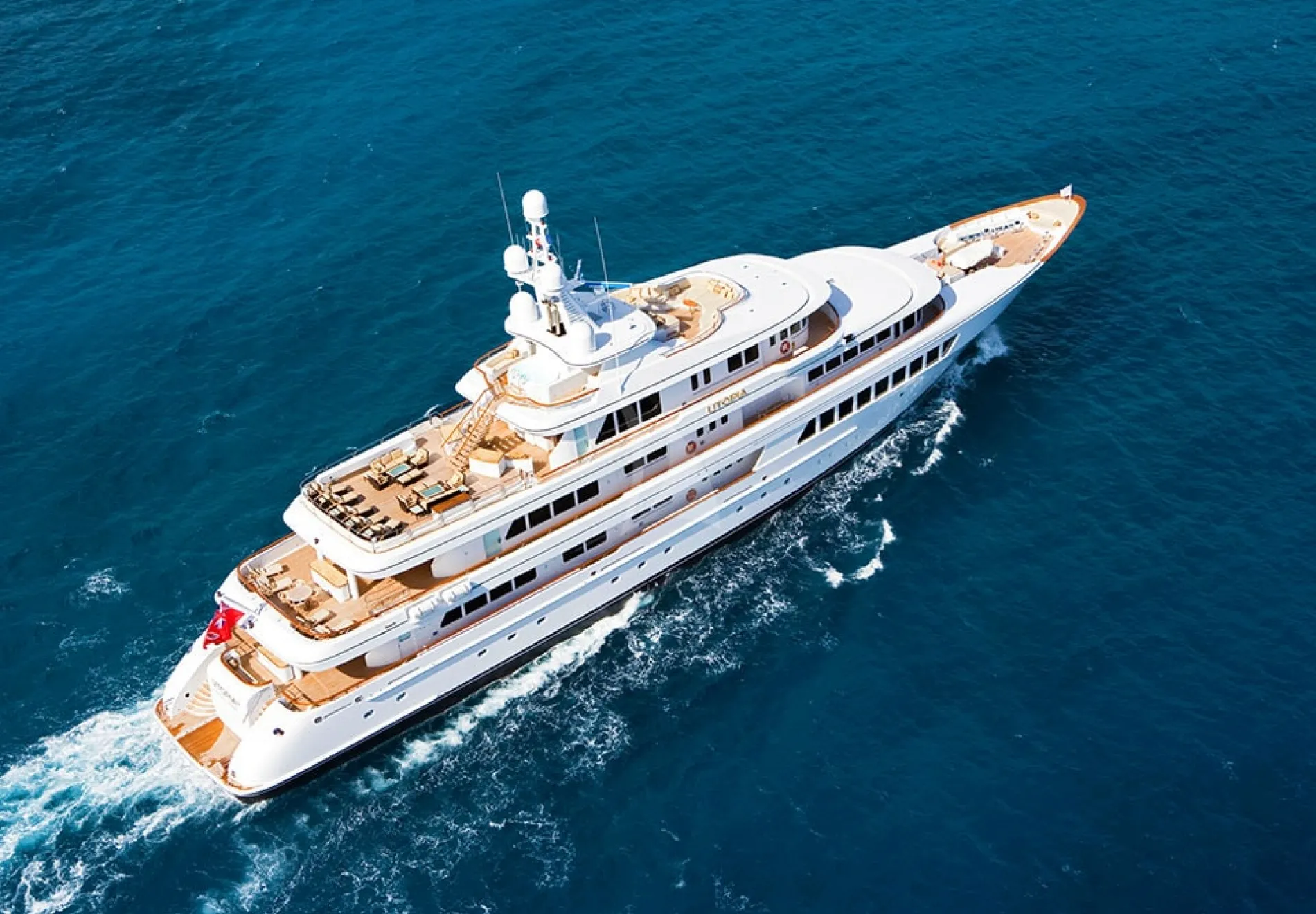 What is a mega yacht/superyacht?
There are no official definitions for superyacht or a megayacht. They are large, luxurious, professionally crewed motor or sailing yachts, ranging from 40 metres (130 ft) to more than 180 metres (590 ft).
Larger superyachts can have more than one swimming pool and carry a variety of water toys and additional smaller boats, and some helicopters. Top of the line amenities allow the crew to pamper you in every way. Private superyachts and megayachts offer amazing deluxe experience, they are designed to emphasize comfort and speed.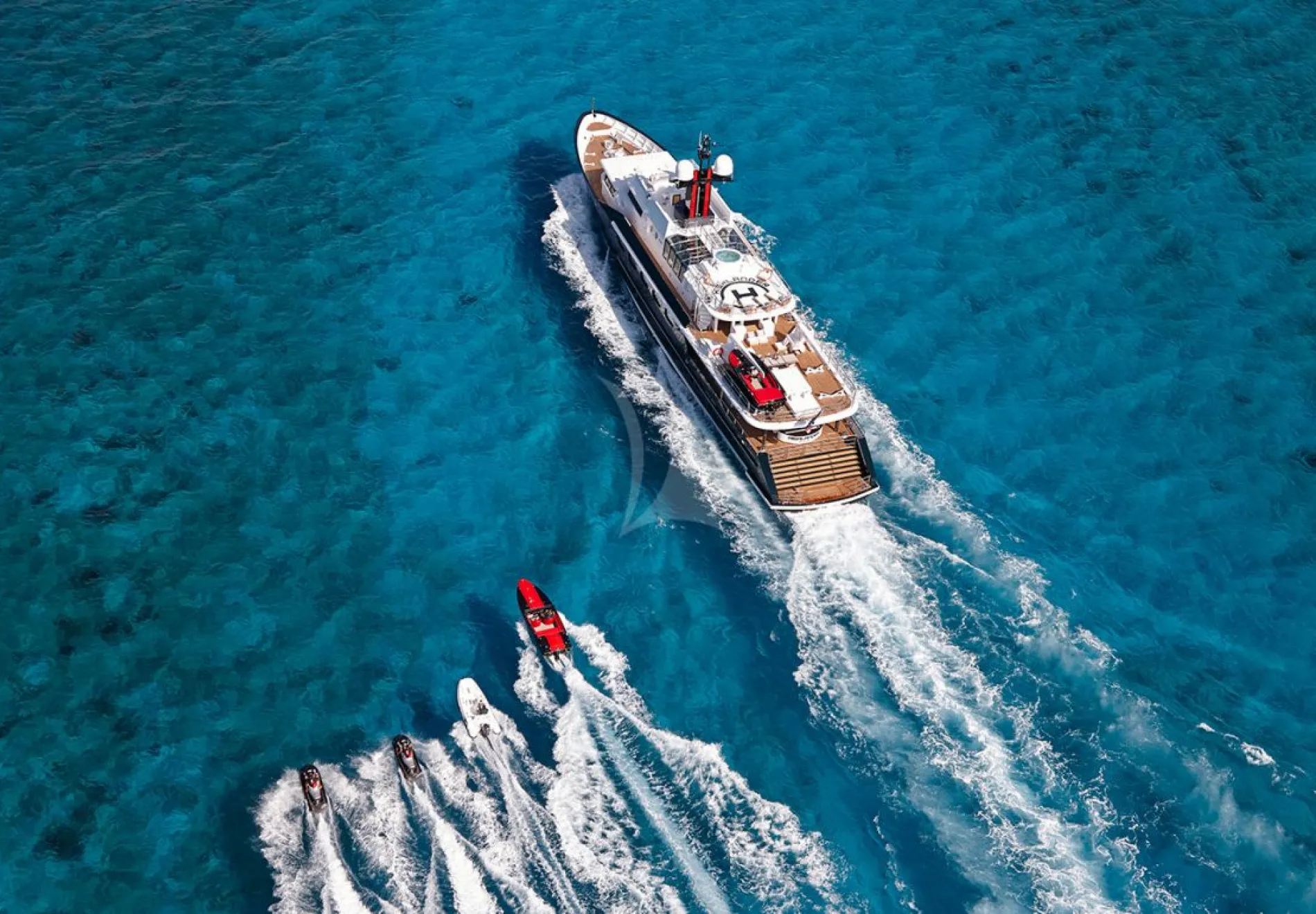 Where in the Caribbean to cruise a mega yacht/superyacht?
Depending on the season, superyachts are often found in the Mediterranean in the summer season and in the Caribbean in the winter season. Private mega and superyacht charters provide the most elegant way to visit exotic places and also vibrant cities and ports.
You can cruise all the areas in the Caribbean with a hot spot being Antigua and the British Virgin Islands.
Besides all the amenities and luxury, a great thing about mega and superyachts is that they are fast, so we can provide you with custom-designed itineraries that cover bigger distances in areas where seas are rougher, something smaller yachts wouldn't be able to do.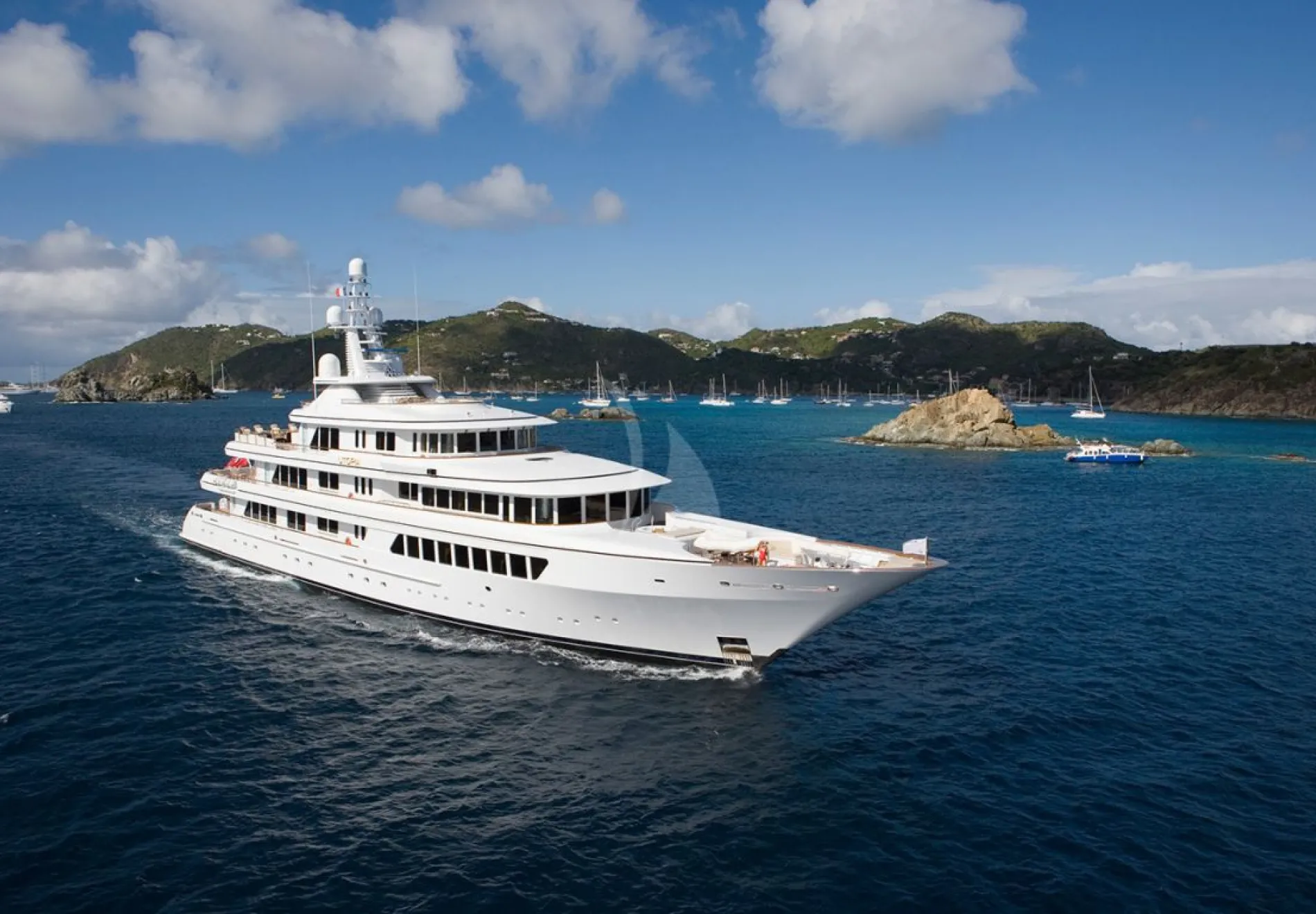 What is a motor yacht?
Motor yachts offer luxury yacht vacations with full crew and chef for smaller groups. There are different styles, from traditional cruising yachts for lingering sea views at a slower pace to ultra modern "express style" power yachts for quick island hopping. Crewed motor yachts provide a high level of private luxury.
There are different sizes of motor yachts to choose, from 15 meters (49 ft) to up to 50 meters (164 ft). When discussing a luxury charter aboard a smaller charter with you, we will realize which other amenities aboard are important for you and our experts will identify charter yachts which match your personal desires.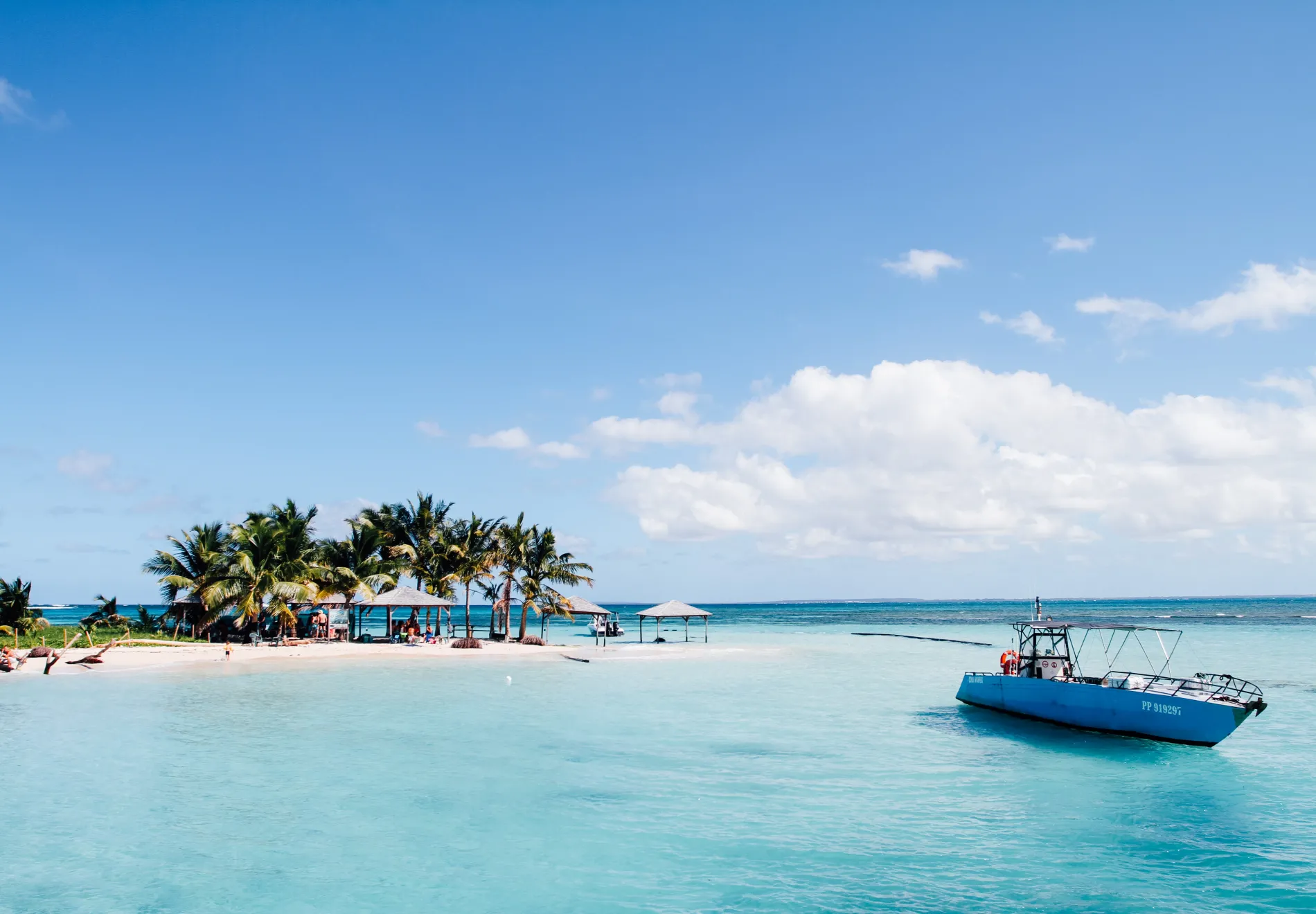 Where in the Caribbean to cruise with a motor yacht?
The most popular destinations for crewed charters of motor yachts include the BVI, other islands in the Caribbean. Some areas, such as the Windward Islands, have potentially higher seas and winds that are not ideal for smaller yachts.
The Virgin Islands are the best because they provide protected waters and countless island beaches that are perfectly suited to smaller charters.
You'll find that motor yachts have good availability nearly everywhere. There are more motor yachts available than any other type of charter yachts. Their amenities and features likewise have the most diversity.
What is a sailing yacht?
Yachts that can offer sailing opportunities are more for those that enjoy the classic yachting experience using the wind to get there. The most common reason for anyone to choose a sailing yacht instead of a motor yacht is for the sheer romanticism of the luxury yacht charter experience that you simply can't enjoy on a motor yacht charter.
Usually motor yachts offer more luxury and amenities than sailing yachts, but not always. The thrill of navigating the seas using the natural forces of the elements and the excitement of the adventure into wilderness is something you will find unforgettable.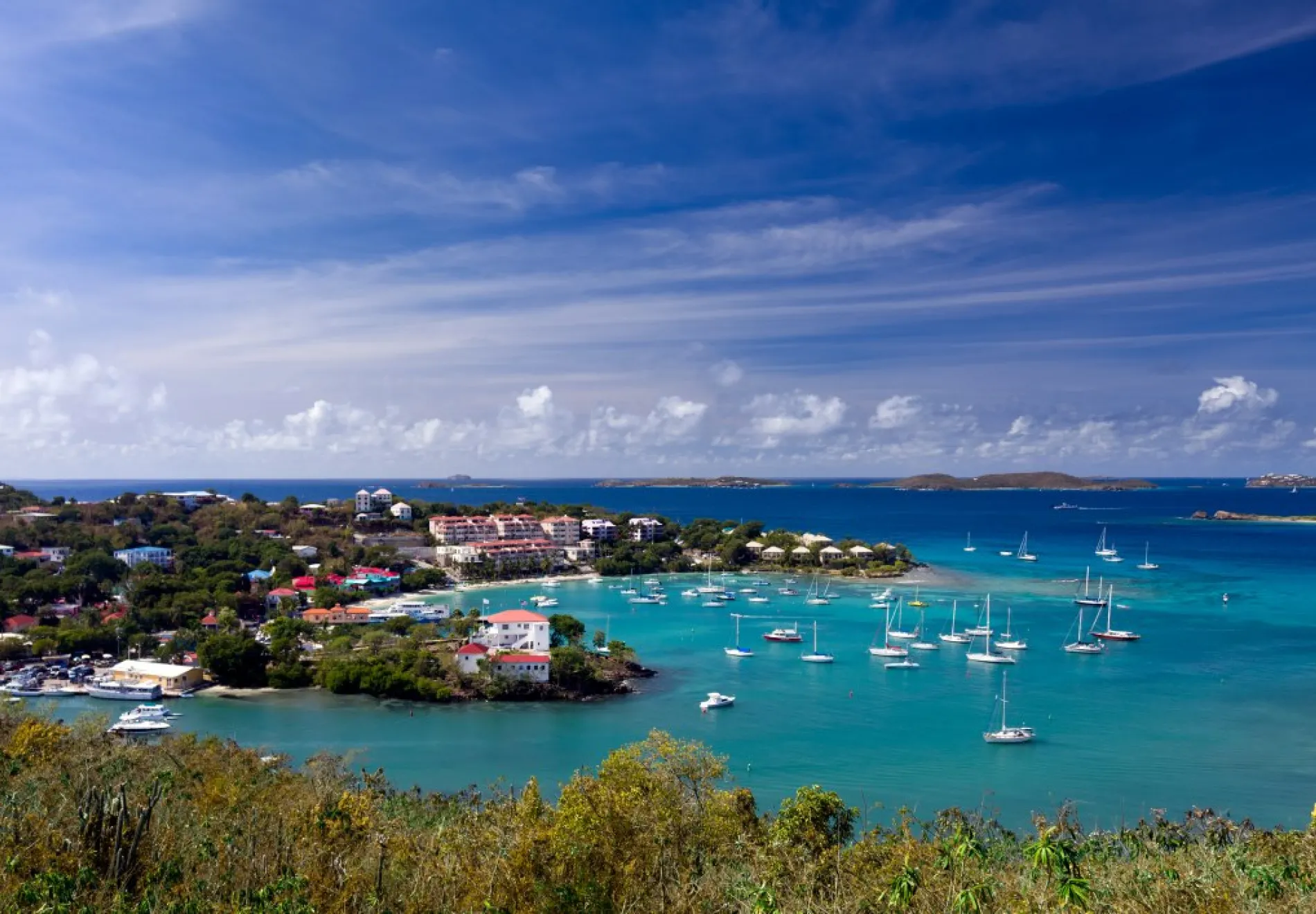 Where in the Caribbean to cruise with a sailing yacht?
Sailing on yachts is most popular around the Virgin Islands, but there are other areas popular for sailing yachts as well in the Caribbean, such as Leeward and Windward islands. The Caribbean and sailing go hand in hand. Perfect winds for sailing, blue waters, and lush green islands make for the perfect sailing experience. Please contact one of our experts for more details.
The choice of yachts in Carrebean is quite impressive.
Top luxury yachts in the Caribbean
And when it comes to choosing the best yacht to charter, our experts' knowledge of the fleet and the crew will find you the perfect match.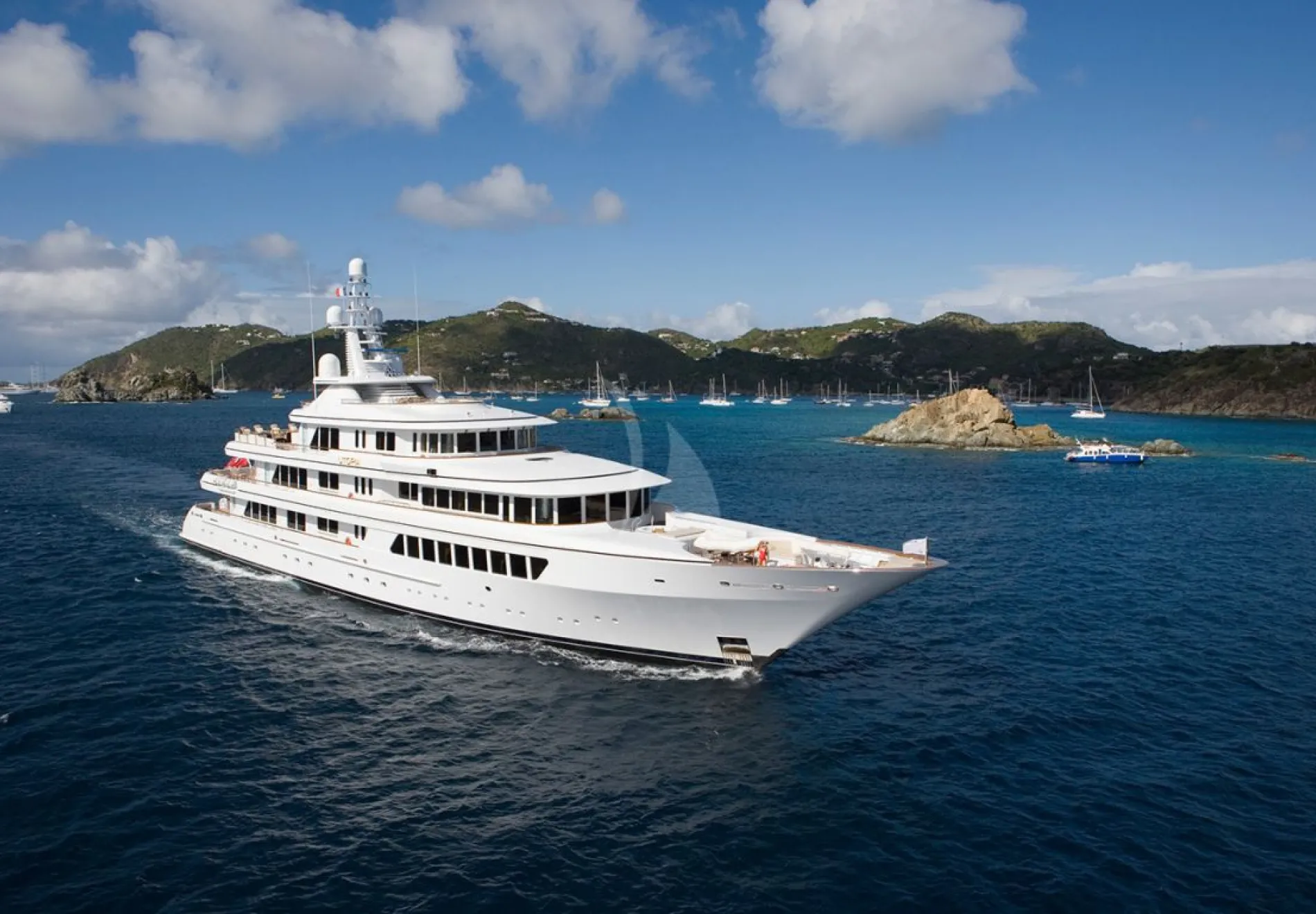 Luxury yacht Utopia
For up to 12 people
Highlander
For up to 12 people
Top 10 islands in the Caribbean for private yacht holidays
From BVI, crystal clear waters of Antigua, natural wonders of Grenada, to beautiful coral reefs and uninhabited white paradise sandy islands – there is a vast choice waiting for you to explore! Here is a list of the best locations for your yacht holiday. Get in touch with one of our Goolets yachts experts for the Caribbean who will help make your personal charter dreams a reality and advise you of the best locations for a private charter in the Caribbean according to your specific wishes.
British and Us Virgin Islands
The BVI is considered by many to be the ultimate charter destination in the Caribbean for both sail and motor yachts.
An archipelago of 60 islands and cays, including Jost Van Dyke, Tortola, and Anegada its famed turquoise waters offer the full range of charter yacht experiences: diving, fishing, sailing, and swimming, as well as unique onshore activities that cover culture, cuisine, history, and boutique shopping.
The largest island in this volcanic chain, Tortola is home to beautiful beaches, tranquil moorings, with many ruins of forts and mines, nature protected areas, and very hospitable locals, while Virgin Gorda comprises world-class marinas, chic resorts as well as the huge granite boulders and grottoes known as 'The Baths'.
There are three US Virgin Islands. You will find spectacular white sand and turquoise colored stretches of ocean with many sheltered areas, which are calm and rich in sea life. St Croix boasts spectacular snorkeling and diving and its share of gourmet restaurants.
There is an airport in St. Thomas, which makes access to the USVI really effortless, especially for guests arriving from the US. St. Thomas is the most built-up of the three large islands while St. Croix has great sea-side bars for refreshments and relaxation. Two-thirds of St. John is a national park with beautiful pristine beaches, the Great Lameshur Bay in the south is particularly attractive to superyacht charter groups.
There is a National Park on St John island, but besides nature, you will also find fascinating boutiques, restaurants and bars. St Thomas is the most cosmopolitan island with one the best shopping in the Caribbean, while still offering magical beaches like Magens Bay and secluded anchorages with backdrops of mangroves and tropical forest.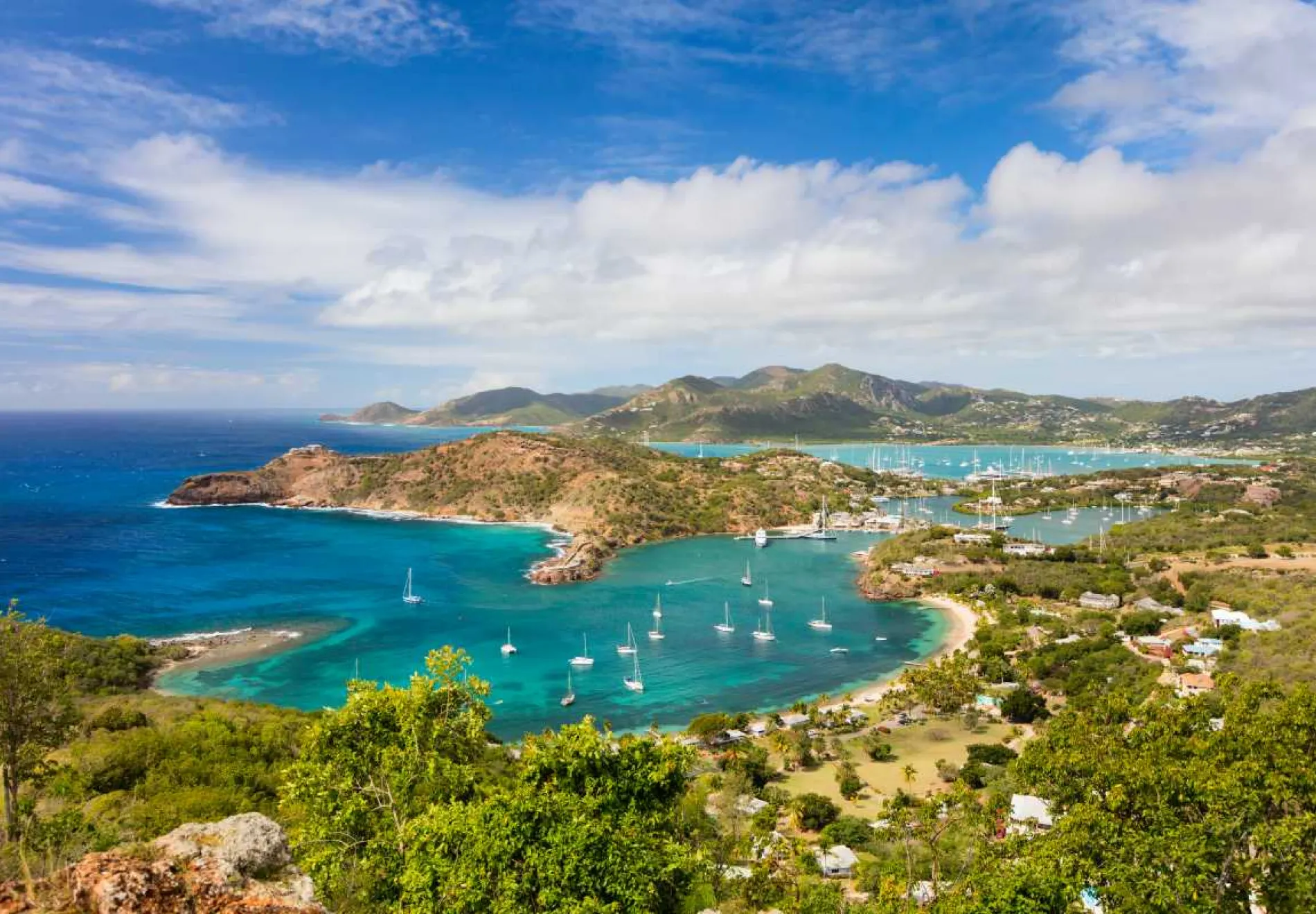 Antigua and Barbuda
Antigua's has been one of the Caribbean's top sailing destinations for centuries. Since the times of Admiral Nelson. Falmouth Harbour on Antigua is one of the world's best Mega Yacht havens, where you will find one of the best services and infrastructure there is.
Antigua is one of the superyacht charter capitals of the Caribbean Sea due to its fantastic harbours, warm local and amazing bays. Antigua is a place to spoil yourself with great services and places to go out, while Barbuda has absolutely gorgeous beaches, the combination of both give you everything you need for a Caribbean vacation. Antigua is ideally positioned within the Caribbean, so it can be a nice base point for cruising to multiple Caribbean islands. In April you can visit a famous Antigua Sailing Week when the nightlife is even better as usual.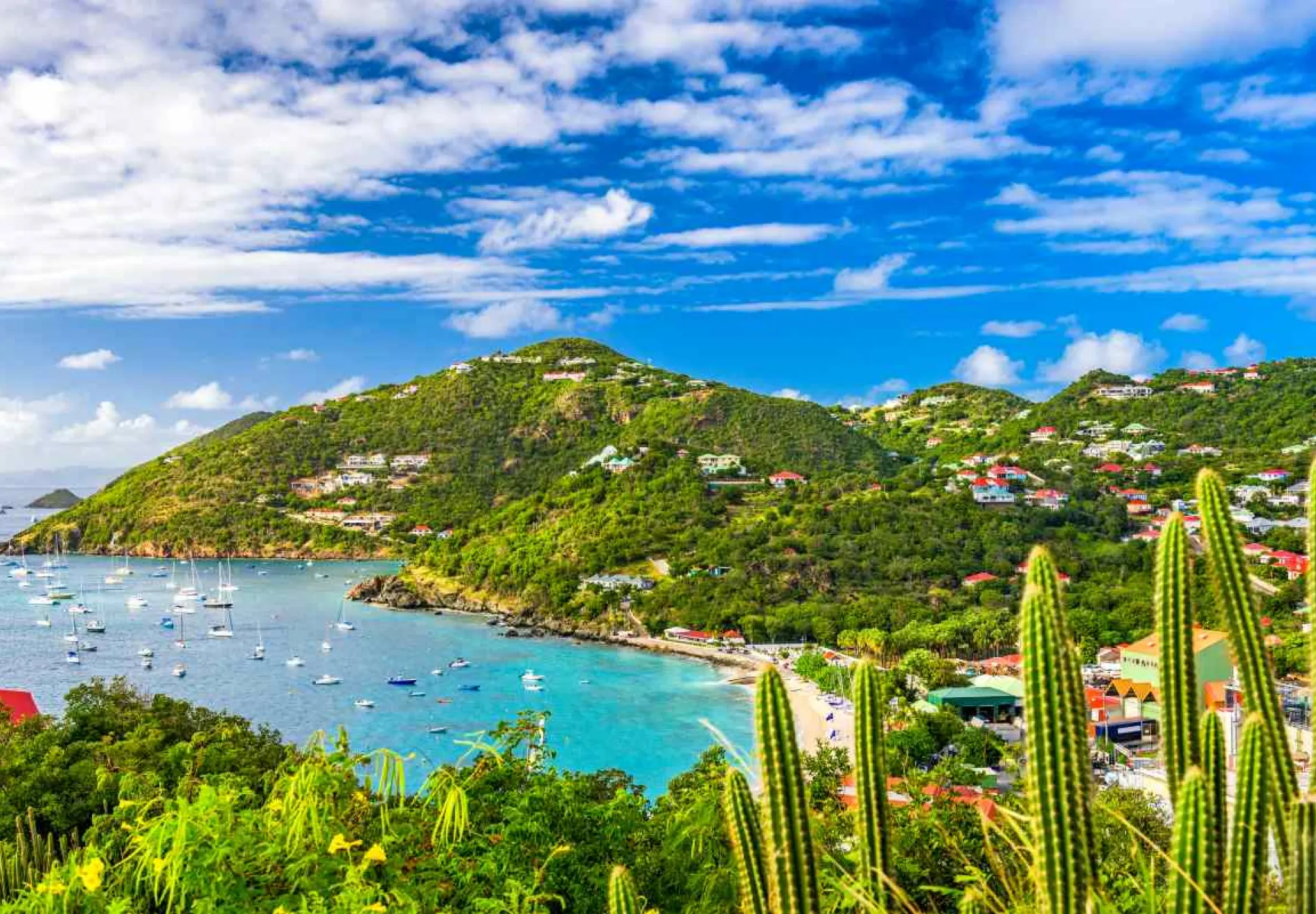 St. Barths
St. Barths is an interesting blend of Caribbean informality and French flamboyance. Its capital Gusatavia will surprise you with great restaurants, bars, boutiques and many cultural events .Along with luxury villas, sophisticated waterfront resorts and a lively nightlife, St Barts is just as unspoilt with natural beauty in its secluded beaches, azure waters and authentic fishing villages.
St. Barths Bucket is one Caribbean's most prestigious yachting events and the town itself is an excellent place to meet other luxury yacht charterers.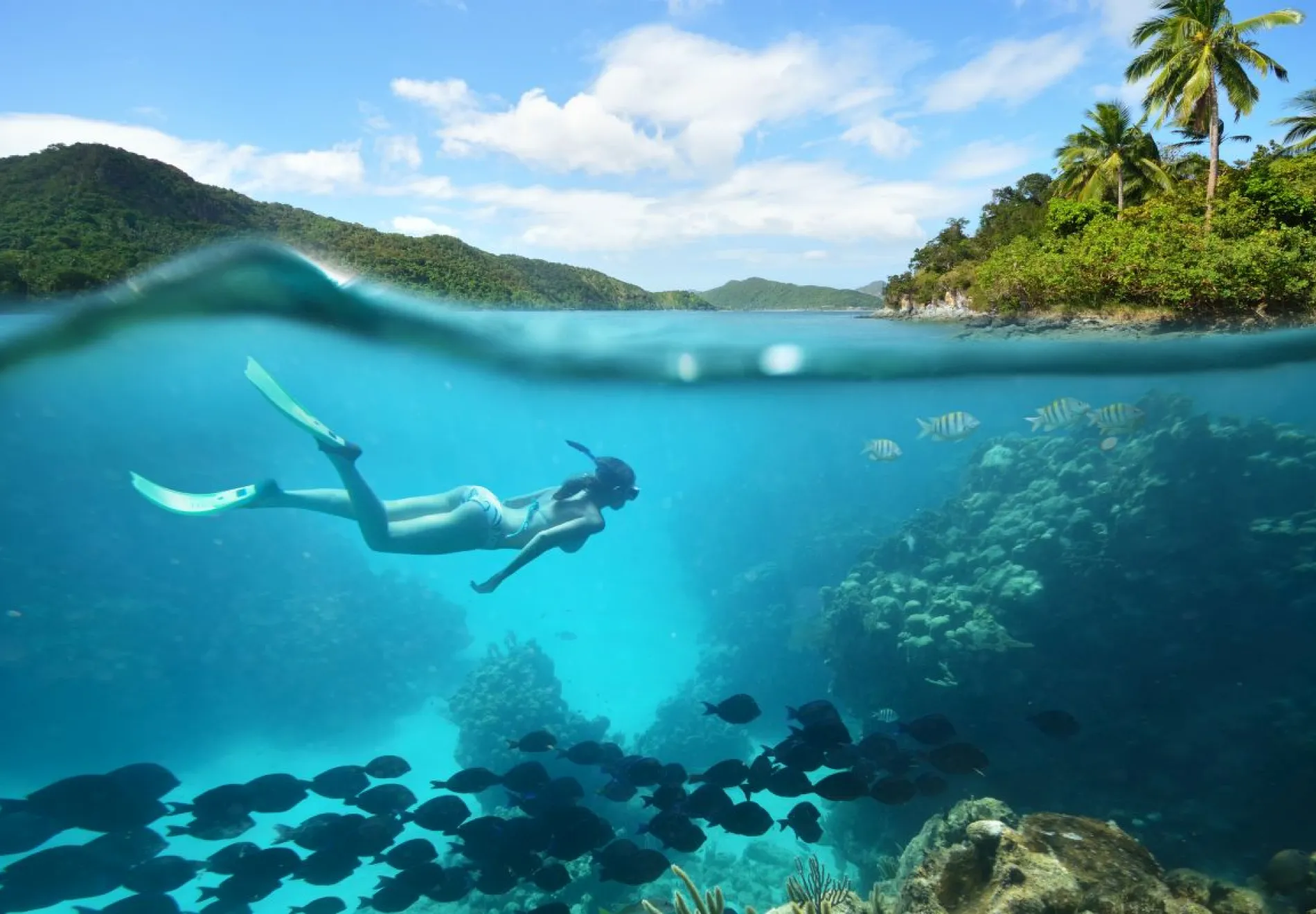 St. Martin and Saint Maarten
Half French, half Dutch island is a favourite among yacht charterers for its high end shopping and amazing dining options. There are also heavenly beautiful beaches in sheltered bays. The waters surrounding St Martin and St Maarten are known for great diving spots, suited to a range of abilities and also for snorkelers, kayakers and swimmers.
You can see manta rays, turtles and parrotfish around the island. From February to June, you can also enjoy Humpback whales watching. A great time to visit to avoid the summer holidays and stick to the dry season.
Saint Martin has lush rainforest-covered mountains, where you will find small villages who practise their island customs and there are many shopping, cultural and other experiences which convey its Dutch and French heritage.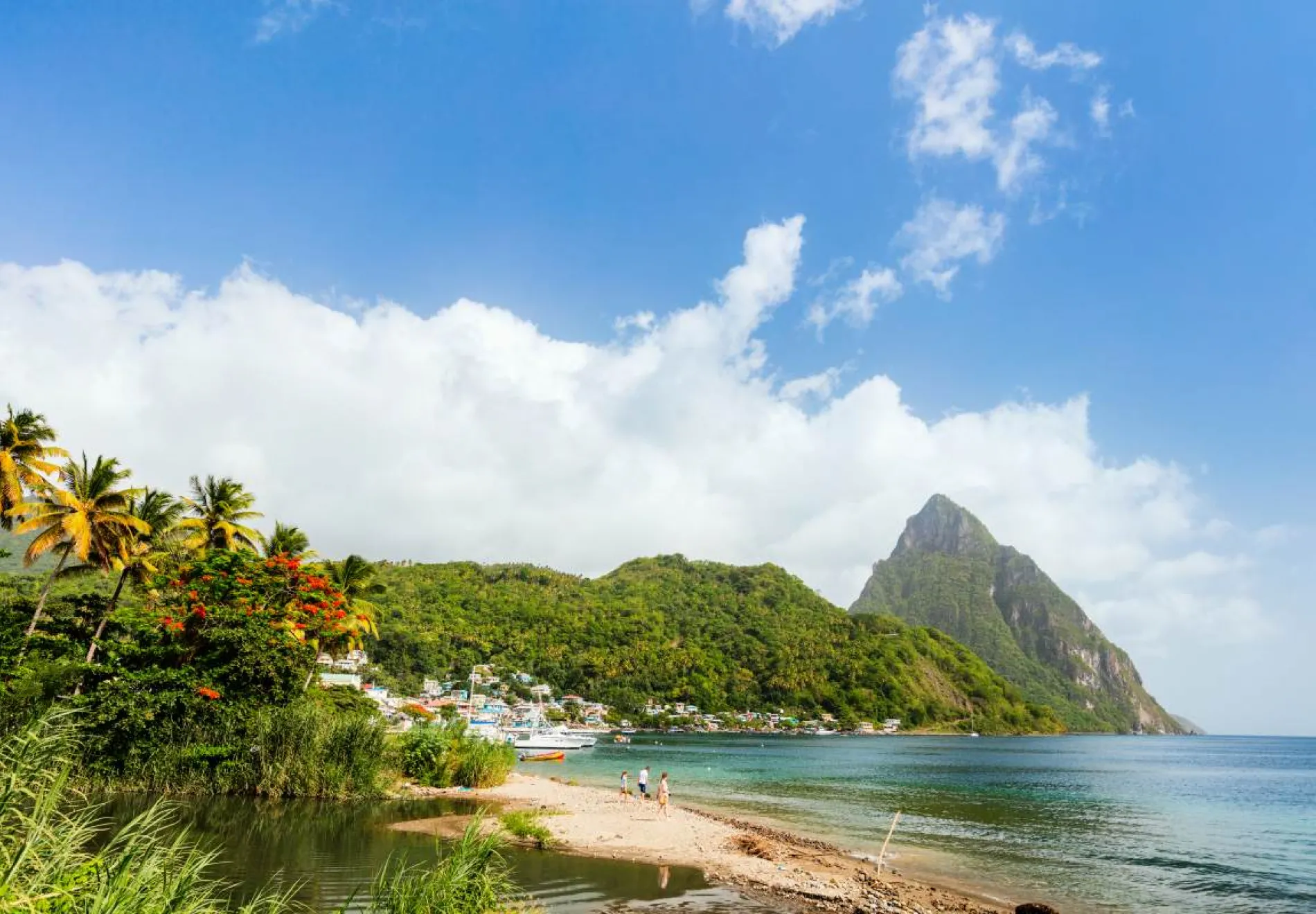 St. Lucia
Best known for the Pitons, the two mountainous volcanic plugs, volcanic spires, located on the island. St. Lucia has a winding coastline sheltered by offshore reefs that make this a desirable location for sailing yachts and motor yachts looking to reconnect with nature. Also perfect for people, who want to avoid the crowds.
A great yachting destination for everyone who loves kitesurfing and other wind-dependent water toys. Other water toys lowers, such as jet skis and water skis also have many broad, shallow bays perfectly suited for beginners as well.
St. Lucia is a great place to enjoy a spectacular cruise with one of the most beautiful background scenery in the Caribbean.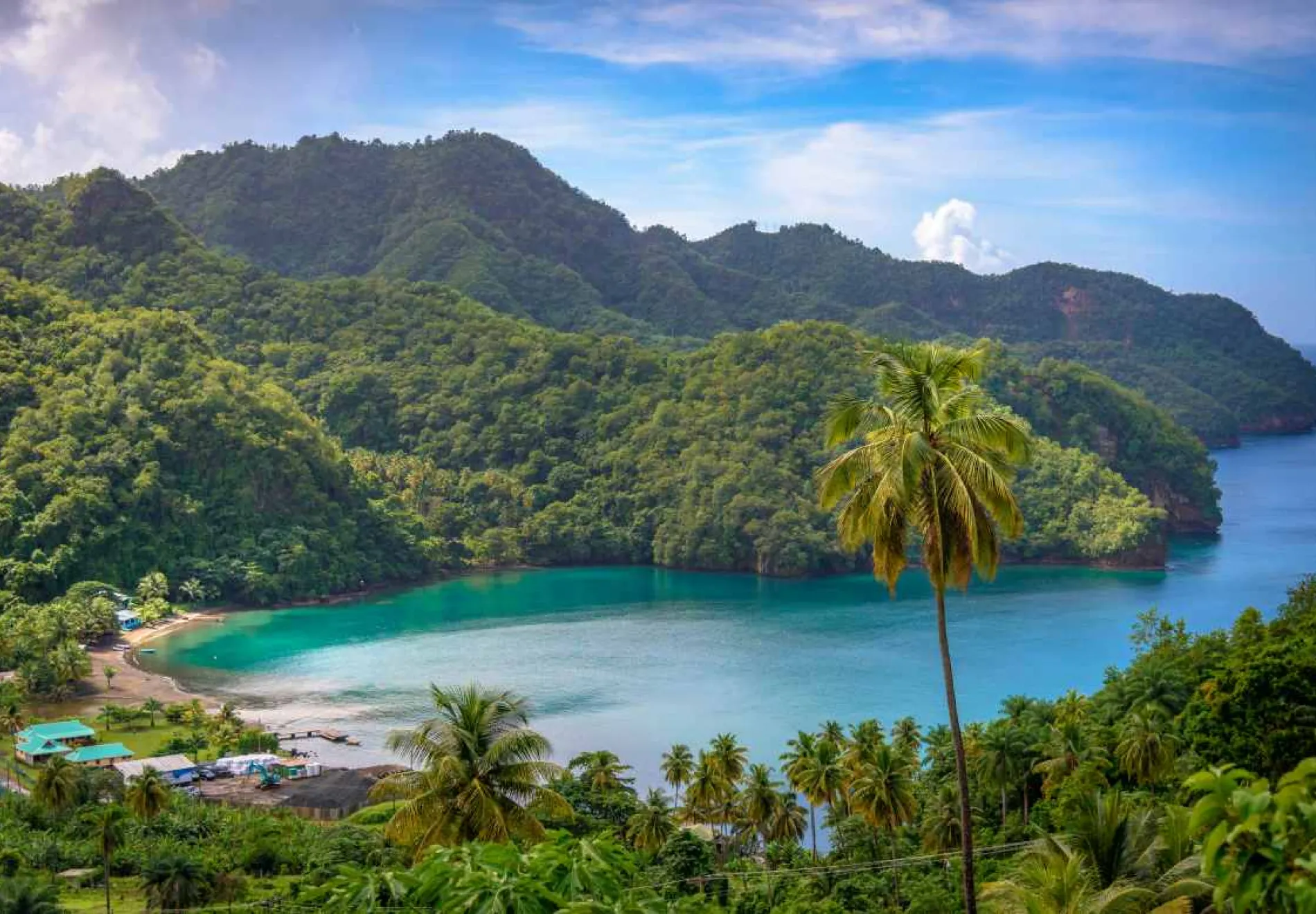 St. Kitts and Nevis
Beautiful coloured landscapes without mass tourism, the islands of St. Kitts & Nevis that fulfil the dreams of paradise in the Caribbean. Sailing yachts and motor yachts come for the long beautiful beaches and sheltered bays. The conditions are perfect for learning how to jet ski, scuba dive or simply snorkel and enjoy the coral reefs. It is a great destination for people who like to avoid the crowds.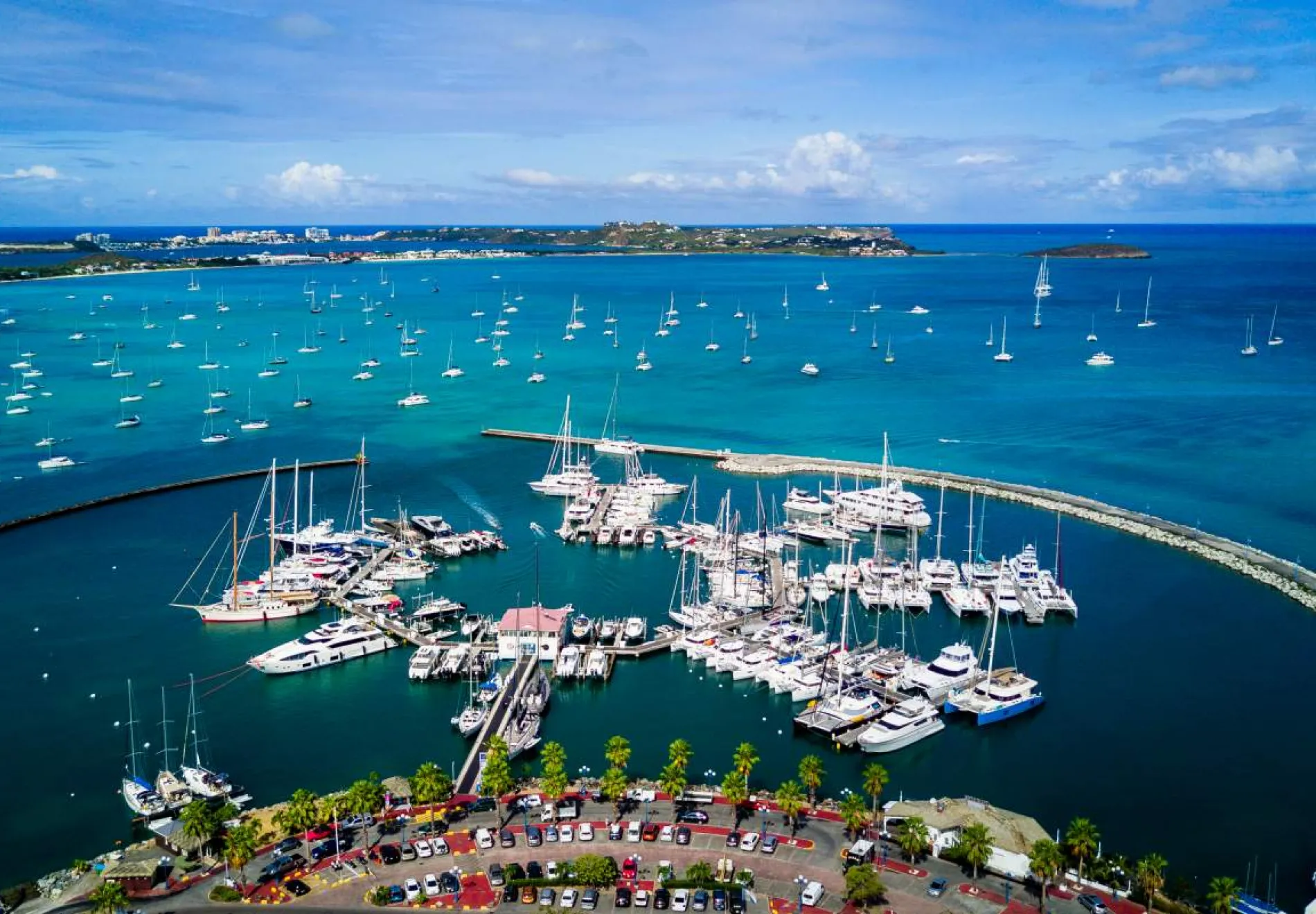 Montserrat
For luxury charterers who want an active holiday on land as well as around the sea, Montserrat is a great choice, Known for having plenty hiking opportunities along the coastline and into the forests. There are many small towns surrounded by sandy beaches that give visitors the chance to explore, shop and rest in the sunshine with sapphire blue waters. The background scenery of an impressive volcano wherever you are in Montserrat is breathtaking.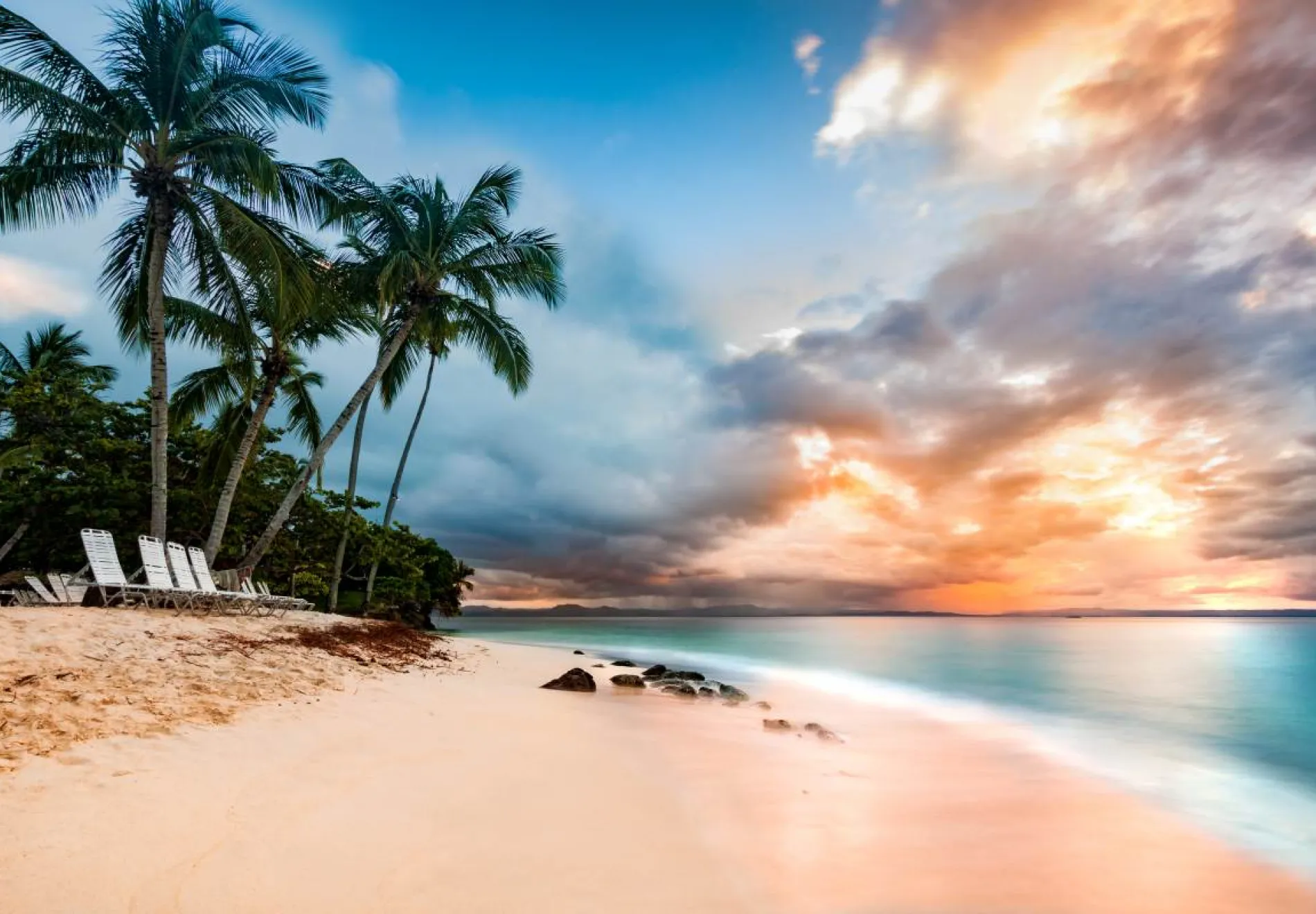 Turks and Caicos
Many return charterers return to Turks and Caicos yearly to enjoy amazing beaches fringed by blue water. There are many tumbling tropical waterfalls as well. You can expect perfect temperatures all year round, which makes Turks and Caicos a great all year round destination. There are many uninhabited islands to explore as well.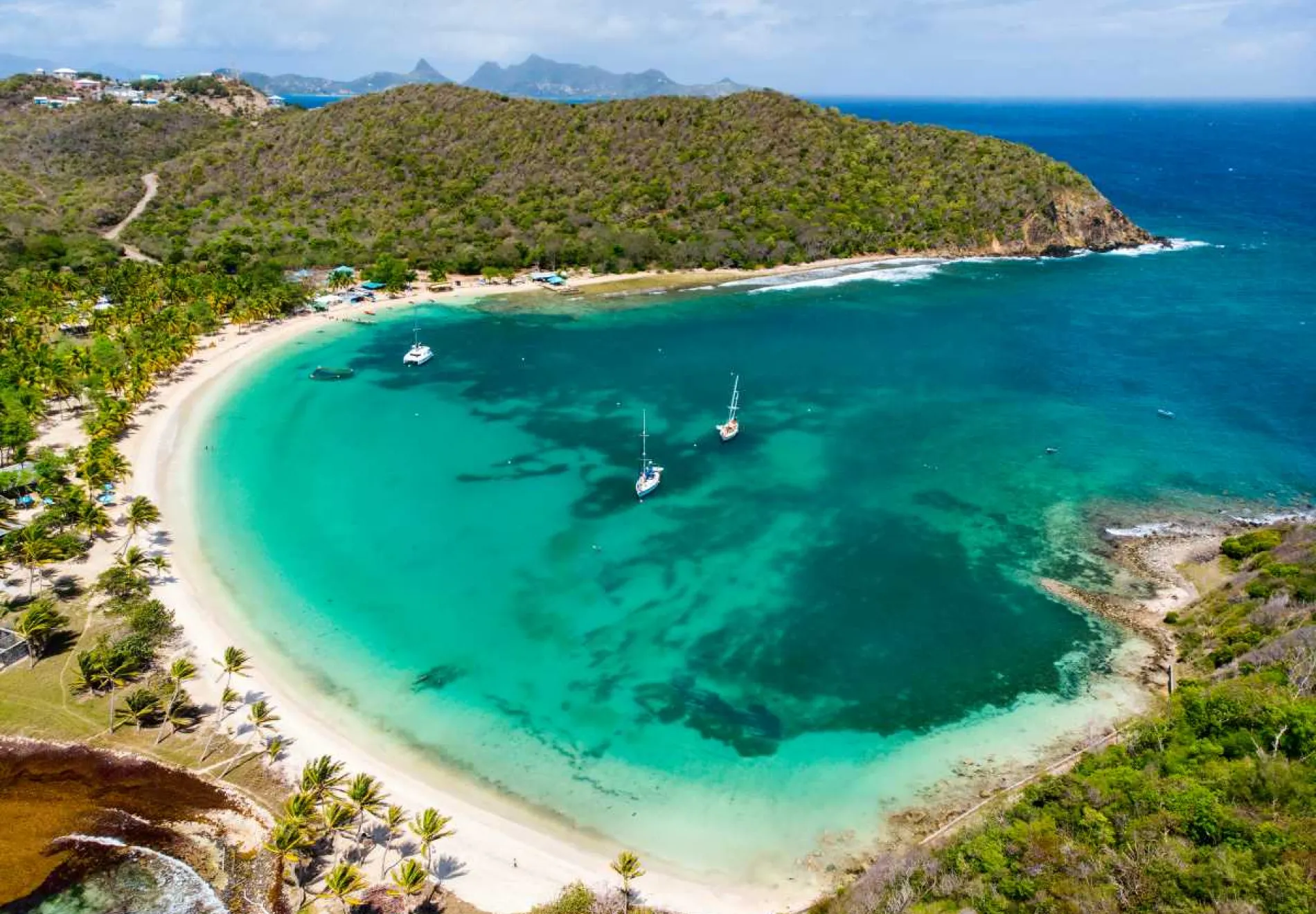 St. Vincent, the Grenadines and Grenada
One of the best sailing destinations for yacht charters in the Caribbean, St. Vincent and the Grenadines is the place to take your sail-based water toys and learn how to windsurf or kite surf before relaxing on fine grained sand. There is a noticeable blend of French and English culture in Grenada, known as the "Island of Spice". Grenada is a gateway to the unspoiled cruising grounds of the Grenadines.
No jet skis, waverunners, or spearfishing are permitted, which make the group of six islands an ideal destination for people who are specifically looking for a peaceful and relaxing yacht charter vacation. Only enjoy exotic flowers, tropical fruits, amazing fresh food and fascinating places such as the Tobago Cays, Salt Whistle Bay, Mustique and Bequia. There are many deserted beaches fringed with palms with reefs for diving and barbecues under the stars. Seafood and cocktails near the waterfront homes of rockstars and royalty, the Grenadines has something to offer for everyone.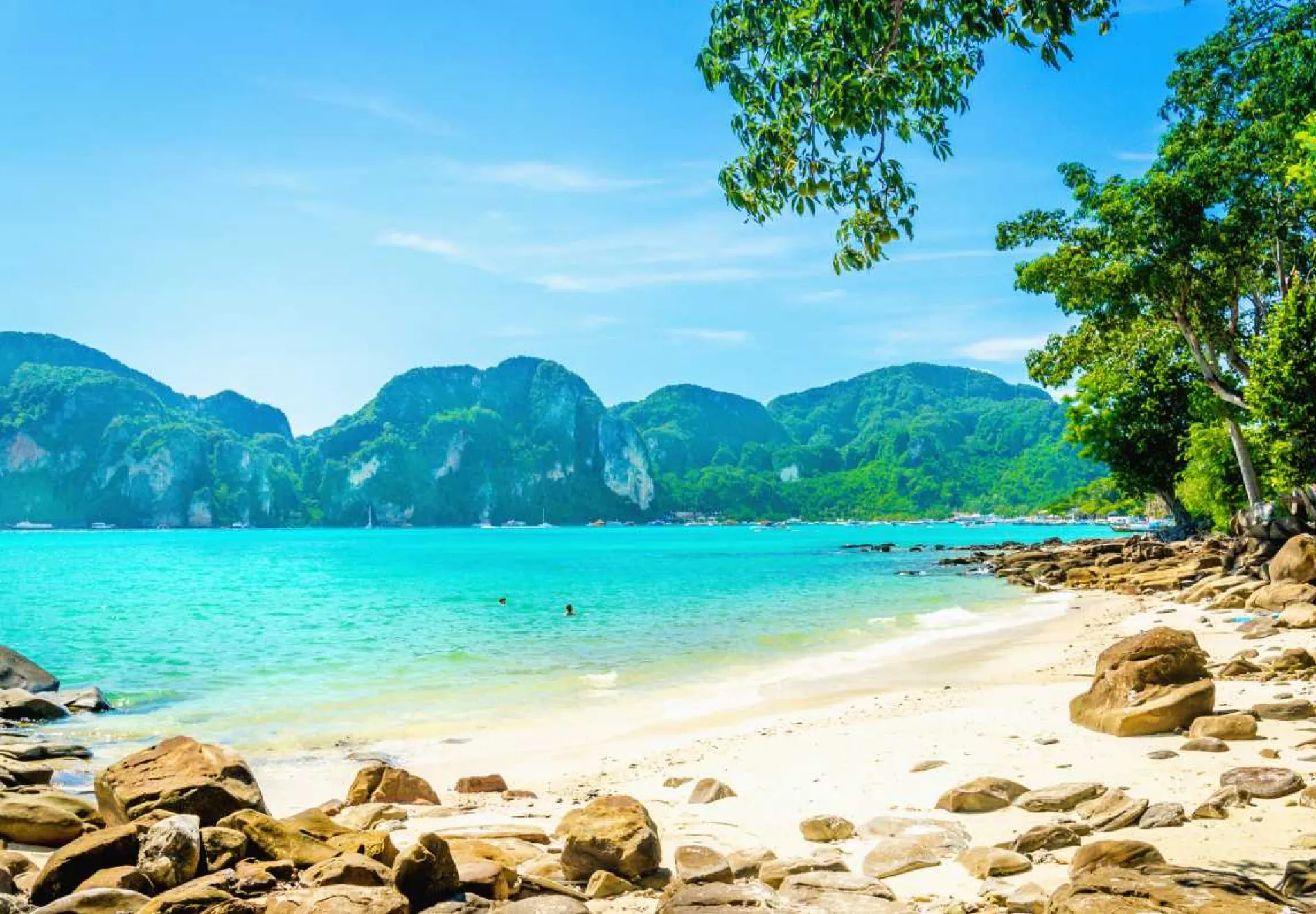 Martinique
Martinique is known for its beautiful soft sandy beaches. The bays close to the main port of Les Trois-Ilets ensure that yacht charter groups have the best of civilisation and also a quick escape to nature wonders. Wandering among the French architecture or slipping into the clean seas, while enjoying Caribbean hospitality, this is what Martinique is all about.
Top activities during a yacht charter in the Caribbean
When going on a private charter, your activities will depend entirely on you and the people you are chartering with. Some people just love relaxing on the yacht, reading their favorite books, enjoying the gentle Caribbean breeze while other people are looking for more exploring, active holidays, and even adrenaline sports. The Caribbean stands out as a destination for people who love:
Beach and water activities: such as snorkeling, diving, kayaking, paddleboard, motorized water sports…
Socializing and parties: drinking Cocktails, enjoying some of the best beach clubs, nightlife and having a great time socializing
Nature and serenity: countless national parks, private remote islands, hiking, clean seas, coral reefs, lush forests enjoying a feeling of remoteness.
Diverse Culture: Intermixing culture and heritage from all over the world, different languages are spoken on different islands, colonial heritage, pirates, festivals with great tradition…
Below you will find a collection of some amazing ideas and things to do and see while exploring the Caribbean on a private yacht.
We at Goolets strive for providing the best service, please contact one of our experts for some advice regarding best activities and things to do in The Caribbean. Together, let us make your dream a reality!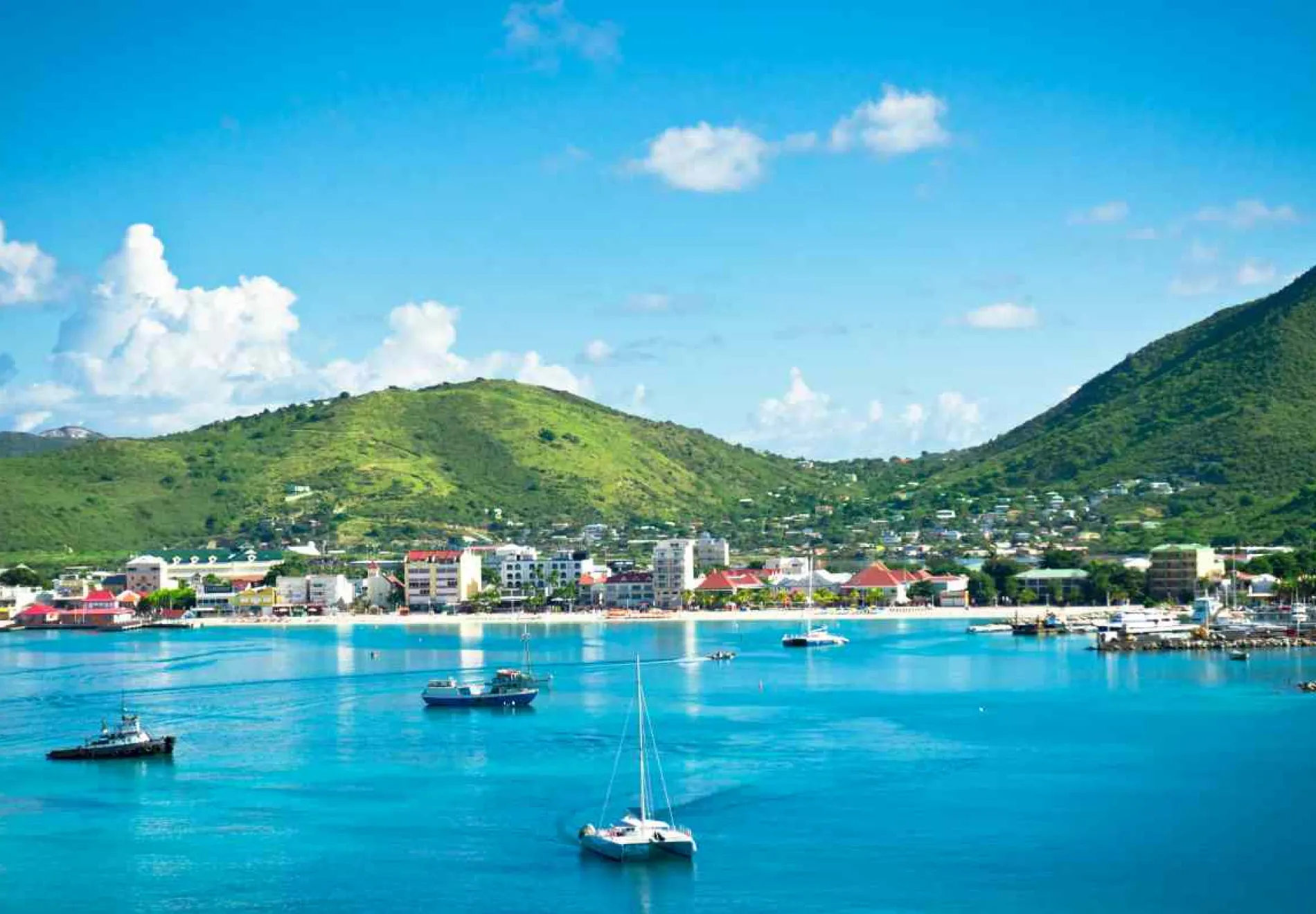 Enjoy the positive energy on Saint Martin
When your Caribbean yacht charter takes you to the charming Saint Martin, the first you will see are beautiful luxurious resorts and amazing restaurants, which provide some of the best dining experiences in the Caribbean. There is this nice positive energy that surrounds the island and its beautiful beaches and tropical forests.
There is a fascinating multicultural atmosphere and the island is the only place in the world where France and Netherlands share a land border. You can expect French cuisine, casinos on Dutch side, clear waters and perfect wind conditions for water activities and loads of positive energy from the locals living on Saint Martin, as well as the visitors.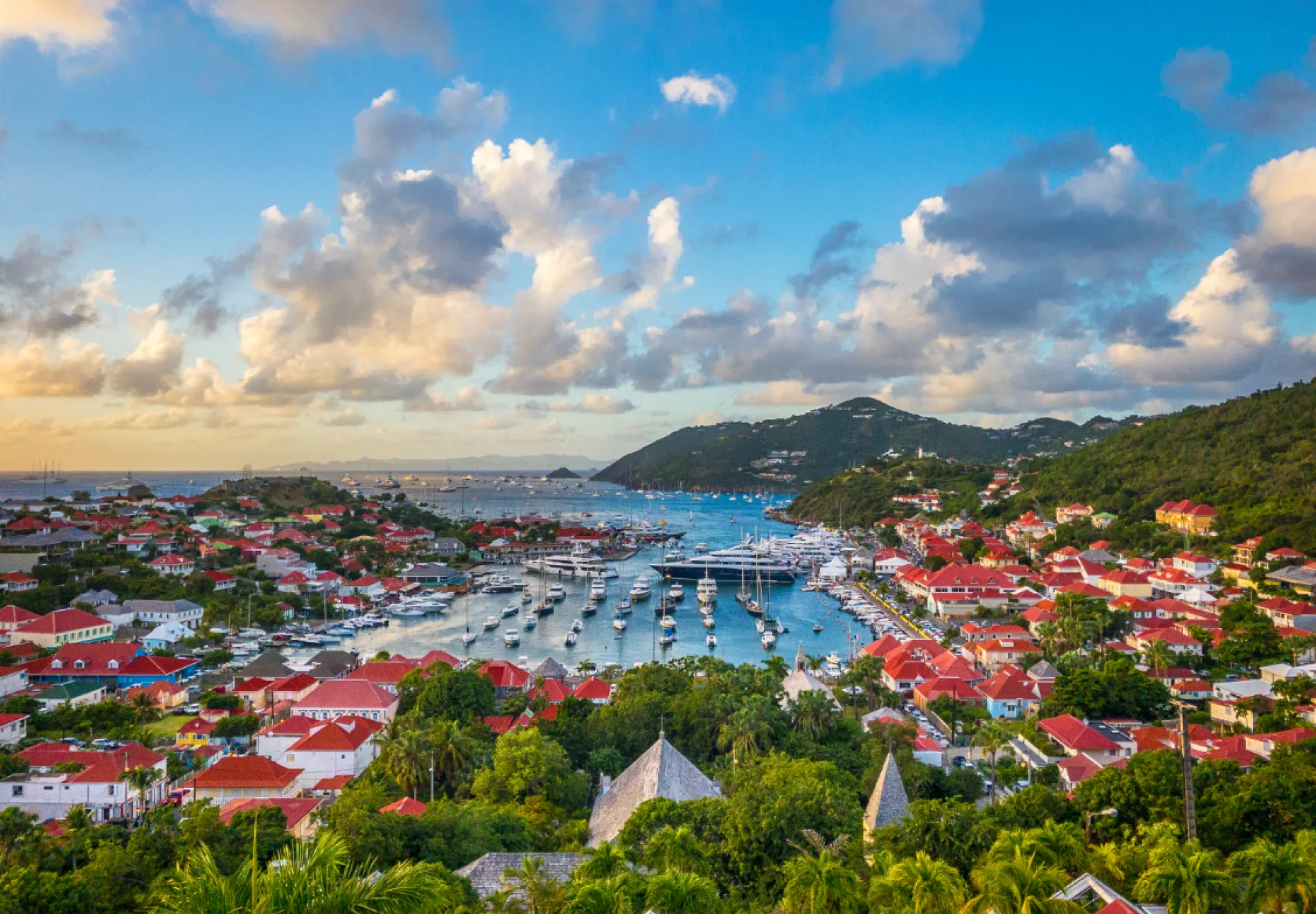 Shopping in Saint Barths
Saint Barths is famous for its lush restaurants, its explosive nightlife and for the best shopping in the Caribbean. Saint Barths is adDuty-free island and tax haven, so it is a great place to stop for all yacht charter lovers that love the best shopping and competitive prices.
Gustavia is the best shopping destination on the islands, it is where your shopping will start, you will find all your favorite brands from all around the world there, like Louis Vuitton, Chopard or Hermès. Not only expensive brands, clothes, perfumes and jewelry, you can also visit a local market to enjoy local specialities and imported cheese and wine.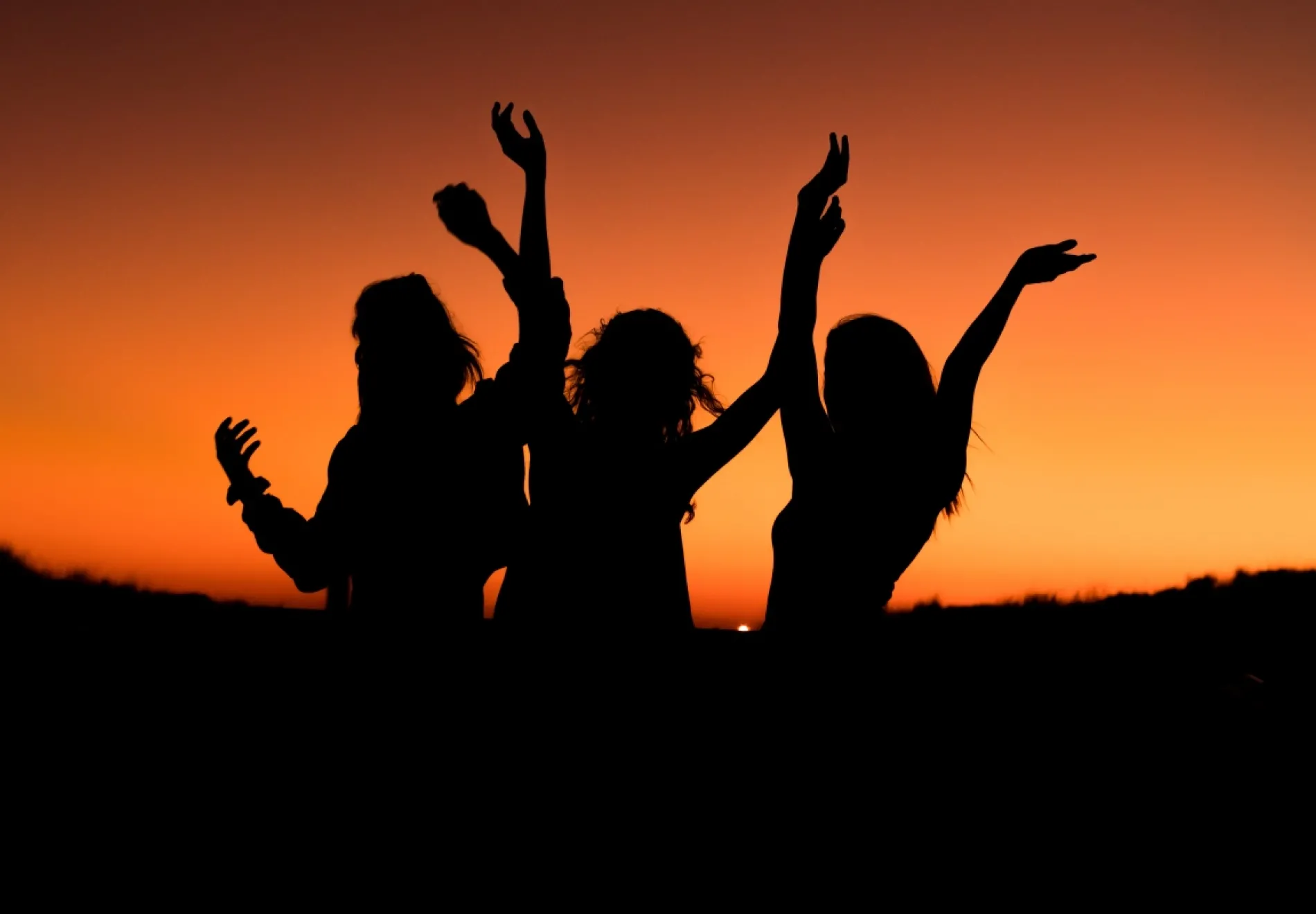 Party in Antigua
The Caribbean yacht charter you chose can give you everything to enjoy a luxurious experience- There are some things that only on shore island experience can offer, and attending a party in Antigua is one of those not to miss things, especially for party lovers.
Antiguans and the people who return to Antigua yearly know how to enjoy it. An impressive number of excellent bars and posh clubs will surprise you. Always alive, day and night, besides parties, there are curious travelers eager to explore the areas and enjoy the local festive atmosphere lurking around everywhere. You can dance until the sun rises in a beach club or just sip cocktails in a local bar. Antigua is an island in the Caribbean that can satisfy any yacht charterer who loves having a great time out.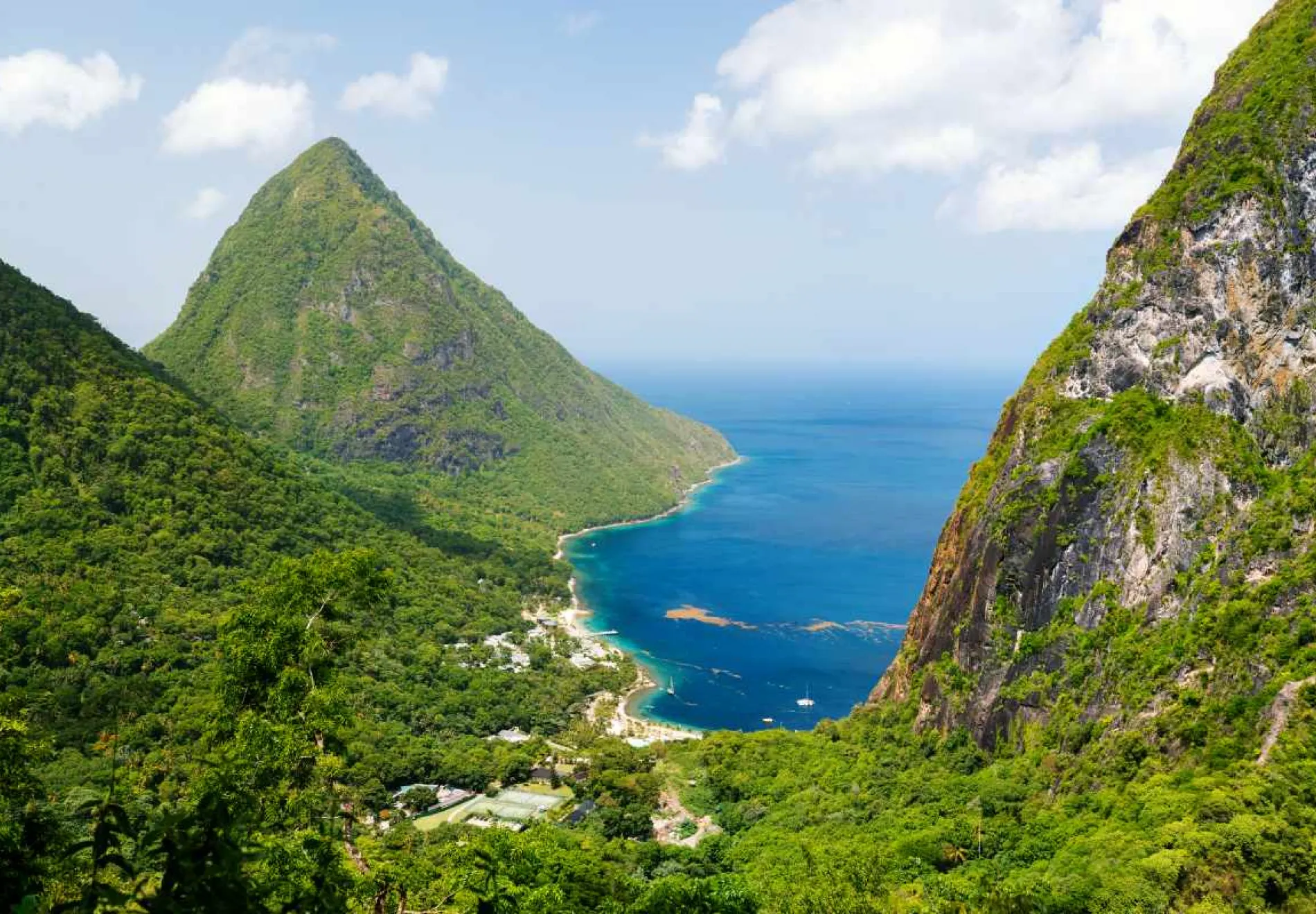 Hiking around Gros Piton in Saint Lucia
Saint Lucia is one of the most beautiful islands in the Caribbean Archipelago. When your luxury yacht charter arrives you might be fascinated by the charming shores of the island. The main attraction in Saint Lucia are the pitons, the two huge vulcano rock mountains. Hiking Gros Piton will be an experience you will never forget, with stunning nature, amazing views and spectacular scenery.
The volcano stands a remarkable 800 meters or 2619 feet above sea level. If you are fit enough, you can reach the top, where you will feel blessed by the views and the feeling of being on top of the world. A great accomplishment to have as a lasting memory from the Caribbean.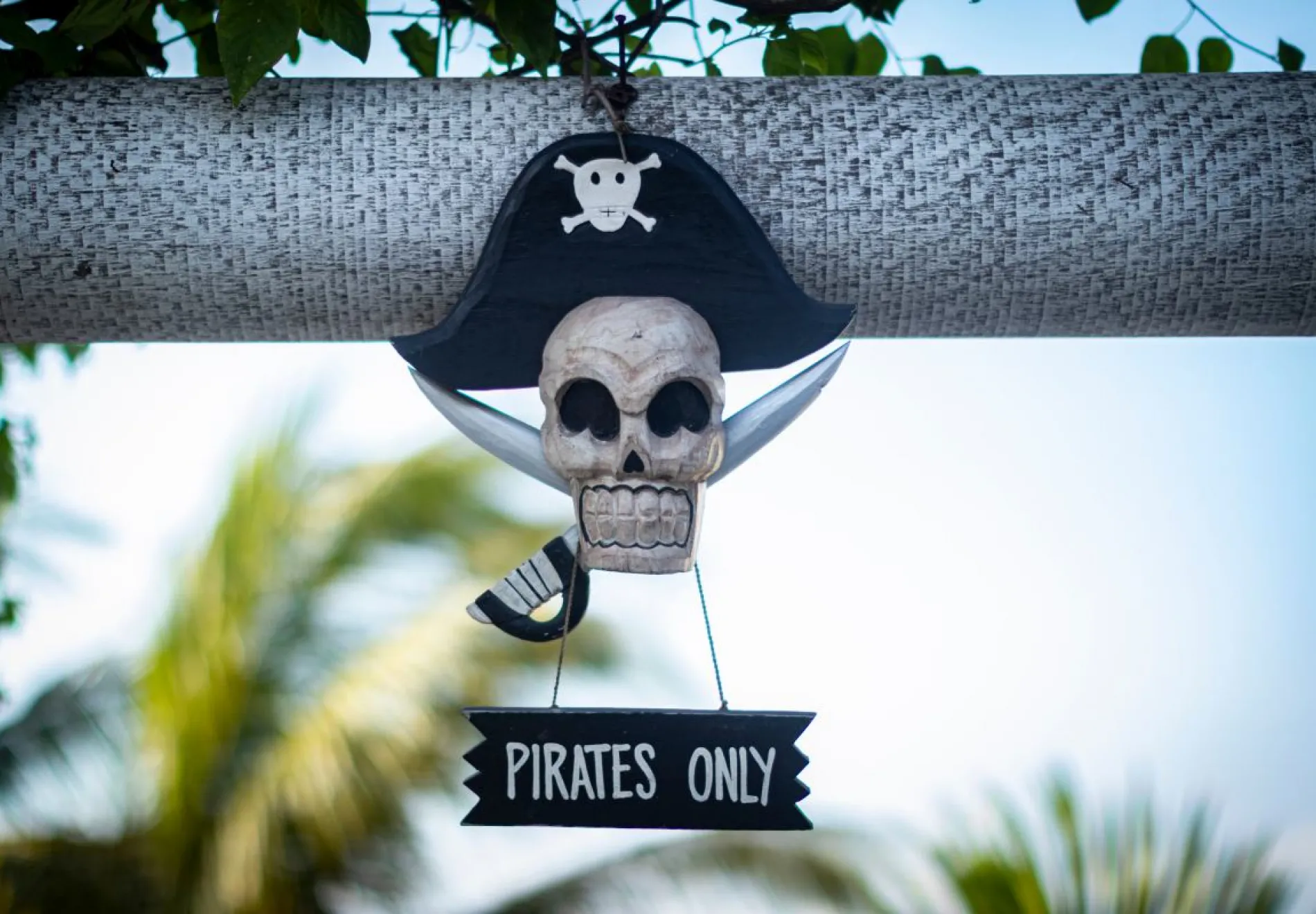 Become a pirate in the Wallilabou, St. Vincent and the Grenadines
Arriving at the bay of Wallilabou, it will make complete sense for you why the producers of the movies "Pirates of the Caribbean" selected this beautiful bay for the set. Its beautiful natural beauty, together with the quietness and the lush forest surrounding the bay make you feel like being in tropical heaven.
Wallilabou bay is perfect for movie lovers, for people who enjoy reading pirate stories and have great imagination. Also perfect for romantic walks on the sandy beaches, swimming, and snorkeling in the blue sea. There is a local bar and restaurant to enjoy as well.
Exploring the "Baths at Virgin Gorda"
BVIs are one of the most attractive yacht charter destinations in the Caribbean and in the world. Whether you are interested in spending your precious holiday in the middle of tranquility or you want to explore unique areas like the Virgin Gorda Baths, the BVIs are a must-see when visiting the Caribbean Archipelago.
Unique geological formations will await you while exploring the Baths, making it a major touristic point and one of the things to see while chartering a yacht in the Caribbean. Travelers from all around the world are amazed and fully enjoy exploring the breathtaking island. Perfect for people who are interested in learning about geologic origins, as well as exploring the scenic grottoes and the beautiful beaches surrounding it. You can prepare yourself to add the Virgin Gorda Baths on your list of the most amazing examples of natural beauty you have ever seen.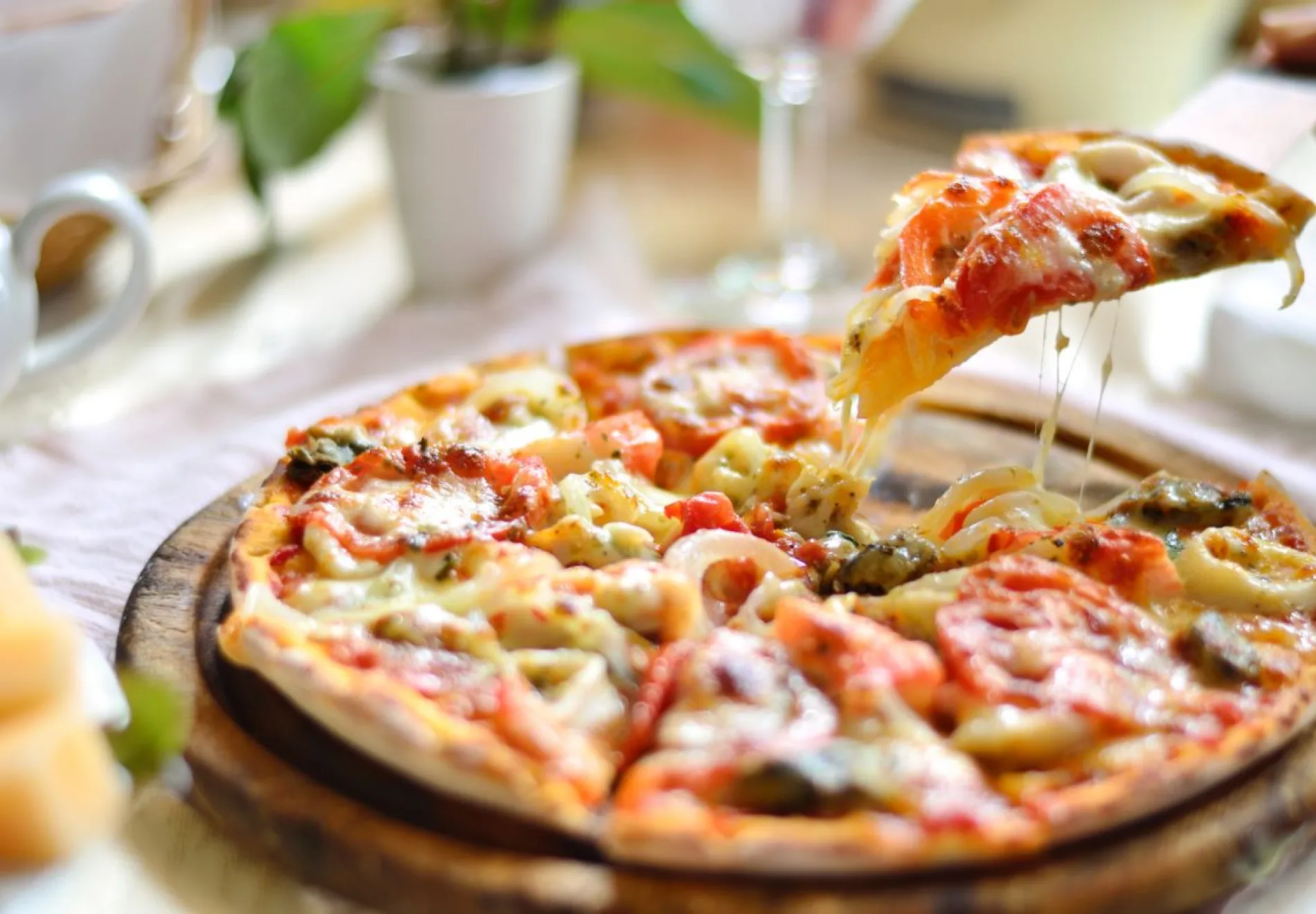 Try Lobster Pizza in Port Elizabeth, Bequia, Grenadines
The largest islands of amazing Grenadines, Bequia, will surprise you with fascinating lagoons, reefs, and welcoming beaches. Once your Caribbean Yacht charter brings you to this place, you will instantly feel the relaxed vibe of the island.
What you should do is have a slice of pizza at Mac's Lobster Pizza. A perfect atmosphere, friendly staff and location on the beach. It will be your most delicious lobster pizza you have ever tasted.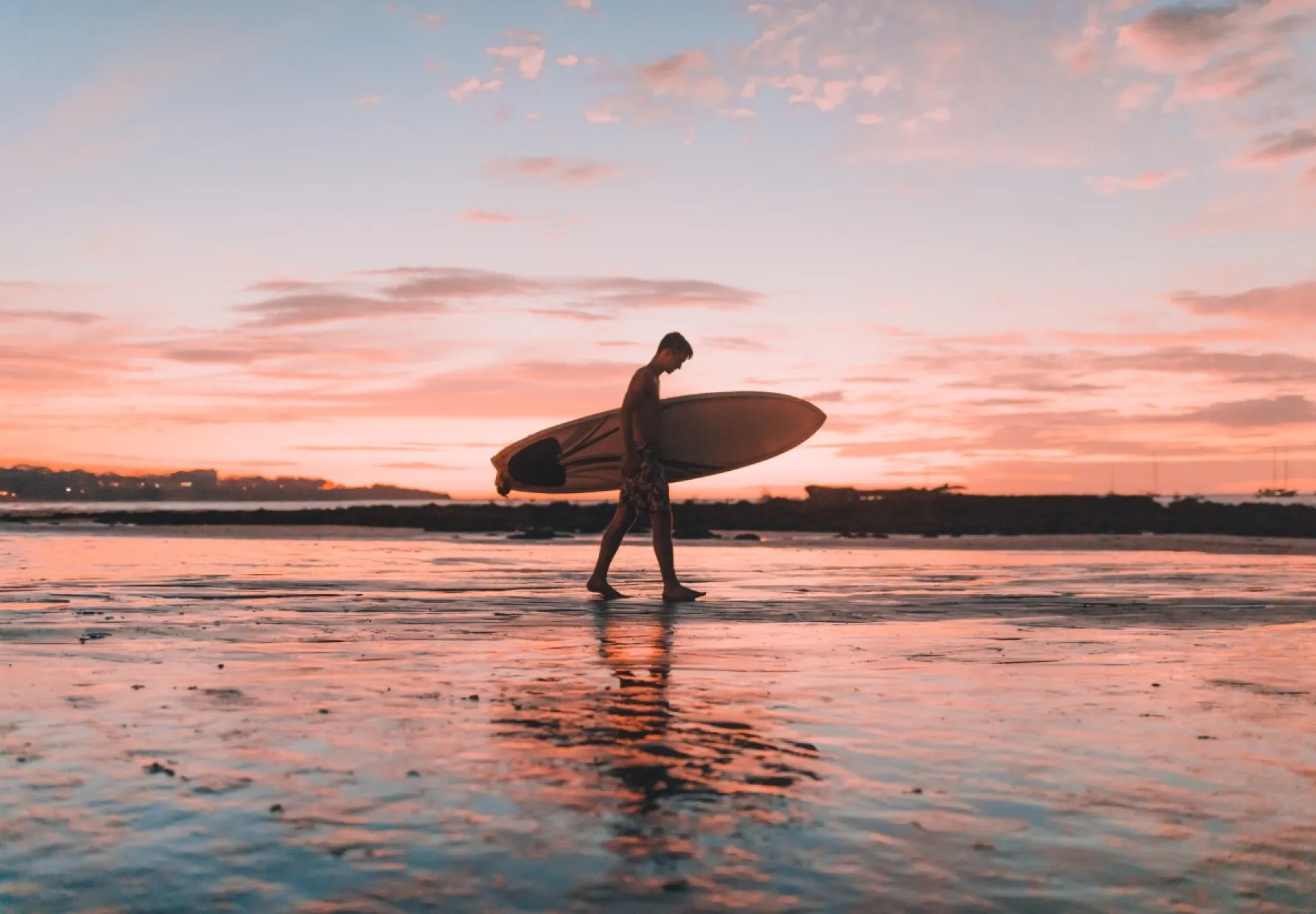 Learn how to Surf in and enjoy the culture of Barbados
The best surfing conditions in the Caribbean await you in Barbados. Perfect for experienced surfers or for beginners. Perhaps Barbados will be the place where you learn how to surf.
Barbados is one of those special islands, where you can fully observe the Caribbean lifestyle and culture. If you are interested in the history of rum, you can visit Saint Nicholas Abbey, and learn about the 350 years of history of the plantation and making of rum.
Top areas for cruising in the Caribbean
There are four main areas for cruising in the Caribbean:
Leeward islands: The main islands for yacht charters are the BVI, USVI, Anguilla, Saint Martin/Sint Marteen, Saint Barthelemy, Saint Kitts, and Nevis, Barbuda, Antigua, Montserrat, and Guadalupe
Windward islands: The main islands for yacht charters are Saint Lucia, Saint Vincent, and the Grenadines, Grenada, Martinique, Dominika, and Barbados
Greater Antilles: The main islands for yacht charters are Cuba, Dominican Republic, Cayman Islands, Jamaica, Puerto Rico, and Haiti.
Leeward Antilles: The main islands for yacht charters are Aruba, Curaçao and Bonaire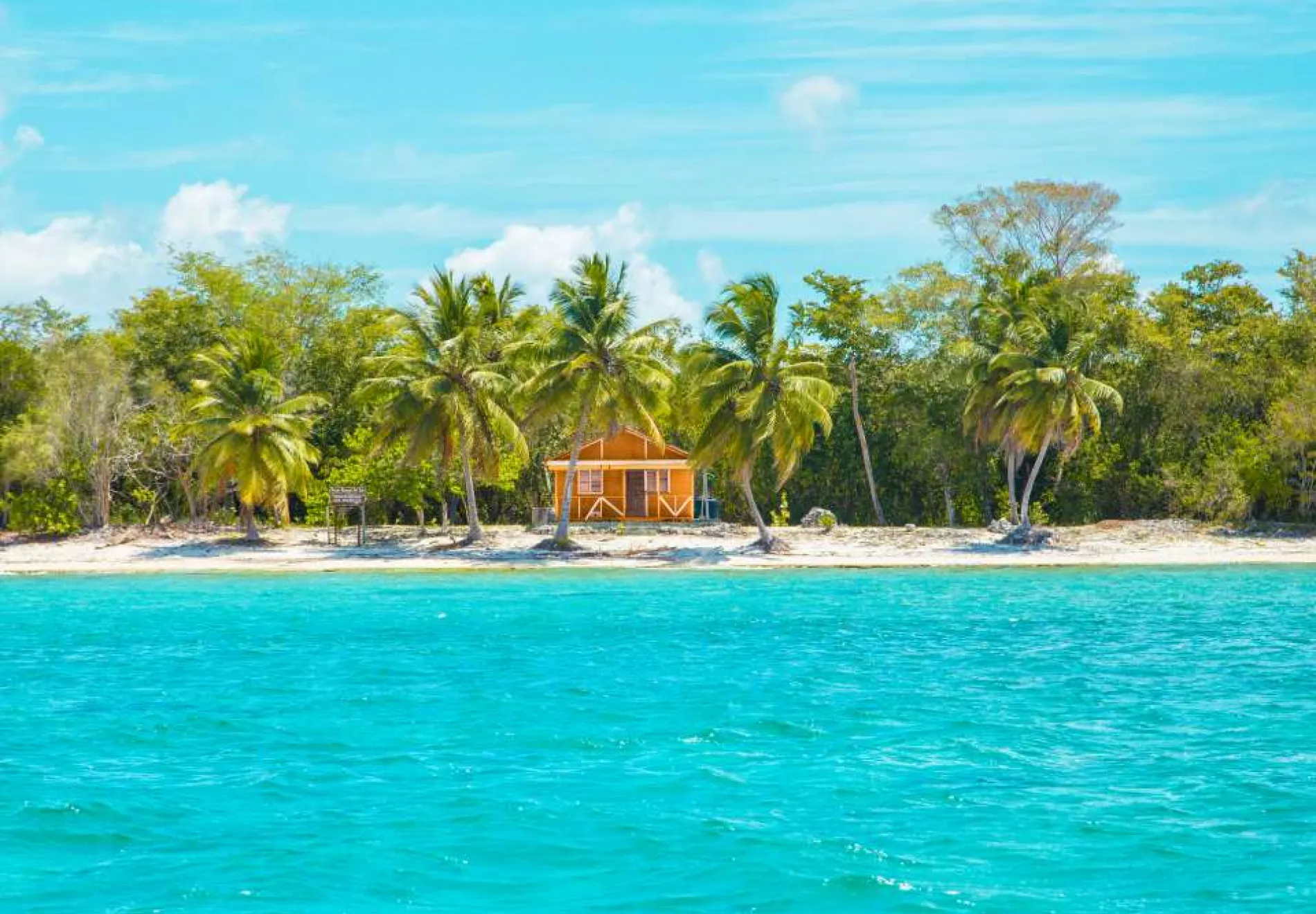 There are many amazing places to visit and explore in the Caribbean, but some islands stand out. Those places offer a vast array of things to do on land, amazing beaches and beautiful landscapes to explore. They also offer some of the best weather conditions and also the best services during your holiday which will make your holiday relaxing and unforgettable.
Below is our selection of the best itineraries and areas to explore in the Caribbean, you can also scroll to see our top recommended itinerary in the Caribbean.
For more information on those or any other alternative routes, please contact one of our experts in Goolets. We will also custom design your route for a unique and unforgettable yacht holiday in the Caribbean.
Our top 6 recommended itineraries in the Caribbean
7 days BVI (Tortola – Tortola round trip):Tortola – Jost Van Dyke – Scrub Island – Virgin Gorda – Fallen Jerusalem – Anegada – Norman Island – Tortola.
7 days Leeward Islands (Anguilla – Barbuda one way):Anguilla – St Martin – St.Barths – St.Kitts and Nevis – Antigua – Barbuda.
6 days Windward islands (St. Lucia – Grenada one way):St. Lucia – St. Vincent and the Grenadines – The Grenadines – Grenada.
7 days on Turks and Caicos (Providenciales – Providenciales round trip):Providenciales – French Cay – Salt cay – Grand Turk – Parrot cay – Dellis Cay – Pine Cay – Water and Little Water Yac – Providenciales.
5 days on the Caymans (Grand Cayman – Grand Cayman round trip):Grand Cayman – Grand Cayman Brac – Little Cayman – Grand Cayman.
8 days combined Leeward and Windward Islands (Barbados – Barbados round trip):Barbados – St. Lucia – Dominica – Antigua – St. Kitts – Iles des Saintes – Martinique – Barbados.
Please read more details about the number one Goolets recommended itinerary in the Caribbean below.
British Virgin Islands 7-day experience
The BVI are breathtaking, they offer undiscovered beauty and also great services for a private yacht charter, making it an ideal island escape. You can expect one of the best diving areas in the Caribbean close to Salt Island, amazing beaches in Anegada.
Day 1: Tortola – Jost Van Dyke island
Your journey begins in Tortola, a hotspot for yacht charters in the BVI. There are small, but busy towns set amongst lush green mountains and beautiful coastline. Let sail to the aptly named White Bay, nestled off Jost Van Dyke Island, where you'll anchor and enjoy your tropical peace. When you set foot on dry land you will feel the soft white sand between your toes. You can enjoy a beach-side cocktail, which is an ideal way to conclude the first day of your journey, before tomorrow's adventures begin.
Day 2: Jost Van Dyke – Scrub Island
Jost Van Dyke is a small charming island, which is best known for amazing caves. There are countless snorkeling opportunities on Jost Van Dyke, with beautiful and lively coral reefs to observe. After having some beautiful time for snorkeling, you will head towards Scrub Island.
Scrub Island resort, spa, and vibrant marina are situated on the island. You can choose to re-energize in the hilltop Ixora spa, enjoy a relaxing stroll through the marina village, or try out some other water sports.
You can also go hiking on the island, paddleboard, kayak, go snorkeling, or diving. The best diving is at Shark point, while the best snorkeling areas are around Guana Island's Monkey point.
Day 3: Scrub Island – Virgin Gorda
You will be heading to Virgin Gorda. You will moor in the Yacht Club Costa Smeralda and soak up the exclusive treatment they offer to their visitors. If you are a Yacht club member you can even benefit from the club's dedicated concierge, a private picnic on Prickly Pear's nearby Vixen Point beach is an inviting possibility. Or you can choose to head around the bay to Bitter End Yacht Club where you can enjoy an adrenaline-fuelled afternoon aboard some of the club's 100-vessel strong fleet. It will be your starting point for adventures in the next two days.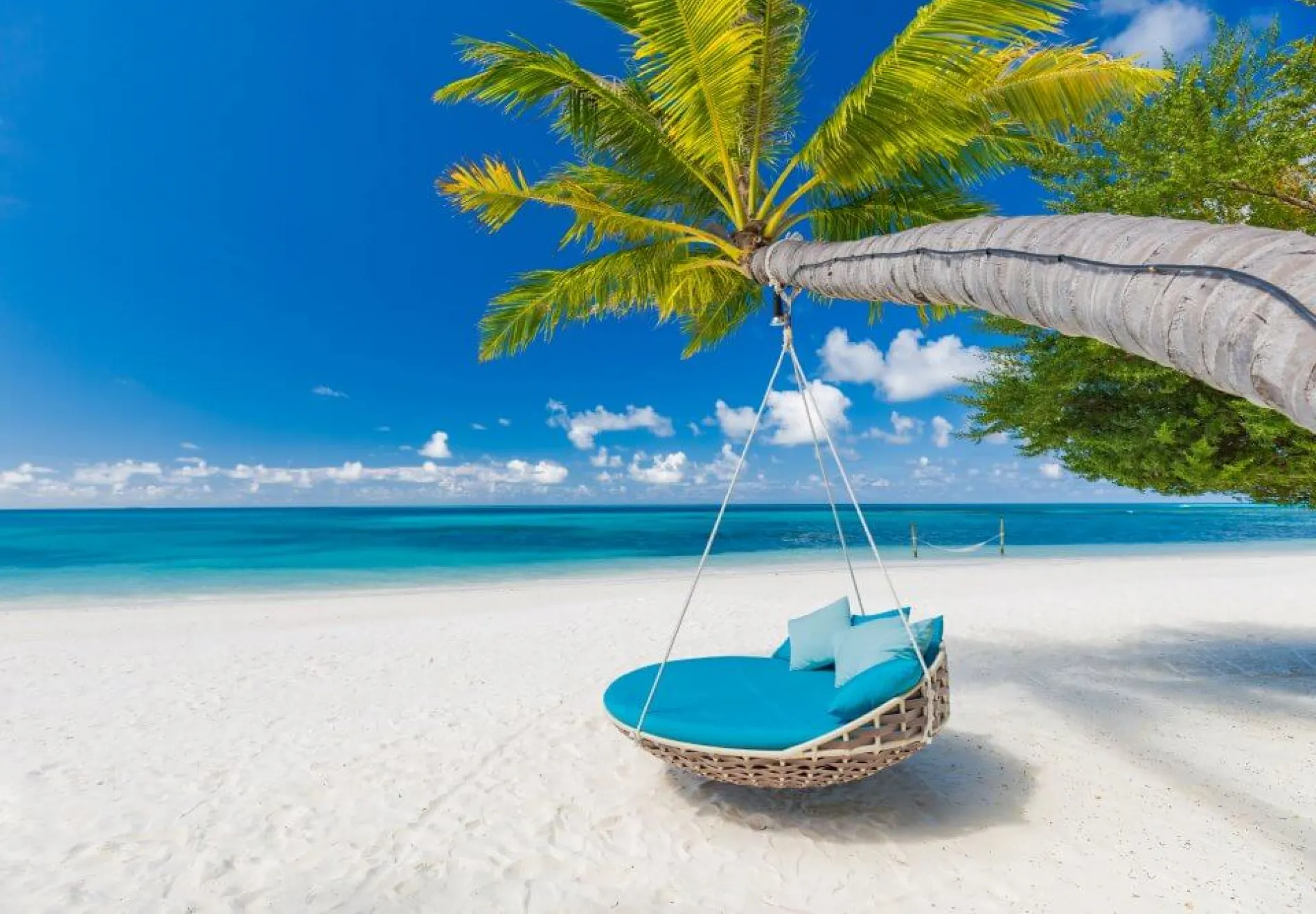 Day 4: Virgin Gorda – Fallen Jerusalem
You will be exploring the Baths, one of the British Virgin Islands' most famous landmarks. The Baths is a national park located on British Virgin Gorda's west coast. The national park is one of the most stunning places in the Caribbean. You can snorkel, swim, and search for hidden bays behind a network of volcanic rocks that rest against the shores. The landscape creates a majestic, yet relaxed feeling.
You will stop for lunch before heading towards Sir Francis Drake Channel, stopping at a Fallen Jerusalem Island. Here, you will have time to explore the volcanic landscape. Multiple caves between boulders and beautiful beaches and clear blue seas. In the afternoon you can enjoy a dive into the stunning wreck of the RMS Rhone, fascinating remains of a UK Royal mail ship sunk due to a hurricane of 1867.
Day 5: Virgin Gorda – Anegada
Anegada is the northernmost island of the British Virgin Islands. Famous for its deserted beaches which will give you a sense of exclusivism and escapism. You can visit Cow Wreck, enjoy the finest lobster there is or search for other shipwrecks in beautiful Horseshoe Reef. Anegada beach is one of the most isolated beaches in the Caribbean. There is the third-largest barrier reef in the world here. We recommend spending the evening at the Anegada Beach Club, before returning back to your yacht.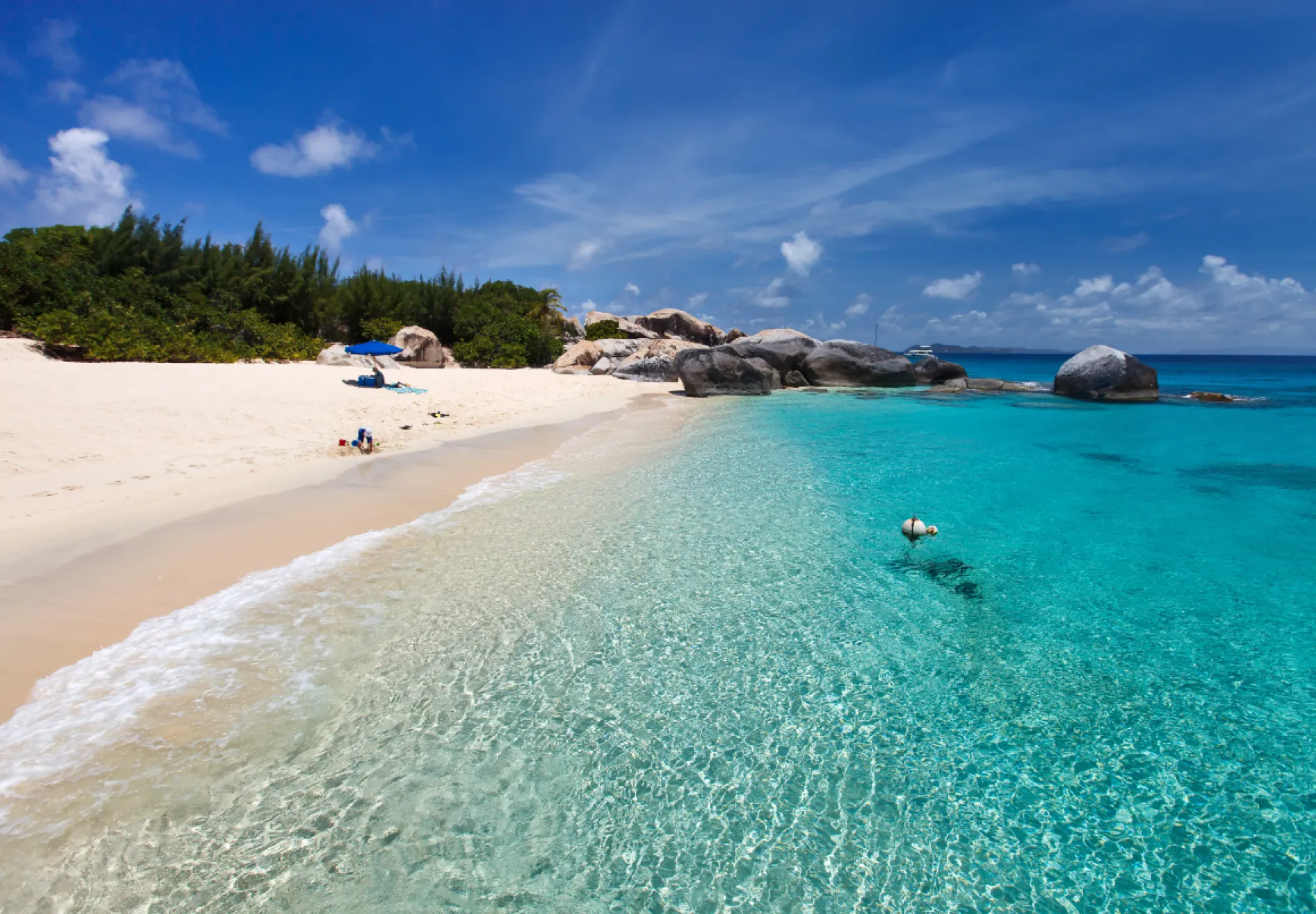 Day 6: Anegada – Norman Island
Head to the private island owned by Henry Janecki. A well-known stop for cruises, Norman Island will captivate you with famous water-level caves at the base of the cliffs, which are just ideal for snorkeling. The island has unique nature trails, where you are privately guided. Norman island inspired Robert Louis Stevenson to write a famous adventure novel Treasure Island, who knows what inspiration you will find on this breath-taking tropical paradise.
Day 7: Cooper Island – Tortola
Your journey will end back in busy Tortola. If you fancy a last stop and see something truly spectacular, head to the shores of Cooper Island. We recommend paying a visit to Cooper Island Beach Club. There is an online brewery, where you can try the best British Virgin Island produce. Enjoy rum, beer and a delicious homemade gelato.
Frequently asked questions about yacht charter in the Caribbean
We are an agency that is known for providing great customer service, support and organization. You can expect to have a personal assistant available for you all the time. You will get a 100% customized experience, food, drinks, itinerary, special needs and requests, relationship with the crew, we will literally discuss all the details of your private charter in the Caribbean with you and make it happen! You will also have an online system, called Goolets Lab, where anyone in your group will be able to log in and write your special requests and wishes, which the captain will also be able to see. Contact one of our experts and we will help you find exactly what you are looking for.
It is the wide variety of different cultures, pristine beaches, volcanic landscapes, perfect weather for sailing and great infrastructure for yachting that sets the Caribbean apart from other destinations around the world. We could compare the Caribbean to the Mediterranean, but the Meditterenean winters make it unpleasant for chartering yachts, while the Caribbean has areas that are suitable for chartering all year round. Caribbean is the best tropical location for private yacht charters in the world.
The prices for yachts in the Caribbean vary a lot. Size and comfort are the most important factor:
Yachts under 25 meters (80ft) usually cost from US$ 15.000 to US$ 35.000 per week.
Yachts between 25 meters (80ft) and 36m (120ft) usually cost from US$ 35.000 to US$ 80.000 per week.
Yachts between 36 meters (120ft) and (150 ft) usually cost from US$ 80.000 to US$ 150.000 per week.
Yachts over 46 meters (150ft) cost over US$ 150.000 per week.
Other factors for the prices of yacht charters in the Caribbean are also:
The age of the yacht, brand and reputation of the yacht; Younger, with better brand and reputation is usually more expensive
The Season; You can expect higher prices in the high season and lower prices in the low season
The Destination; Where there is no competition, value for money is usually lower, compared to areas with high competition such as the British Virgin Islands or the Bahamas. All in all, you can get better value for money deals on more popular places.
There are two types of charters and pricing when chartering in the Caribbean:
All inclusive yacht charters: Some yachts offer all inclusive prices but it is quite rare. Mostly common with catamarans and monohulls in the Virgin Islands
Charters with extra costs: Charters on larger yachts don't include running expenses, which must be paid separately. For luxury charters, the pricing is only for the base price of the yacht charter. Additional expenses include food, bar, fuel, dockage, port taxes and other expenses. Advance provisioning allowance (APA) is very common and is usually 25-35% of the charter price, paid prior to the charter. You will also have to add taxes, in the British Virgin Islands for example, the tax is between US$ 6 – US$ 16 per person per day (depending on the flag of the yacht).
It really depends on the experience you wish to have. The general consensus is that the bigger and faster the yacht is, the least limitations there are for cruising between different islands. When chartering smaller yachts you are often limited to shorter distances in the Caribbean.
Most western countries don't need Visas to travel to the Caribbean and charter a yacht there. For western foreigners you can expect to get a 90 days tourist Visa on most of the Caribbean islands. It's advisable to check the exact requirements for the countries you intend visiting. American tourists are still not allowed to visit Cuba although this may change in the future.
The main Caribbean season for yacht charters runs from November through to July. The Caribbean primary high season is from mid-December to March, when the winter arrives in North America and Europe. The hurricane season is from late July to early October. Hurricanes are very rare in the southern Caribbean (Windward islands and Leeward Antilles). Hurricanes usually follow a route towards Cuba, the Bahamas and the east coast of the U.S.
The hurricane season is the least expensive time for chartering in the Caribbean and there are some really good deals available then. However, as well as running the risk of storms, this time of the year also tends to be associated with lighter (or non-existent) winds, which is not perfect if you are planning to go on a sailing yacht for example.
From April to July, it is a great time to charter a yacht as there are less shore based visitors, some beautiful sunny weather and warm yet steady breeze.
There are direct flights from the UK and the US to Barbados, Jamaica, St Lucia and Antigua. Some Caribbean islands require a connecting flight as they have small airports which cannot handle large aeroplanes. Across the Caribbean, many islands have private jet facilities with fantastic runways. Some other countries like France and Netherlands have direct flights to their own territories in the Caribbean, like Martinique, St. Martin etc.
Various currencies are used in the Caribbean. For instance, in Anguilla, Dominica, Grenada, St Kitts and Nevis, St Lucia, St Vincent, the Grenadines and Antigua, the East Caribbean the US dollar is the currency. Jamaica, Barbados, the Cayman Islands and the Bahamas have their very own currency. On Guadeloupe, St. Barths, Martinique, Saint Martin and Sint Marteen the main currency is Euro. US dollars are accepted on most of the islands and the ATMs tend to have the local currency as well.
There are four main languages spoken in the Caribbean, French, Spanish, Dutch and English. English is the first or second language and is mostly used when tourists visit. The official language of Haiti is Haitian Creole while Papiamento is used in Curacao, Bonaire and Aruba. Different creoles and local patois are also spoken on the various islands. Most tourist workers will speak English, while also most local people on the islands, where English is not their first language will be able to understand some English, so you will be able to communicate.