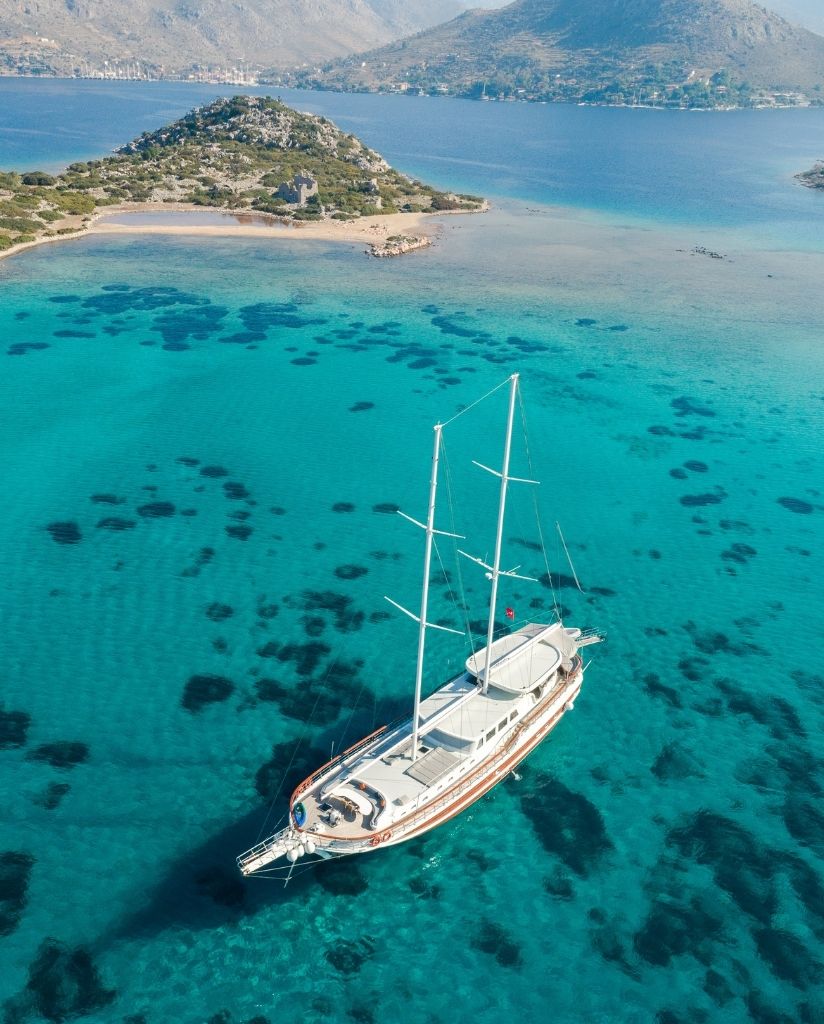 Turkish gulet cruise: How much does a gulet in Turkey cost
A Turkish gulet cruise is a truly unique way of spending your holidays
You can charter a luxury gulet cruise along the amazing coast of Turkey away from large crowds and overpopulated beaches.
But how do you book?
Where to start?
What to book?
And how much will this cost you?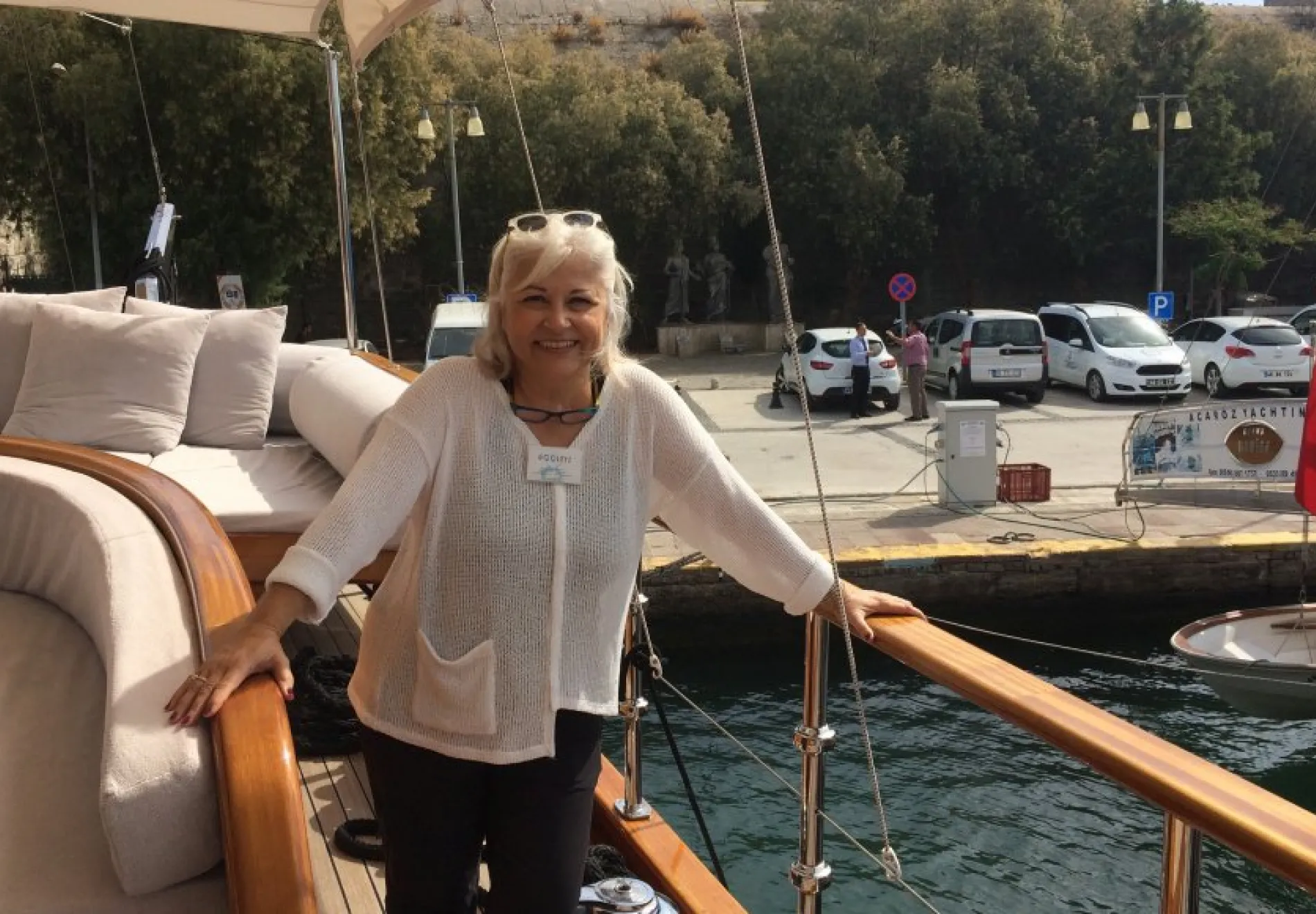 How to book?
We will help people find the best Turkish gulet according to their wishes and your group's structure.
And in Turkey, we take special care of the food organization, where our destination manager personally goes to the marketplace and pickups up the fresh ingredients you want. She then creates your menus.
Also, we will create a tailor-made itinerary, with the best route and activities for your group.
Where can you start your Turkish gulet cruise?
You have several possibilities:
1. You can fly to Bodrum (Milas) airport and start the Turkish gulet cruise from Bodrum, which is one of the best places to start. Bodrum has the largest fleet of DELUXE and LUXURY gulets for charter and the level of services are at the highest level there.

2. You can also fly to Dalaman airport and this gives you 3 different choices where you can start the Turkish gulet cruise: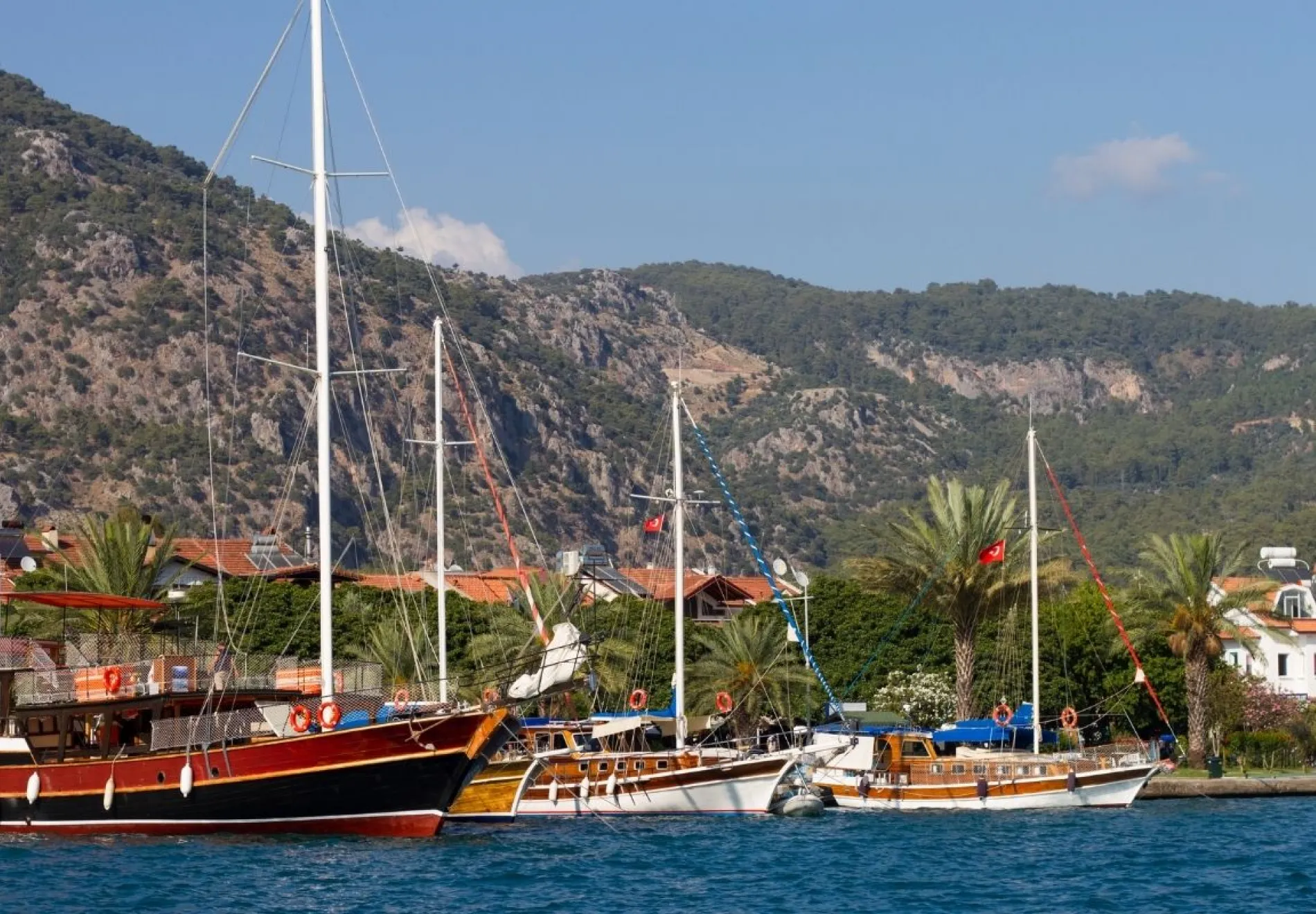 Gocek Harbor
Gocek Harbor can be the first option. This is laid "marina town" and is the home of some of the most amazing vessels you can find in Turkey. Gocek is also closest to Dalaman airport (only 30 minutes drive by car).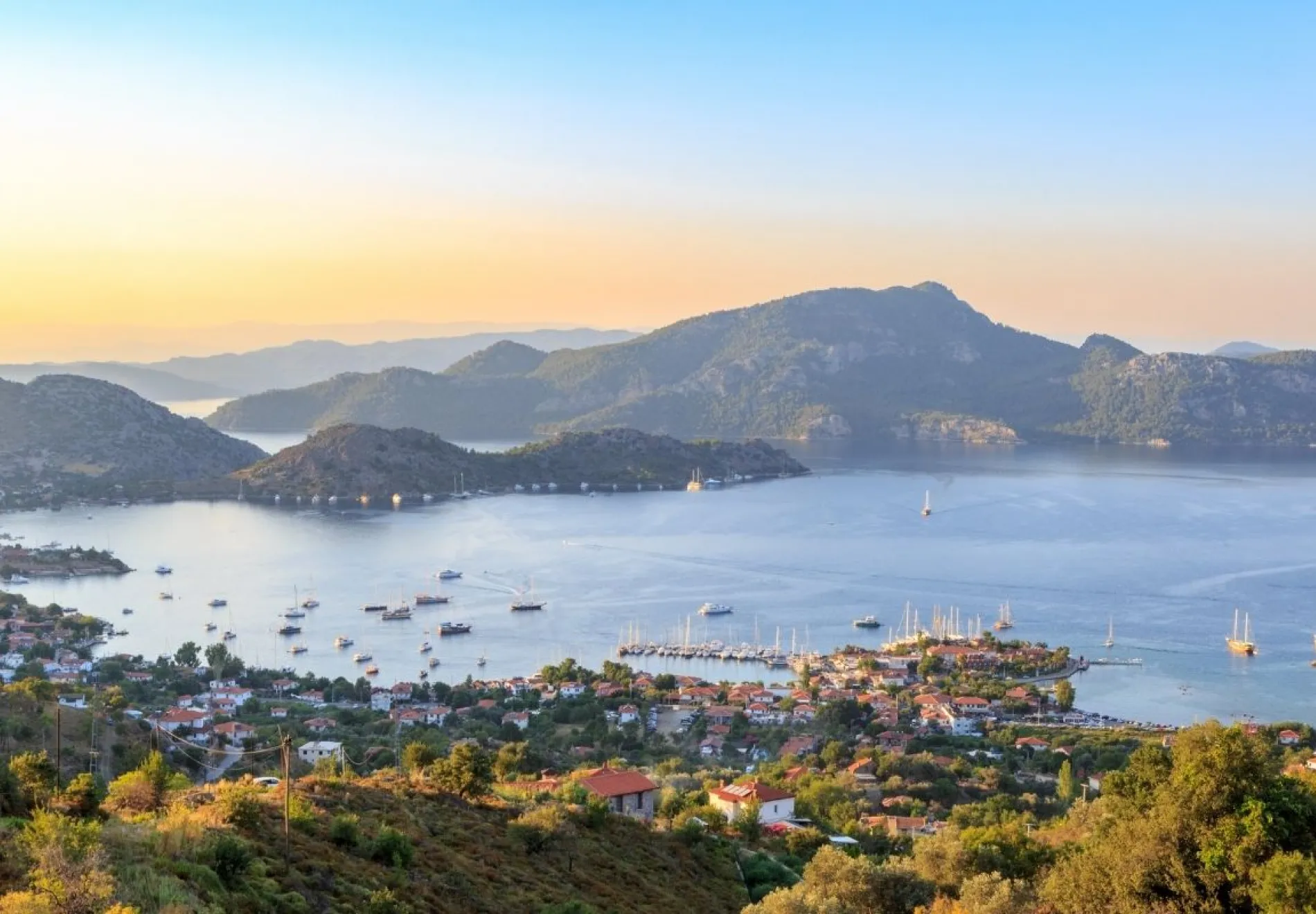 Marmaris town
Marmaris town is the second option. The transfer from the airport is a bit longer (around 1,5 – 2 hours) and it offers a different concept from Gocek. While Gocek is more of laid back place, Marmaris is famous for its amazing Bar street, it is a bit more busy town with lots of restaurants and a very nice castle overlooking the city.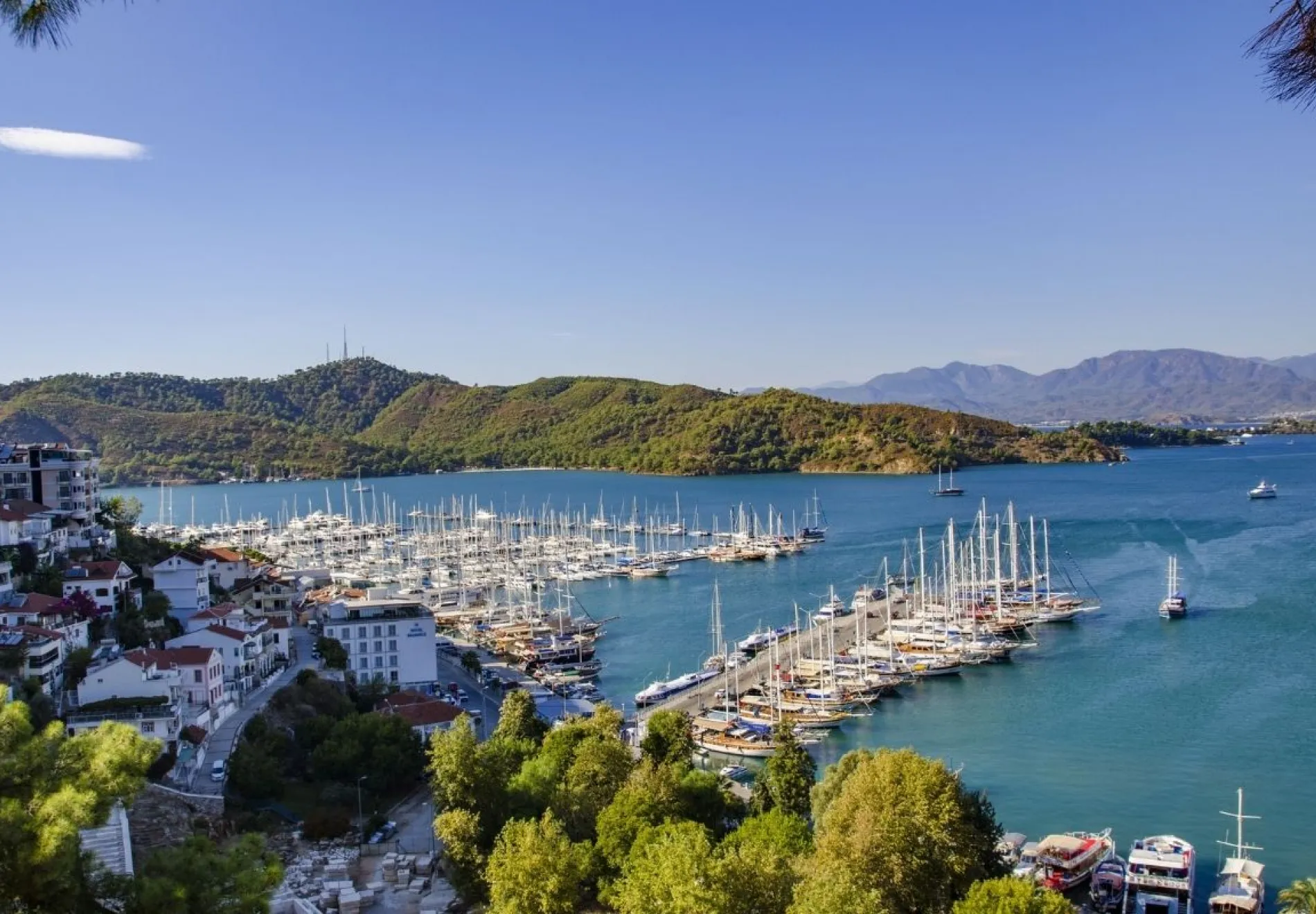 Fethiye
Last but not least, Fethiye is a very nice option also. Same as Marmaris it is a bigger town with lots of different gulet rental possibilities to choose from. You will need around 1 or 1,5 hours to get there from Dalaman airport.
How much will Turkish gulet cruises cost you?
The price range in Turkey is really wide! You can charter luxury gulets and yachts from € 20.000 up to € 100.000 per week.

To make things easier for you, we have separated Turkish gulets and yachts into only 3 main categories:
Up to €20.000 per week
Gulets in this price range offer you good value for money and overall a good service. You also do have a decent amount of amenities onboard.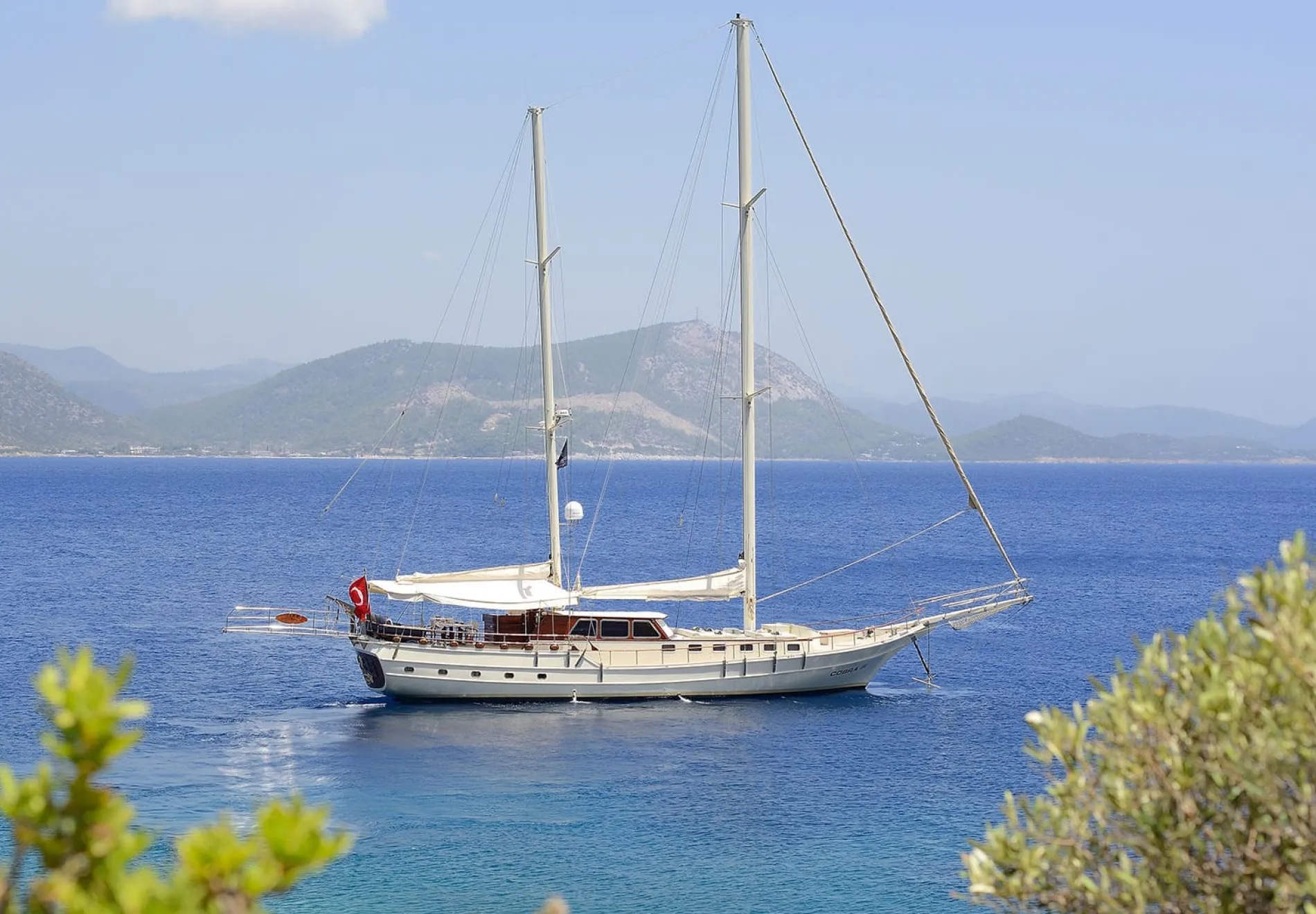 Cobra III
Cobra III is a 24-meter long Turkish gulet with 4 cabins for accommodating 8 guests. Since it was renovated in 2021, it provides a fresh clean look with a decent amount of space and comfort. Her big sunbeds on the deck, a large cushioned area with a dining table on the aft deck, and a whitely designed interior will make the best out of your holidays.
Learn more about Cobra III
Dea del Mare
Renovated in 2016, Dea del Mare represents a wooden classic beauty. She also has a traditionally large dining area on the aft deck and her interior is designed in shiny wooden material. Dea del Mare has a plethora of available water toys and an accommodation capacity of 5 cabins for 10 guests.
Learn more about Dea del Mare
From € 20.000 to € 50.000 per week
In this category, you can find new or refitted gulets, with a larger number of amenities. Expect a professional crew with great service.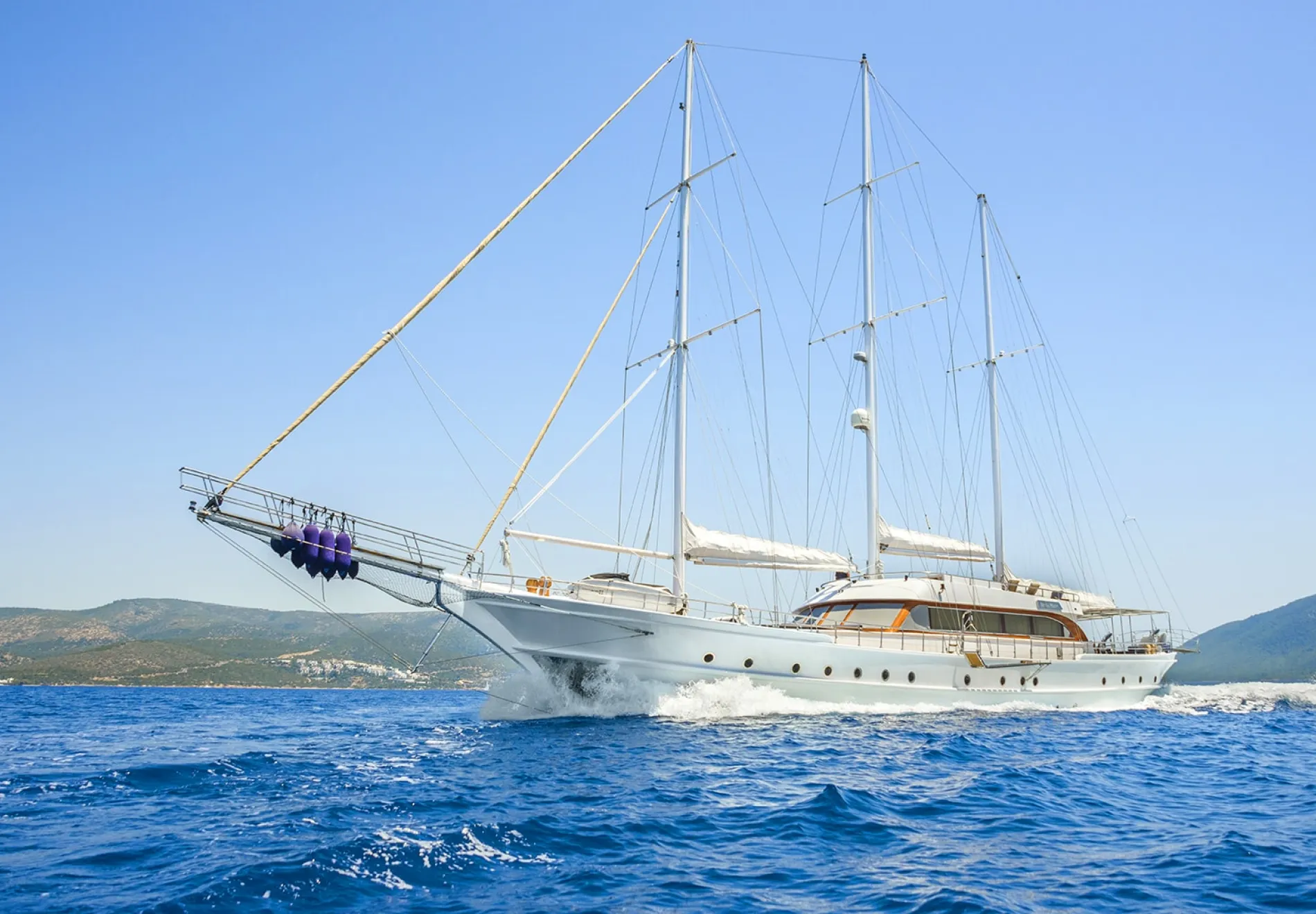 Bella Mare
Built-in 2008, Bella Mare offers guest accommodation for up to 12 guests in 6 suites. This white beauty is at your service at all times with an experienced crew of 7. There is also the added extra luxury of a Jacuzzi on the deck, and a large cushioned & dining area on the aft deck.
Learn more about Bella Mare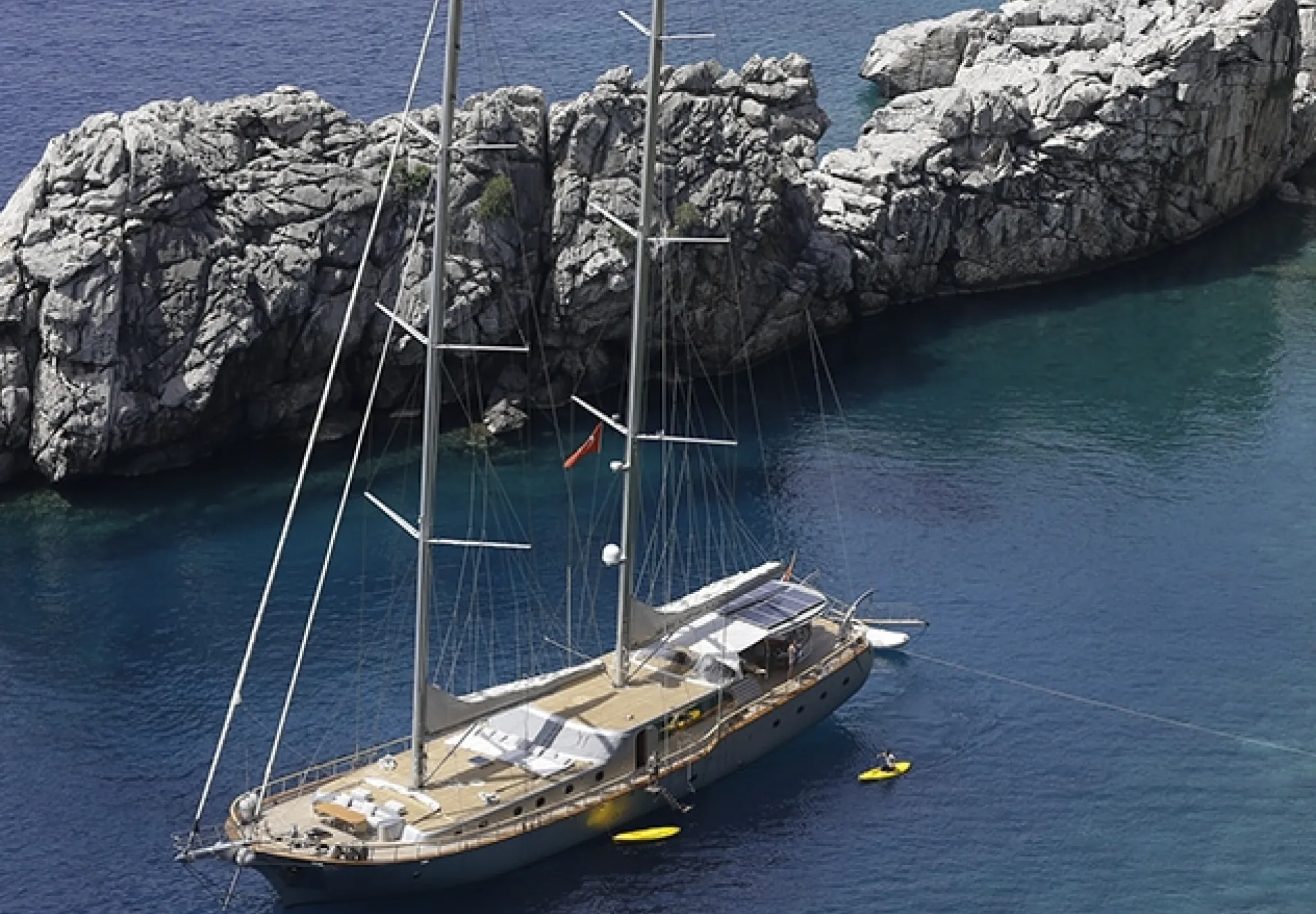 Silver Moon
Silver Moon gulet is unique in appearance with her glimmering silver exterior and beautiful schooner rig, magically lit when darkness falls. The experienced crew of 6 will delight in demonstrating her sailing prowess, so you can revel in the scenery sliding by while you sip your cocktail and dream of the next time.
Learn more about Silver Moon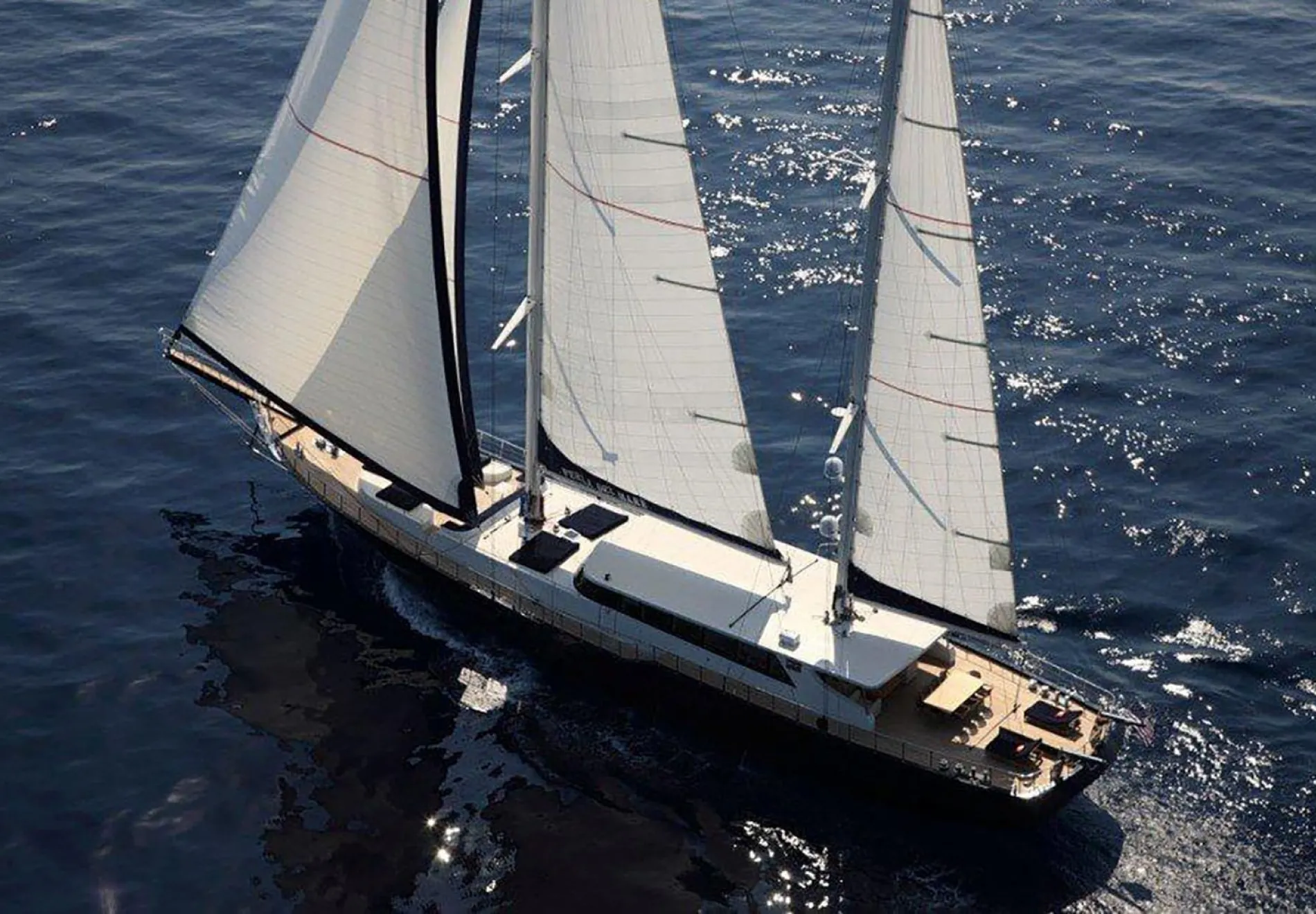 Perla del Mare
Gulet Perla del Mare was built in Antalya with the highest standards and ultimate technology to serve her 12 privileged guests on 43 meters of pure joy. She was launched in 2010 and fully refurbished in 2013, with 7 crew members onboard.
Learn more about Perla del Mare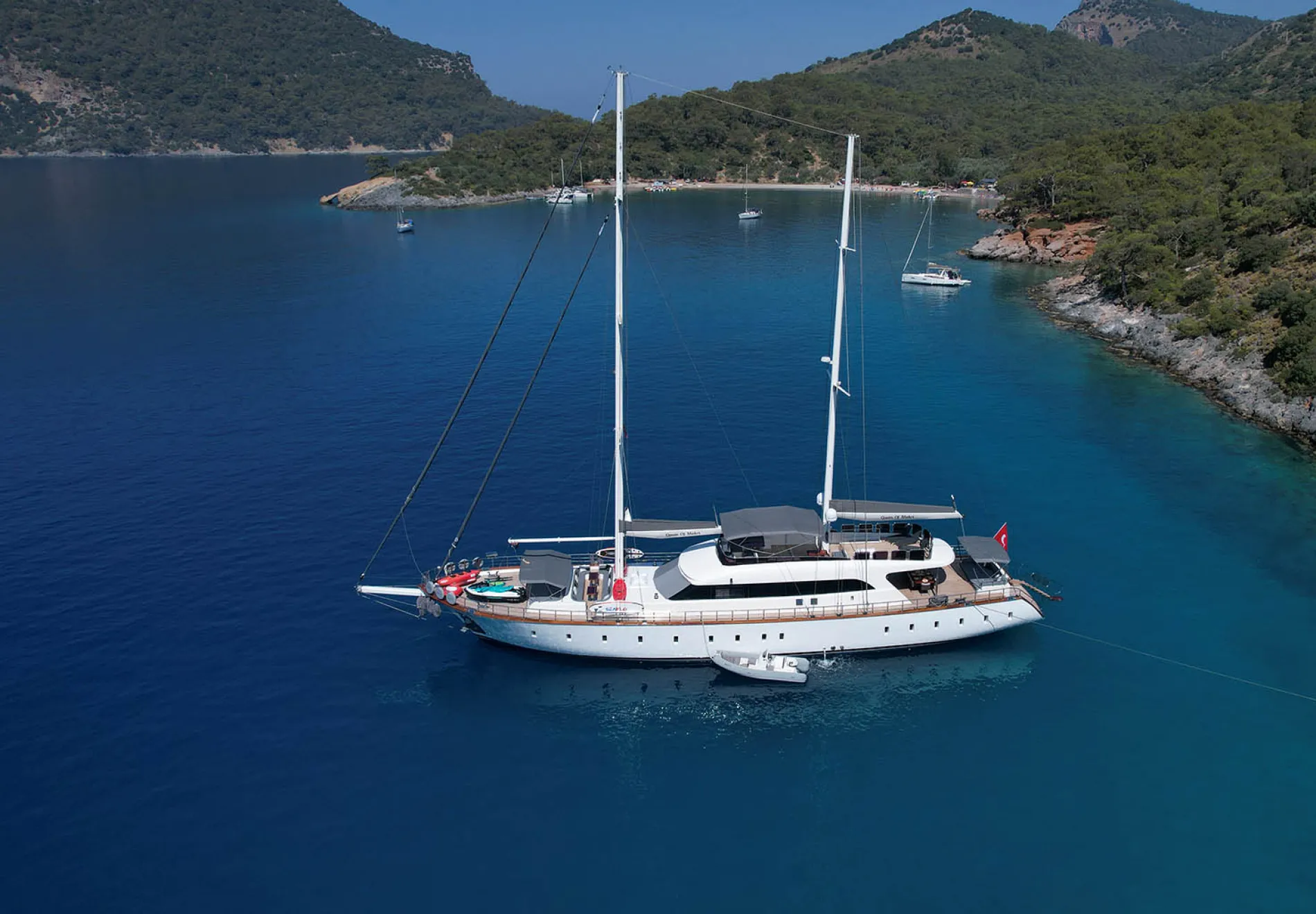 Queen of Makri
Queen of Makri is a 37-meter, recently launched Turkish motor sailing yacht in impeccable condition with a young experienced, and passionate crew. The yacht sleeps up to 12 guests in 6 very large staterooms, which is undeniably a rare advantage for a vessel of her size. The cozy atmosphere, combined with the multitude of water toys available will make this vacation a very joyful experience for all guests.
Learn more about Queen of Makri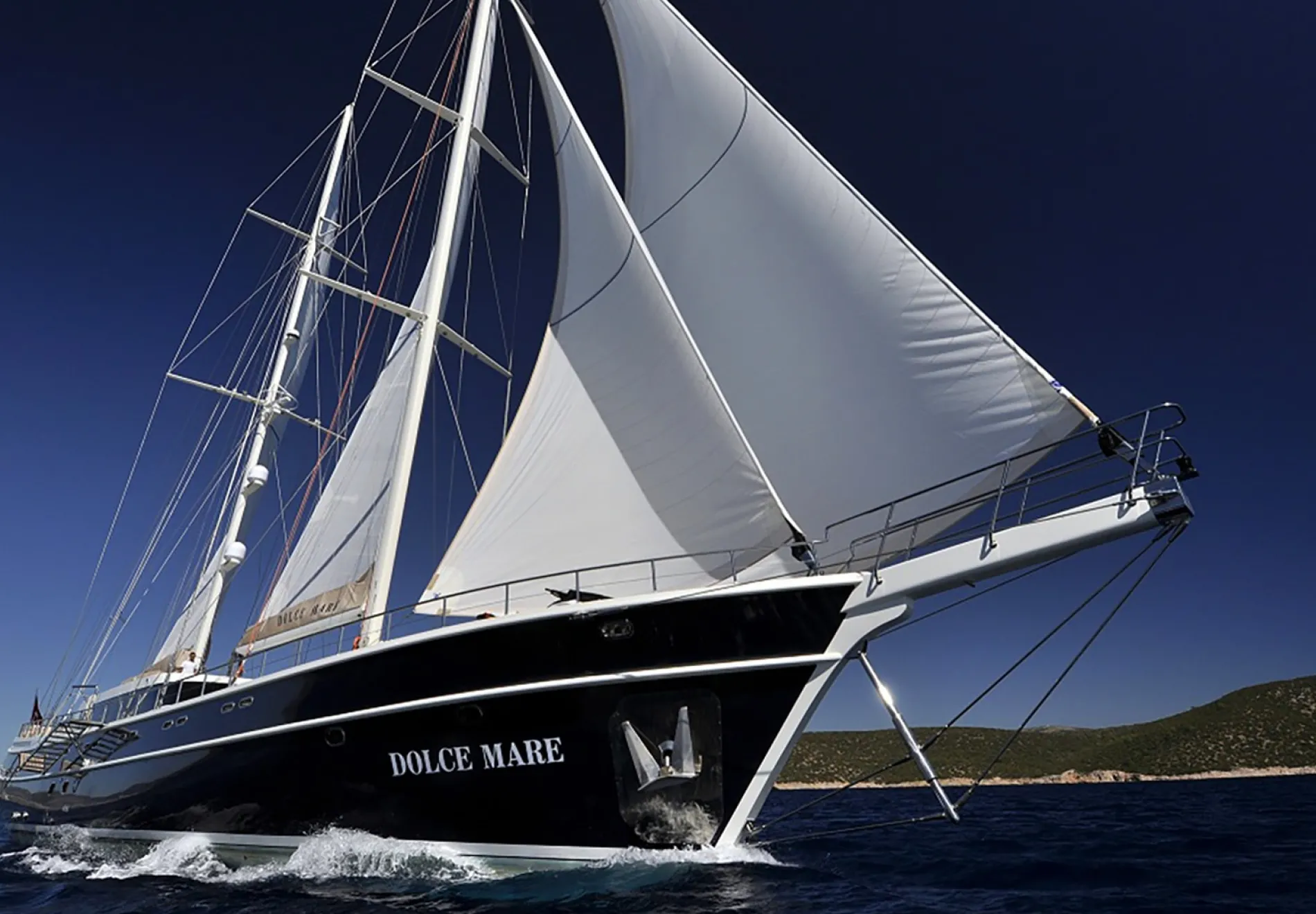 Dolce Mare
Combining luxury with tradition, Dolce Mare is designed to provide you with an extraordinary yachting experience. This elegant gulet is 36 meters long with 6 deluxe cabins and even a jacuzzi on the main deck. Above deck, it is beautifully finished with a very functional layout including elegant alfresco dining and plenty of large lounges and cushions.
Learn more about Dolce Mare
From € 50.000 per week
Here you can expect the "white gloves" service. With high-end amenities and first-class luxury yachting professionals onboard, you can't find a better experience than this.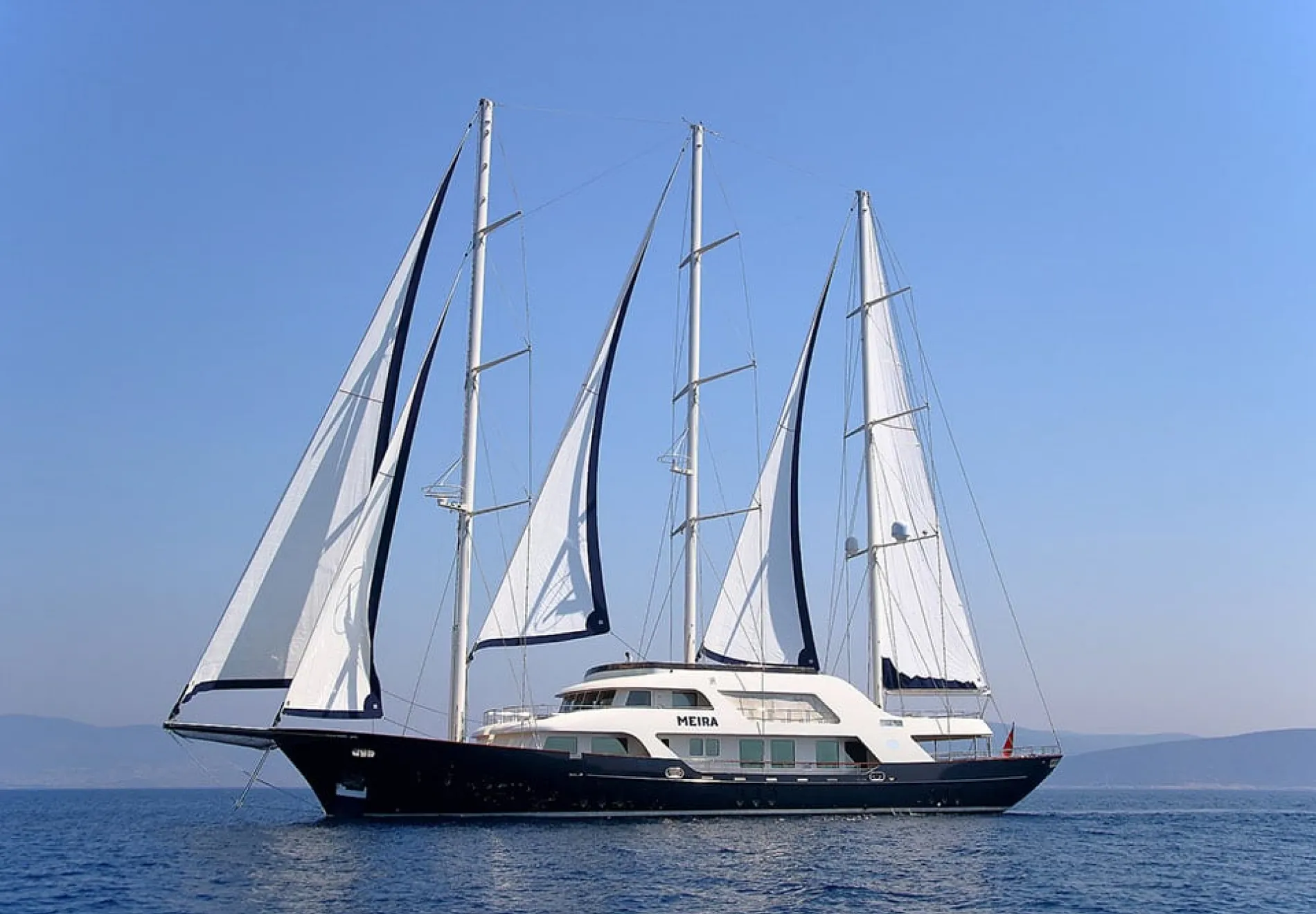 Meira
Designed by a British naval architect and interior designer to the stars, Evan K Marshall, and launched in 2018, she is every bit as exuberant and sensational as you would expect. Meira is 54.5 meters large and even has 11 crew members onboard.
Learn more about Meira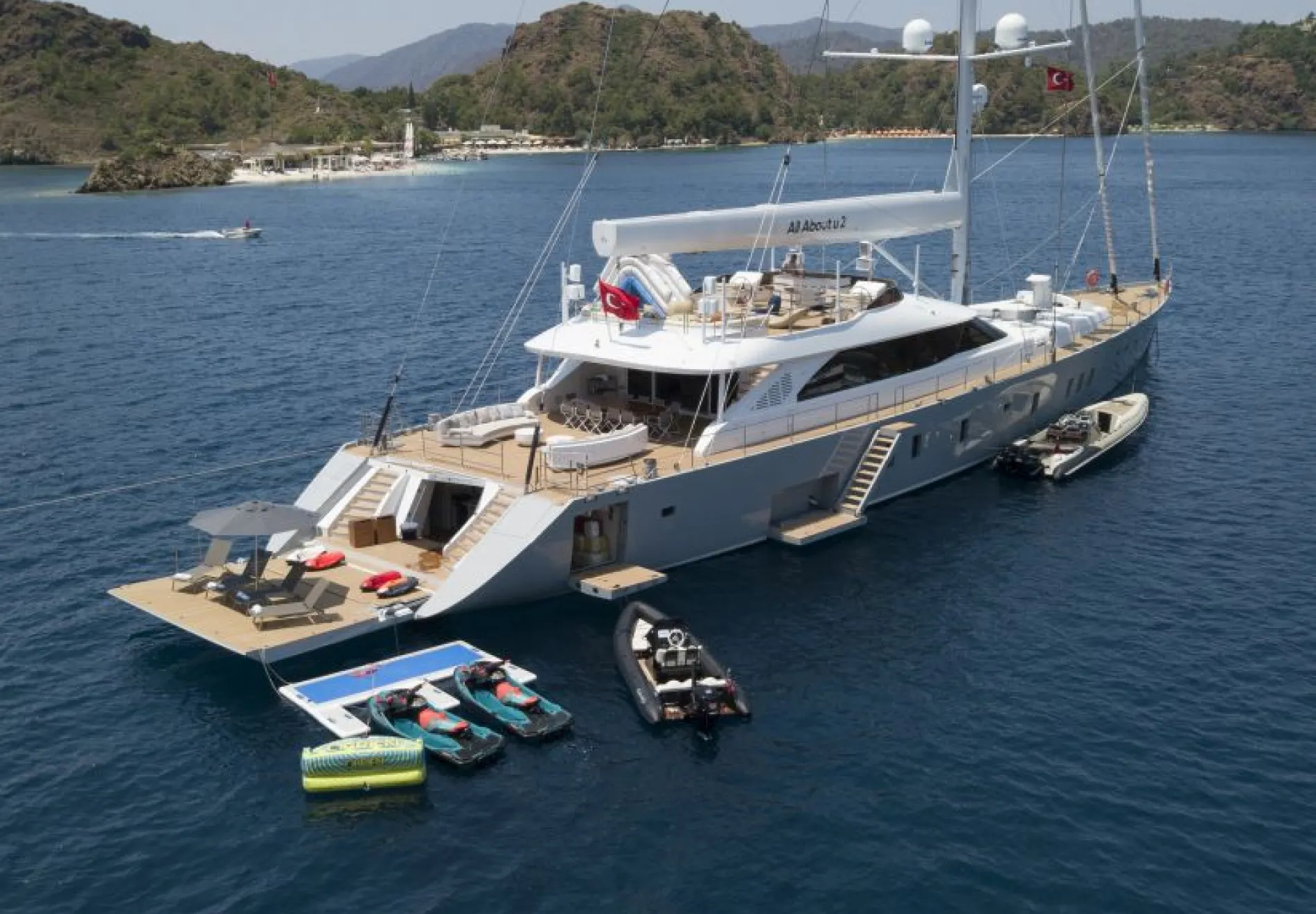 All About U 2
Built in 2019, this elegantly designed, 50-meter long yacht has 6 luxury en suites for accommodating 12 guests on board, with a 9-member crew. The variety of water sports activities on All About U 2 is extraordinary, as well as the expandable platform for premium sunbathing.
Learn more about All About U 2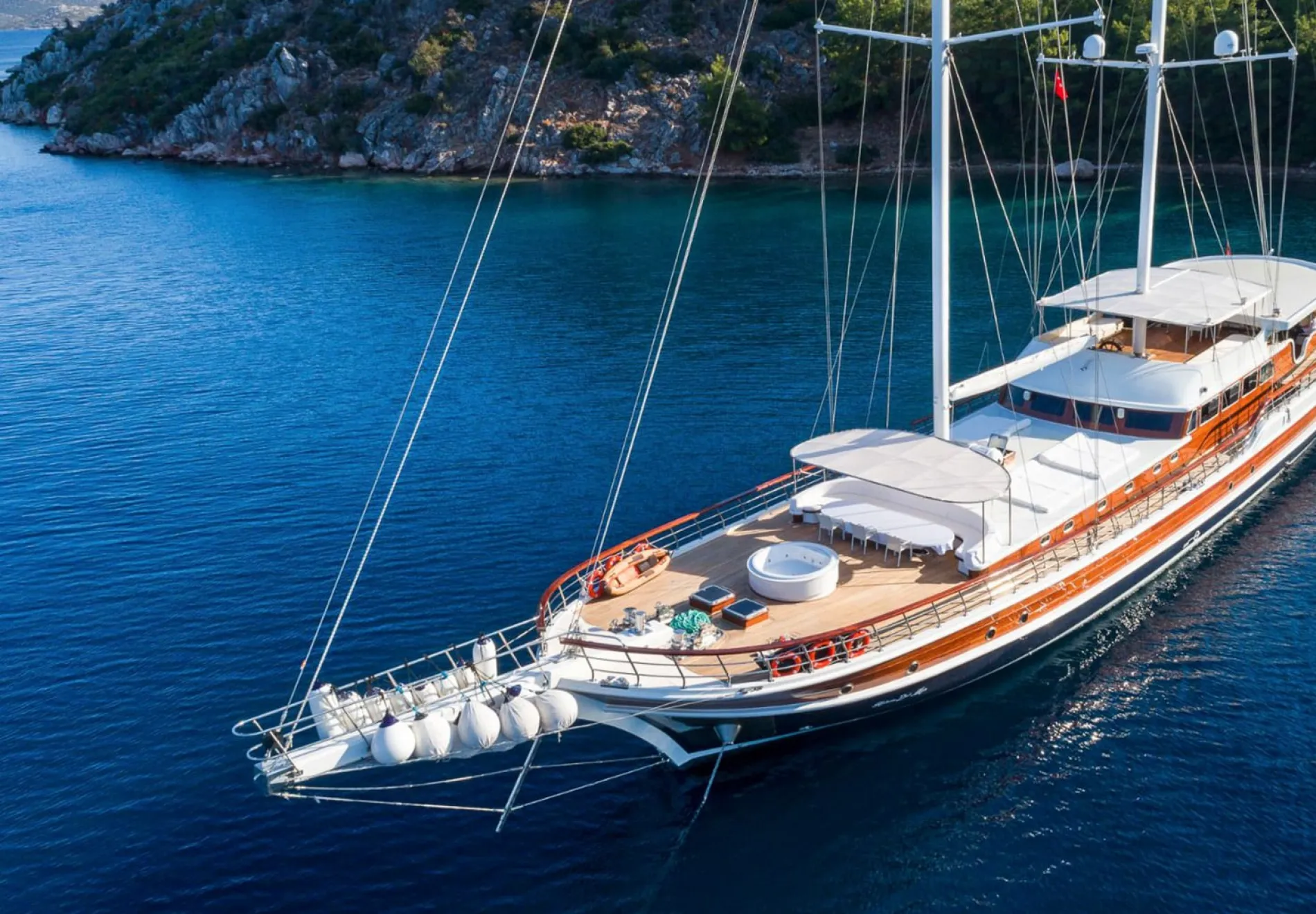 Halcon del Mar
This large luxury gulet is 45 meters long with 8 cabins for 16 guests onboard. Equipped with a jet ski and a jacuzzi, you won't get bored on Halcon del Mar. Her 6 crew takes pride in serving with silver plate service standards and offering 5-star service during the luxury charterers in Turkey.
Learn more about Halcon del Mar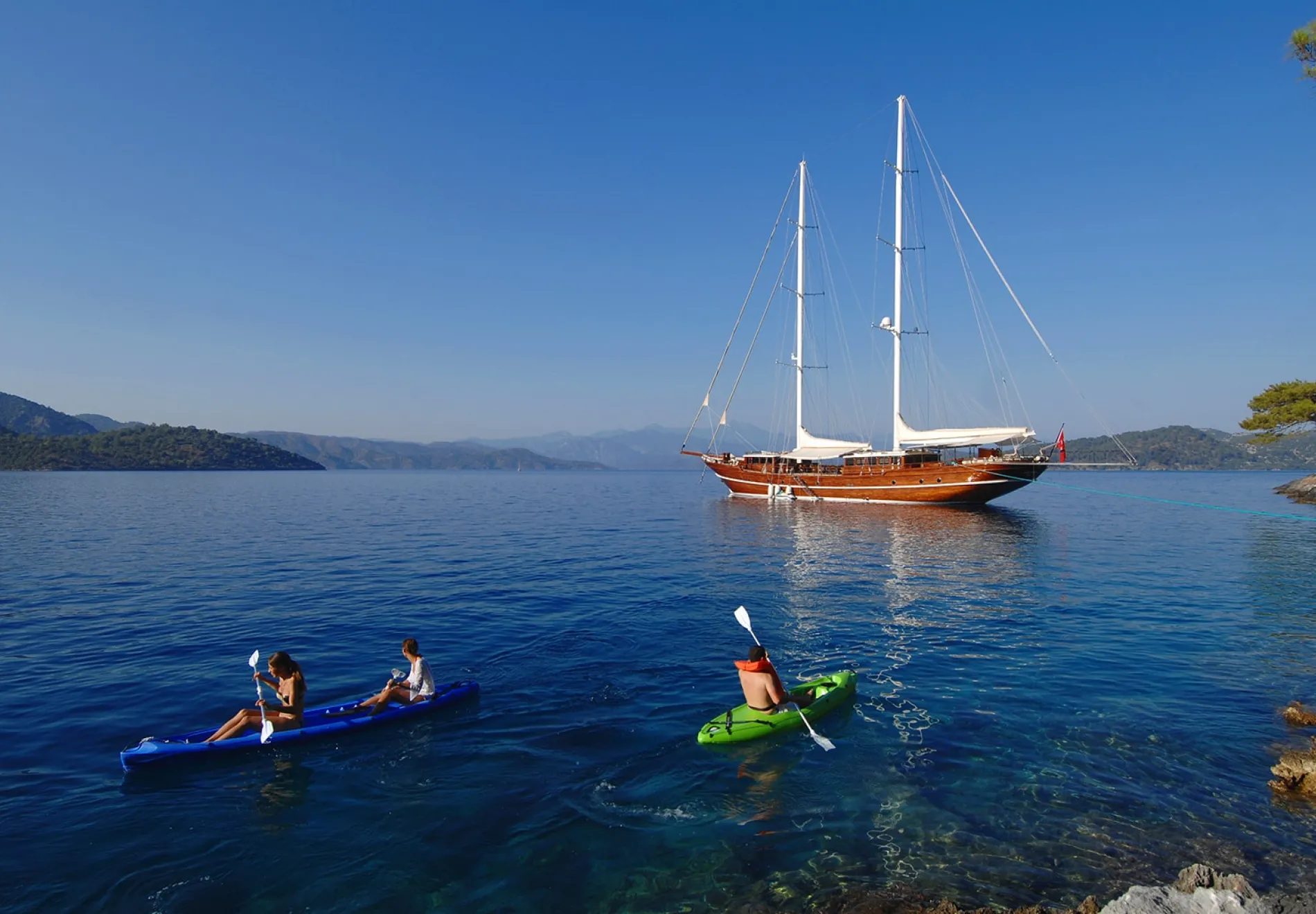 Mare Nostrum
Luxury gulet Mare Nostrum measures 42 meters and was built in 2008/2009. She is magnificent and a great choice for charters with friends or family. She is one of the most luxurious Gulets available for charter in Turkey. Constructed from exotic and rare woods, Mare Nostrum exudes warmth and ambiance and offers charter guests every conceivable comfort. Accommodation is provided for up to 12 guests in 6 cabins.
Learn more about Mare Nostrum
If you are not 100% sure the Turkish gulet cruise is for you I would suggest you fill out this preference list. Our concierge people will be happy to help you determine if this is an appropriate holiday for you or not.