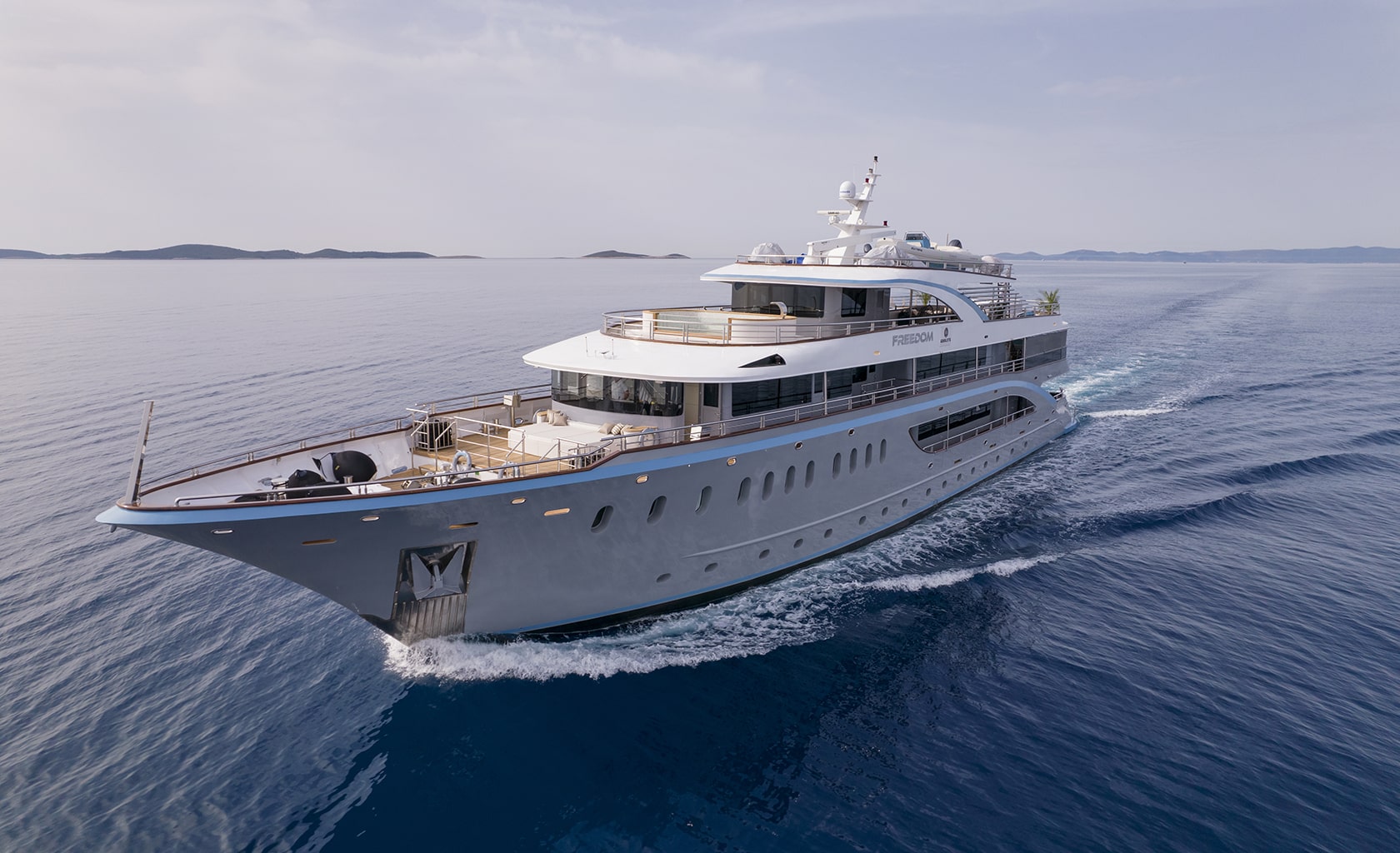 Freedom's transformation from a Mini Cruiser to a Super Yacht
This article explains how the idea of Super Yacht Freedom was born, and why is she such a big hit in the yachting industry.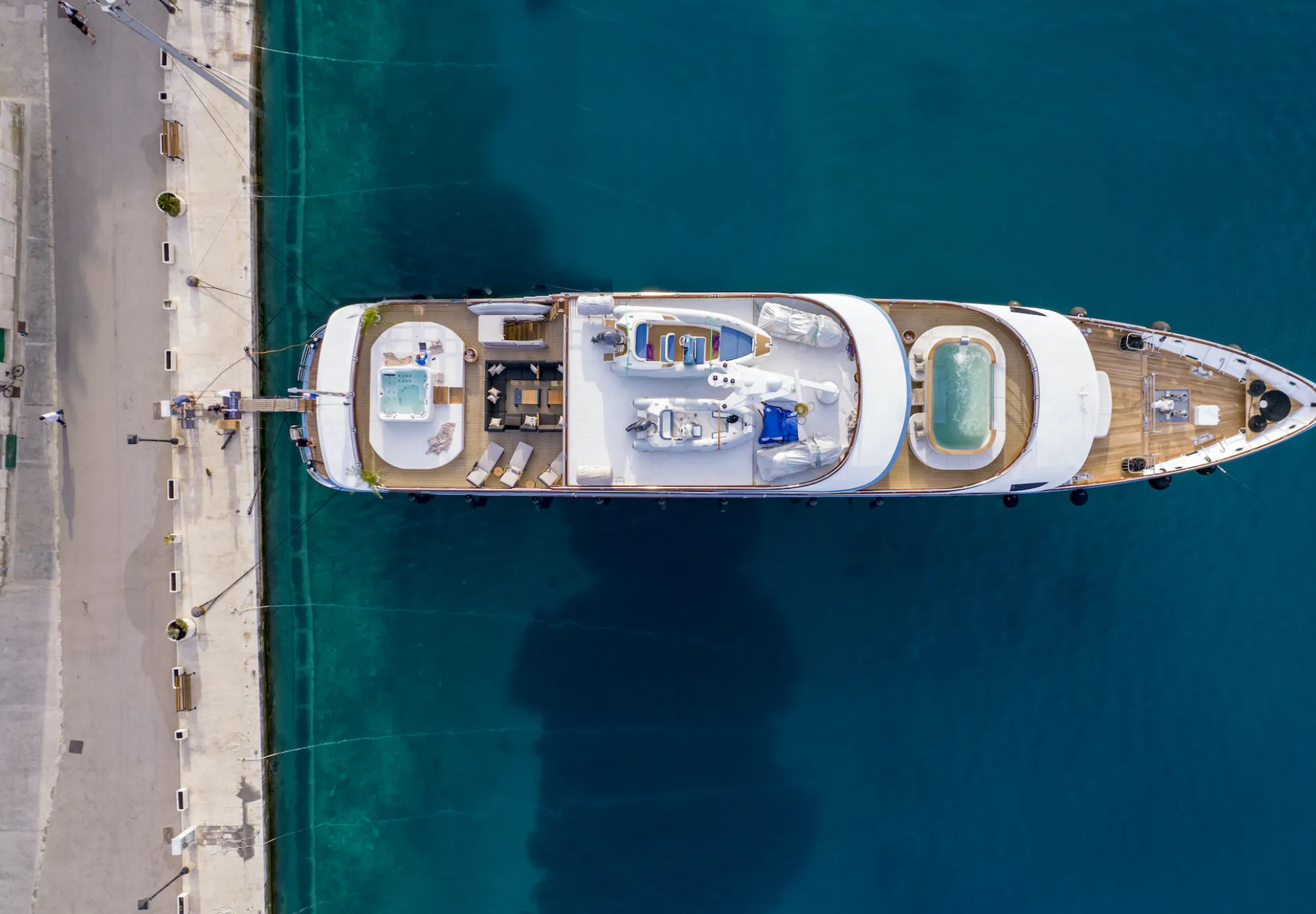 From idea to reality
Since COVID started, there was a drastic increase of large Super Yachts and Mega Yachts in Croatia but still not enough to meet demand. That's why we decided to turn Freedom into a Super Yacht and offer a luxury yacht charter to our guests. We were working with Yacht Freedom before it went through the upgrade. At that time, we were offering high-class services, for groups of up to 40 people, and we got constant feedback about what a special vessel it was.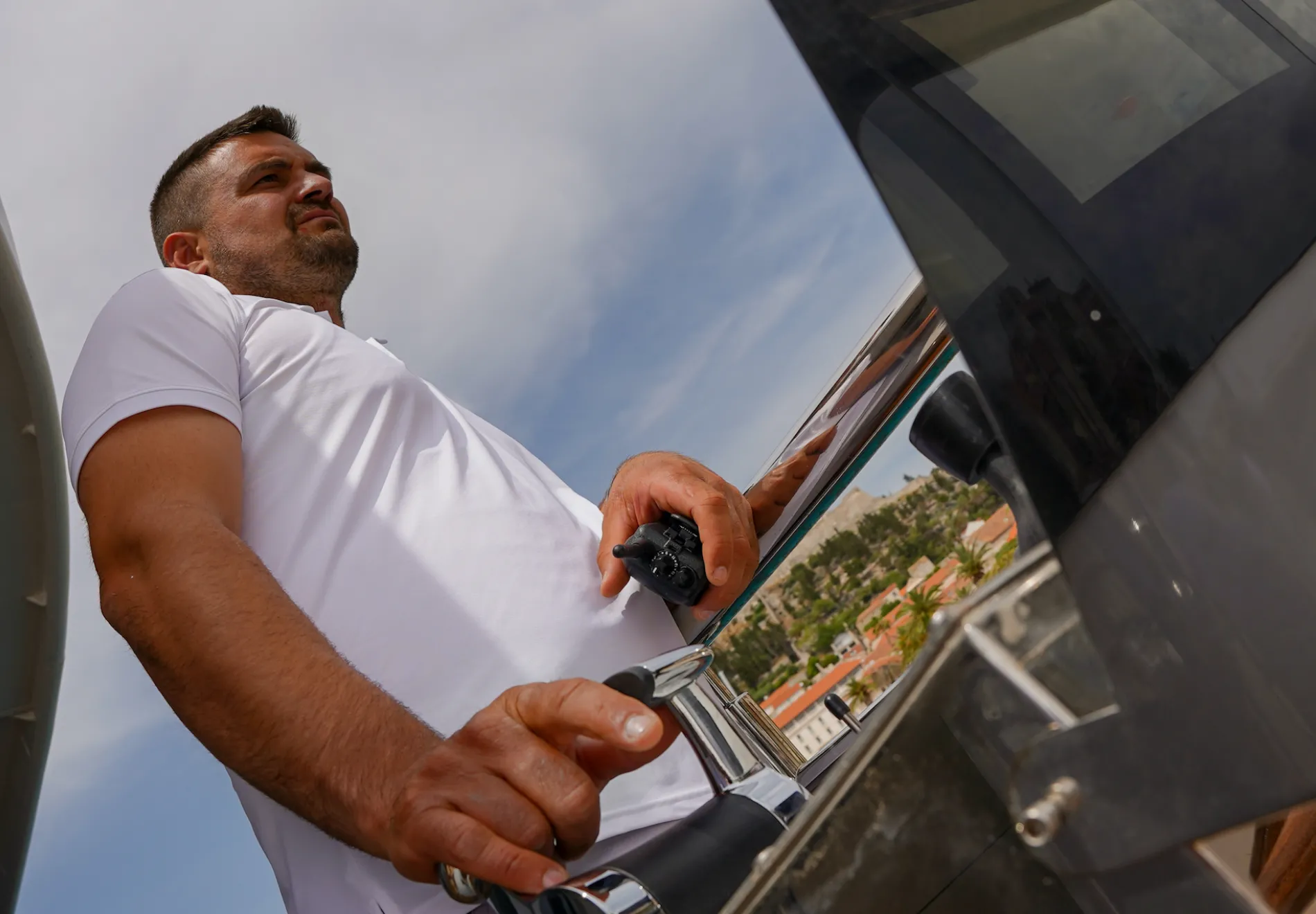 A ship with tradition
Ivan, the owner, and also captain of the yacht, built her from scratch in a small Croatian shipwright village with a very long tradition, so Freedom is a great proof of the quality and the craftsmanship of these men. At first, the owner's idea was to build a ship and create a »high-end« cabin charter cruise, but then COVID struck, and the »cabin charter business« shrank.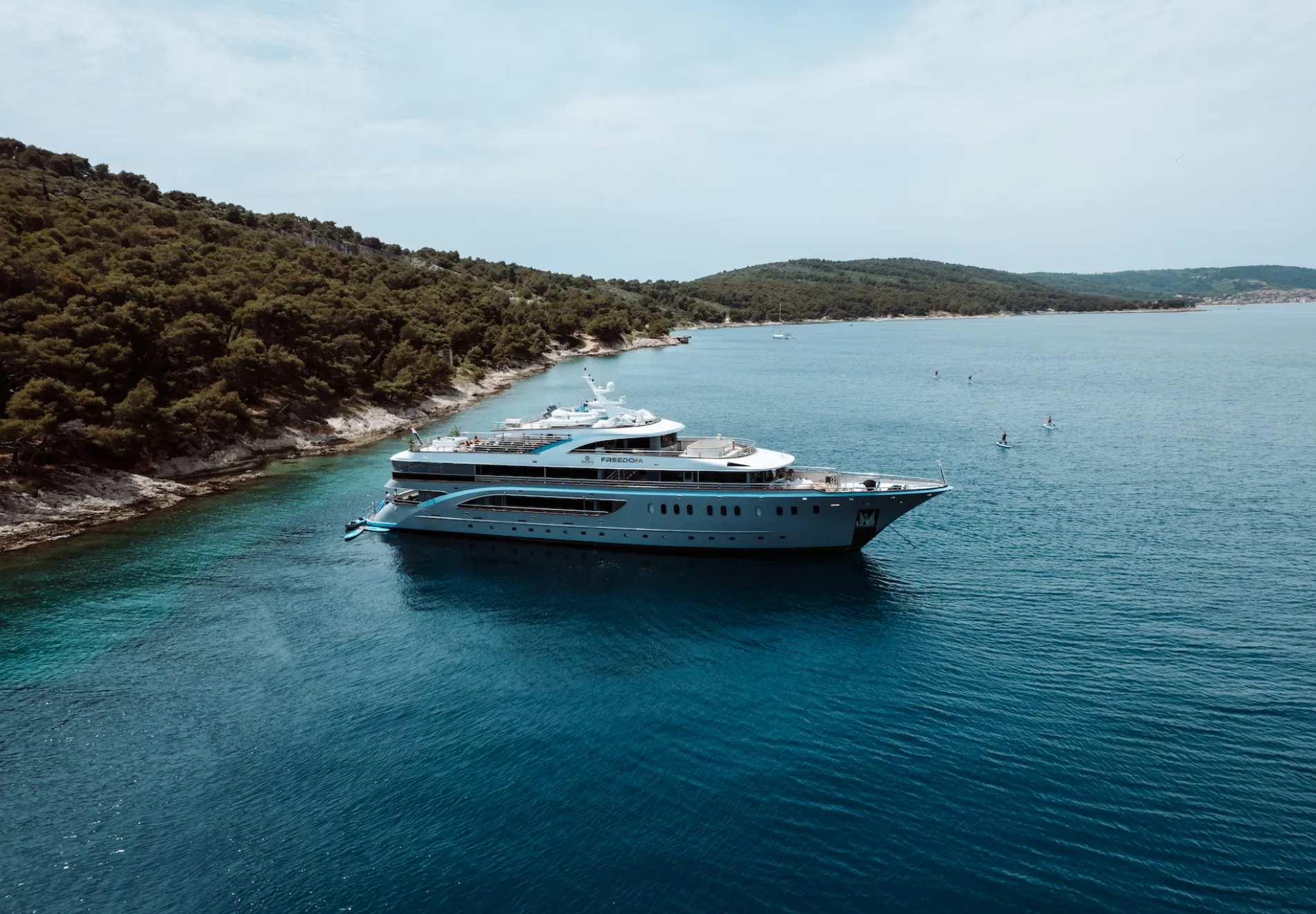 We sat down with him and decided to change the concept of a »Mini Cruiser« into a »Super Yacht«. During COVID, as more and more people wanted to charter »closed – private« groups due to safety reasons, we realized, that charting on a high-quality 50-meter ship with all the amenities of a Super Yacht could be just what people need to experience.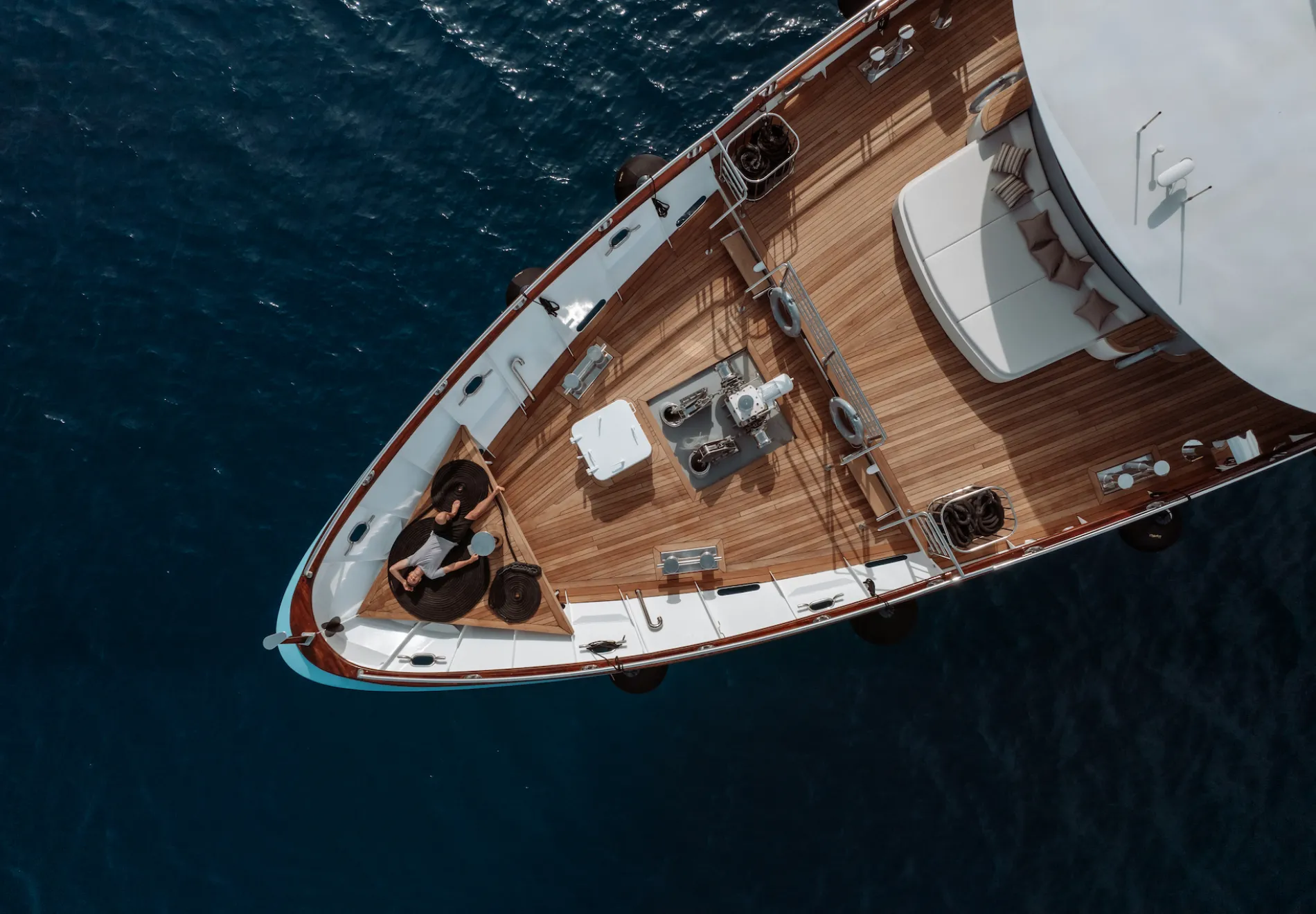 It's all about the details
A ship can legally carry more than 12 passengers on board and because of that, more safety standards have to be taken. Freedom was meant to be a ship and was built as such, and not a yacht, so it had the advantage from the get-go. During the upgrade, no money was spared. The yacht owner went »all in« and used only the best quality materials.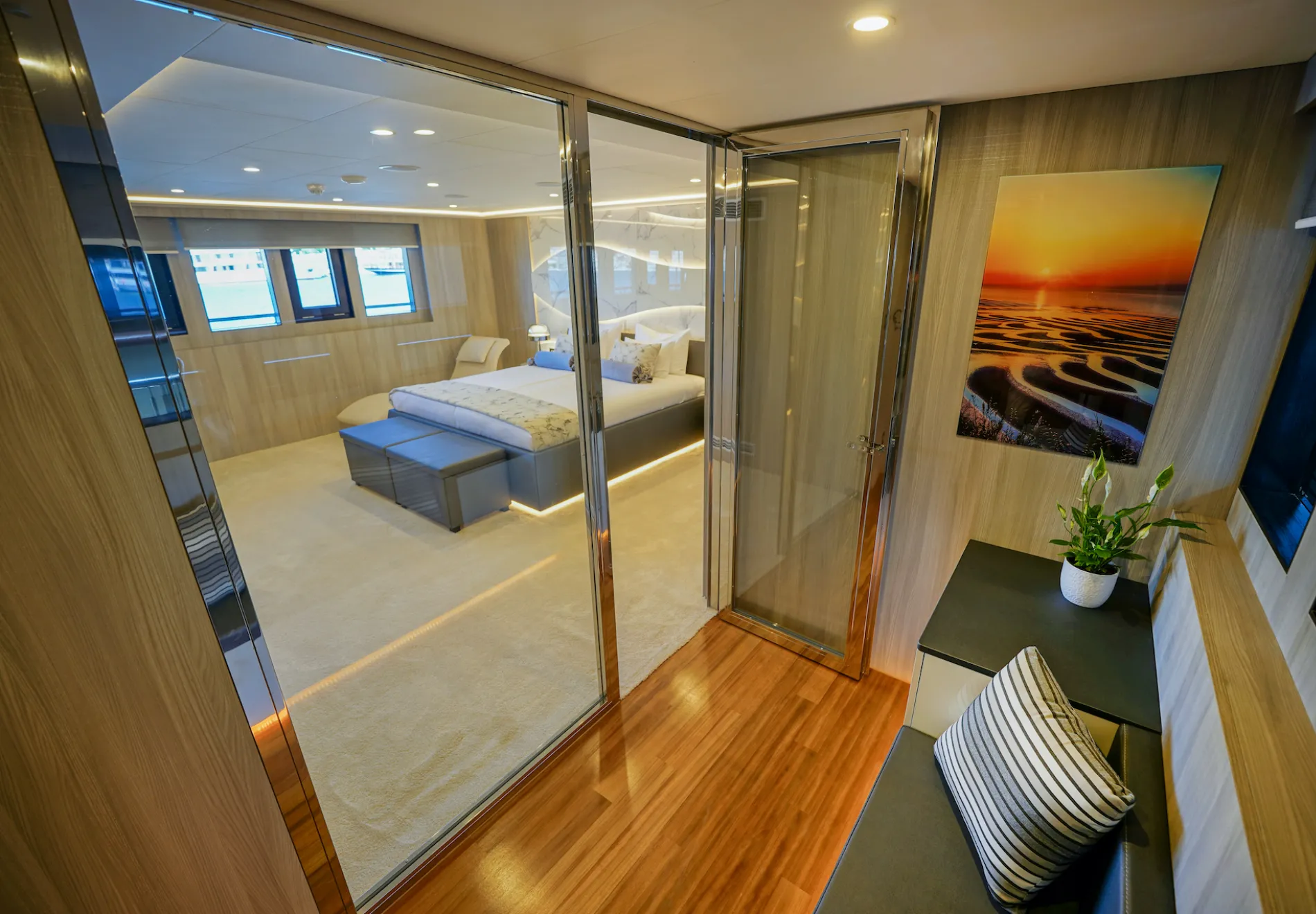 Luxury comfort
Freedom already had 20 cabins and could accommodate up to 40 guests. The first idea was to lower the number of cabins and guests in order to make the services better and to make the entire accommodation more comfortable.
After we looked at Freedom's blueprint, we decided to:
change 4 regular cabins into 2 large master cabins
upgrade the rest of the cabins
change one cabin into a massage studio
change one cabin into a spa/sauna
change 2 cabins into a cinema room
change one cabin into a gym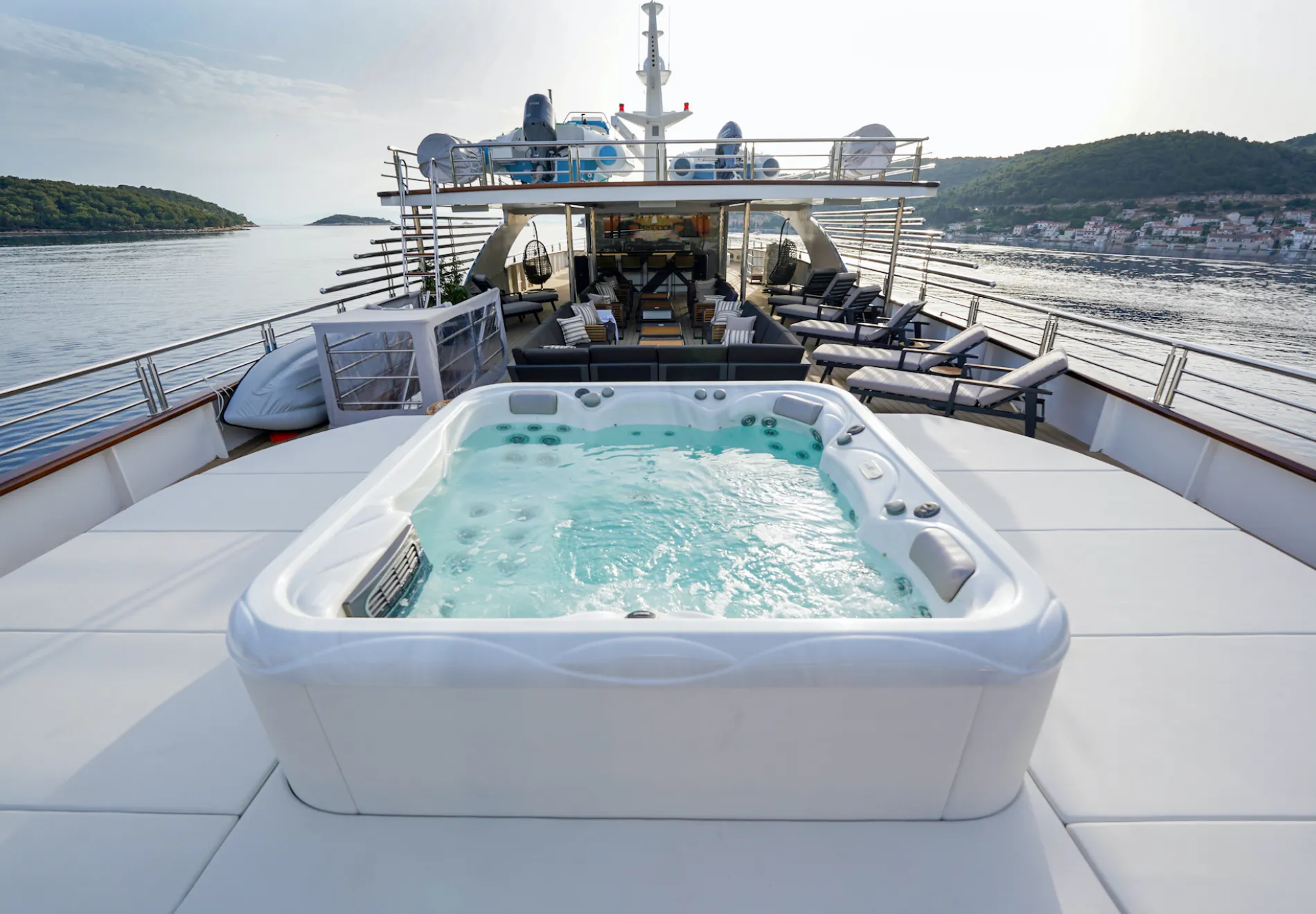 Freedom's complete transformation
The colors of the hull give the yacht that modern and minimalistic look. This almost 50 meters long yacht spreads over 4 large decks – lower, main, sundeck, and upper. The sundeck, with its new hardwood floors, a large jacuzzi, padded sunbeds, a lounge bar, and a pool with a fountain, gives you a feeling of a luxury hotel's rooftop. This spacious area is the perfect place for a »happy hour« cocktail or an early morning yoga class.
The size of the regular cabins has almost doubled, so the previous 20 cabins were turned into 11 spacious and comfortable bedrooms with en suite bathrooms. The two large main cabins or better said suites, are the real show stoppers. Each of them includes an en suite bathroom with a bathtub and a spacious walk-in closet. The VIP suite is the largest »cabin« and is located right above the Wheel house, offering 180-degree views of the sea.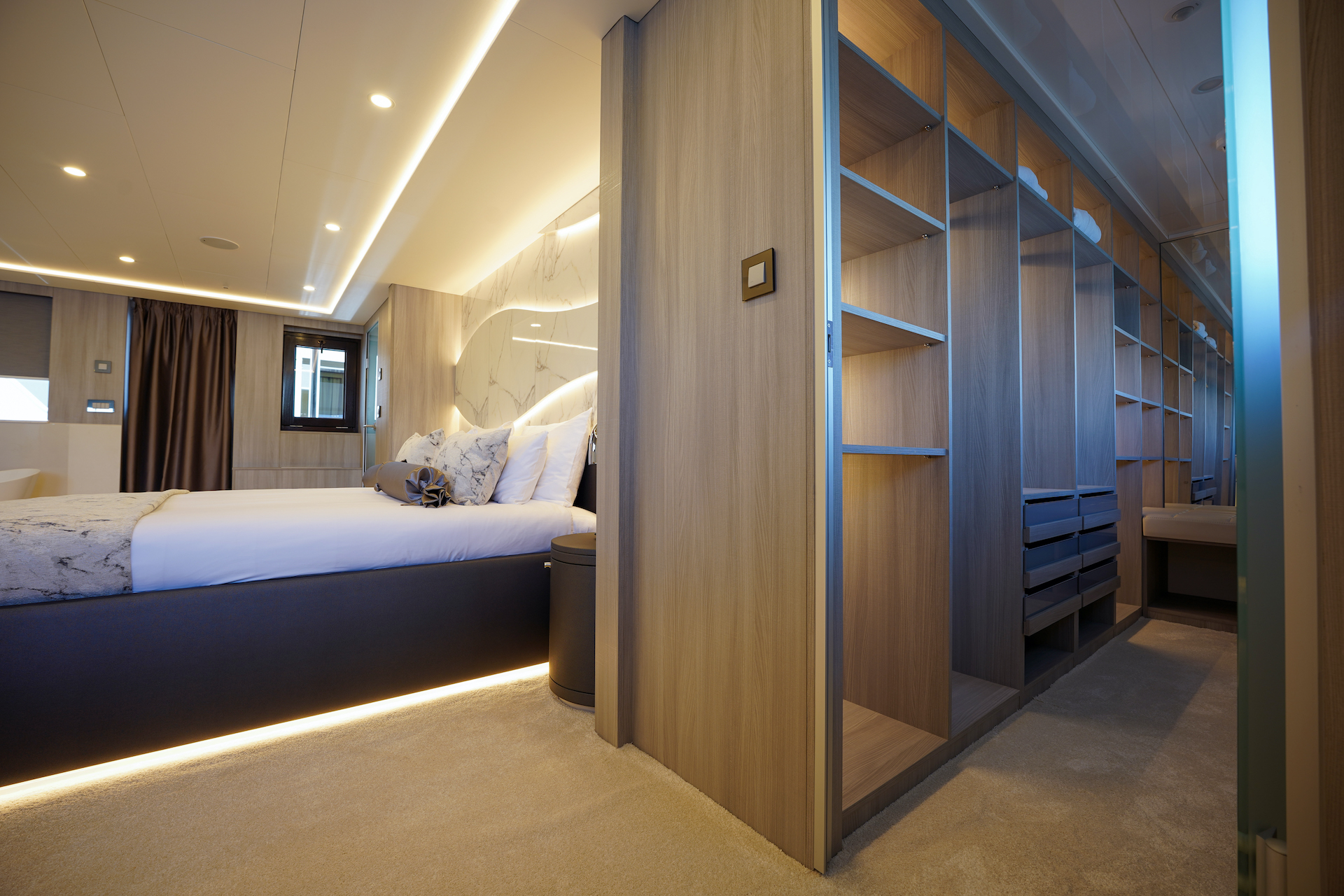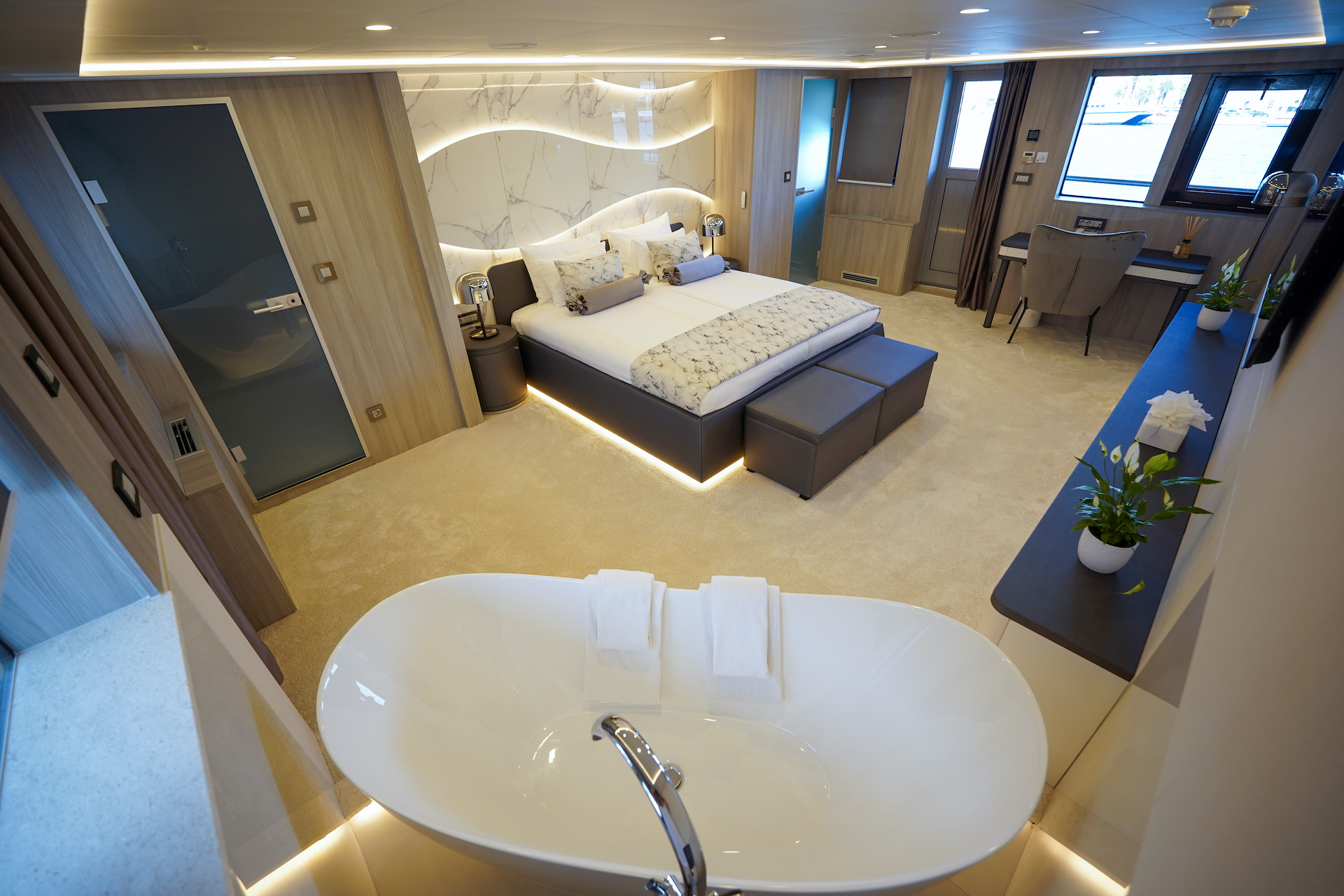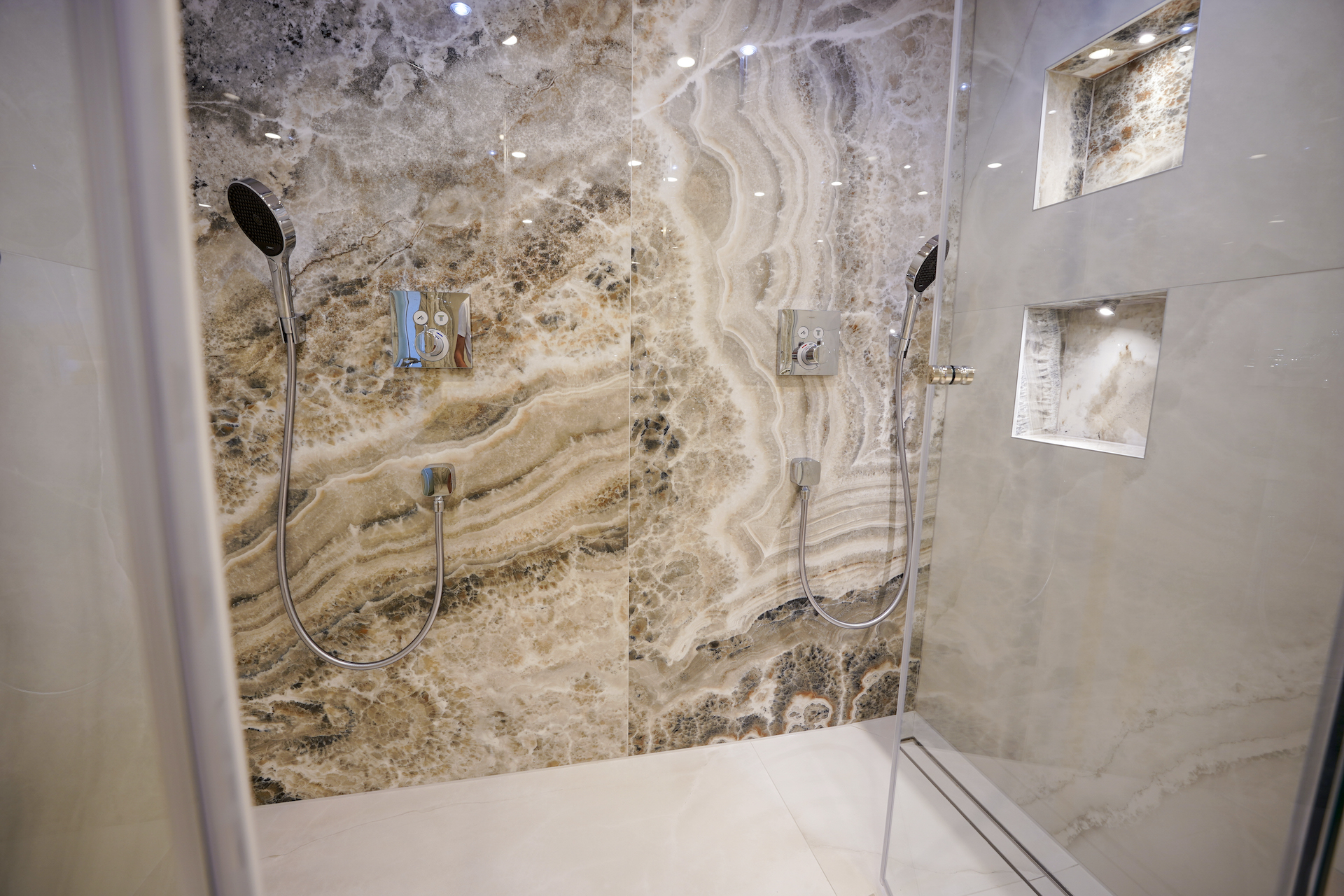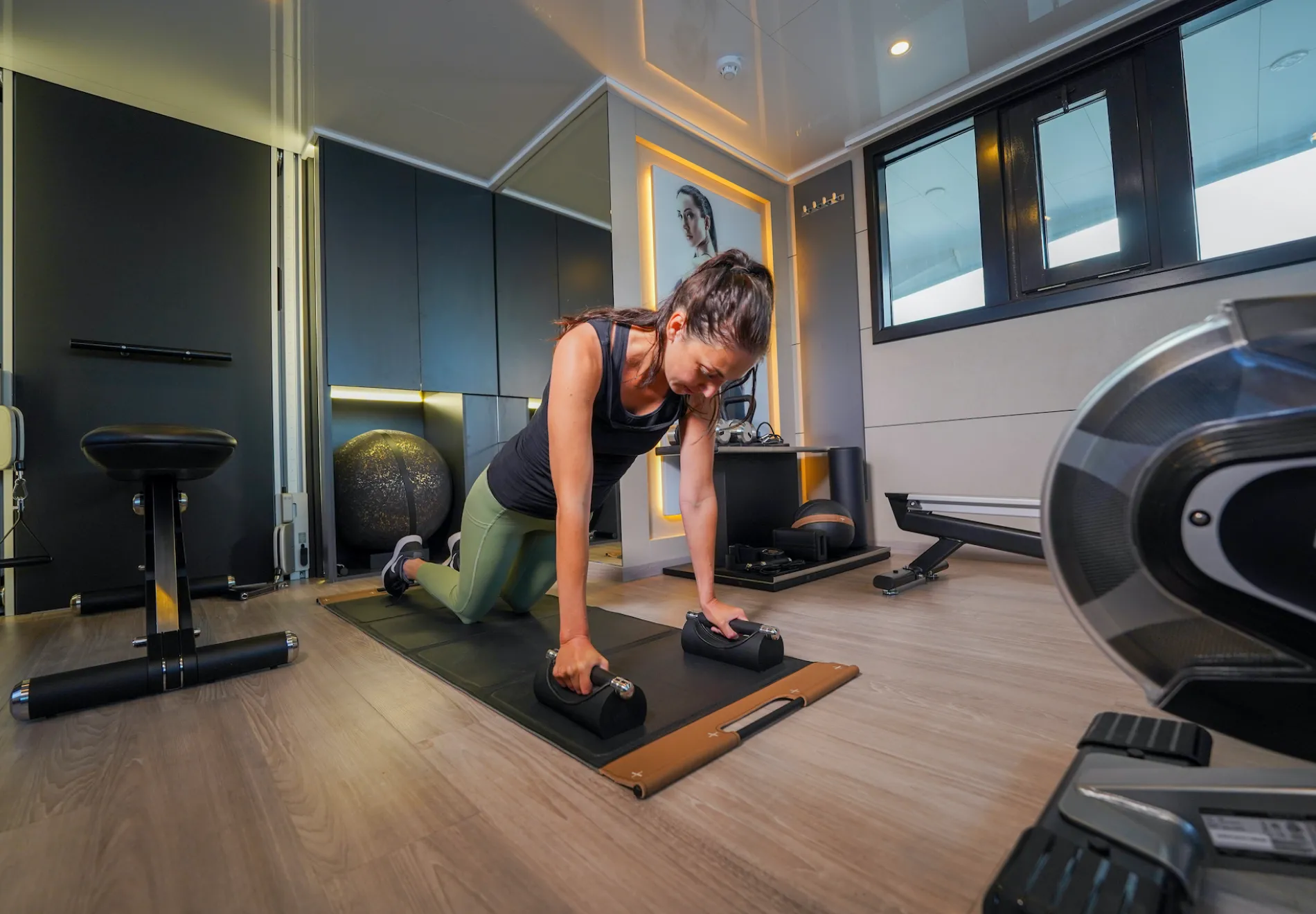 Fully equipped gym
The gym onboard includes a technologically advanced rowing machine, a recumbent, and an upright bicycle. Everything from the weights, medicine ball, and the mat is covered in leather, giving you a feeling of luxury even when you are working out. In case you want to listen to your favorite tunes and really »pump it up«, you can connect your phone or other devices with the gym's sound system via Bluetooth.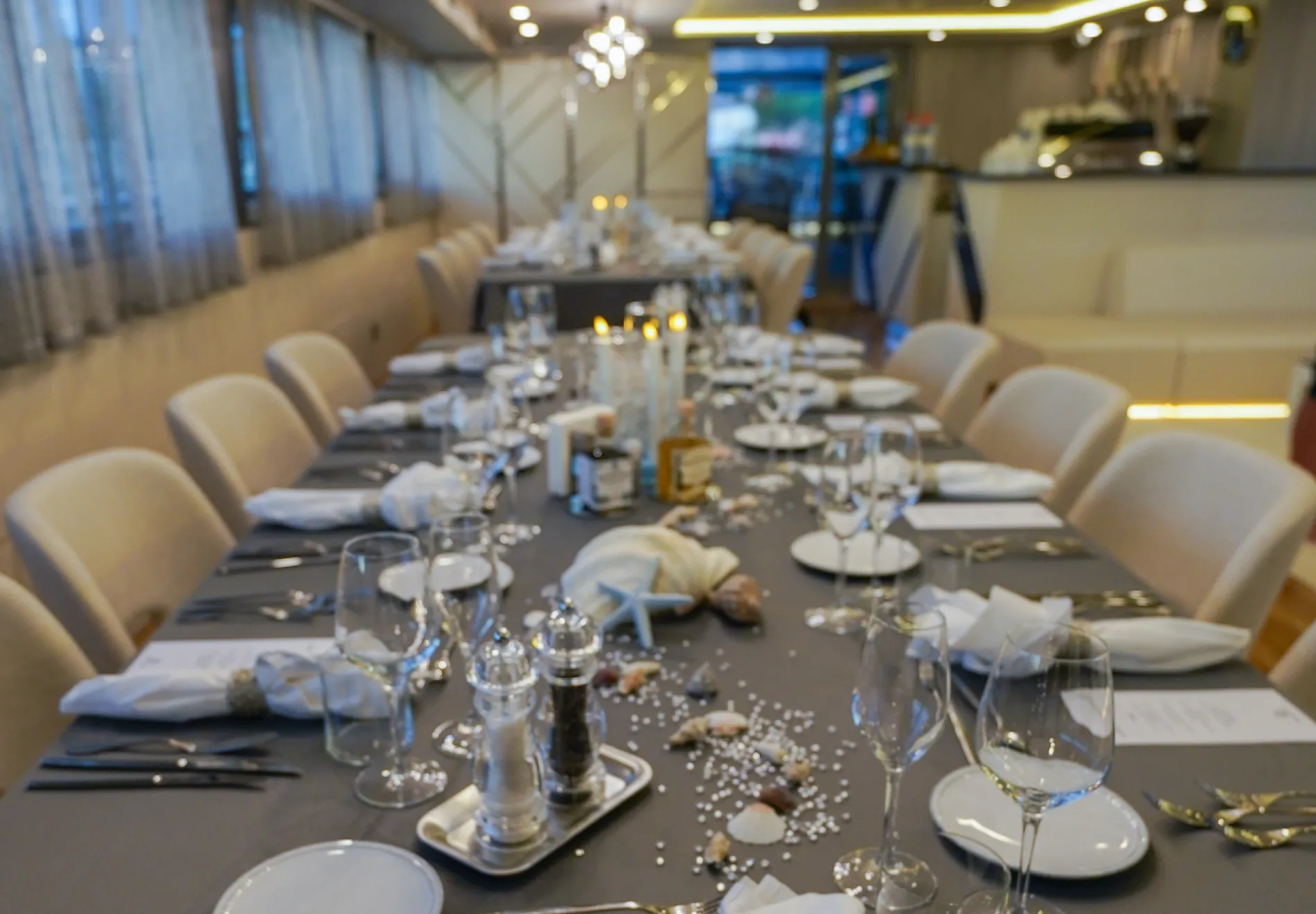 Spacious indoor lounge
The spacious indoor lounge, on the middle deck, with modern white couches that extend through the whole side of the yacht, offers plenty of space for all the guests to sit down at the same time. In case of bad weather, the two large tables are a great option for dining inside. There is also a beautiful white piano (yes, a piano) that the guests can use for entertainment (or practicing).
Movie nights on board
On the lower deck, two of the cabins were turned into a steam room/spa and a massage room. The smell of essential oils, dim light, tea candles, and relaxing music will transport you into a »zen« space. Another mind-blowing upgrade was the cinema room where the guests can sit on the cozy couches and watch a movie or play video games on a console.
Pick your water toy
We also wanted to give the clients an option of having an active holiday, so we decided that water toys were a must. The adventure types can choose between a SeaBob, waterskis, paddleboards, a kayak, or try the water slide. The crew members will happily assist the guests at any time. Excitement and fun are guaranteed.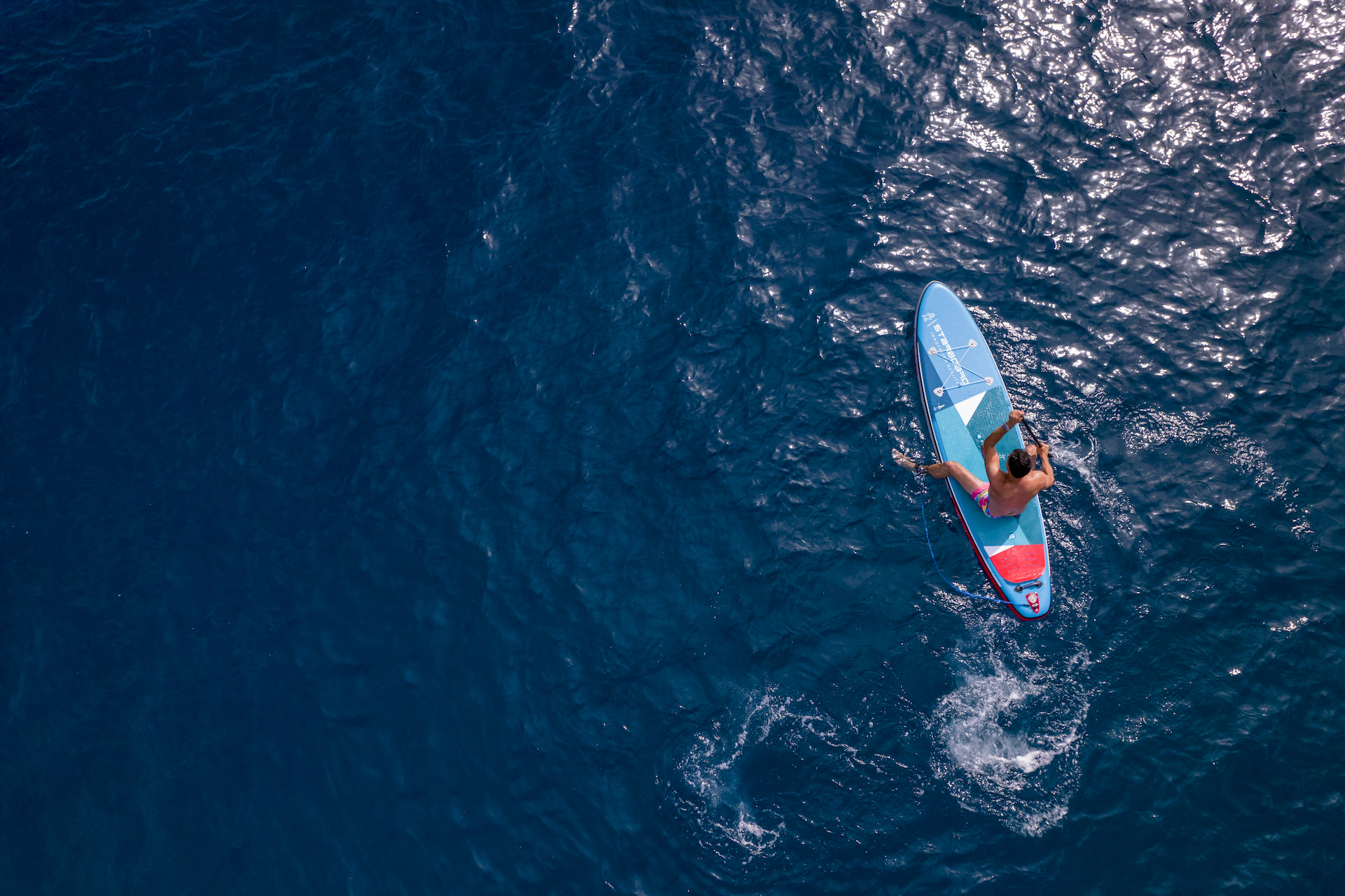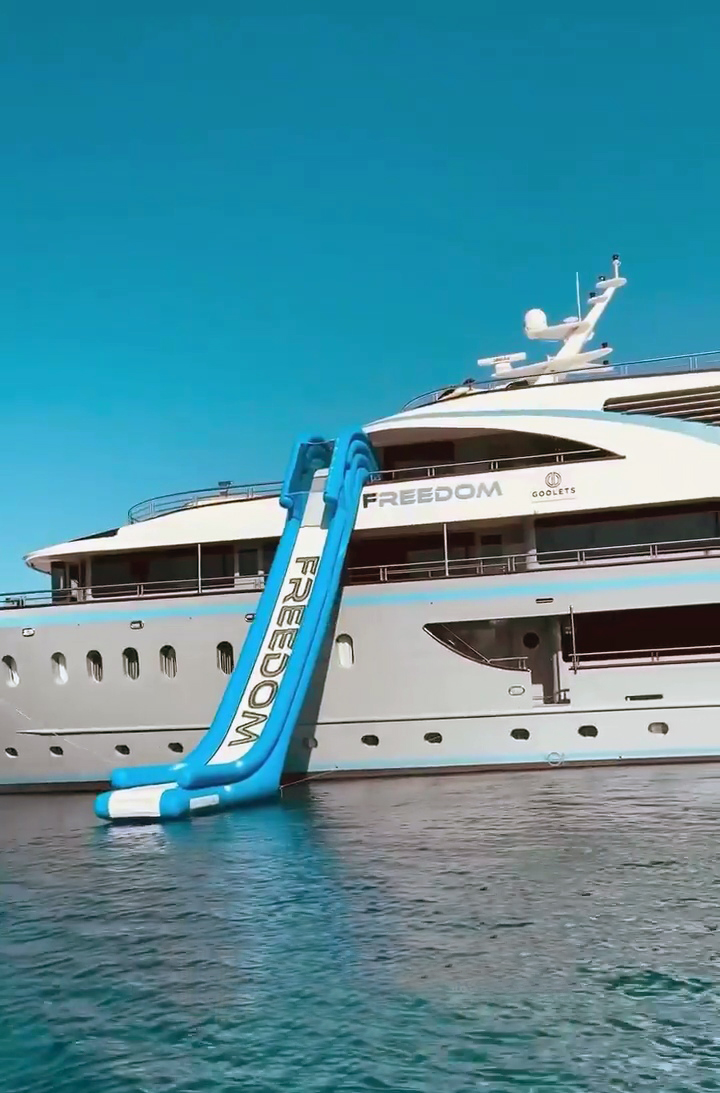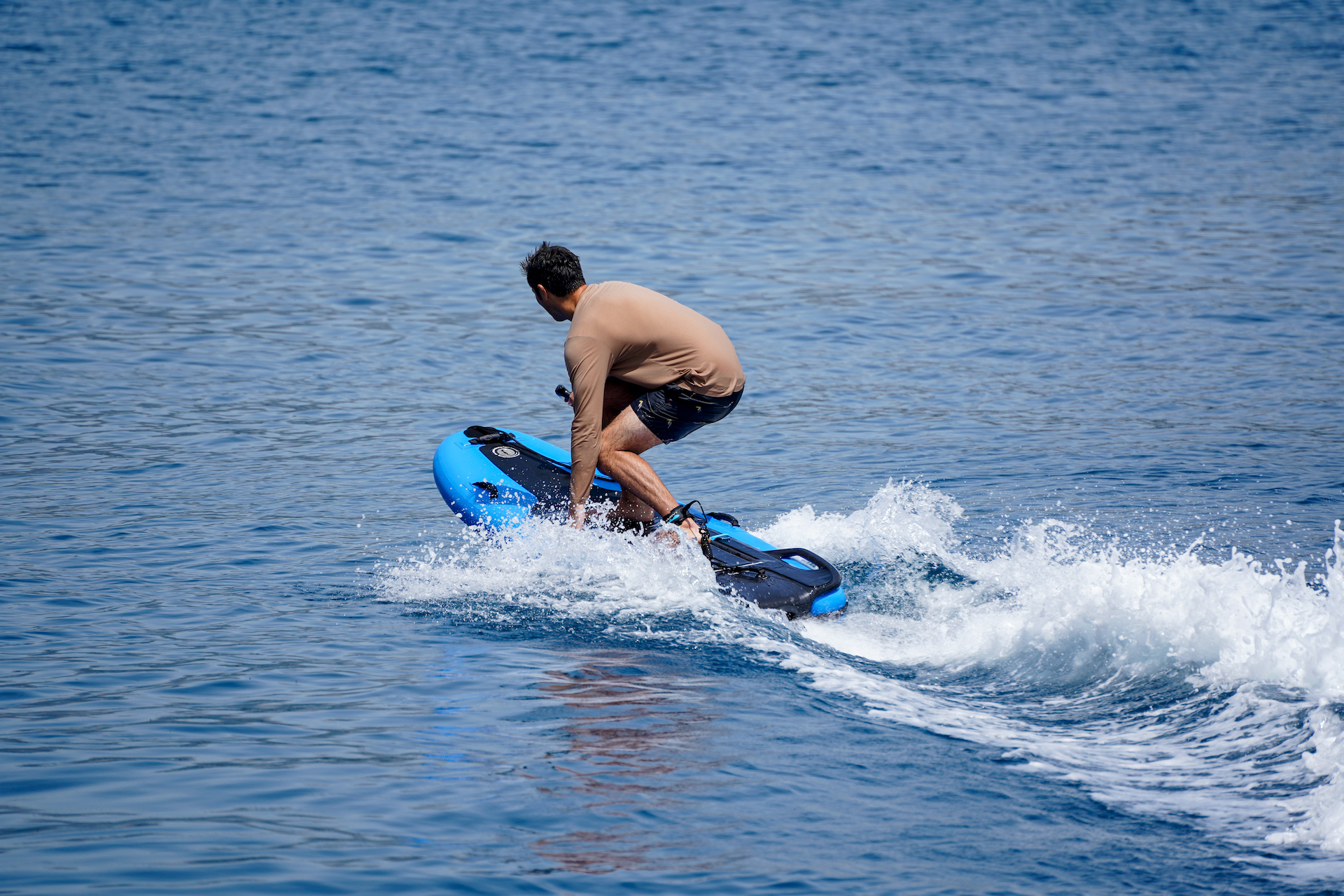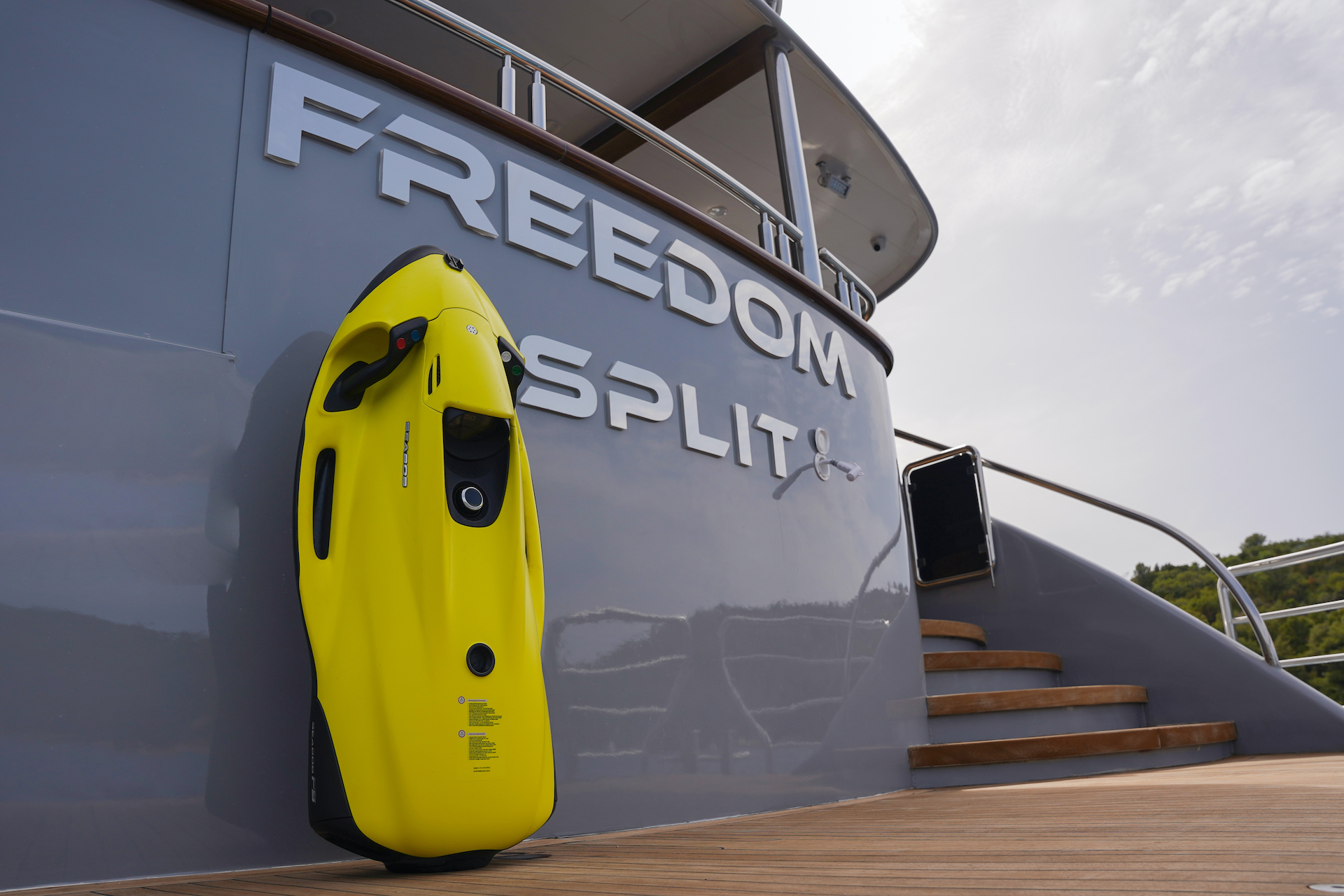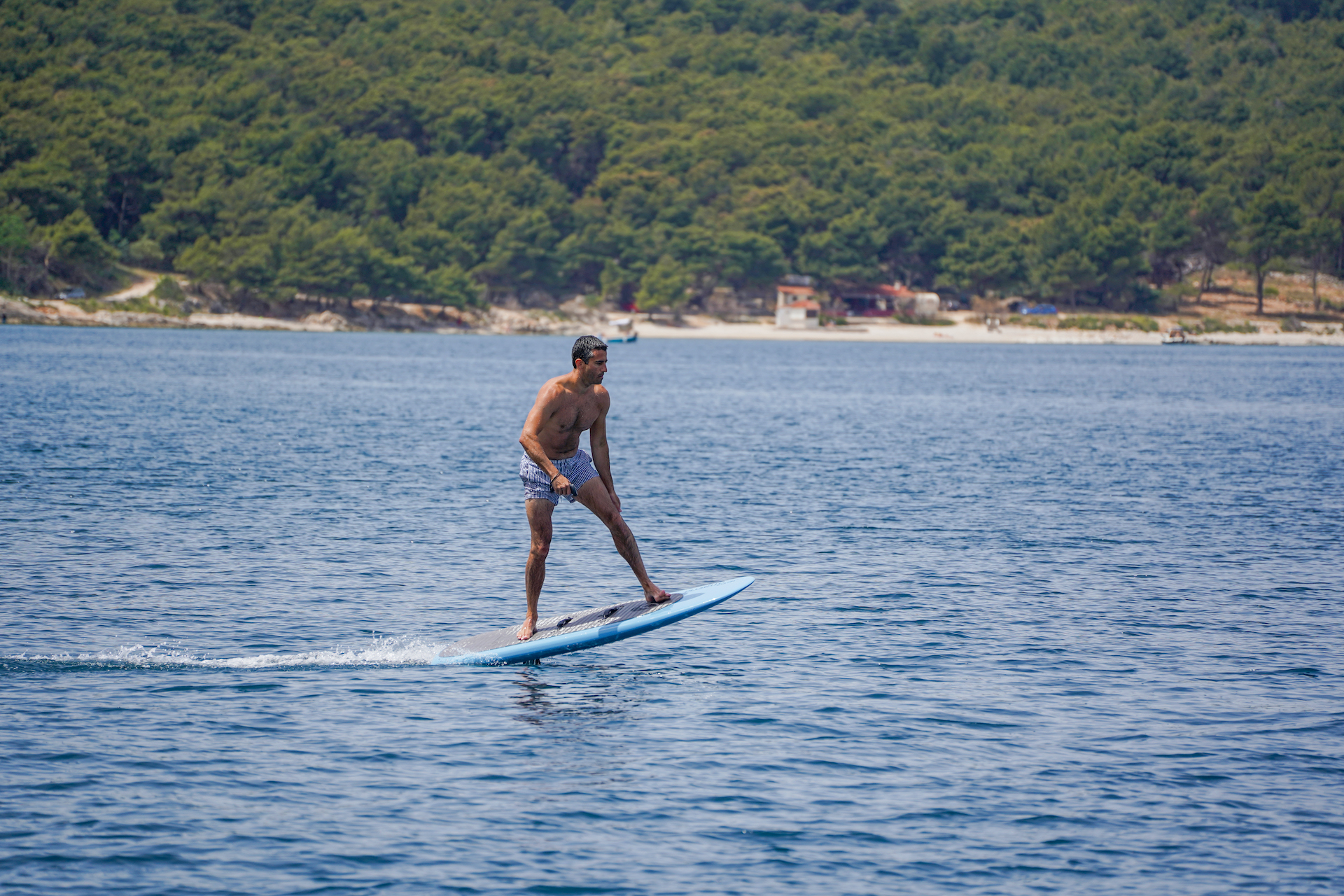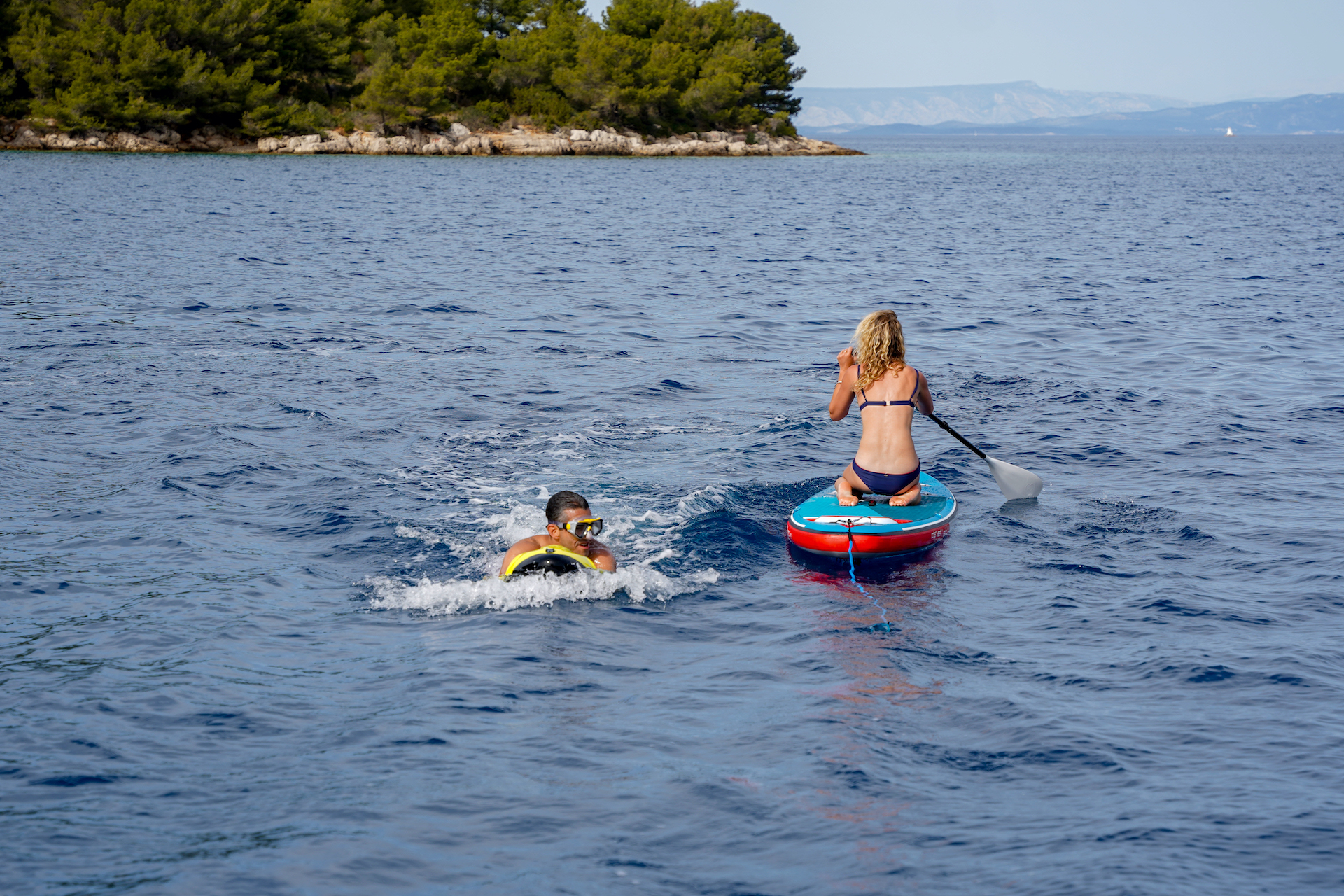 To get a better idea of what Super Yacht Freedom looks like now, check the walkthrough video or have a virtual tour.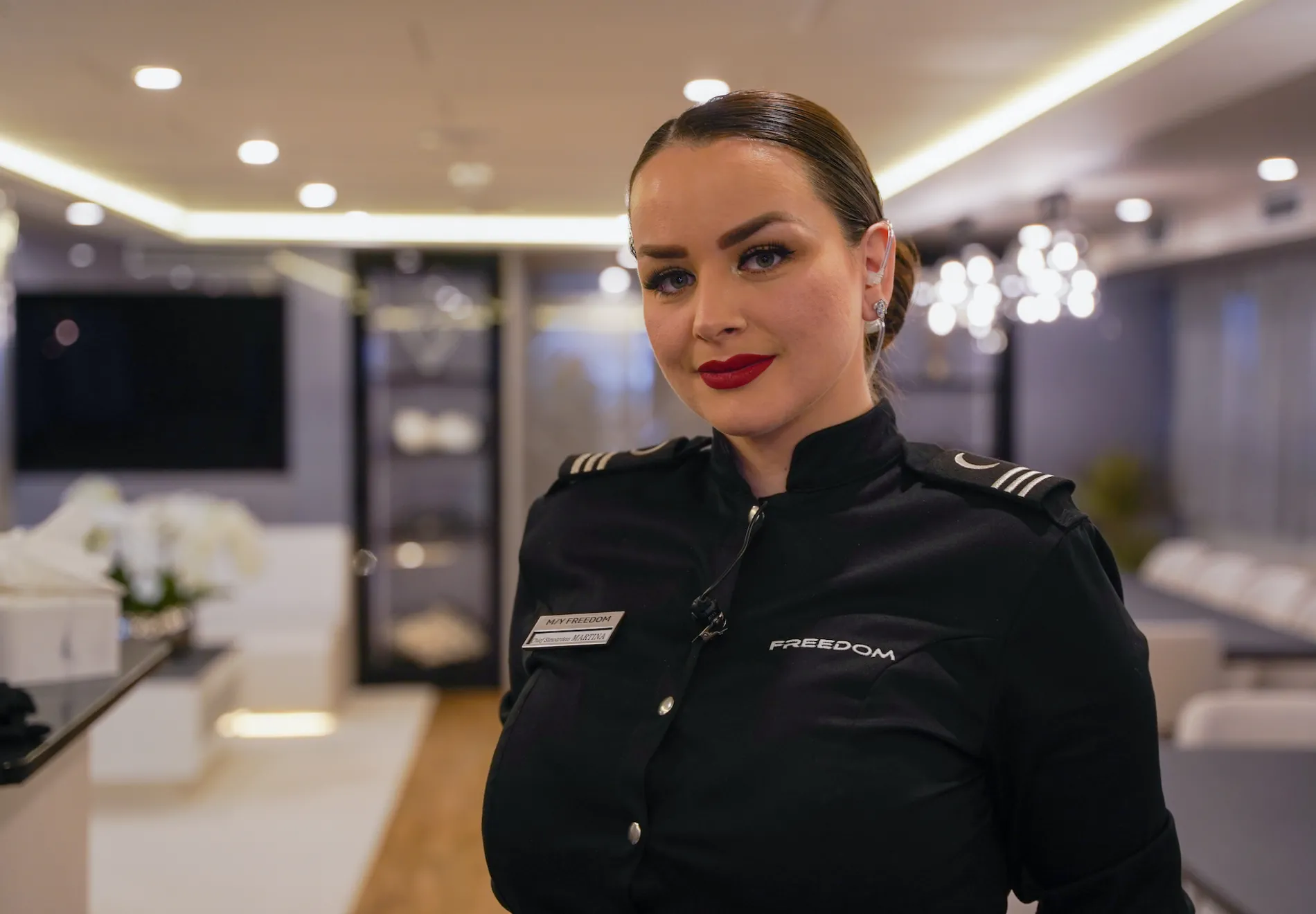 Service Excellence
There would be no Super Yacht charter experience without a Super Crew. Freedom's chief stewardess, Martina, has extensive knowledge in service. Years of experience onboard luxury Mega Yachts all around the world are transferred to her staff. The professionalism, the eye for detail, and kindness are seen and felt onboard Freedom.
Haute cuisine
All the meals are prepared by an exclusive chef and a sous chef onboard. Even though, the kitchen is relatively small (we are on a yacht), the magic that they can create is unbelievable. Only the freshest produce, seafood, fish, and meats are carefully selected and turned into Michelin-rated dishes. A four-course meal, paired with superb local wine, is served on beautifully dressed tables. The chef can also prepare vegan, vegetarian, pescetarian and everything in between delicacies. The brand new espresso machine makes that perfect »pick me up« coffee that you just must have after a delicious meal.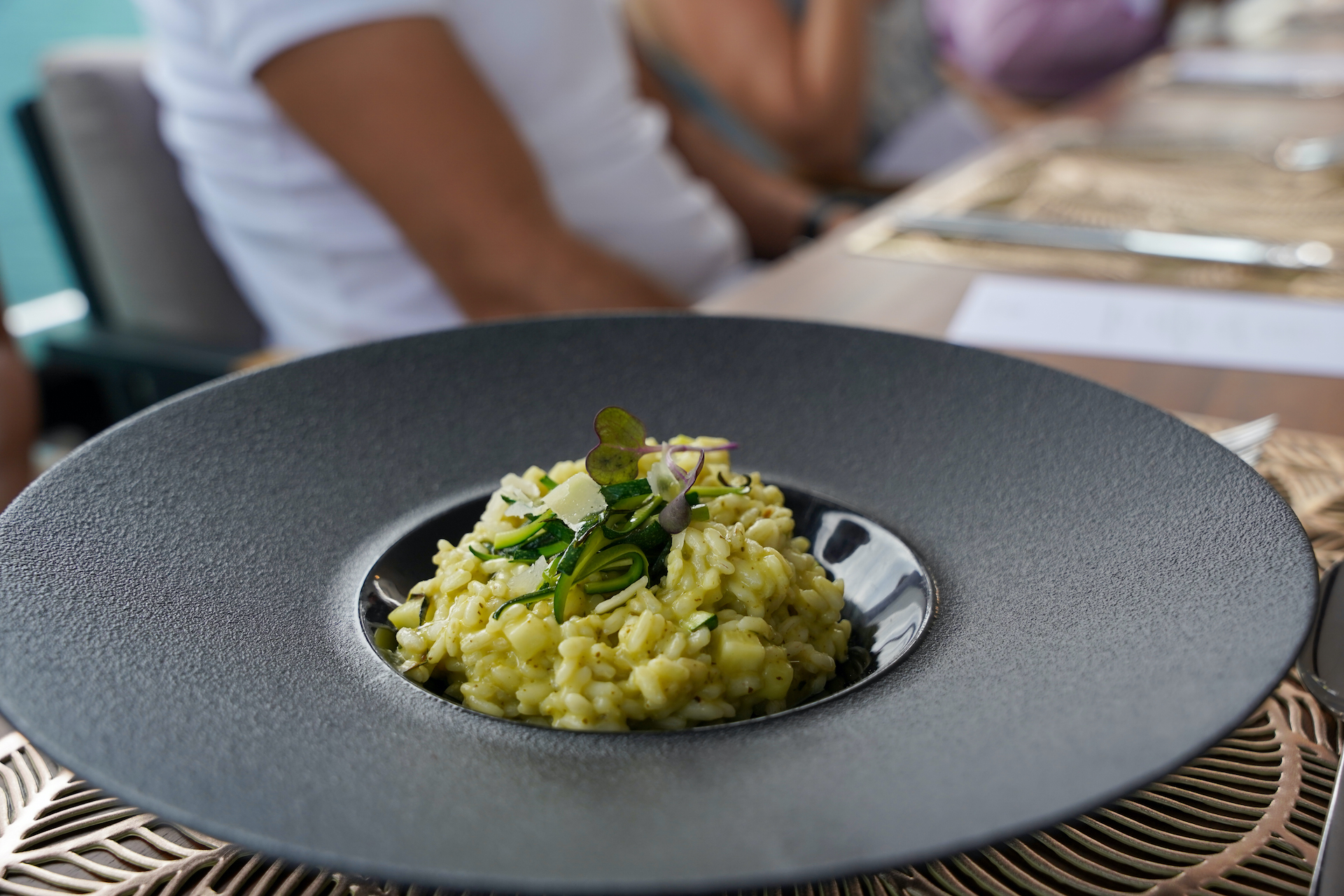 Creamy vegetarian risotto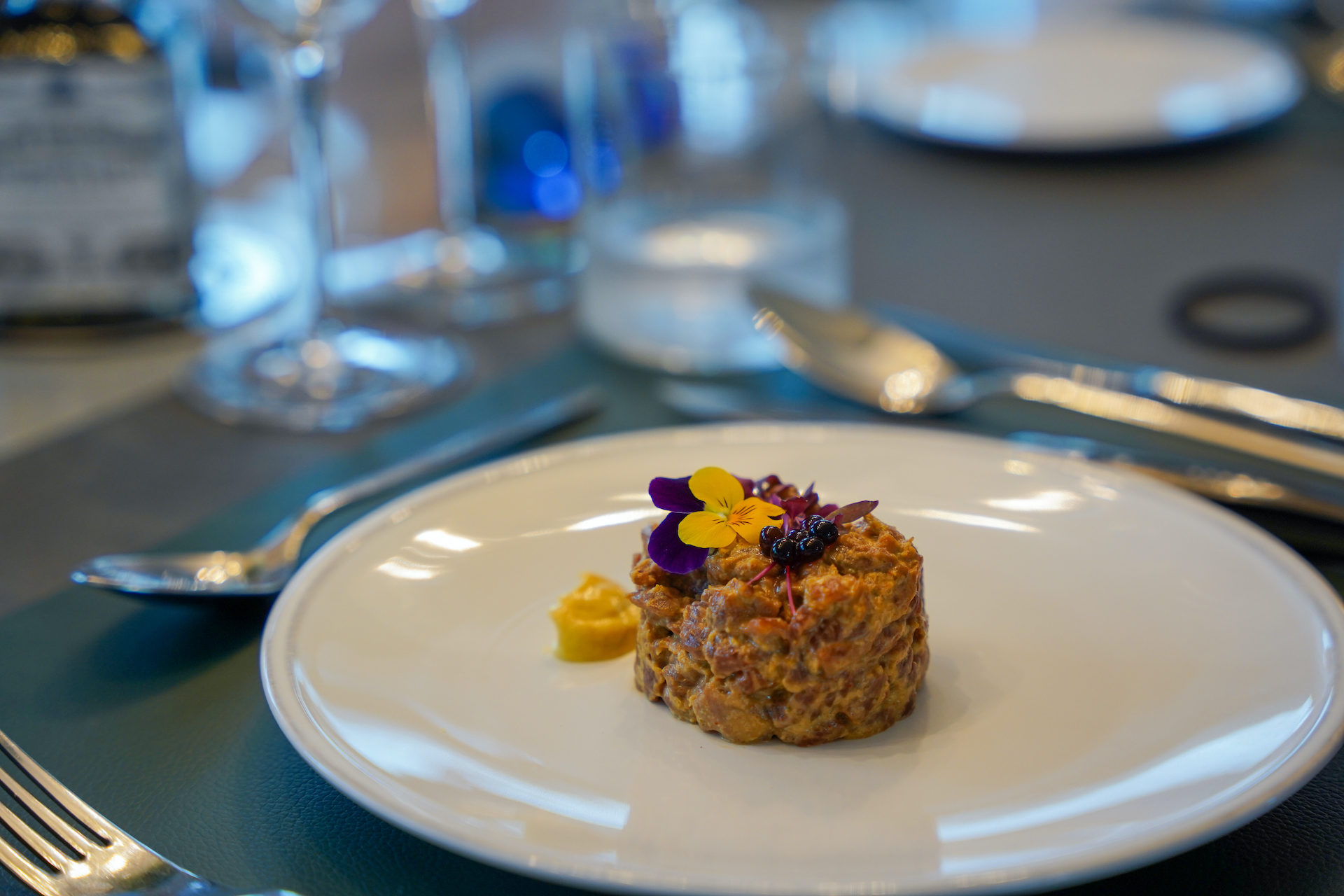 Beef tenderloin a la tartare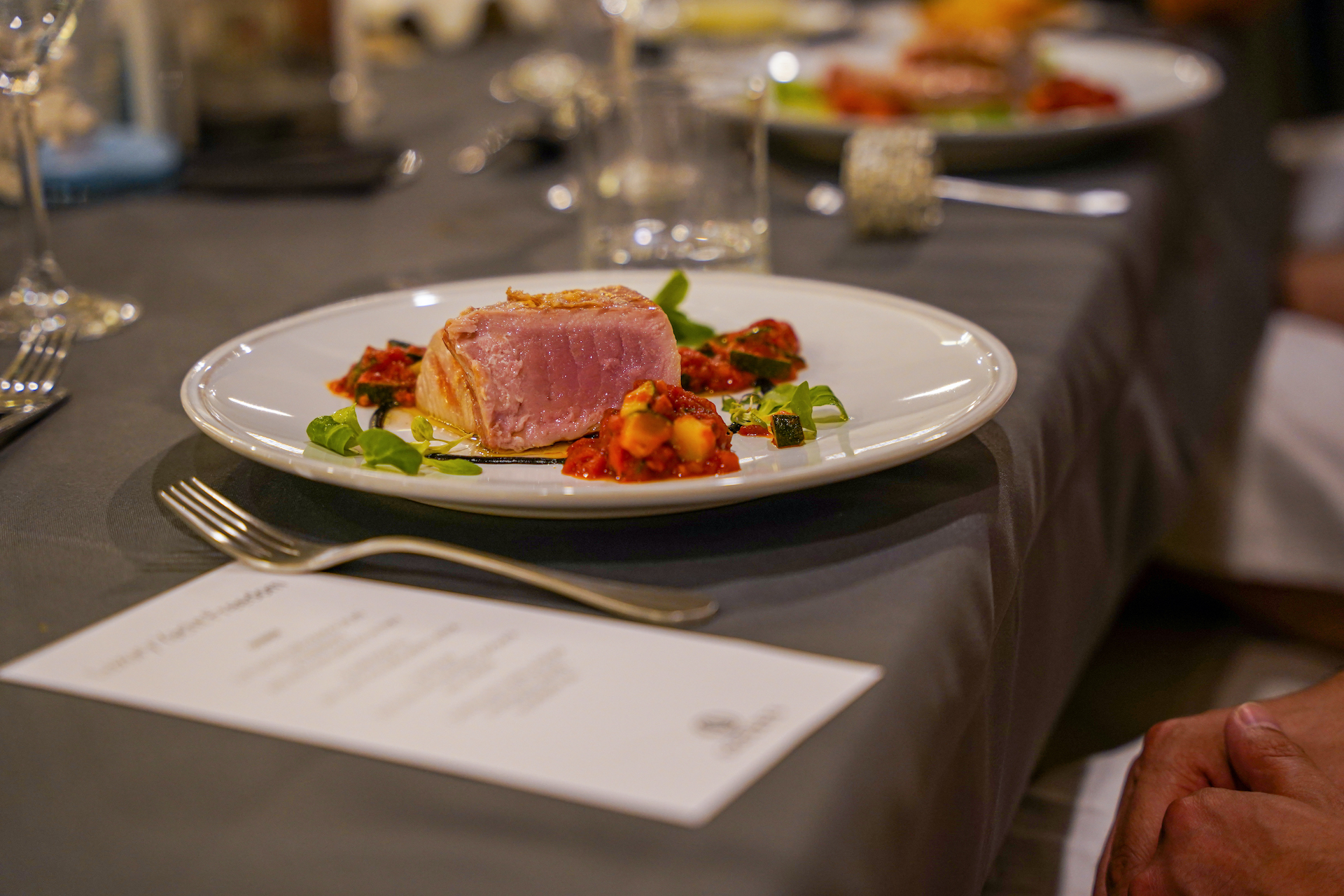 Tuna steak, zucchini and tomatoes Caponata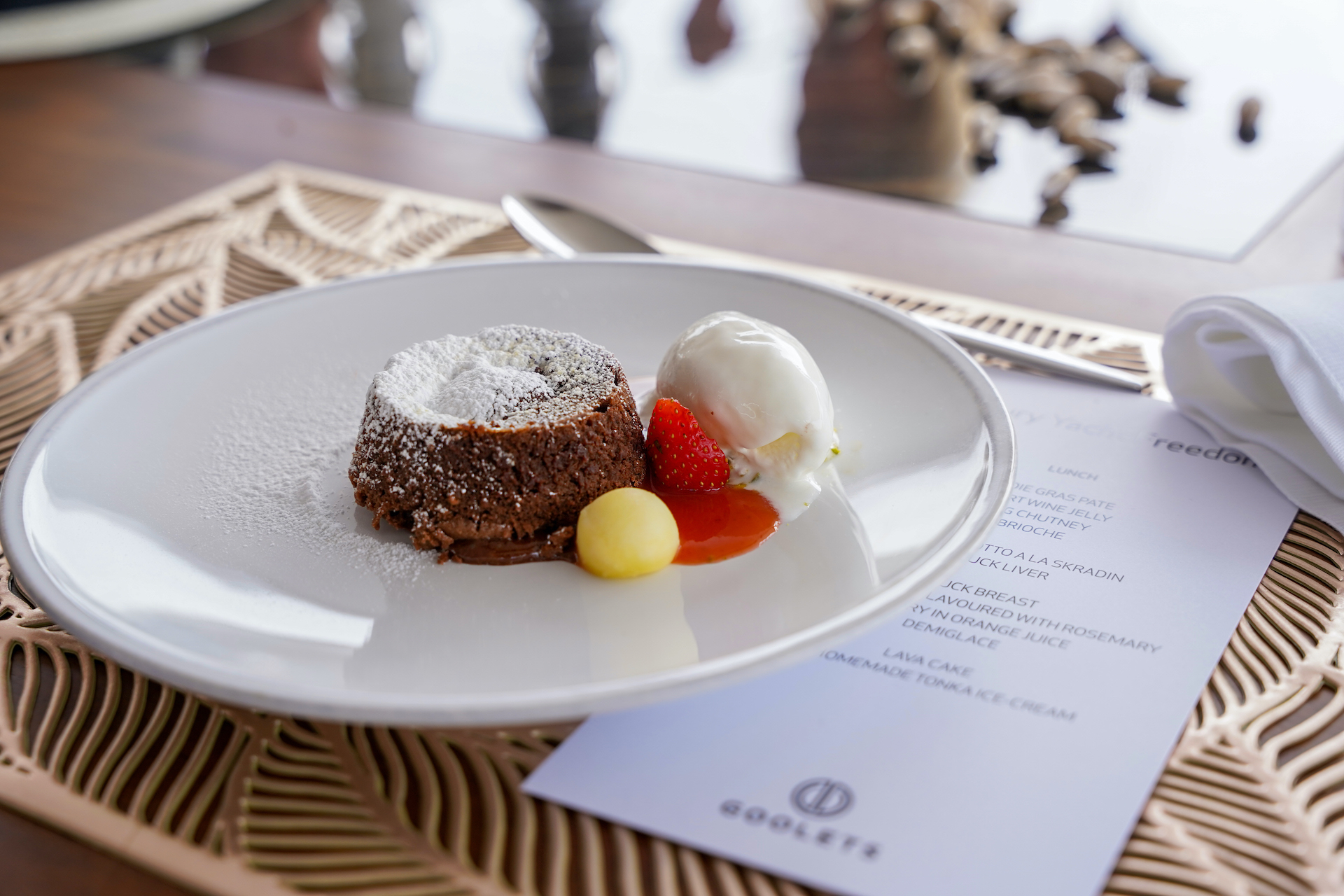 Lava cake with home made ice cream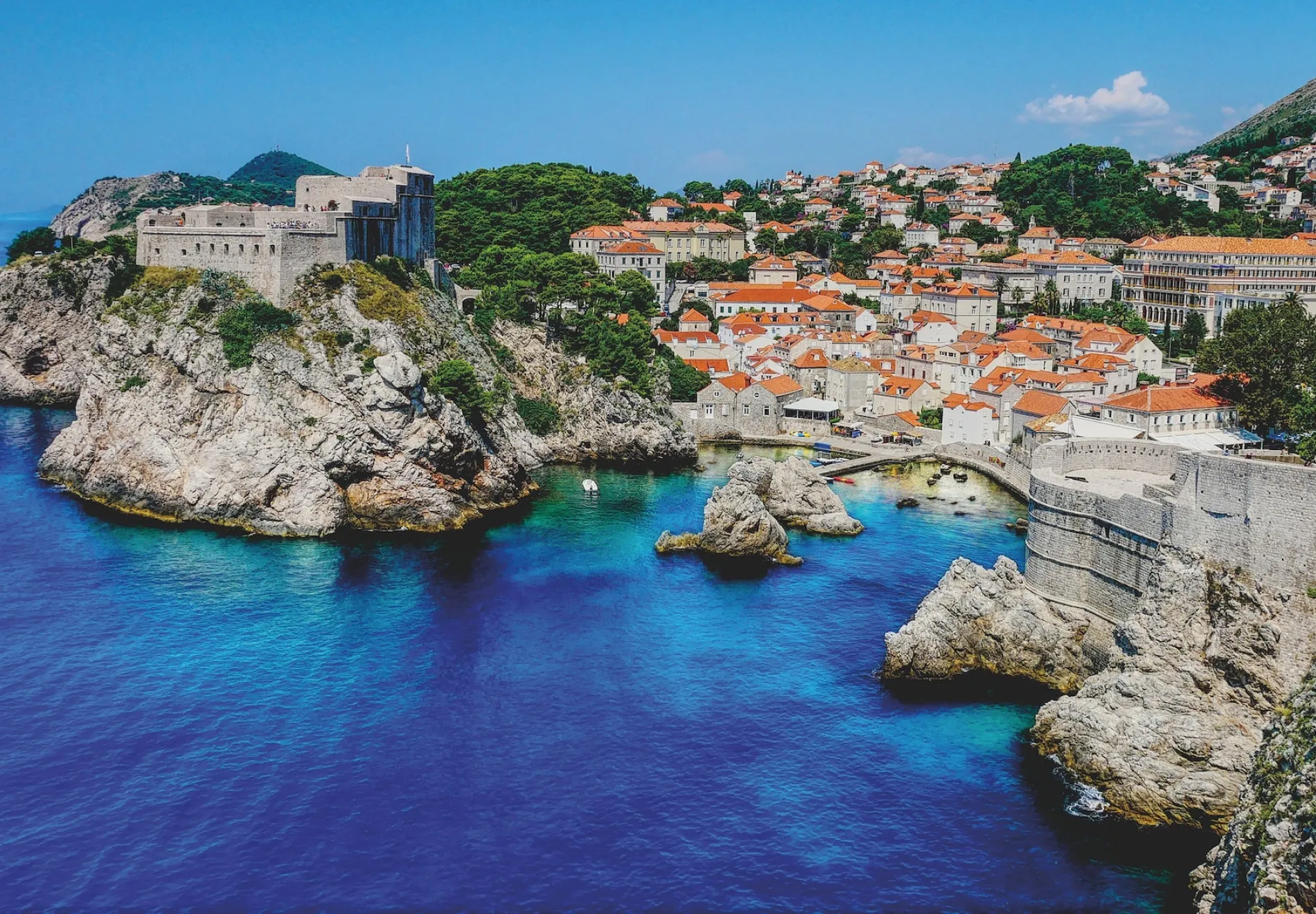 Location, location, location
In the last couple of years, Croatia became the »hot spot« and a »place to be«. With its 1,200 islands laying on the beautiful turquoise Adriatic sea and being much more affordable than France, Italy, and Greece became the perfect destination for Super Yachts and Mega Yachts.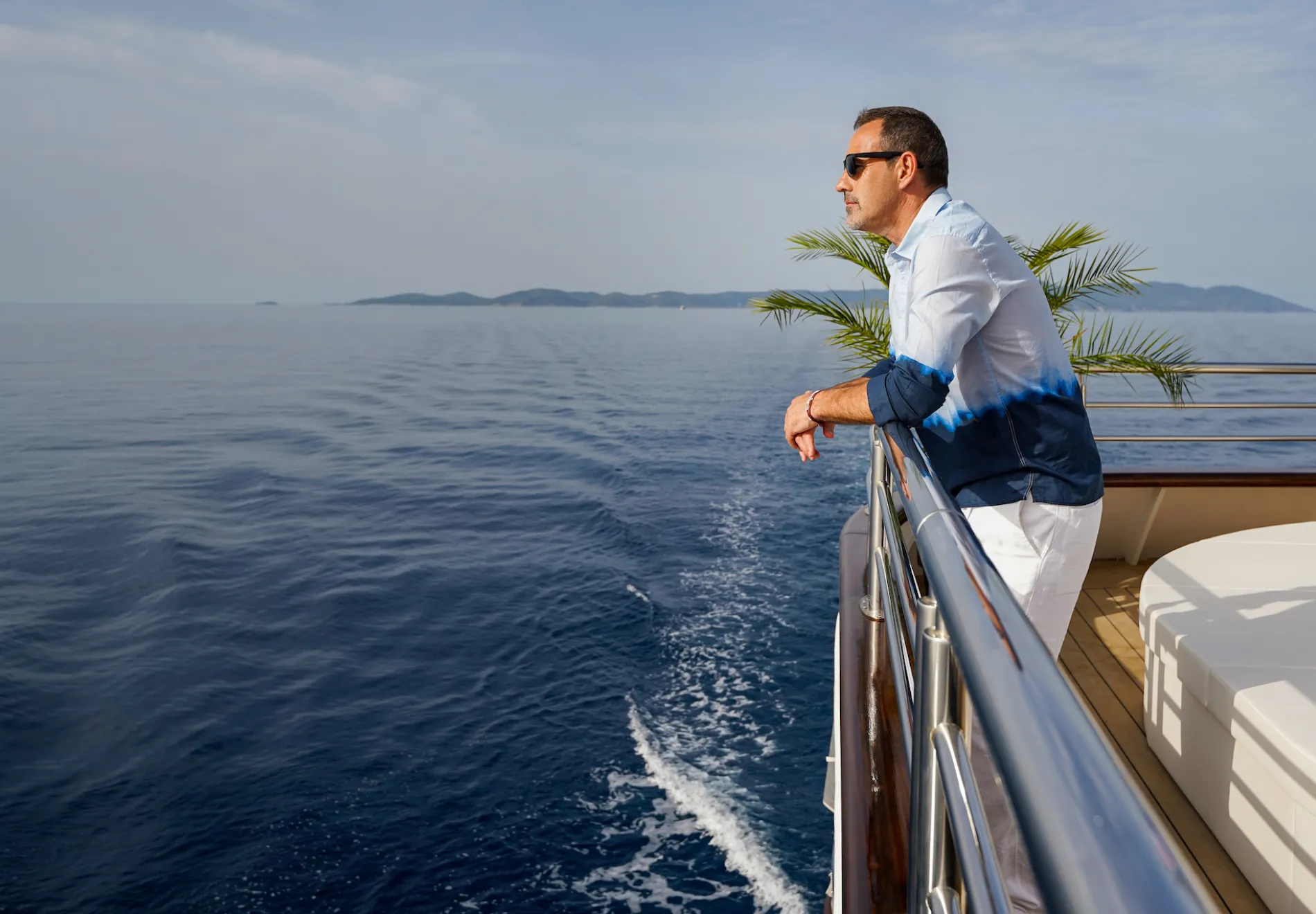 Why choosing the »Goolets experience«
Charting on a yacht like Freedom is something different and very special. Besides her beauty, the added amenities, and the crew, the overall experience with Goolets is what it makes it unique. We are in touch with the clients from the moment they contact us, to the moment they get back home. By being in such close communication, we learn about their likes and dislikes, wishes, the »yes's« and »no's«, the »must's« and the »hell no's«. This way, we can create a truly personal and memorable charter experience.
How it works:
After we learn what type of group you are or what is the occasion (friends, family, celebration, team building, special event,...), we recommend the type of vessel that is suitable for you.
Based on that and on what activities would you like to do, we suggest a specific route and stops.
We communicate your dietary wishes to the chef onboard, so he can create a menu accordingly
Besides your personal concierge onboard, our customer support team is available 24/7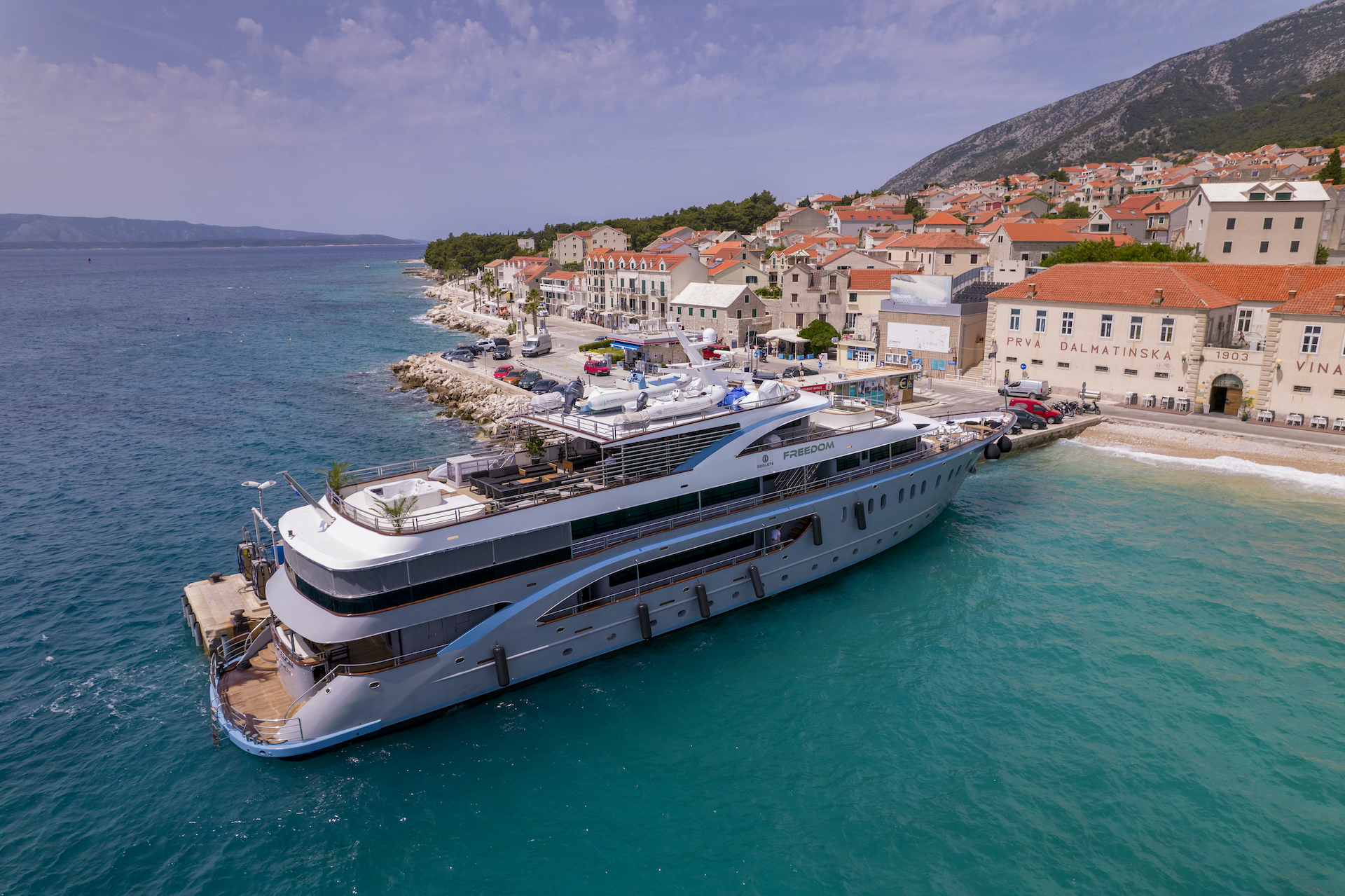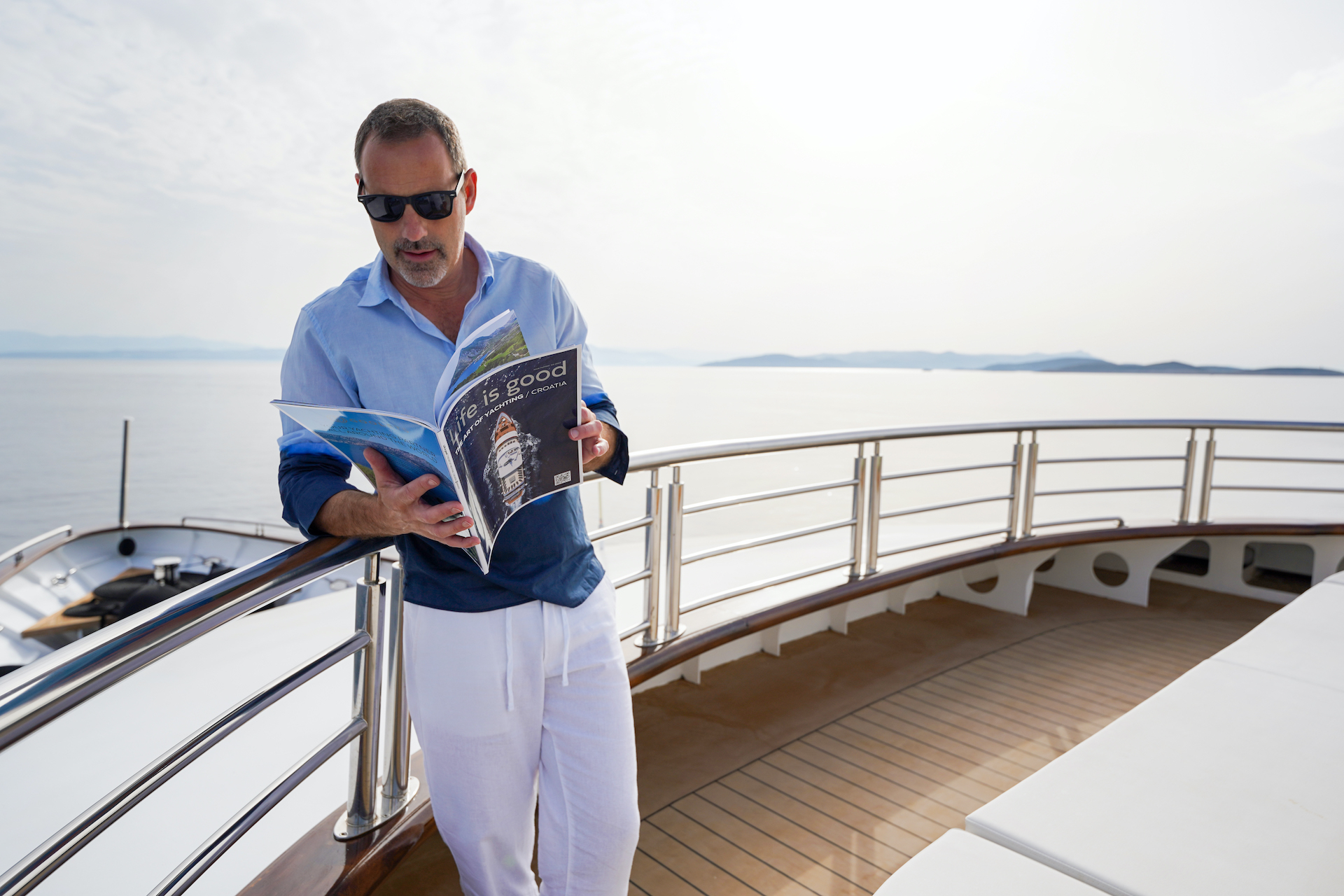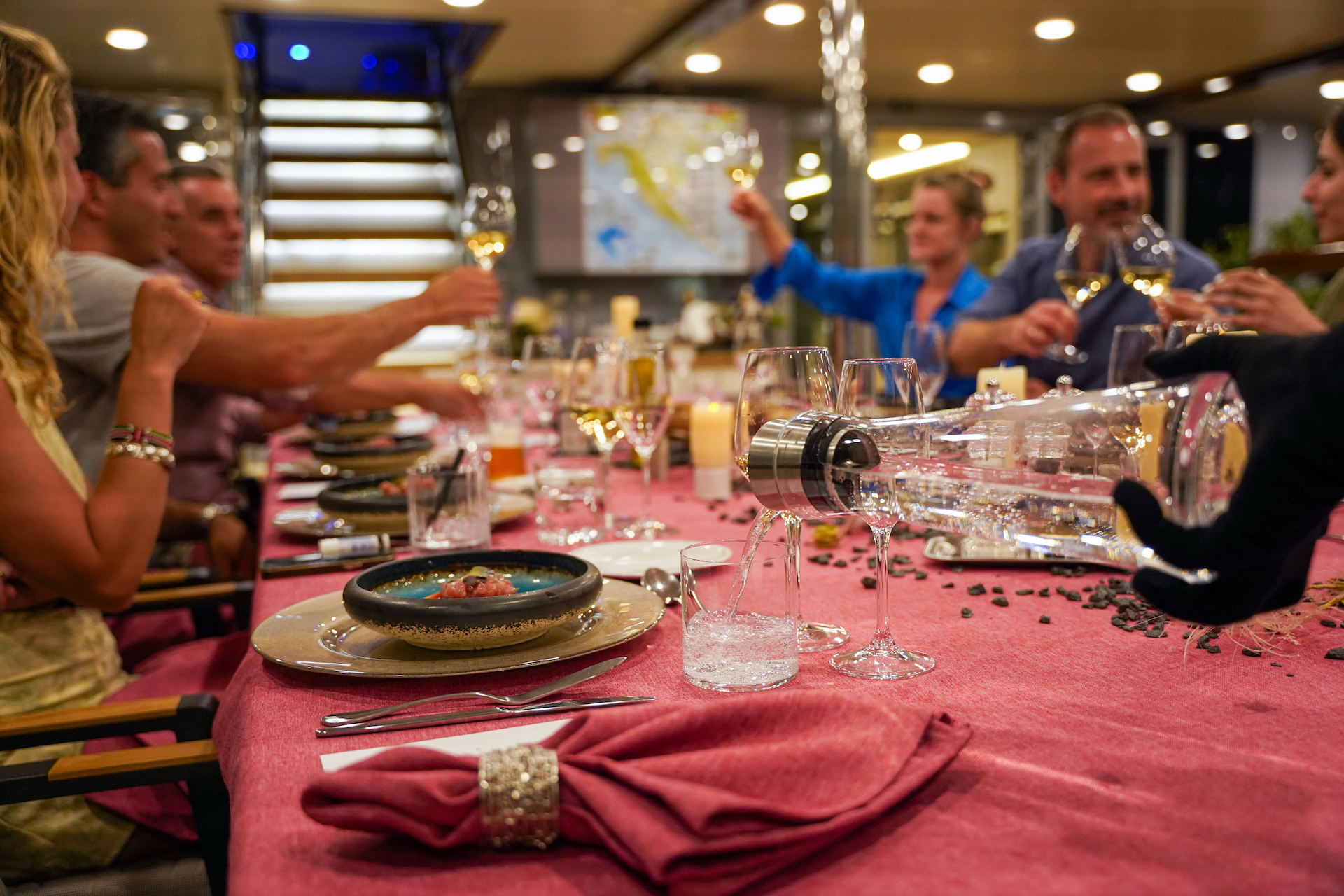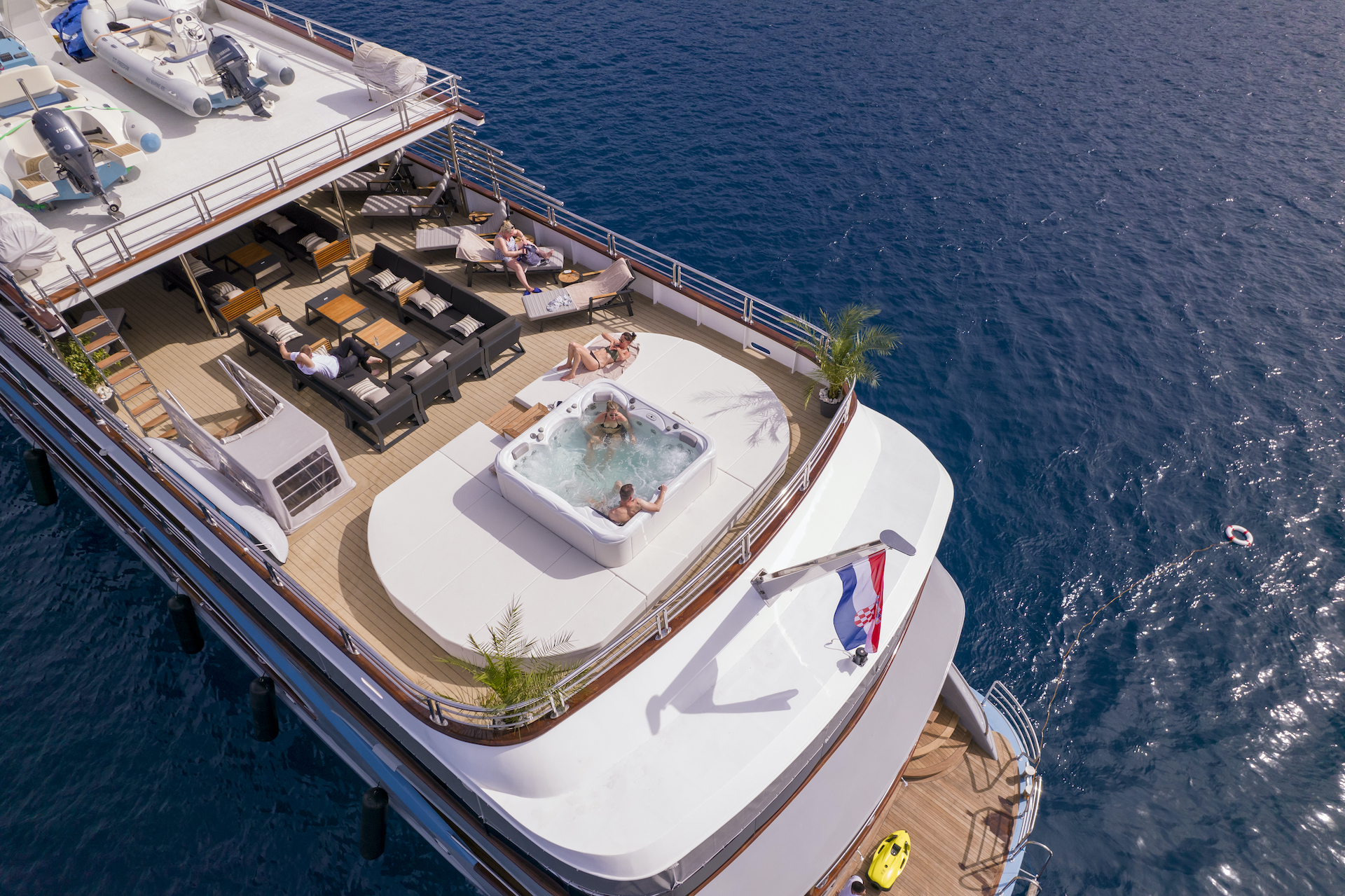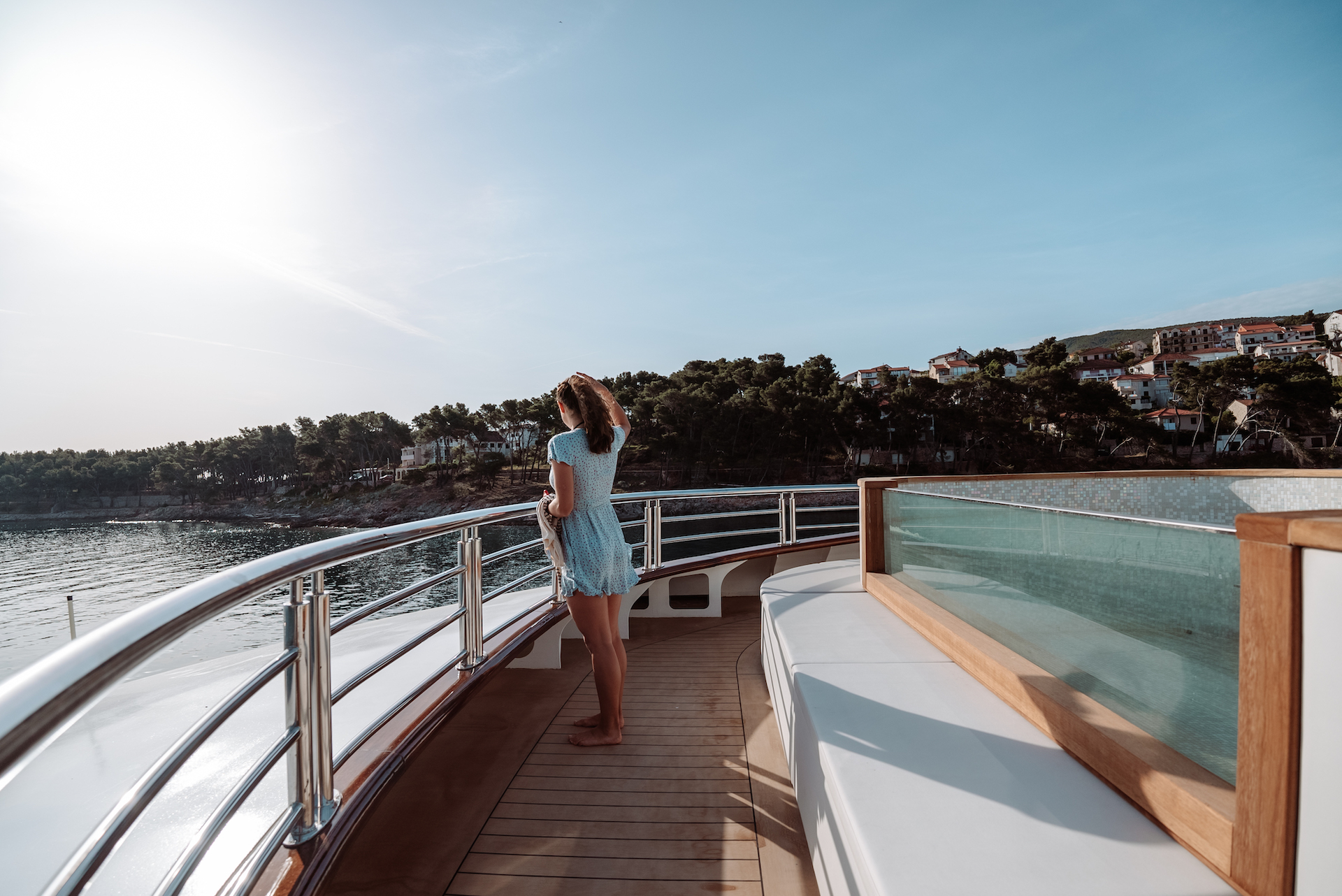 Enjoying a beautiful sunset