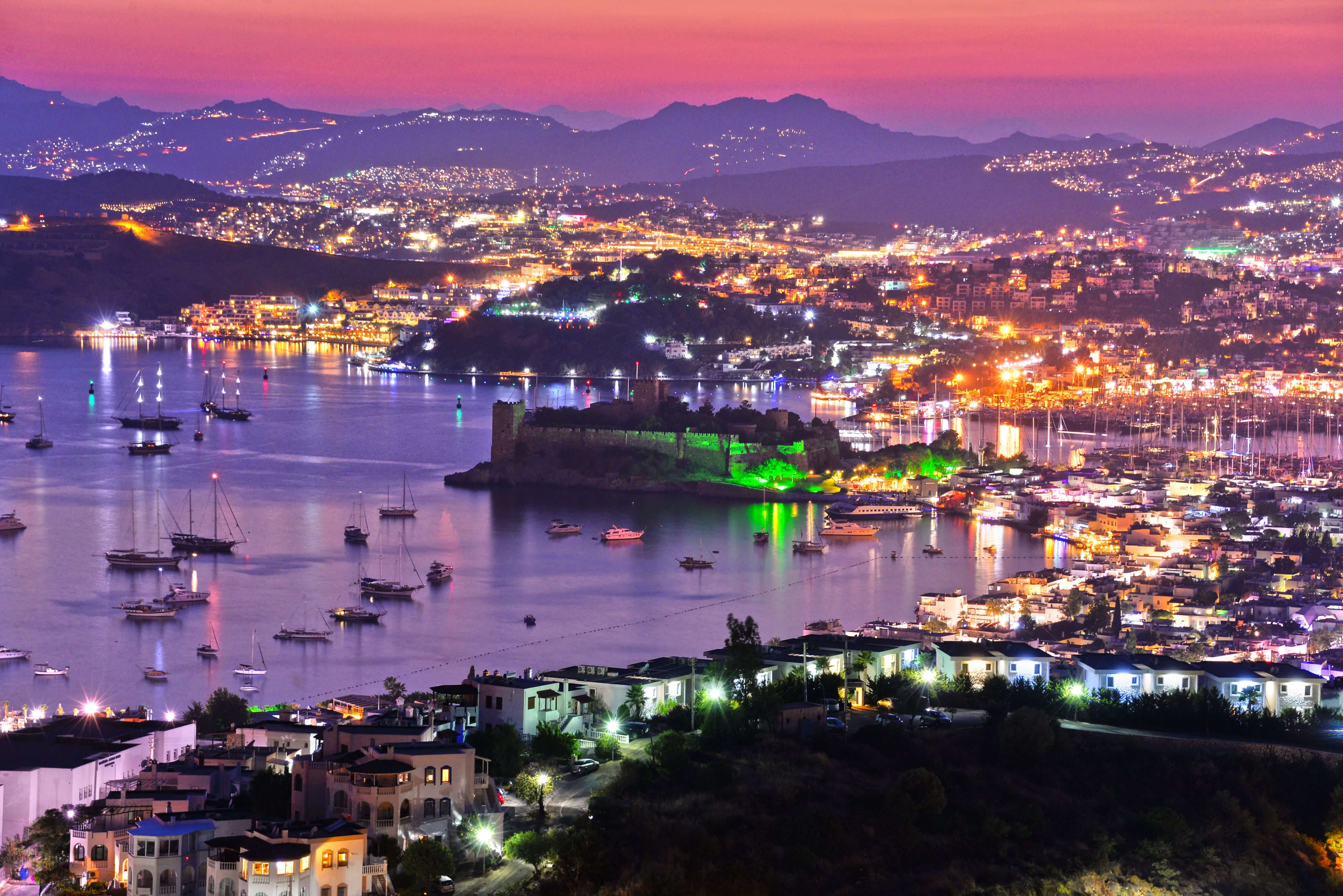 One of the most amazing Bodrum Cruises Route
Bodrum is the heart of gulet cruises and Bodrum cruises Route is maybe the most popular one of all cruises in Turkey. You can find hundreds of gulets there and several different ways to cruise there. You can have Turkey charter gulet cruise, which means you rent an entire gulet for you and your friends only. Or you can only rent a cabin and join other people on board.
If you wish to have the best possible gulet experience I would recommend you more to find a group of people and experience Bodrum cruises in the privacy of your own group.
Here is the most popular route when it comes to Bodrum Cruises!
Day 1: Bodrum
Embarkation to the gulet at the afternoon in Bodrum.
Gulf of Gokova is the place where the origin of " blue voyage " comes from. In this large gulf, especially in its southern coasts, there lie many small paradise bays which are like shelters against strong winds with huge pine forests surrounding them.
Bodrum has a historic city that goes back to the 12th century B.C. The city which was called" Halicarnassus" was the birthplace of Herodotus; the " Father of History" who has lived in the 5th century B.C.
Also nowadays Bodrum is the heart of Turkey when it comes to Nightlife on 1 hand while interesting history also gives you huge possibilities for historical land trips.
Day 2: Orak island and Çökertme
Our first stop is the Orak island one of the Gulf's large islands best known for its rich sea life and crystal clear water. Due to this fact alone it is a perfect site for snorkelling and swimming.
This is also a good time to relax onboard, read a book, get some tan or stay active and use some watersports. After lunch and swimming or diving break in crystal-blue waters of Orak Island, the captain will hoist the sail to Çökertme; a small fishing town, where you can enjoy a short walk in its infinite-blue shores.
Delicious dinner will be served on board by your personal chef who will make sure you are 100% satisfied.
Day 3: Seven islands, Uzun Liman (Long -Port)
Right after breakfast in the early morning comes sailing to Seven Islands. In the region you will see many small islands close to each other and is recommended that you should dive here, swim, sleep and get the best rest.
Our guests can also enjoy a walk in the forests surrounded by pine trees. Our 1st stop in Seven Islands Region will be Kufre Bay.
We will be docking at Uzun Liman (Long -Port) before 5: oo p.m.( tea-time) and will enjoy the dinner and the night here.
Day 4: Tuzla Bay, Longoz Bay, and English port
After breakfast and a short sail, we will be docking to Tuzla Bay to enjoy a swim in its turquoise- blue waters. Morning swimmings will become one of your daily activities.
For lunch; our captain will hoist the sail to Longoz Bay; another paradise, sheltered with huge pine forests. After lunch you can enjoy a short walk in the forest and take a rest in Ali Baba"s local cafe.
Then comes sailing to English Port for the next dinner and the night stay. The name English Port comes from the 2nd World War; as the ships of English Navy -forces were docking here.
Day 5: Sedir and Cleopatra beach
Sailing to Sedir( Kedare) island. This unique island with its small beach and unbelievably clear water is like an open-air museum.
Cleopatra beach, which is located on this island has a very special kind of sand that can be found only in the deserts of Northern Africa and is not allowed to take even a small amount of this sand out of the island.
Then our boat will be sailing to Karacasogut village for dinner and the night.
Day 6: Kargili Bay, Kibuku
We will engine to start Kargili Bay in the early morning. Breakfast is served on the way.
We will be docking to Kibuku(Ulukisla) for a swimming break after lunch there you will see the Byzantine ruins.
We will spend dinner and the night in Kibuku, too.
Day 7: Pabucburnu, Yaliciftlik Bay, Bodrum
Sailing to Pabucburnu after breakfast and a short swimming break here.
Then docking to Yaliciftlik Bay after lunch, and for those who wish to take a village tour from here can enjoy the village.
Then our boat will be sailing back to Bodrum Port for the last day's dinner and the night stay in beautiful peaceful port.
You will check out after breakfast and take all your unforgettable and very enjoyable memories with you.
Our gulet recommendations departing from Bodrum region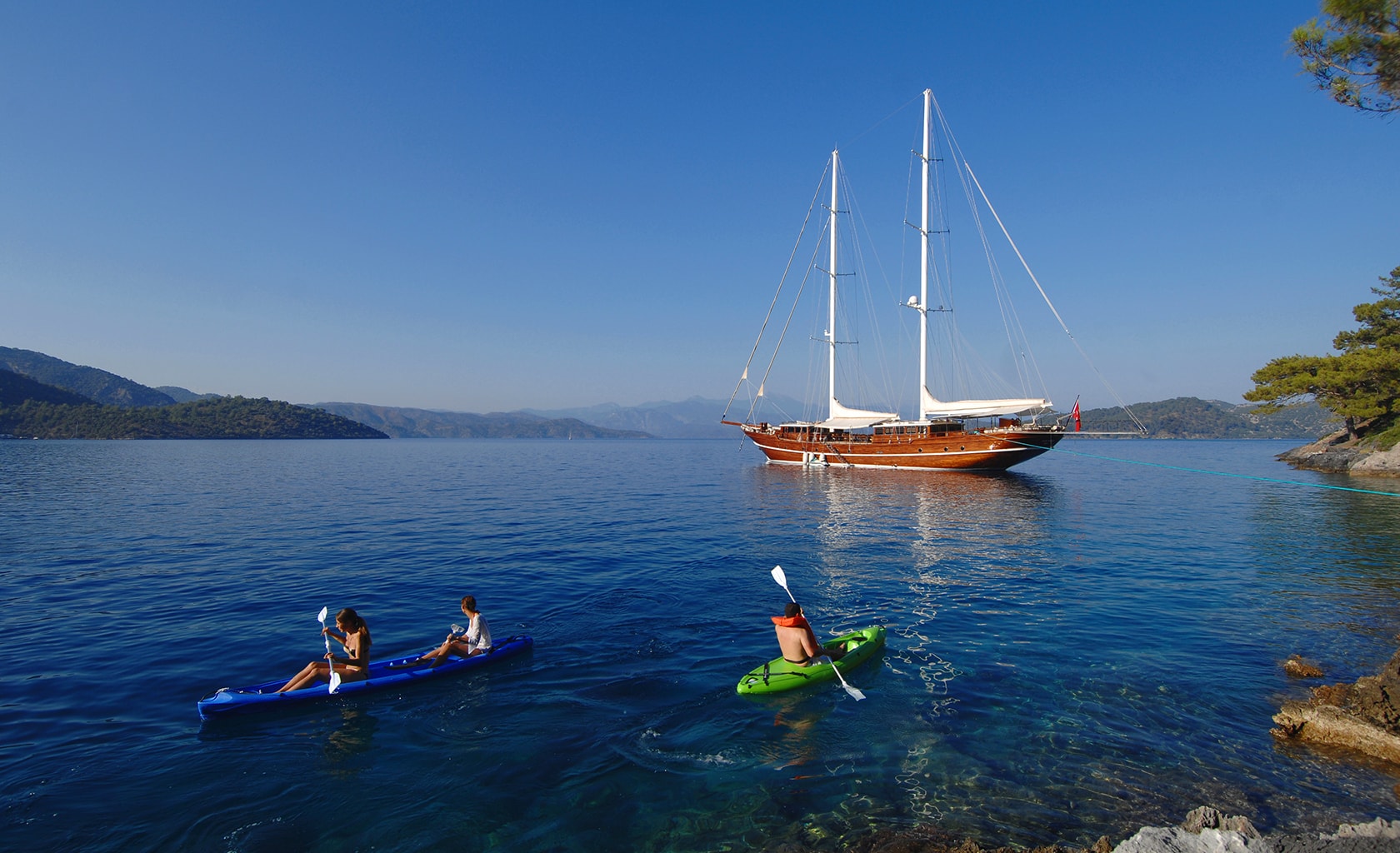 Mare Nostrum: Super-sized traditional wooden gulet with the intention of raising the standards of on-water luxury in Turkey.
Learn more about Mare Nostrum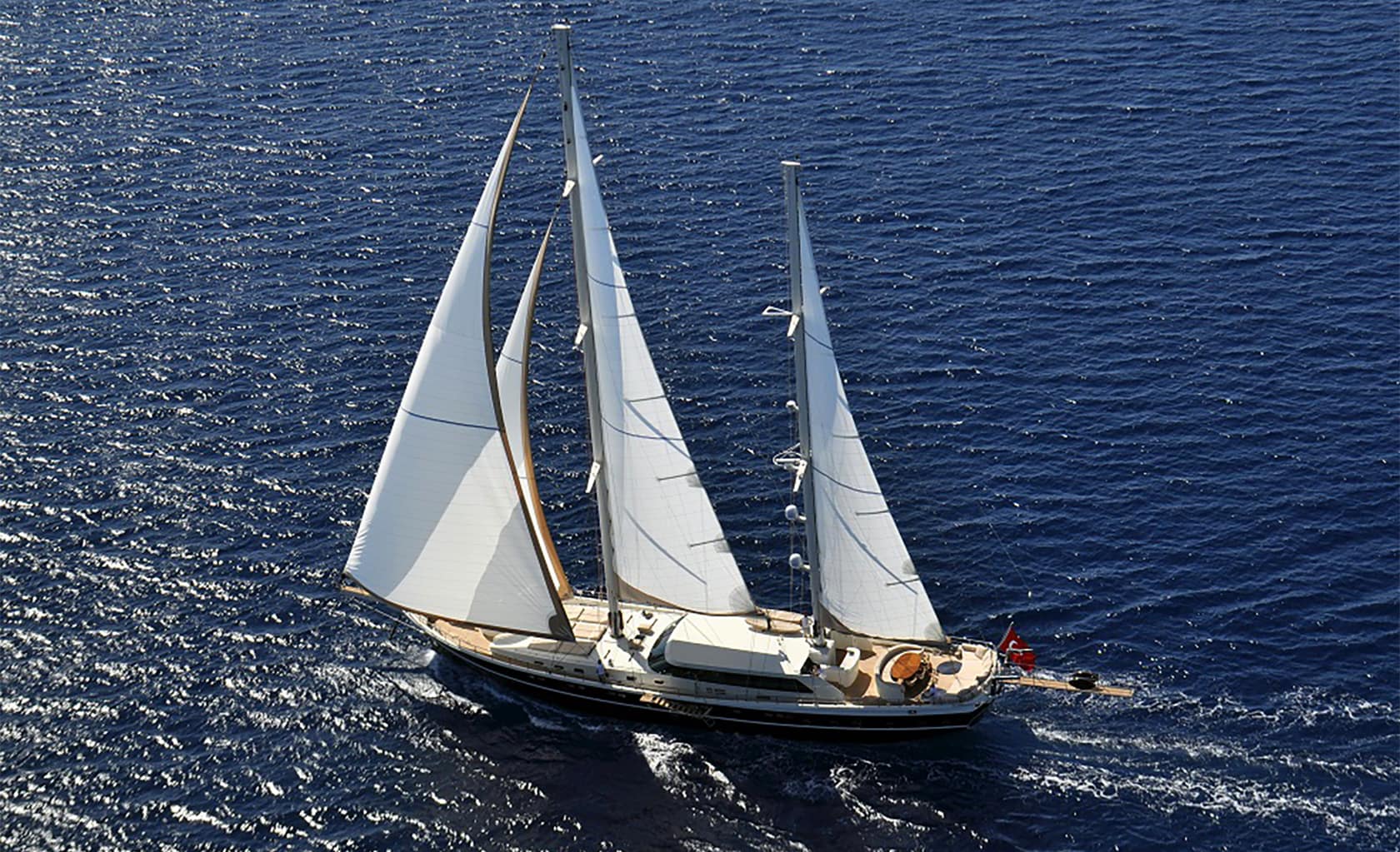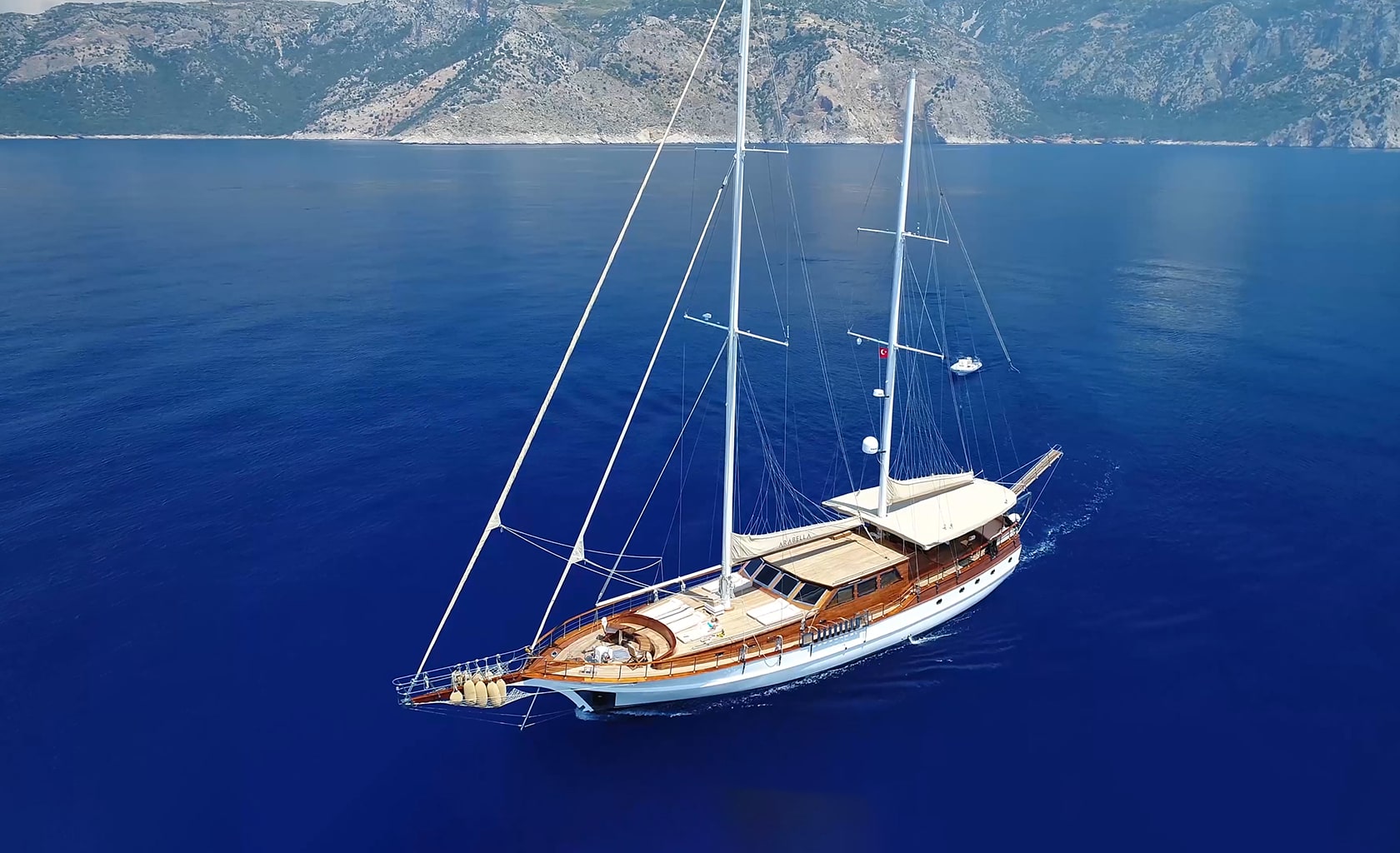 Arabella: High-quality structured gulet has luxurious decor and the crew is fully focused on your satisfaction.
Learn more about Arabella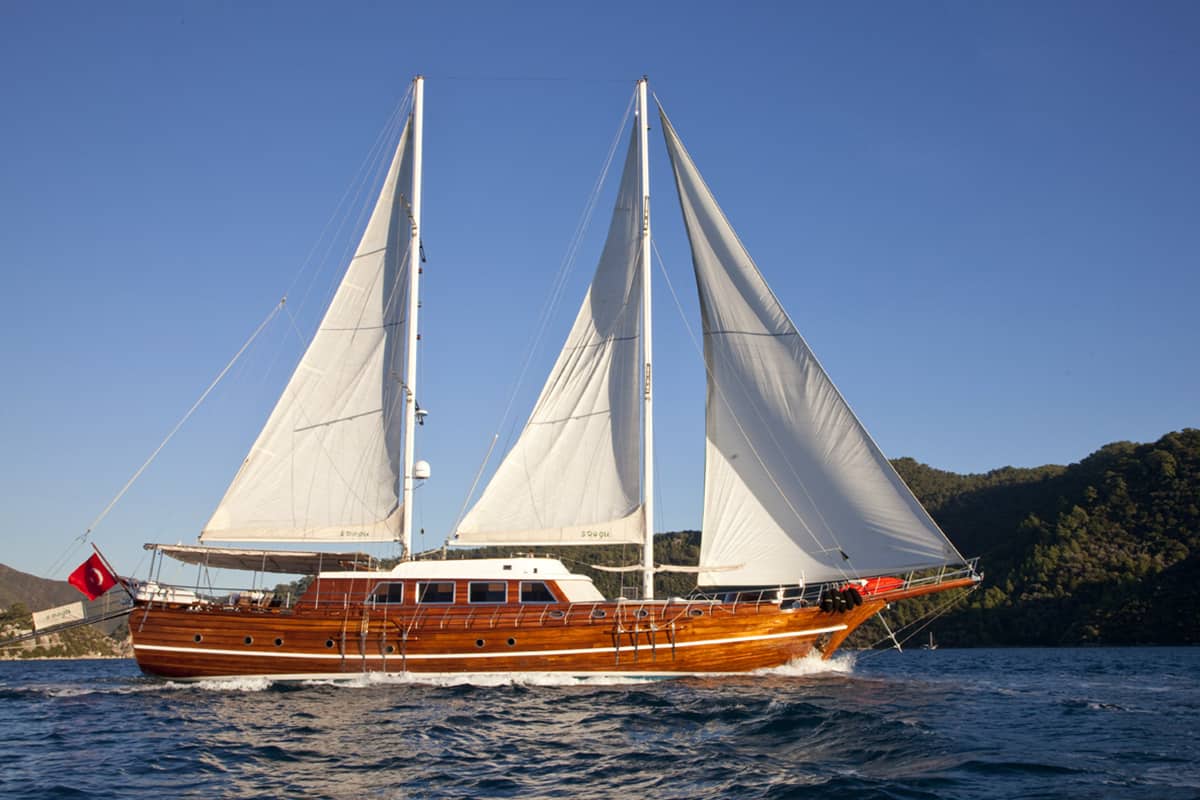 S Dogu: This gulet will provide you with lots of comforts, jacuzzi on the flybridge and spacious salon.