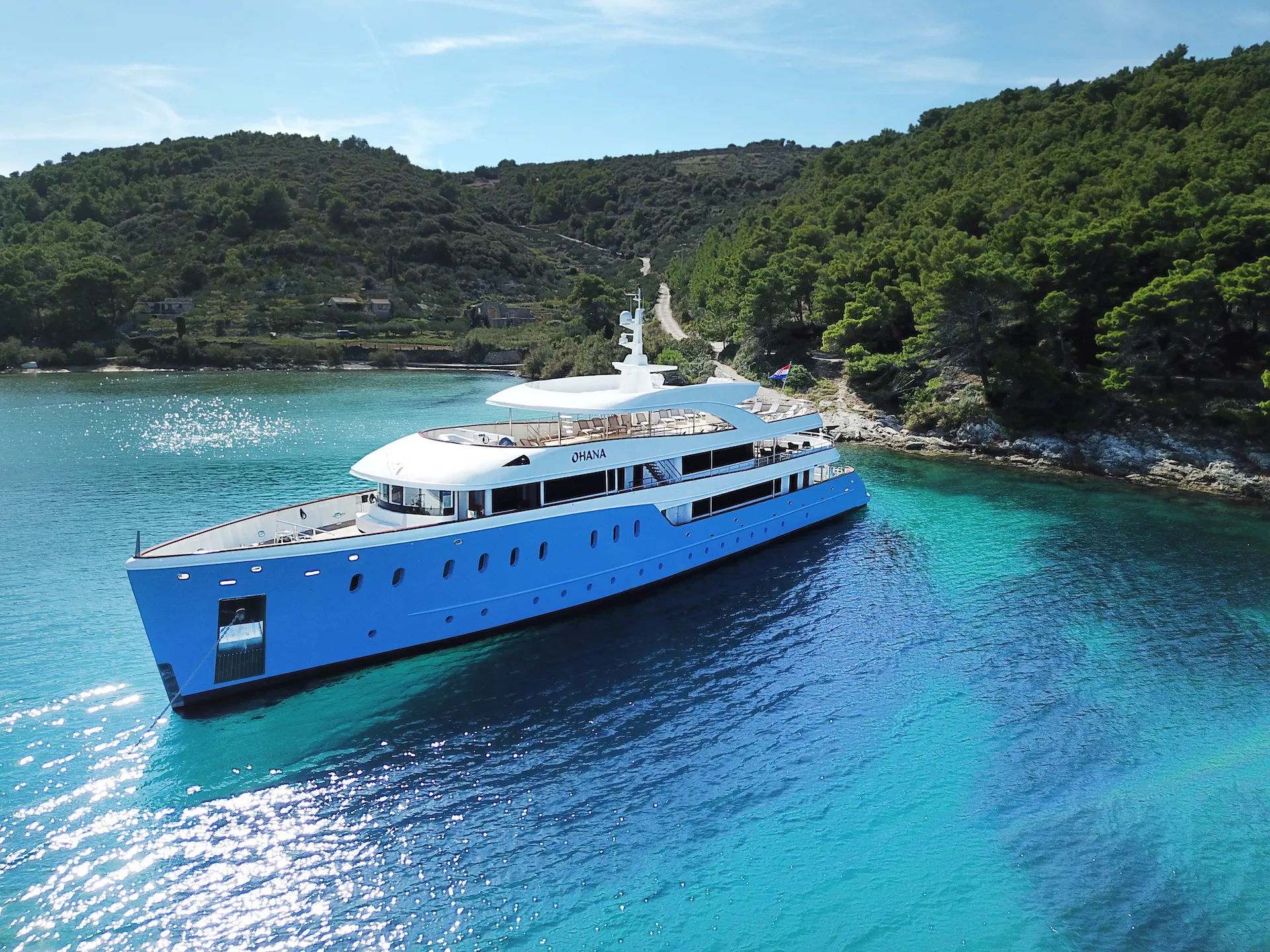 Incentive yacht charters in Croatia: The Perfect Way to Reward Your Team
Incentive yacht charters in Croatia can be a great way to reward and motivate employees, business partners, or customers. Not only it is a unique and memorable experience itself, but to do it in one of the most beautiful locations in the world makes it so special.
If you are not sure which yacht, or route to pick, just fill out this form, and our yacht charter expert will help you plan every little detail.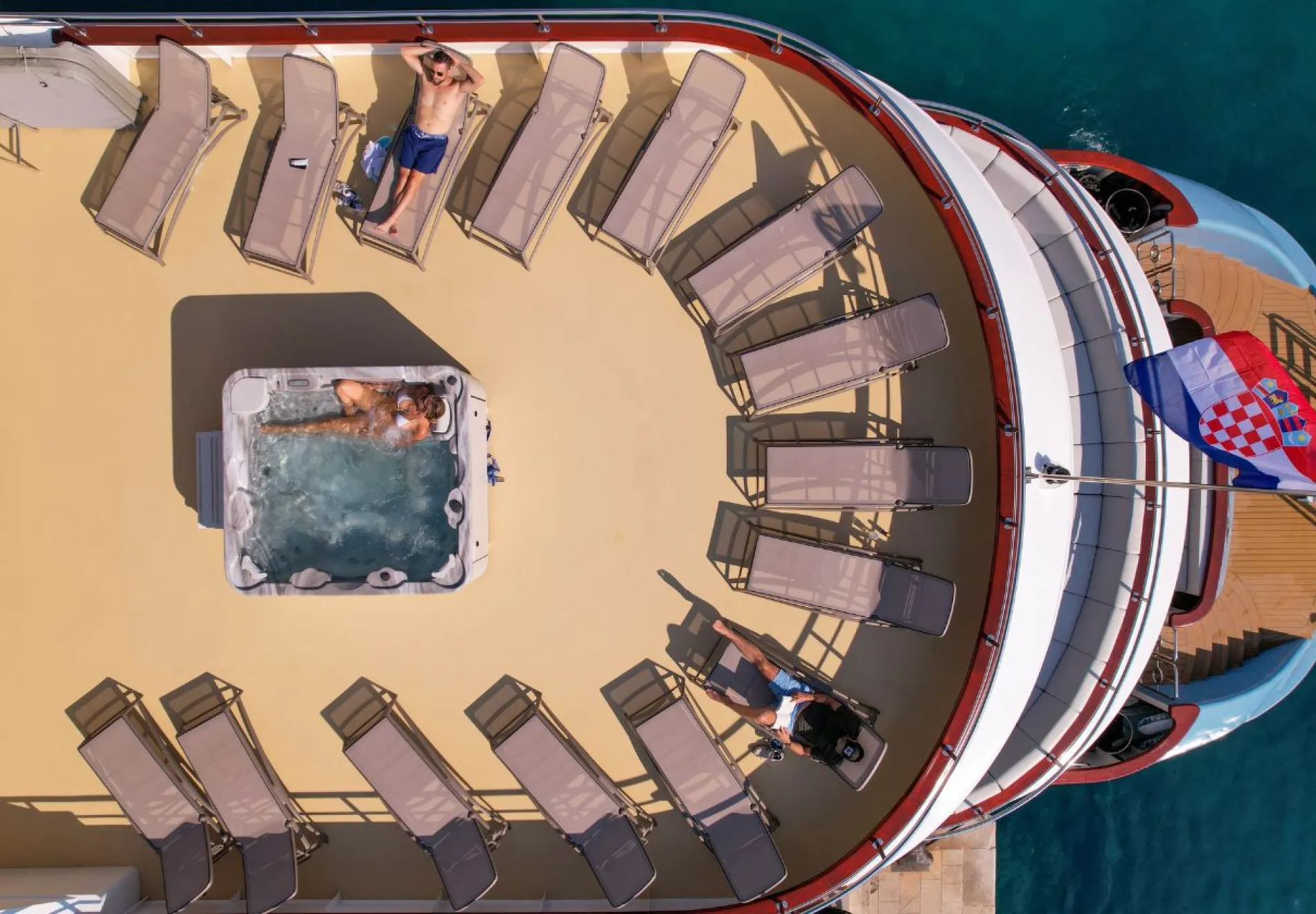 Connect through a team-building on a yacht
One of the key advantages of incentive yacht charters is the exclusivity and privacy that they offer. Everybody onboard has the opportunity for bonding in a relaxed way or taking part in exciting activities. Depending on the guests' preferences, kayaking, snorkeling or sightseeing can be incorporated into the itinerary. Through team building activities onboard, the group can learn more about each other and strengthen their relationships, which ultimately benefits your company.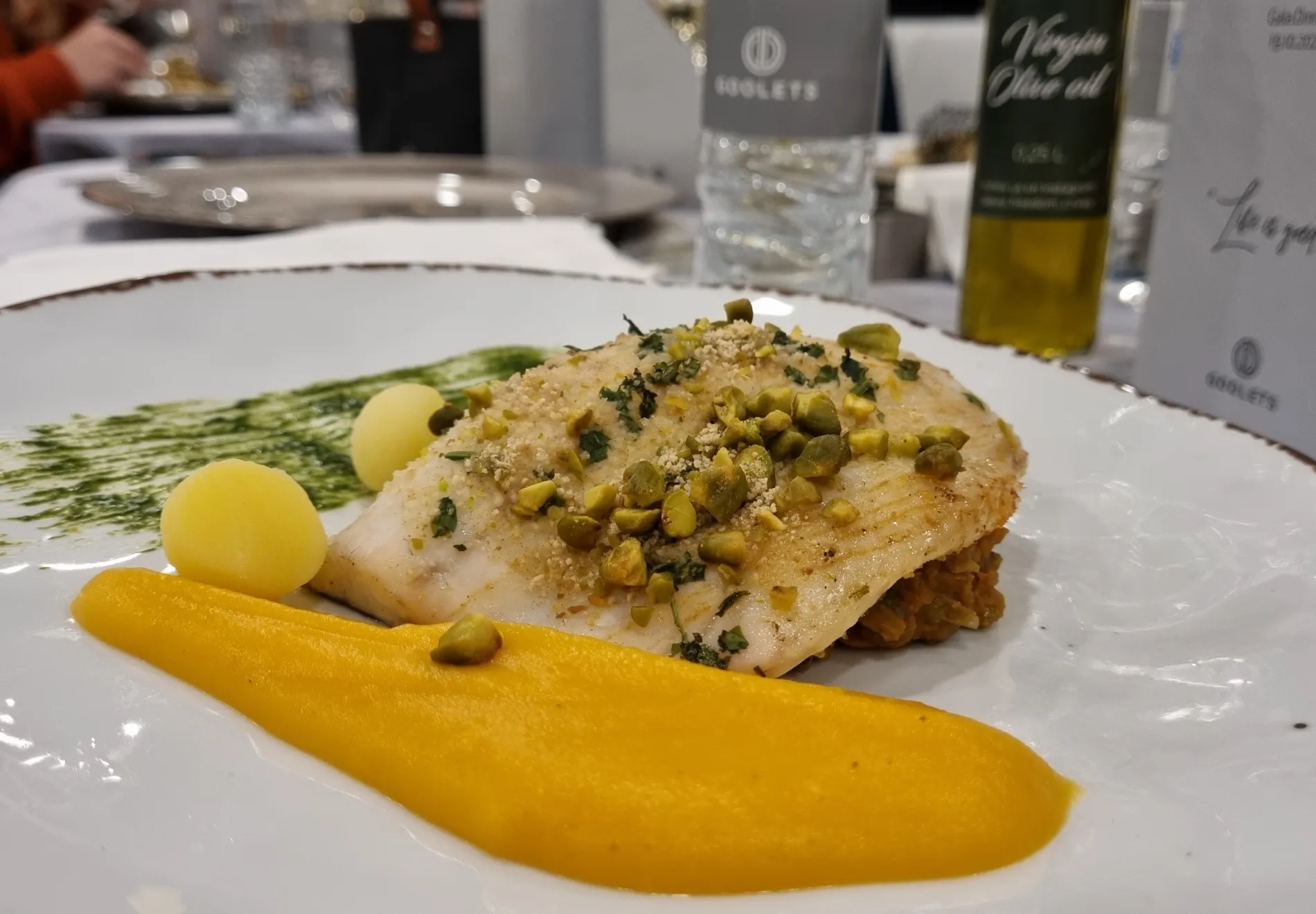 Bond over gourmet meals
Besides different types of activities, another great way to bond with teammates or business partners is over a delicious meal. Large dining tables allow everybody to sit and enjoy their meals together in an intimate environment. The private chef onboard prepares exquisite dishes, using the freshest local ingredients, and always keeping in mind the guests' dietary preferences.
Why Croatia is the ideal destination for an incentive cruise
Croatia's spectacular coastline, myriad thousands of islands, islets, and pristine nature are the ideal setting for everybody to connect in the most relaxed way. The turquoise Adriatic Sea is perfect for all kinds of water activities, or just a refreshing swim. Depending on the group's preferences, wine tasting can be arranged onboard or a guided tour on land can be planned ashore. Discovering Croatia's rich history and culture with your team can be a great way of strengthening relationships.
BEST YACHTS FOR AN INCENTIVE CRUISE IN CROATIA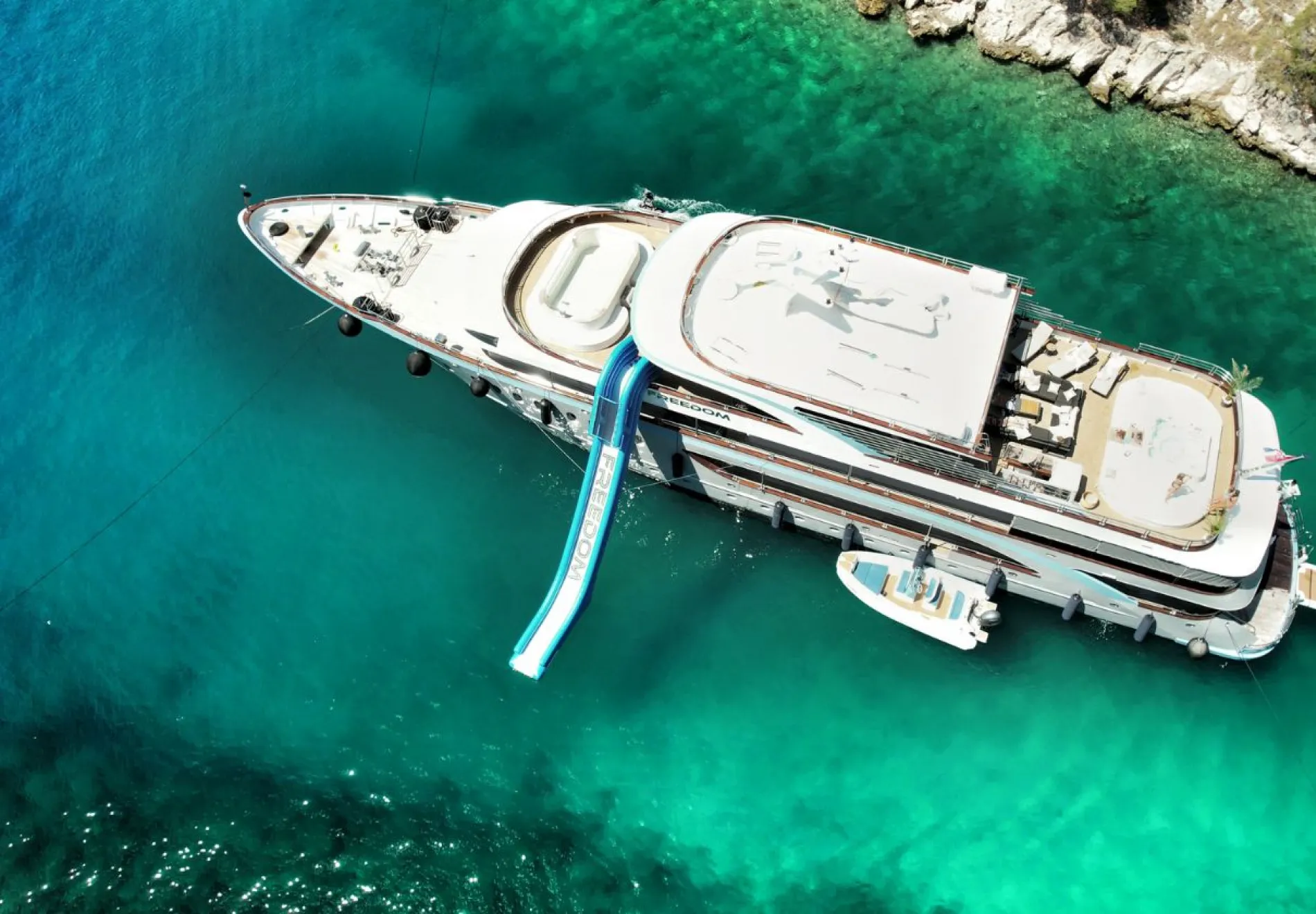 Freedom
Yacht Freedom is a one-of-a-kind luxury vessel. She is perfect for larger groups who are seeking a relaxed yet adventurous experience. She can accommodate up to 22 guests in 11 luxurious suites. The group can either relax in the spa, get a massage, take a dip in the jacuzzi on deck, get a workout at the gym, and/or watch a movie in the private theater/media room. A wide selection of water toys offers an exciting playground at sea. If the group has some foodies, they will definitely love the gourmet meals served during their voyage.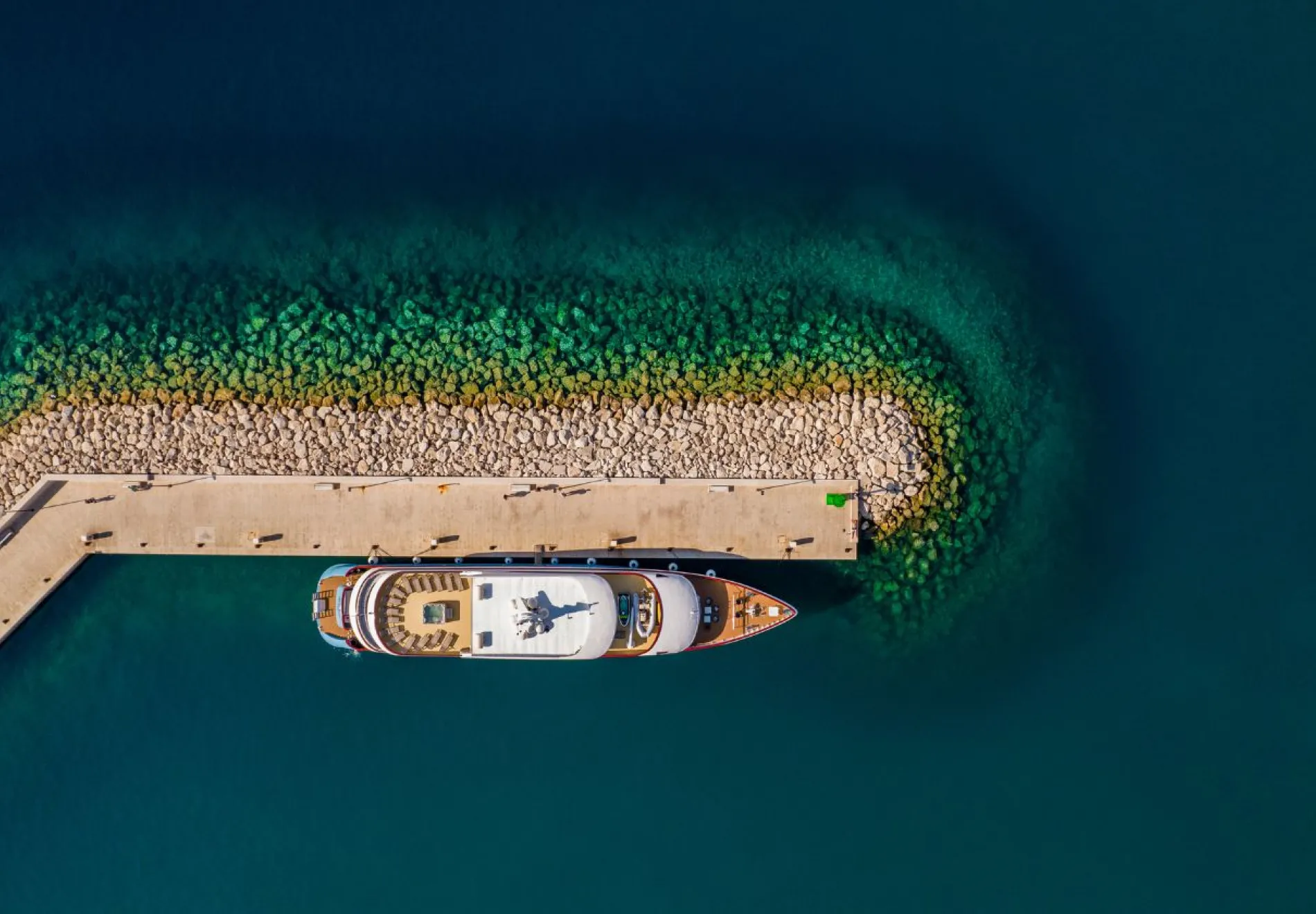 Ohana
Ohana is another amazing yacht for an incentive cruise. She can fit up to 30 guests in her 14 staterooms. Marble bathroom, spacious closets, and a salon that looks like a luxury hotel lobby will leave the guests speechless. There is also a fully-stocked bar and a piano inside that assure a fun evening. Her »zen« deck with a shaded lounge area, a cozy fireplace, and a jacuzzi are ideal for relaxing, networking, and watching the sunset. The highly attentive crew of 11 will ensure a smooth and carefree experience for everybody onboard.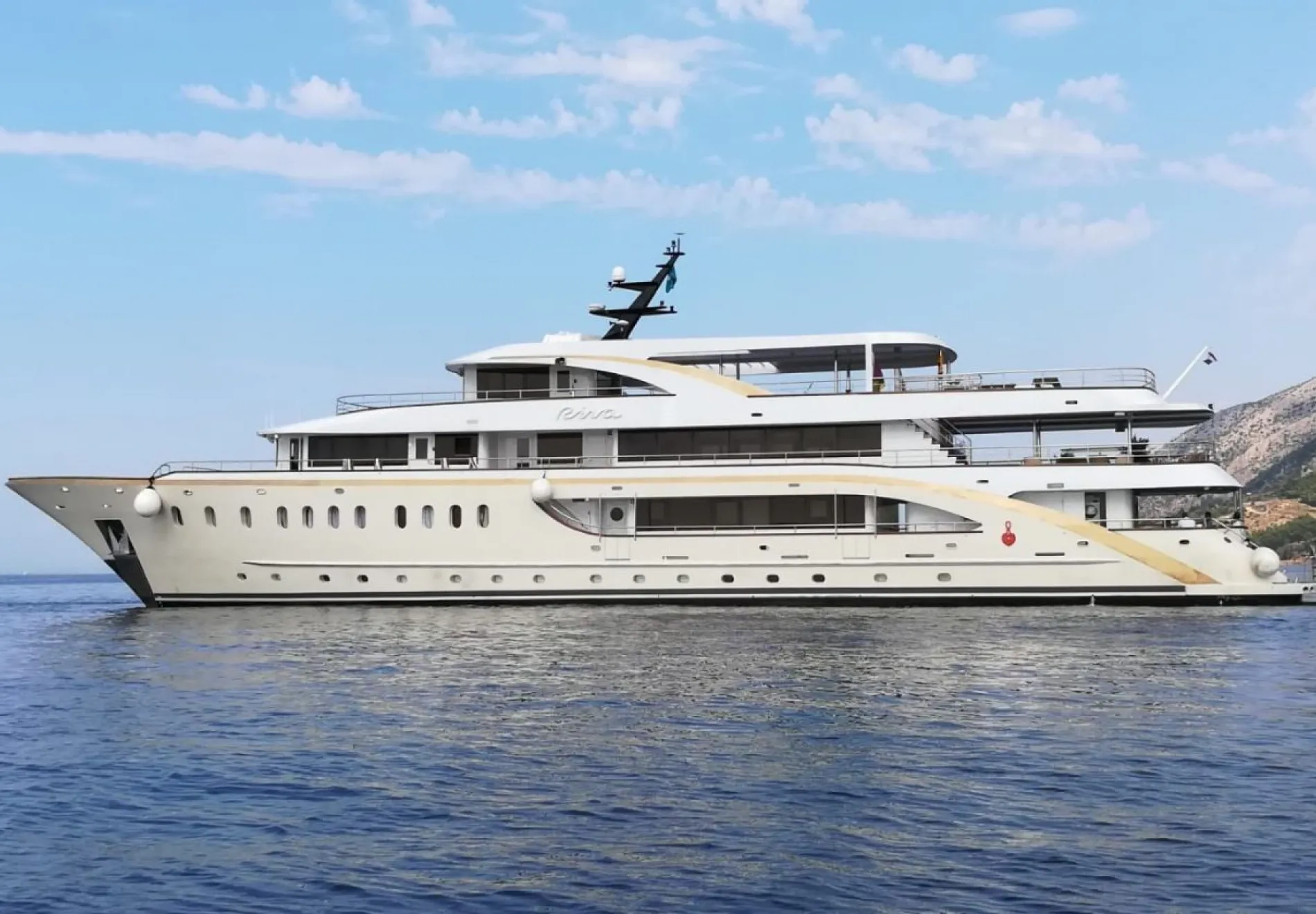 Riva
Riva is an elegant yacht that features the latest technology and best materials throughout. She has 18 cabins for up to 36 guests. Her self-regulating temperature system in all the cabins ensures the highest level of comfort at all times. You and your team will definitely enjoy her Bose sound system throughout the whole yacht. There are 30 sunchairs on the main deck, so everybody can get a suntan at the same time if they choose to. There is also a jacuzzi and an outdoor gym in case anyone wants to get a workout before a delicious dinner.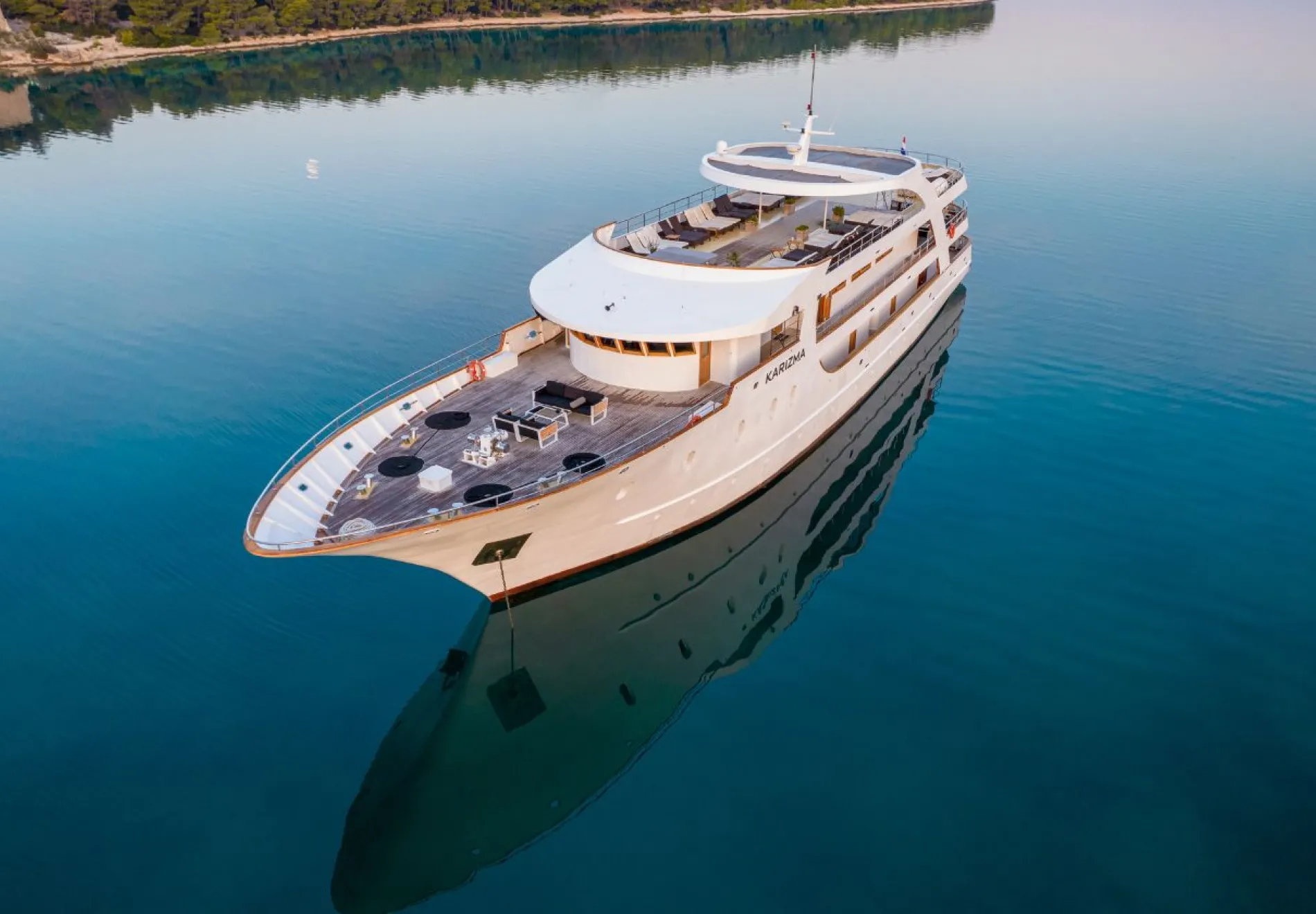 Karizma
Four spacious decks with sunchairs, a jacuzzi, and 18 tastefully designed en suite cabins offer plenty of space and entertainment for 36 guests. Karizma is a great value-for-money yacht that offers all the luxury amenities of a high-end hotel. Her owner also has his own winery and produces the best local wine in Croatia, which is paired with delicious meals onboard. Karizma is also packed with a wide selection of water toys, so an exciting incentive cruise is guaranteed.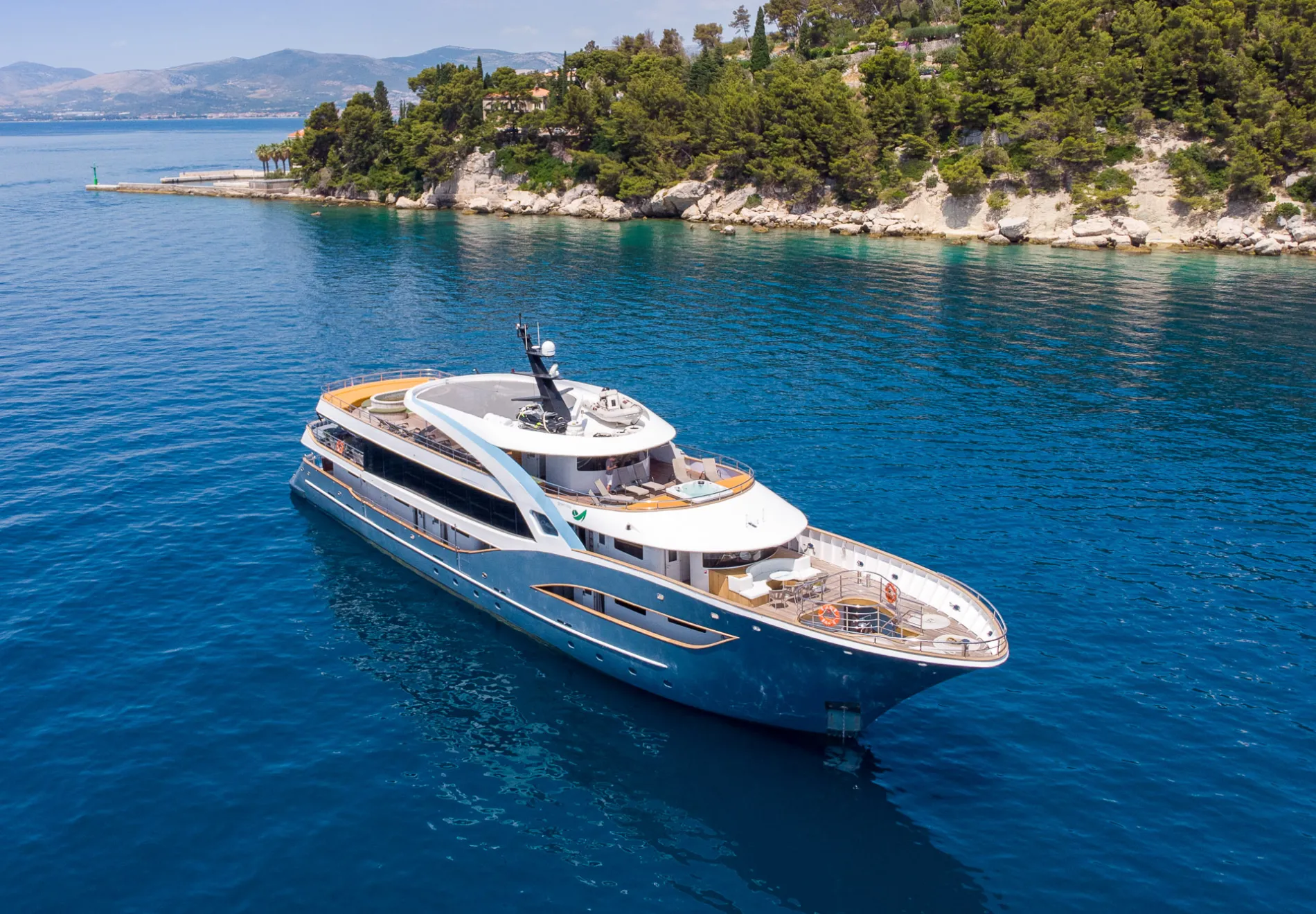 Bella
Yacht Bella's already-stunning interior will undergo a refit to become even more luxurious in time for the 2024 season. Bella can accommodate up to 36 guests in 18 beautiful ensuite cabins. Guests can enjoy her whiskey and cigar bar, another fully stocked bar in the enormous salon, a theatre, a fully equipped gym, and a spa. She also offers plenty of workout and relaxing options out on the sundeck, including shaded lounging areas, a dining table, and of course, a jacuzzi. Guests can choose between several water toys, such as a jet ski, a SeaBob, kayaks, and paddleboards.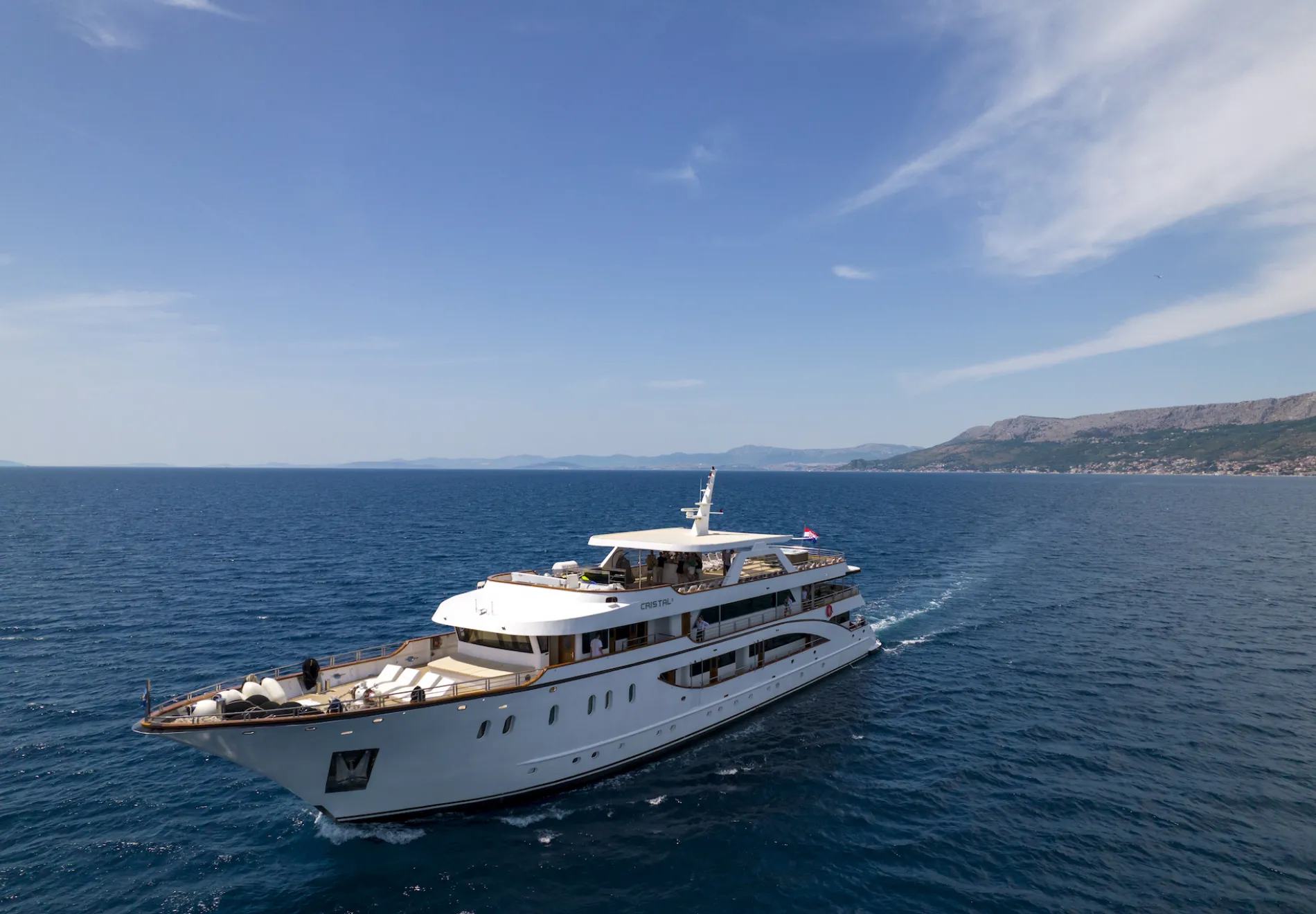 Cristal
Cristal's 19 bright and spacious ensuite cabins offer all the comfort you could ask for. She accommodates up to 38 guests, and her crew of 8 tends to the guests' wishes at all times. Her newly upgraded sundeck is the main gathering place. Plenty of sun loungers, a white marble outdoor bar, a jacuzzi, and endless water toys provide entertainment day and night. In between the activities, the onboard chef will serve the most mouth-watering local delicacies and beverages of choice.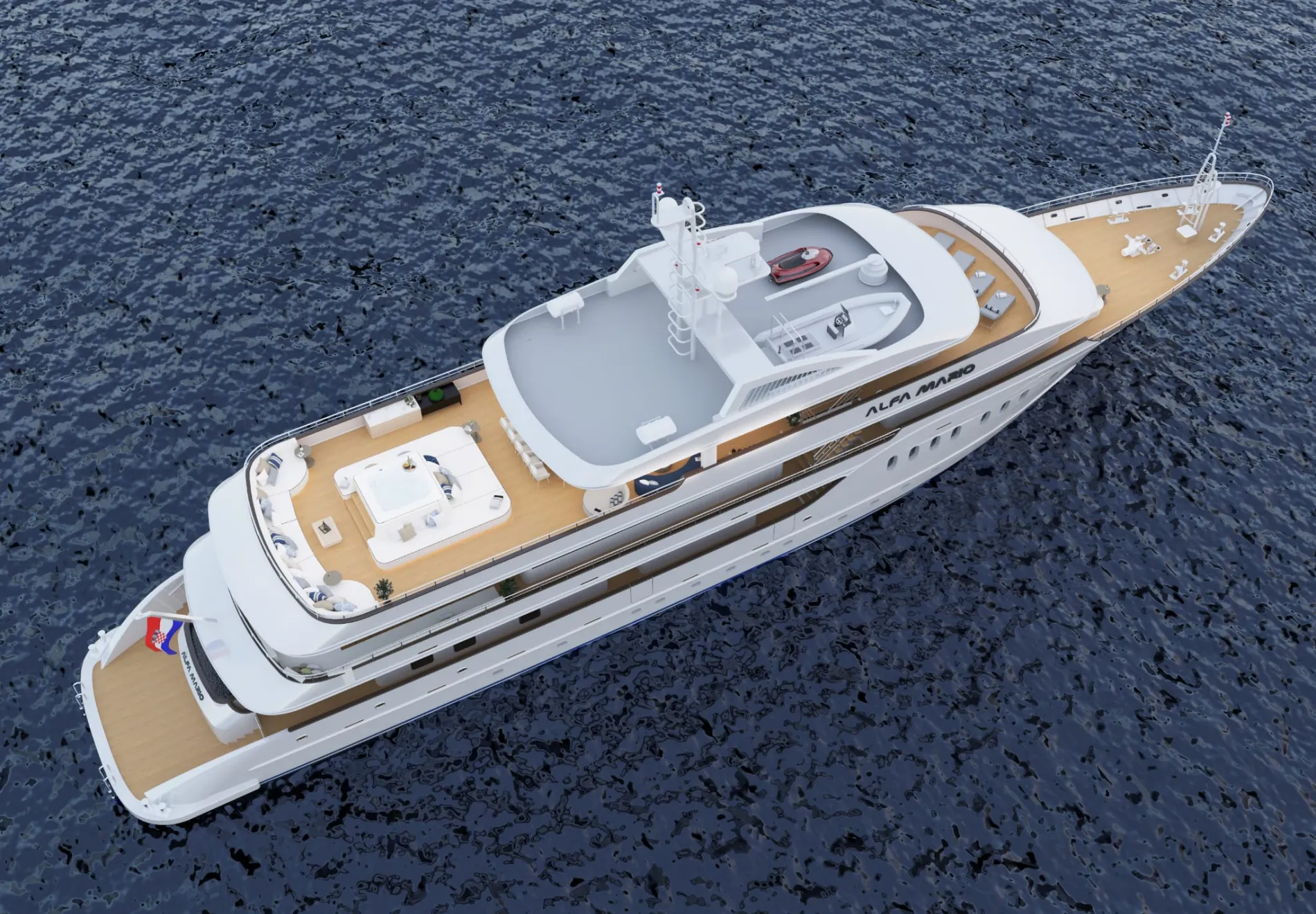 Alfa Mario
Alfa Mario is one of the largest yachts of its type in Croatia. She can accommodate larger groups (up to 36 guests) in 18 well-appointed double cabins. She features a pool above the swimming platform, a perfect option for swimming while cruising. There is a jacuzzi, sauna, and a fully equipped gym on deck. To top it off, there is a spacious lounge bar with a piano, and another well-stocked bar in the salon.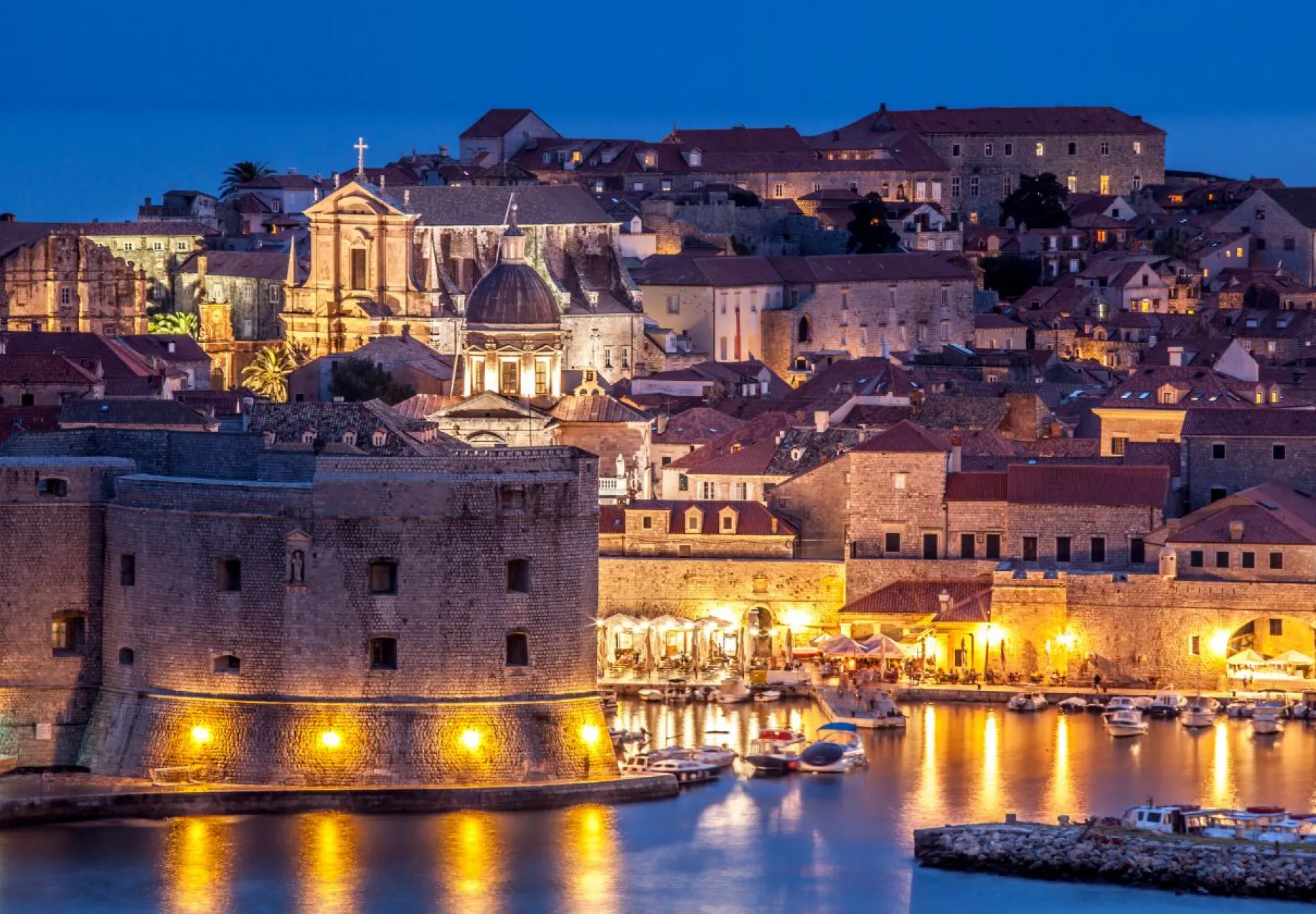 Dubrovnik
Besides witnessing Croatia's natural beauty during an incentive yacht charter, there are many historic sites to visit. Depending on your group's preferences, we can help you plan a cruising route that fits you best. One of the most popular destinations is the historic town of Dubrovnik. Here, you can walk along its famous wall, go on a Game of Thrones tour, and get transported in time by walking through the cobblestone streets.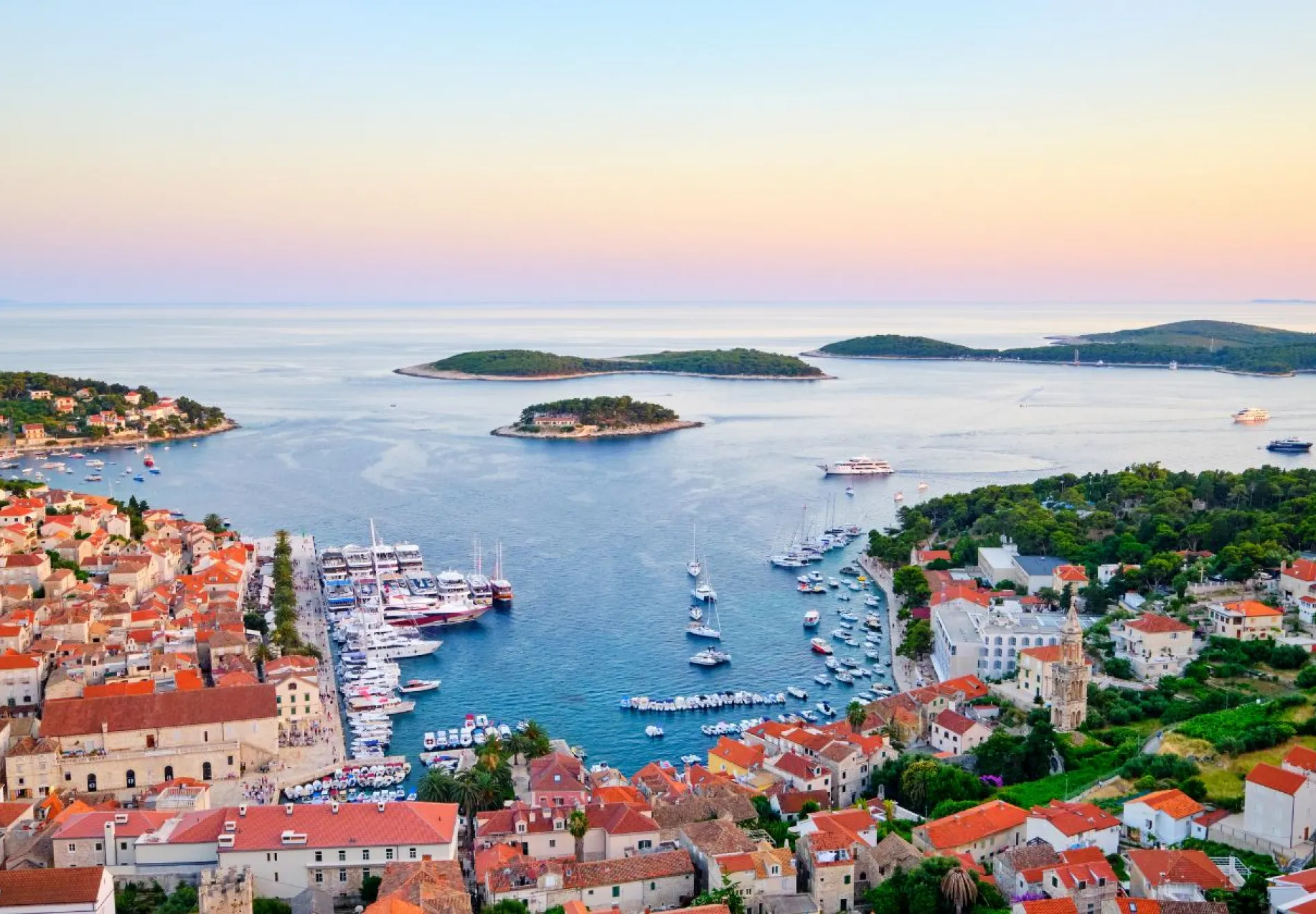 Hvar Island
If you want to go out and get a taste of the lively Croatian nightlife, the island of Hvar is a perfect choice. Who knows, you might even spot a celebrity in one of the many beach bars on the island. Hvar is not only a party island. Take an easy hike up to the Fortica Fortress and witness the most breathtaking views before going for a swim at a nearby beach.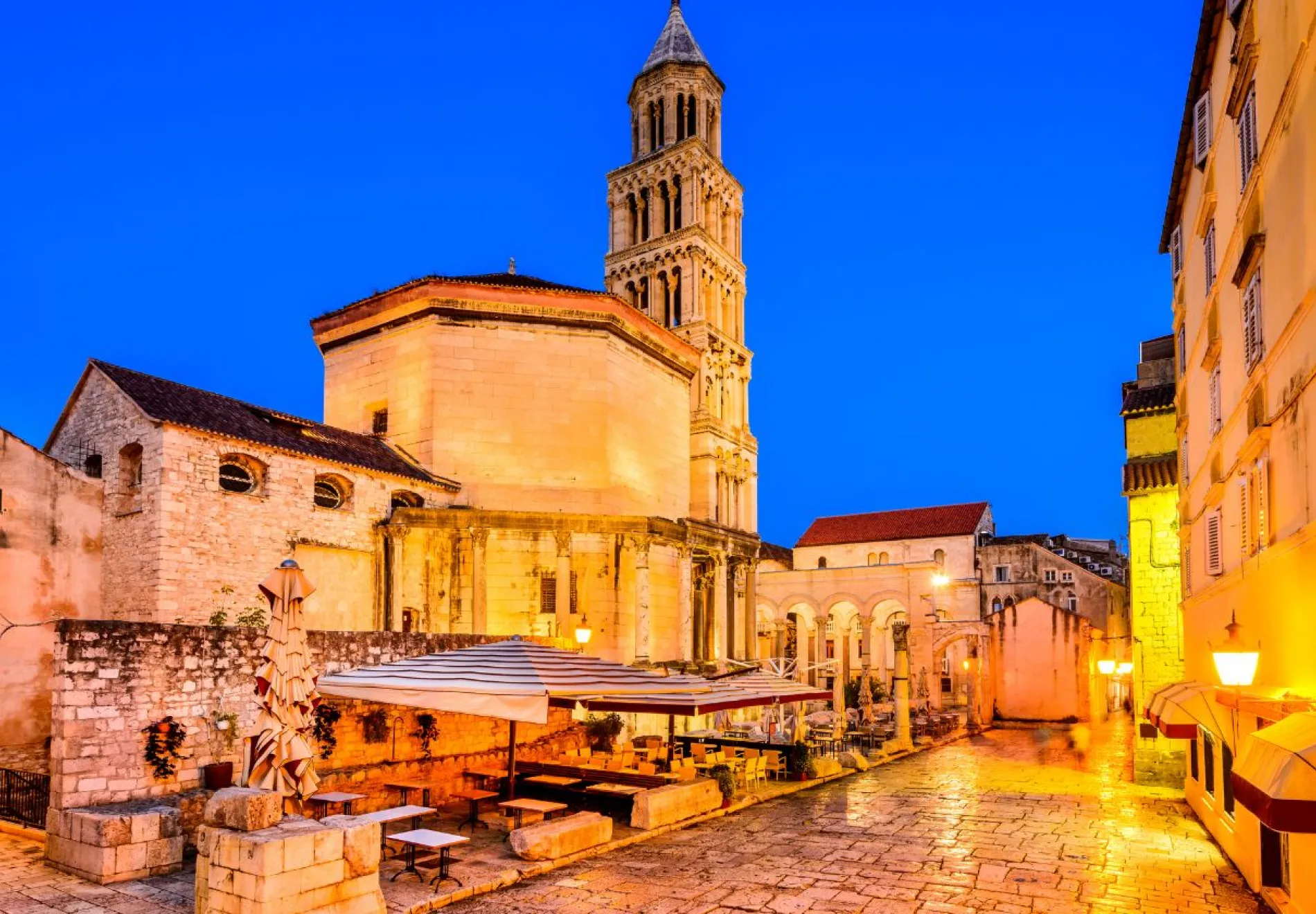 Split
Since most of the incentive yacht charters start in the port of Split, you can visit this unique town before setting foot onboard. Take a stroll across town and visit the Diocletian's Palace – a very well-preserved building from Roman times. Or perhaps, grab a gelato at Split's famous Riva and enjoy the view of the sea. All the town's historical sites are in close proximity to each other, so you can visit them all in just an hour or so.
We help you with every little detail
To make your incentive yacht charter a stress-free experience, we help you organize every detail. After we help you pick the ideal yacht for your group and the activities you want to do, we help you with all the travel arrangements. You can arrive in Croatia by plane (there's an airport in Split), by bus or by car. Depending on the embarkation location, we can also arrange a transfer directly to your yacht.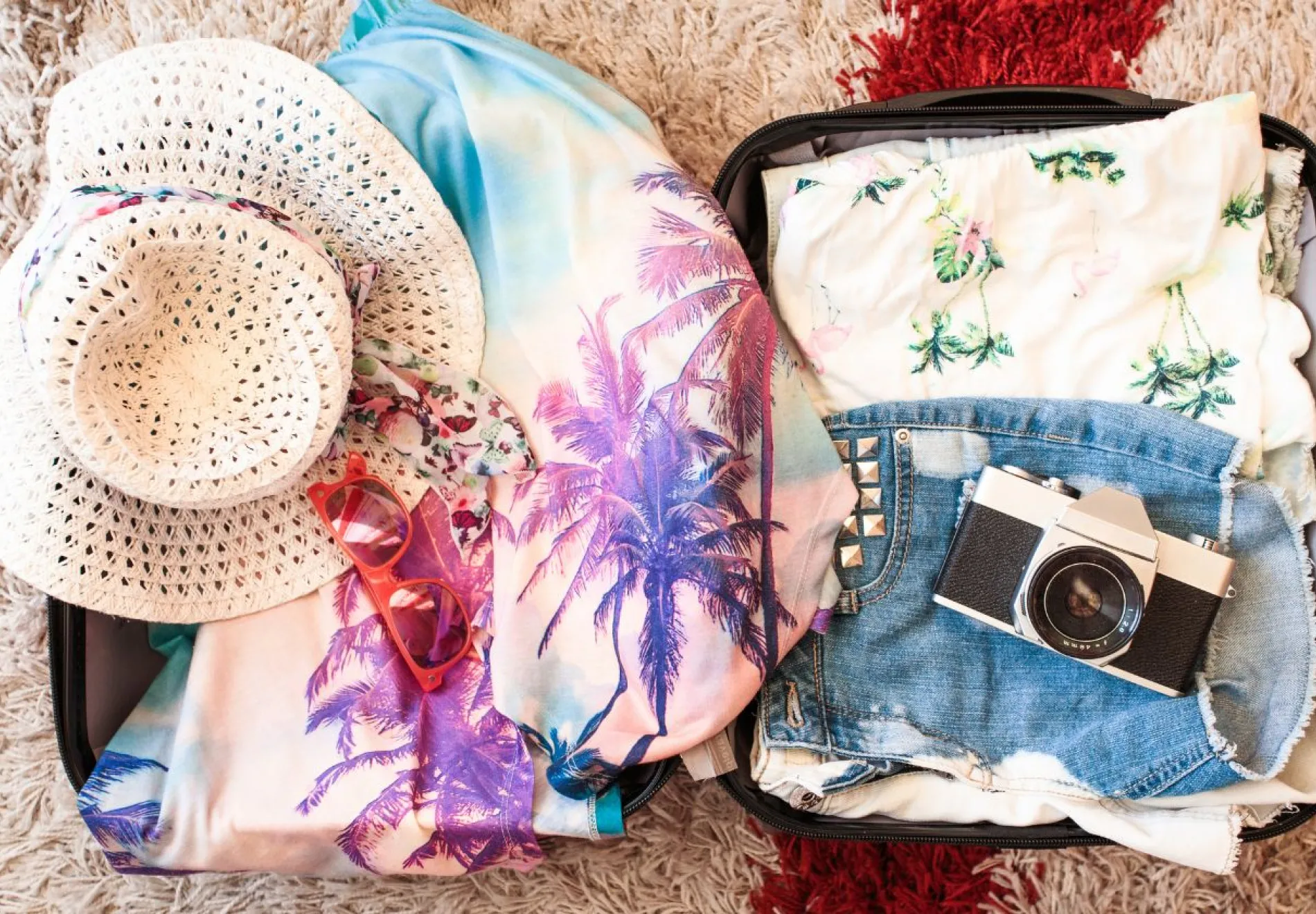 What to pack for an incentive cruise
Remember you will be on a yacht, so pack light. No high heels are needed, as you will mostly be barefoot or in sandals. Comfy and airy clothing is best, and of course, lots of swimsuits. Don't forget sunscreen, mosquito repellent, sunglasses, and any medication you might need. Besides your personal belongings, everything else is provided onboard your chosen yacht.
An incentive yacht charter in Croatia is the perfect way to reward your team or bond with your colleagues. There are many activities and occasions onboard that will strengthen the relationships and maybe create new friendships. Being onboard a yacht, the team can indulge in all the amenities in total privacy and care of the crew members.
We can assist you with picking the best yacht for your group, designing a tailor-made route, and every other little detail, to ensure you have the best possible experience.