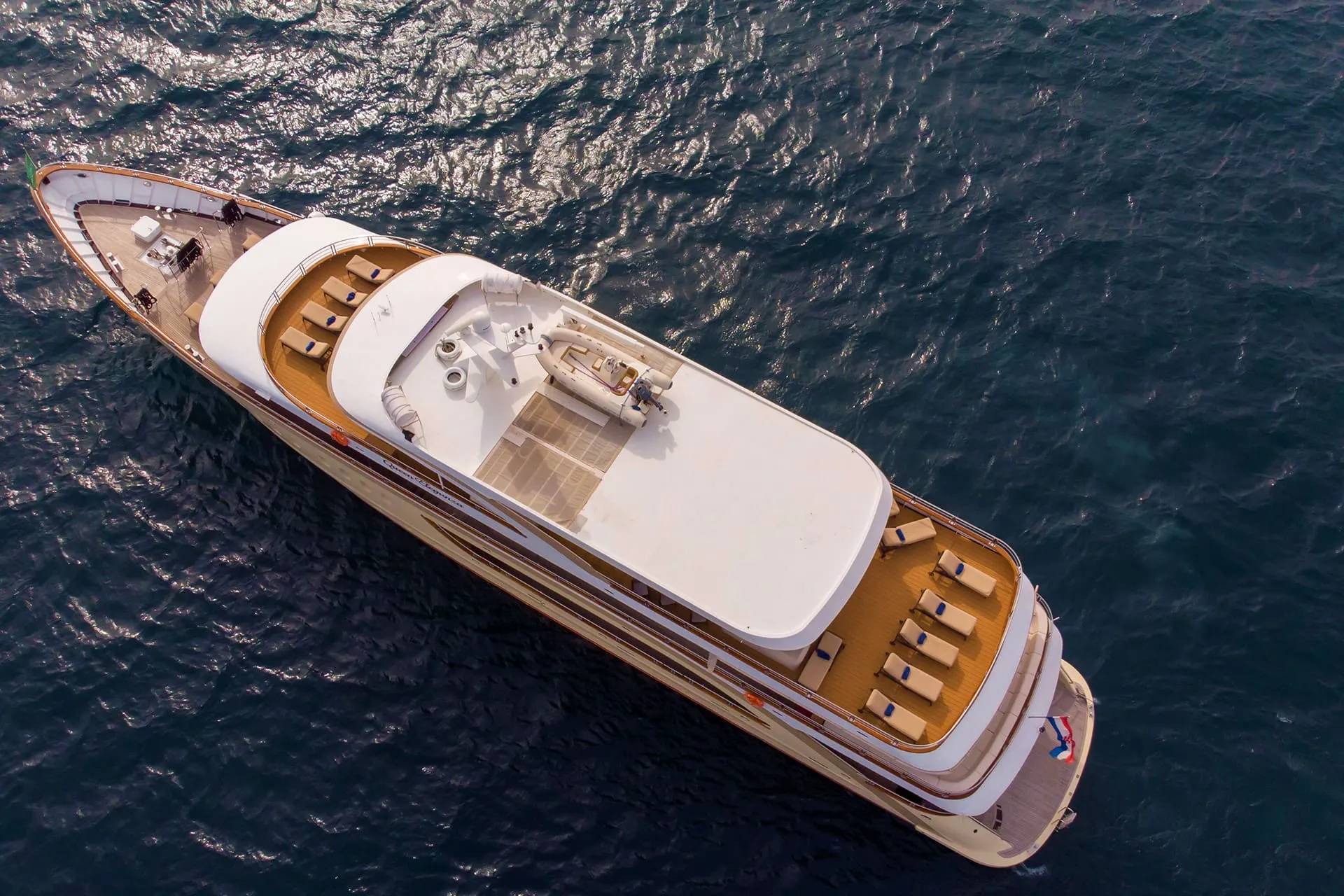 Revolutionizing luxury: eco-friendly and high-end DS Yachts in Croatia
In the last couple of years, the yachting world in Croatia has taken a different turn. While the rest of the world is expanding its fleet of gas-gulping superyachts, DS Yachts are much more eco-friendly, without compromising on luxury.
DS Yachts deserve the »unique« label for several reasons, but first, let's have a look at their main characteristics:
- They are 30-50 meters long with 4 - 18 cabins
- Licensed to accommodate between 8 - 36 guests
- Completely built in Croatia
- Luxury amenities and high-end design inside and out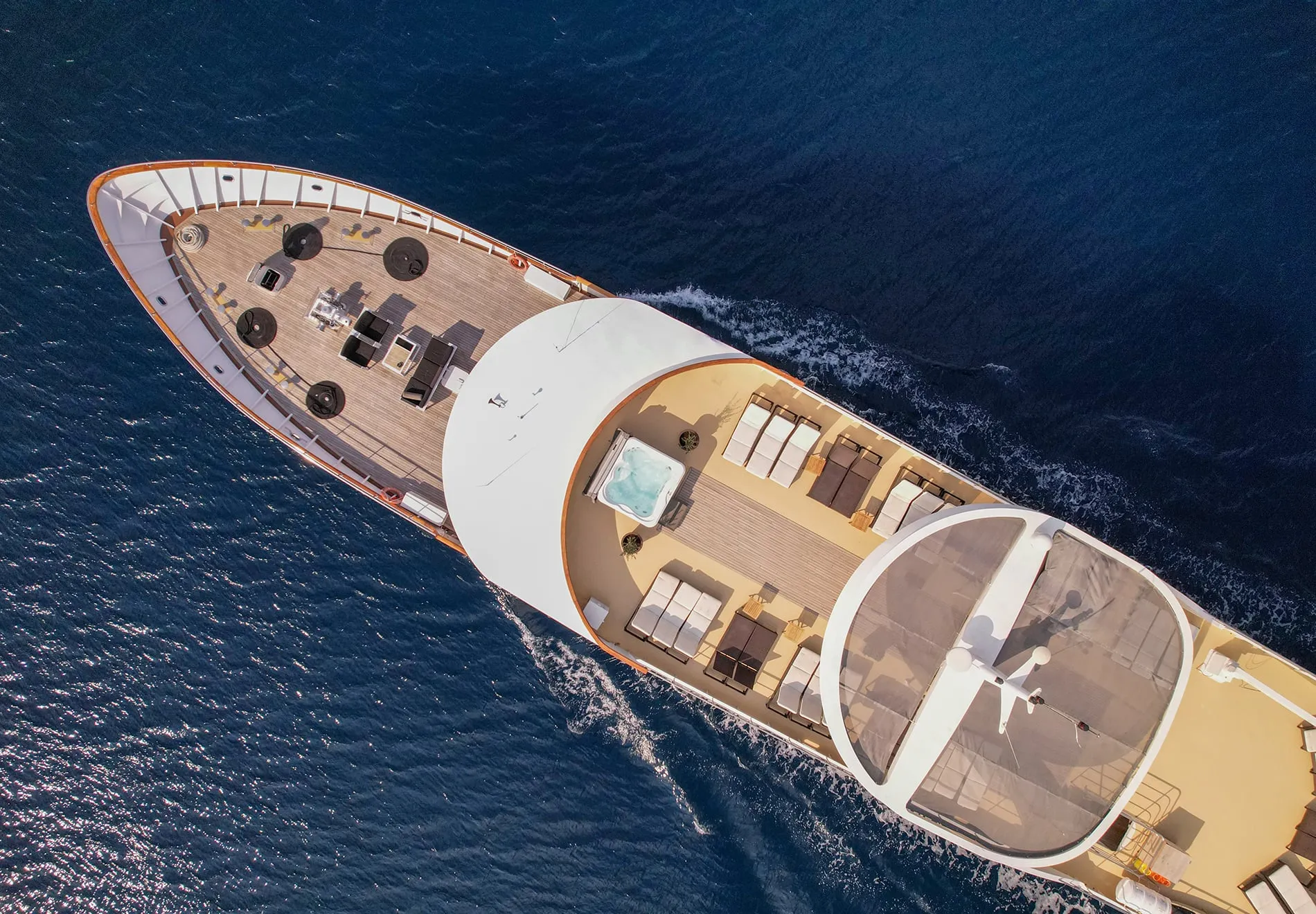 Embark on a luxury voyage
If we already got your attention and you are ready to embark on a journey of your lifetime, fill out this form and we will take care of all the details. We understand that you might want to know more about the unique DS yachts. So, in this blog, we broke it down for you and listed our hand-picked selection of the finest luxury DS yachts to charter in Croatia.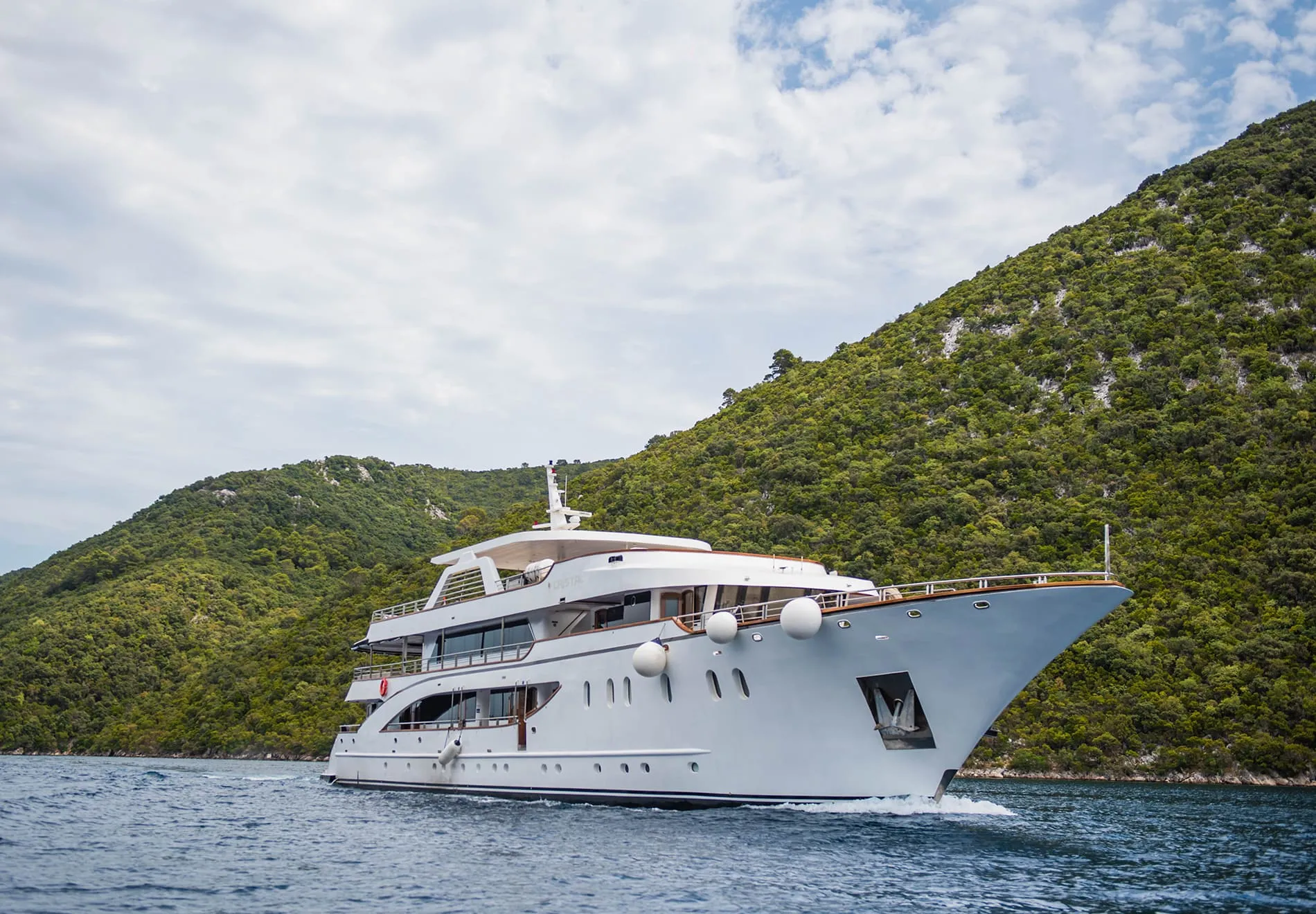 Revolutionizing luxury yacht charters in Croatia with greater accommodation capacity
Now, you might think what is so special about them? Well, a lot. Let's start with, besides accommodating small groups, they are also perfect for larger ones. Today this is the most in-demand and preferred way of chartering in Croatia. Conventional superyachts can only carry up to 12 guests, while DS Yachts can accommodate up to 36.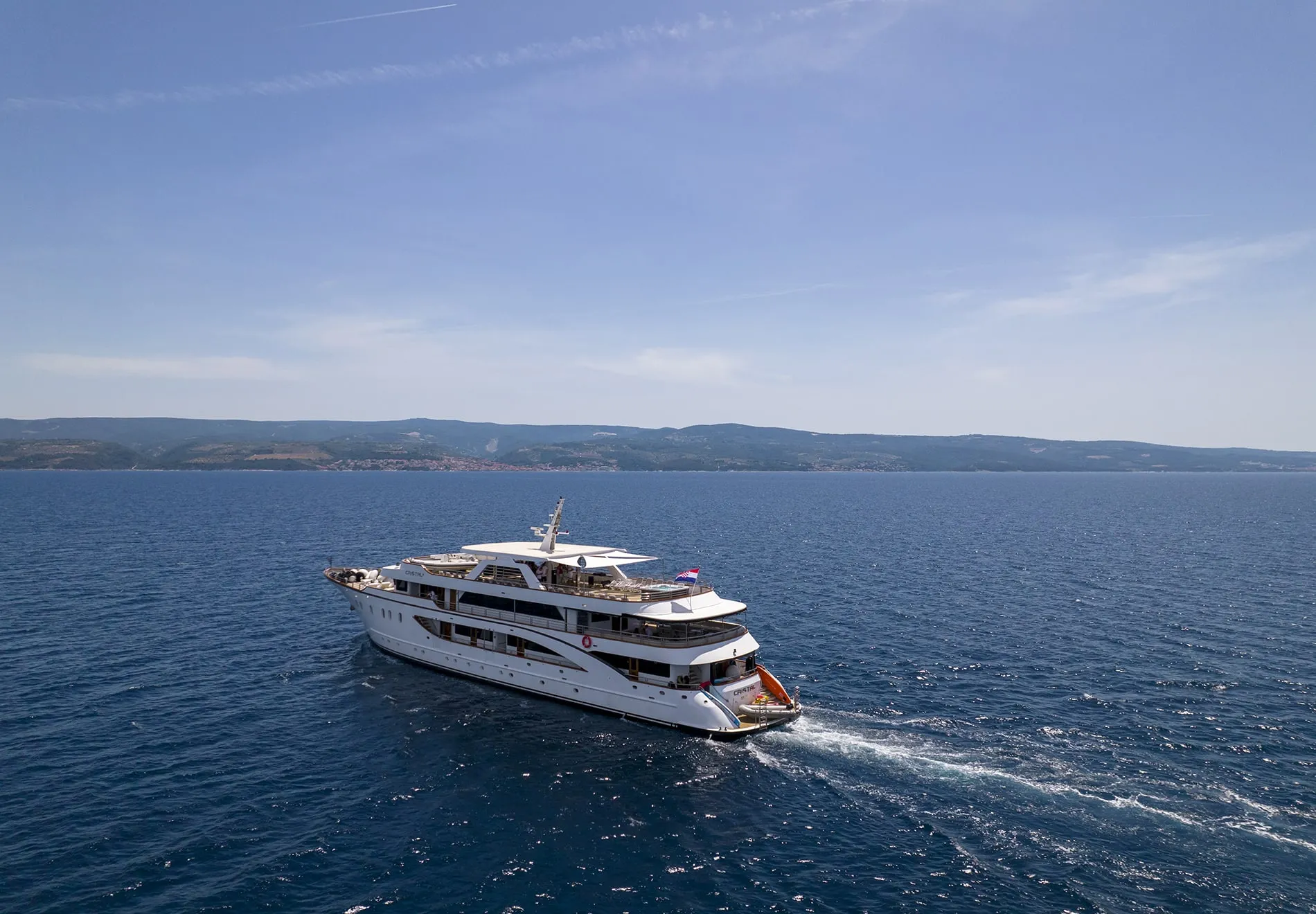 Eco-friendliness and enjoyment combined
As mentioned above, DS Yachts are eco-friendly. That means that to travel the same distance, they consume 50% less fuel than other superyachts same size. They are a bit slower, which is a good thing. This way, you get to enjoy more of the passing scenery, instead of just racing from point A to point B.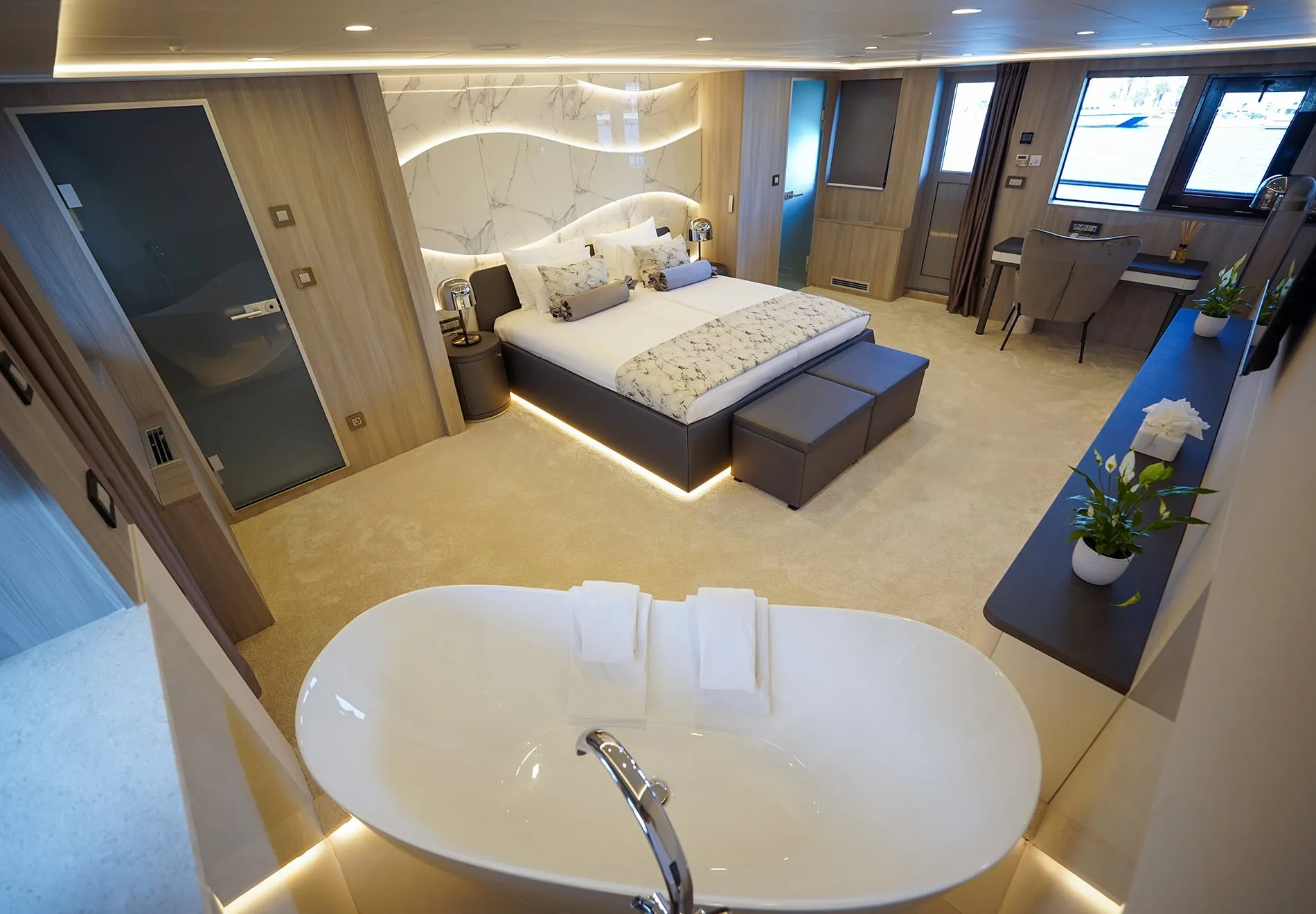 Explore the high-end features of DS Yachts
The builders of DS Yachts utilize only the highest quality materials, while the interior designers apply the latest luxury trends to each space of the yacht. The interiors and exteriors are spacious and elegant. All the cabins feature a private bathroom, the decks have several lounging areas, and the indoor spaces are bright and comfortable. All the DS Yachts also feature high-end amenities, such as water toys, a gym, a spa/massage room, a jacuzzi on deck, a media room, and much more.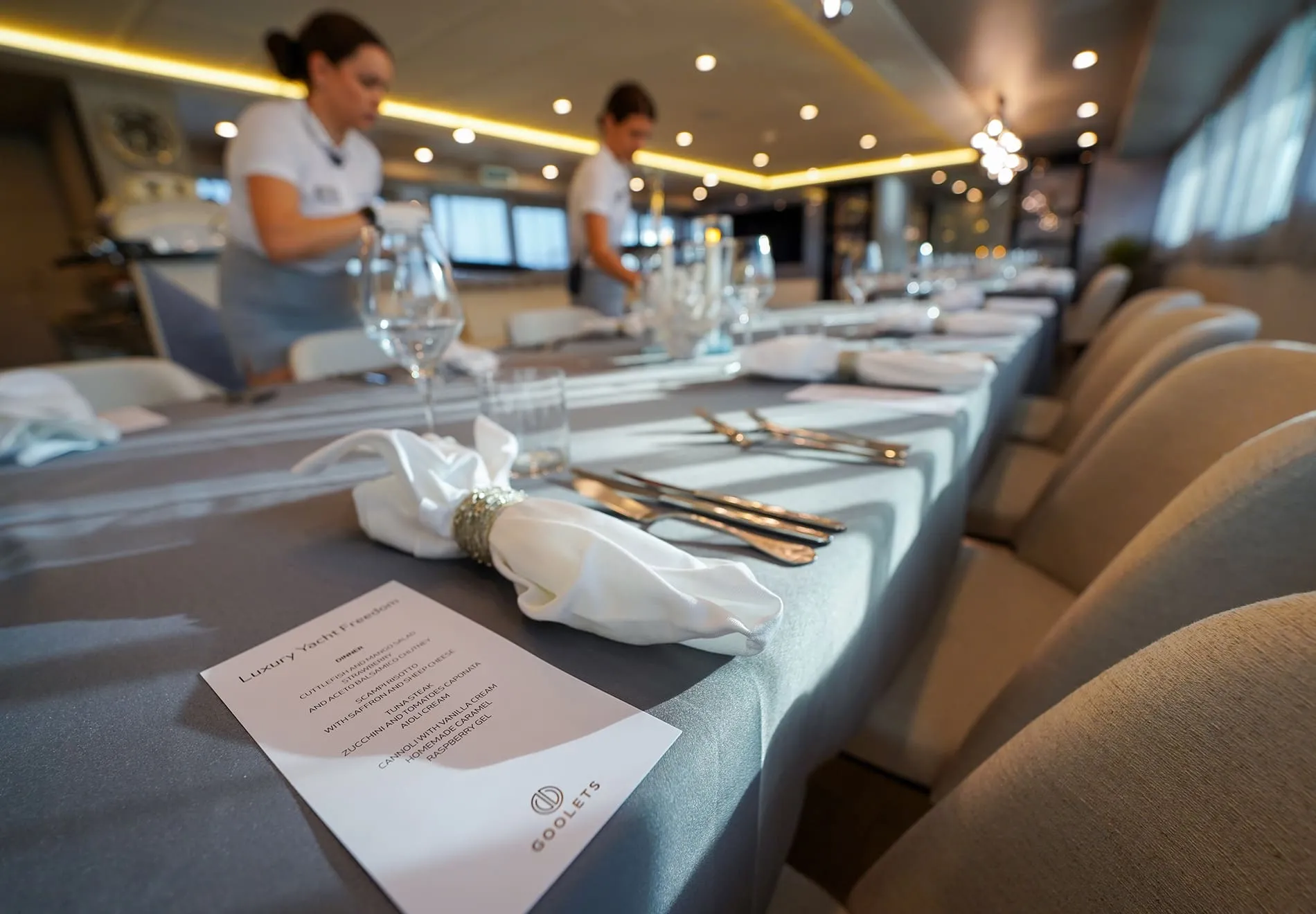 Exemplary service at sea
The service onboard DS Yachts is always impeccable. All the members of the crew are highly trained and come with years of experience in the marine and hospitality industry. White-glove service is ensured onboard DS Yachts at all times, providing a luxurious and carefree yacht charter experience.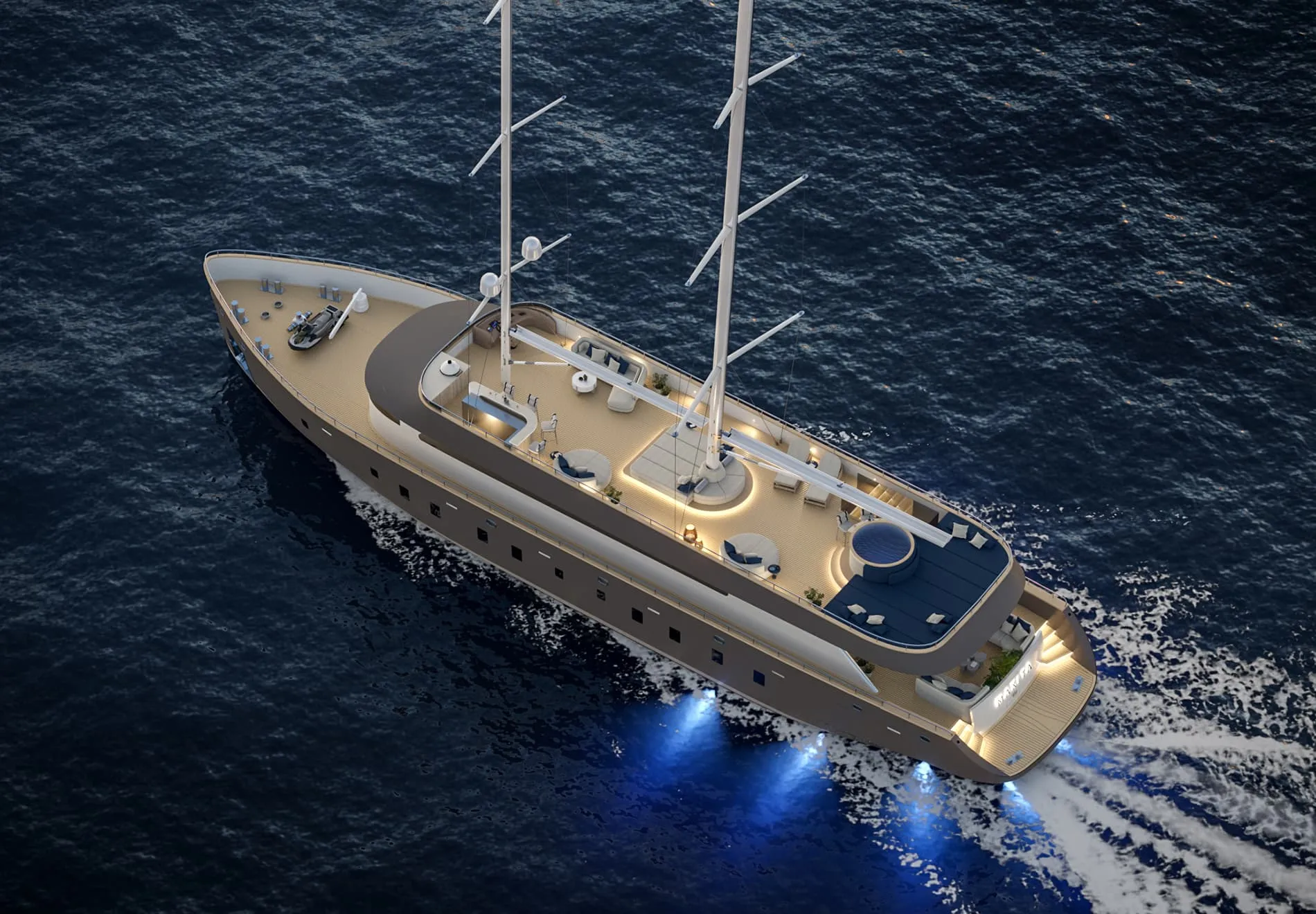 Discover the competitive pricing of DS Yacht charters
And now the best part – the price. While charter prices for similar-type yachts anywhere in the world can cost upwards of 250,000 euros per week, DS Yacht charters start at 40,000 euros per week.
LUXURY YACHTS FOR LARGER GROUPS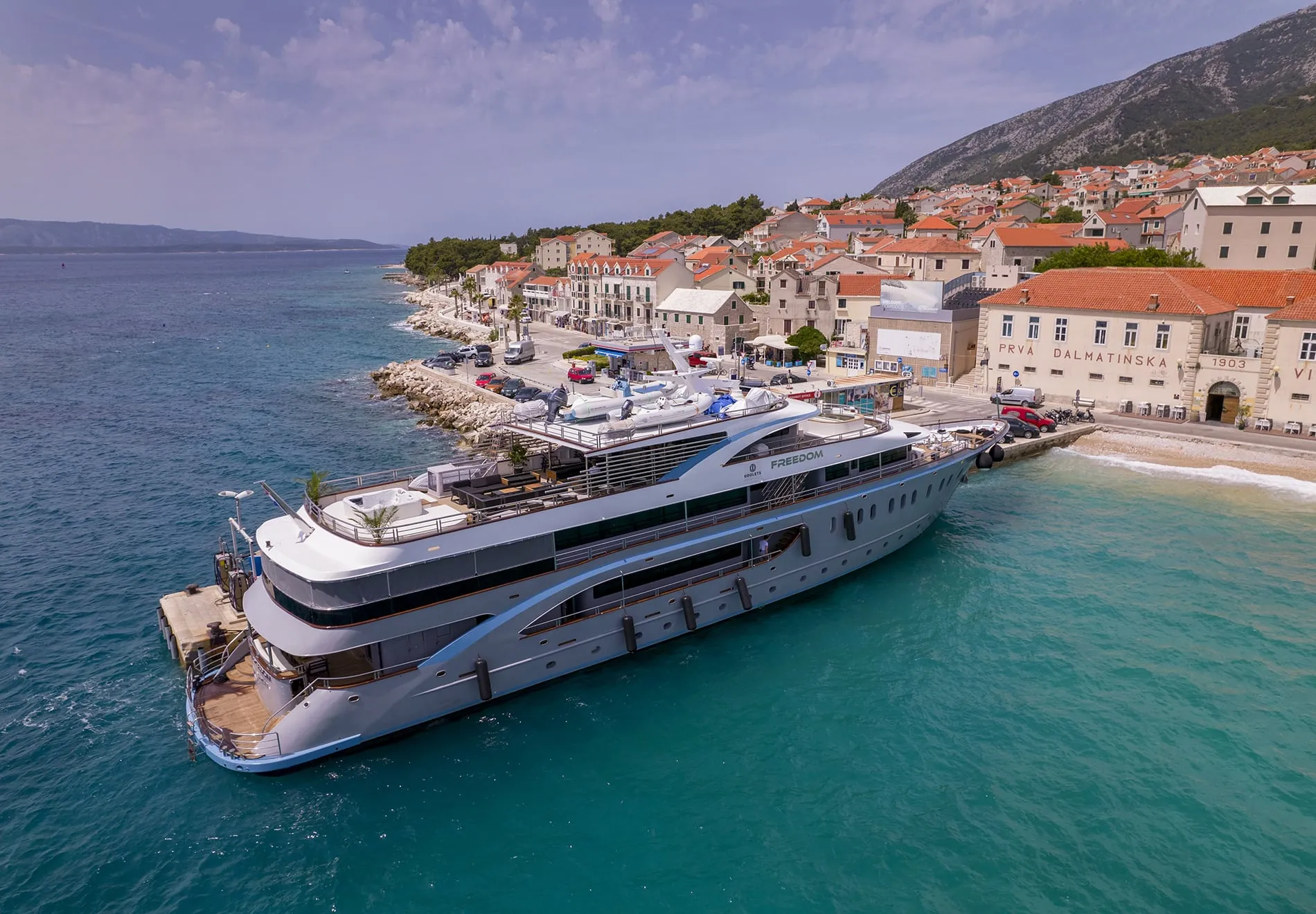 Freedom
Luxury yacht Freedom is ideal for larger groups, as she can accommodate up to 23 guests in 11 high-end ensuite cabins. Besides a highly qualified and attentive crew of 11, Freedom offers endless luxury amenities, such as a cinema, a gym, a massage room, a sauna, a jacuzzi, and a pool. Exciting water toys and the inflatable slide keep the guests entertained throughout the whole voyage.
Learn more about Freedom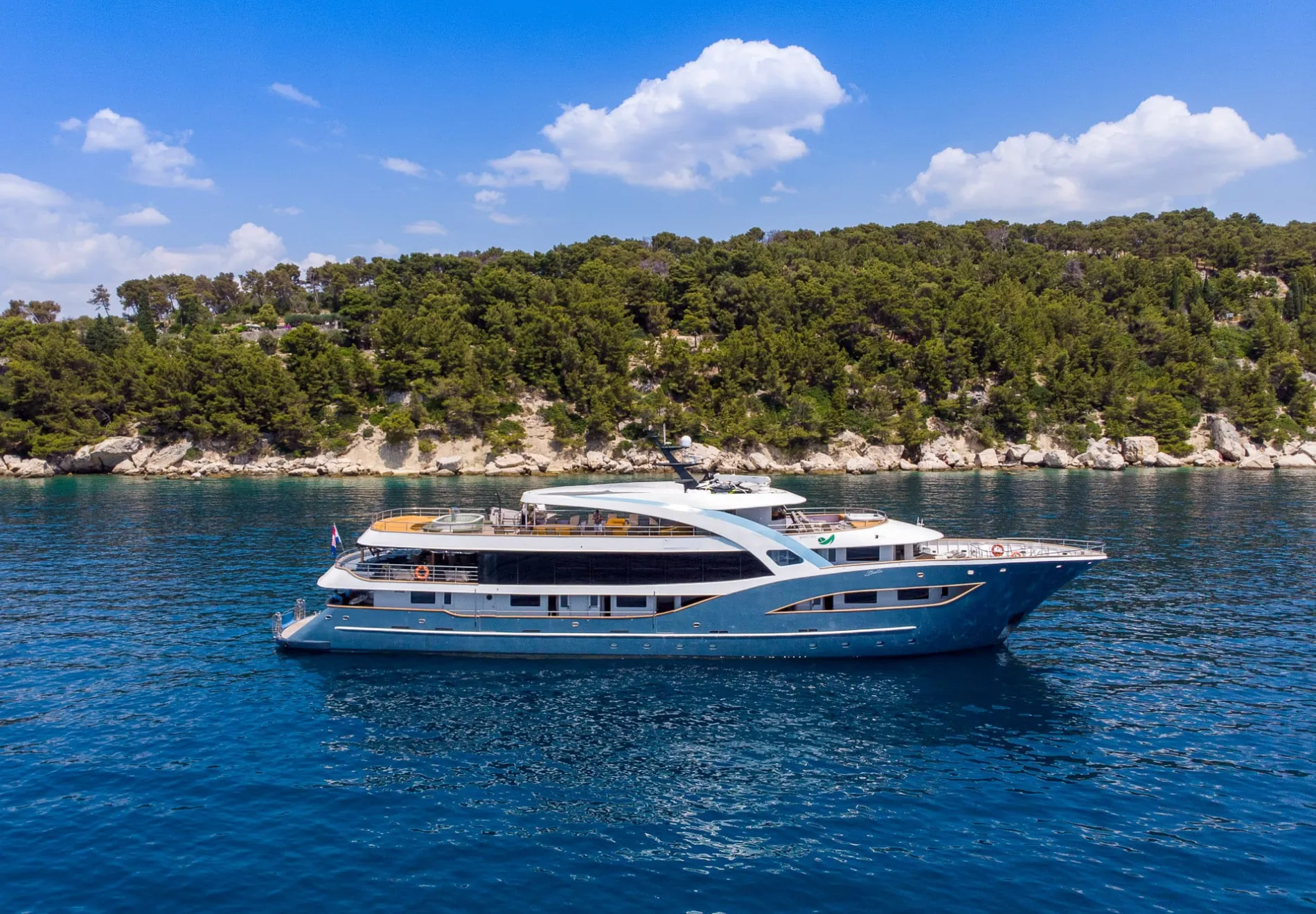 Bella
Already stunning yacht Bella will undergo further upgrades for the 2024 season. Besides all the already existing amenities, there will also be a beauty salon, a cinema with a PlayStation, a whiskey and cigar gentlemen's club, a fully equipped gym, and a reformer for STOTT Pilates. To ensure entertainment for all age groups, an exciting kids' playroom will also be added. To ensure more space, the number of cabins will be lowered from 18 to 10 and she will accommodate up to 20 guests.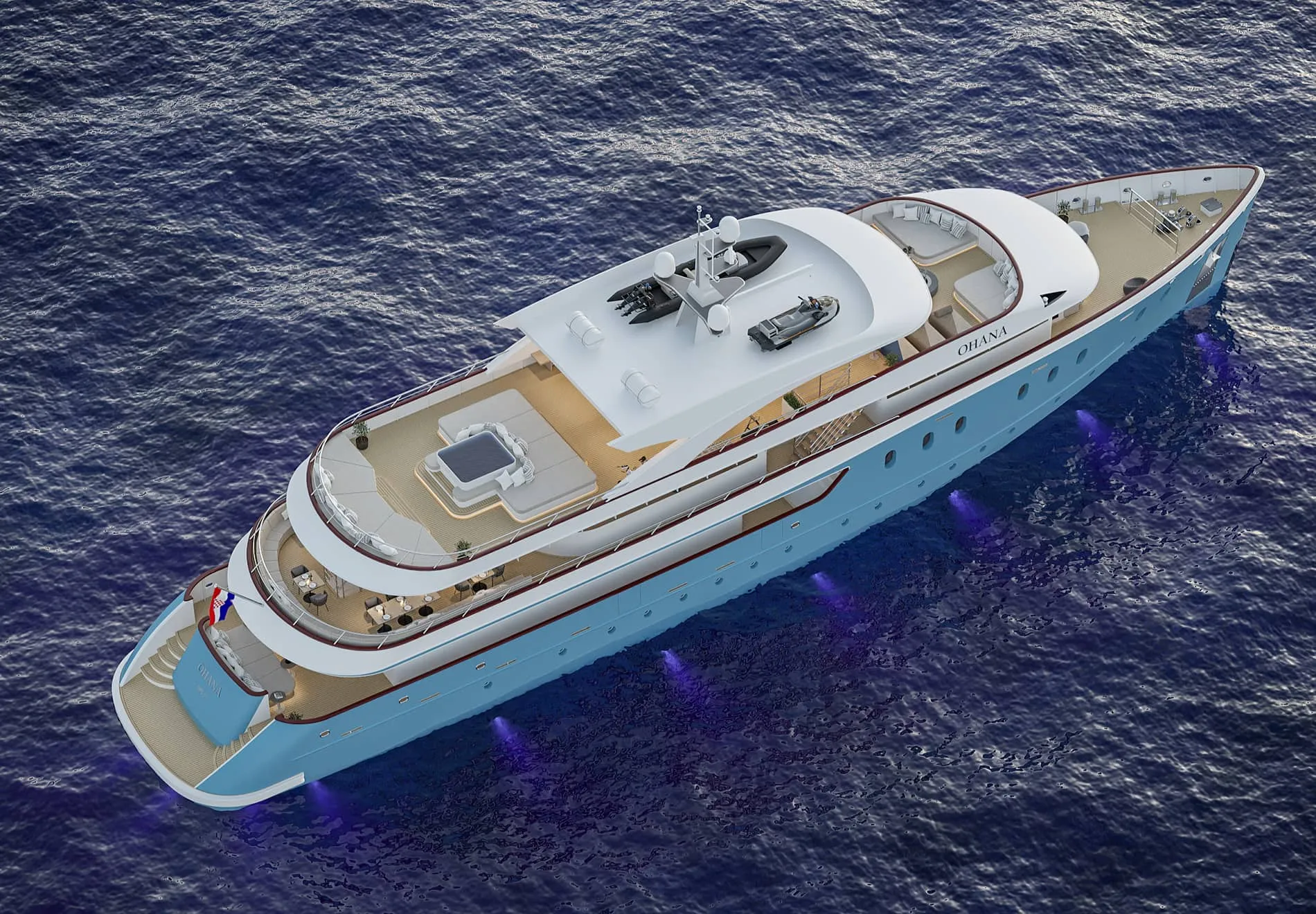 Ohana
The luxurious and spacious yacht Ohana can accommodate up to 30 guests, has 14 remarkable en suite cabins, and a crew of 11. The master cabin has recently been upgraded to the highest luxury standards. Ohana also features a cinema room and a kids' playroom. The 160 m2 brand-new sundeck includes an outdoor gym, a jacuzzi, sun chairs, and lounging areas. The bright and airy salon has 4 dining tables where all the guests can sit at and savor the delicious gourmet meals prepared by a professional chef. She is also packed with a wide selection of the latest water toys, such as a Jet ski, waterskis, paddleboards, kayaks, Tube riding, and more.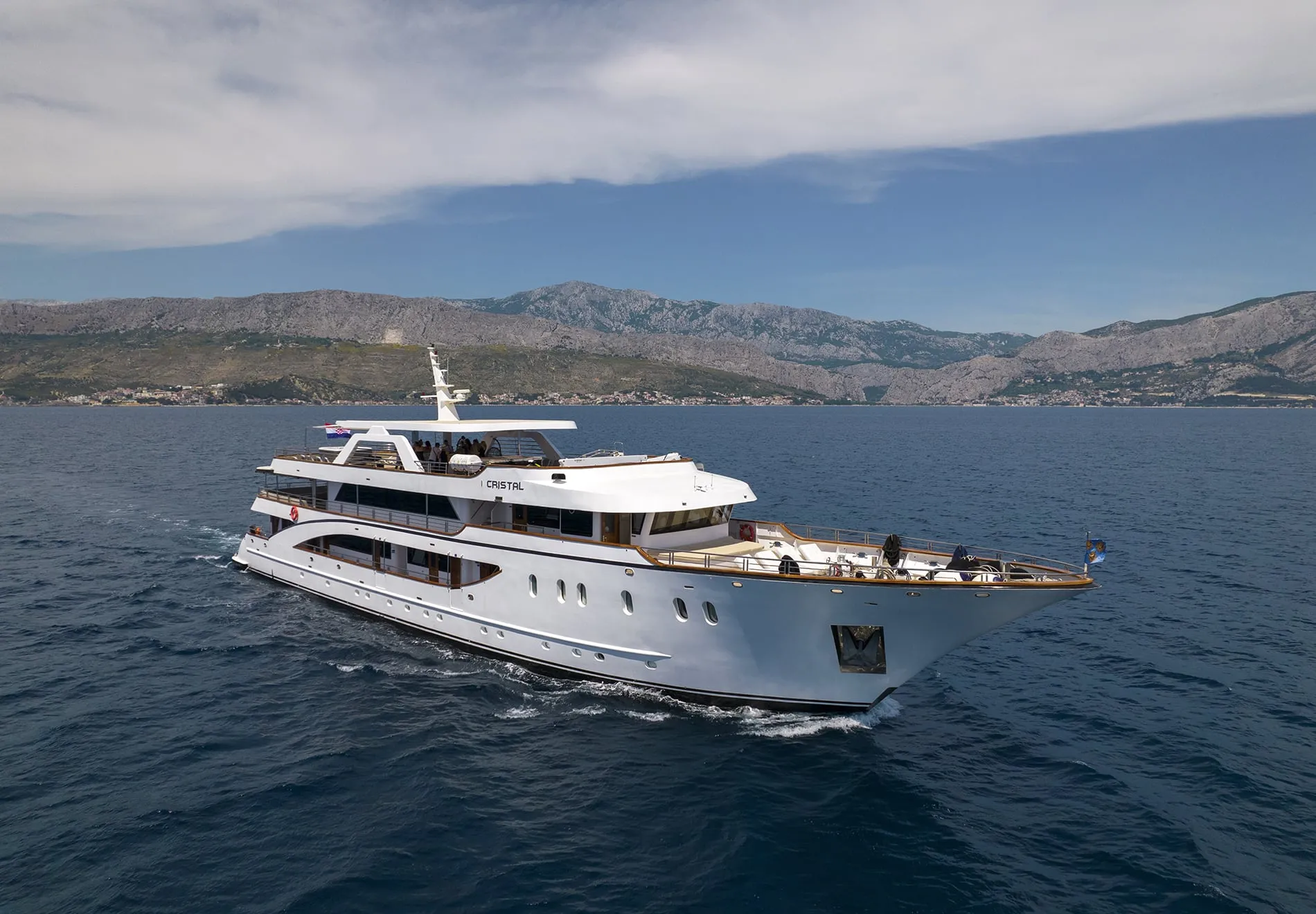 Cristal
Whether you are vacationing with your family, friends, or colleagues, the luxury yacht Cristal is the right choice. After a refit, she will comfortably fit up to 30 guests and a crew of 8 for the 2024 season. The newly renovated sundeck will be the main gathering place, as it will feature a jacuzzi, several lounge areas, and a white marble outdoor bar. All 15 ensuite cabins will be tastefully decorated, spacious, and comfortable, ensuring a restful night. Cristal also offers endless fun with her exciting water toys.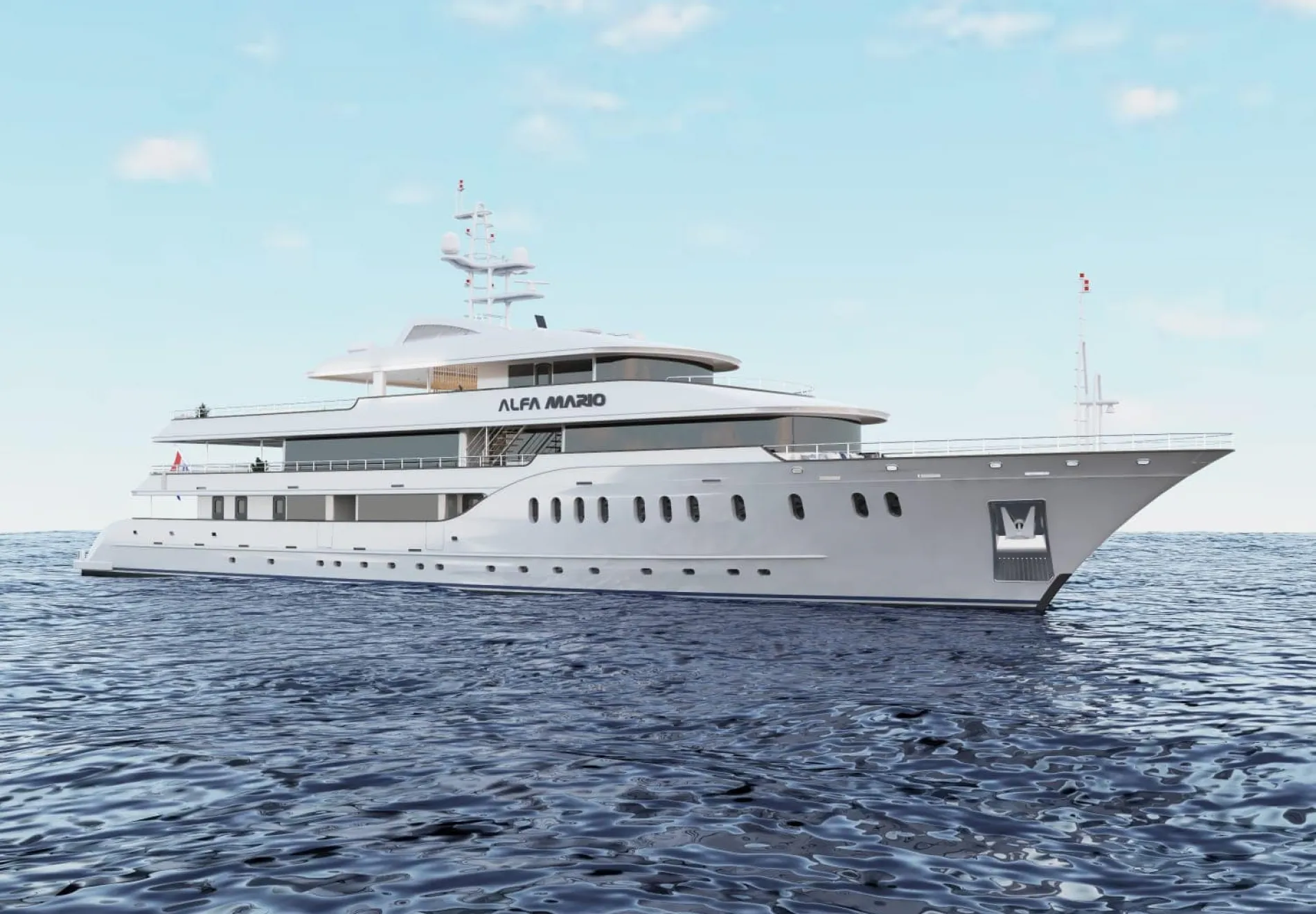 Alfa Mario
Yacht Alfa Mario will also undergo a refit for the 2024 season. To maximize comfort and luxury, the number of cabins will be reduced from 18 to 15 and the guest capacity will also be reduced to up to 30. Alfa Mario will keep its luxury status, and provide every high-end amenity you might think of. She is the only yacht in Croatia with a pool above the swim platform, so you can take a dip even during sailing. The guests can also enjoy the jacuzzi, a sauna, and a gym on deck. A highly attentive crew of 9 tends to the guests at all times, so they can have a truly formidable yachting experience.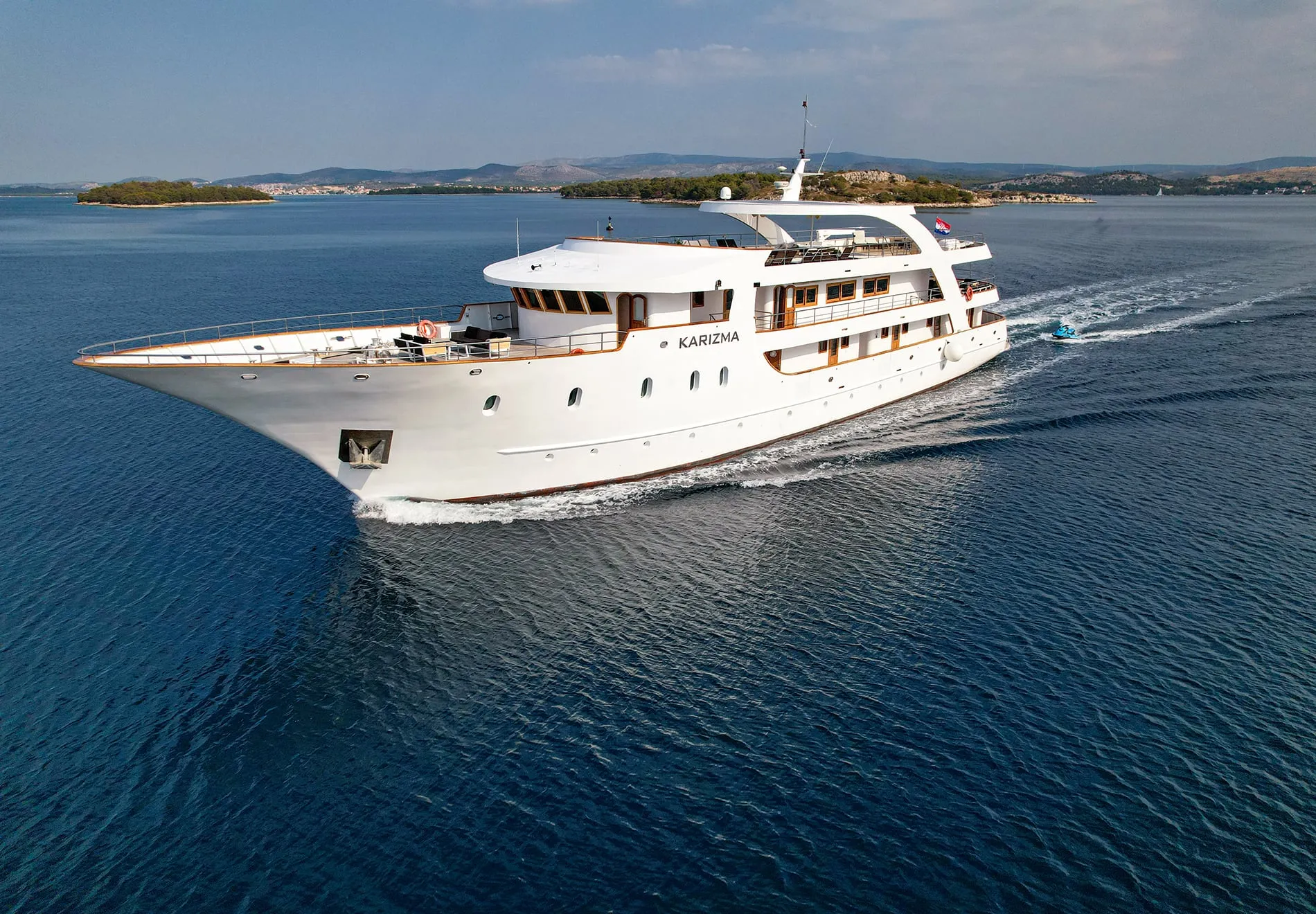 Karizma
Karizma is one of the best value-for-money yachts in Croatia. Several sunchairs, a jacuzzi, shaded dining, and lounging areas spread over 4 spacious sundecks, provide plenty of entertainment and relaxing options for the guests. Some of the 18 cabins are convertible, giving the guests more options for accommodation. The 2 triple cabins are great for families traveling with small children. She can accommodate up to 36 guests and comes with 8 crew members.
Learn more about Karizma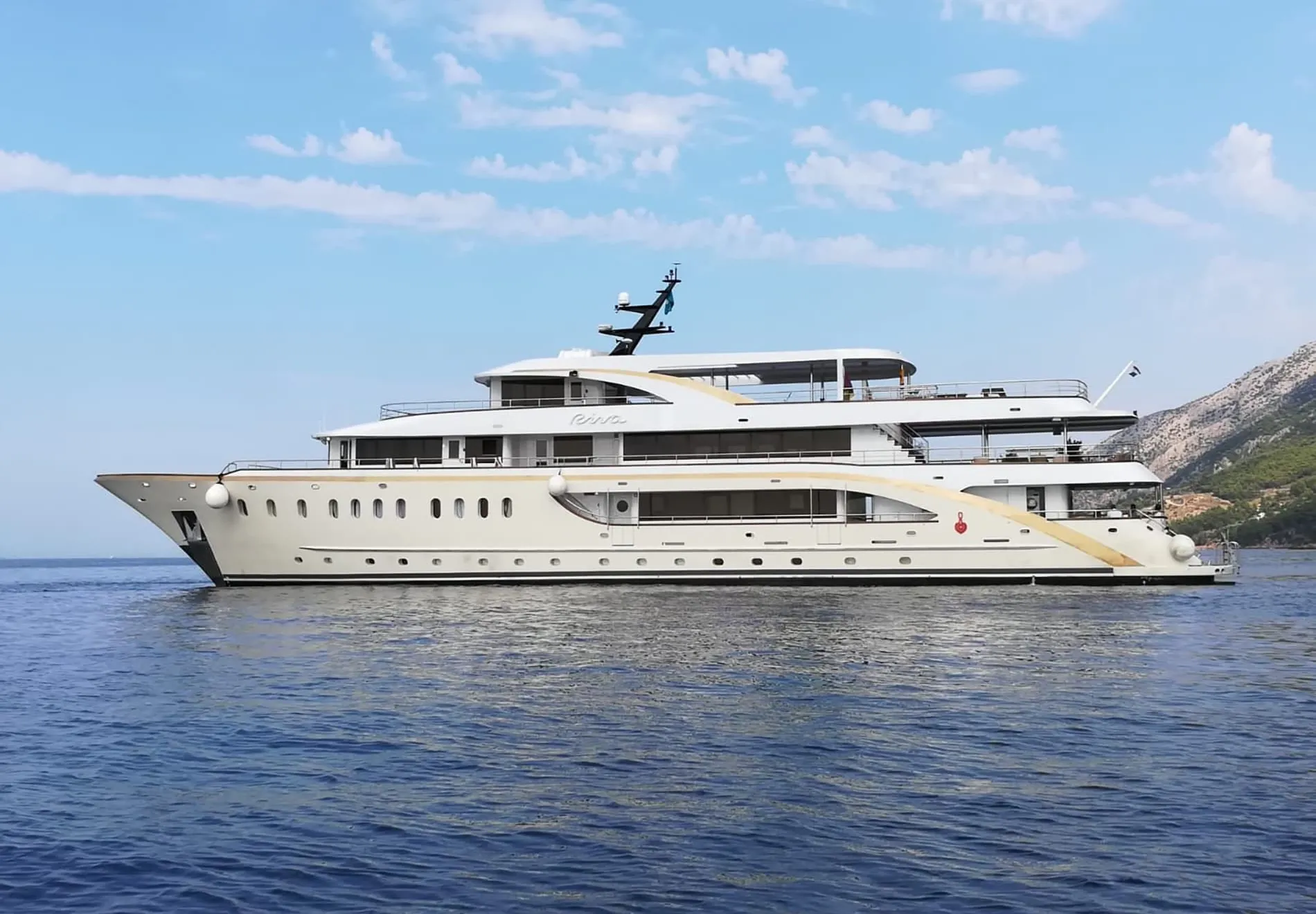 Riva
Riva is a family-owned yacht built in Croatia by its owners. Upgraded with the latest technology, she offers a comfortable and safe sailing voyage. She features 18 beautiful cabins with ensuite bathrooms and can accommodate up to 36 guests. The crew of 11 is available to tend to the guests' wishes at all times. All Burmese teak-covered decks are spacious, featuring 30 sunchairs, a jacuzzi, and a gym. The indoor salon is equally spacious providing plenty of room for all the guests. Riva also has a wide range of thrilling water toys, ensuring an exciting yachting experience.
Learn more about Riva
LUXURY YACHTS FOR SMALLER GROUPS
DS yachts are not only for large groups. The brand-new luxury yachts below are perfect for smaller groups looking for a more intimate yacht charter experience and still provide the same luxury amenities as the larger ones.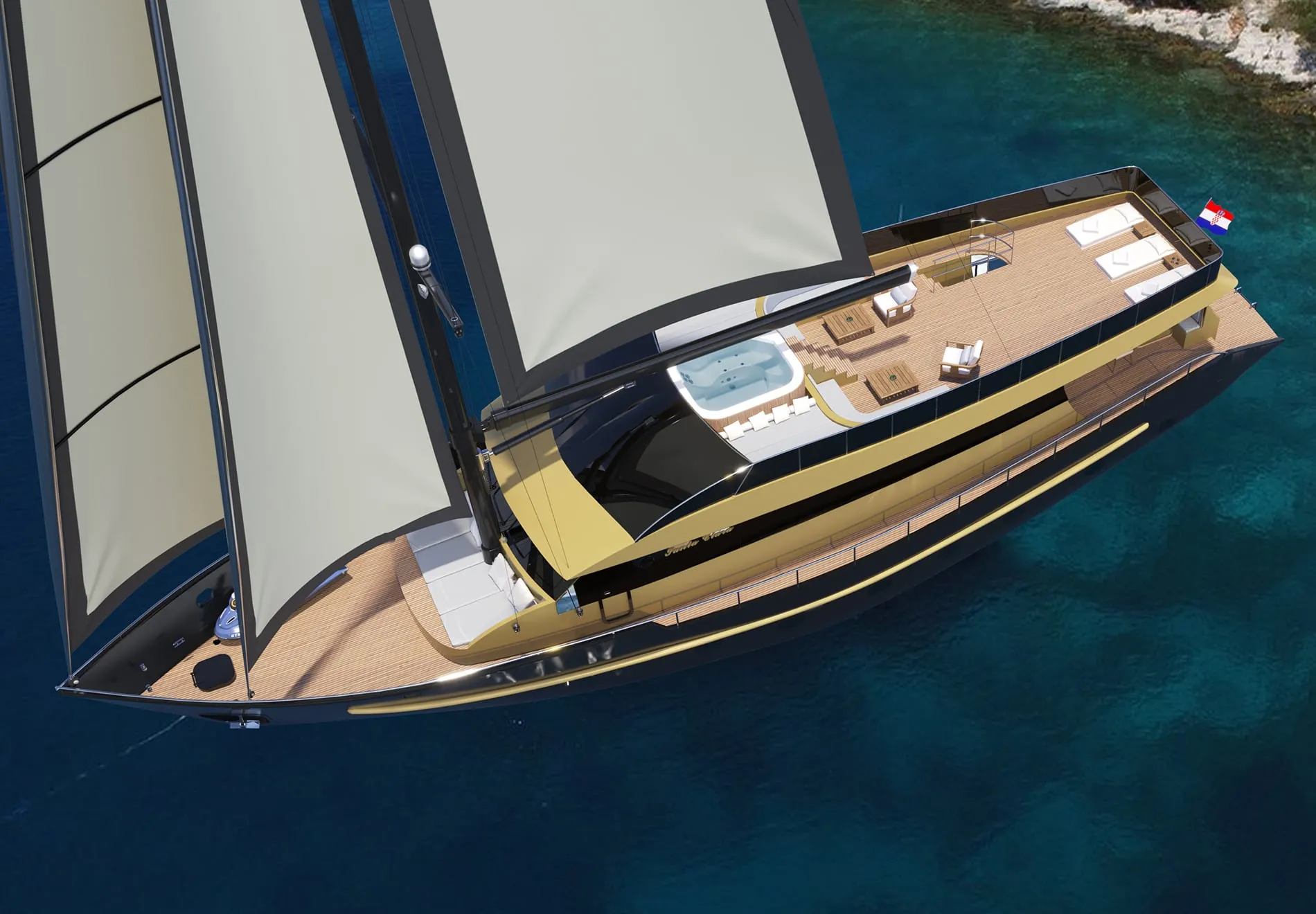 Santa Clara
Luxury sailing yacht Santa Clara is a brand new yacht built in Croatia. What makes this vessel unique is that she only has 4 cabins. This means more space and comfort for everybody on board. She can accommodate up to 8 guests, making her perfect for couples, a family, or a group of close friends. The guests can gather on the spacious sundeck and take a dip in the bubbly jacuzzi, dine under the stars, and catch some rays in the lounging areas. The salon features comfortable sofas, a dining table, and a flat-screen TV. All the cabins are located on the lower deck, providing a restful night in full privacy and tranquillity.
Learn more about Santa Clara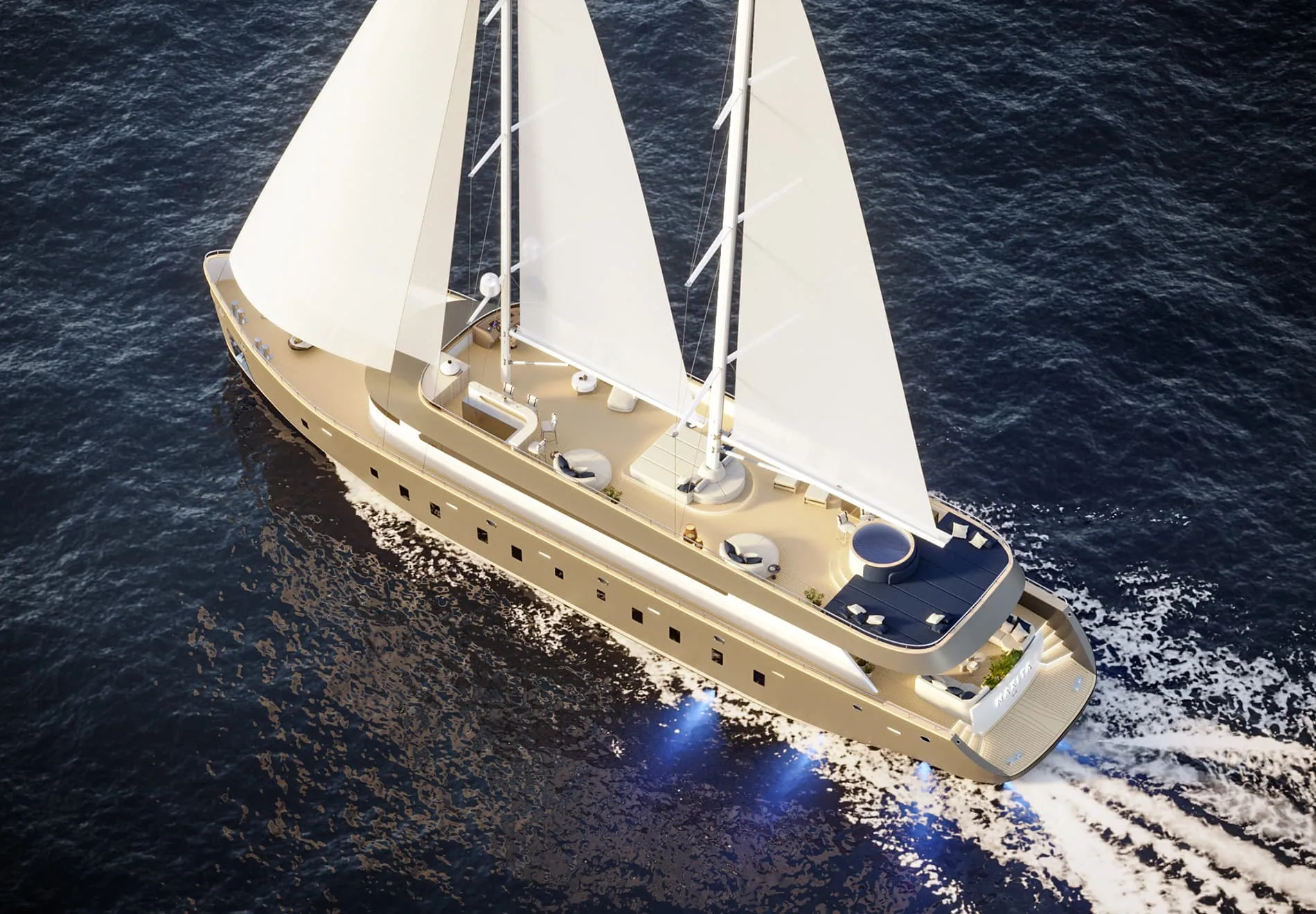 Maxita
Maxita is a 37.15-meter dazzling 6-cabin luxury motor sailer. She can accommodate up to 12 guests and comes with a crew of 7. All the ensuite cabins and the interior are bright, modern, and elegant. On the upper deck, the guests can lounge on the several padded sunchairs, take a dip in the jacuzzi, and sip on their favorite beverage brought to them from the outdoor bar. The indoor salon is equally stunningly decorated with a modern white couch and a large dining table.
Learn more about Maxita
Your next yachting adventure awaits: Embrace the future of luxury with DS Yachts
Now that you have insight into the sustainable and luxurious world of DS Yachts, it's time that you embark on a journey of a lifetime. Choose from our range of yachts—each offering a distinct luxury experience—and let the sparkling waters of Croatia be your playground. Remember, the yachting world is evolving, and it's high time you evolve with it!
Book your next unforgettable yachting vacation with DS Yachts today, and experience the best of the Dalmatian coast. To get your first selection of tailor-made yachts to your email, simply fill out this form, and we will get back to you in less than 24 hours.