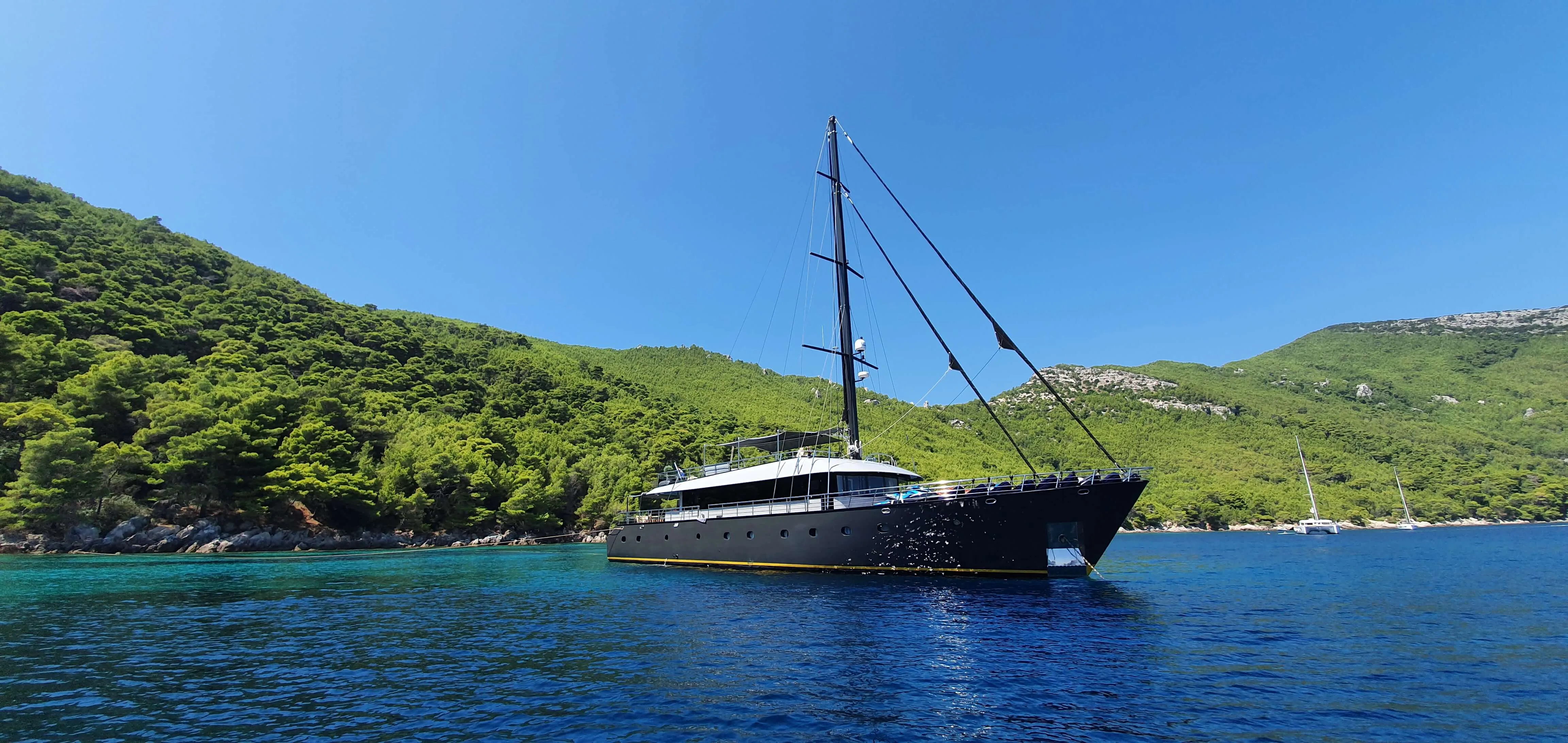 Why luxury sailing yachts in Croatia are so special
In the last couple of years, luxury sailing yachts became a hit. The reason behind it is first and foremost, they offer great value for money, and the combination of sails and a motor creates a unique charter experience. They are a mix of a traditional gulet and a luxury motor yacht and can comfortably fit up to 12 people and 6-7 crew members. This modern and high-end sailing yachts offer top service and all the amenities of a luxury yacht.
Built in Croatia by shipbuilders with a long tradition, these unique vessels are specifically made for charters around the Croatian islands and coast. Because the distances between the islands are so short and the weather is perfect most of the time, sails can be used instead of the motor, offering a truly special experience.
Discover the top 11 luxury sailing yachts available in Croatia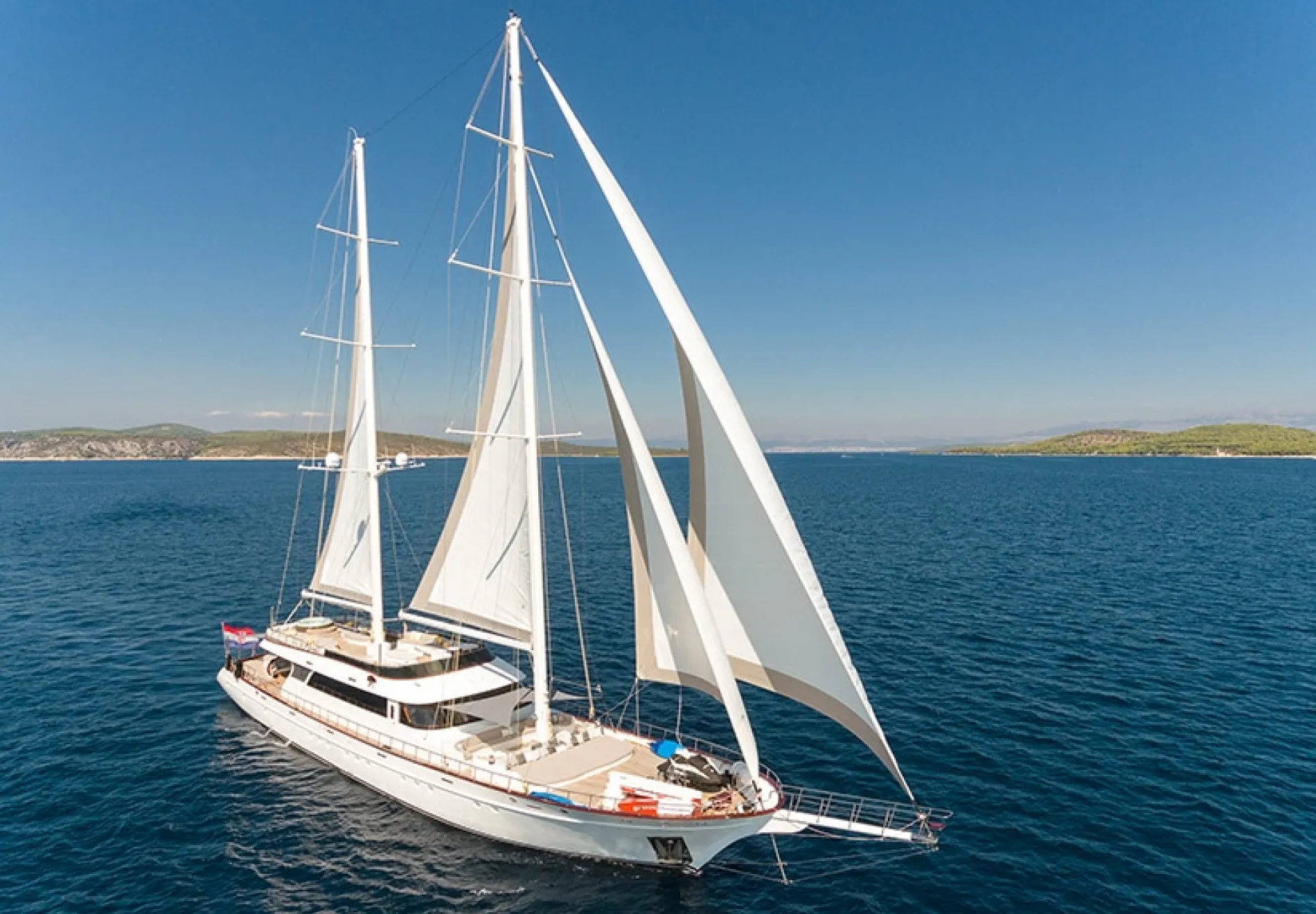 1. Lady Gita
This beautiful luxury sailing yacht features a very spacious indoor salon and particularly large cabins. The vast deck spreads on several levels and offers plenty of space for lounging, sunbathing, and socializing. The jacuzzi on the top deck is perfect for a midnight dip under the stars and soaking up the surrounding scenery. Sailing onboard Lady Gita is truly an unforgettable experience.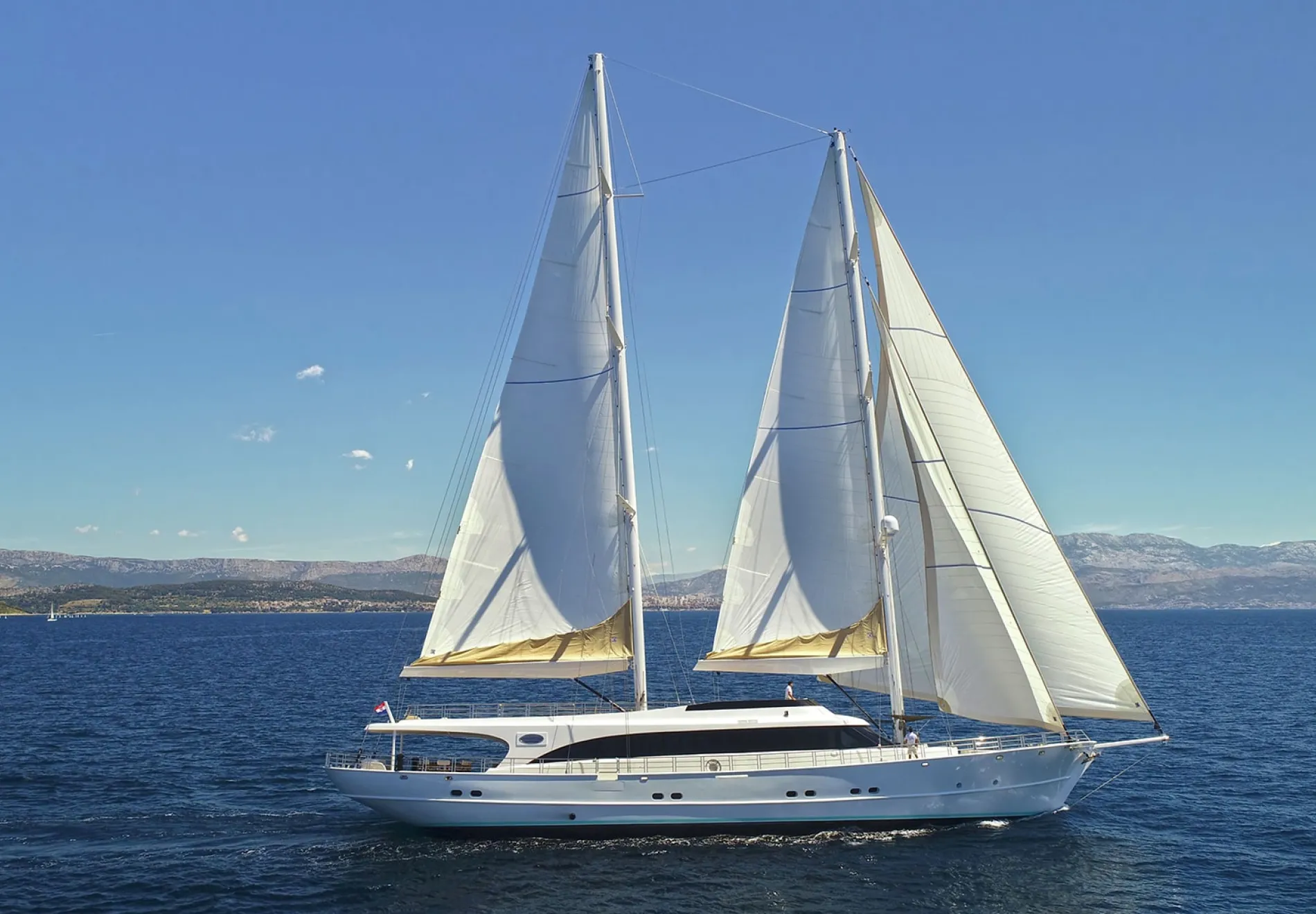 2. Acapella
Acapella is a brand new sailing yacht that features a modern interior design and all the amenities of a super yacht. The guests can enjoy their lunch under her beautiful sails while she smoothly sails on the Adriatic sea. Her beautiful sails allow a peaceful and smooth sailing on the Adriatic sea. The air condition thorough the whole vessel and in all her luxury suites make the guests comfortable, no matter the weather conditions.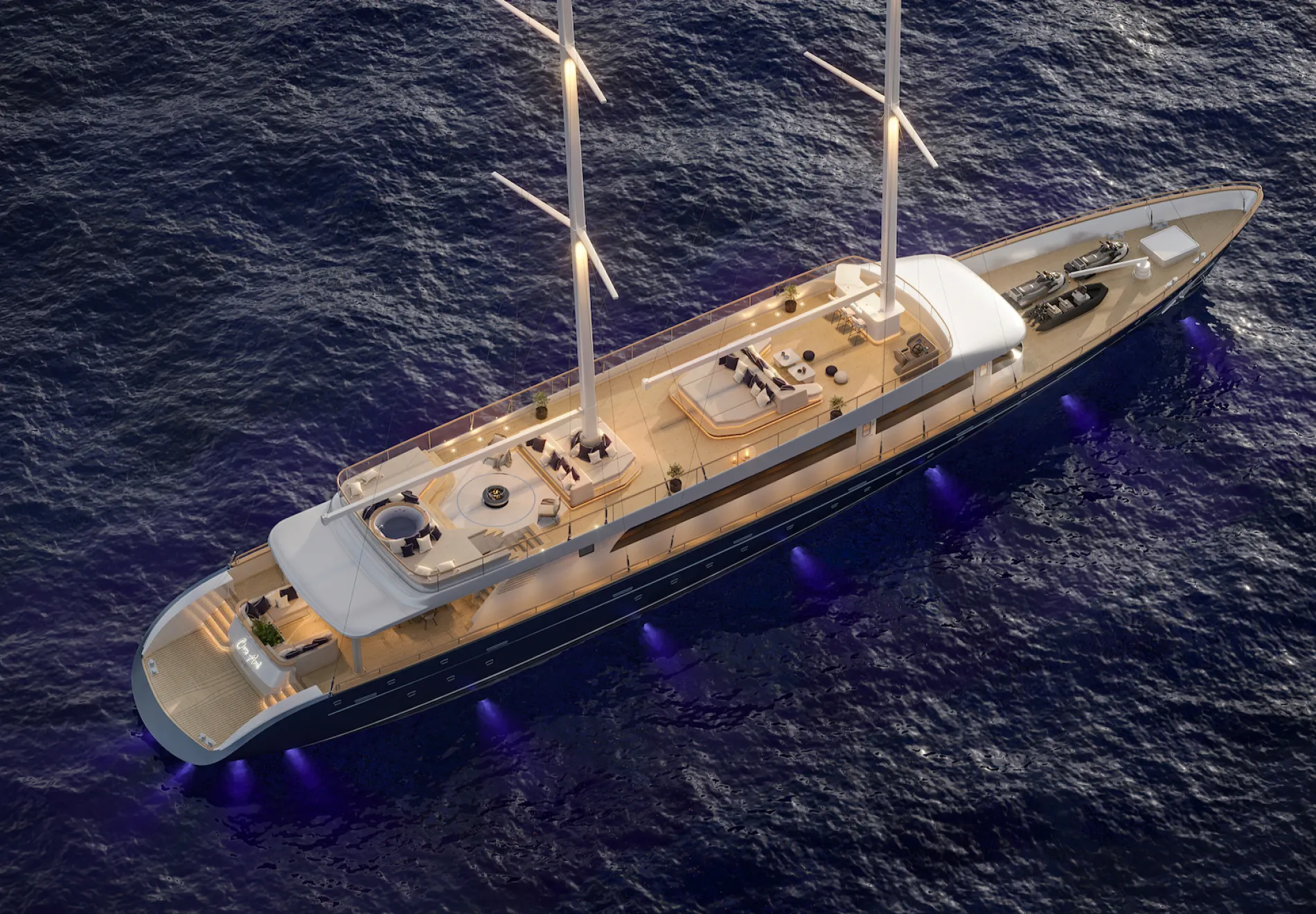 3. Clase Azul
Clase Azul is another brand new sailing yacht with a modern yet warm luxurious design. Her 6 VIP cabins or better said suites offer privacy and comfort to all her guests. The jacuzzi, sun loungers, a wet bar, film screening facilities, DJ equipment, and a superb sound system on the sundeck are just a few of the features that take a sailing experience to a whole new level.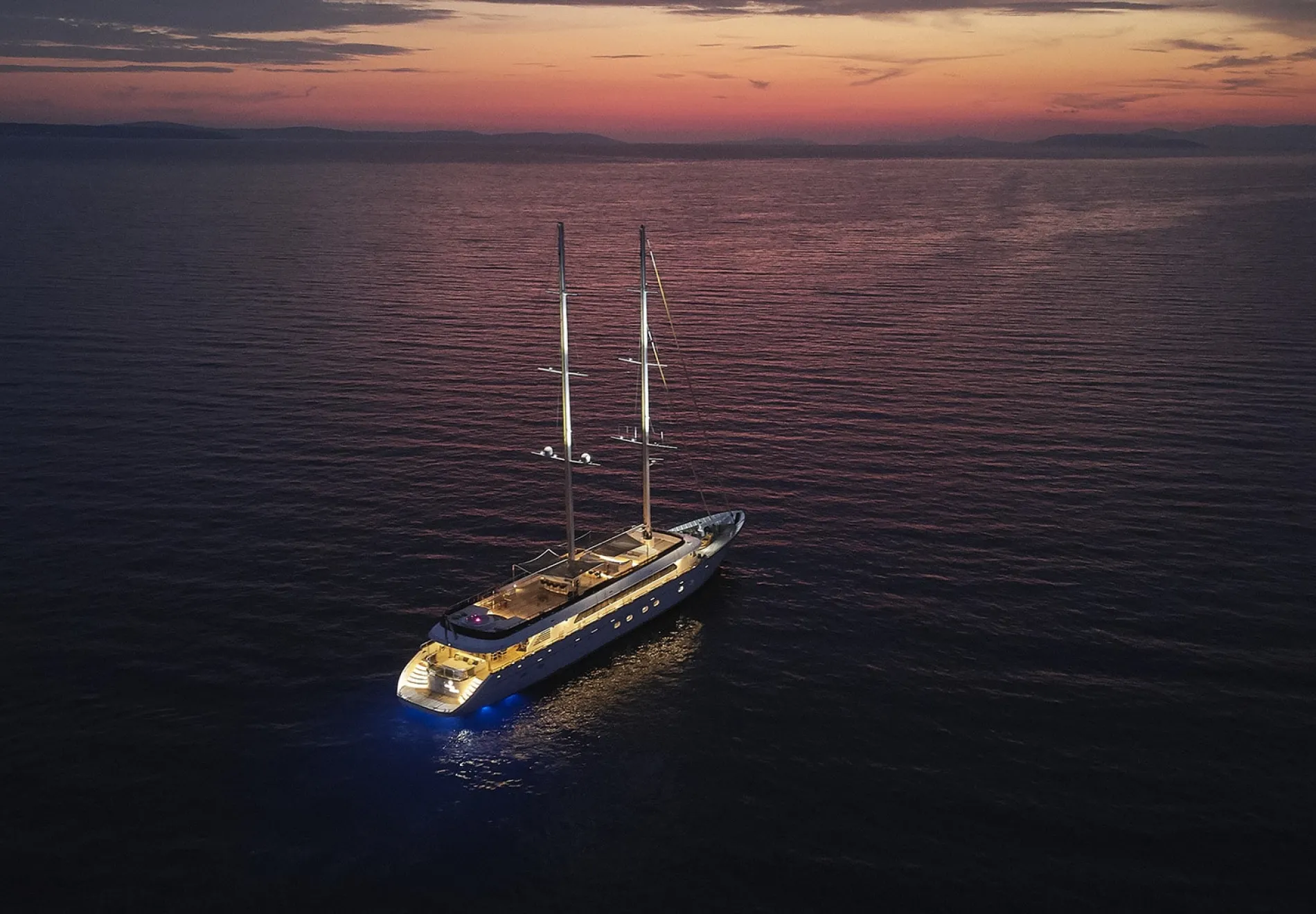 4. Anima Maris
At 49 meters (161 feet) in length, Anima Maris, or "Soul of the Sea" is one of the largest sailing yachts in the Adriatic region. Her warm lighting, dark timber, fine marble detailing, and modern and inviting interior design create an ultimate state of luxury. The large TVs and board games are perfect for indoor entertainment, while a wide range of water toys and snorkeling equipment offers a great way of discovering the sea.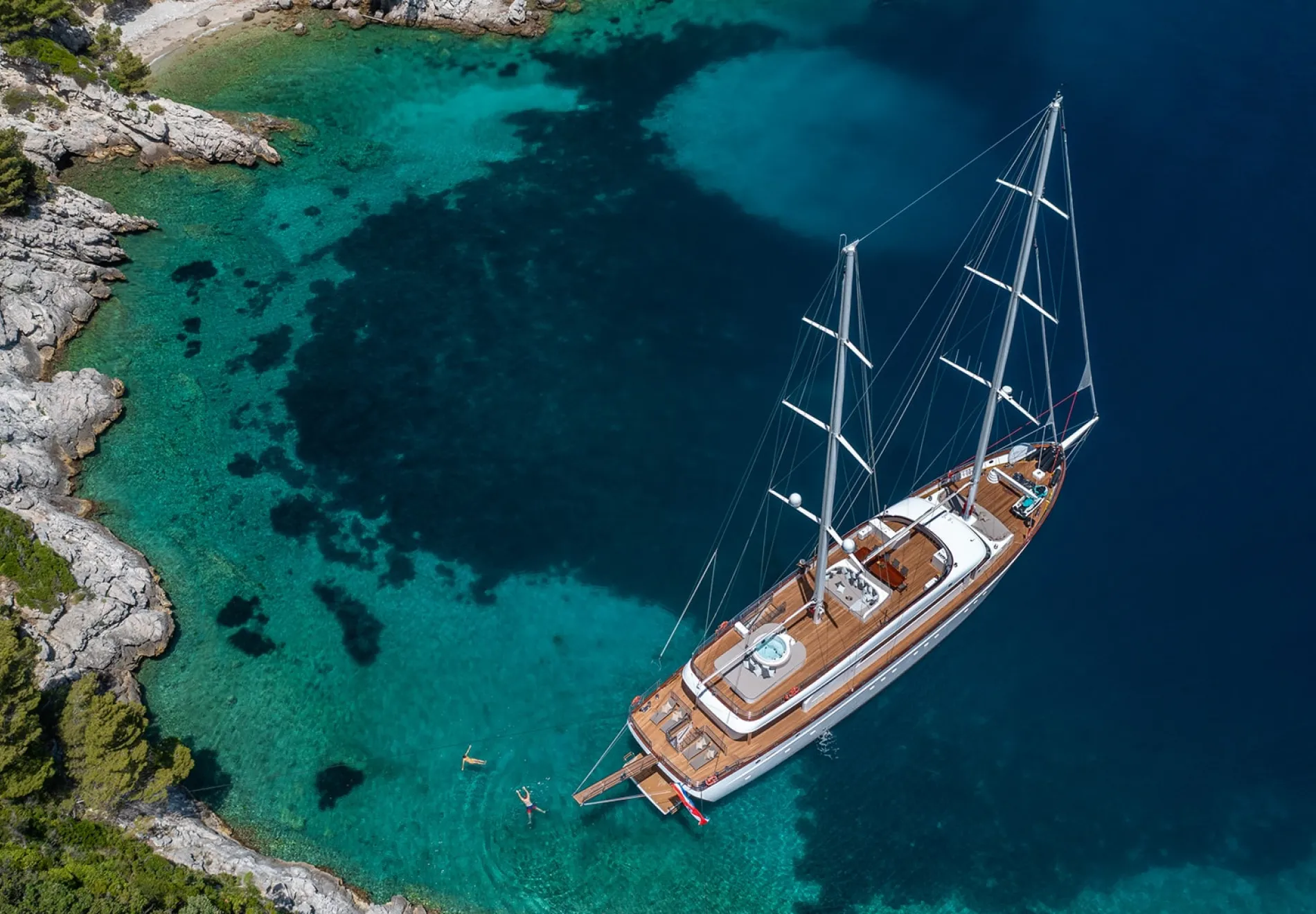 5. Love Story
Love Story's 43 meters (141 feet) long hull and 6 spacious and meticulously designed cabins with marble ensuite bathrooms offer plenty of space for her 12 guests and 7 crew members. The minimalist salon offers comfort and entertainment with wall-mounted TVs, a vast dining area, and a fully stocked bar. The enormous 110m2 upper deck is ideal for sunbathing during the day and at night, it turns into a large dining area where you and your guest can enjoy a delicious dinner under the stars. When ready for some excitement, take out the water toys and have a fun aquatic adventure.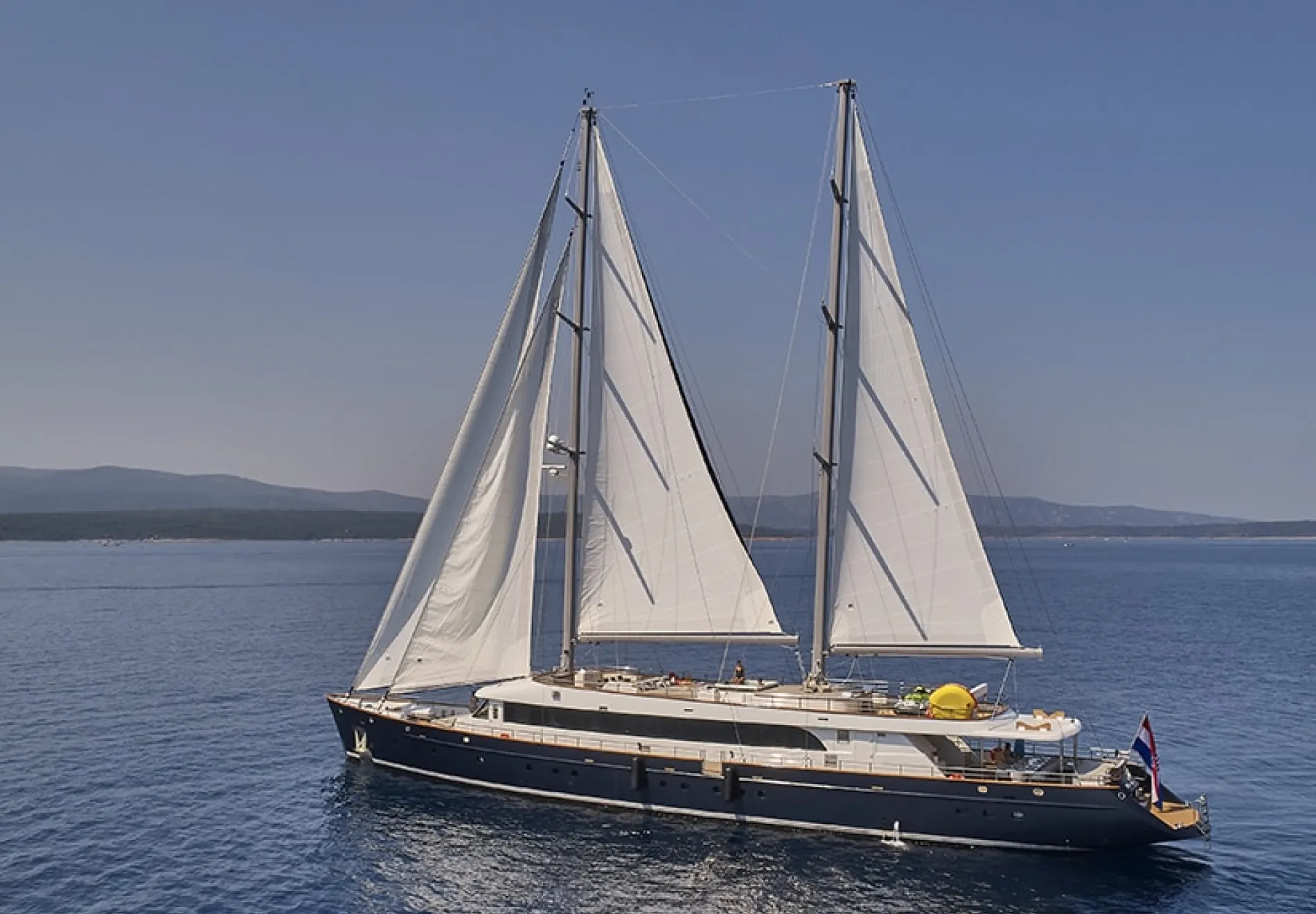 6. Dalmatino
The luxury sailing yacht Dalmatino is one of those special vessels that offer excellent performance and luxury features at an incredible price, putting her above similar yachts on the market. Her vast deck and salon space offer endless possibilities of how to spend your vacation onboard. The water toys allow you to have a fun day at sea, or you can enjoy a glass of local wine in the flybridge's jacuzzi. Dalmatino is ideal for families, groups of friends, business meetings, or any special occasion.
7. Corsario
The luxury sailing yacht Corsario is another rare find of her kind. All of the luxury cabins are air-conditioned cabins include Satellite TV, DVD player, Wi-Fi and USB connection and even a PlayStation 4. In case of a chilly weather, you and your guests can take advantage of the onboard sauna. Adding to the list of amazing amenities on this sailing yacht is the jacuzzi on the top deck, several water toys and a personal chef that creates local culinary masterpieces.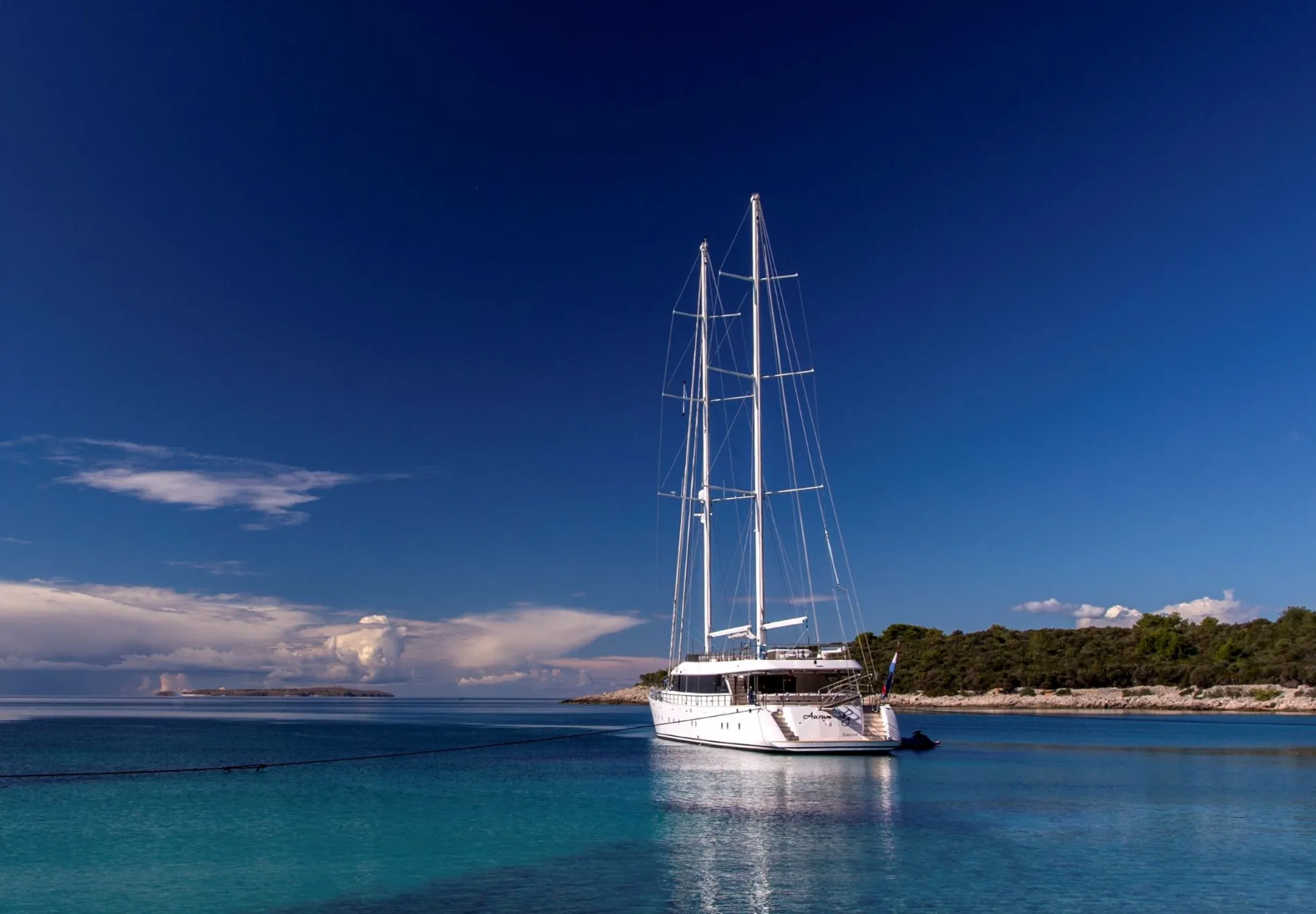 8. Aurum Sky
A relatively new luxury sailing yacht Aurum Sky touched sea in 2020 and offers plenty of space for all her guests. The vast flybridge spreads across 120m2 and features a jacuzzi where you and your guests can relax and get ready for your next adventure onboard. Her modern, contemporary interior will give you a sense of luxury while not compromising on comfort. Sailing across the Adriatic sea onboard such a fine vessel will create ever-lasting memories.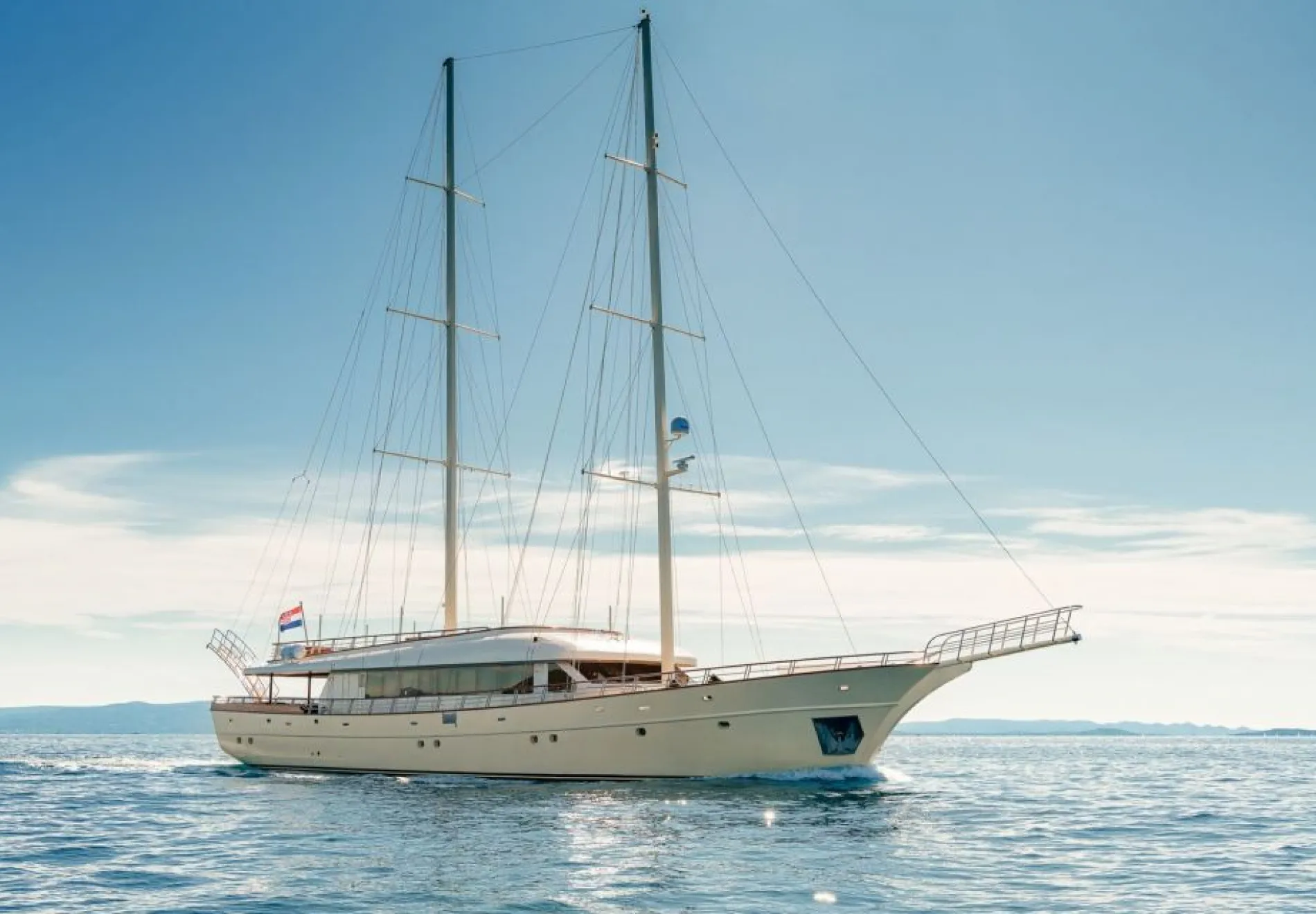 9. Son De Mar
Son De Mar is a modern motor sailing yacht ideal for friends and families of all ages. Her bright and airy cabins with ensuite bathrooms are tucked away, offering peaceful rest. The Wi-Fi is available throughout the whole yacht, each cabin also features a TV, DVD player, and USB connection for all devices. The best part about this vessel is the sauna onboard, where the guests can warm up in case of chilly weather.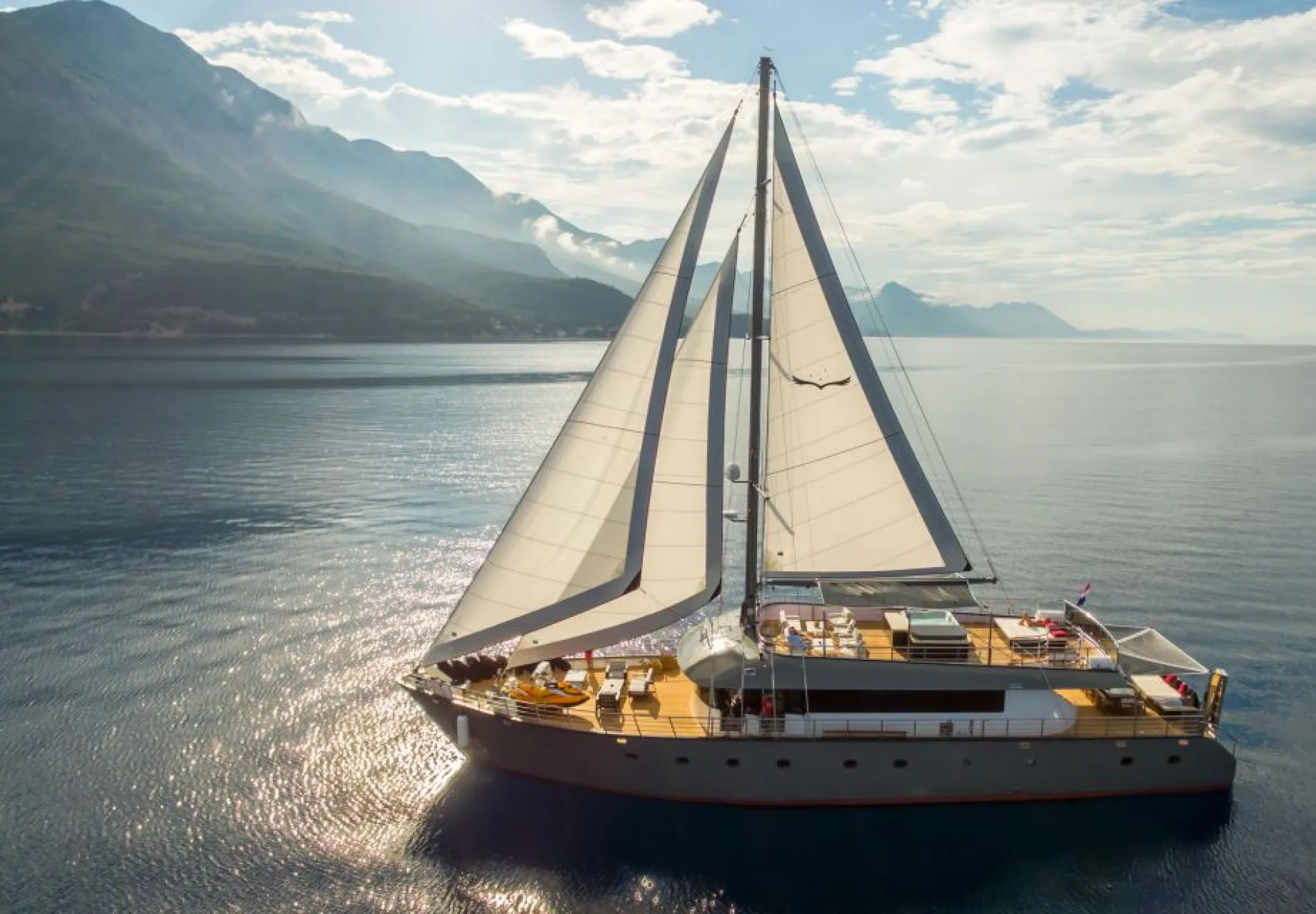 10. Rara Avis
This magnificent custom-built 33-meter (108ft) luxury motor sailer is a true work of art. It includes all the high-end amenities of a luxury yacht, so the guests can really have an unforgettable experience. Rara Avis's beautiful spacious salon and 6 suites with ensuite bathrooms are a masterpiece of modern design and comfort. The on-deck jacuzzi and the outdoor bar create the perfect setting for a fun and relaxed evening with your friends. The high bulwarks and substantial guardrails surrounding all outdoor areas create a safe environment even for small children.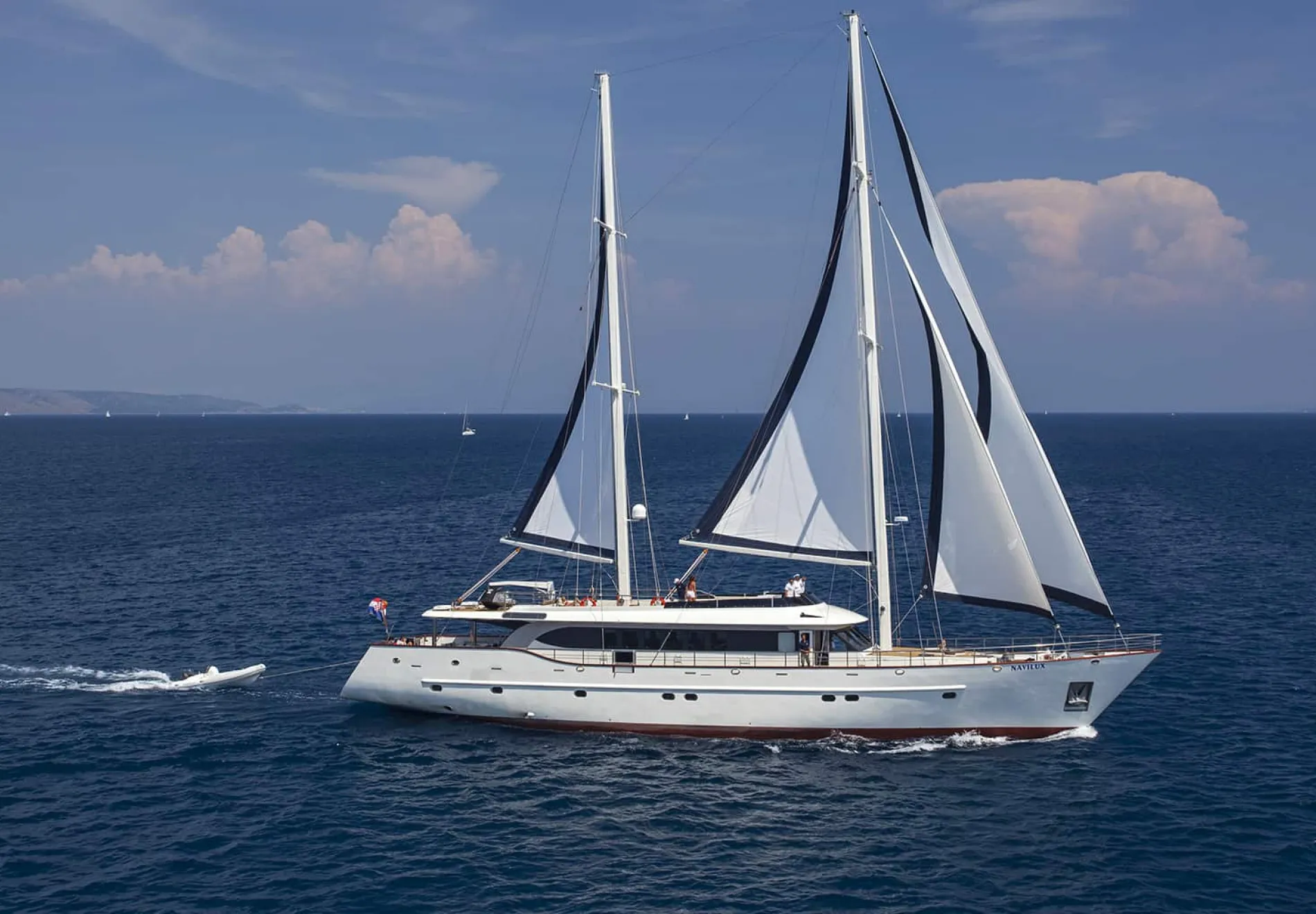 11. Navilux
As the name suggests, Navilux is the perfect combination of navigation and luxury. The spacious, bright, and artsy interiors flow throughout the whole vessel, including the 6 private staterooms. The flybridge features lounge chairs and a cocktail area where you and your guests can be easily entertained. Another amazing feature is the on-deck jacuzzi and several water toys that are at your disposal at all times. When it comes to sailing in style at an affordable price, Navilux is the answer.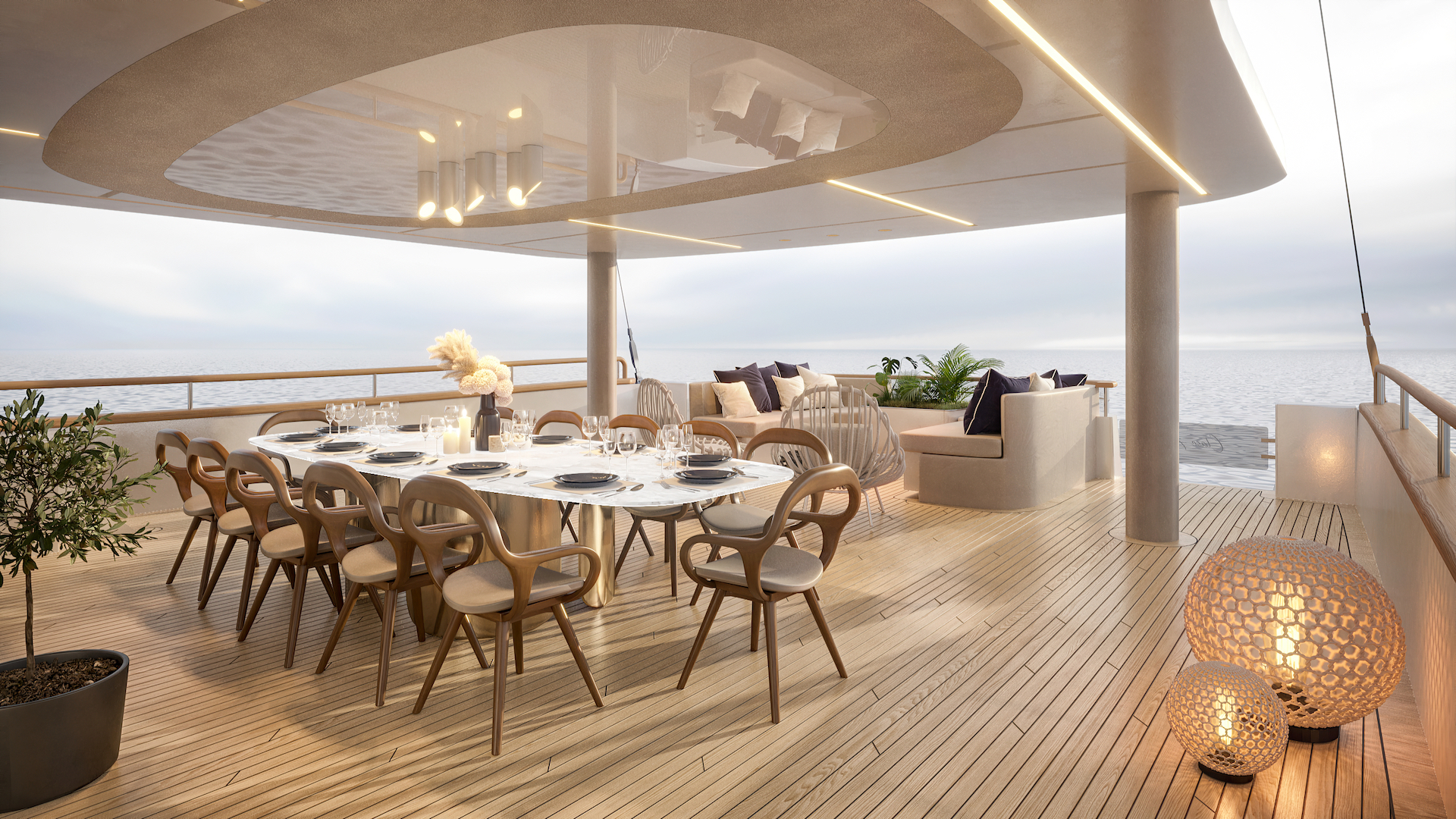 Sophisticated outdoor dining area on Clase Azul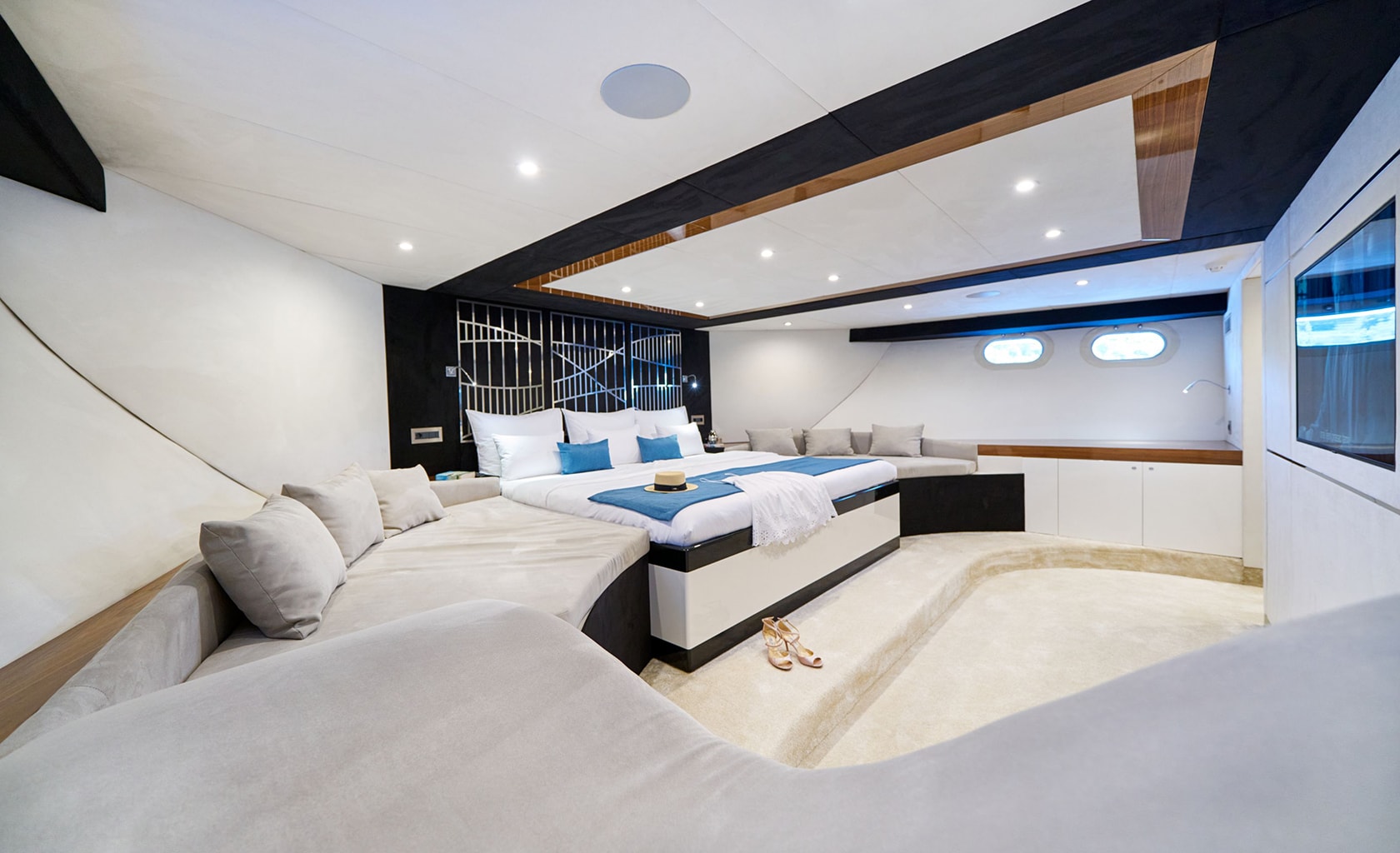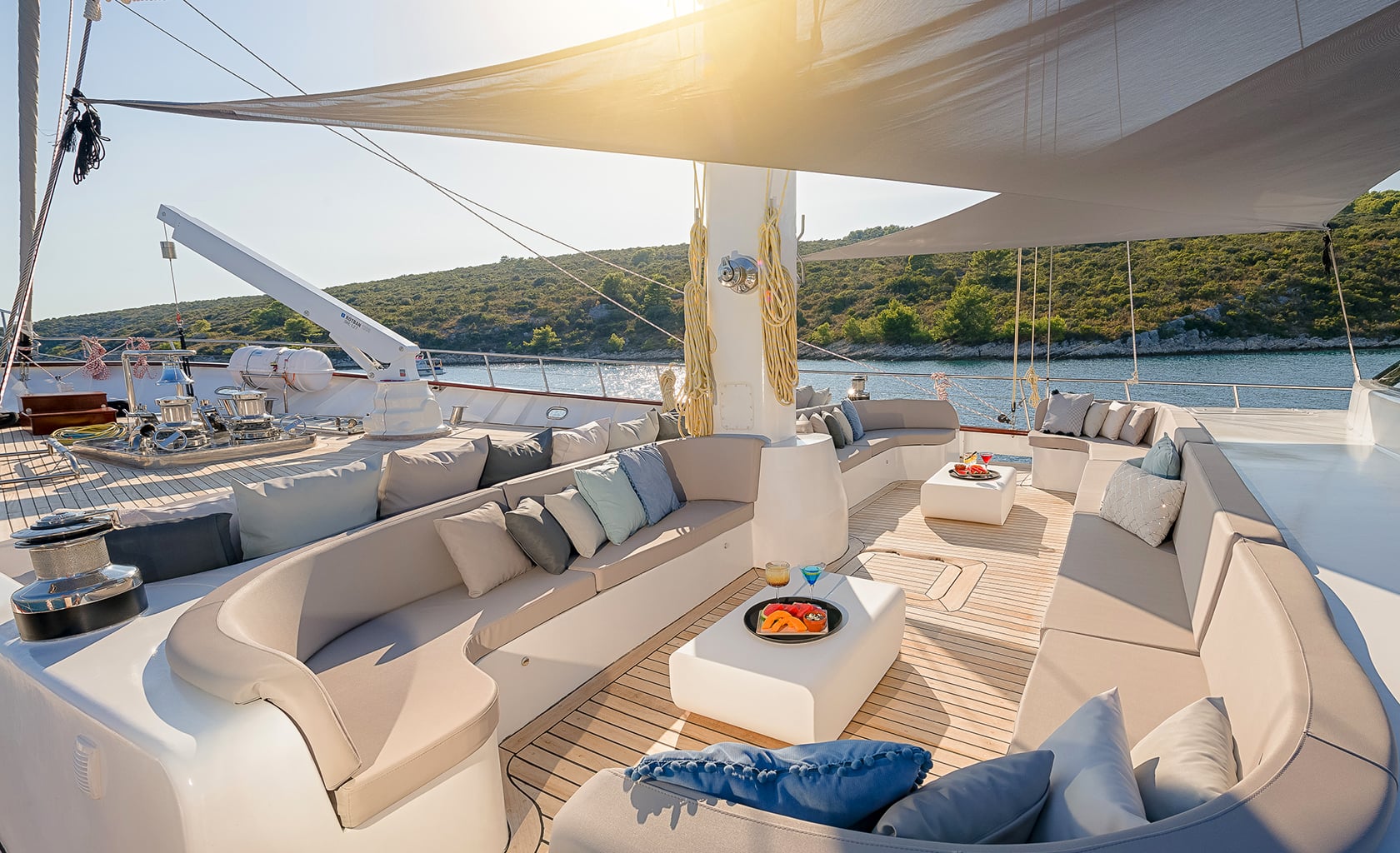 Comfort and luxury onboard Lady Gita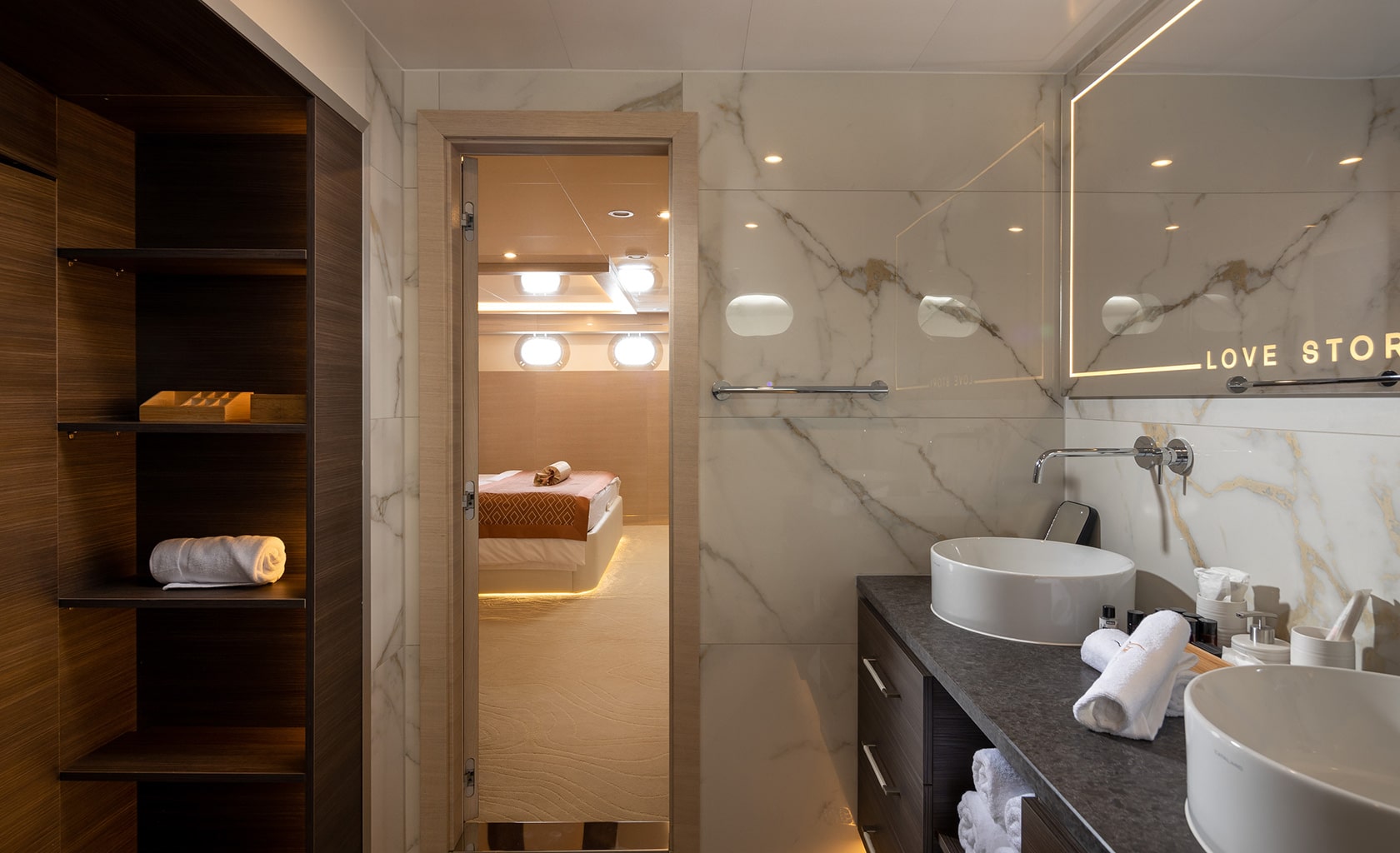 Love Story's magnificent ensuite bathroom
The outdoor bar onboard Anima Maris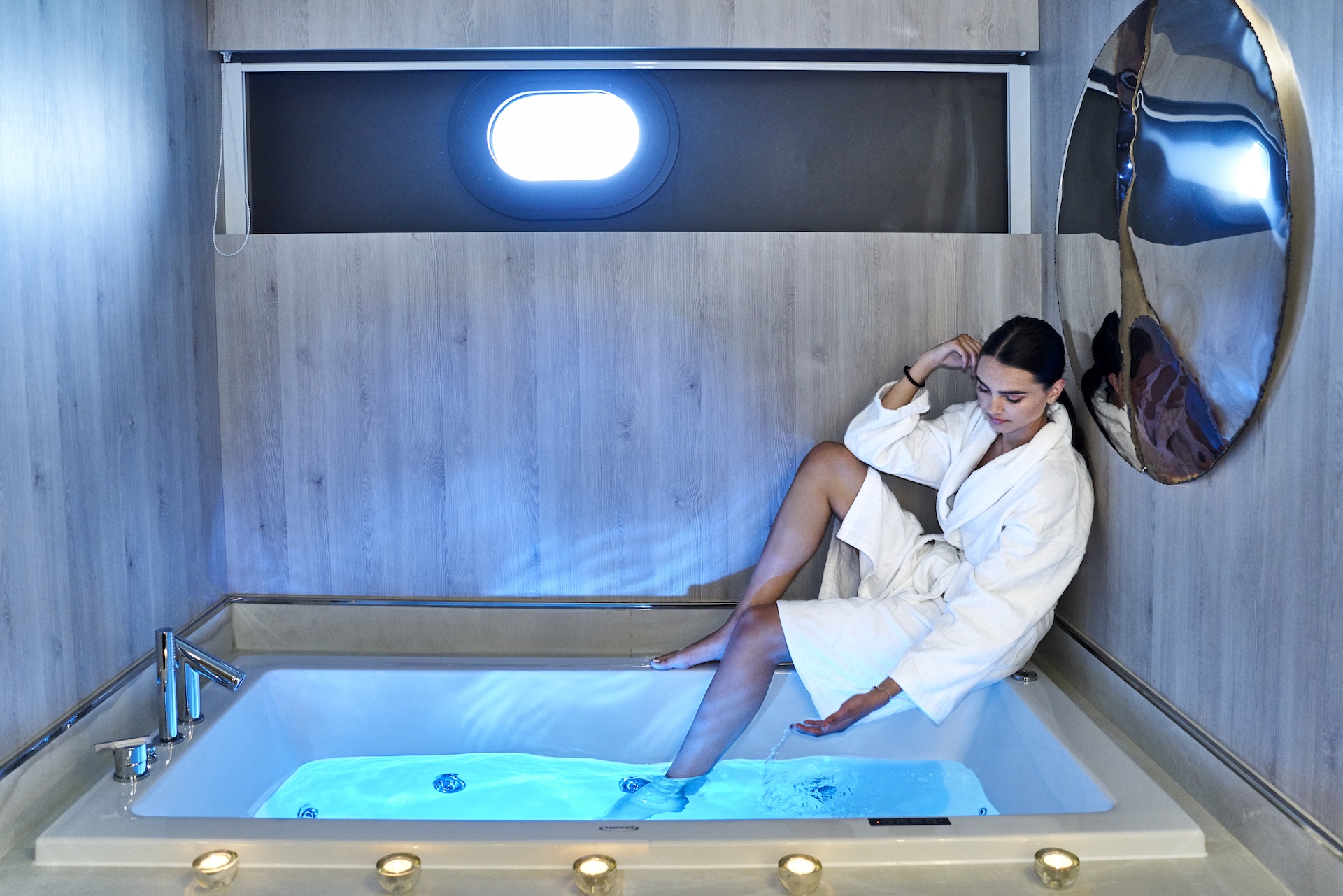 Dalmatino's master bathroom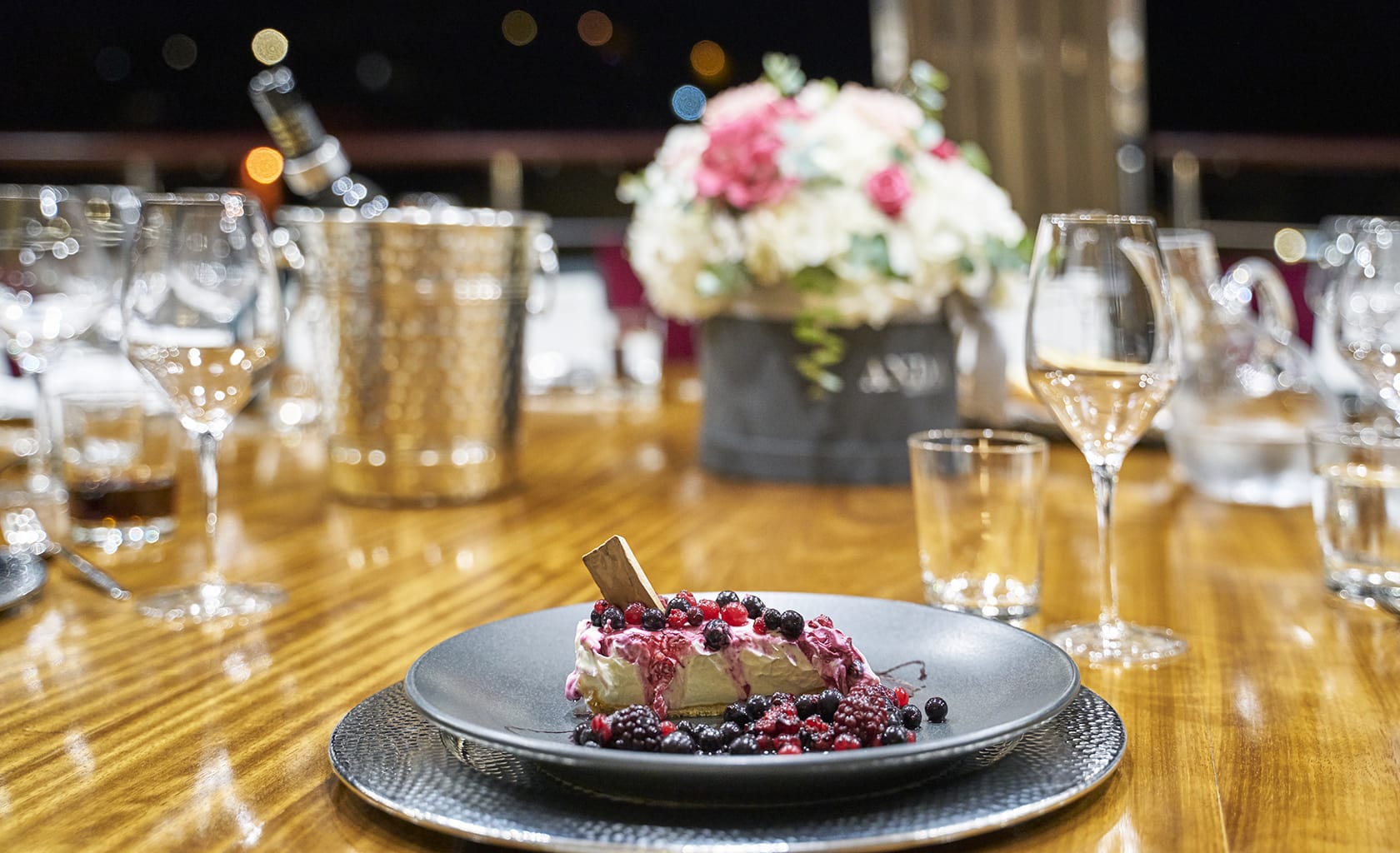 Decadent dessert onboard Corsario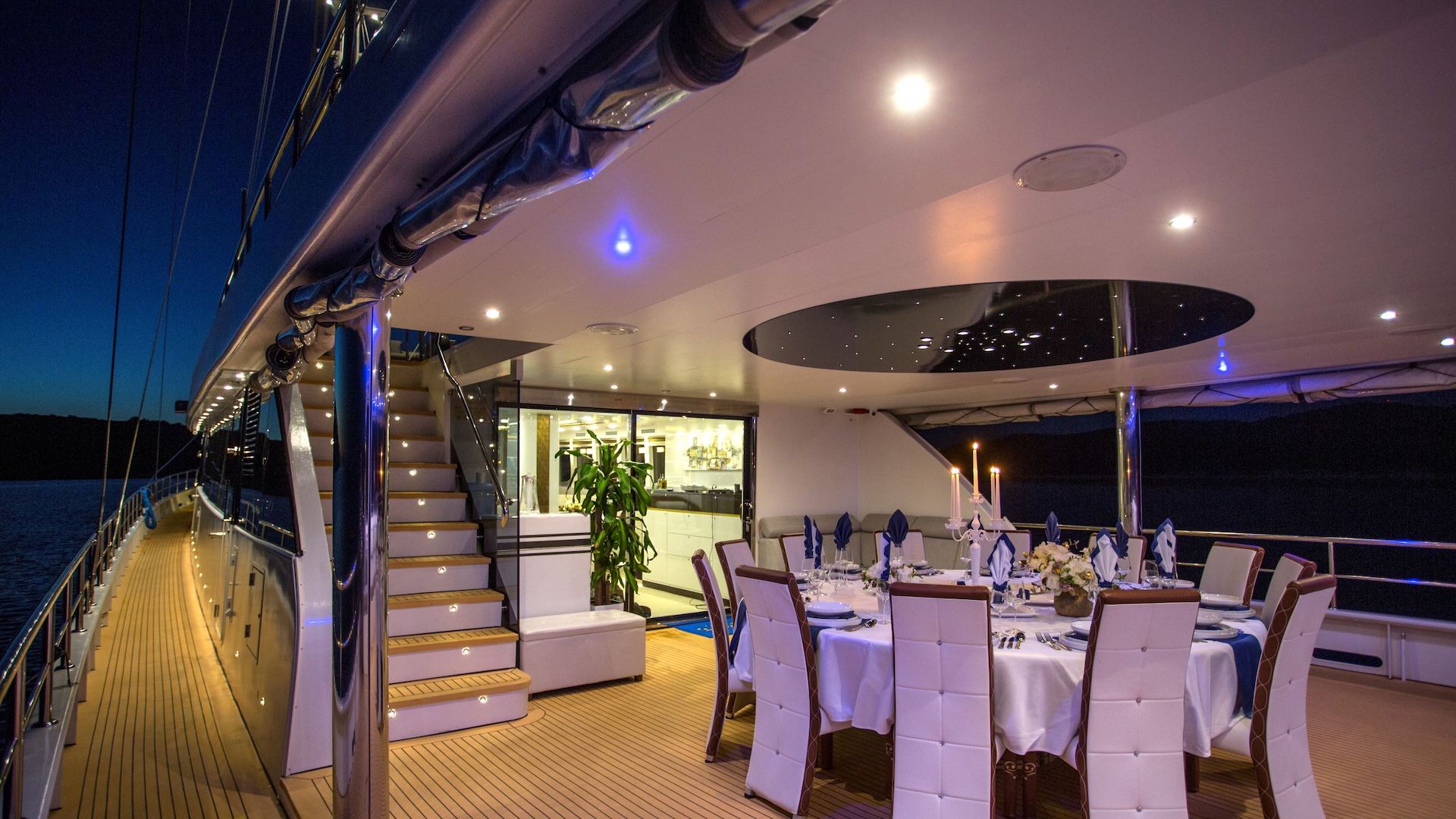 Dine in style onboard Aurum Sky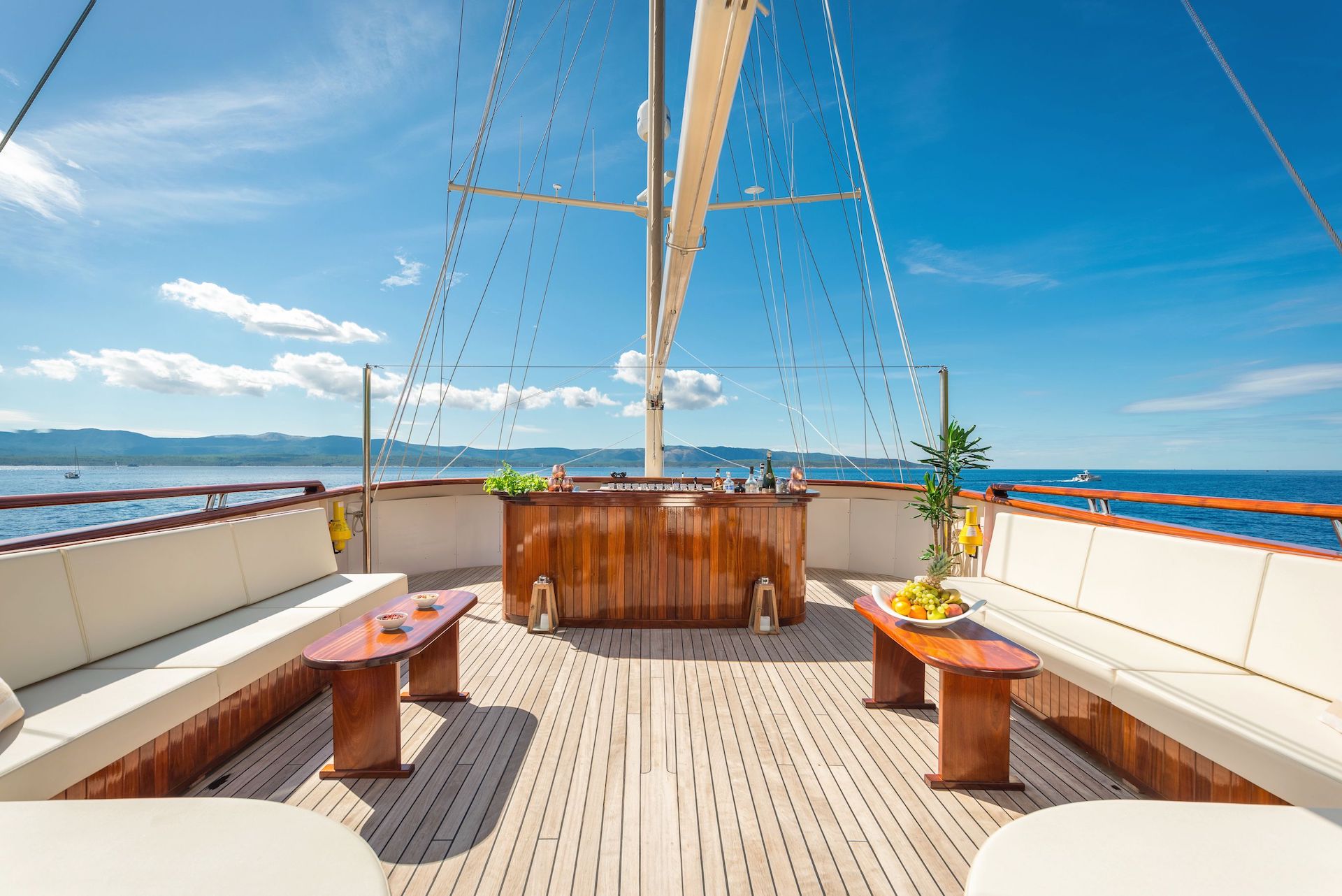 Classy Son De Mar's outoor lounge area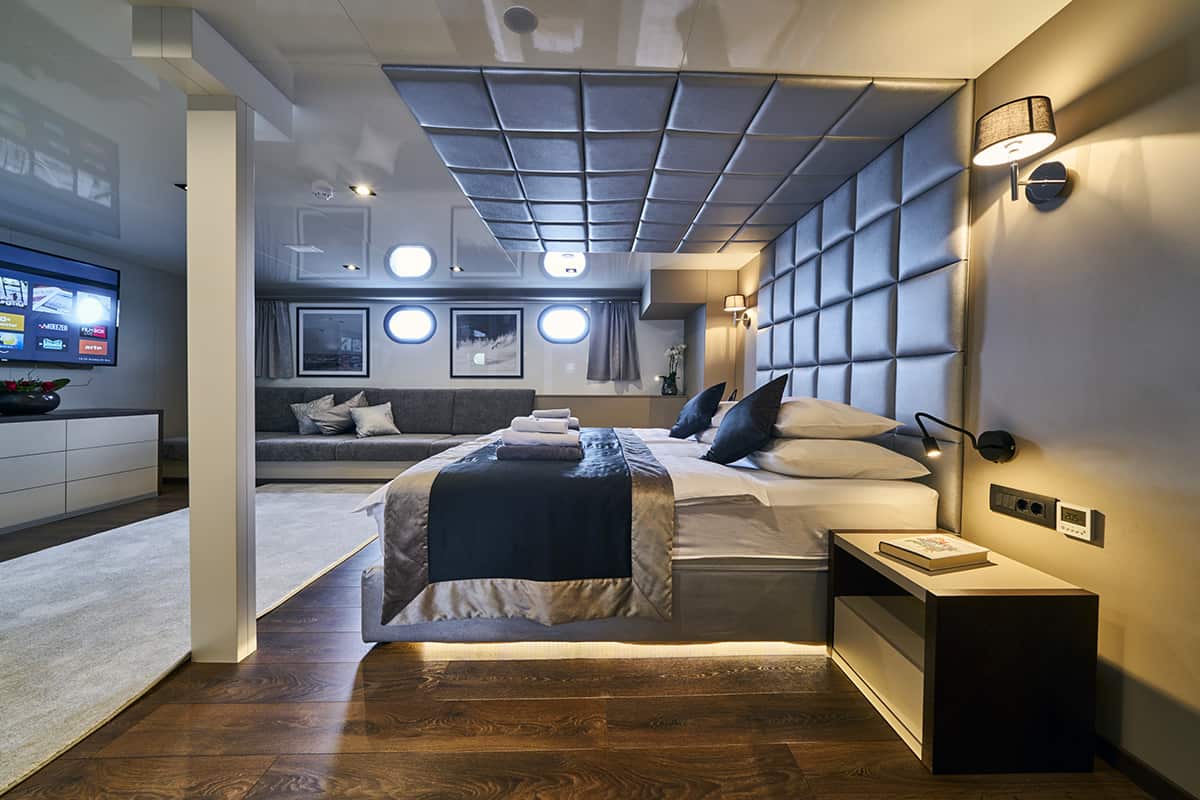 Luxurious Rara Avis' master bedroom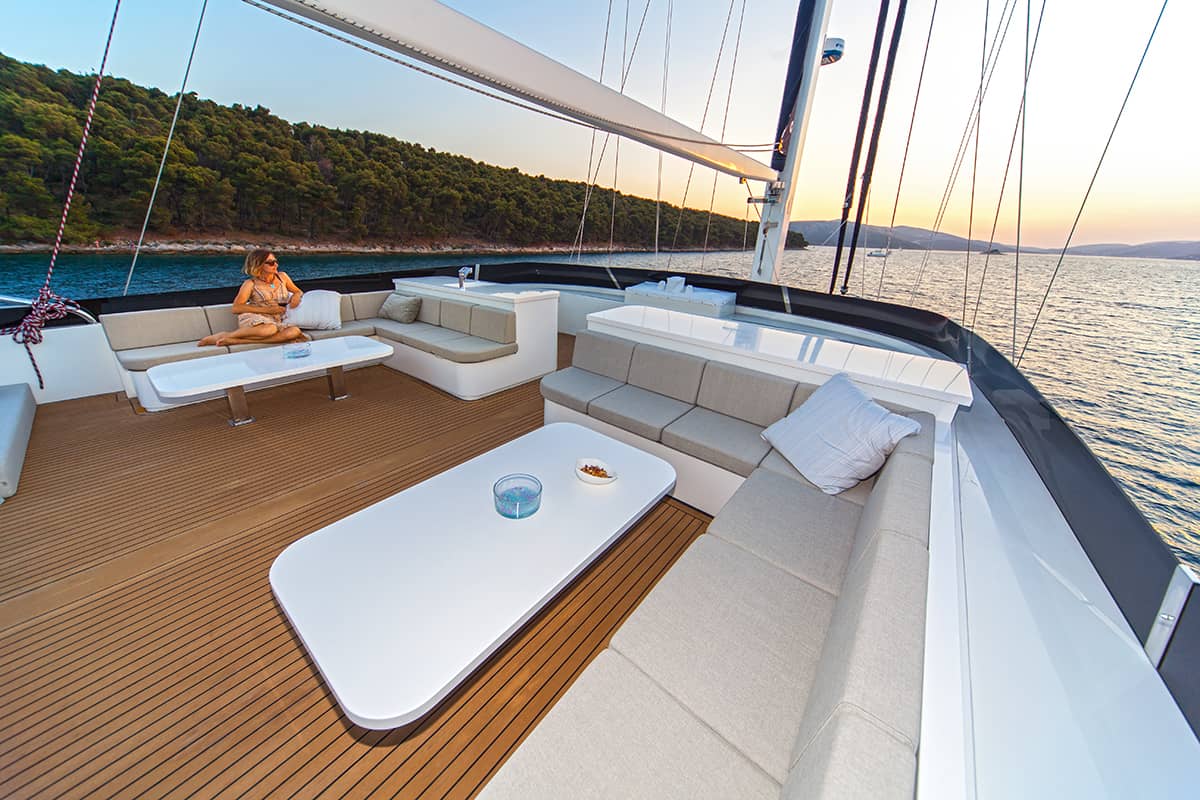 Beautiful views from Navilux
If you want to experience an ultimate summer vacation at an affordable price, these traditional luxury vessels will give you exactly that. Contact us, and we will find exactly what you are looking for.