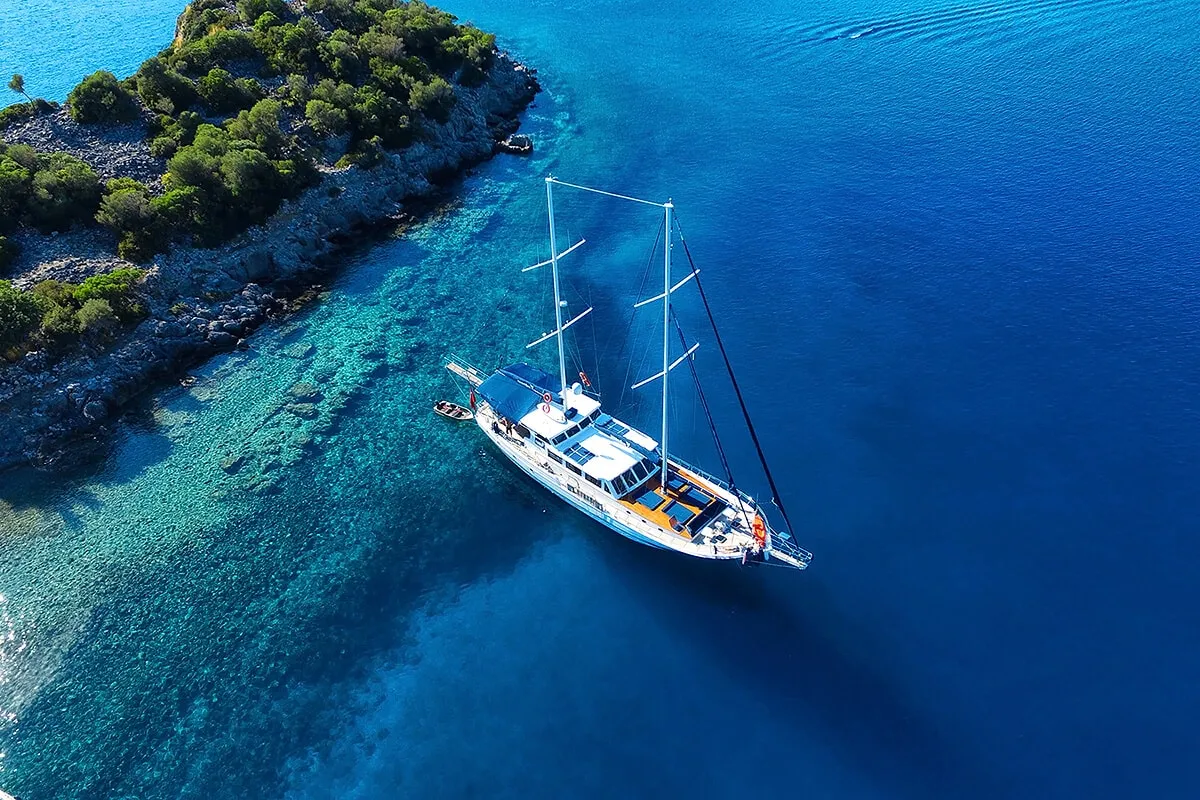 Gulet Maske – Reasons Why This Could Be The Perfect Gulet For You
There are many different gulets that have their own advantages and disadvantages and choosing a right one that will be perfect for you can be demanding. Here we will represent you a success story about one of the special gulets that you should definitely consider if you are aiming to have the best experience at your Croatia cruise. We introduce you with beautiful Gulet Maske is one of the newest and most luxurious gulets in Croatia and here you will be presented with all of its features and advantages. But that is not all, you'll also be introduced with some of the picturesque locations, beaches and bays in beautiful Croatia where this amazing gulet could take you.
Before doing anything else check out this short amazing informative introduction video about gulet Maske. And get ready to be amazed!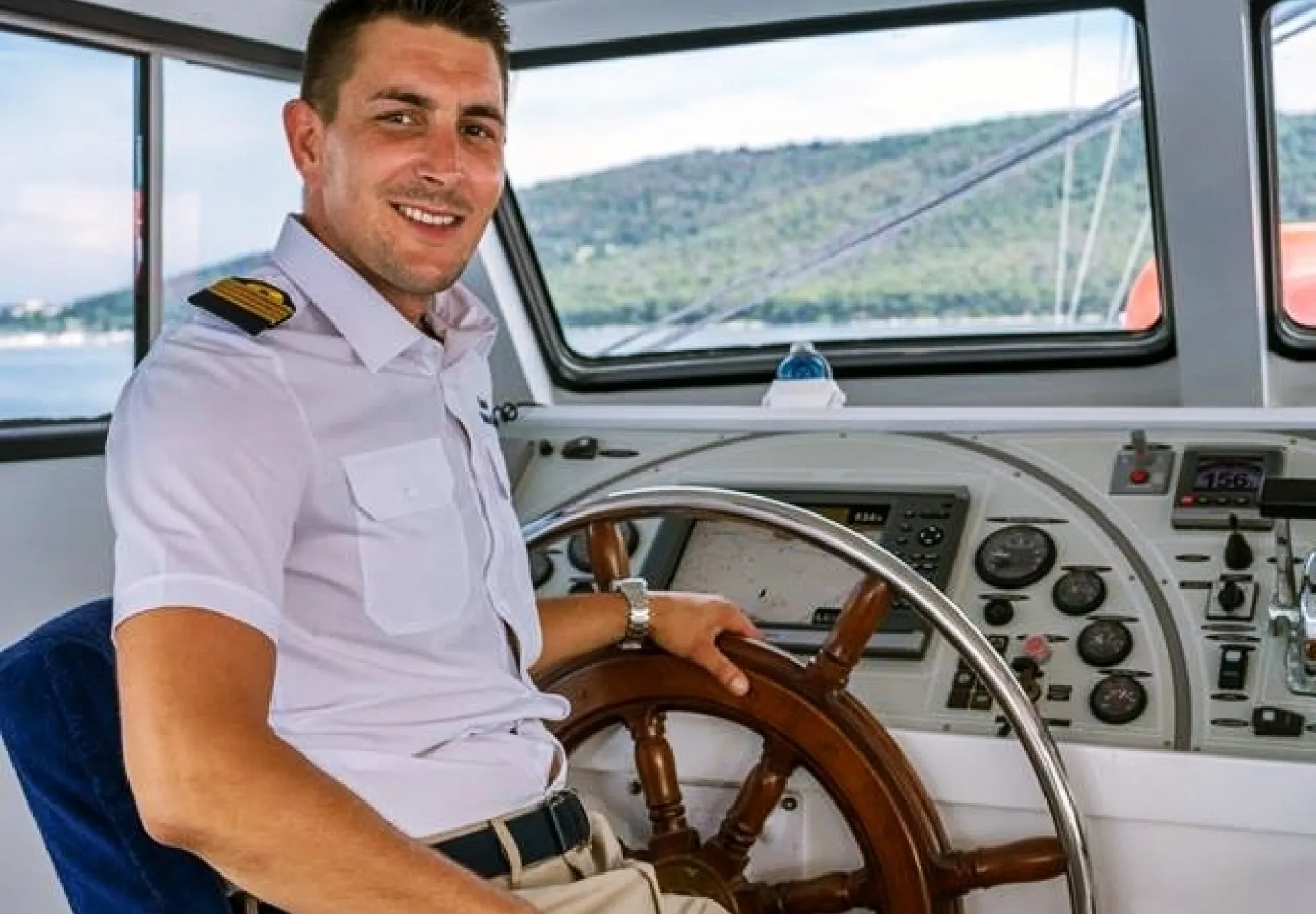 Captain & owner
Božo the owner of gulet Maske together with Captain of a gulet, Marko went to Turkey to buy this boat and completely renovate it. With a team effort, Maske was brought to Croatia and ever since this family business wrote only the success stories.
Captain of the gulet Maske Marko started working on boats when he was only 16 years old. He started his career as a sailor and after finishing additional education, he worked as Captain on the gulets for 9 years. Needless to say, he has excellent knowledge of the Adriatic coast and he will show you the most beautiful places around the Adriatic. So guests have only the best things to say about this friendly but professional captain.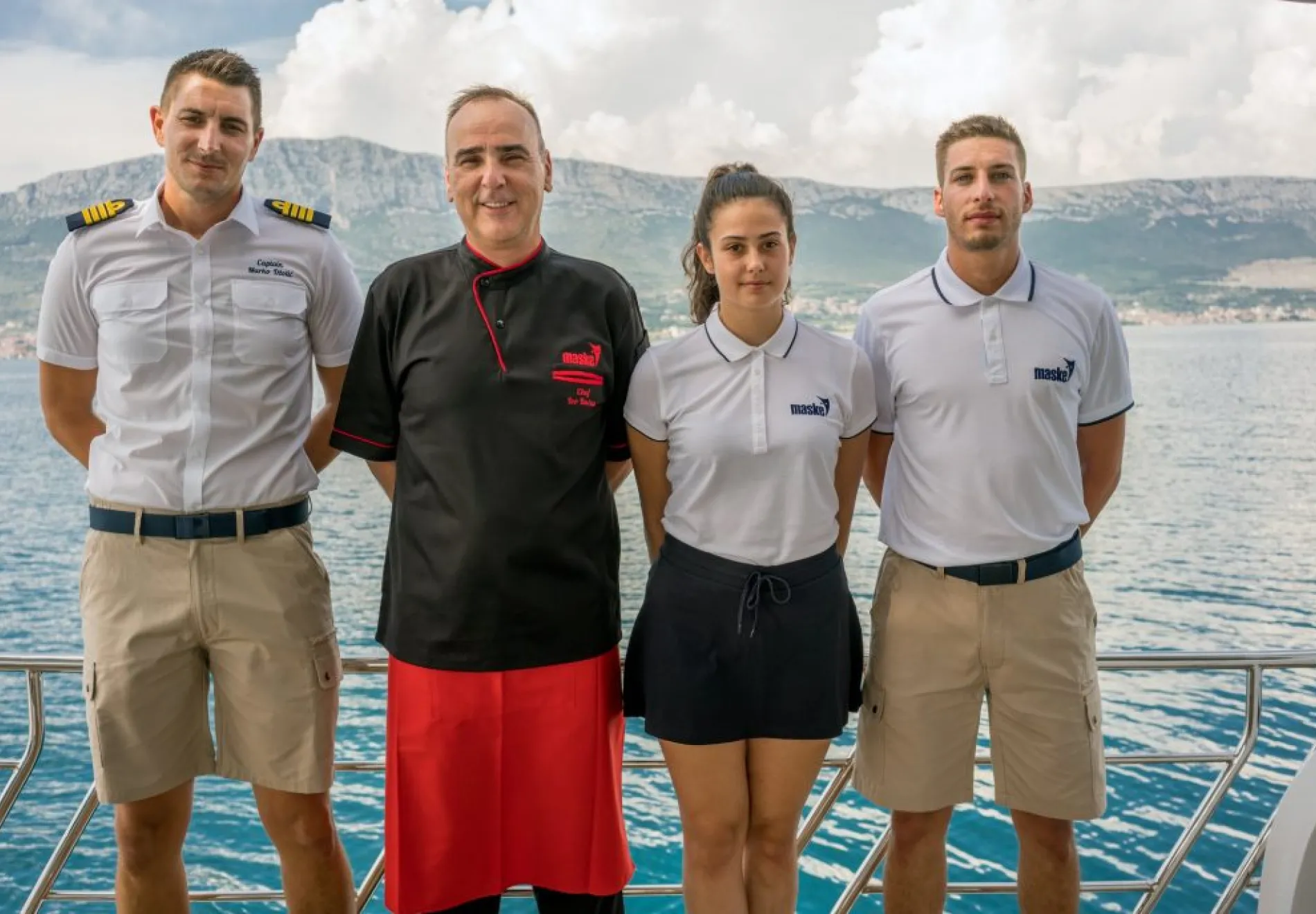 Crew
You simply can unwind and relax fully since there will be a crew of 4 on board! This lovely crew will try their best to ensure you are feeling stress-free and have everything you need. You'll also guarantee with an excellent chef, who is passionate about his work and will try his best that you stay full and happy. If you still aren't fully convinced on this one then keep reading or scroll down and check out how amazing do chefs dishes look like!
Beautiful modern decor, cabins, deck and more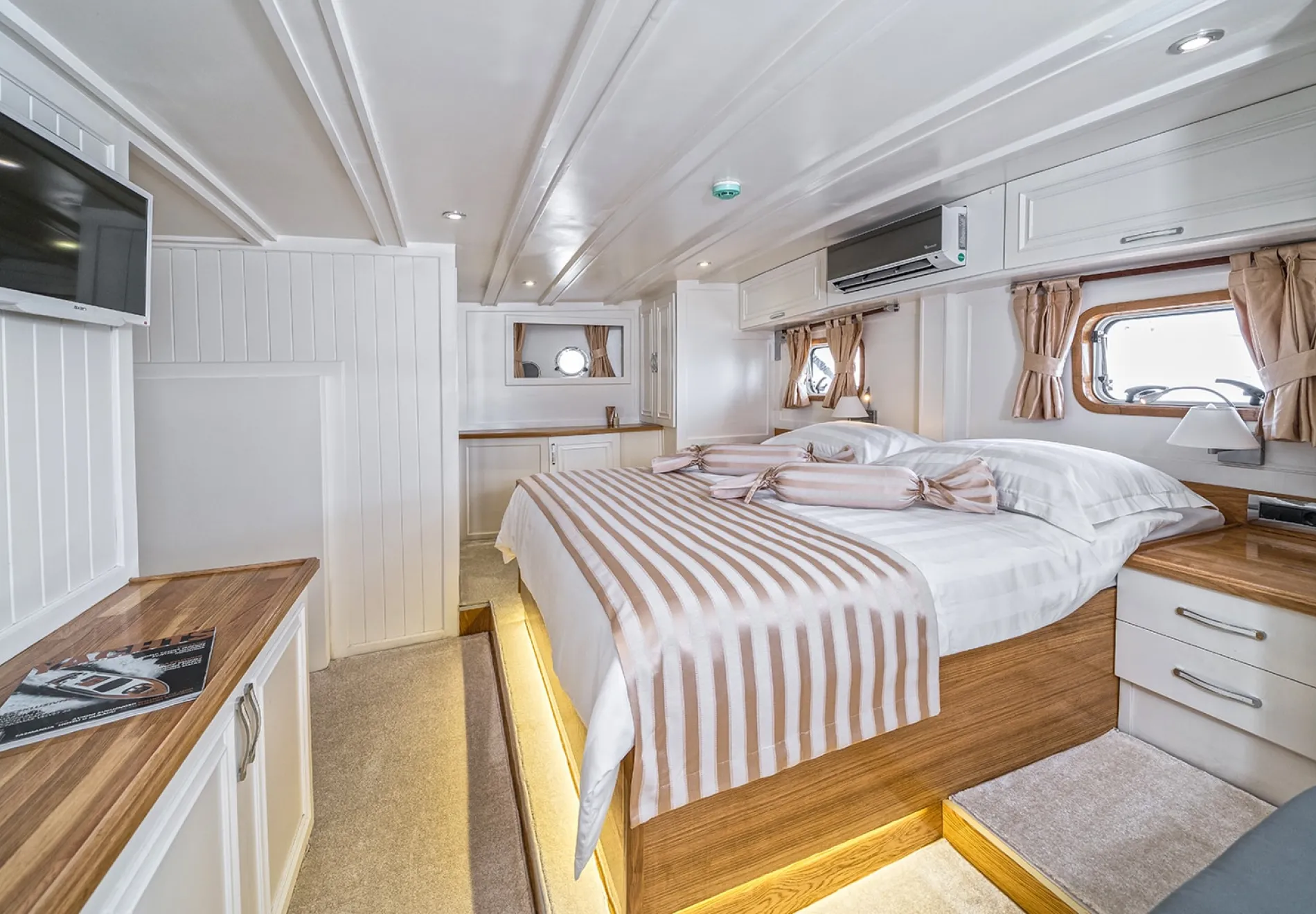 This gulet features 5 en-suite cabins that offer modern design and a high level of comfort. There is 4 double and 1 master, so it can accommodate up to 10 guests that can enjoy their cruising holidays in Croatia to the fullest.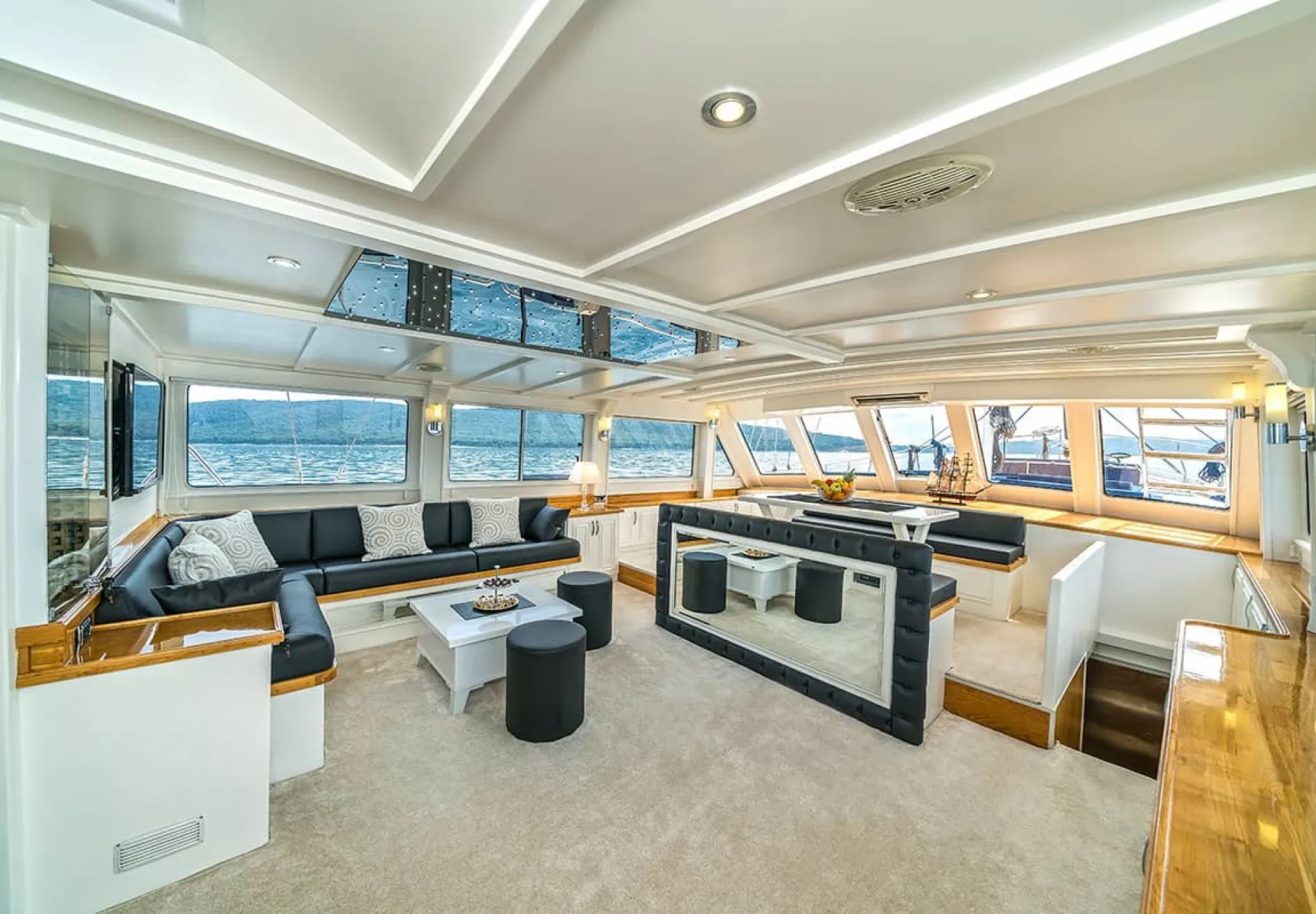 Speaking of comfort, this gulet with its nearly 28 meters stunning length, is very spacious – from comfortable cabins to huge and bright salon area, it truly has all you could need and more.
Maske, unlike typical gulets that use dark wood, has a white wood finish which gives her a dose of elegance. Additionally, the whole interior looks brighter and open! It's relaxation for your eyes and soul.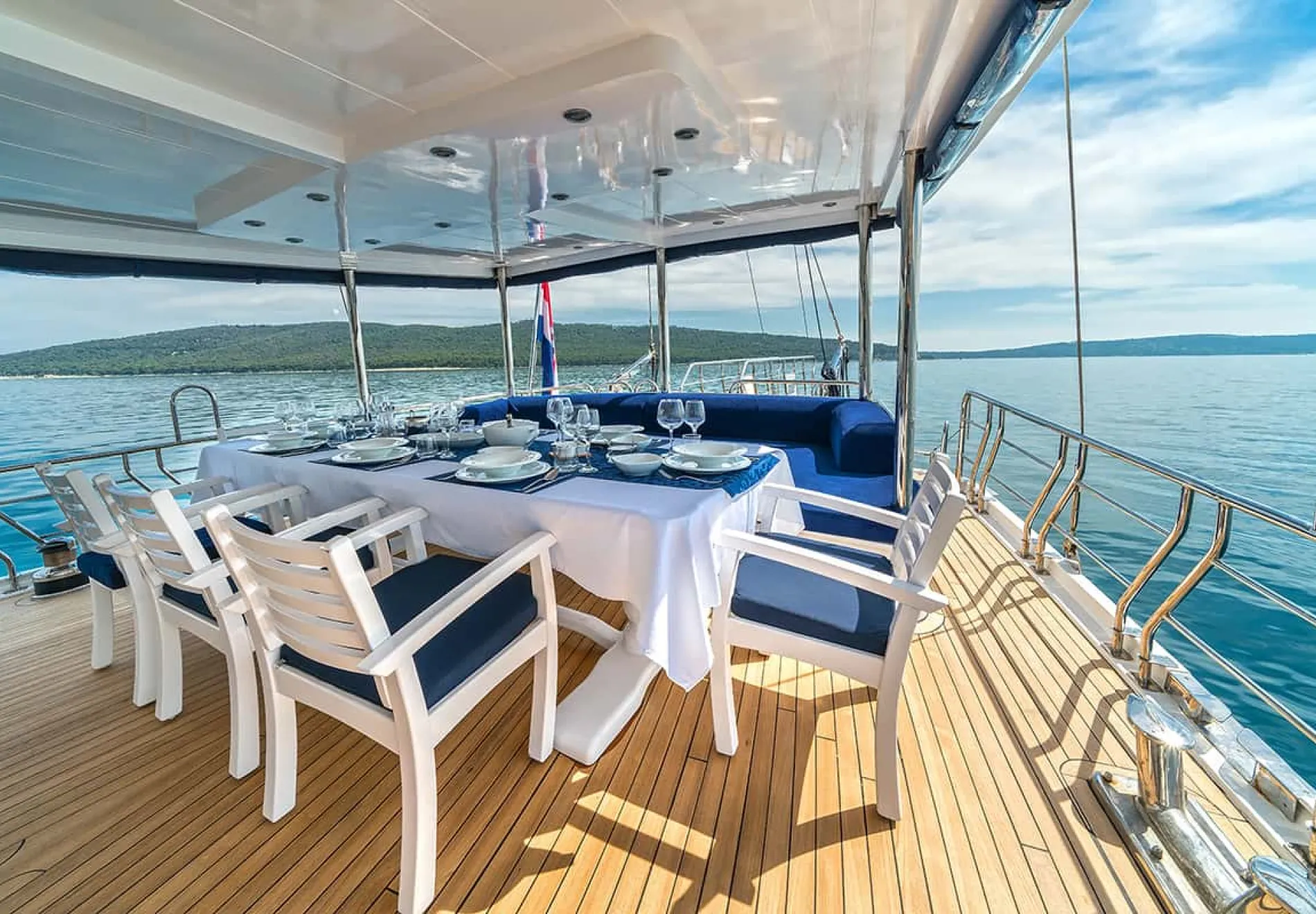 Deck are is made out of teak and it is a perfect place for endless enjoyment under the sun with a drink in one hand and book in the other. On the stern deck, there is a big dining outdoor table in white with chairs for fun dinner nights. For your comfort, there is also a large padded sofa where you can chill during the day.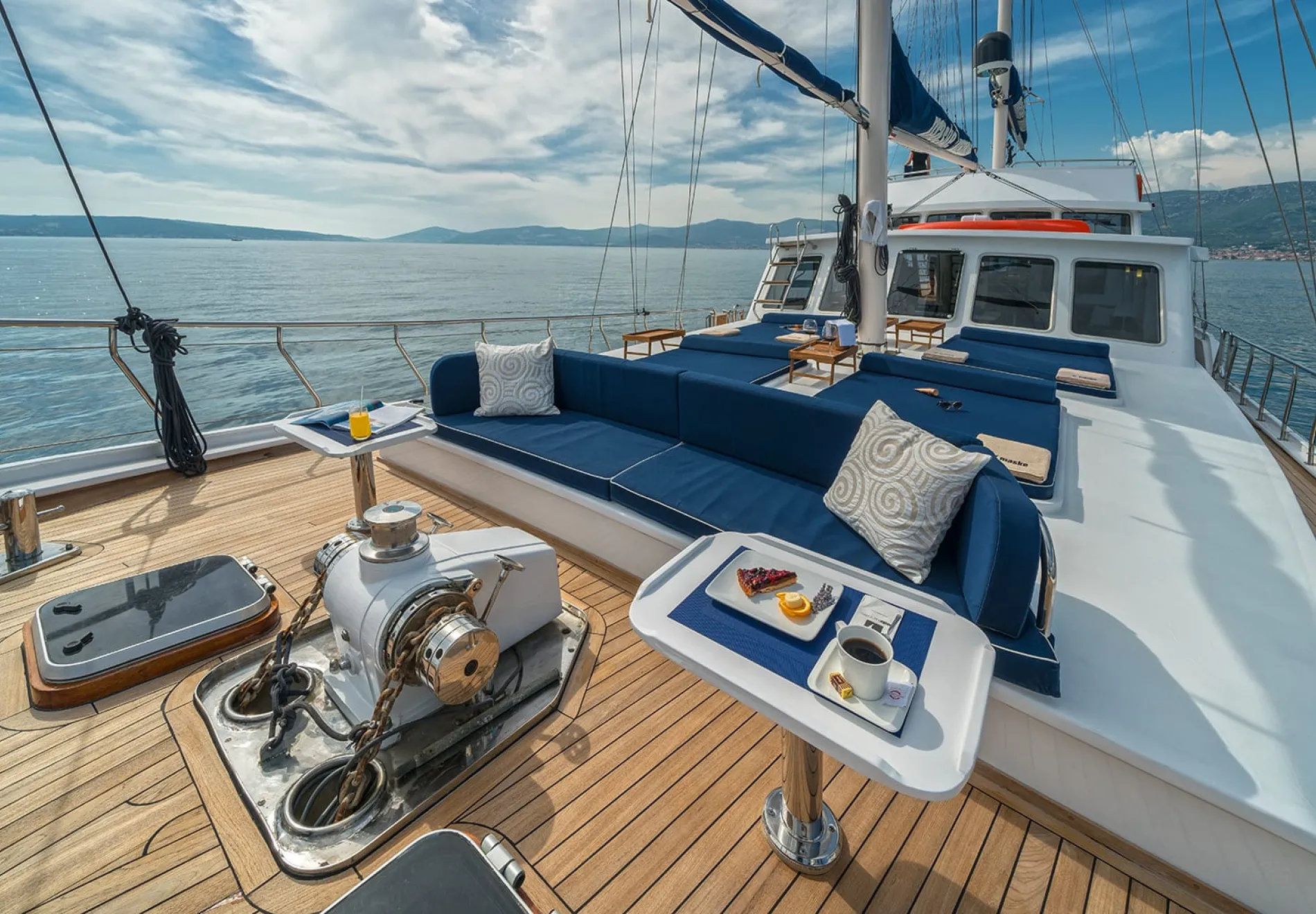 For pleasure and enjoyment in the endless sun summer has to offer here are also plenty of wide sun mattresses and another comfortable sofa with practical cocktail tables. The spaciousness of the deck ensures that all guests have privacy and comfort. At their disposal, you'll also have unlimited WI-FI and use of AC in all cabins which are quite important considering summer days and nights in Croatia can get pretty hot.
Sailing possibility
One extra thing that makes this gulet special is the fact that this gulet can sail! So everyone looking for sailing experience and adventure should definitely consider booking Maske.
Gulet Maske preforms excellently if weather conditions allow it. It's known that gulets usually need more wind power than regular sailing yachts, so naturally, the wind has to be strong enough and Maske will amaze you with its sailing performance!
Watersports & water toys
Also for those who are looking to stay active during holidays or you just simply are looking for things to do on a gulet, the good news is that there will be an excellent choice of water toys included. Anchored in some beautiful bay after breakfast is the perfect time for you to have fun with this water toys on gulet Maske until you get hungry and it's time for lunch.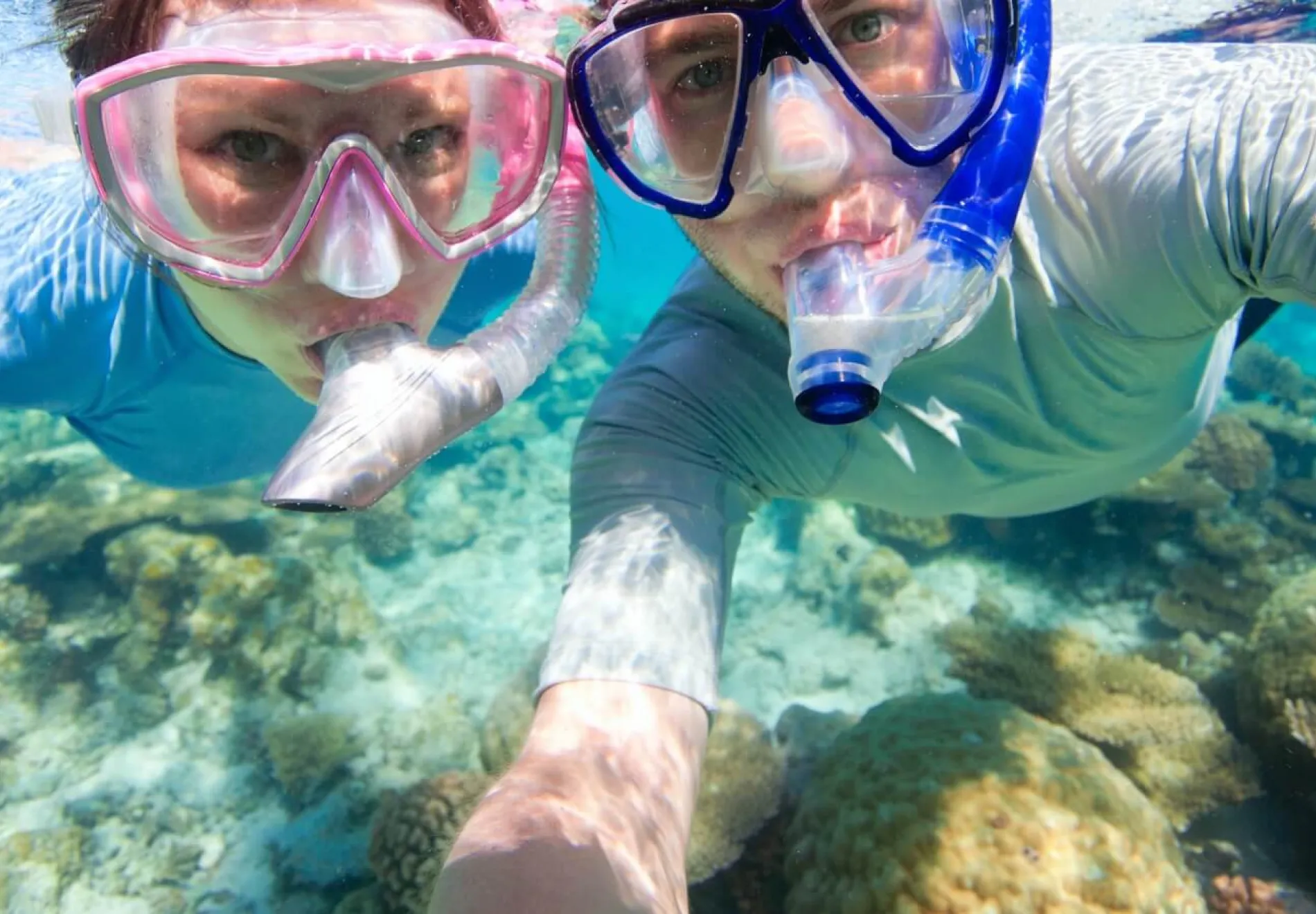 Crew members will always help you to set up the water toy, especially if you don't have experience. On gulet Makse you'll be able to find: 2 kayaks, 2 SUP's, snorkelling equipment, jet-ski, water ski, tender boats: 6,8 meters, sea do scooter, donut ride/Ringo ride: fuel per usage, Cano, etc. An important characteristic is also that freshwater system provides water for an extended period of cruising without having to stop.
Food on board
Food on board offers great menu possibilities that can surely please even the toughest critics out there. Chef with years of experience and passion for his job will prepare the most delicious dishes that will melt away like butter in your mouth. Expect only the fresh local quality traditional food enriched with herbs, olive oil, and spices that are typical for Mediterranean cuisine and this area.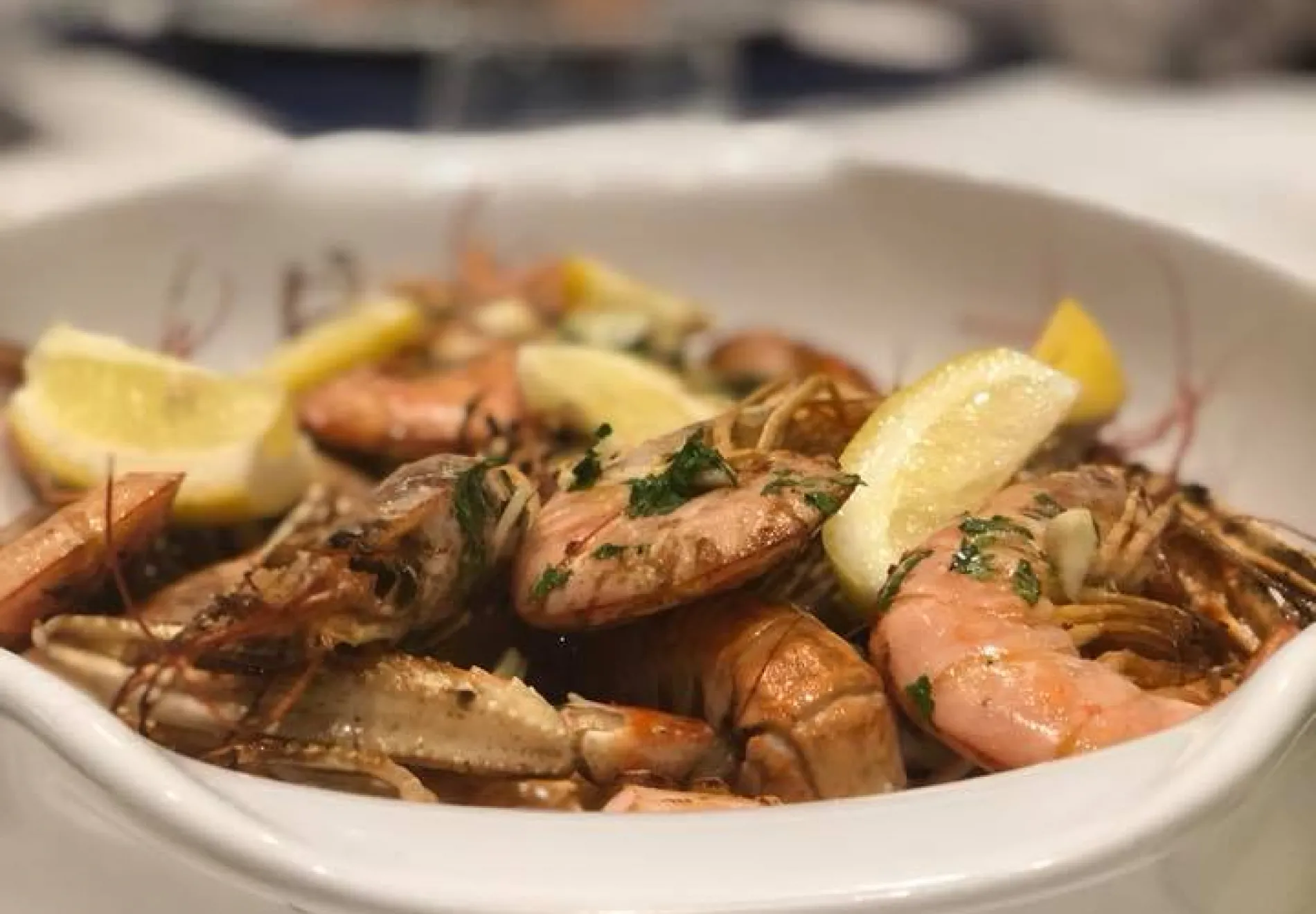 Amazing fresh sea food prepared by experienced & passionate Chef!
Where will it take you?
Croatia coastline has a natural breathtaking beauty and exquisite famous medieval towns full of culture are just an icing on the cake. Possibilities are endless and they depend on your wishes. So we can together make the best route for your best holiday ever. Here are a few examples of the stunning destinations where Maske could take you to.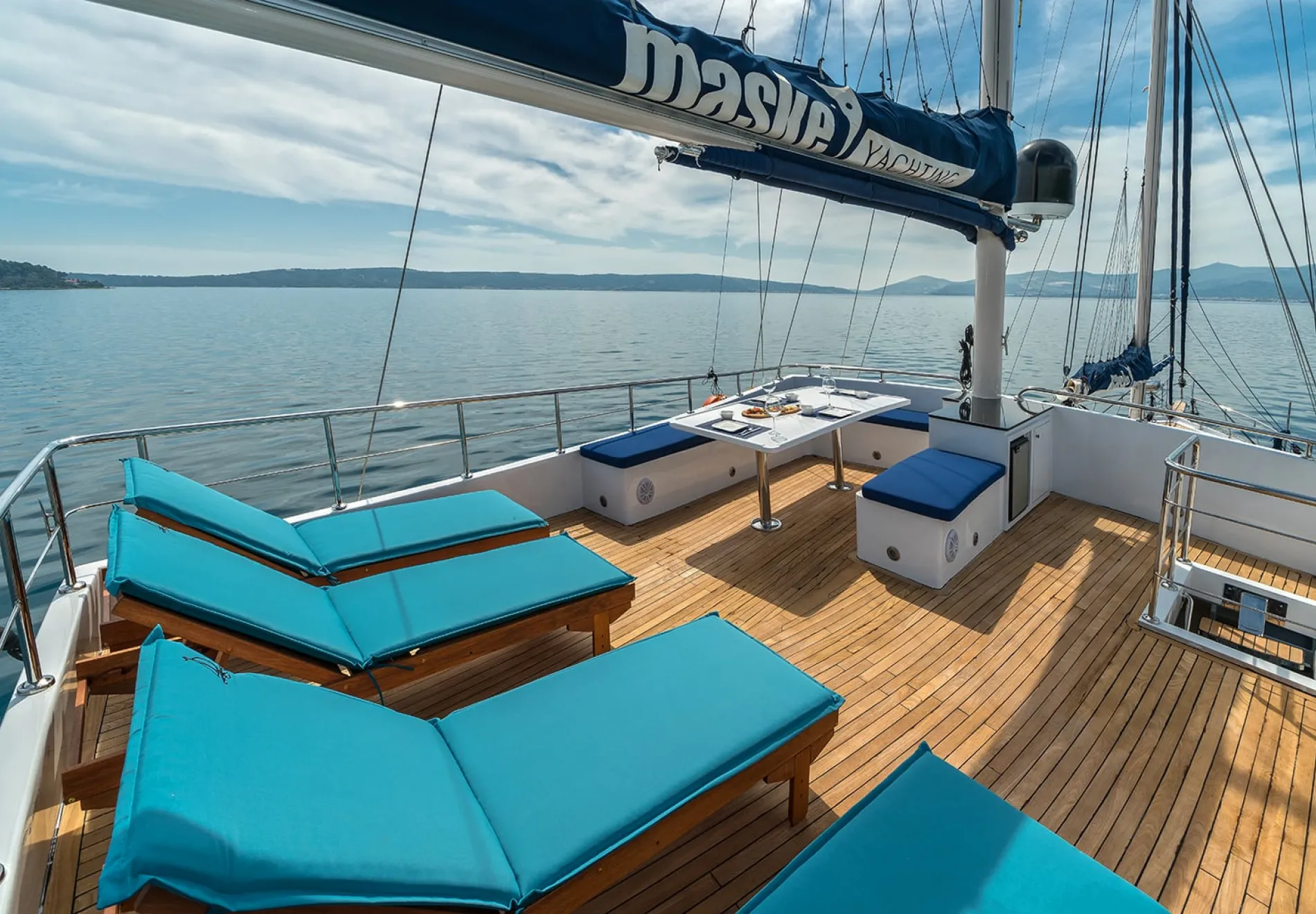 Who wouldn't like to relax and enjoy on flybridge and the view of all the new beautiful locations your Captain will take you to!
Beautiful lively islands
There are 1244 dreamy island getaways, isles, islets & reefs you can explore and astounding 1.800 km long coastline! You'll visit the most stunning towns, islands and villages surrounded by crystal clear sea. A good thing to know is that the distances between islands are short which gives you the opportunity to change your location every day, so you can see many things in just a week! Discover all the secluded bays and the most beautiful beaches in the world! Some of the islands worth of exploring are – Brač, Hvar, Korčula, Vis, Mljet, Kornati…
National parks
Croatia has 11 nature parks, 8 national parks, and 2 nature reserves! So cruise north and explore some of the most captivating preserved nature parks, some of them are the Unesco-listed National Park & Waterfalls Krka, National Park Plitvice and others such as National Park Mljet, The Kornati Islands National Park, etc. Or maybe you would rather head south and discover secrets of medieval old towns such as Dubrovnik and Hvar? Well, that's all up to you to decide…
Gorgeous towns on the coastline
Explore the atmospheric Medditerian towns that look like outdoor museums, such as the second largest city Split with preserved remains of Roman, for example, Diocletian's Palace. Or maybe popular city Dubrovnik and his old town ancient walls and extensive cultural heritage that also was used for some scenes for Game of Thrones. Some other gorgeous coastal towns are Zadar, Šibenik, Trogir, etc. You'll find many hidden gems no matter which town you decide to visit.