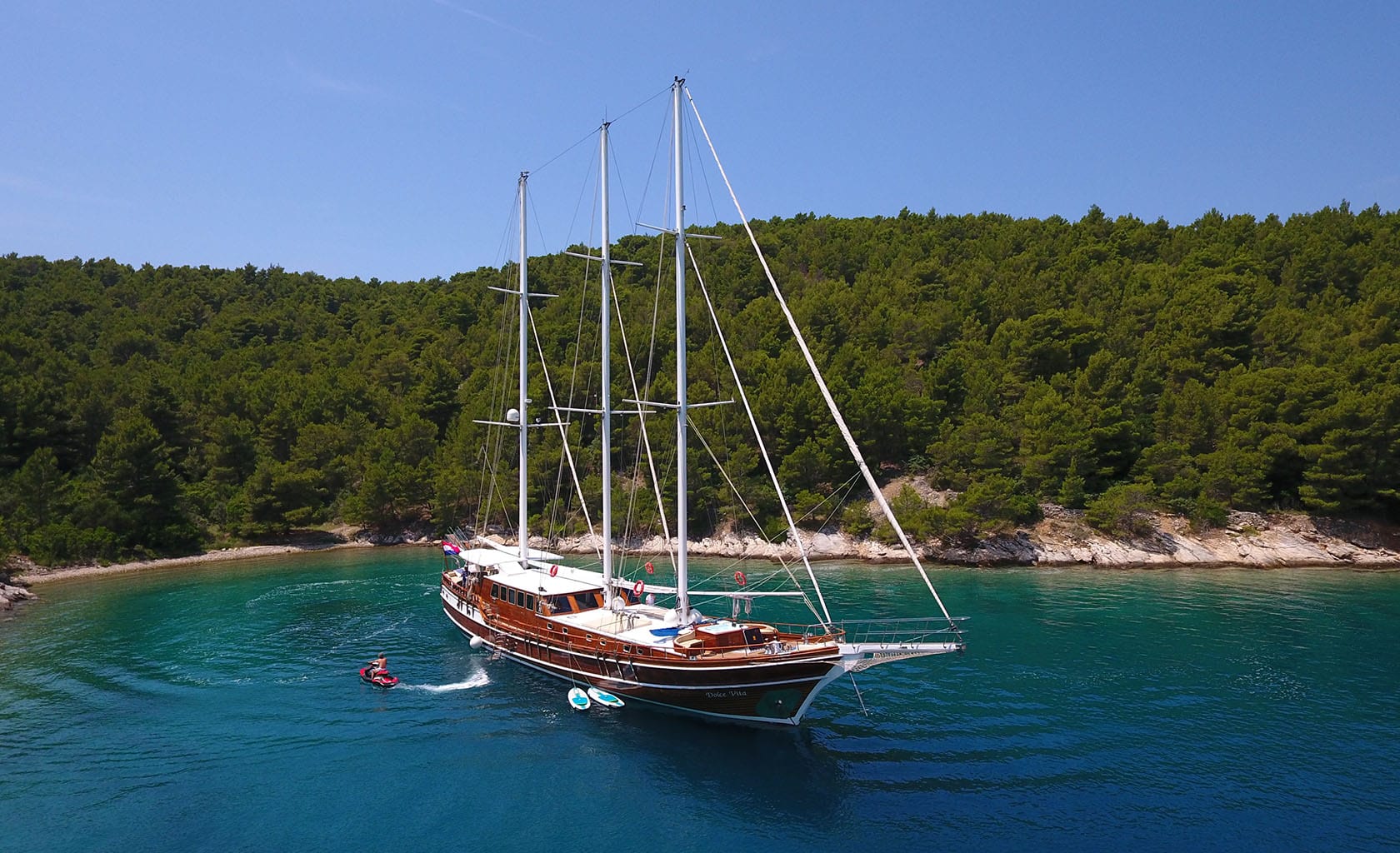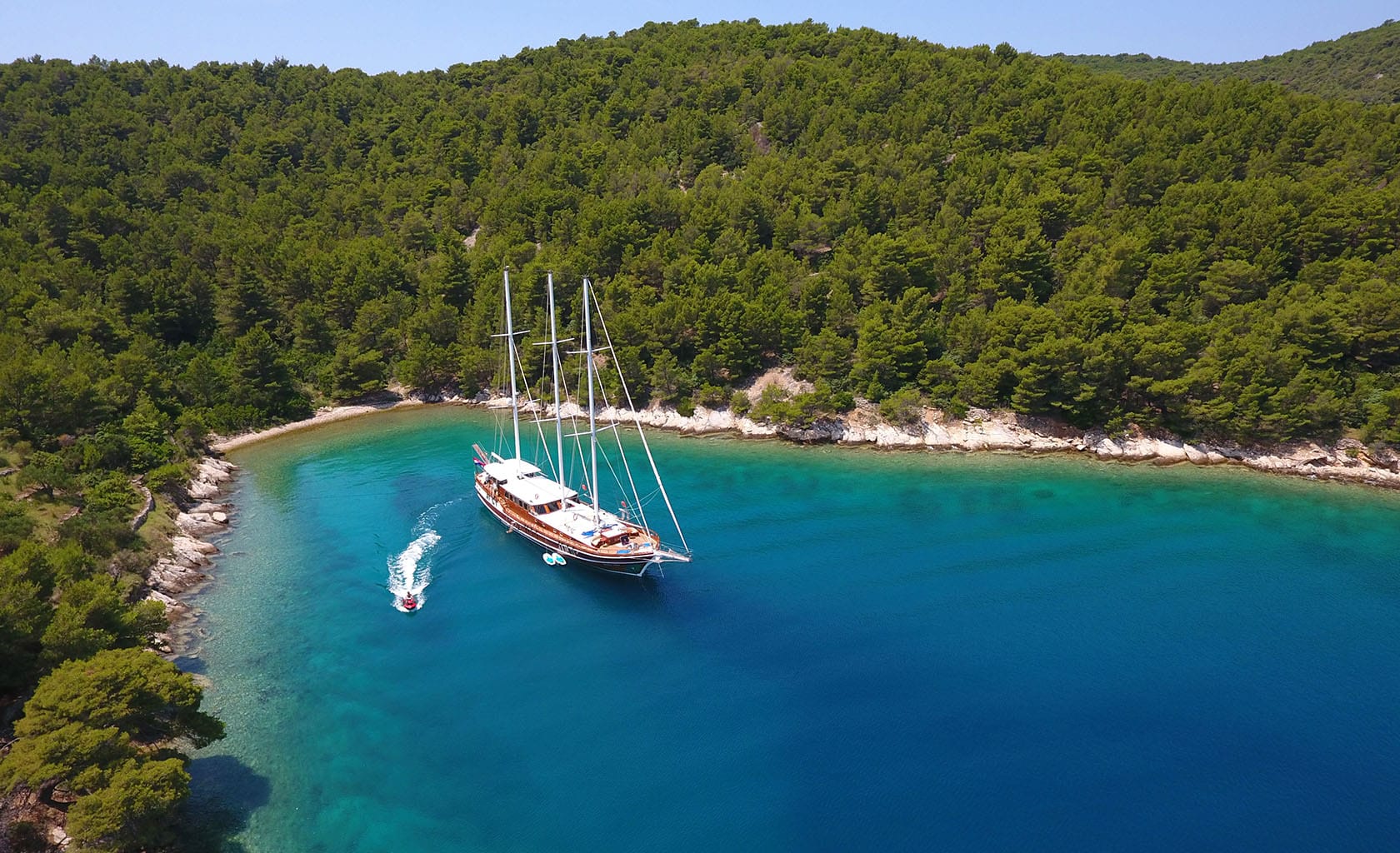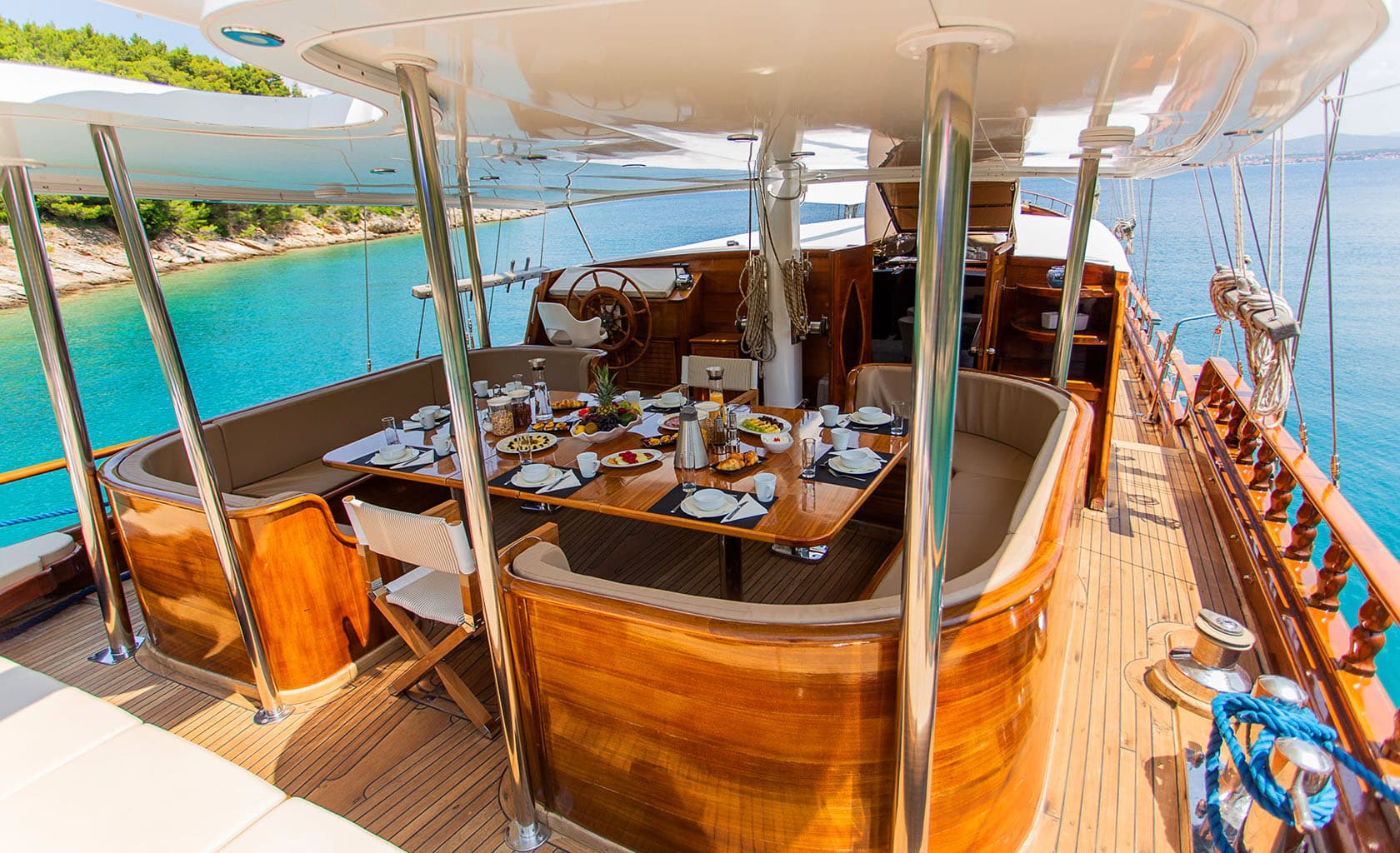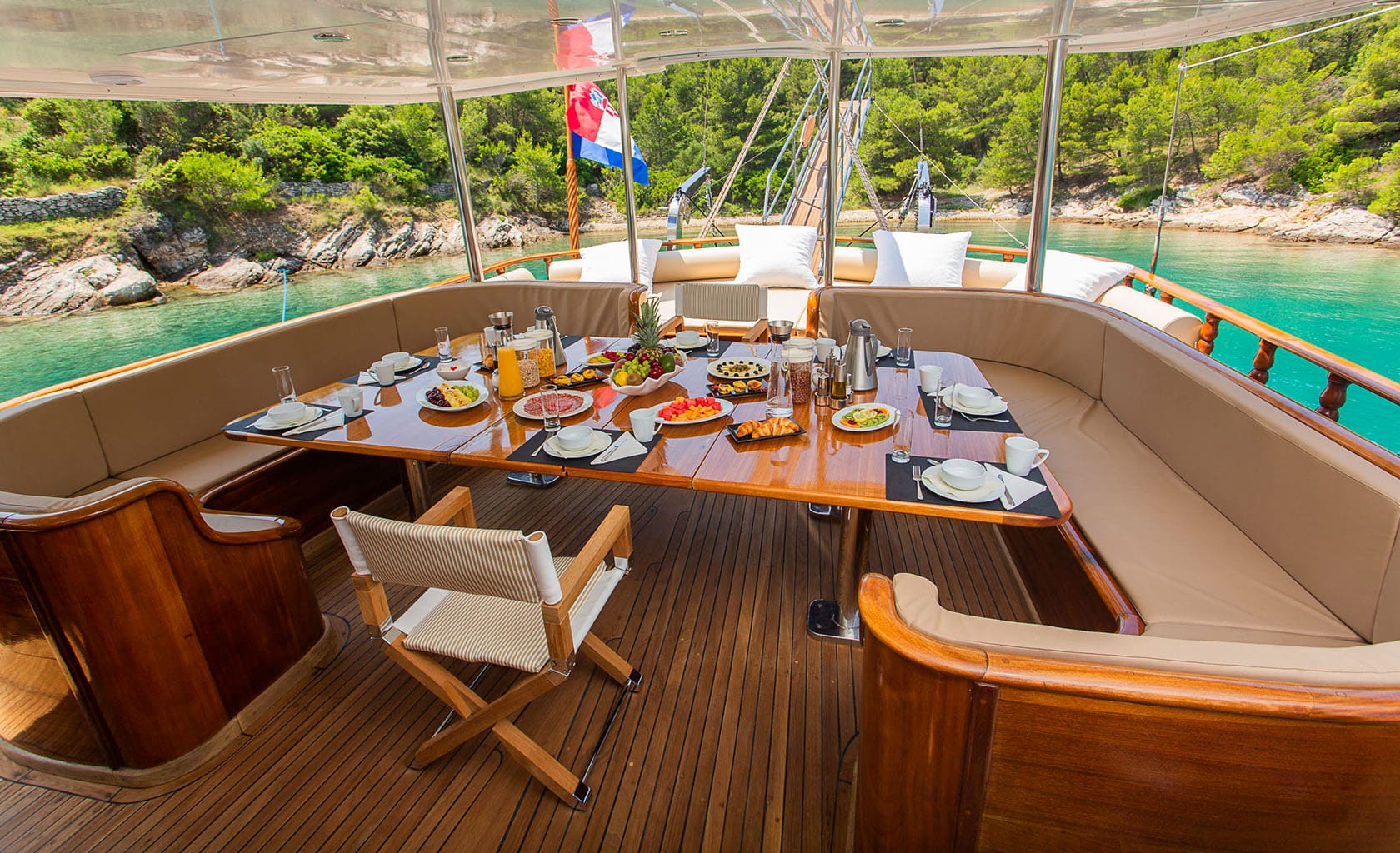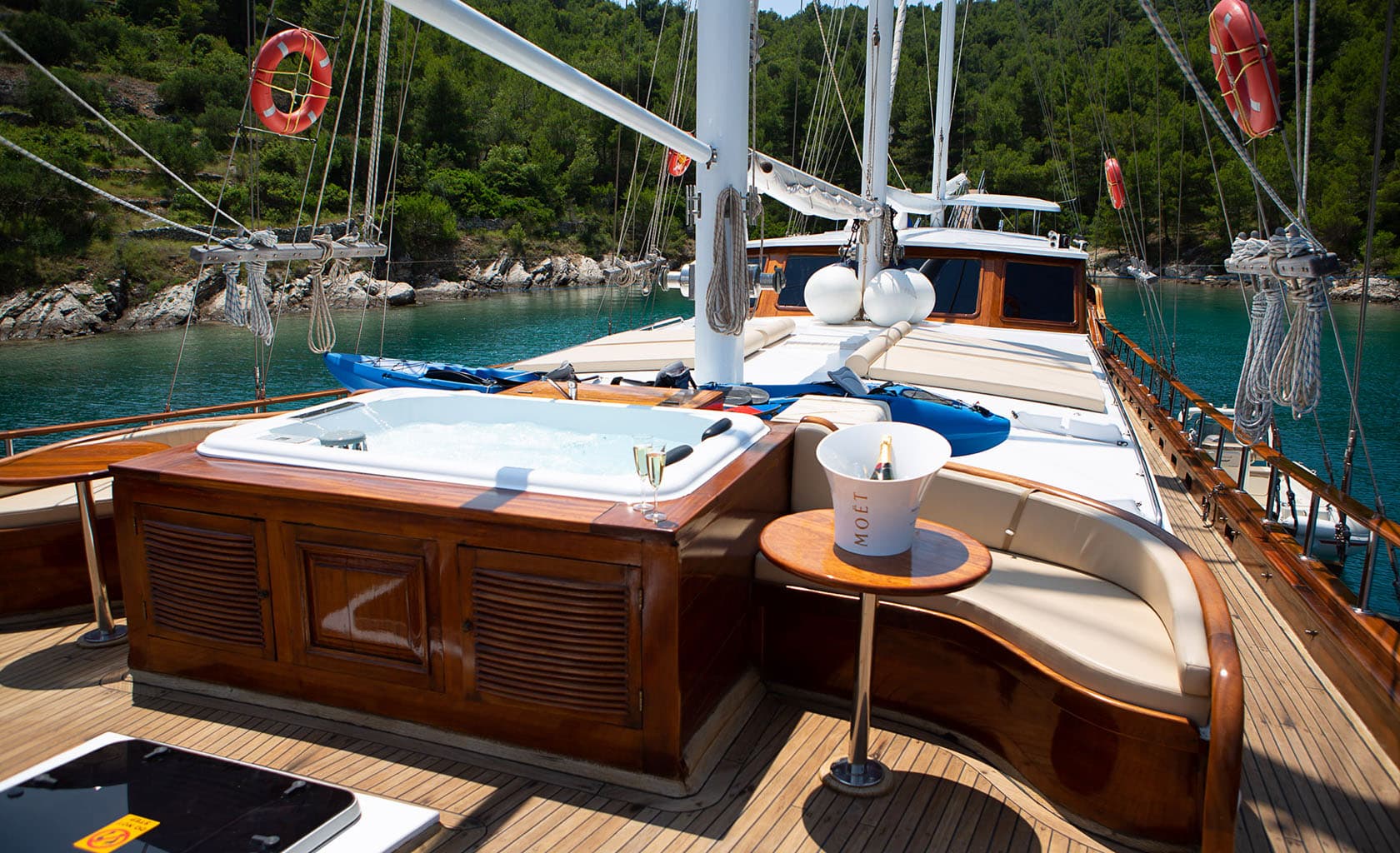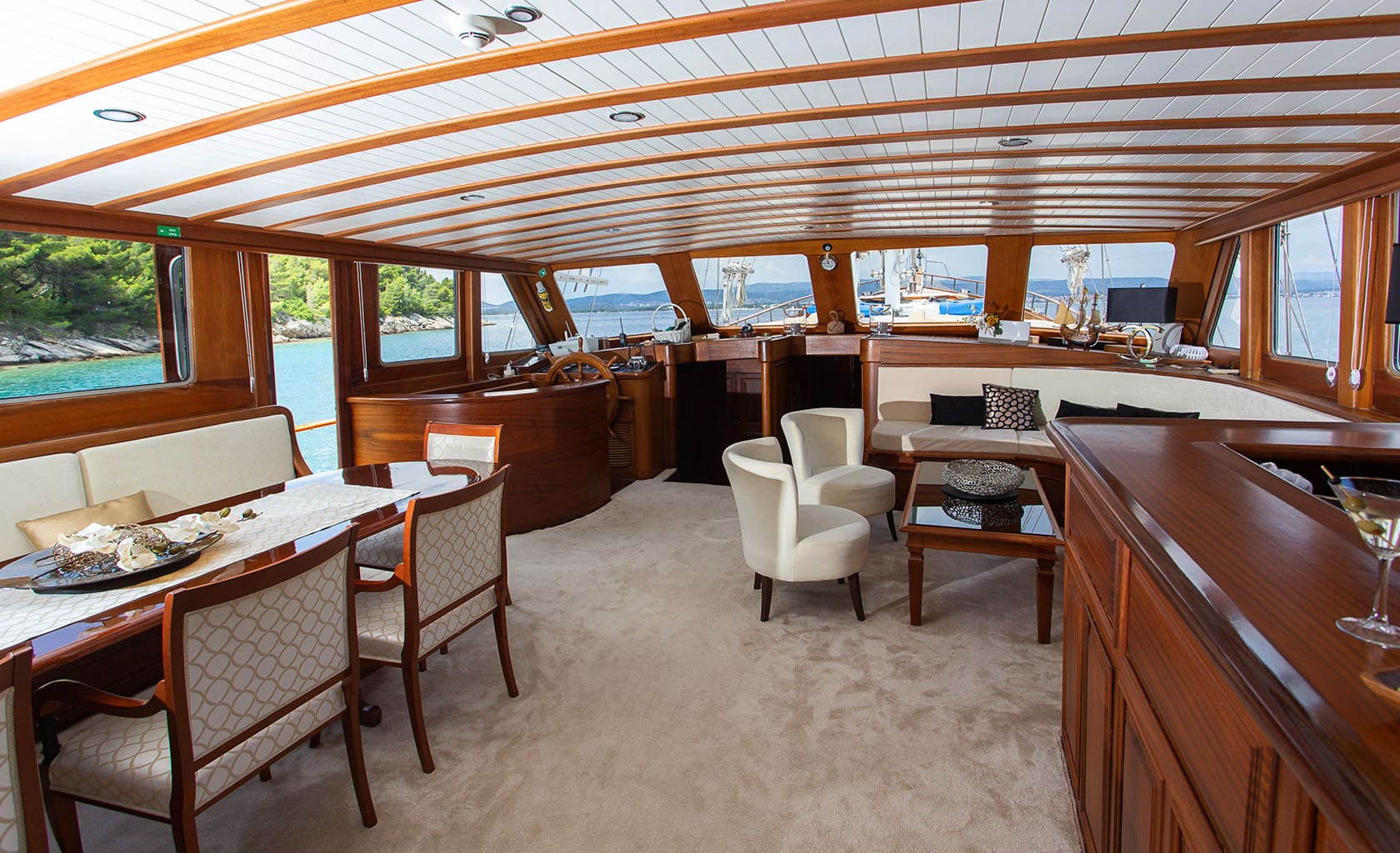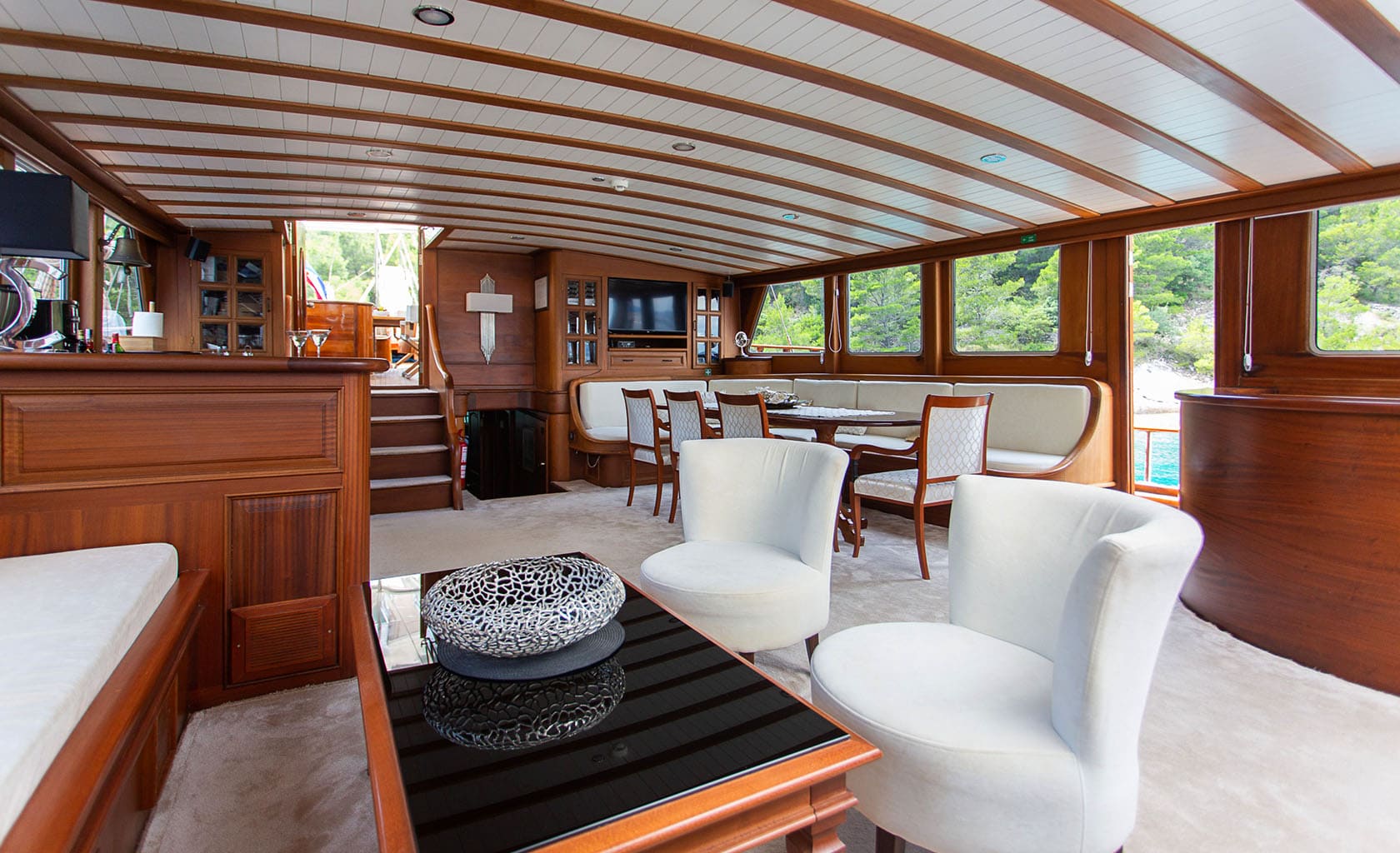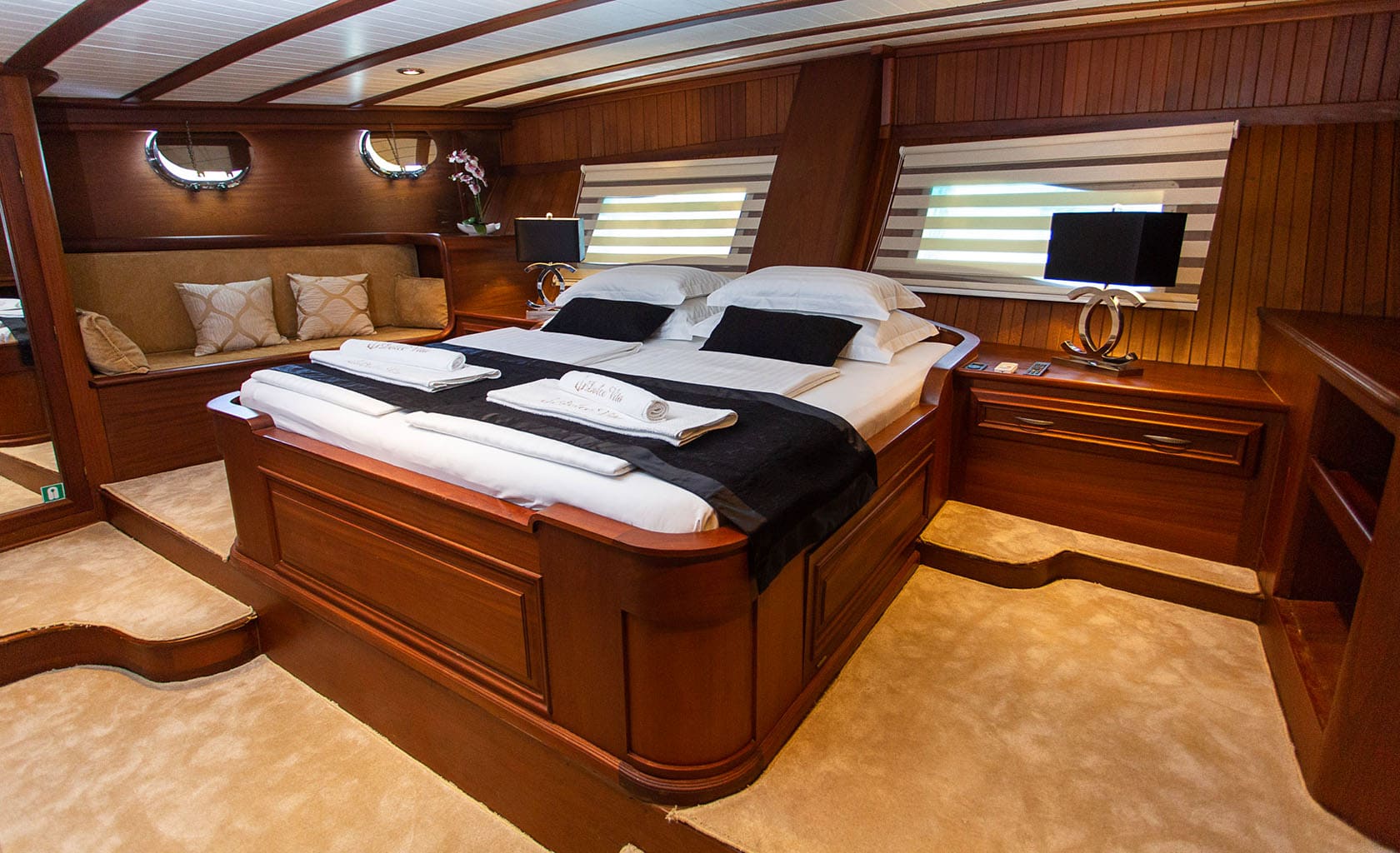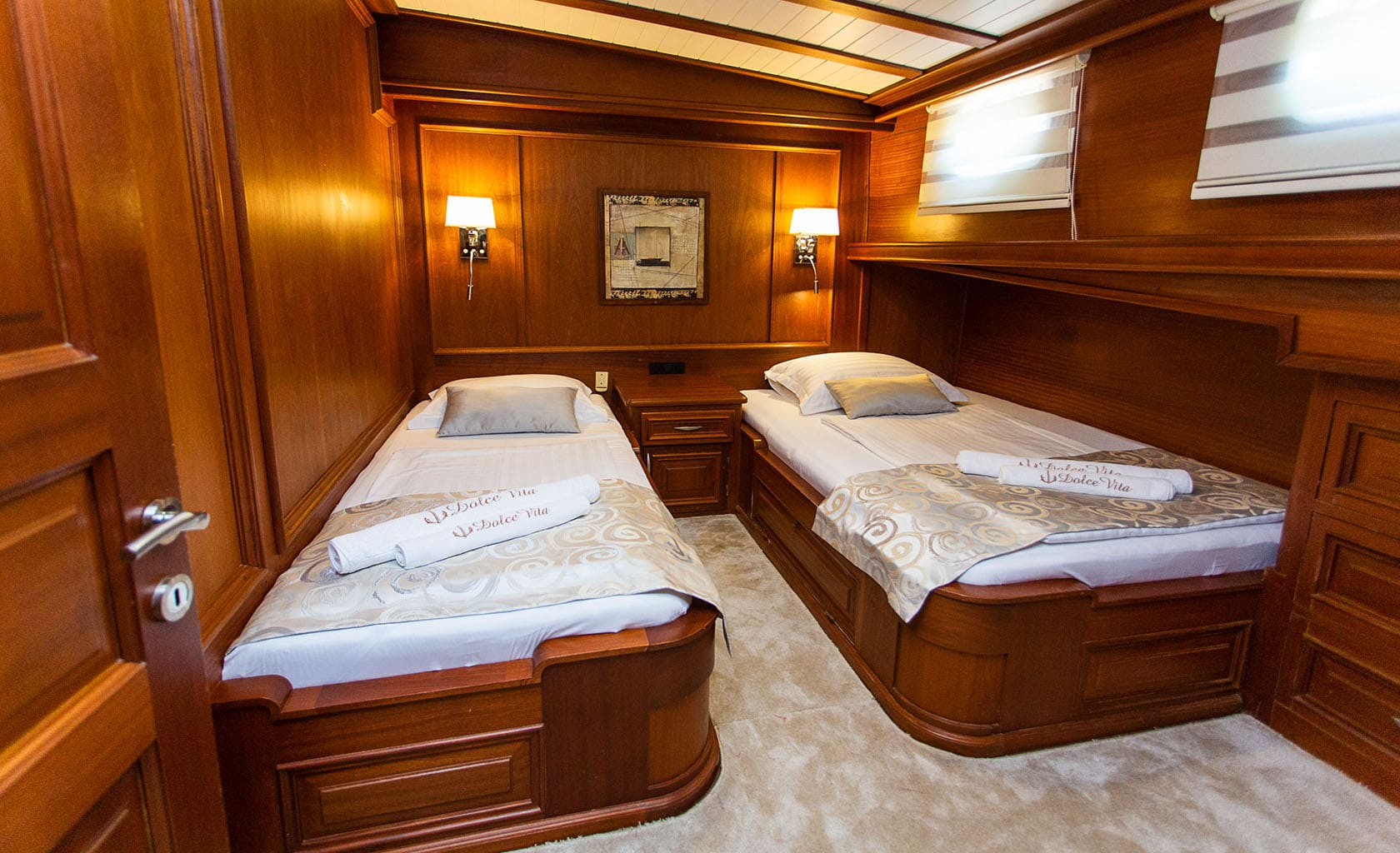 Dolce Vita
From her gleaming "wooden walls" (hull) to her bright billowing sails this rare three-masted schooner embodies the romantic sailing ship dream in spades.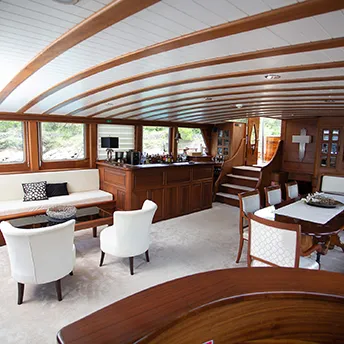 Dolce Vita is the best 5 cabin classic deluxe gulet in Croatia. Period.
Big and beautiful, this glorious 34m/111ft gulet offers spacious air-conditioned cabins with large comfortable beds. All cabins are equipped to the highest standard with TV and personal minibar, while the spacious, elegant saloon, with comfortable soft furnishings and expansive dining area, affords understated tranquility.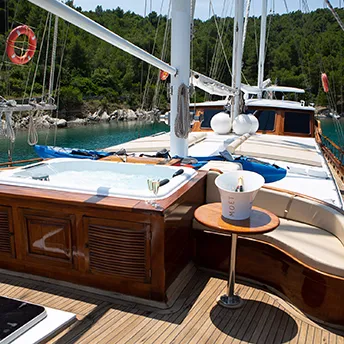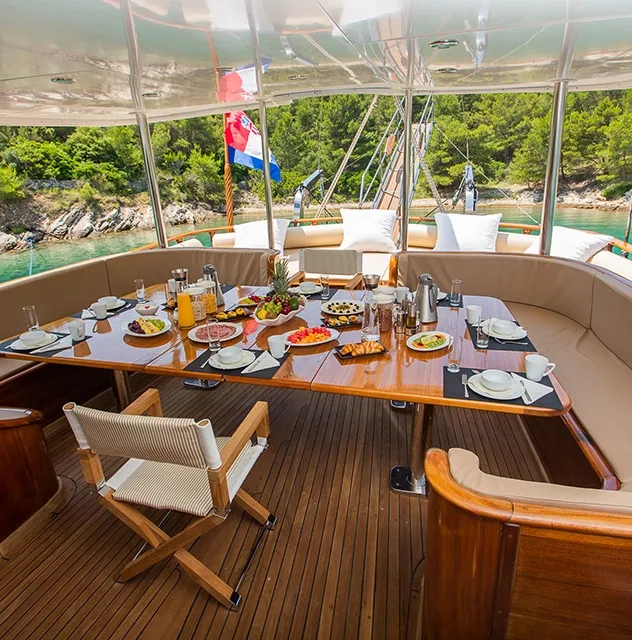 Sun and shade
For alternative alfresco dining, Dolce Vita's two dining tables (convertible to one), plus more sofas and chairs provide an ideal place to indulge in fresh seafood and other sophisticated culinary experiences prepared by the chef on board, in shade or sun as you prefer.

The foredeck boasts a generous jacuzzi, many sunbeds, and her watersports, from waterskiing to kayaking are always available.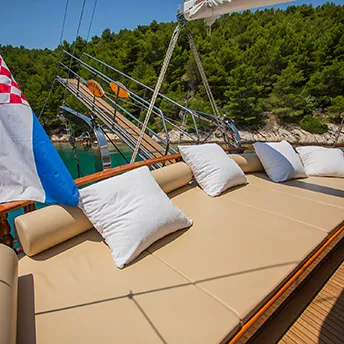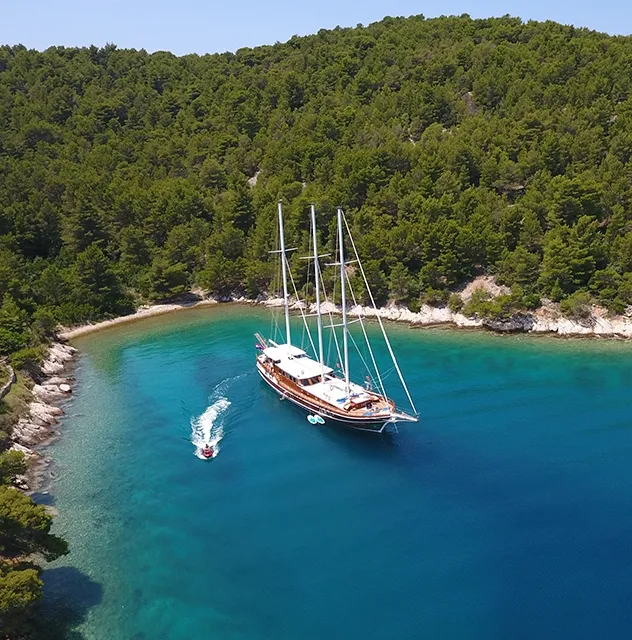 Professional management and crew
Dolce Vita's five professional crew create the perfect combination of care and discretion for your relaxing sailing voyage. Tradition service and exquisite style are their watchwords.

Dolce Vita is actively managed by one of the most experienced gulet owners in Croatia. His continual monitoring and frequent inspections throughout the season ensure everything is going smoothly. You can be sure that you will be treated like royalty.
Specification
Build / Renovated
2005 / 2018
Water Sports
Jet ski, Water skiing, Tube ride, 2 Paddleboards, 2 Kayaks
Crew Description
Captain, Chef, Hostess, 2 Deckhands

Season A
From 22 April 2023
till 27 May 2023
31.000 €
Season B
From 27 May 2023
till 24 June 2023
33.900 €
Season C
From 24 June 2023
till 26 August 2023
37.000 €
Season D
From 26 August 2023
till 16 September 2023
33.900 €
Season E
From 16 September 2023
till 21 October 2023
31.000 €
GOOLETS SUPPORT: complimentary assistant who will guide you through your entire yacht journey
SHIPBOARD ACCOMMODATION: maximum number of 10 guests sleeping in 5 cabins
FUEL FOR CRUISING: 4 hours/day
CREW: Captain, Chef, Hostess, 2 Deckhands
AIR CONDITIONING: unlimited hours/day
LINEN: bed sheets, bathroom, and beach towels
SNACKS: 5 o'clock tea and snacks, welcome drink on embarkation day
WI-FI
VAT
Mandatory Extras:
Food Options
HALF BOARD (breakfast and lunch or dinner): 520 €/person/week
EXTRA MEAL (dinner): 50 €/person/meal (max 2 dinners a week)
CHILDREN DISCOUNTS: up to 2 years free of charge, under 10 years 50% discount
Drink Options
DRINKS FROM YACHT'S BAR: according to the bar price list
ALL-INCLUSIVE DRINKS PACKAGE: 260 €/person/week (includes Croatian wines, beers, spirits, soft drinks, natural and mineral water, juices, coffee, tea)
ALL-INCLUSIVE NON-ALCOHOLIC DRINKS: 150 €/person/week (domestic non-alcoholic drinks, water, carbonated drinks, juices)
CORKAGE FEE: 800 € (if you wish to bring own drinks onboard)
Port and Tourist Taxes
PORT TAXES: Port fees, anchorages, and Tourist taxes are to be paid on spot (in cash), according to actual costs in ports/anchors. The total cost per week depends on the selected itinerary/port costs. It is not obligatory for the yacht to be in the port each night, it can also be anchored, which lowers the mooring fees (approximate cost is between 1.000 – 1.500 €/week). In the case of the large consumption of water or fuel during the cruise yacht should go to the port to refill.
Non-Mandatory Extras:
Private Marinas
If a client wishes to use private marinas the costs can vary from 800 and up to 1.000 €/night.
Tips
Tips are not included in the price of the charter and are a voluntary way of showing appreciation for a good service. Usually, it is 7% to 15% of the charter price, according to your satisfaction, paid to the captain at the end of the charter and distributed equally by the captain to the rest of the crew.
Additional Motorized Water Sports
Dolce Vita has a Water skiing and Tube ride which is charged 100 €/hour according to clients usage. Jet ski is charged 150 €/hour according to clients usage.
Other Options on request
Land transfers, fishing licenses, guided tours, excursions, restaurants, bike rentals, car rentals.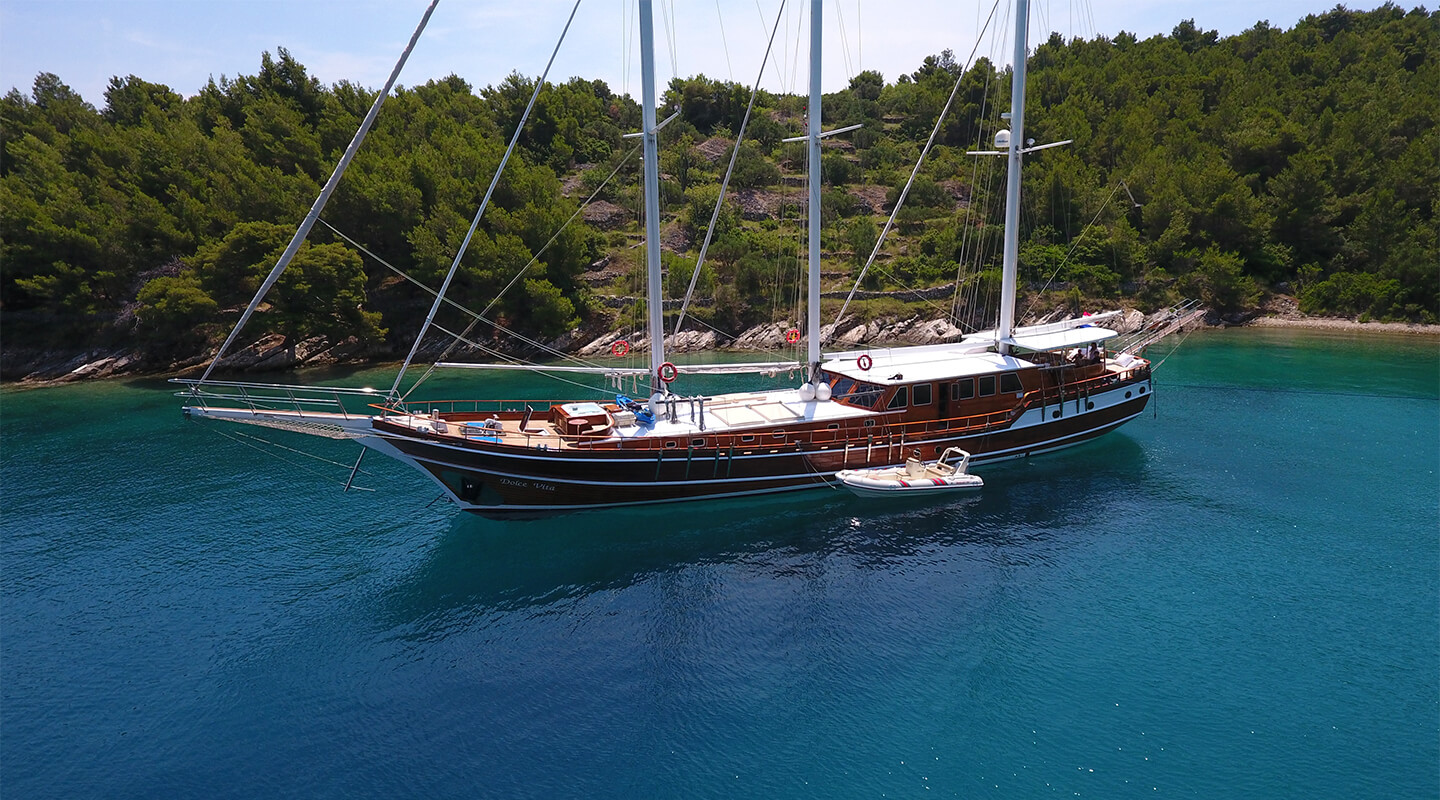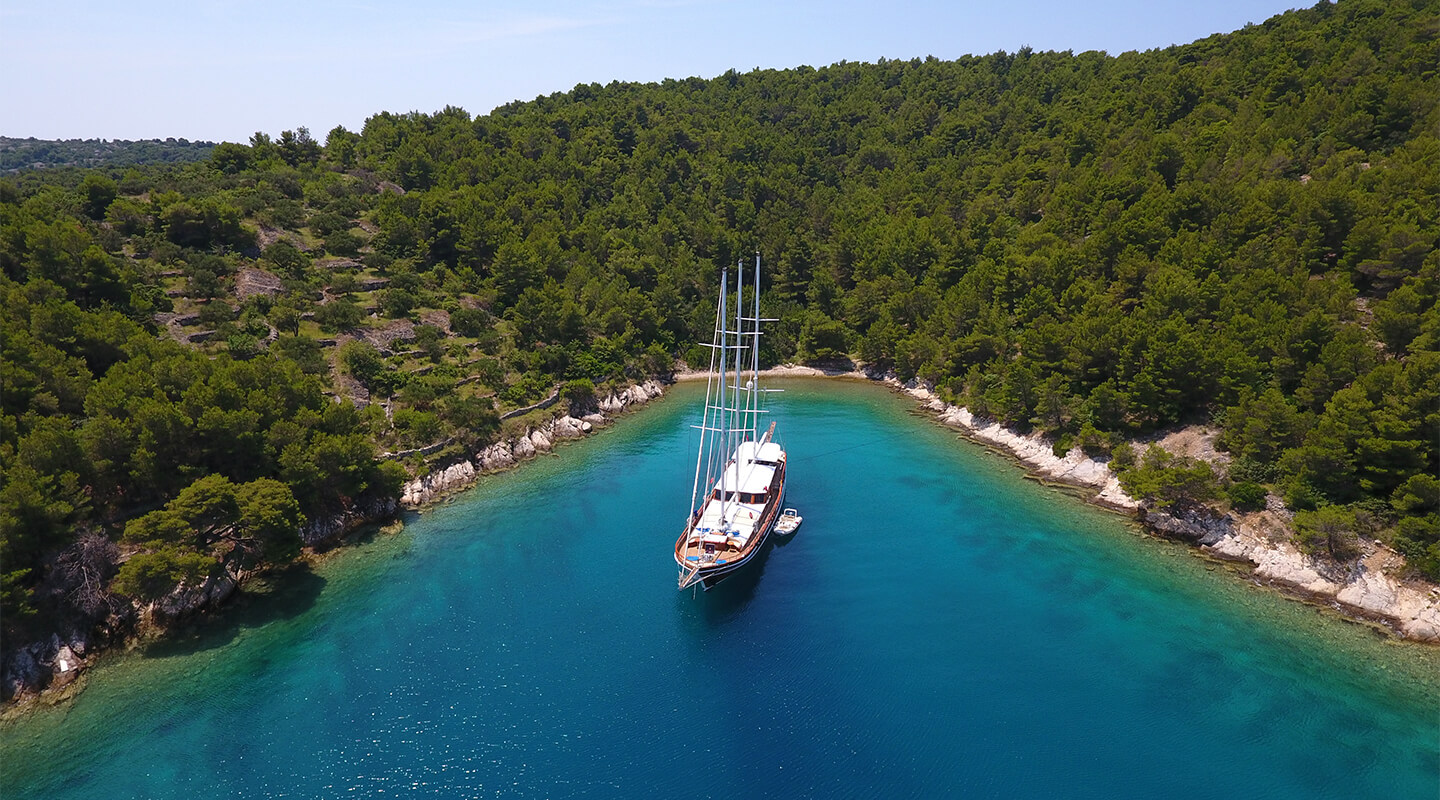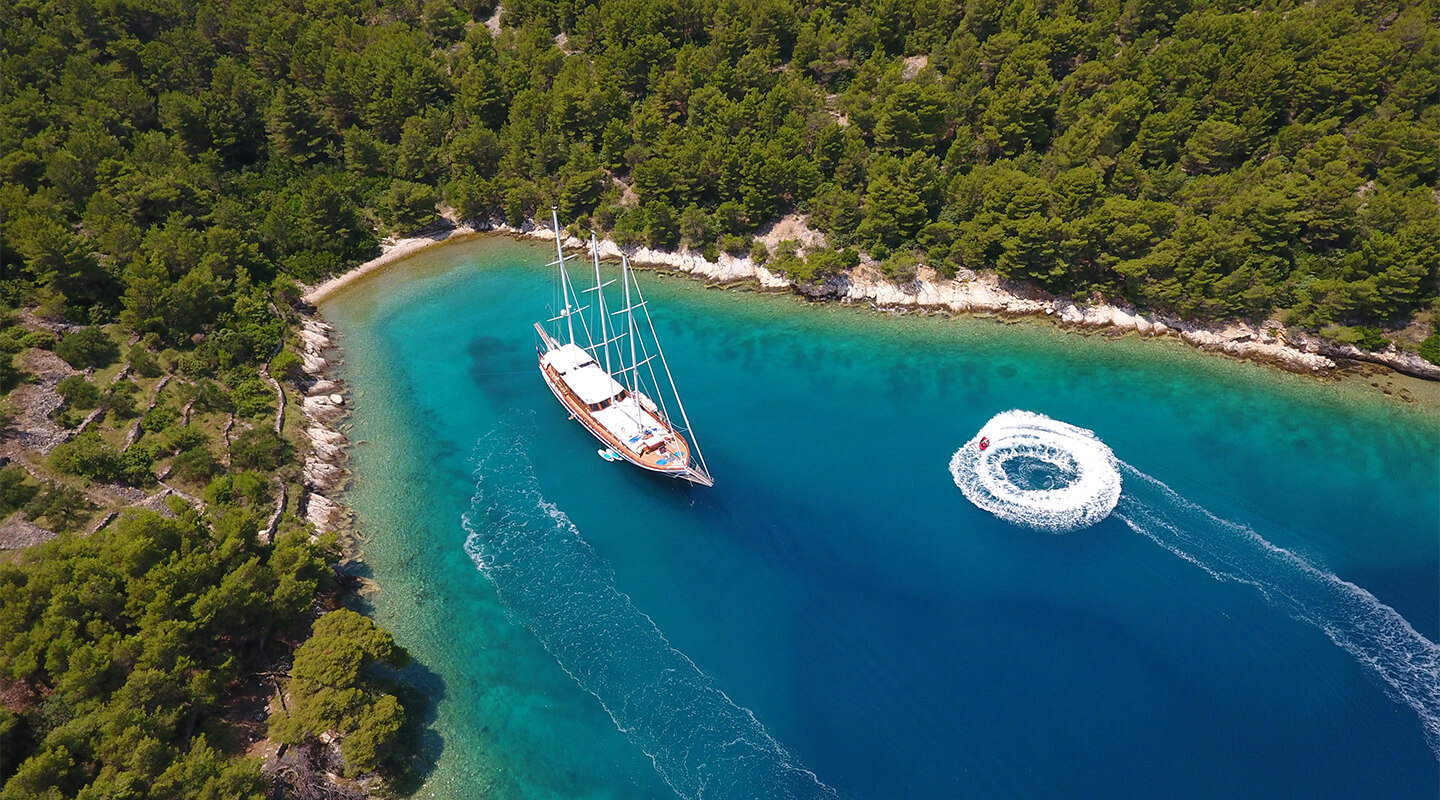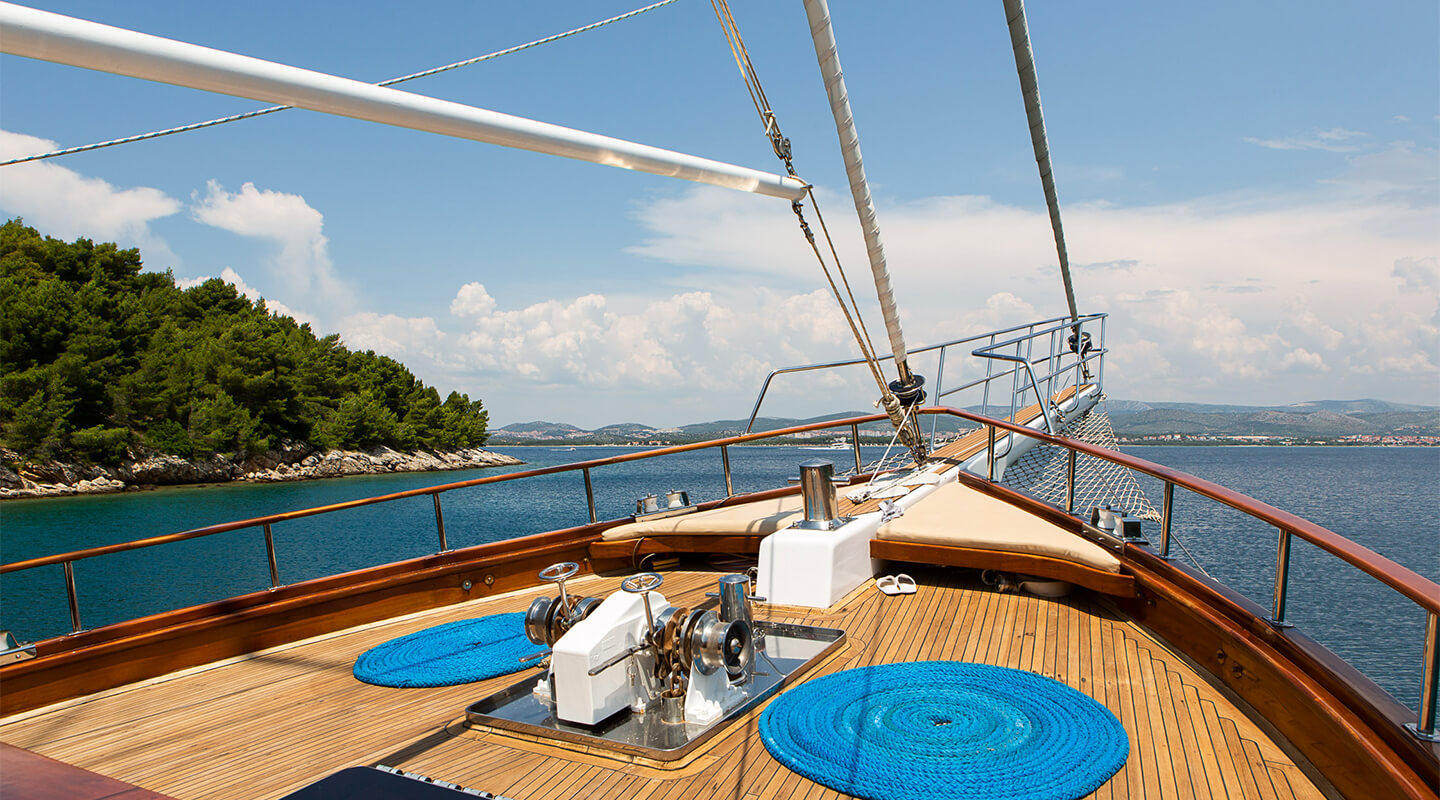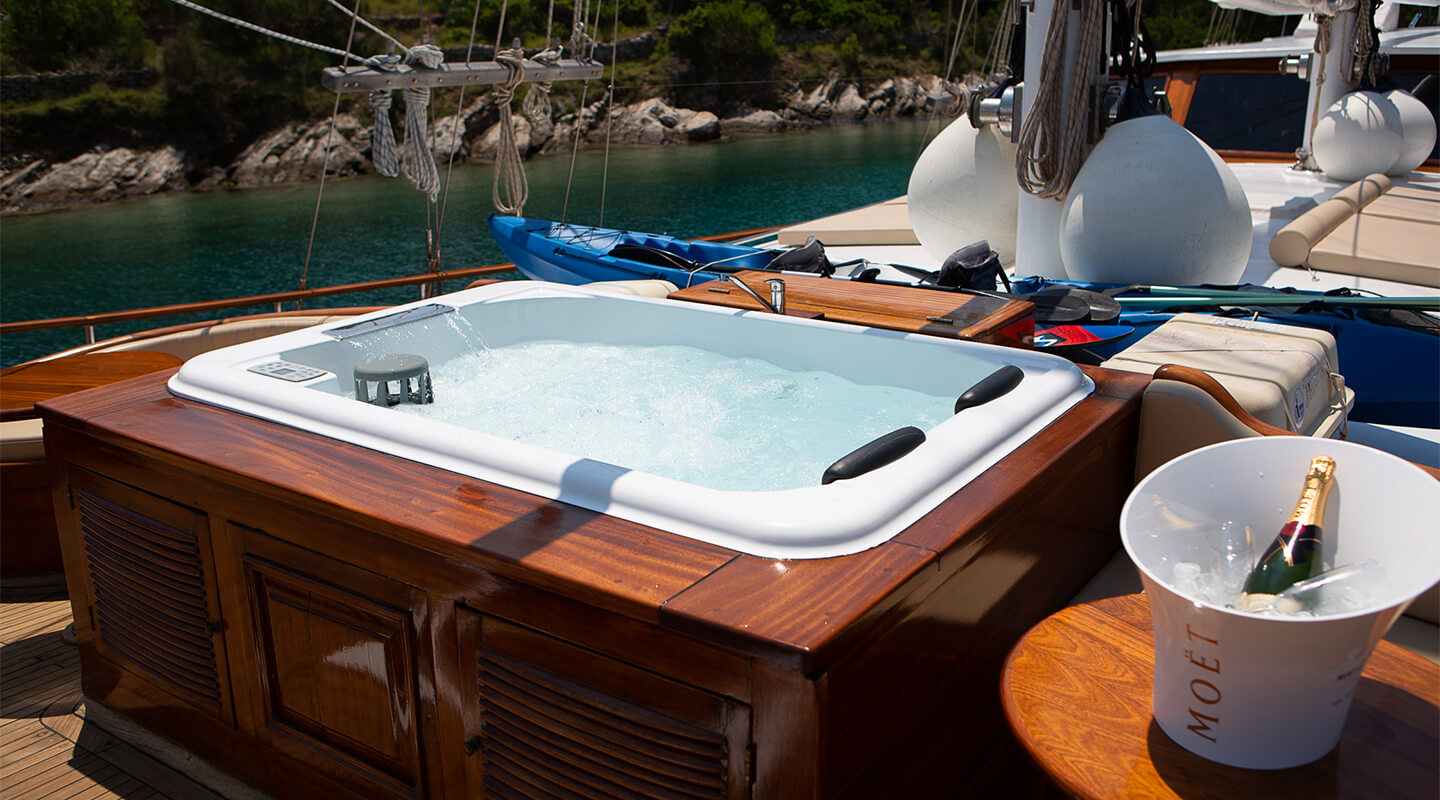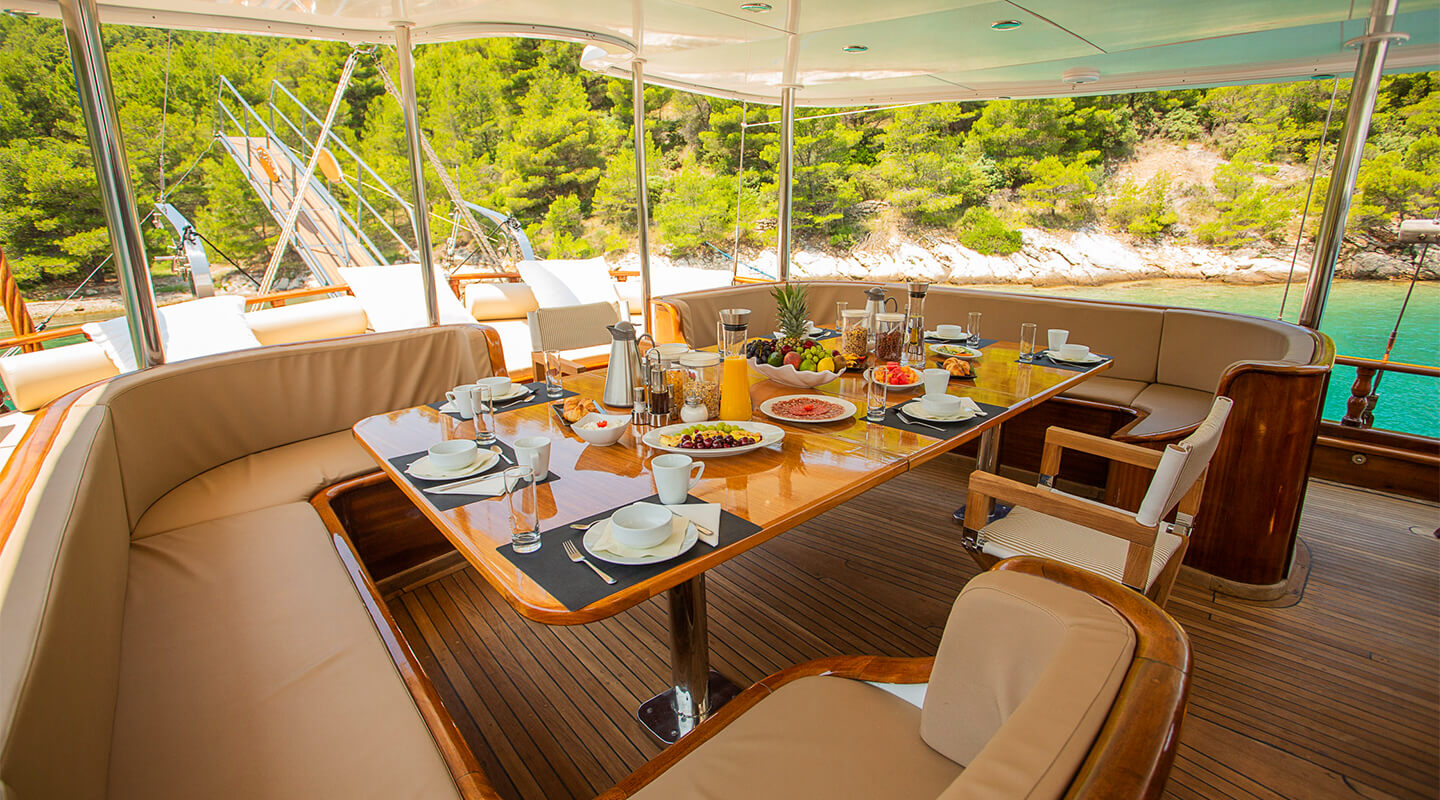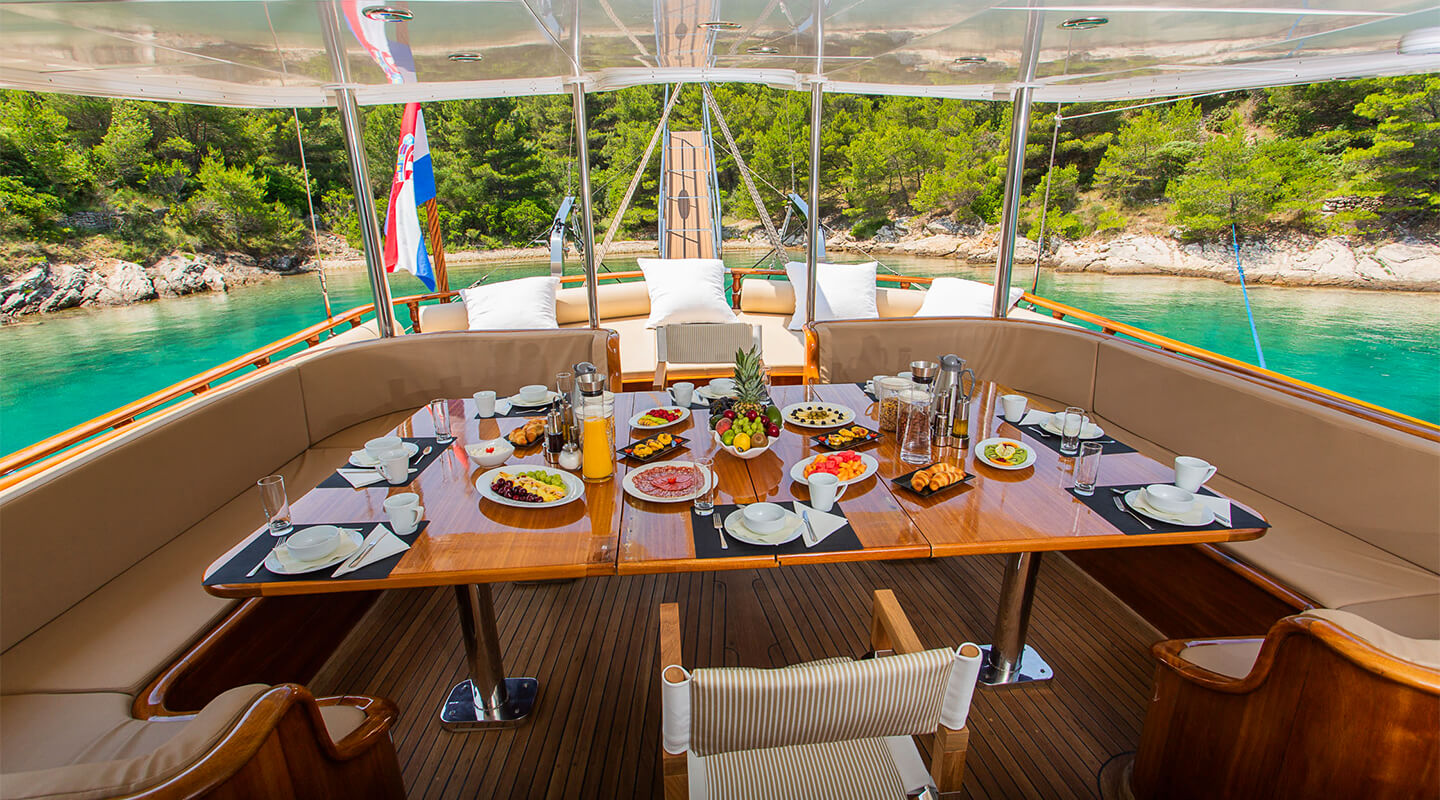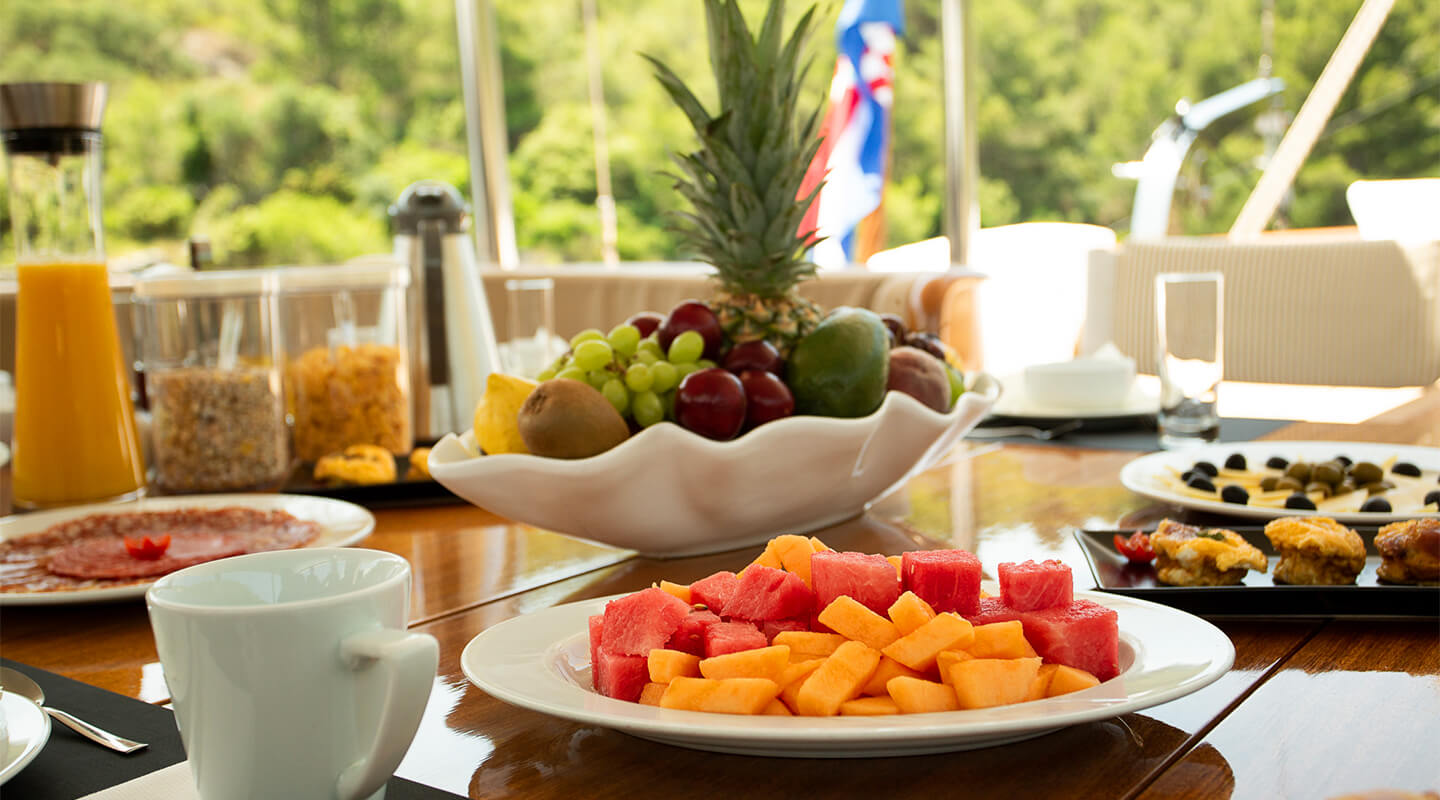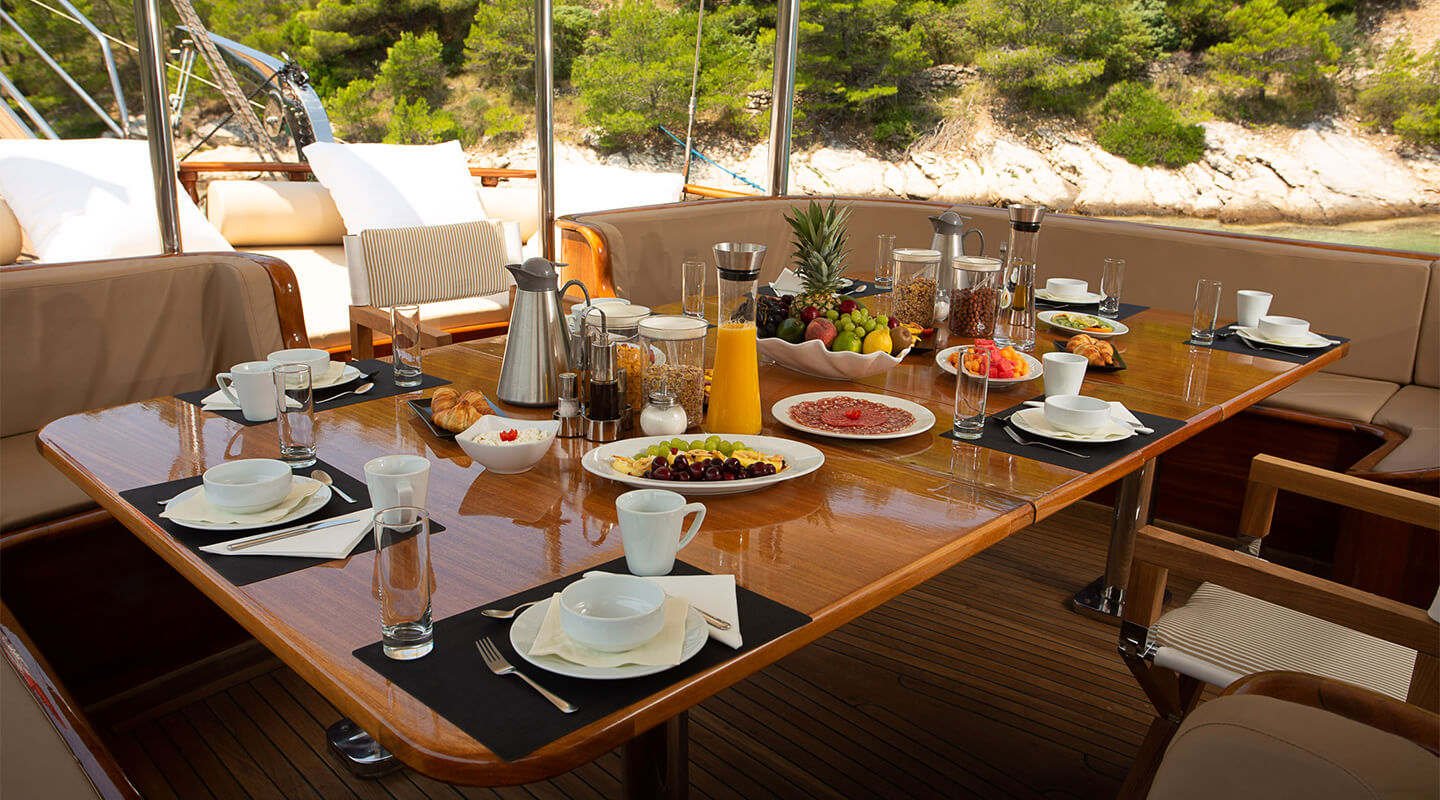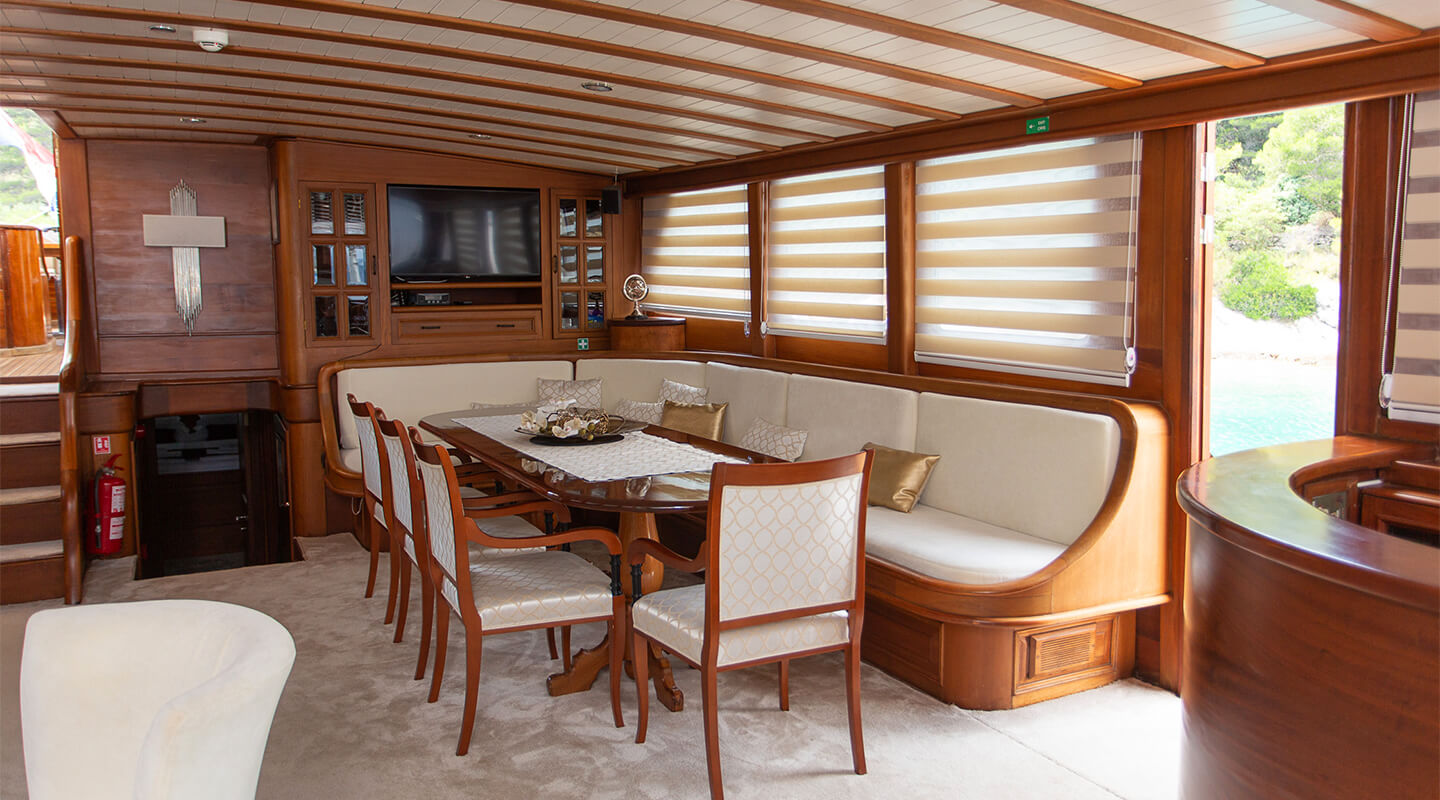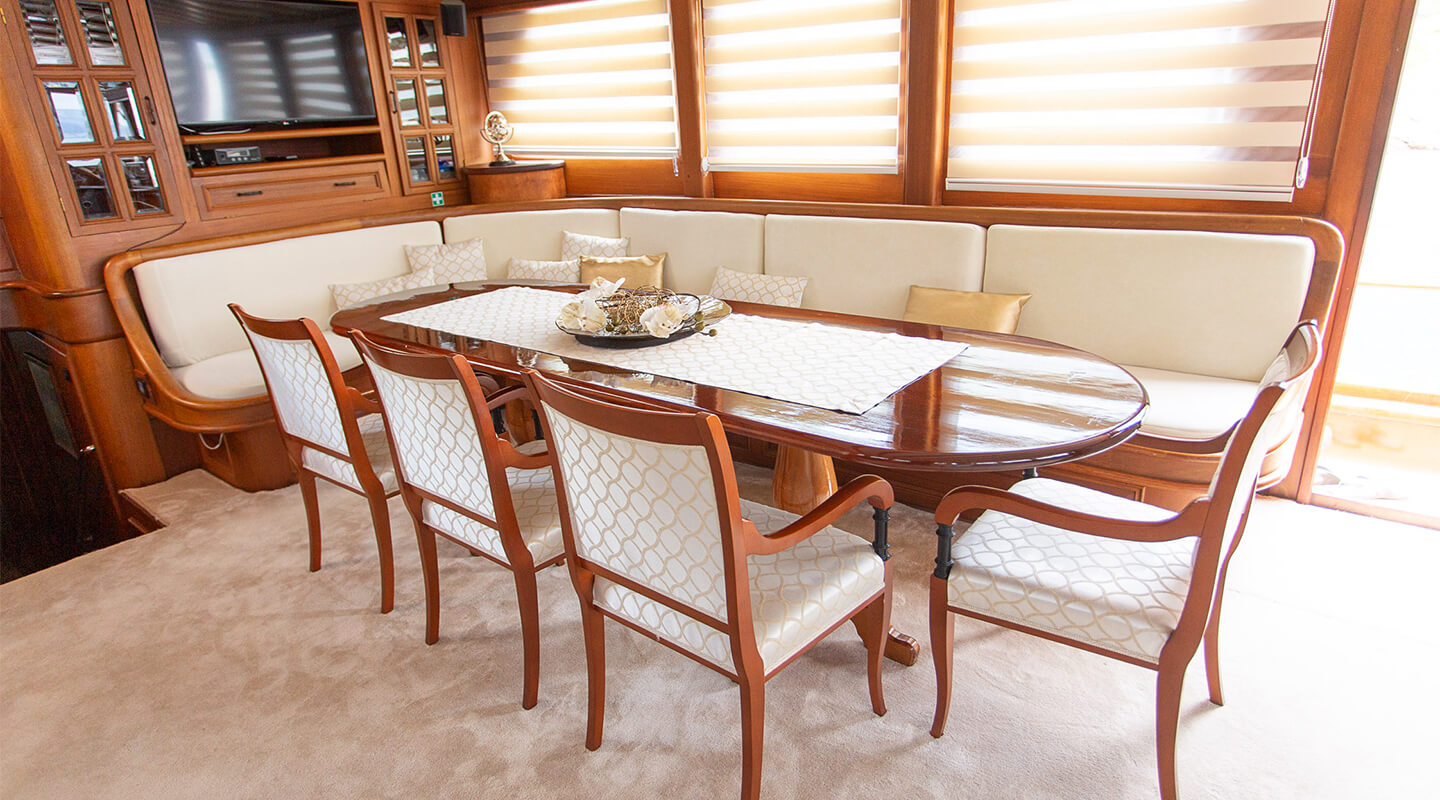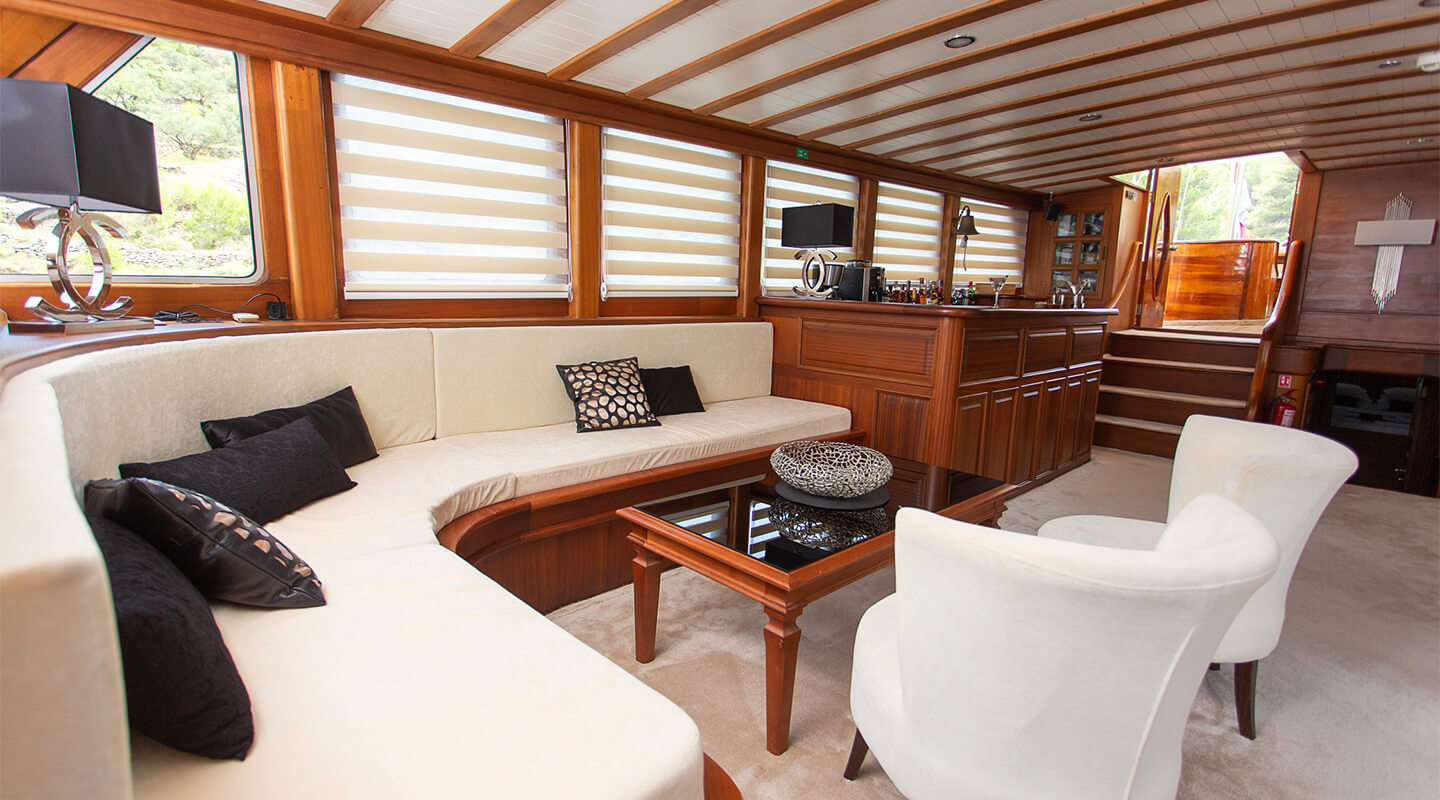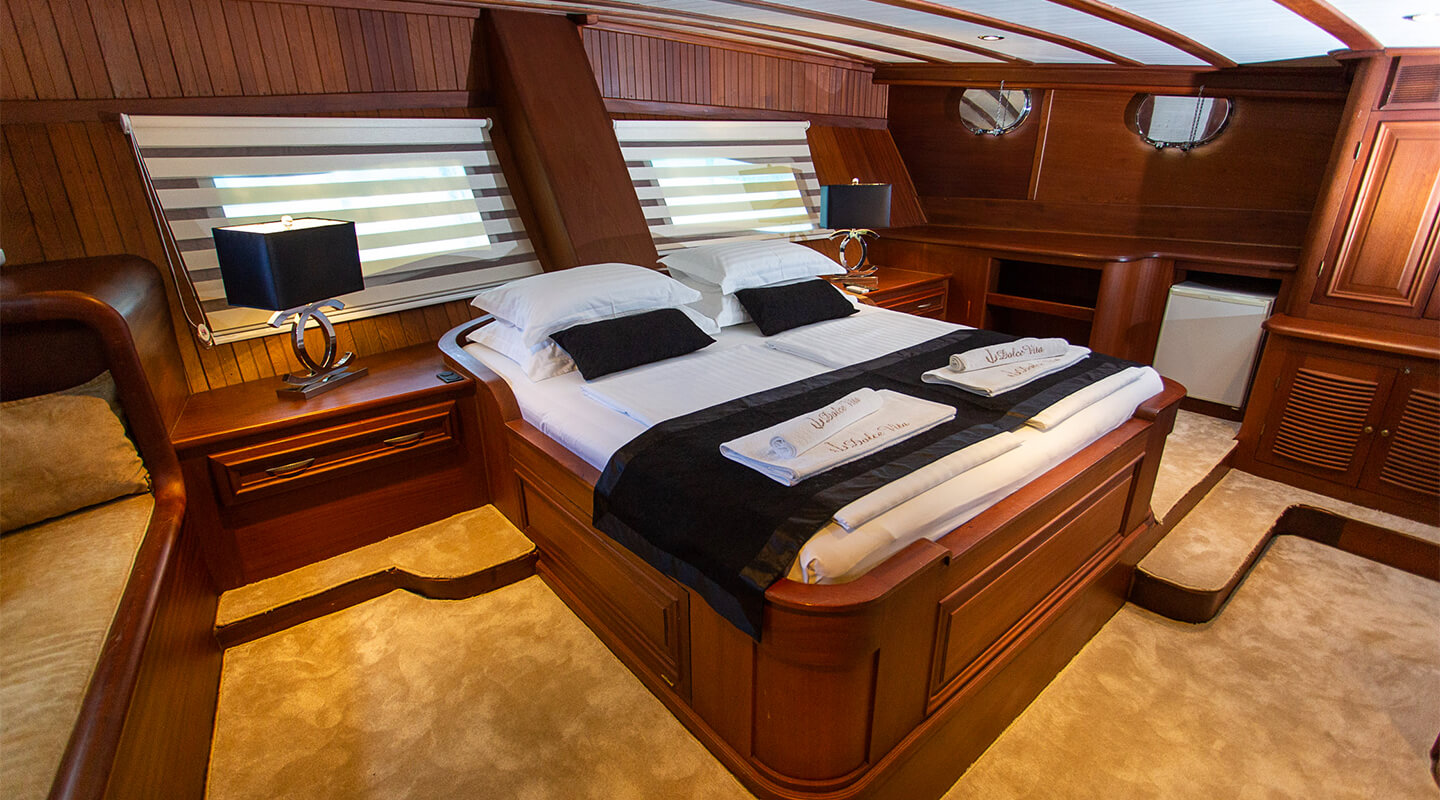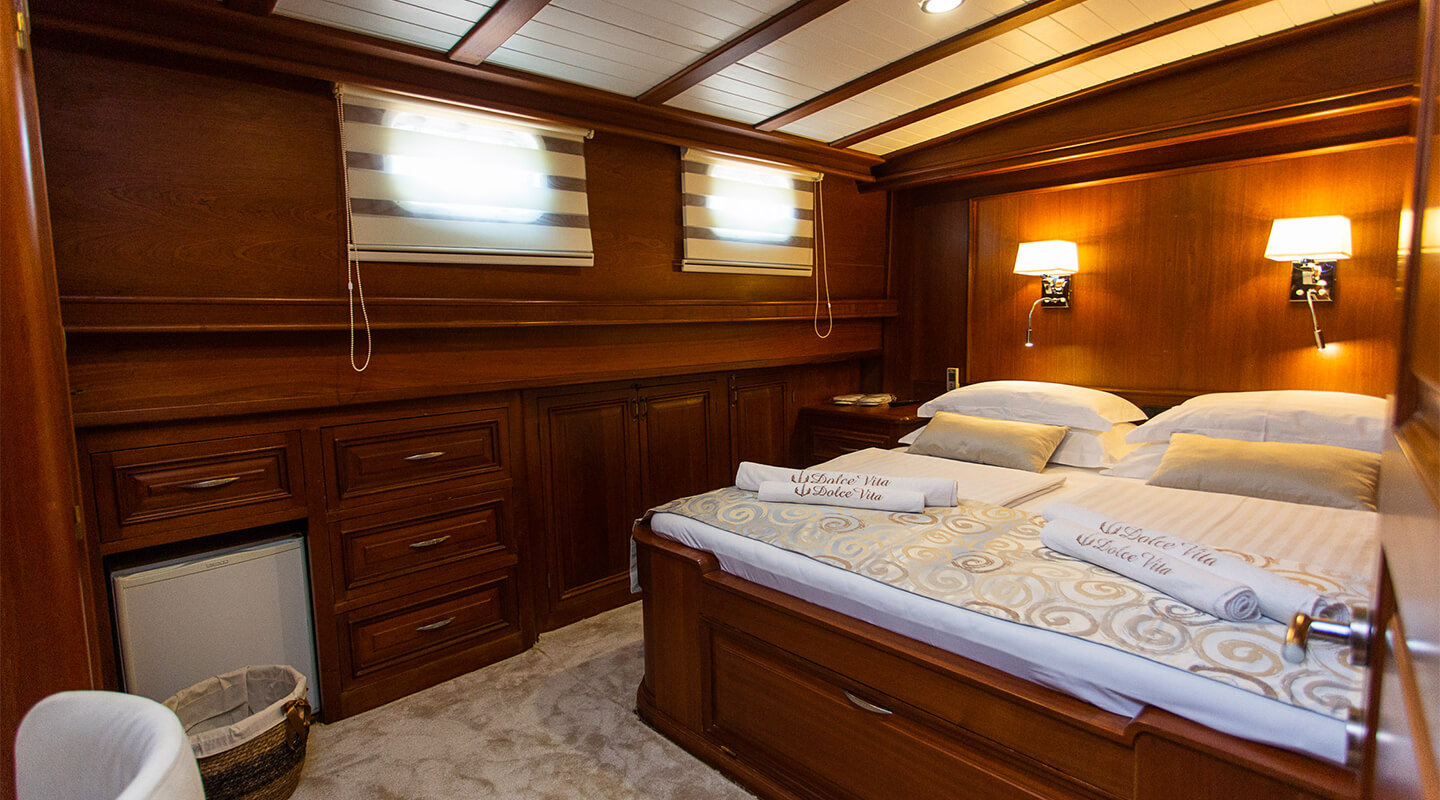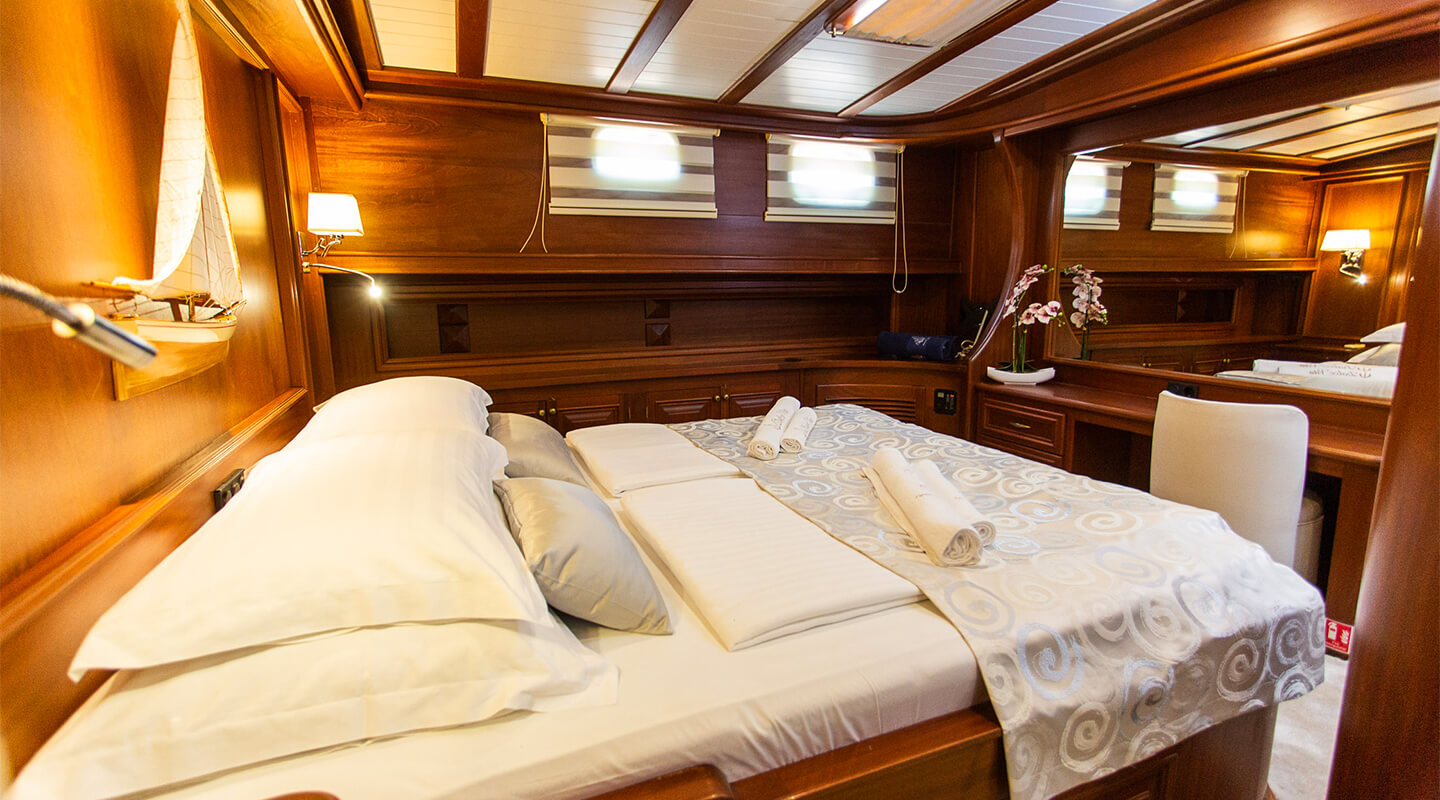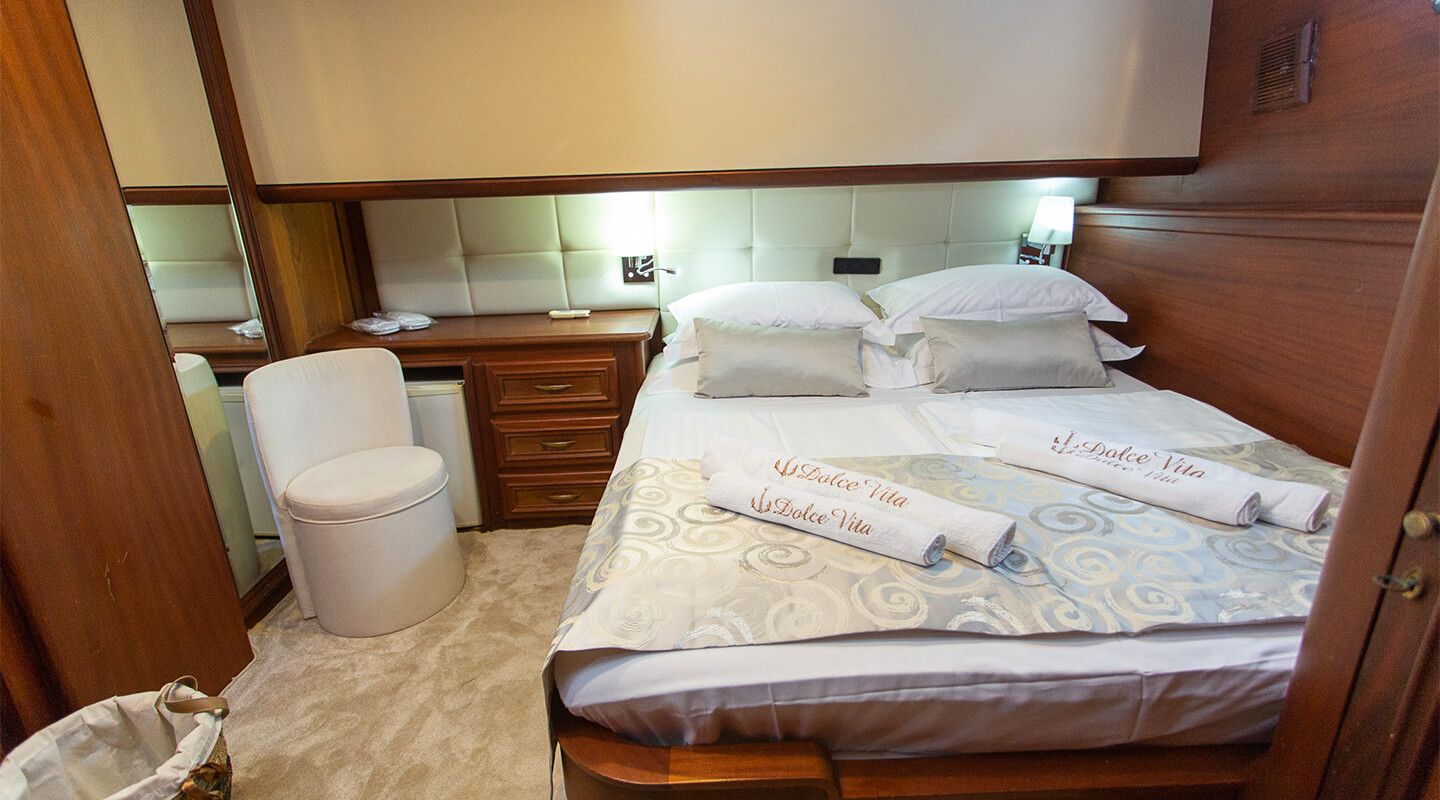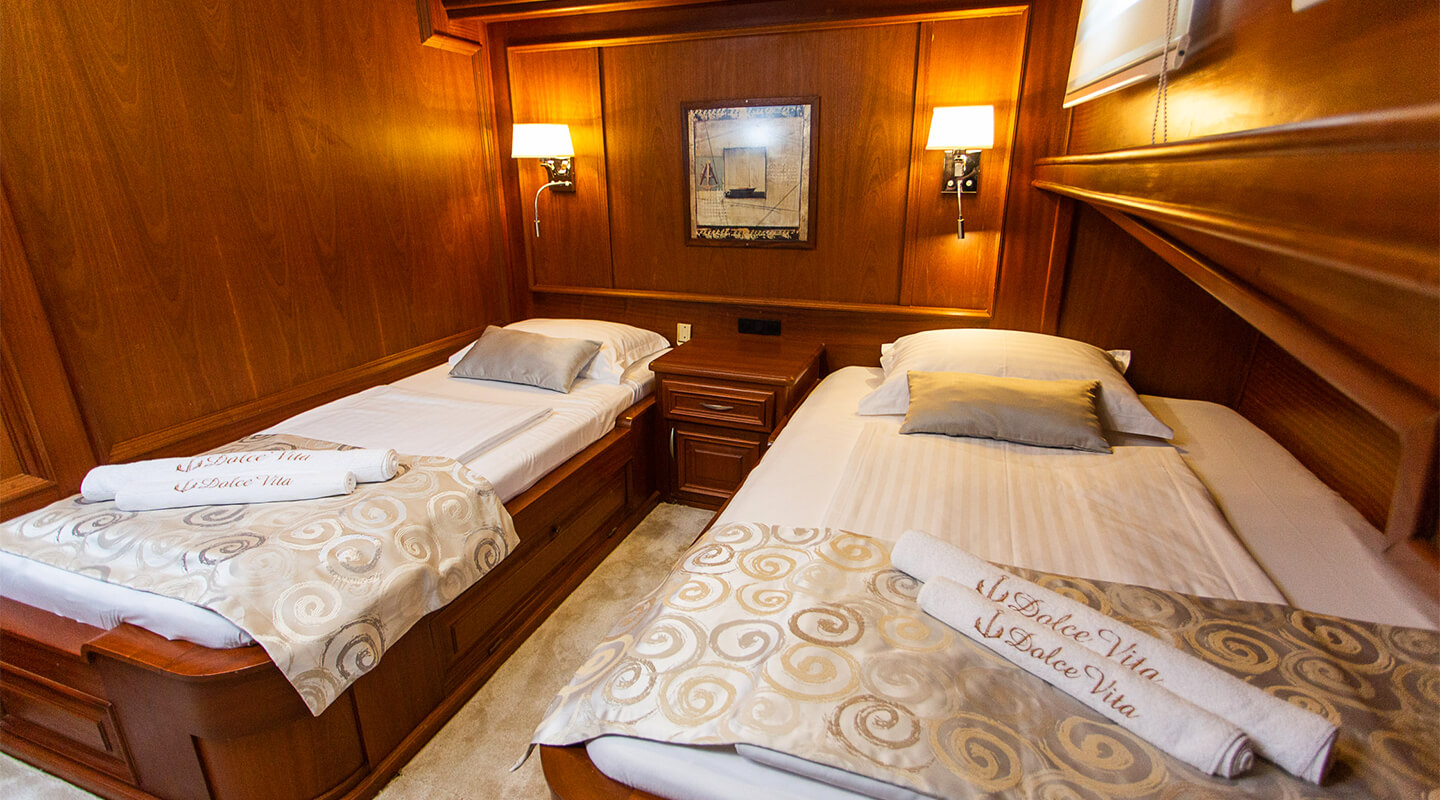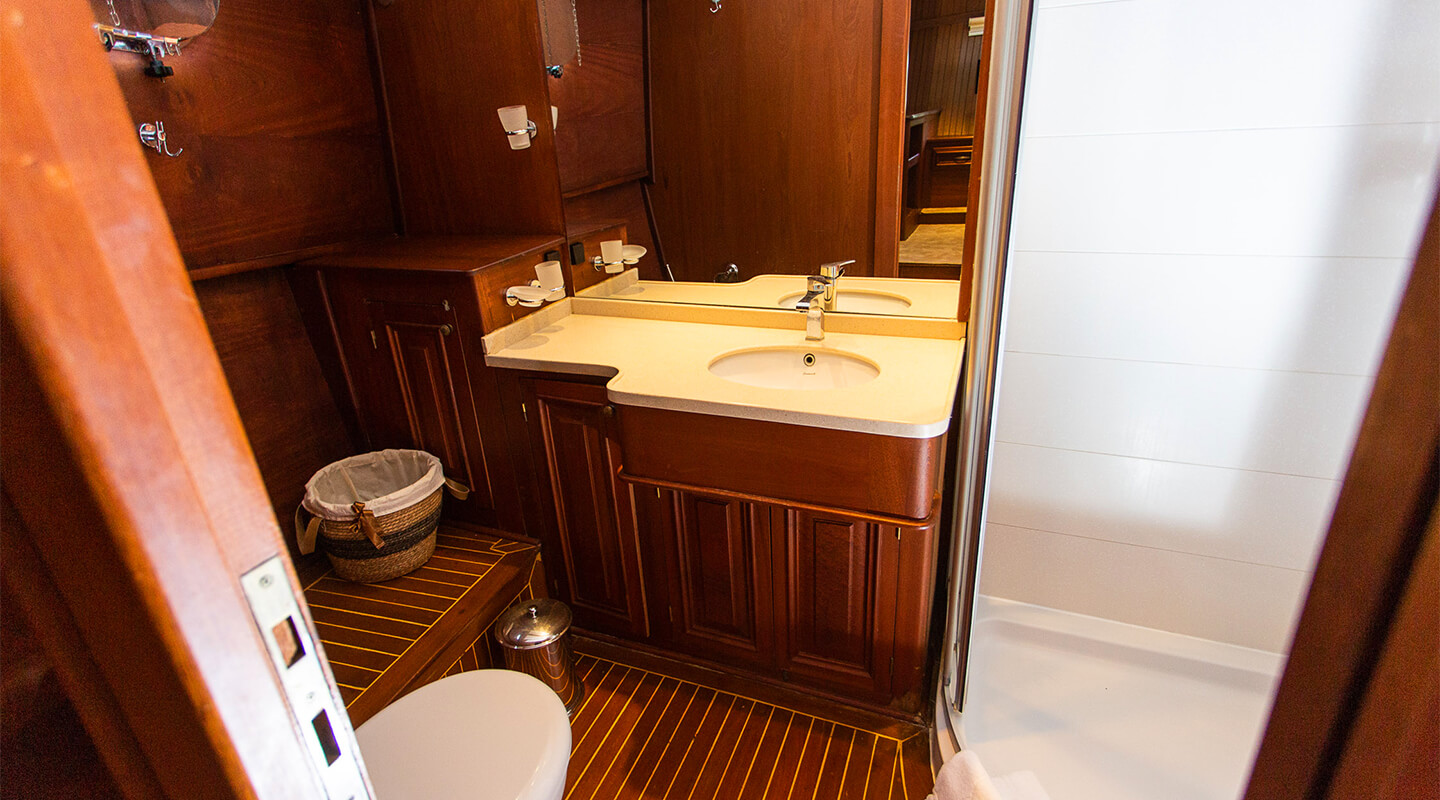 Finding the right yacht is important. But finding the perfect combination of the yacht, the crew (including the chef), itinerary, and activities that are all tailor-made to align with your group's structure, requires significant effort and forward planning.
This is what we pride ourselves on doing best.
A: Understanding your group structure, wishes, philosophy, and priorities.
B: Making sure your entire holiday is organised in a way that accommodates your whole group.
We are a customer-service company first, and a yacht broker second. We look forward to being of assistance to you.
The entire yacht search process at Goolets is organised in a way that we always find the best ''value for money'', most suitable yacht available for your group.
First, we review as many vessels as possible to ensure all bases are covered.
Then, we refine the selection to 2 or 3 options, any of which would be a good choice.
We always ensure you receive the best possible deal and the best possible service on these suggestions.
We concentrate on a yacht's overall value based on your search criteria first, then we look for discounts.
The amount of any discount will vary depending on the yacht's availability at the time of booking.
If according to your search criteria, there are dozens of yachts available at the destination you want, on the dates you request, there will be more room for negotiation on price.
If what you are looking for is a yacht in high demand, there is little or no flexibility on pricing.
Each yacht's charter rate varies, depending on destination, type of yacht, and various additional expenses.
To arrive at an estimate of how much the entire charter will cost (including the charter of the yacht itself, food, drinks, fuel, VAT, port taxes, crew tips, national park entry fees, and so on), the rule of thumb is to take the base charter price and add 30%.
Sometimes the cost will be lower, sometimes higher; but for the best guesstimate, this formula will give you a good idea of the overall expenses.
For example, if the base charter price of a yacht is quoted at 30,000 €/week, with all the additional costs the total payment due (not including flights or transfers) would be around 39,000 €/week.
When you inform us about your preferences, our charter experts will always break down the expenses in detail, so there are no hidden costs when you arrive on your yacht or during your trip.
Most yacht charter destinations have a handful of the most popular itineraries that are being used 90% of the time. Our yacht experts will be happy to advise which one would be the most suitable for you.
The most important part of route planning is not so much which route you take, but what you will do at each port of call, and how you wish to personalise each day to suit your preferences.
The same itinerary will be structured in an entirely different way if, for example, you are a group with small children; or if you have teenagers; or if you like to party; or you are a group of active seniors interested in sightseeing.
We are experts in tailoring your route in a bespoke way that optimizes every moment of your holiday.
We monitor the live availability of all yachts via various systems - either directly through Goolets' online booking lists, or via yachting portals such as Yachtfolio, Charter Index, CYA, Nausys, or Booking Manager.
Bookings are changing on an almost hourly basis, so each date needs to be frequently monitored.
You can check the real-time availability of the vessel either by submitting the inquiry form, sending an email to info@goolets.net, calling us on the phone, or contacting us via the ''live chat'' function (if you reach us inside our working hours).
We pride ourselves on replying promptly and will do everything we can to respond quickly.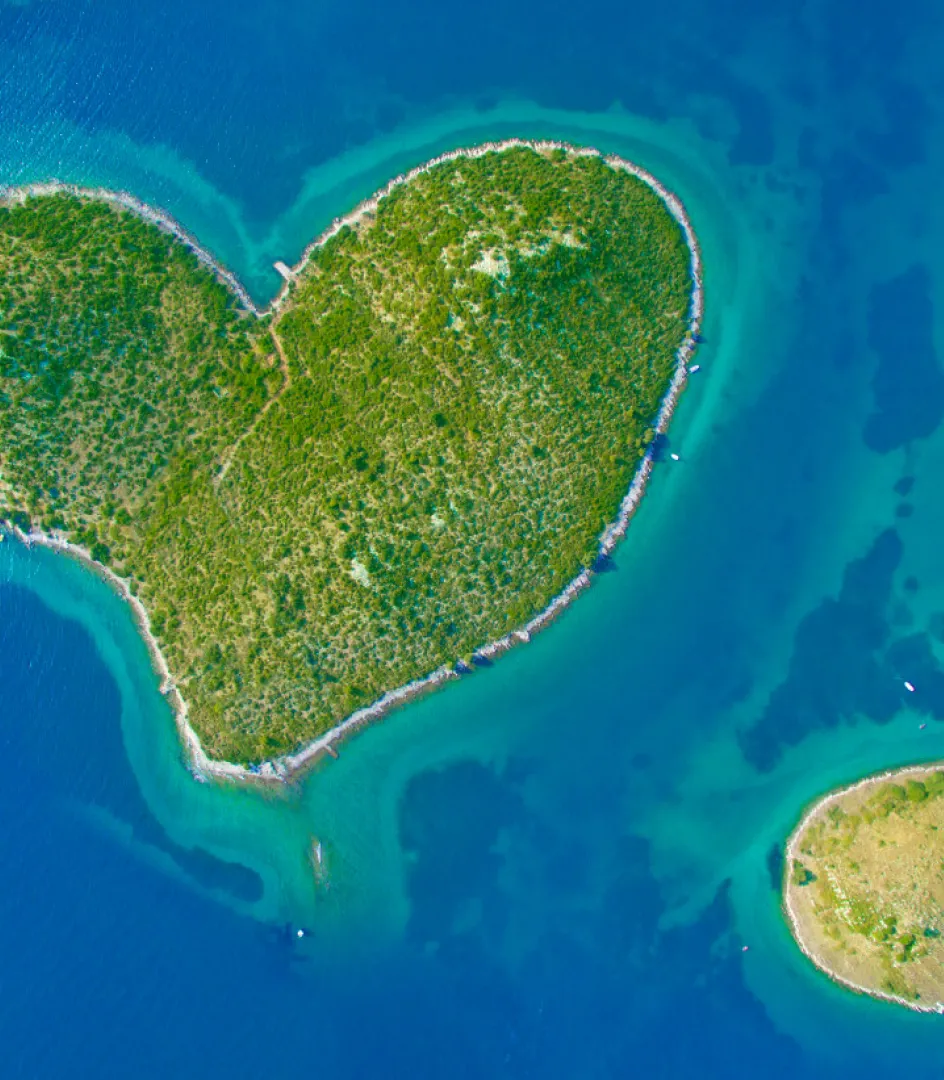 Luxury boat charter in
Croatia
Croatia has more than 4,800 yachts available for charter. We compiled a list of "award-winning" yachts, recommended by industry experts. This list provides an overview of Croatia's top charter yachts in terms of quality, value, and performance.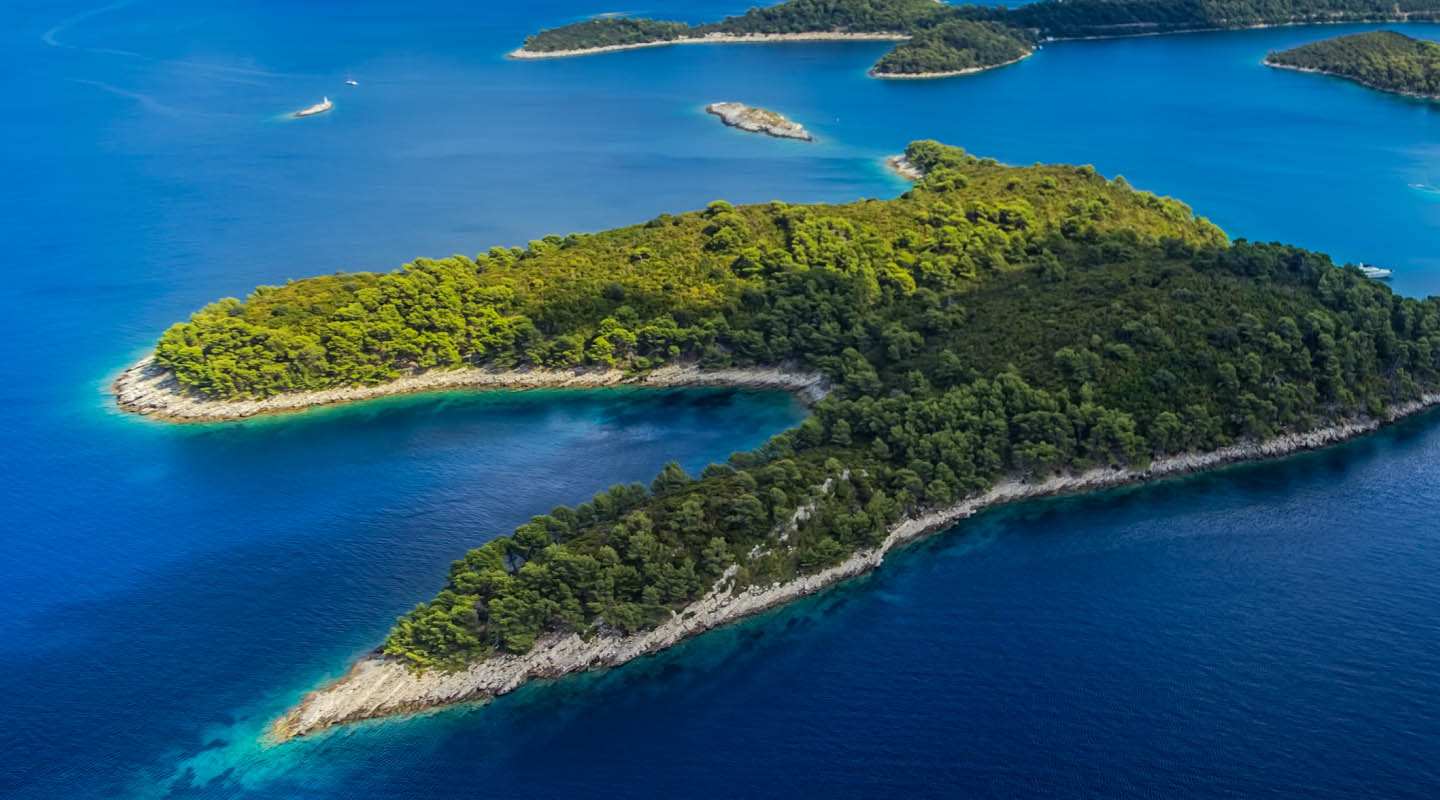 Understanding your wishes
We continuously monitor availability, quality, and accuracy of pricing, of well over 500 gulets and yachts in eleven different charter destinations.
Start planning now
What kind of boats are for you?
Find out which boat will suit you best in this short and fun quiz.