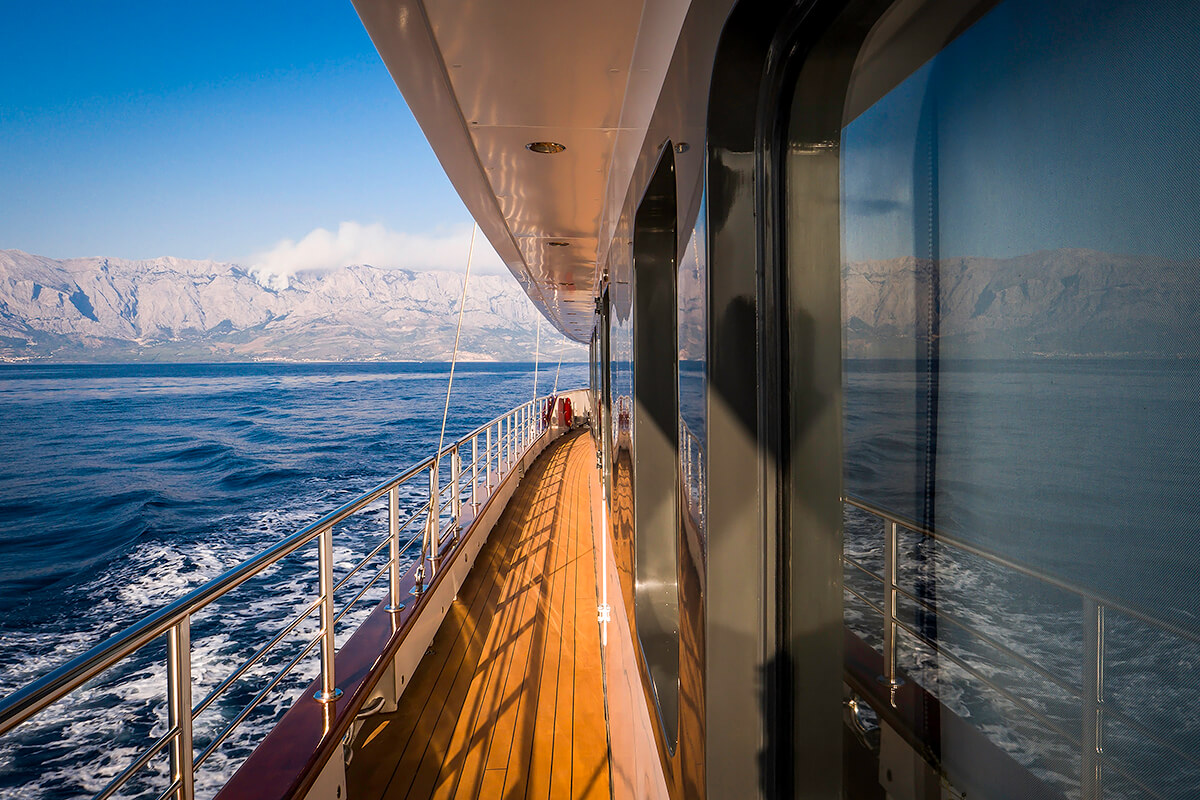 TOP Two Luxury Yachts In The Mediterranean
It is well known that the Mediterranean is a super popular place to cruise. You can choose whether that will be a cruise to ancient Greece, a country of 1200 islands Croatia, or maybe Italy and their amazing cuisine is something you'd prefer? The decision is yours.
However, the fact is that only the best gulet yachts are cruising there, and really there are many gulets to choose from!
In this post, I'll represent the TOP two most luxurious yachts in the Mediterranean! These yachts will absolutely knock you off your feet! You will have an opportunity to virtually get to know them and learn how you can become a part of this superb one of a kind experience. In addition to that now, prepare to be amazed!
1. Yacht Aiaxaia
AIAXAIA with all of its features is not your traditional gulet, firstly it's more of a motor sailing yacht. As matter of fact, the idea of her creation rebirthed from a successful story of her popular sister yacht Navilux. The Ercegović family with a long maritime tradition dating from the 19th century simply had one more vision! Because of the recognized success of Navilux, they decided to follow the idea and give a try in building 46m long AIAXAI.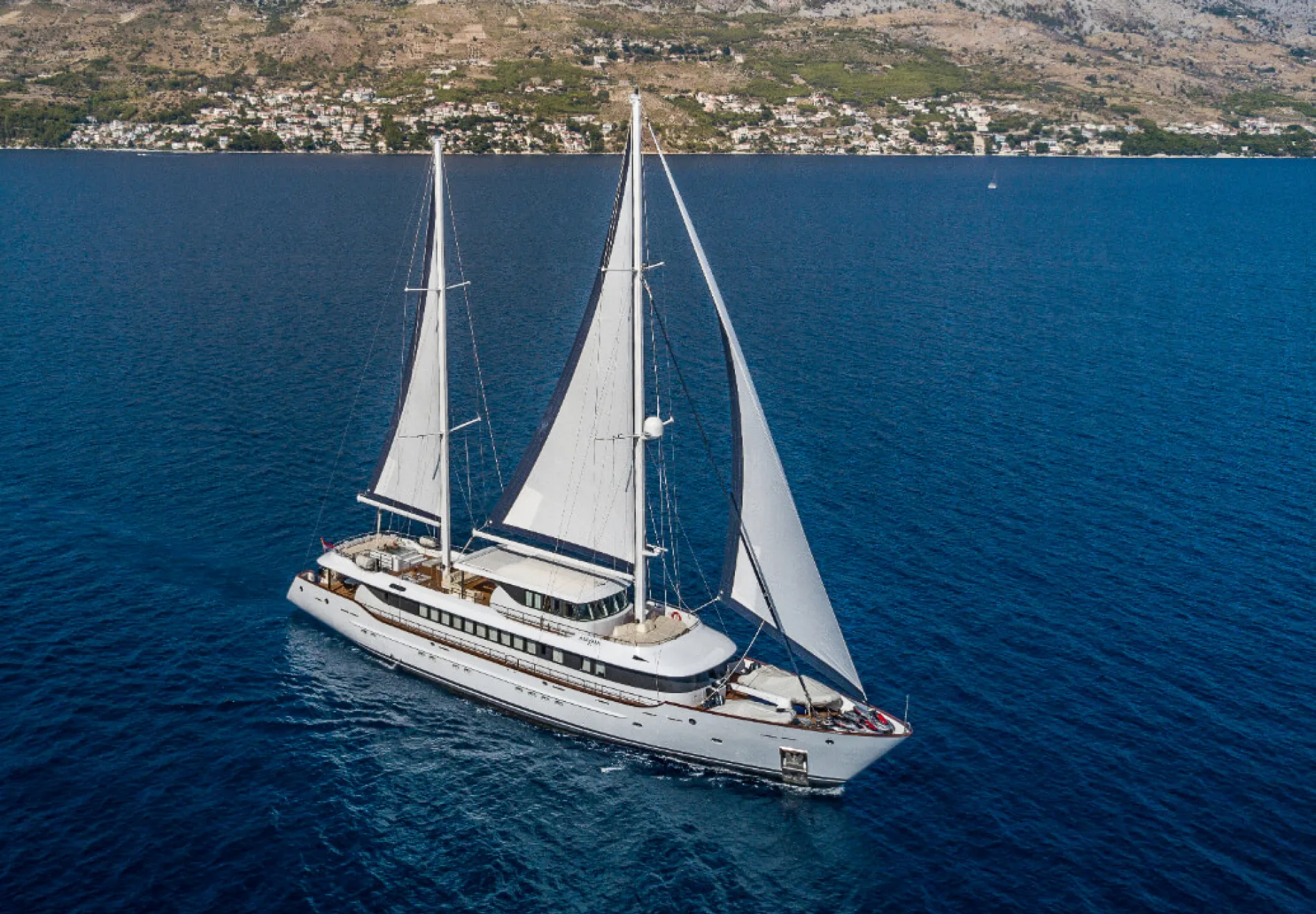 Luxury and comfort were first aims of design when it comes to this exquisite 5-star yacht.
Once you step on this beautiful boat you'll be amazed at how spacious it is! Her modern cabins, endless recreational activities, numerous amenities, amazing crew and the exceptional chef could make even the toughest crowd amazed.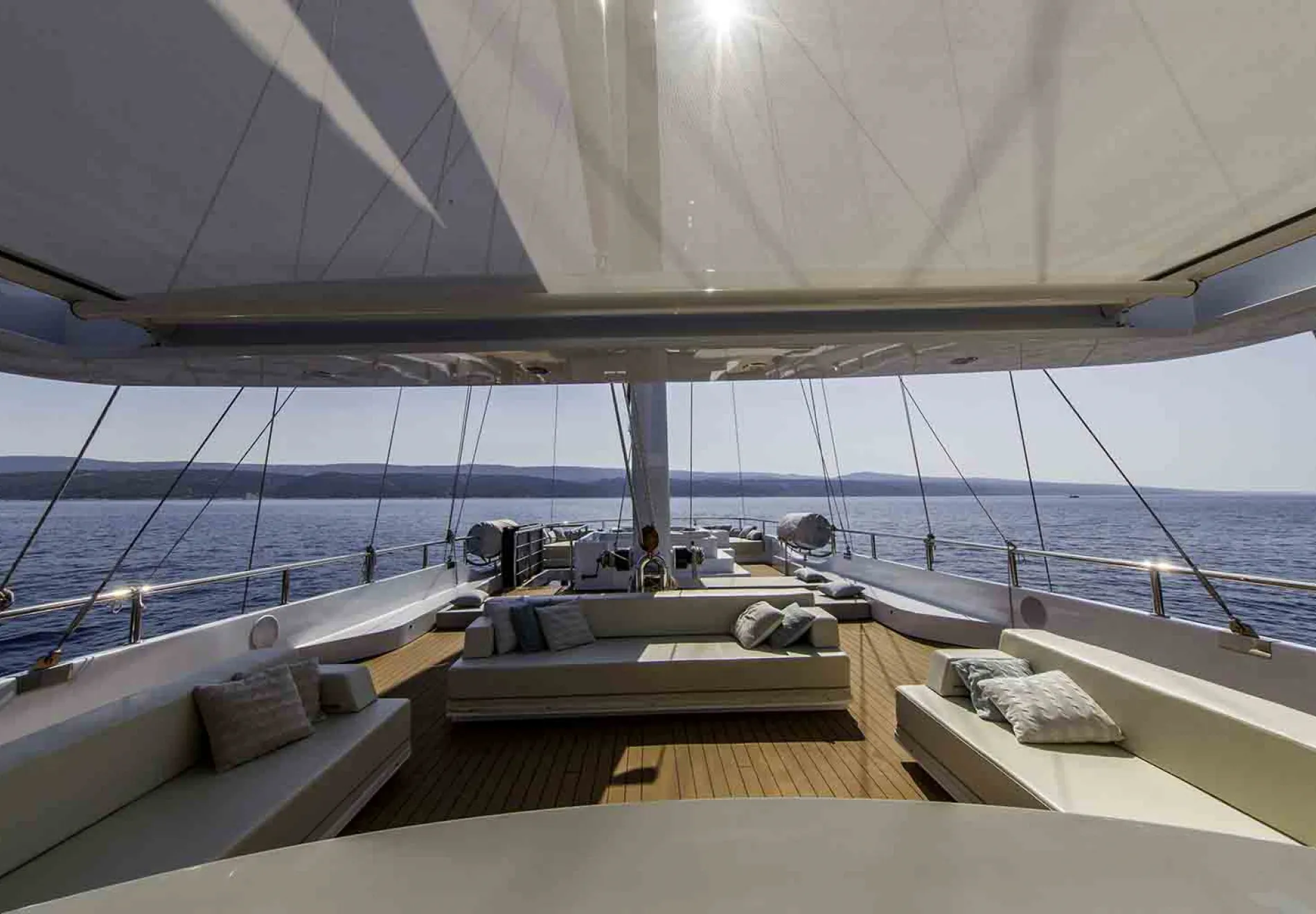 The main deck offers 52m2 of space with the spa, spacious lounge and outside dining area perfect for making great memories with the best view.
Flybridge comes with luxurious longe are with bar, a spacious lounge area at the aft and the front of the bridge.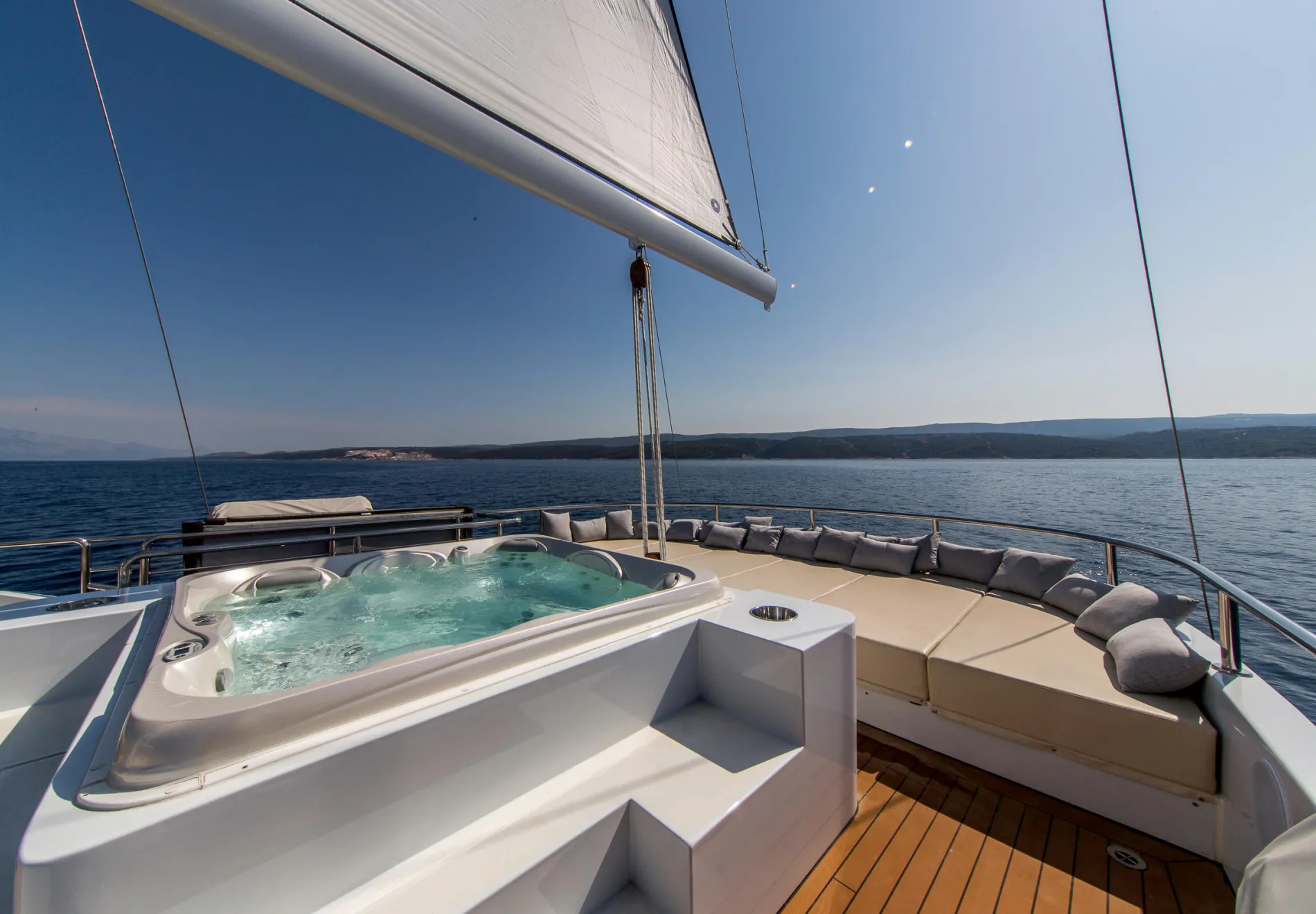 And of course, there is a sunbathing area and Jacuzzi for daily relaxation or romantic nights.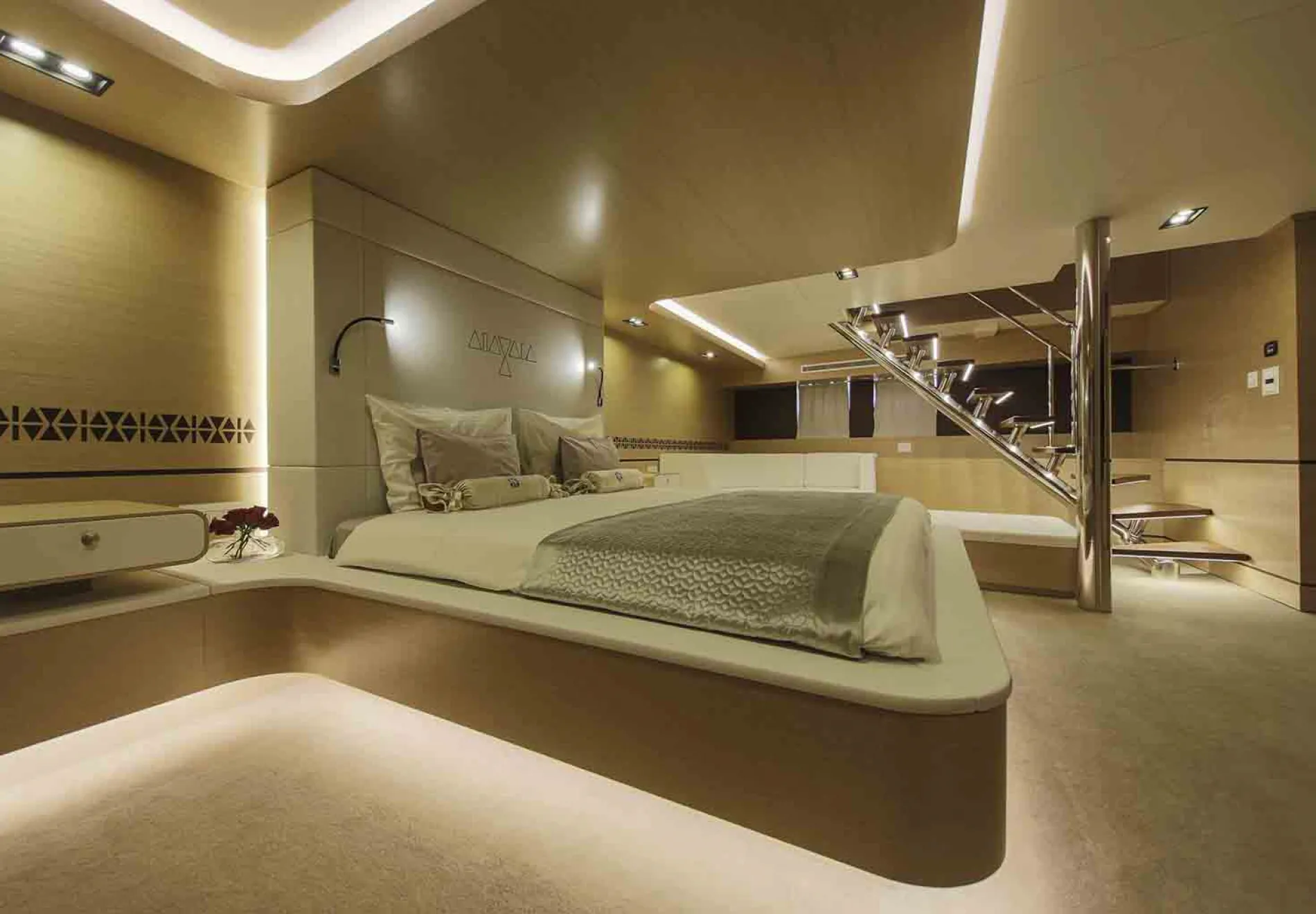 Accommodation
This yacht has 6 En-suite modern and spacious luxury cabins that can accommodate up to 12 guests.
1 Master cabin and VIP cabin is offering king size bed for ultimate relaxation.
2 other cabins offer queen size beds and additional 2 cabins come with 2 twin beds that can convert into a queen bed if needed.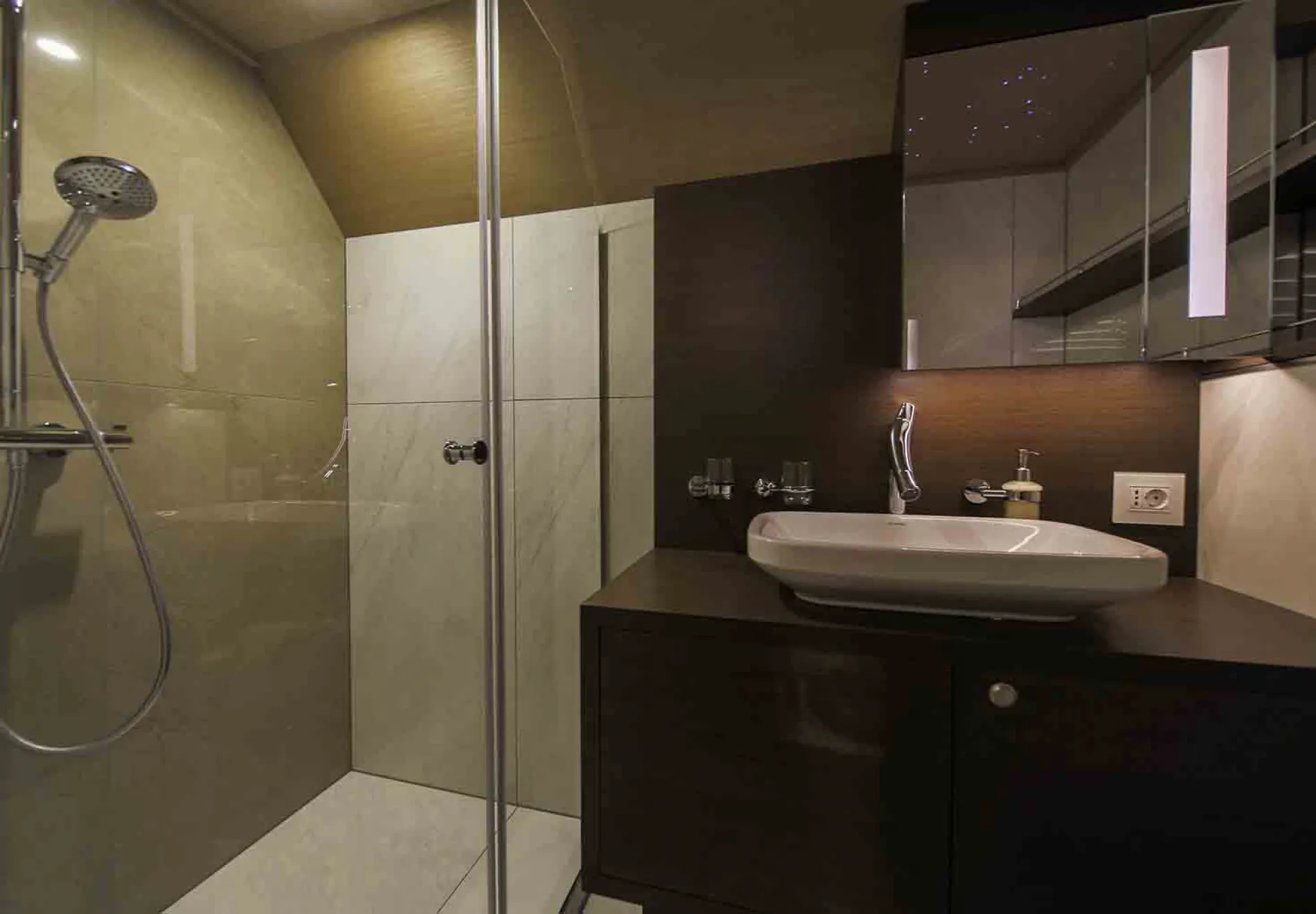 Every cabin is with well-equipped and it comes with room service.
Cabins include: AC system, bar, Flatscreen TV, each has it's own toilet area, surround sound system in rooms, WIFI, interphone and HVAC controls in every cabin.
You sure won't be disappointed!
Who is it for?
AIAXAIA is made for your pure enjoyment!
It's ideal for larger groups of people or extended families. You won't be bored at all.
Sailing enthusiasts will love it! It is a perfect choice for those who wish to sail on their holiday!
Sports enthusiasts and those who want to stay active! The yacht offers kayaks, inflatable toys, waterskis, snorkelling equipment, 1 Wawe runners, 1 SUP boards, 2 X 6m (20ft) dinghy with 150hp outboard motor, 8 mountain bikes, 4 electric biked etc.)
Big food gourmands – you will taste the best fresh local quality dishes!
Everyone who wants to have the best holiday and enjoy the endless sun
2. Yacht Regina
Regina is a spacious 56m long boat that was built back in 2011. It truly is one of the best yachts in the world and it comes with amazing features, services and professional crew delicious food and many more.
On a first glance, you'll notice how this yacht has been designed with nothing but graceful lines. Her sheer elegance and class were made for her guests in mind.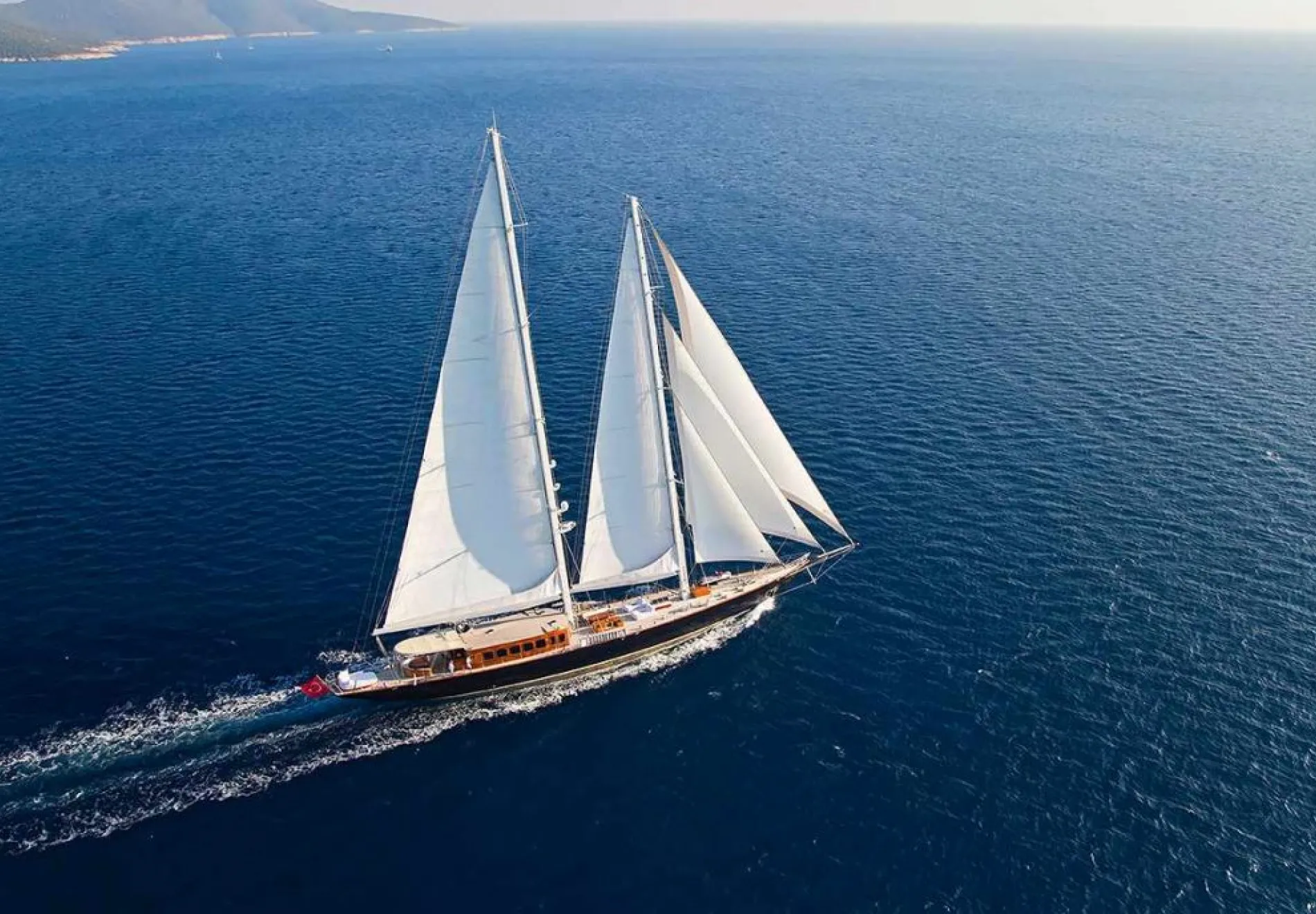 It offers large elegant teak decks, with areas for your comfort & relaxing time. Enjoy a glass of wine!
For you, there are also plenty of sunbath cushions and chairs for endless hours in sun. With the option of jumping in sea whenever your heart desires!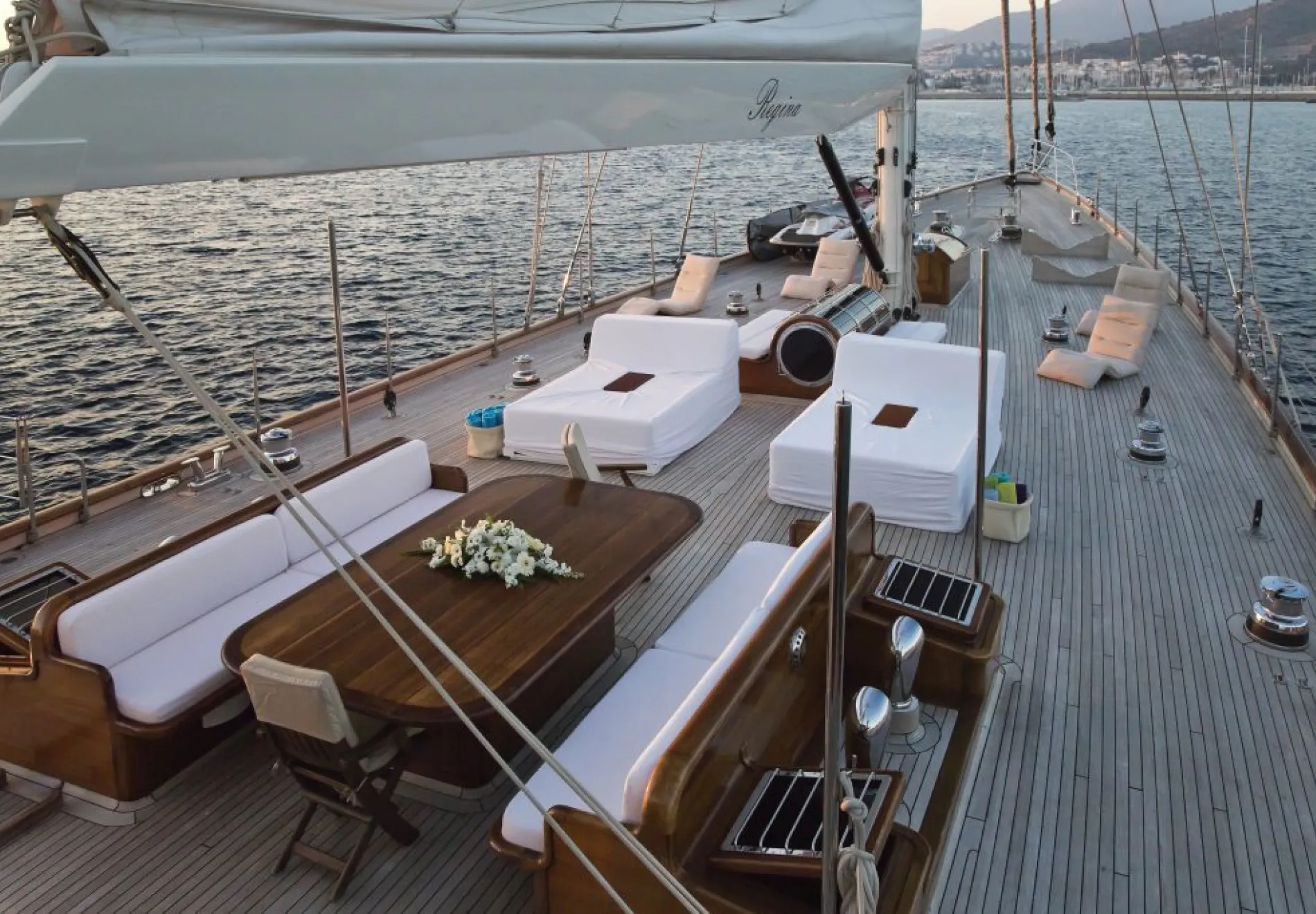 Also, you'll discover a nice place for dining on deck and in an interior that is decorated with mahogany finish and outside with beautiful always changing views. As a result, you'll get the most unique holiday of your life!
Furthermore, once you step into the interior salon you'll see the centrepiece of a room, a beautiful high shine Orla grad piano!
The is piano marvellous hence it can only contribute to amazing dinner atmosphere during your magical summer nights.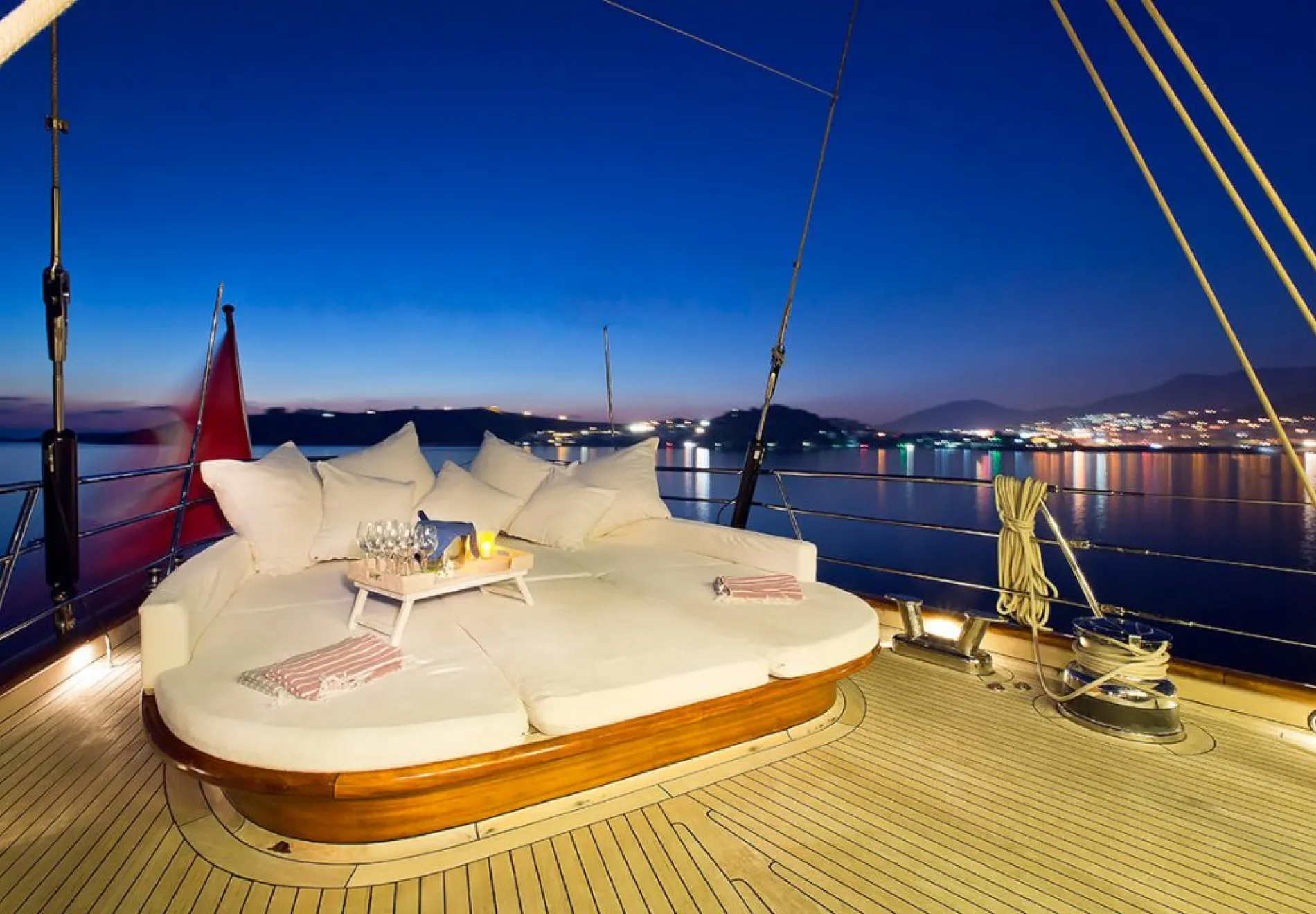 The worth of mentioning is especially relevant is superb cuisine on board that is simply out of this world!
Your experienced Chef will prepare your food every day. The menus are planned in advance according to your wishes and requirements so nothing is left to a chance! Shurley, you won't be disappointed.
Therefore, expect nothing but the best of the best!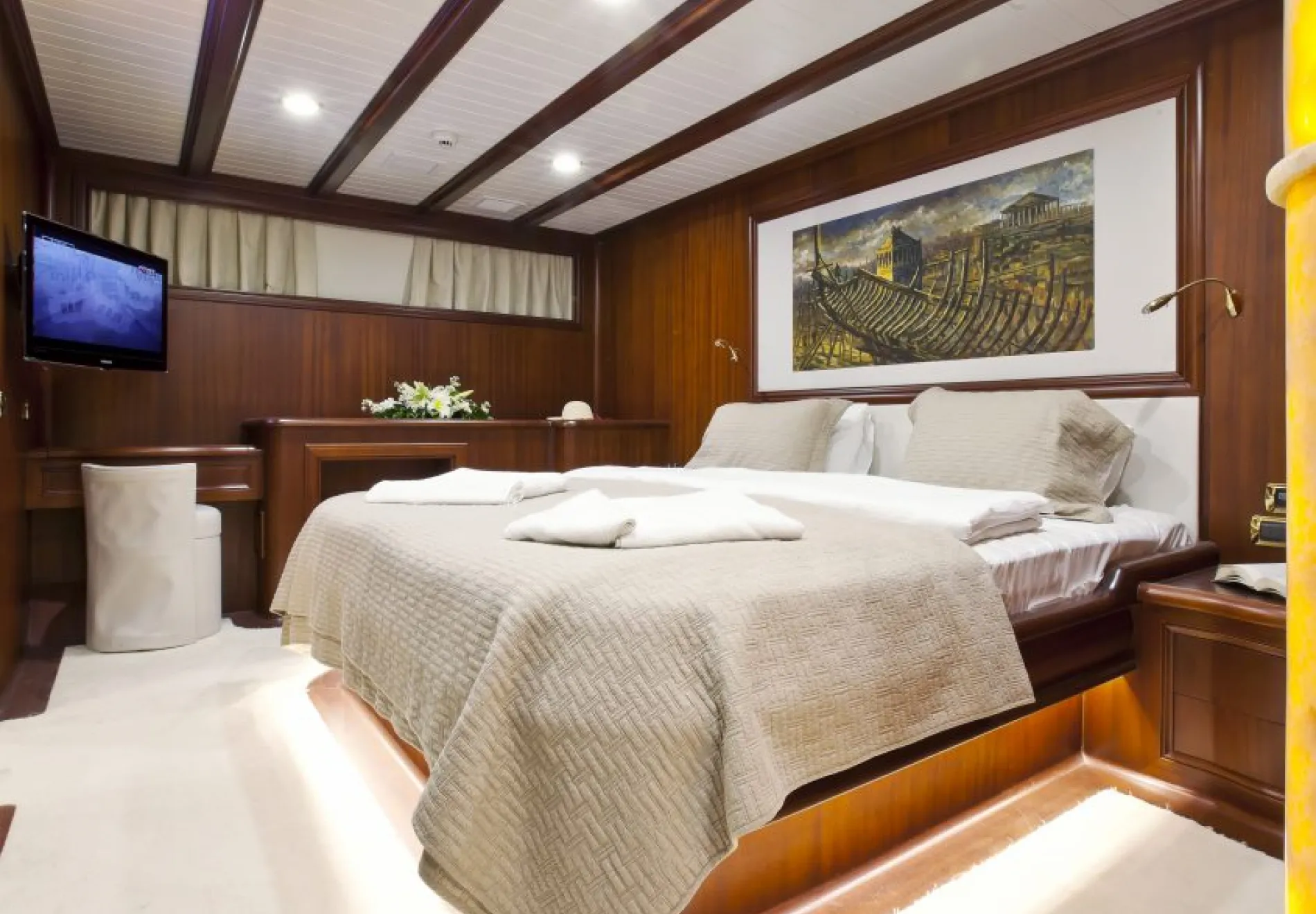 Accommodation
Further on, you'll get to see beautifully designed cabins decorated with a number of famous artist paintings and sculptures. Once you start walking through hallways and cabins you'll get the feel of walking through an art gallery on the sea. Pretty unique details are everything on this yacht. Especially relevant is that Regina has 3 Master cabins, 2 Double cabins and 1 Twin cabin that can accommodate up to 12 guests.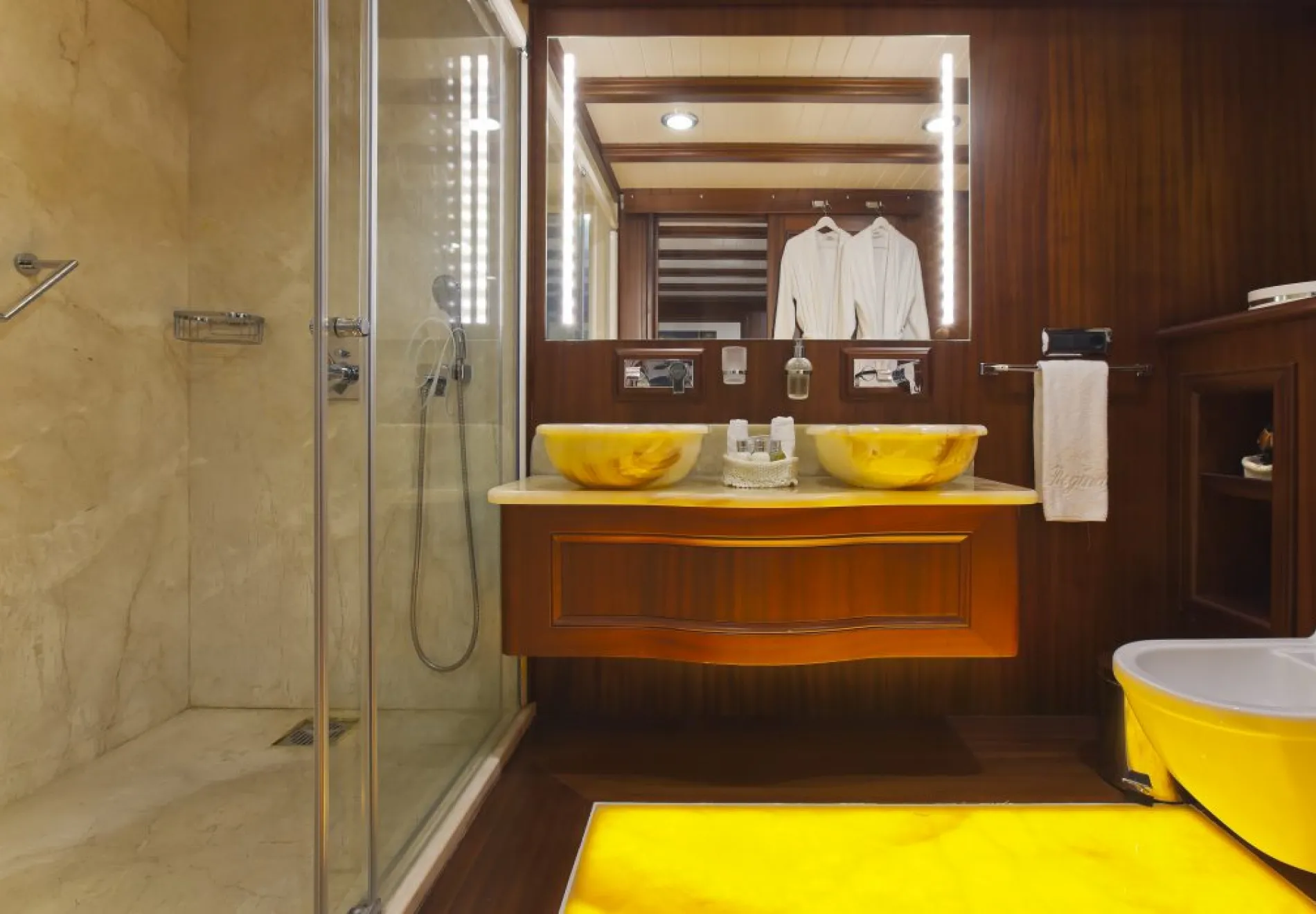 All these 6 classic beauty En-suite cabins come with WC, wardrobe, led TV, sound system, internal phone, AC system and WIFI. As you can see they are well equipped and decorated with finest details.
Cabins are large and luxurious hence designed to give an unforgettable and most comfortable stay.
Who is it for?
Sail enthusiasts – Regina is designed as high-performance ocean vessel, therefore ensuring stability even under rough sea conditions on your sailing adventure.
Great for larger groups of people! Especially for those who want to relax and unwind.
You can stay active all the time! The yacht offers a wide range of waterborne activities; Tender boat: 5.6 meters, 115 HP, water skiing, Donut ride/Ringo ride, Banana ride, Wakeboard, all free of charge!
Food lovers – You'll enjoy having drinks and the best dishes full of aroma prepared with nothing less but fresh local quality food.