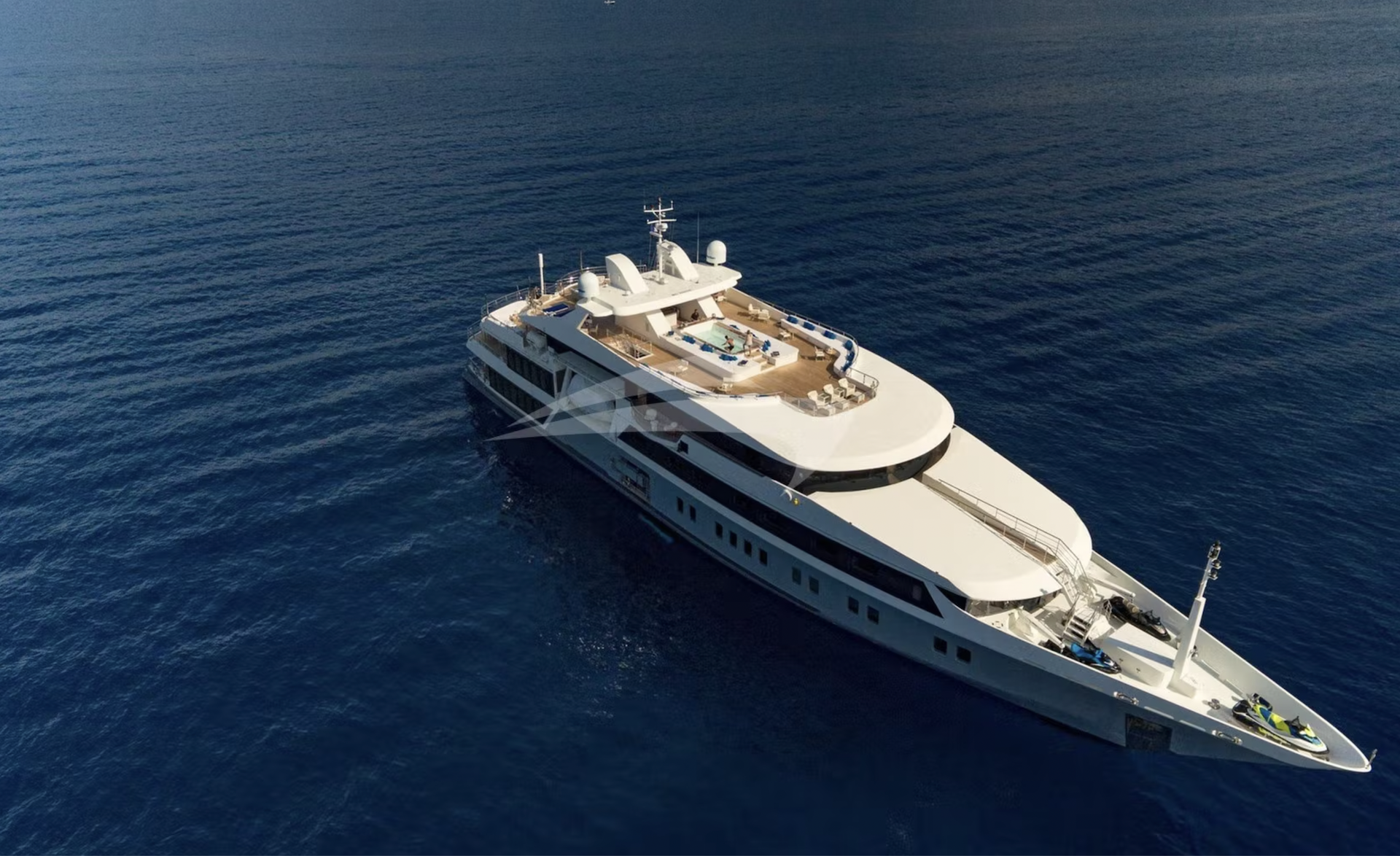 The 8 most expensive mega yachts available for charter
There is a thin line between the definition of a super yacht, a mega yacht, and a giga yacht. Probably the most obvious one is the size. While a super yacht is still huge, a mega yacht is clearly even bigger. Their size varies, but a mega yacht earns its title when she is over 60 meters (197 feet). Just a few years back, most of the mega yachts were privately owned, but recently, yachting lovers can rent them, and experience a vacation on a whole new level.
In this article, we will share the 8 most expensive mega yachts available for rent.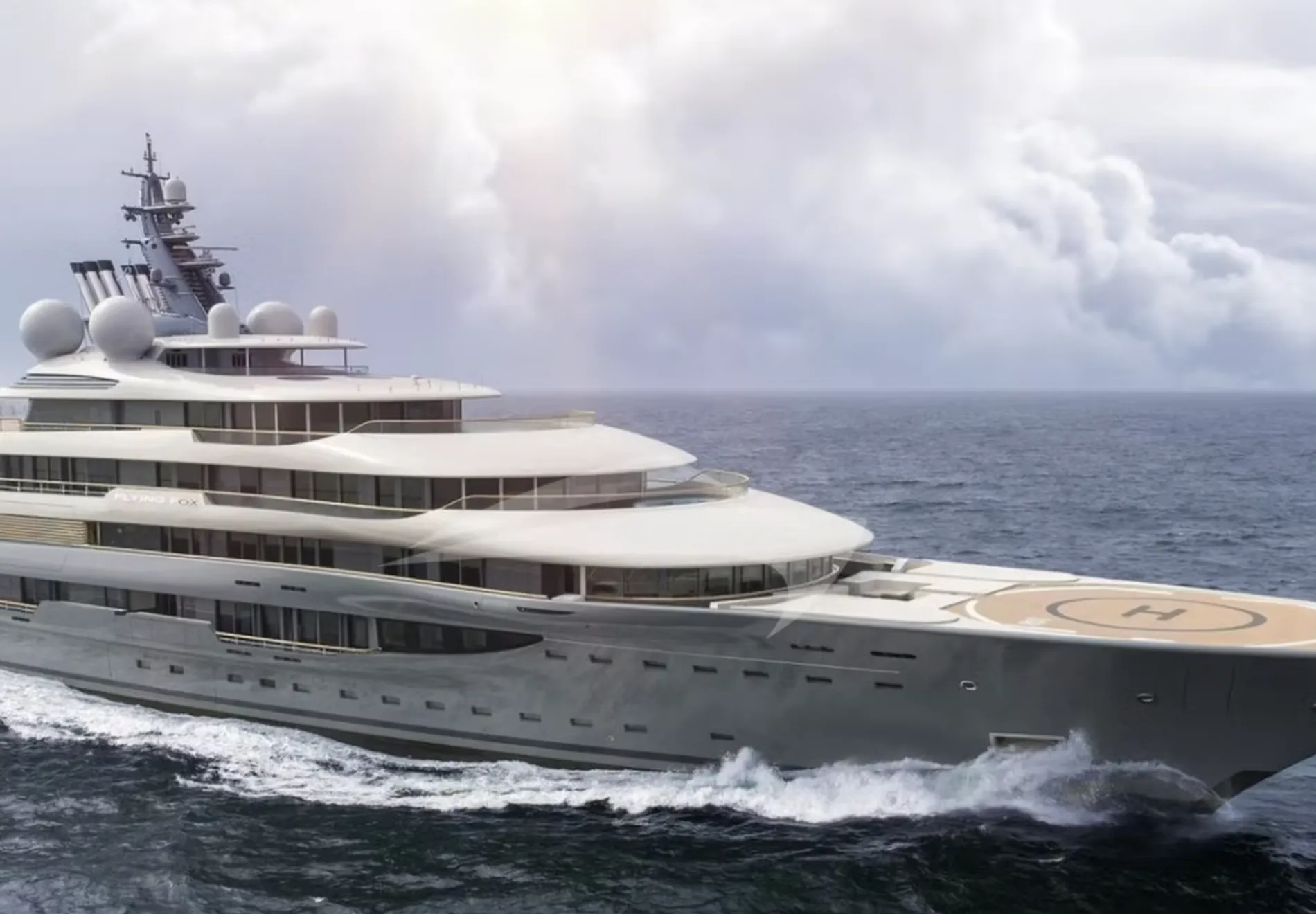 1. Flying Fox
At 136 meters (446 feet), Flying Fox can comfortably accommodate up to 25 guests in 11 high-end suites. If we say that this mega yacht is luxurious, we wouldn't give her enough credit. Designed by the famous British interior designer Mark Berryman, Flying Fox is truly a rare gem. A crew of 55 assists, or better said, spoils the guests 24/7, and creates an unforgettable experience.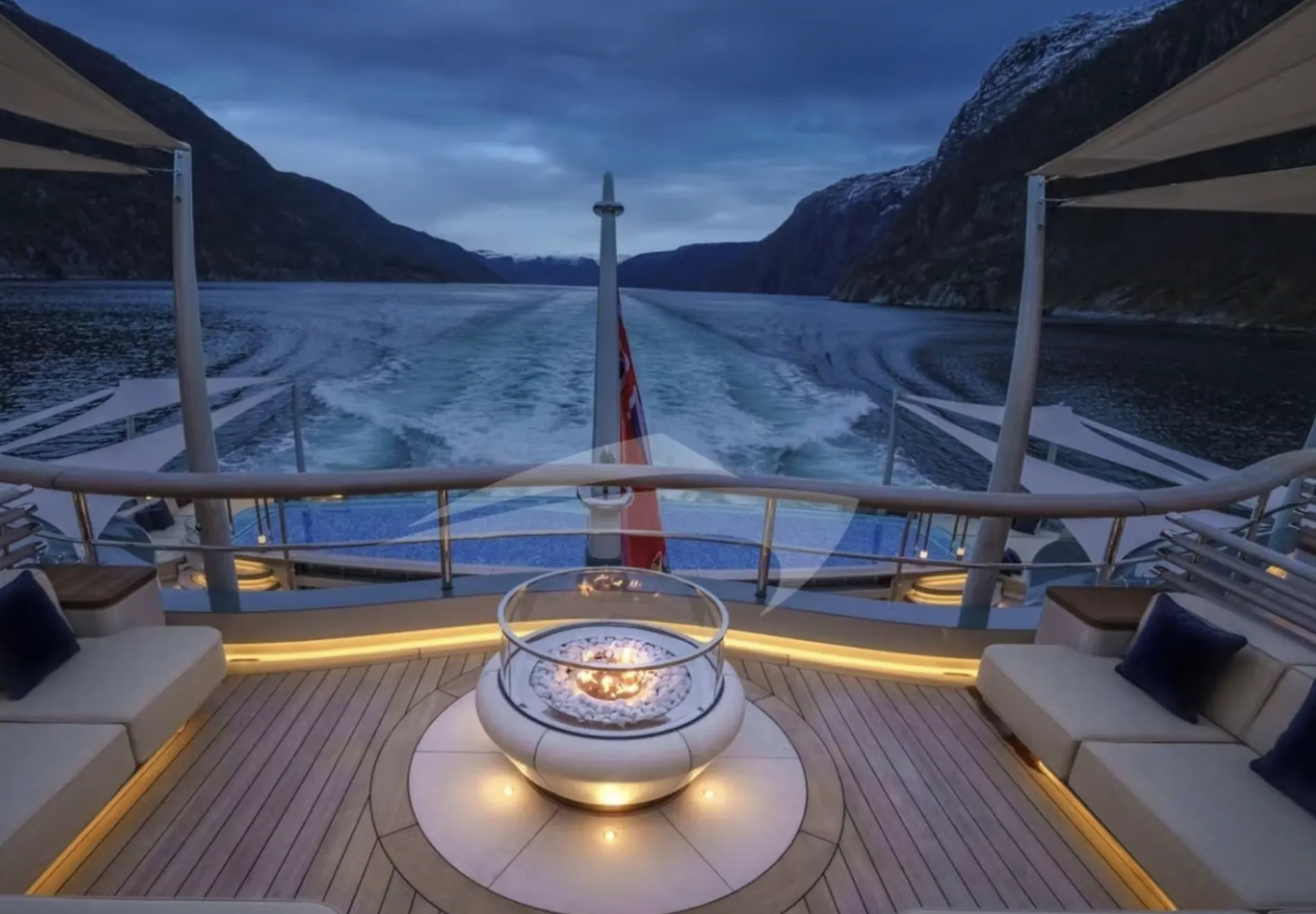 Unwind in style
You and your guests can snug in front of the outstanding outdoor fireplace, or pamper yourself in the beauty salon or luxury spa. For experiencing ultimate pleasure, the steam room and a sauna onboard are a must-try.
Much more than a jacuzzi
The beach bar spreads over an indoor-outdoor living and entertaining area where you can lounge and enjoy a glass of champagne, or dip in the deck jacuzzi and appreciate the scenery. In case you are looking for something a little more active, you can take a swim in the 12-meter pool outdoor pool, or get your workout on at the high-end gym. Even though Flying Fox is so big, the elevator offers easy access to any part of the yacht.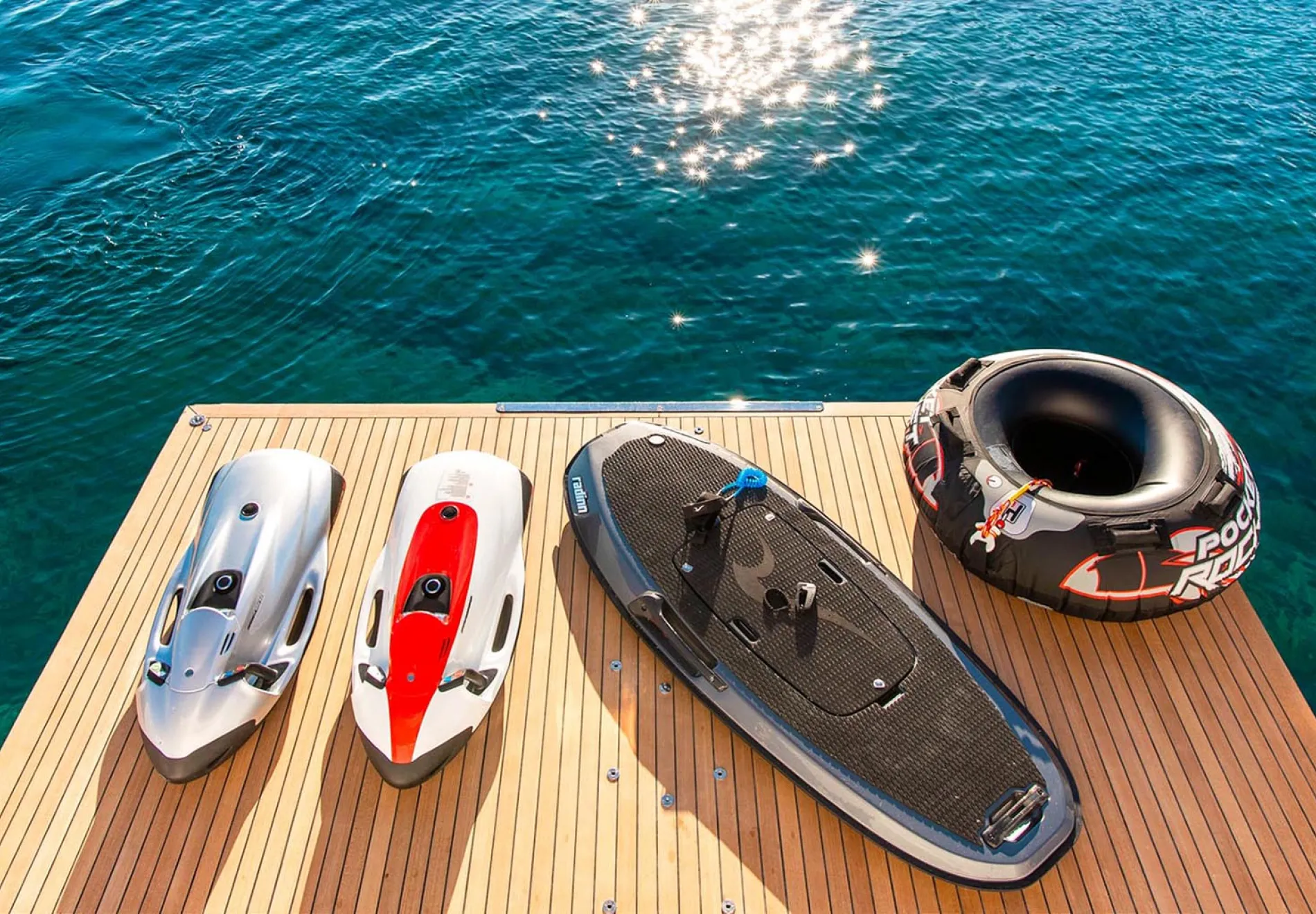 Water toys at their finest
While Flying Fox offers endless amenities for relaxation, she is well-equipped with a wide selection of water toys and accessories. If you like the adrenaline, hop on one of the Jet Skis, or test your balance and strength on the waterskis, kayaks, paddleboards, or the Seabob. Use scuba diving equipment and explore the beauty of the underwater world. In case you would like to explore the land, take the helicopter or one of the six tenders and arrive in style.
Special features:
Twin helipads
Enormous owner's apartment
12m outdoor swimming pool
400sq meter 2-floor spa area
Cinema with D-box seats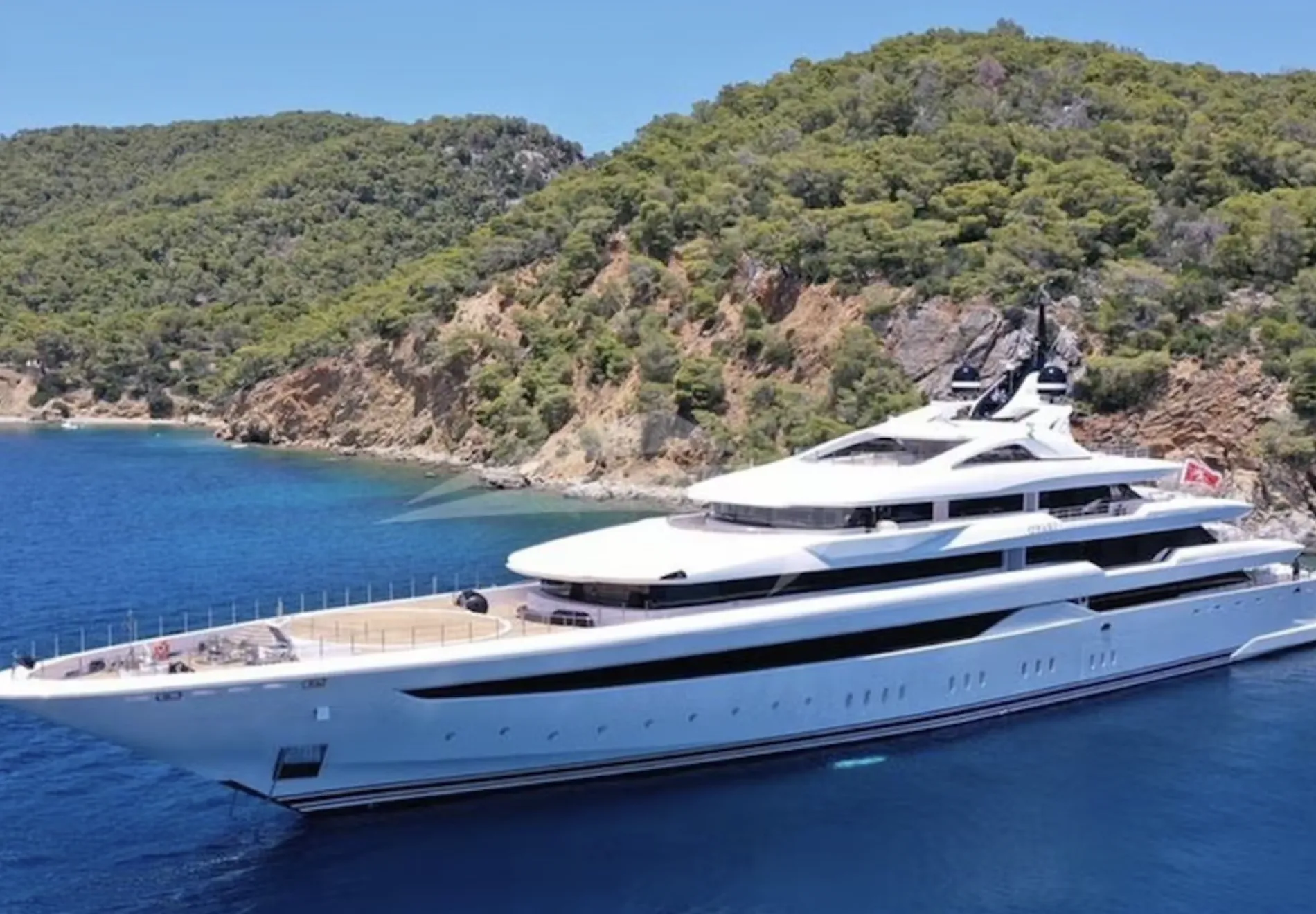 2. O'Pari
On the »smaller« side, we find the mega yacht O'Pari. The 95m (311'8 feet) mega yacht can comfortably accommodate up to 12 guests in 14 cabins and 29 crew members provide white-glove service throughout your charter.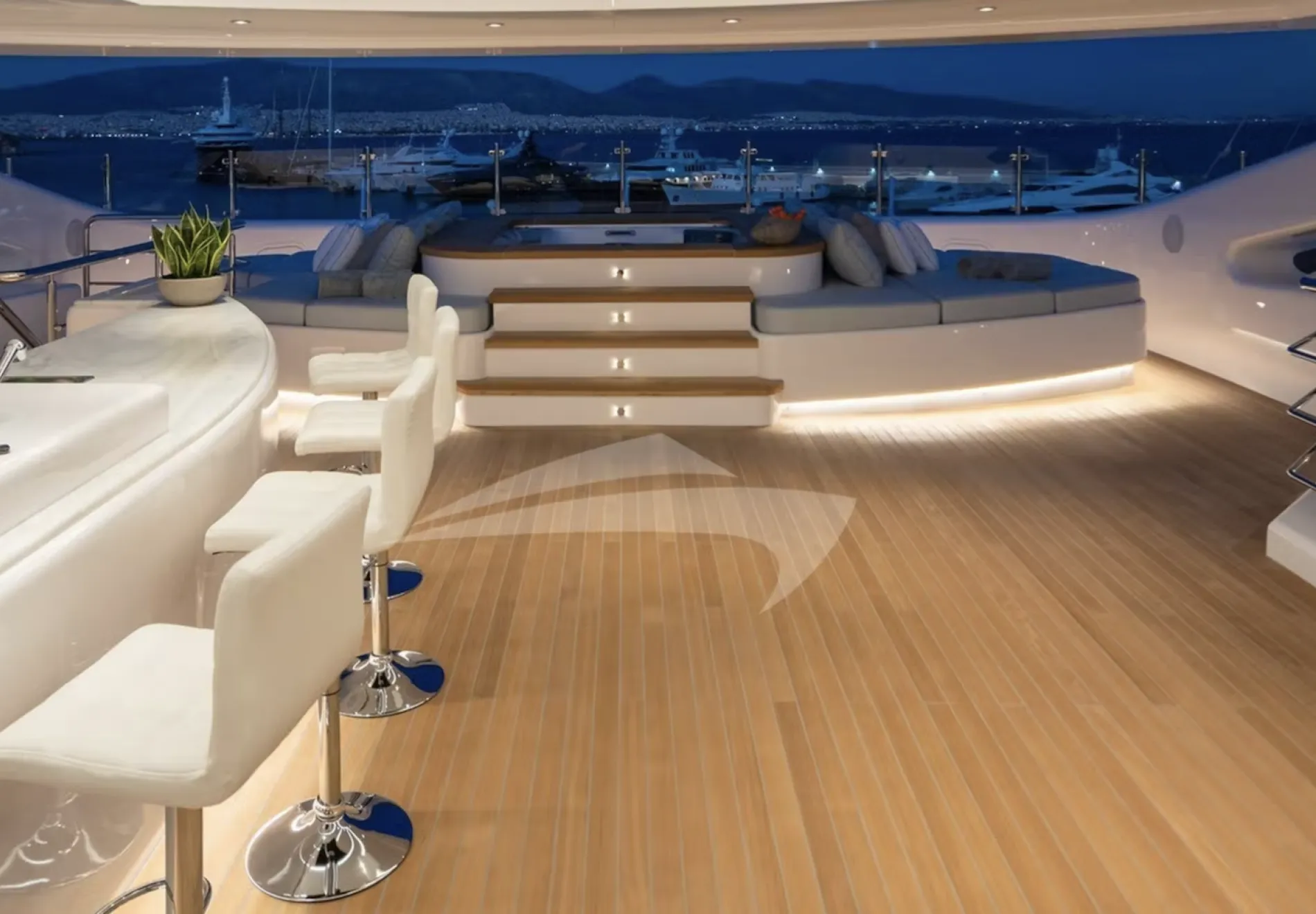 Indulge in the luxury amenities
Her vast indoor and outdoor areas extend over several decks, and provide plenty of space for comfortable lounging and sunbathing. After a nice workout at the gym onboard, you and your guests can relax your muscles in the deck jacuzzi. When ready, head to the beach bar onboard, grab your favorite cocktail and enjoy the scenery.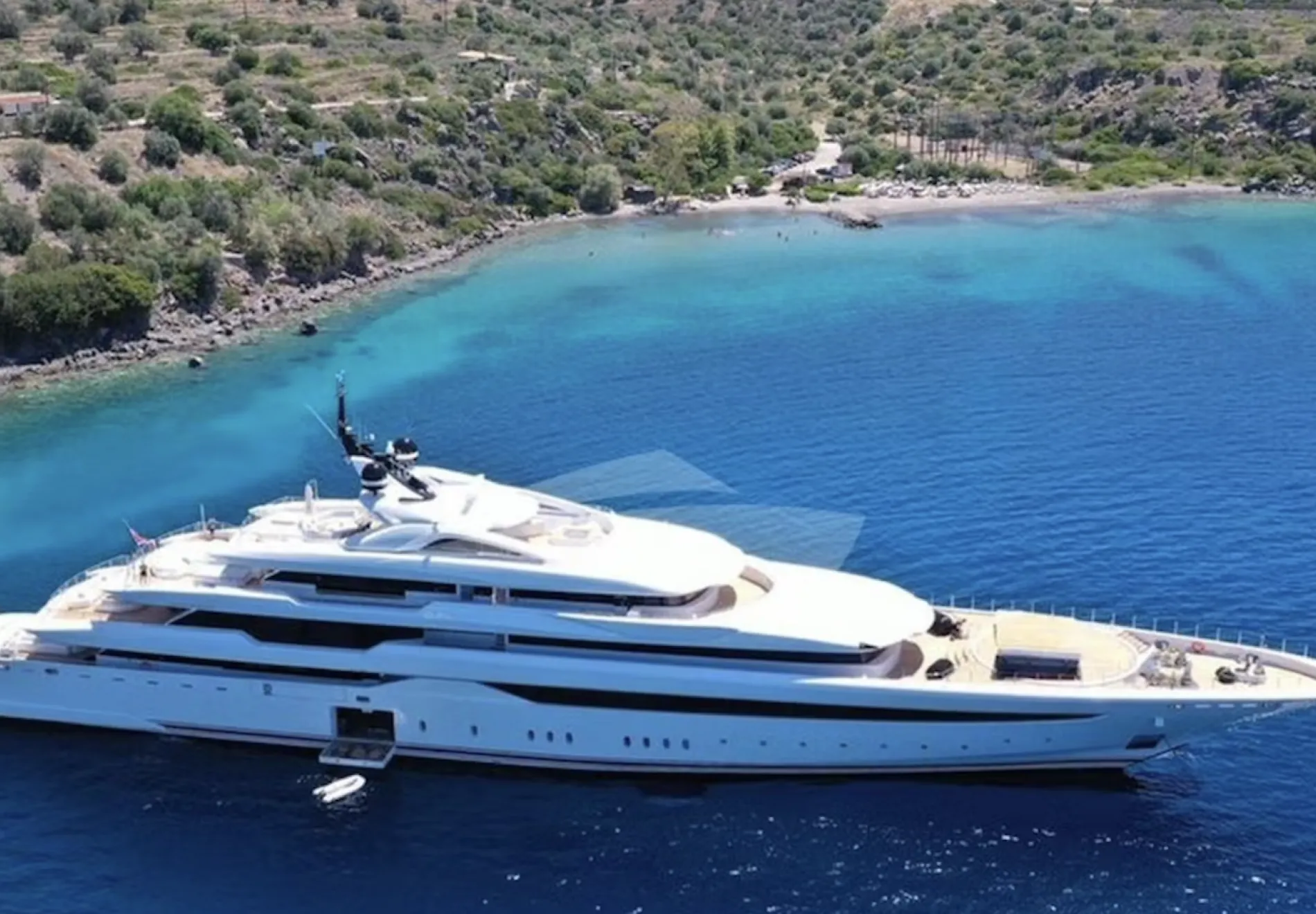 Get around like a boss
The helipad allows seamless travel to and from land, so you can arrive at your destination in style. In case you have some work to do during your charter, don't worry. The fast Wi-Fi and satellite connection throughout the whole yacht will let things run smoothly, so you can go back to relaxing in no time.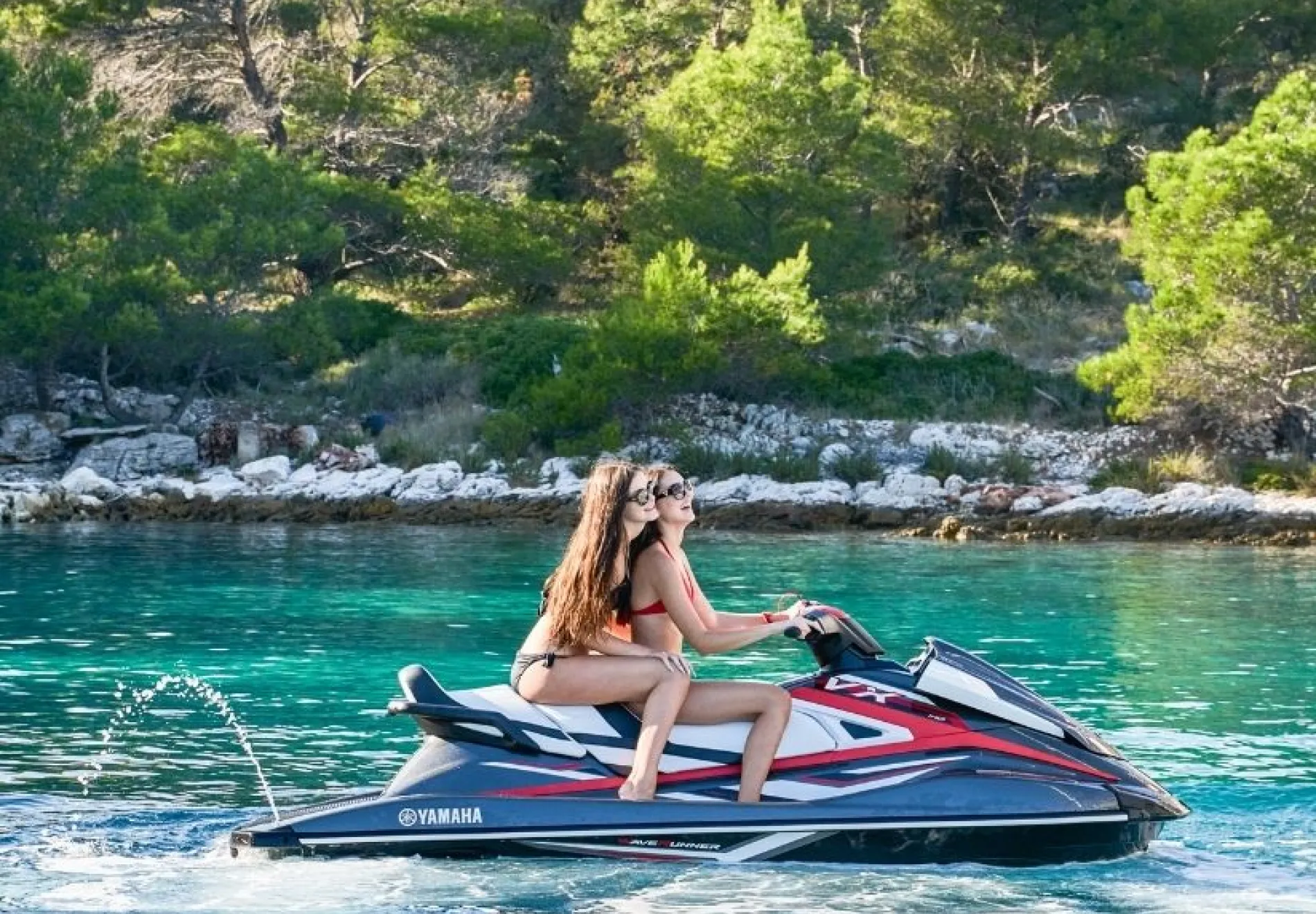 Release your inner child with the fun water toys
Mega yacht O'Pari offers an extensive selection of water toys and accessories, so be ready for some action. The main attraction is an HD Runway 10′ waterslide that will bring out your inner child. O'Pari also features Jet Skis, waterskis, a Seabob, wakeboards, kayaks, inflatable water toys, and five tenders, and leading the pack is a 9.75m/32' Onda Limo Tender.
Special features:
Large aft deck pool
Foredeck helipad
Luminous interiors
Well-appointed owner's suite
Marble-finished en suite facilities
Sundeck jacuzzi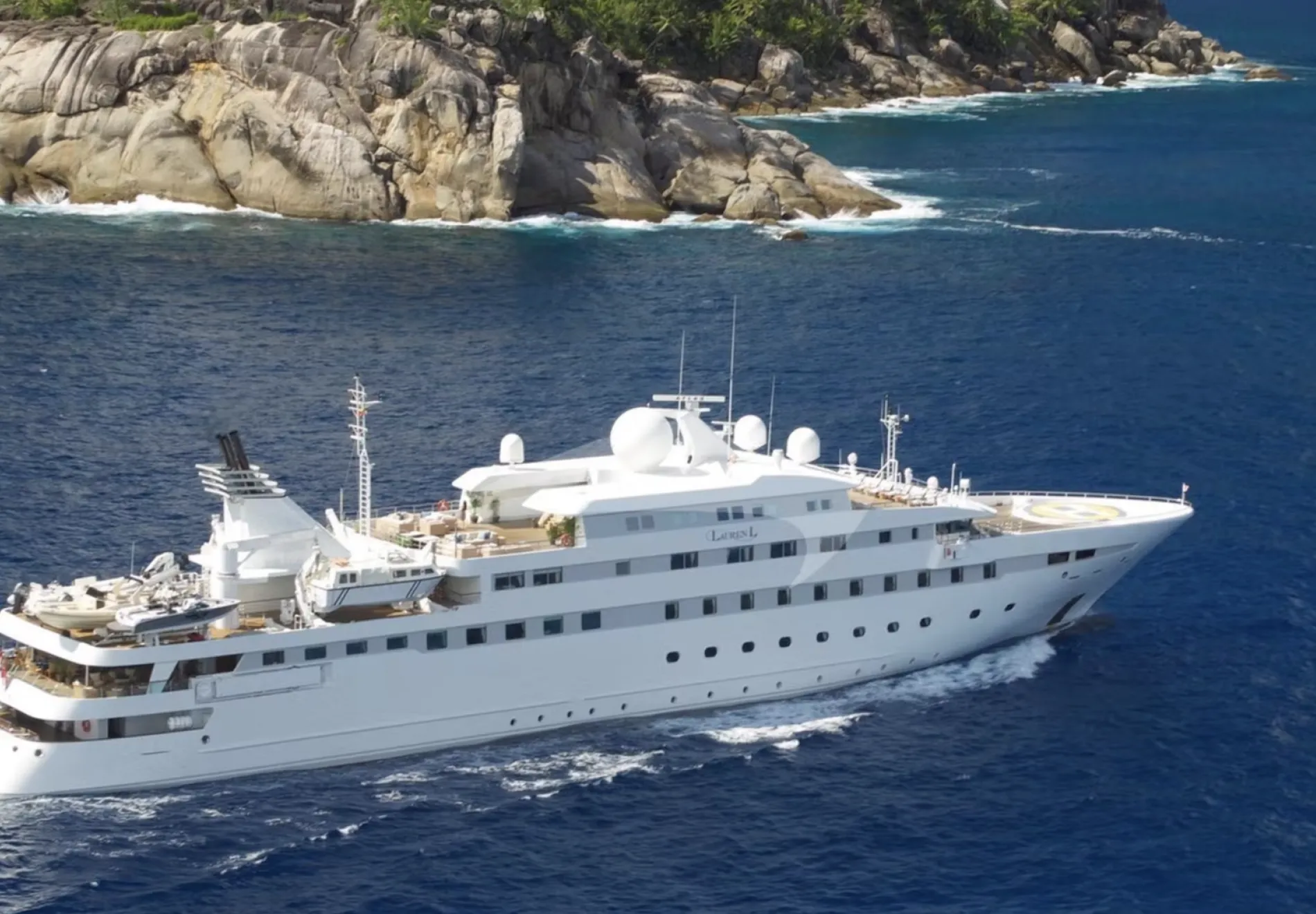 3. Lauren L
This elegant 90m (296ft) mega yacht went under a complete refit in 2008. Her tasteful interiors and endless amenities will make sure that you and your guests experience the yacht charter of your dreams. Lauren L can comfortably accommodate up to 26 guests across 20 suites. The crew of 40 will make sure that all your needs and wishes are met at any time.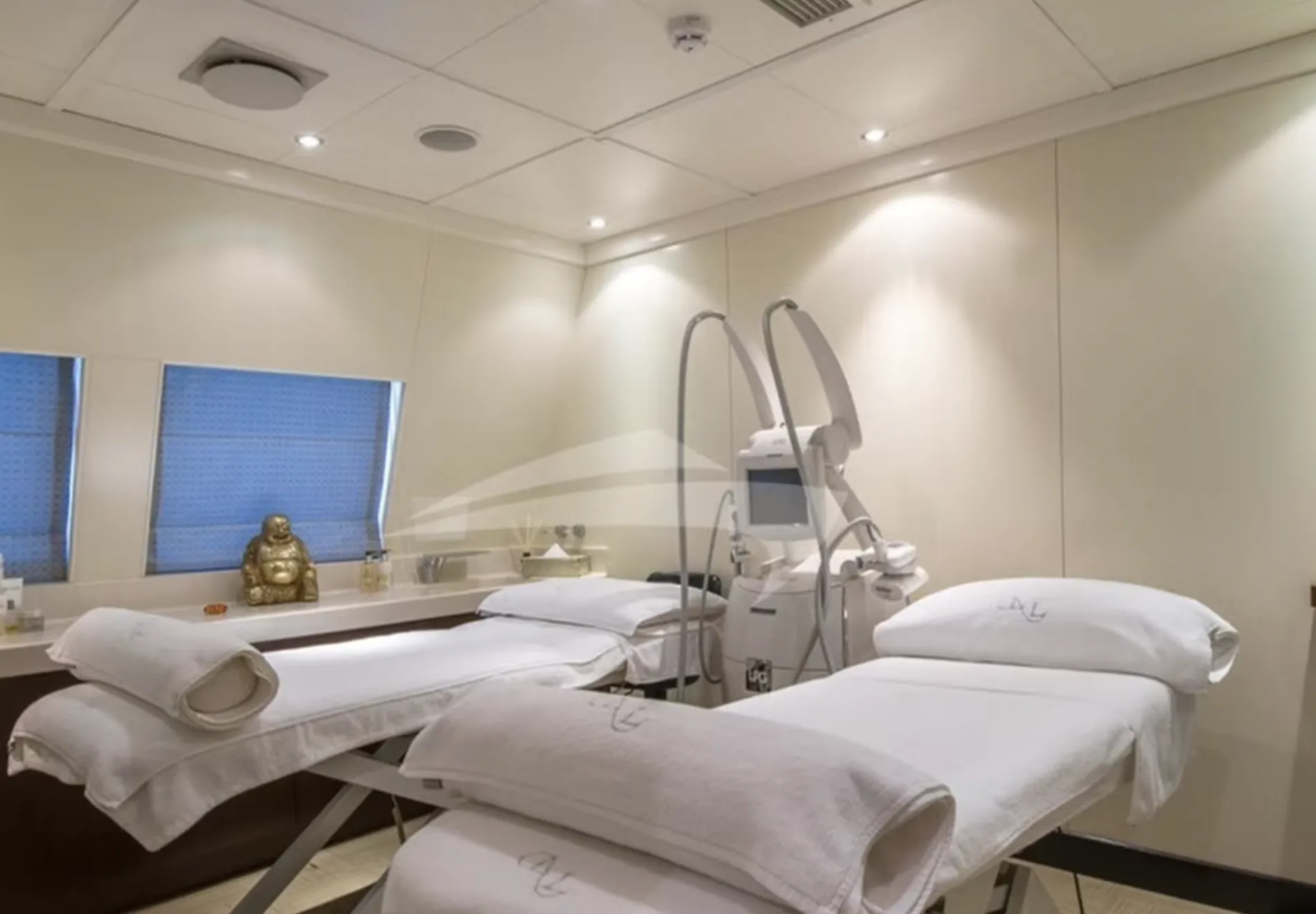 Spa day all day
Before a fun night at the beach bar, get ready at the fully-equipped beauty and hair salon board. The next day, you can recharge in the health and beauty center, get a massage, or relax your senses in the aromatherapy room. Perhaps, after a long day of activities, you might want to give your body a rest in the steam room. The wellness area of this mega yacht will make you feel like a goddess (or god).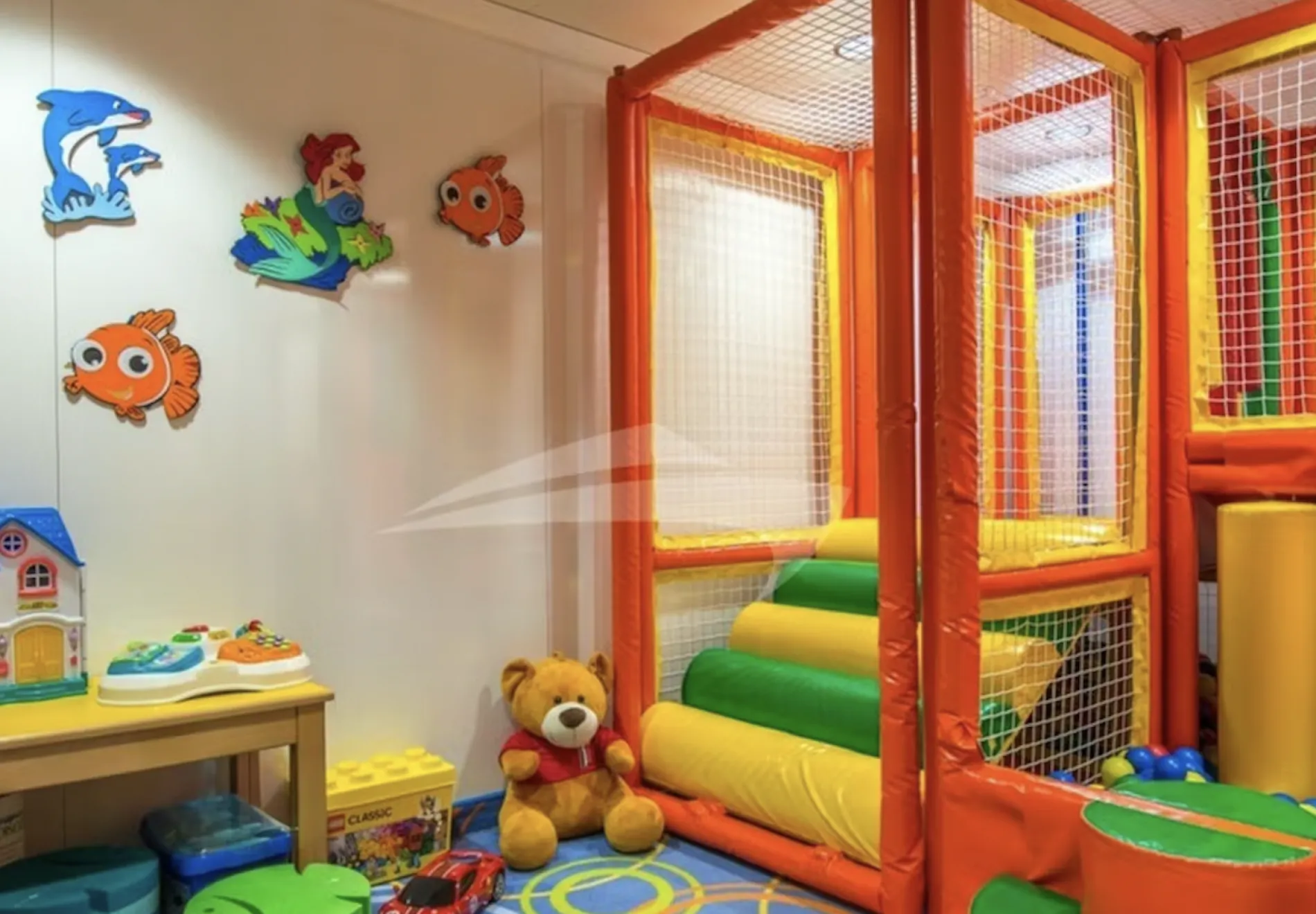 Amenities for everyone
One of the most unique features of Lauren L is the kid's playroom. Here, the little ones can play safely, while the parents enjoy a moment for themselves. In case you just want to »stay in«, grab some popcorn and catch a movie in the private movie theater onboard. For those who love to get exercise, the gym with the latest equipment is all you need. Well, since this is a mega yacht, you can also get good work with endless water toys available.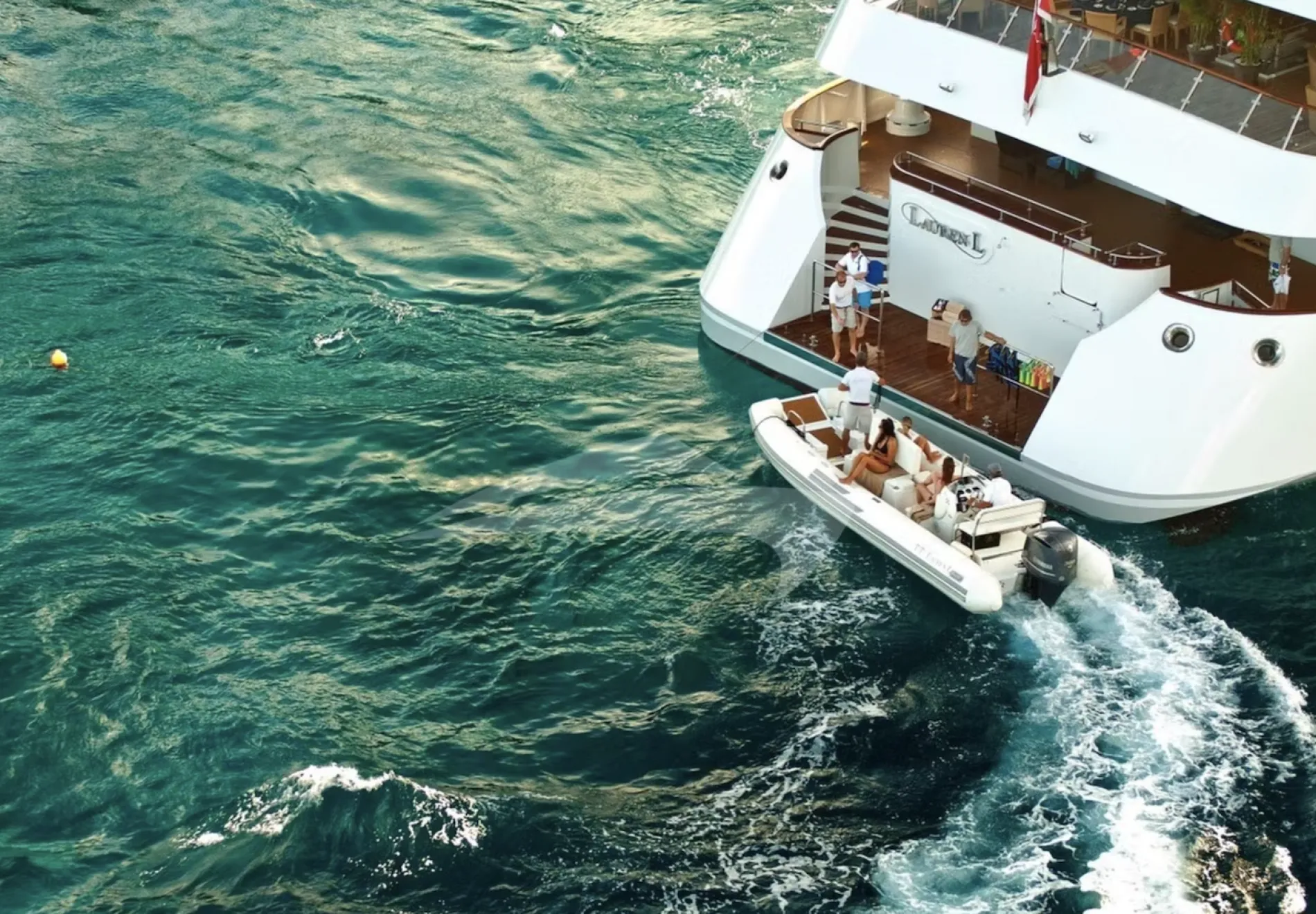 Explore the water
The incredible selection of water toys and accessories will allow you to fully explore and have fun in the sea. For those who like to feel the wind in their hair, there are the two VX Jetskis WaveRunners, waterskis, windsurf equipment, wakeboards, and kayaks to choose from. In case you want to explore the aquatic world, put on the scuba diving equipment, and dive in. Lauren L also features three tenders, but the real show stopper is a 7.2m/23'7" Nautica Catamaran RIB that will transport you like a VIP.
Special features:
Huge health and beauty center
Relaxation room
Aquarium
Aromatherapy room
Floor-length windows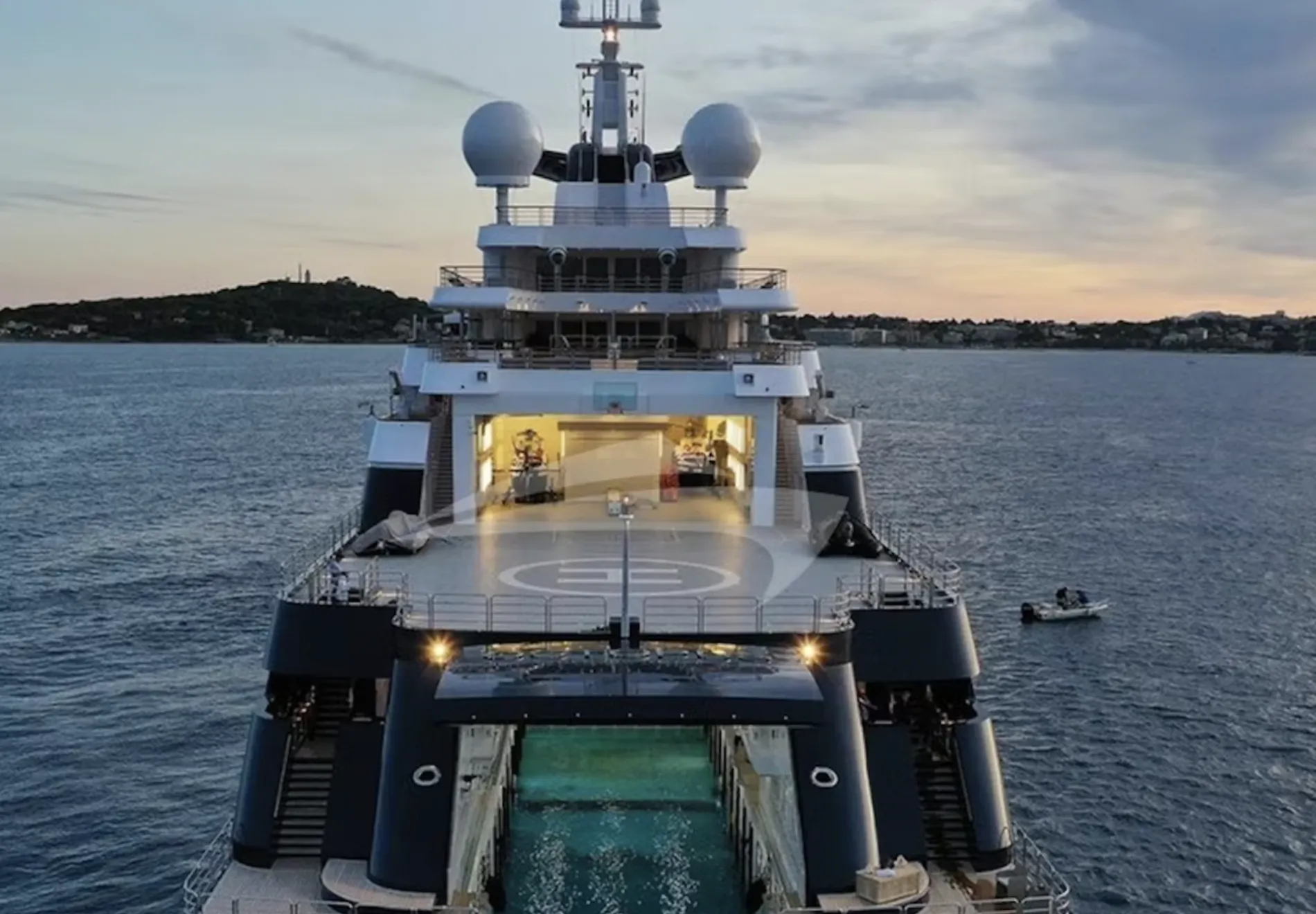 4. Octopus
Mega yacht Octopus is another sea pearl where you want to spend your holidays. She offers accommodations for up to 12 guests in 13 suites. A crew of 42, that specializes in creating exceptional charters, is always on hand and provides the guests with top-notch service.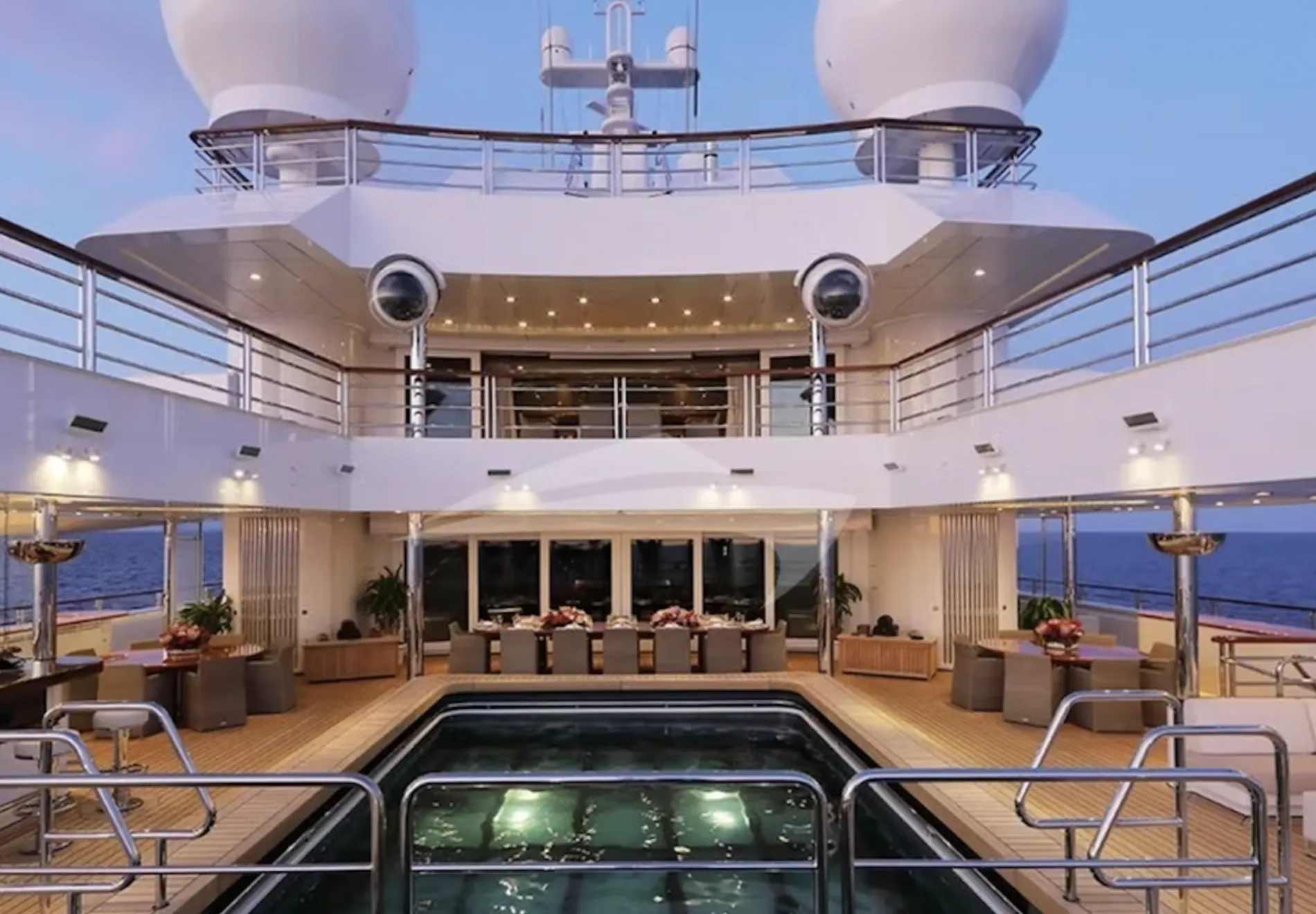 The perfect blend of relax and action
You and your guests will be comfortable and entertained on the mega yacht Octopus. The movie theatre offers an intimate setting, perfect for relaxing and cozying up. After an active day out in the sea, you can soothe your muscles in the sauna onboard or take advantage of the spa to recharge. Take a plunge in the pool and end your day in style at the beach club onboard. In the morning, head to the gym, get a proper sweat on and get ready for another day of luxury on the sea. In case you are looking for a more chill evening, grab a glass of wine and retreat to the deck jacuzzi.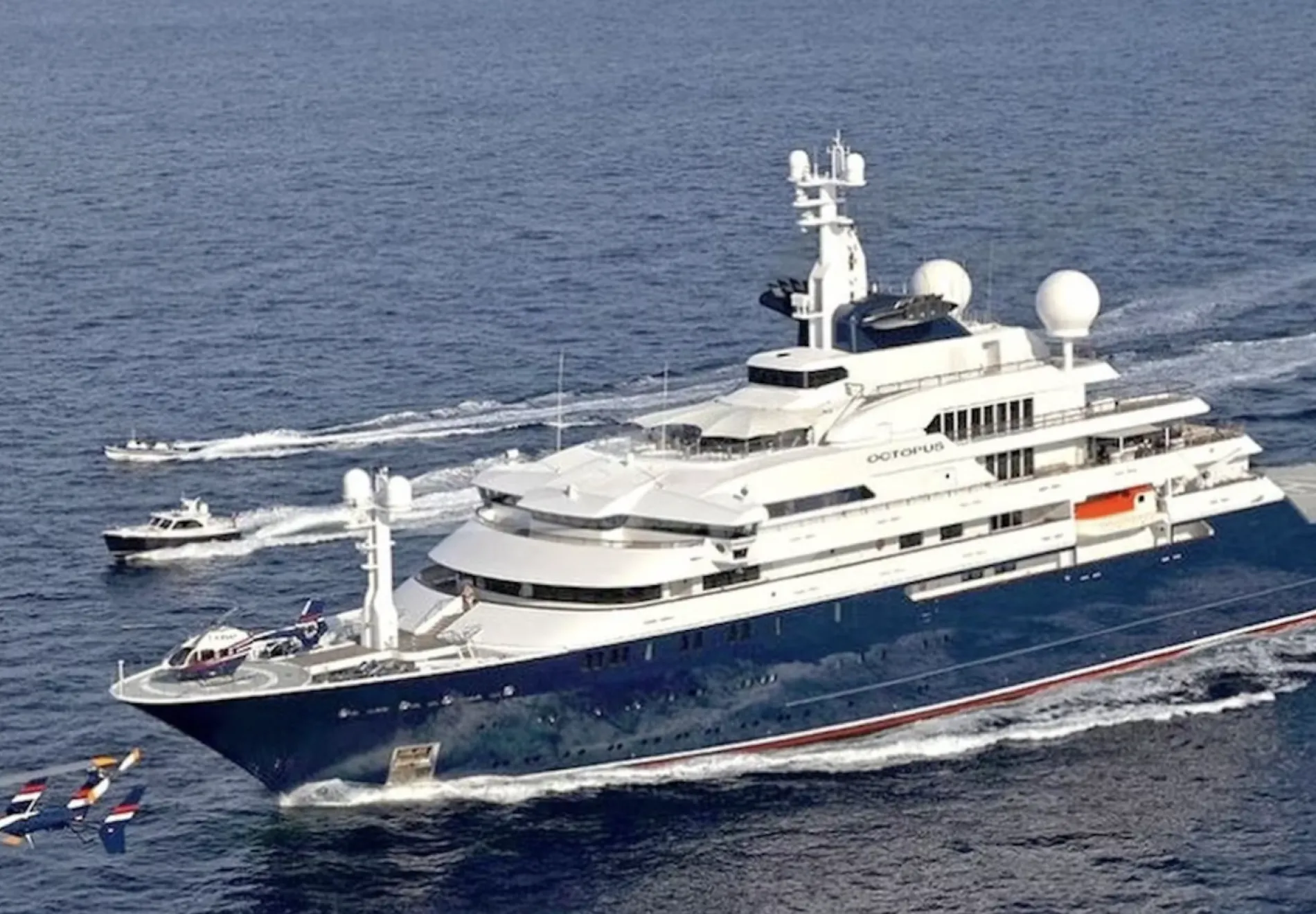 Get your adrenaline on
Man of Steel offers an exceptional collection of water toys and accessories. You and your guests can enjoy the huge adrenaline rush on one of the four Yamaha FX140 WaveRunners. Octopus also features waterskis, a Kite Surf, kayaks, WindSurf and fishing equipment, and much more. She also features five tenders, with an 18.1m (59 feet) Delta Powerboat Tender leading the pack.
Special features:
Stunning interiors with 13 guest suites
A large aft swimming pool surrounded by loungers and a full cocktail bar
Cinema suite
Superb wellness amenities
Glass-bottomed observation lounge on the tank deck
2 helicopters with dedicated hangar
Personal submarine for 8 people, plus 2 crew
Dive center with a hyperbaric chamber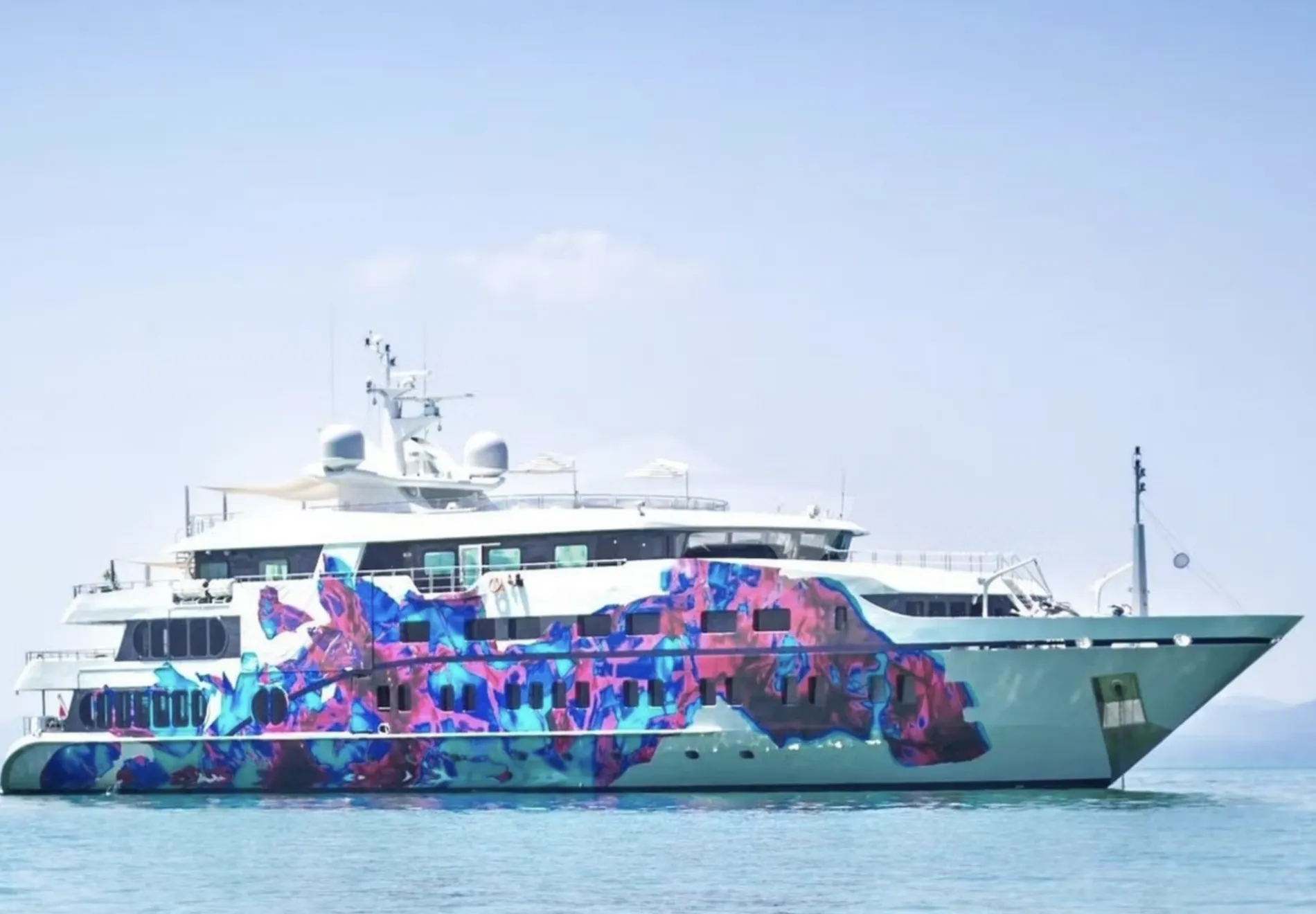 5. Saluzi
The 69m (226 feet) mega yacht Saluzi offers an ample choice of social and dining options, as well as a highly attentive and professional crew. Her astonishing features such as a movie theatre, spa, and gym will keep you and your guests entertained at all times. This unique mega yacht offers accommodation for up to 32 guests in 16 luxurious suites. The crew of 34 ensures that your yacht charter experience is as special and eccentric as the yacht itself.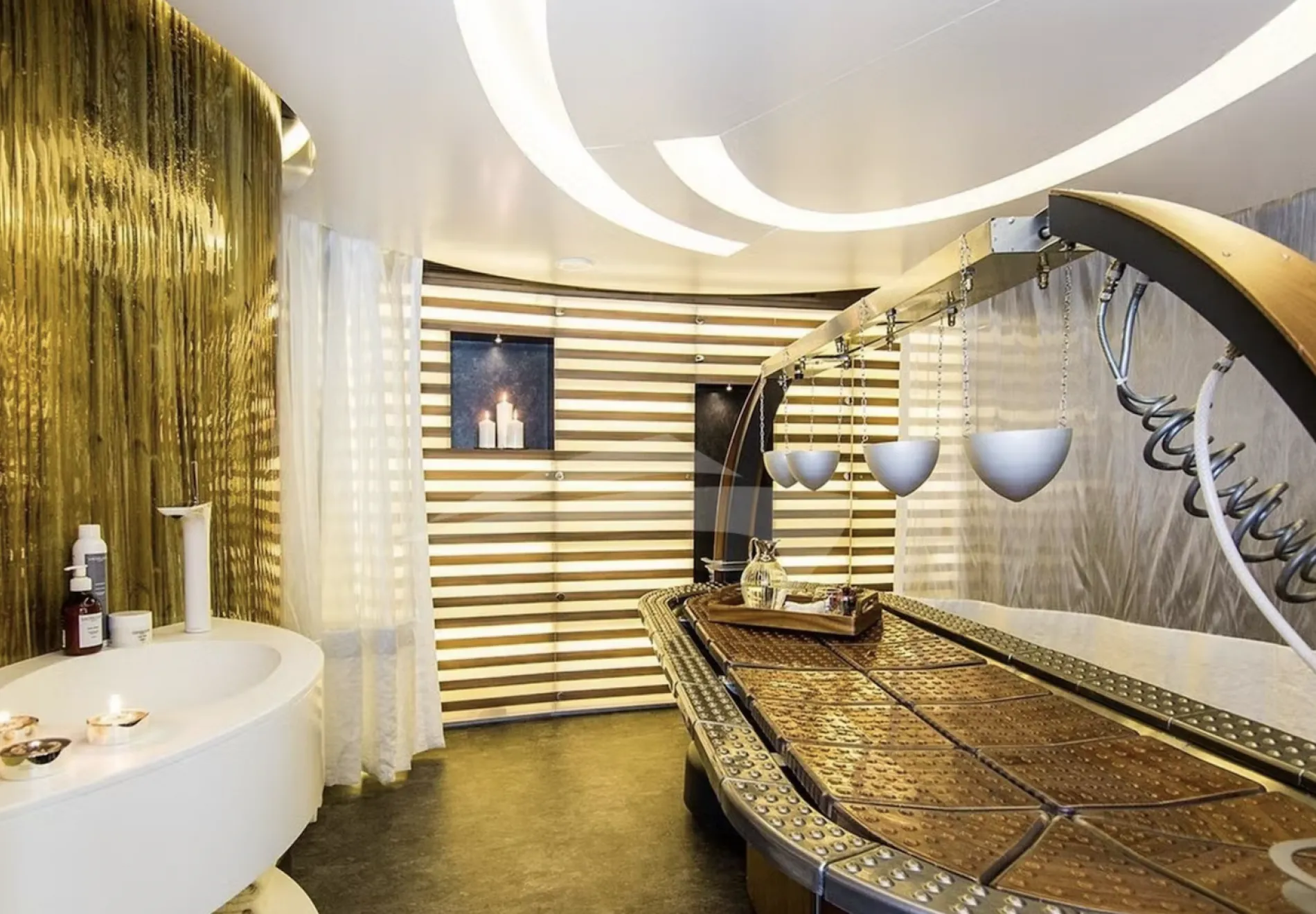 Relax or be active? Both
If you are a movie lover, you will have a blast in the state-of-the-art movie theatre onboard. Saluzi really cares about your well-being. The well-appointed spa is an oasis where you can relax and recharge for the next day. Even if you want to skip a day of workouts, the gym with the latest equipment will just call your name. Whether you decide to have an active or relaxing day, end it with a glass of champagne in the deck jacuzzi.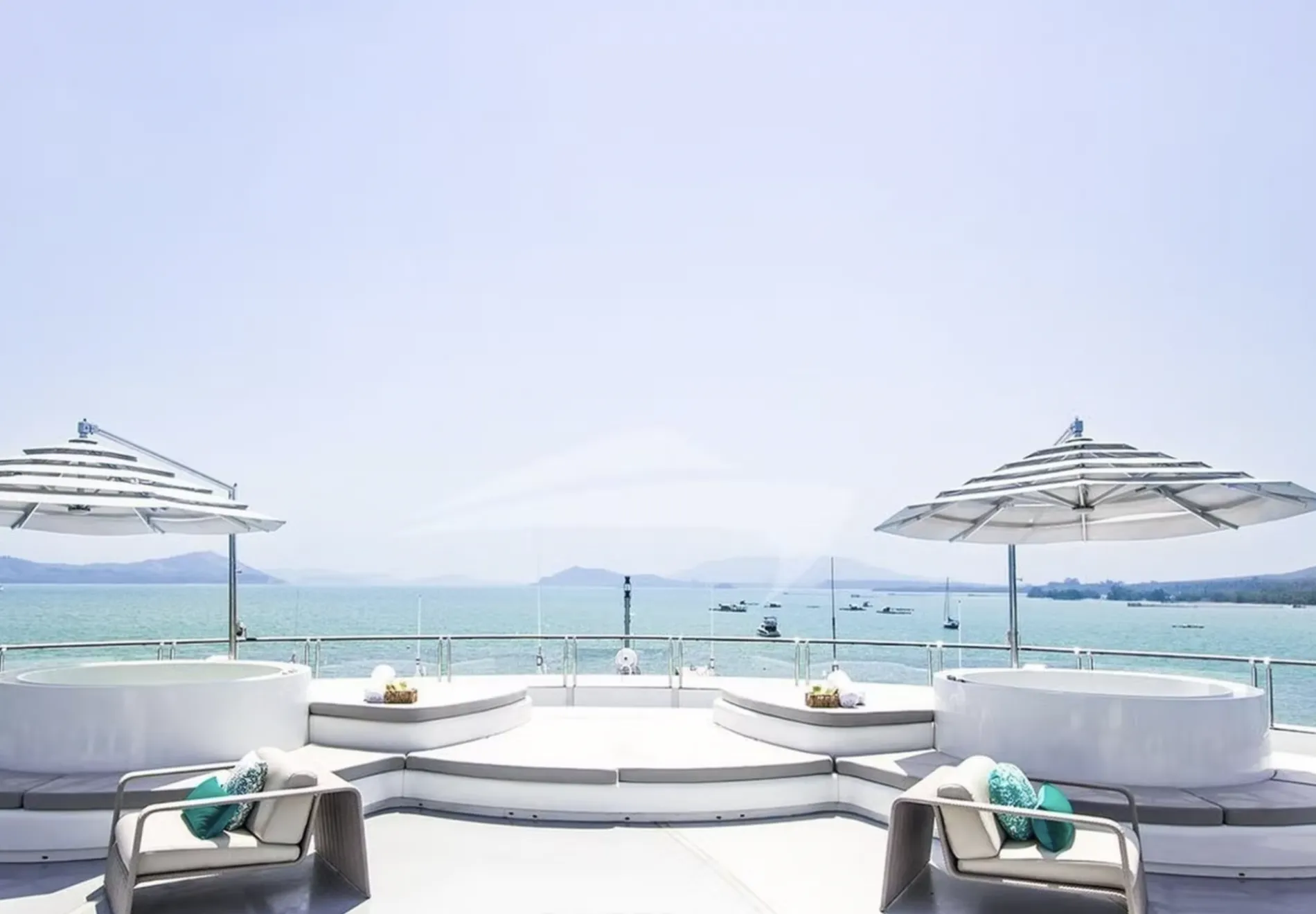 The perfect balance between excitement and tranquillity
While relaxing is the first thing that comes to mind when we think about a yacht charter, having fun with the water toys is the second. Saluzi's large selection of water toys and accessories will keep you and your guests entertained throughout your whole charter. Hop on one of the two Hobie Cat sailboats and get ready for some sea exploration. If you like something more adrenaline-packed, try the Jet Skis, towable toys, waterskis, scuba diving equipment, the Seabob, wakeboards, or kayaks. Saluzi also features two tenders, with a special 6.37m (20 feet) Castoldi Jet tender making sure that you arrive anywhere you want, in style.
Special features:
Beach house-style interior
2 master suites and 1 VIP suite
2 sundeck spa pools
Outdoor cinema
Spa and massage services
Karaoke bar
Dive Centre
Original Li Jiwei artwork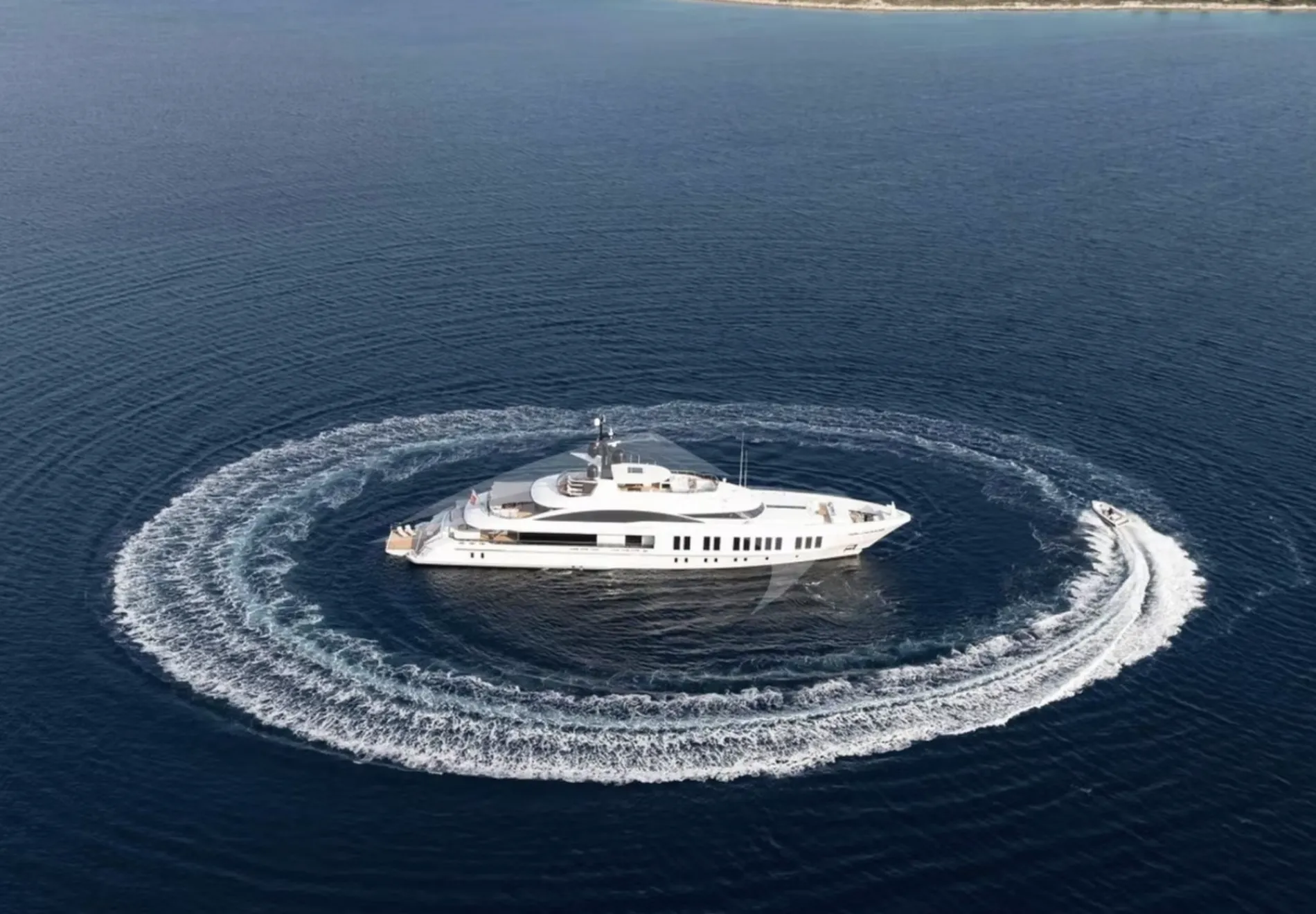 6. Samurai
At just a little over 60m (198 feet), the mega yacht Samurai offers a luxury charter for up to 12 guests in 6 cabins. The crew of 15 ensures that your and your guest's needs will be met at the highest level, at any time. The interior design was taken care of by the British designer RWD, which implements modernism and comfort with high-end finishes.
How to spend your time on a mega yacht?
If you are looking for a stylish mega-yacht with plenty of outdoor and indoor space for entertainment and relaxation, Samurai is a perfect choice. Between the beach club, a vast sun deck, water toys, and the gym onboard, you and your guests have plenty of options about how you want to spend your charter holiday.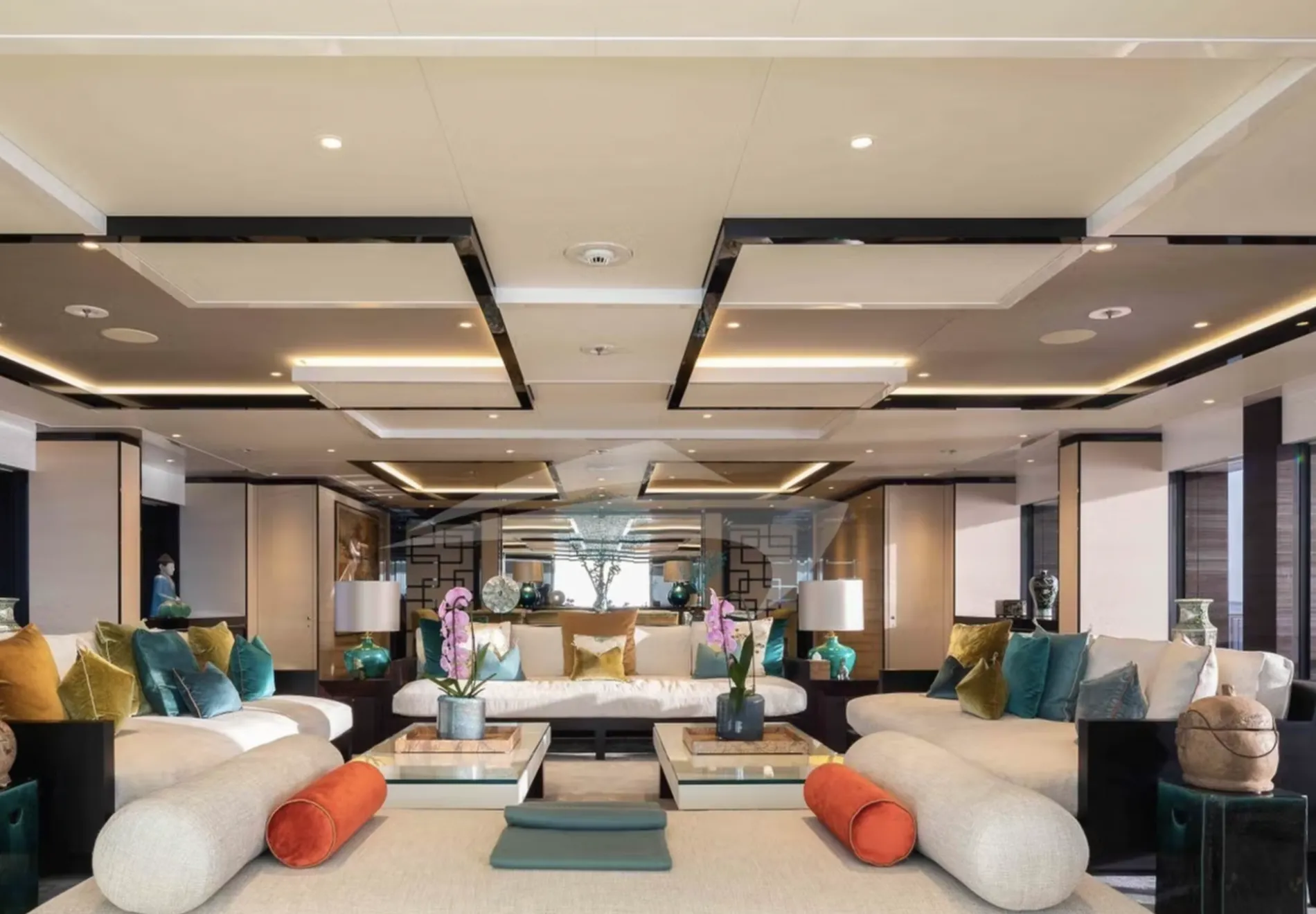 Comfort and luxury
Both indoor and outdoor areas feature large dining tables where you can enjoy your five-course meal and get ready for your next adventure onboard. In case you want to just relax, head to the sauna and let all your worries fade away.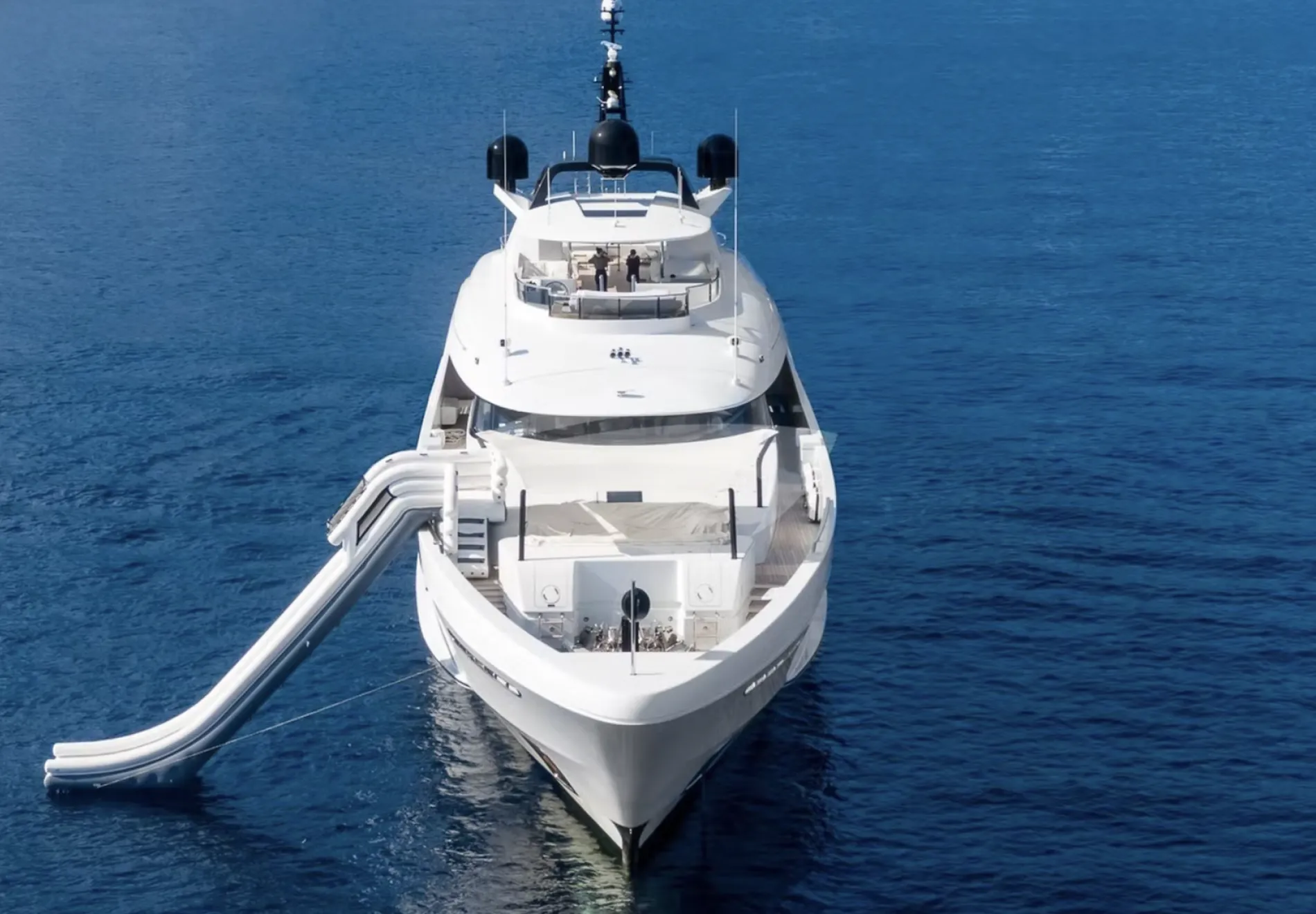 Dive in the aquatic world
With the latest selection of water toys, you and your guests can turn the Mediterranean sea into your own private playground. Try out the Jetski, three Seabobs, inflatable water toys, paddleboards, and snorkeling equipment, and explore the aquatic sea life. If you opt-out for a more tranquil and relaxed way of delving into the marine world, hop on one of the four available kayaks.
Special features:
Beach club with fold-out swim platform and side boarding
Spacious owner's suite with full-height windows and skylight
Waterfront gym set
Innovative indoor-outdoor sundeck with skylight and spa pool
Refined interiors with discreet lighting and Asian motifs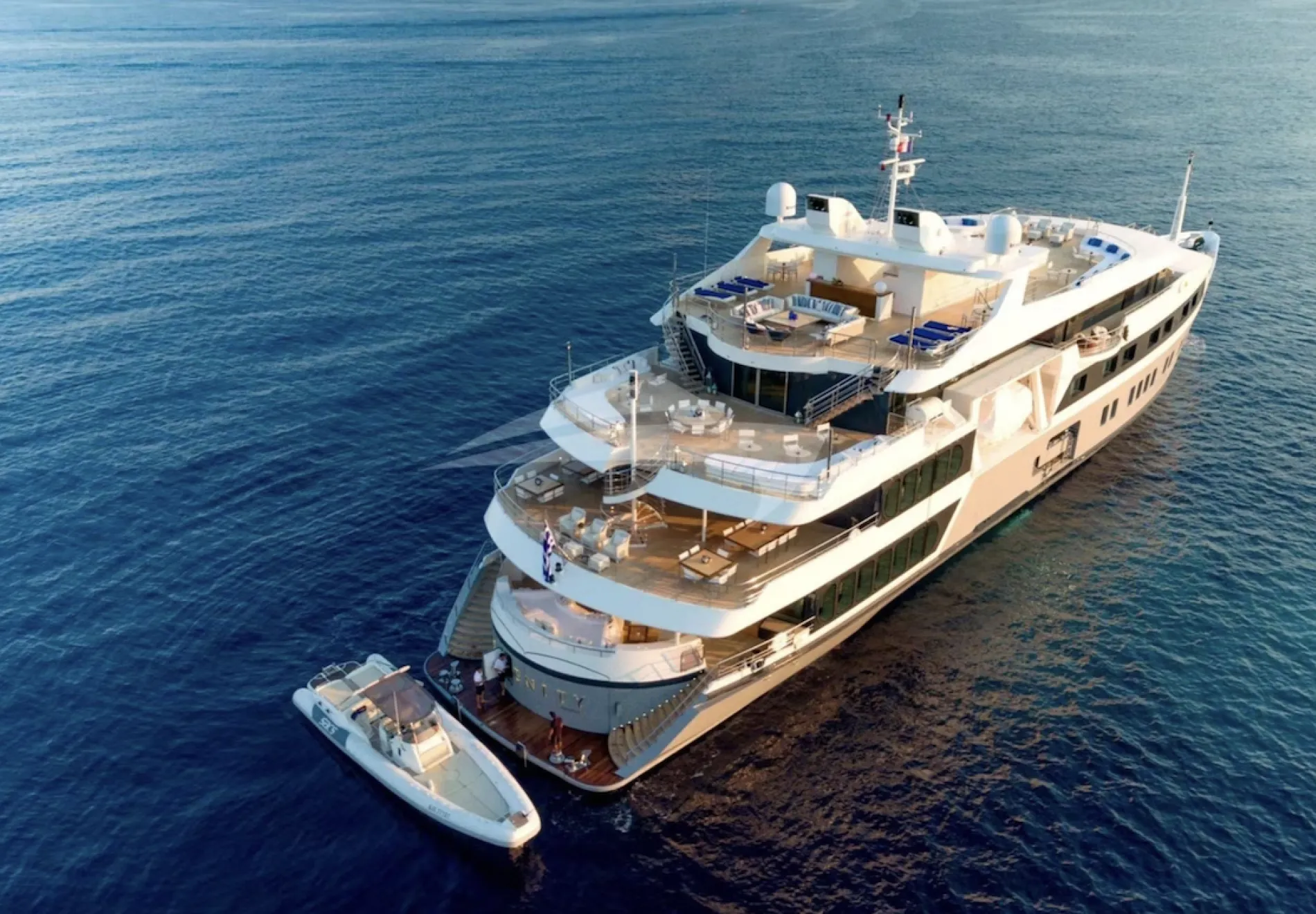 7. Serenity
Mega yacht Serenity was built by the shipyard Austal and offers luxury accommodation for up to 28 guests in 15 cabins. The interior styling was custom-built by AskDeco. The world-class luxury mega yacht offers spacious living areas and fabulous amenities, so from the moment you step on, you'll be in for a treat.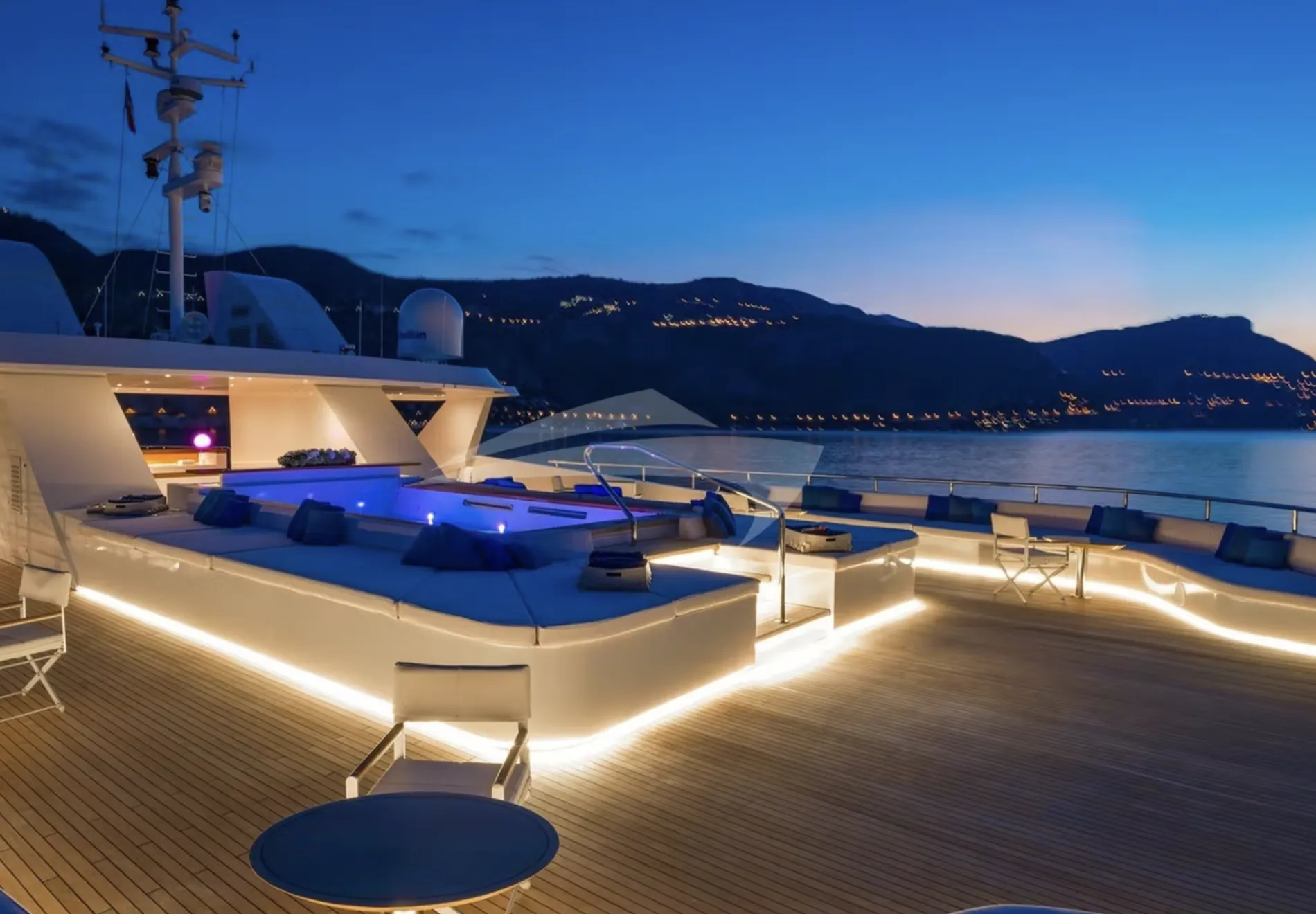 Pick your comfort
If you decide to spend your charter holiday with your family, Serenity is a great option, thanks to her child-friendly setup. Her crew of 30 will ensure a relaxed yet exciting luxury yacht charter experience for you and your friends. In case of a hot summer day, cool off in the outdoor pool or soak your muscles in the jacuzzi on deck. Don't worry about maintaining your fitness routine. The well-equipped gym offers plenty of options for a good workout.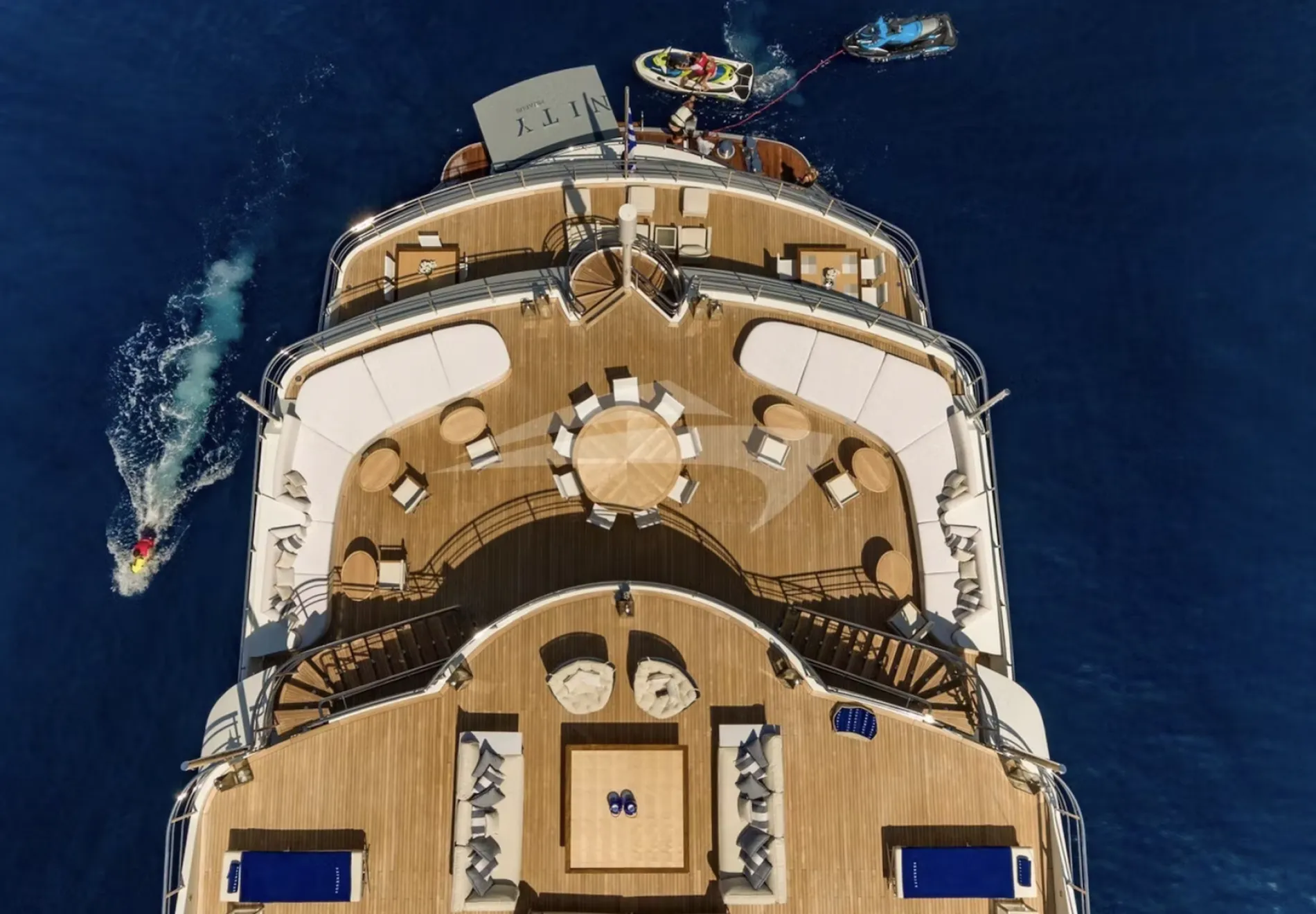 Action-packed water toys
With an extensive selection of action-packed water toys and accessories, Serenity offers plenty of options for an adrenaline-packed yacht charter. The main attraction is the Flyboards, Jet Skis, waterskis, Seabob, wakeboards, kayaks, fishing equipment, and much more. Serenity also features a RIB to transfer you from ship to shore in style.
Special features:
Refit to an exacting standard in 2017
Large swimming pool on the sundeck
Refreshingly modern interior design
Spacious owner's lounge
Ideal for event charters
Now that you've learned all about the most expensive mega yachts for charter, it's time to experience them in real life. When ready, hit us up, and we will take care of everything.