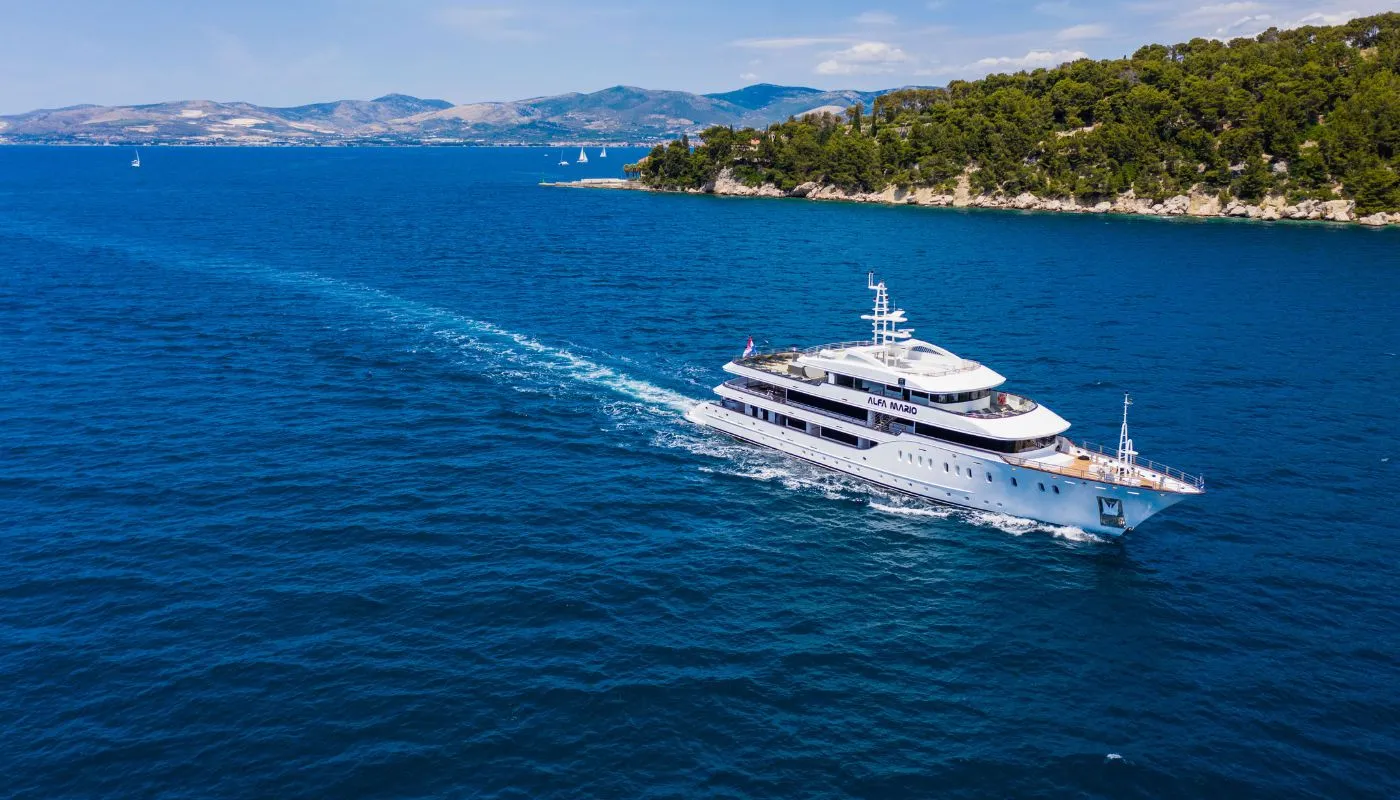 DS Yacht Alfa Mario - when tradition meets luxury
Luxury DS Yacht Alfa Mario was built by the Ercegovič family, shipbuilders with a long tradition and a numerous fleet under their belt. DS Yacht Alfa Mario is their pride and joy, and while you keep reading, you will understand how much love was poured into it.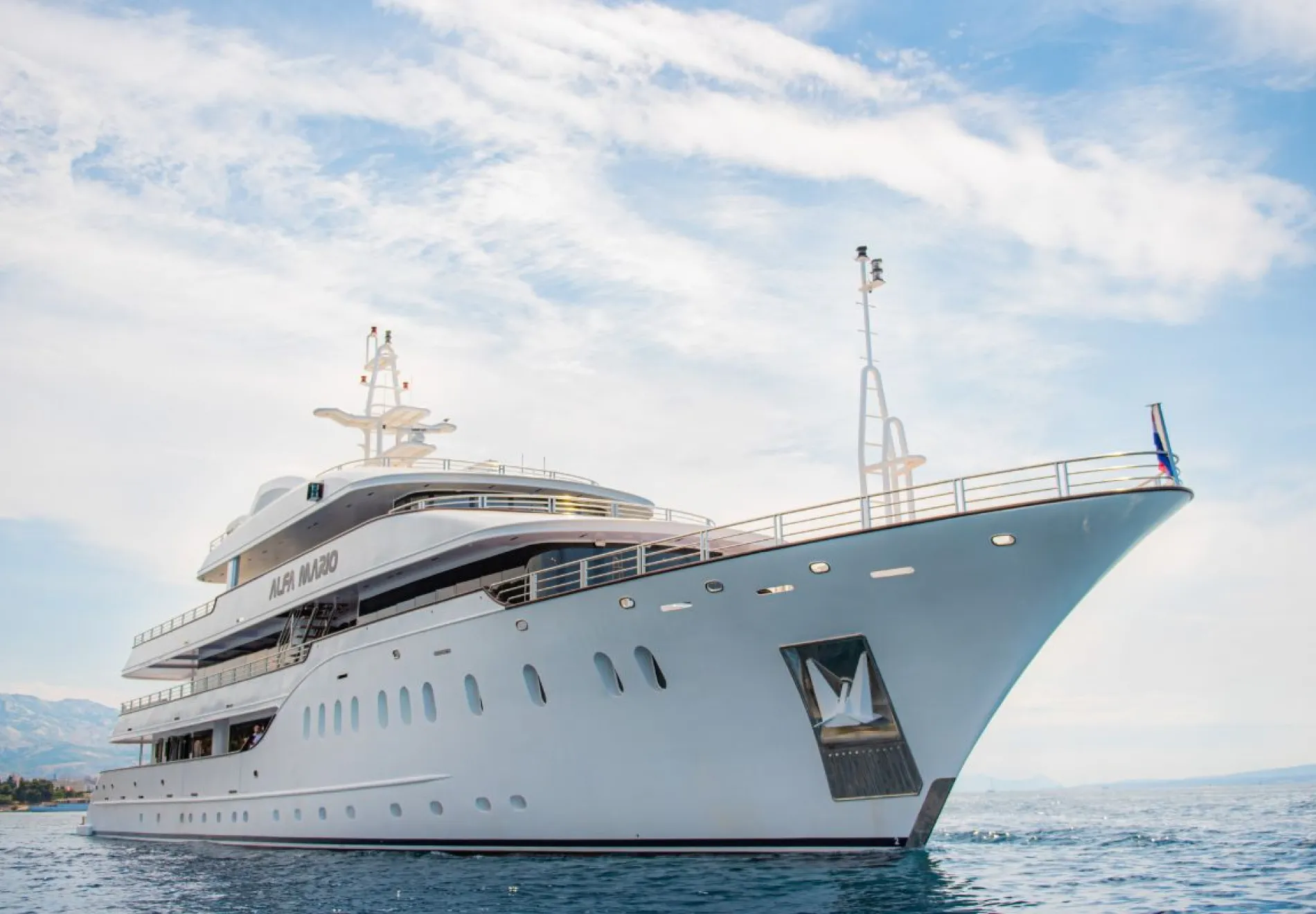 Space and elegance
DS Yacht Alfa Mario is one of the newest and largest luxury yachts of its type available for charter in Croatia. Her 52 meters can comfortably accommodate up to 36 people in 18 luxury cabins with en suite bathrooms, and a crew of 9 to tend to the guest's wishes. She is ideal for large groups or families. Her clean lines, modern design, and amenities of a five-star hotel will leave you speechless.
The sundeck is currently going through a refit, so her next guests can have an even more luxurious yachting experience. White padded cushioned lounge areas, sunchairs, a jacuzzi, and the outdoor bar are just some of the beautiful features on the main deck. There is also a gym and a sauna, offering the ultimate relaxing experience. Making DS Yacht Alfa Mario even more unique, is the swimming pool above the swimming platform.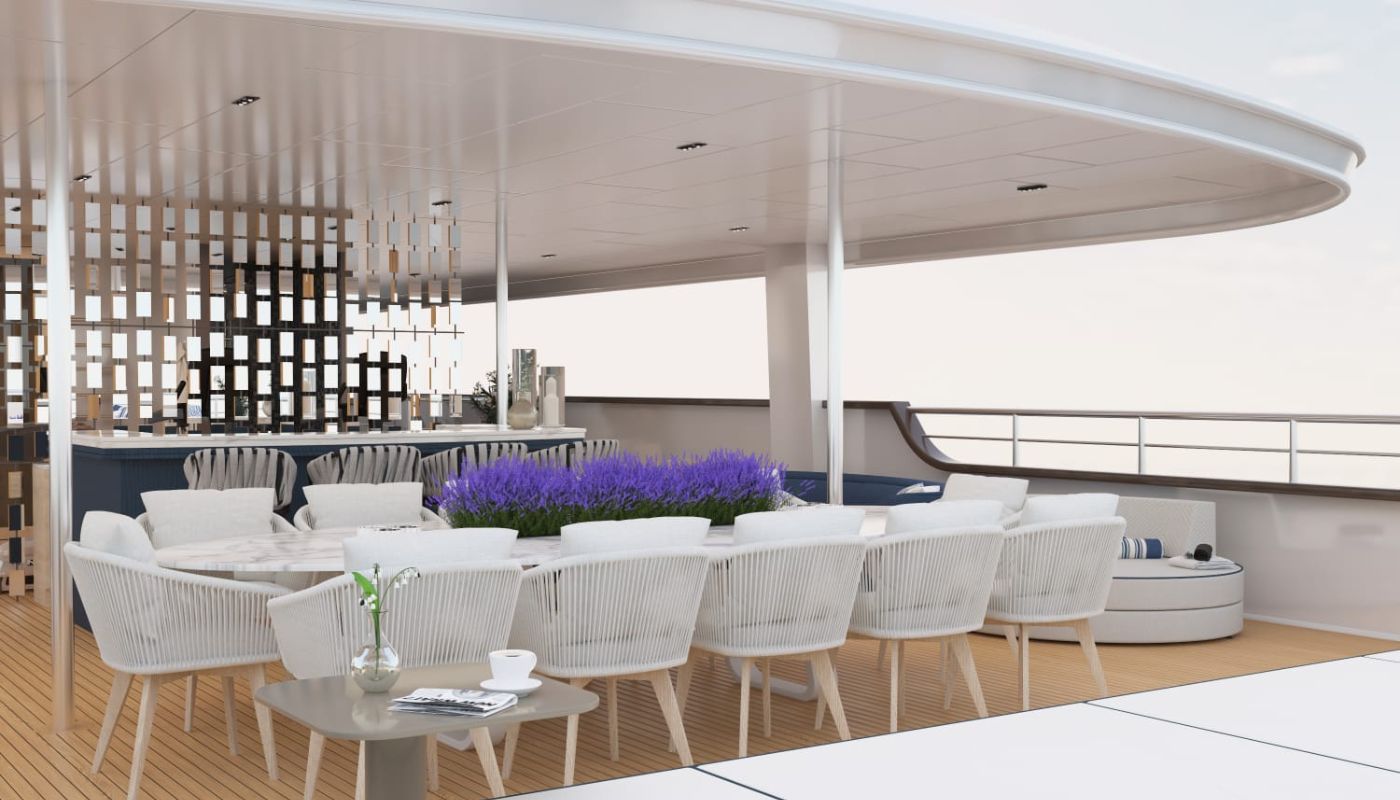 Elegant dining area on the sundeck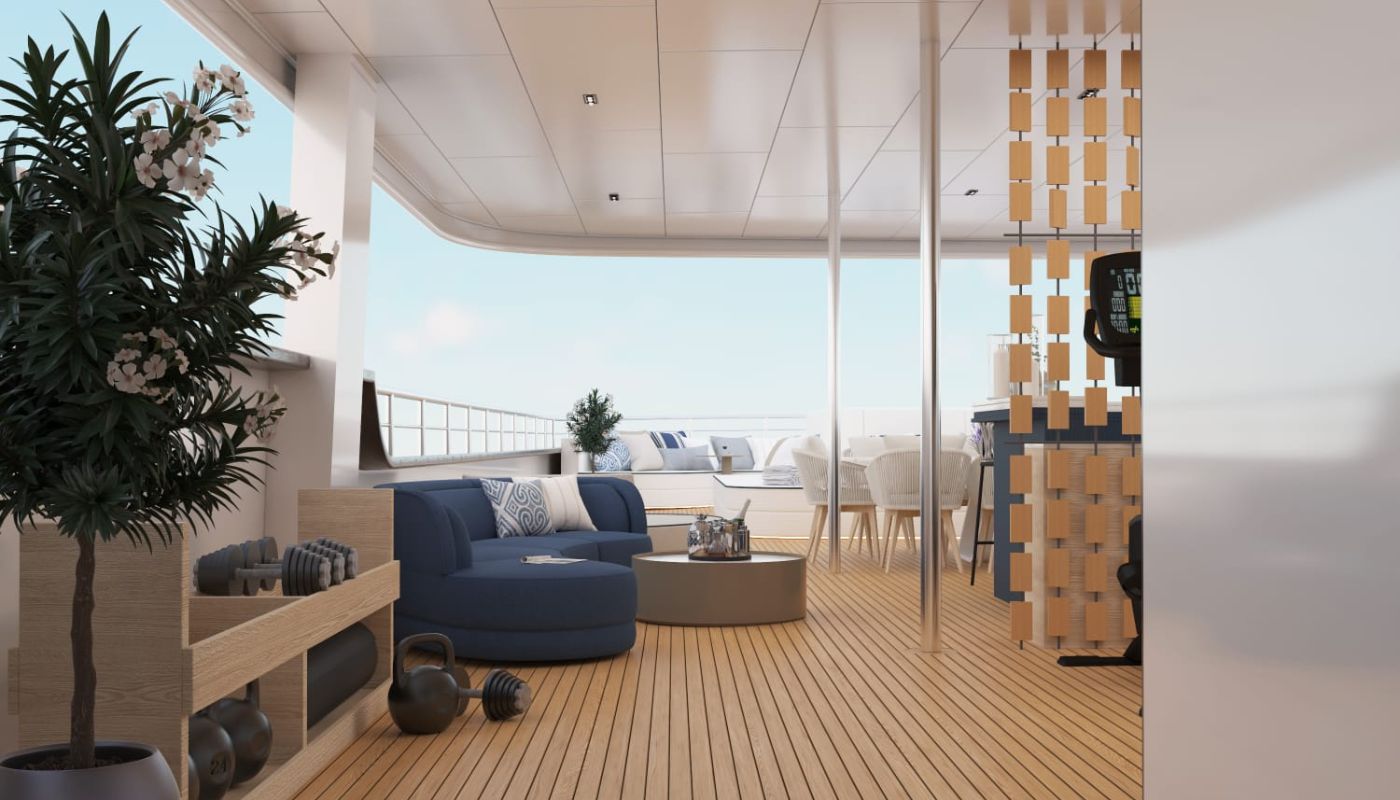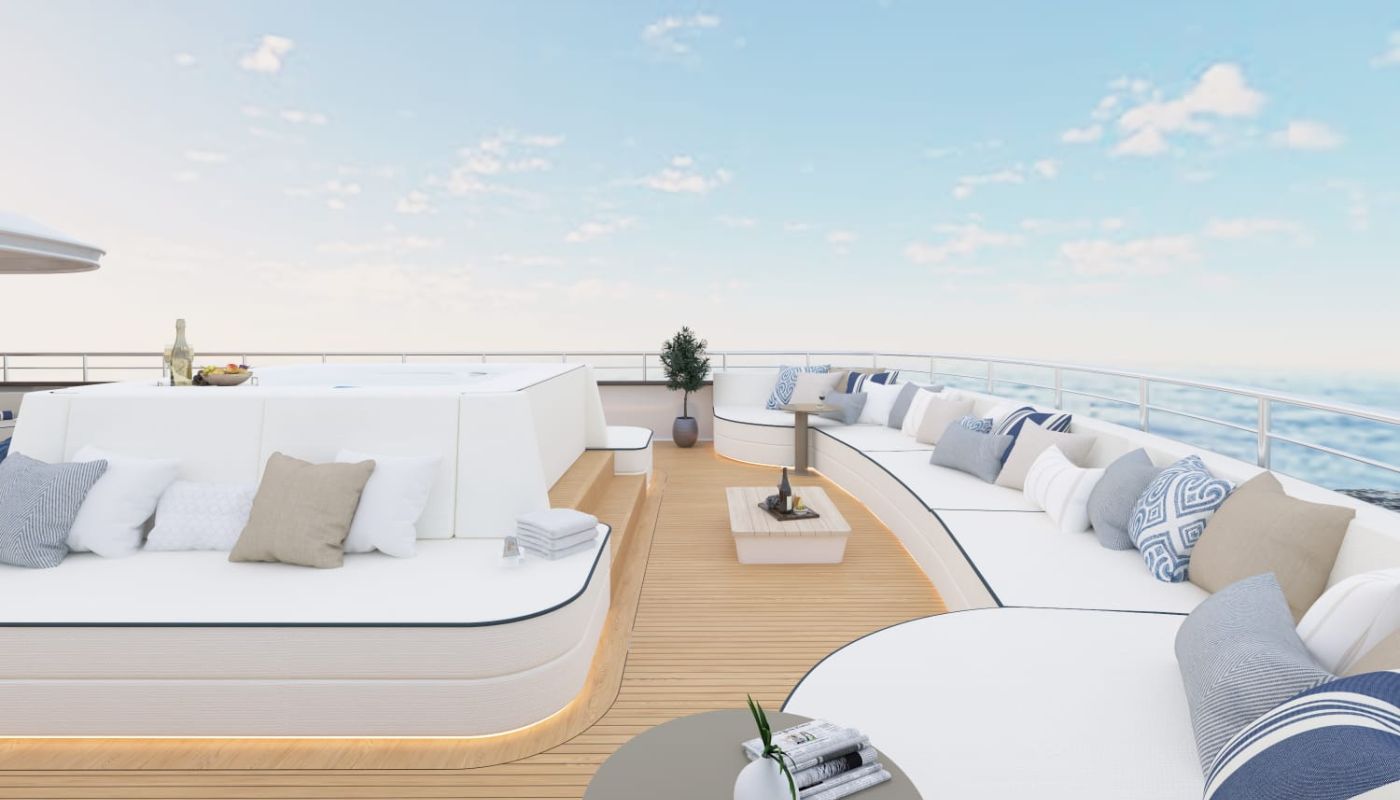 A jacuzzi with the best view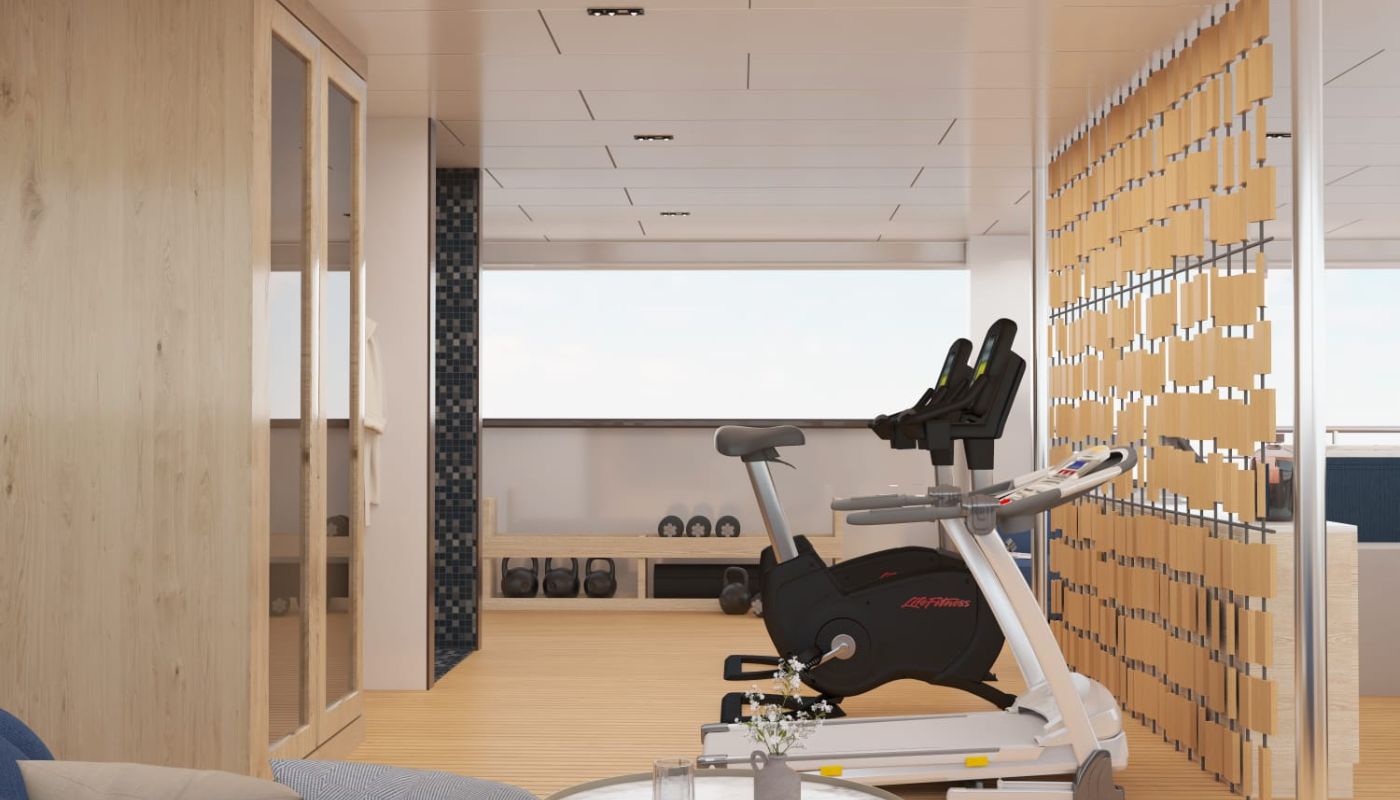 The sauna and gym on the sundeck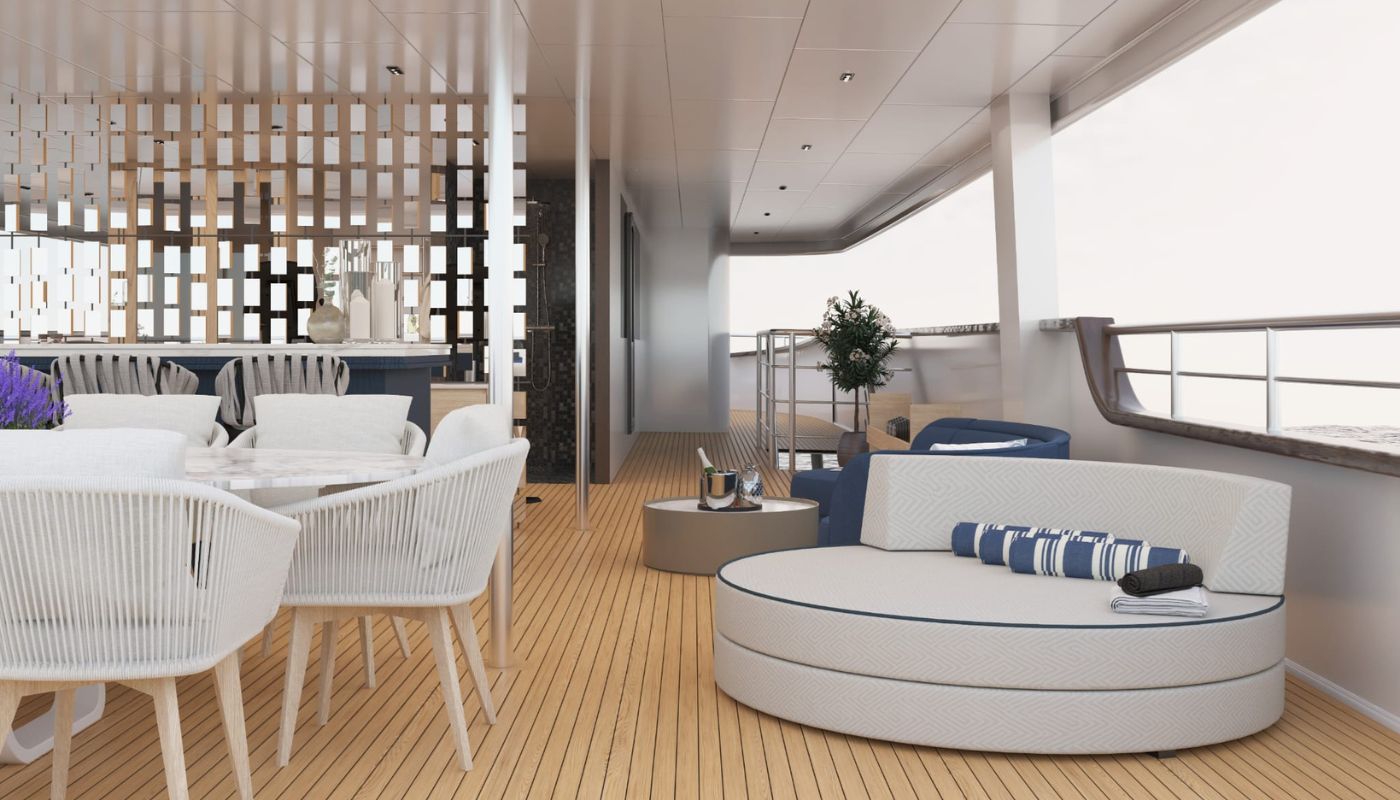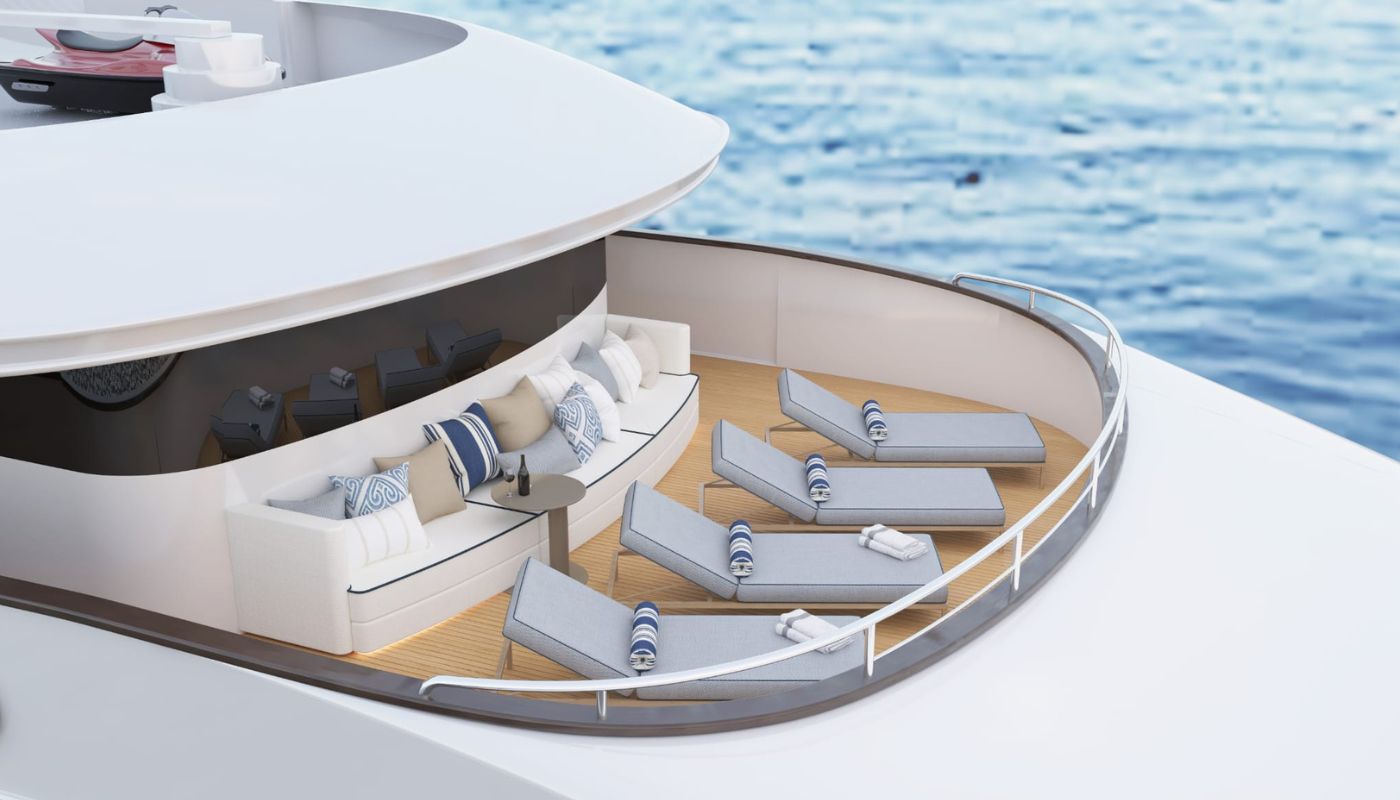 Enjoy the passing scenery while getting a suntan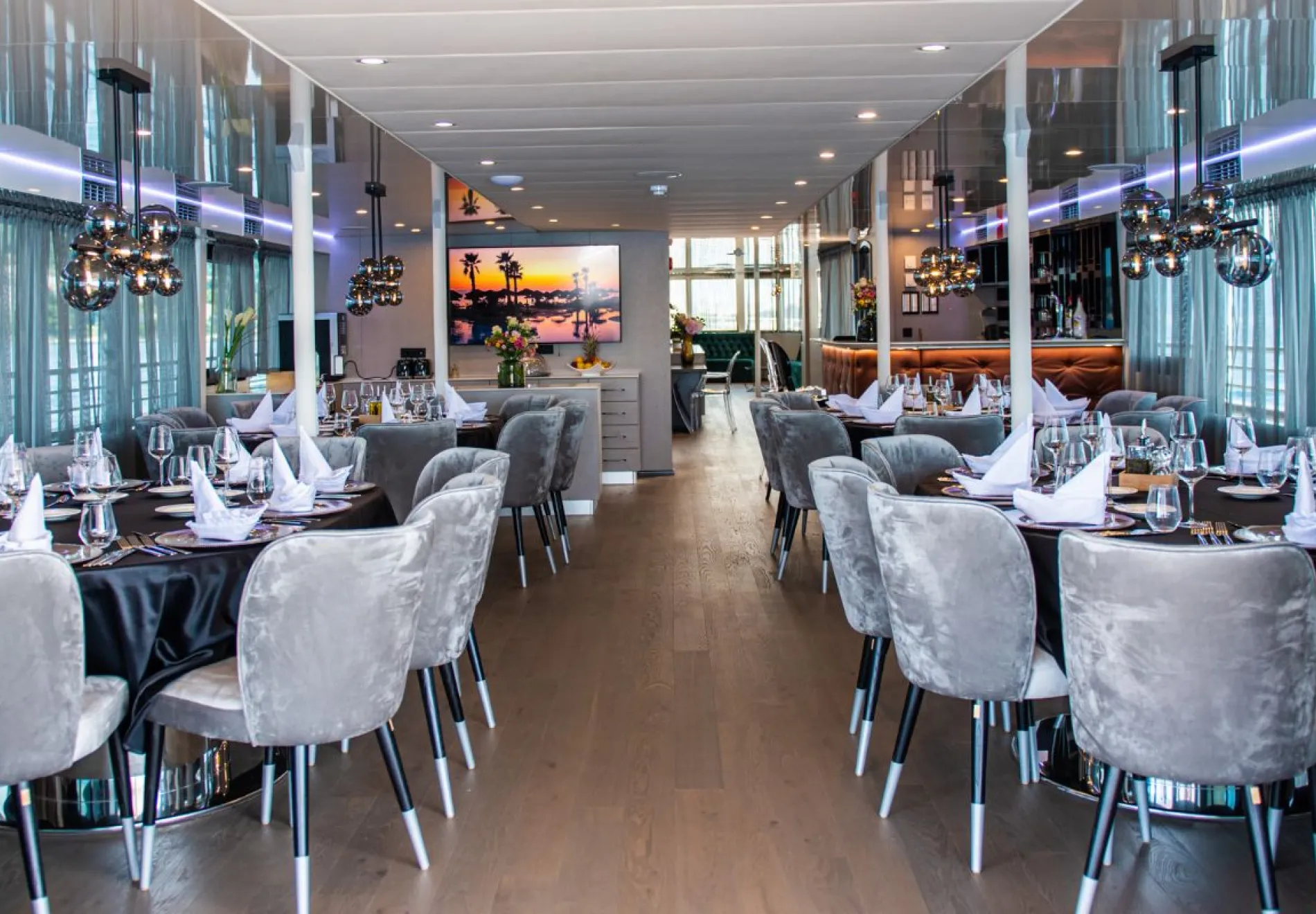 Spacious and entertaining indoor salon
The indoor salon features floor-to-ceiling windows, from which you can enjoy the passing scenery from every part of the room. Dining tables with velvet chairs and comfortable sofas throughout the salon provide the ultimate hang-out area. A fully stocked bar and a piano will make sure that you and your guests can have a great fun night also indoors.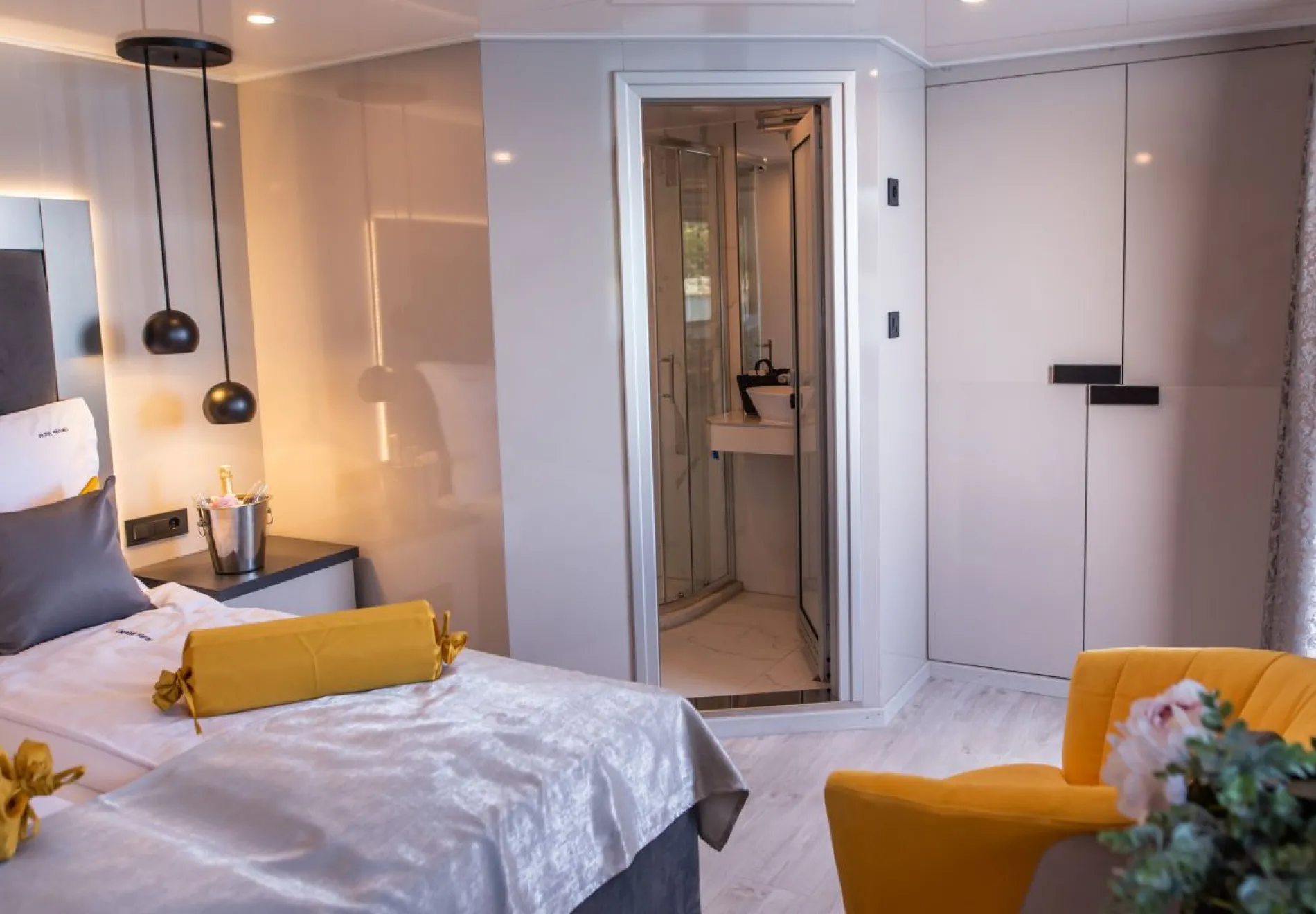 State-of-the-art cabins
The modern grey and white theme with yellow accessories and warm lighting create the ultimate resting space. The ensuite white marble bathrooms feature a spacious shower and a free-standing toilet. The black matte faucets and showerheads tie perfectly together the minimalistic look.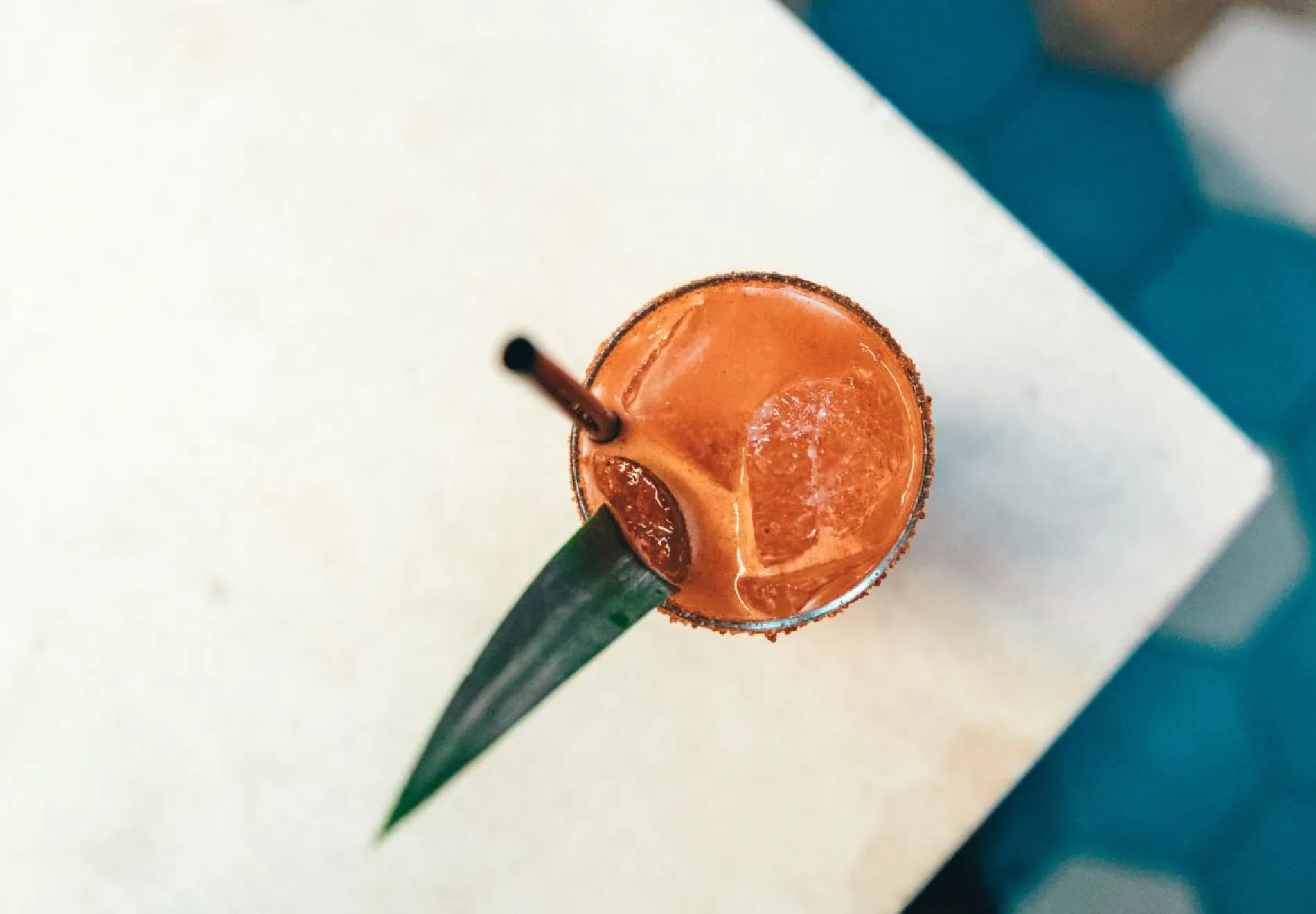 Always the freshest ingredients
The menu onboard is created by a top chef, who uses only the freshest ingredients and always keeps in mind your dietary wishes. Midday snacks, smoothies, freshly squeezed juices, and signature cocktails are also provided throughout the day. Not only you, but your taste buds will also receive a mindblowing experience.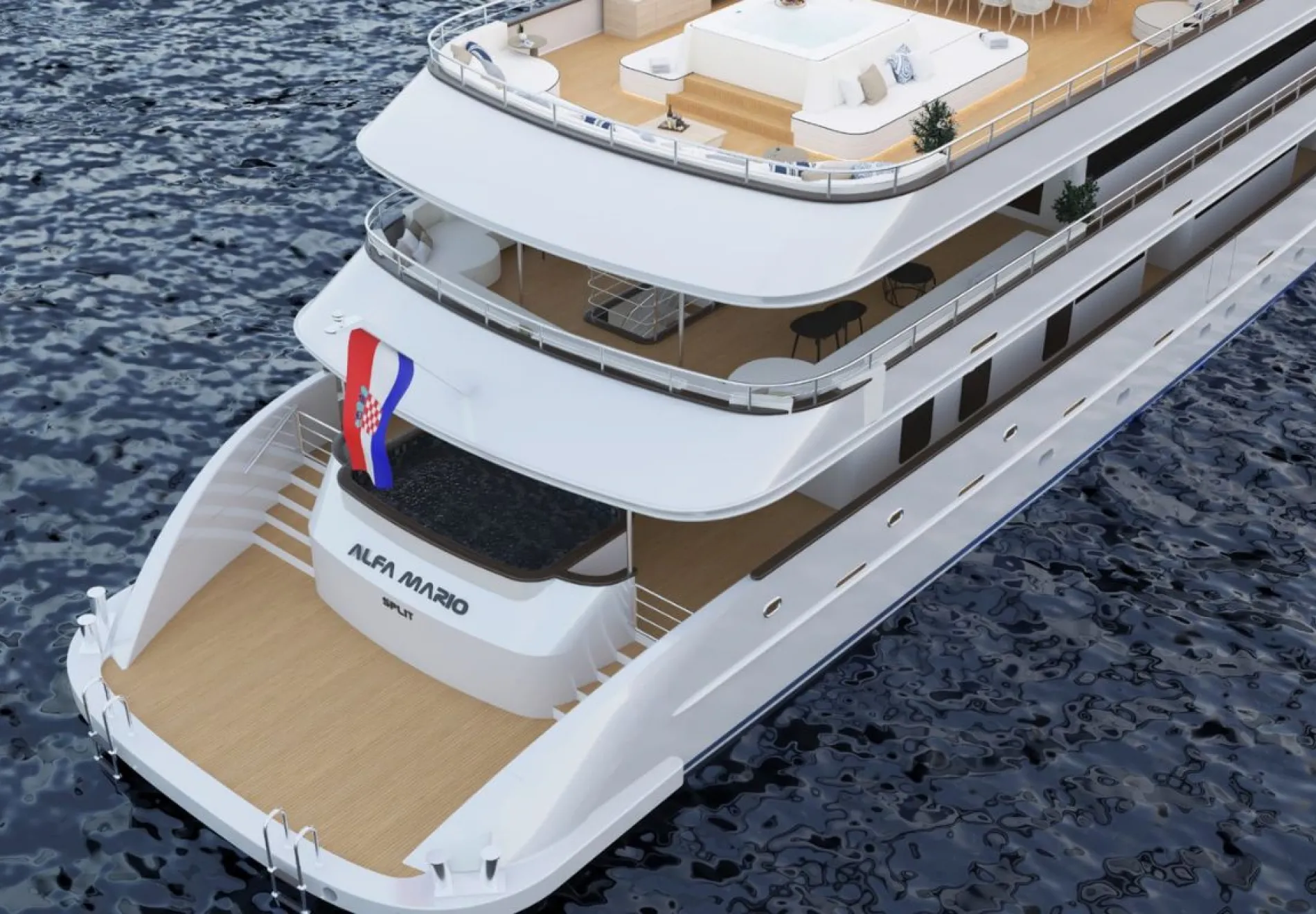 Have a dip in the swimming pool onboard
Besides the gym and the sauna, DS Yacht Alfa Mario has plenty of water toys to keep your exercise and relaxing routine going. You and your guests can have fun on the jet ski, a SeaBob, two kayaks, two paddleboards, and the banana ride. What makes this vessel even more unique is the swimming pool above the swimming platform. You can only imagine what kind of exciting adventures you can get into.
DS Yacht Alfa Mario will go under another refit in 2024, and her luxury amenities will get to the whole next level. Being one of the best value-for-money yachts, she gets booked pretty quickly. So don't wait for the last minute, and reserve your most memorable yachting vacation soon. If you have any questions or if you are ready to book your charter, just fill out this form and we will get back to you in less than 24 hours.