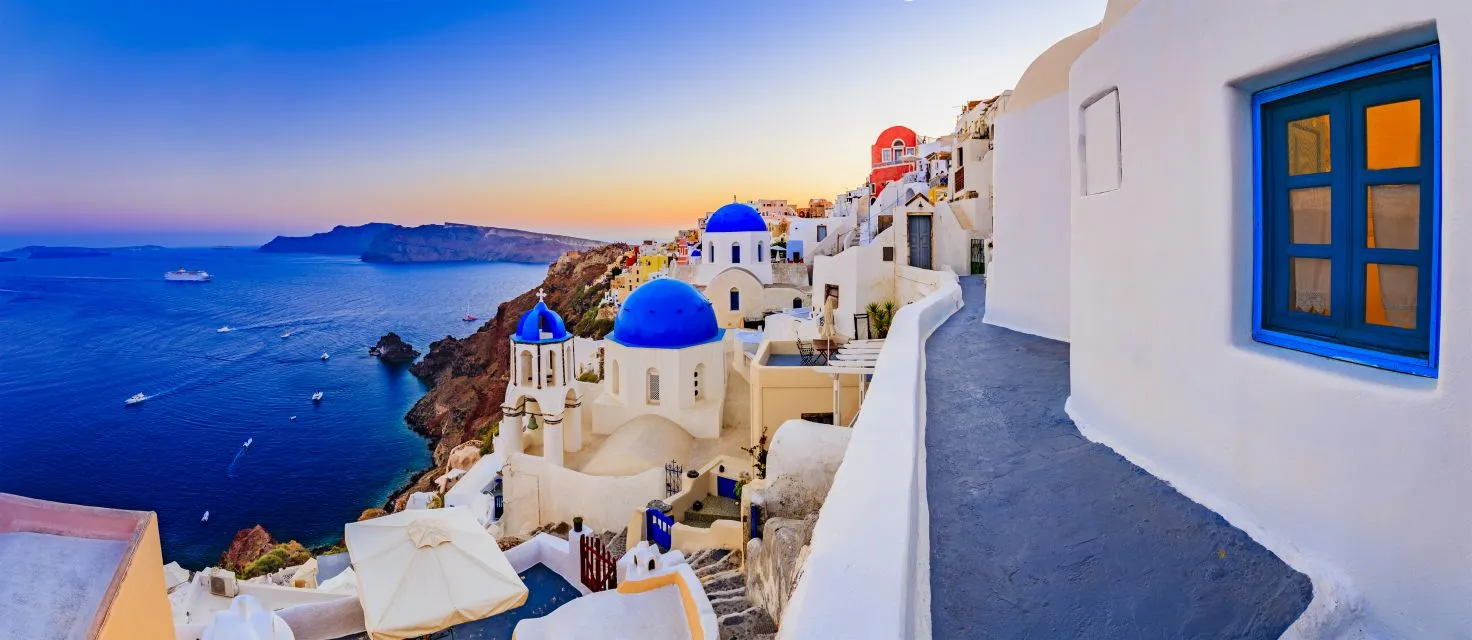 Best 8 yacht rentals for the Greek islands
Greece is a well-known and one of the favorite destinations for yacht charter lovers. With its endless variety of natural beauty, delicious food, and crystal-clear water, it attracts visitors from all around the world. Exploring Greece onboard a beautiful luxury yacht, you will get a chance to visit some of the wonderful islands, savor the authentic Greek food prepared by the chef onboard, and get to swim in the clean turquoise Mediterranean water.
Here is a list of the best 8 luxury yacht rentals available for charter around the Greek islands. Because of their limited availability, make sure you book yours fast before it's gone.
1. Daloli
Yacht Daloli was renovated in 2021 and offers accommodation for 10 guests in 5 state-of-the-art suites. A crew of 10 ensures that each guest gets his/her own crew member that will treat him/her like a celebrity. The interiors feature wooden floors, gold finishes, and spacious seating and dining areas. The guests can get a proper workout in the well-equipped gym onboard, and after, soak in the jacuzzi on the upper deck. The vast shaded outdoor dining area is ideal for enjoying your meals while cruising by the Greek islands. Daloli also features a wide array of water toys that you can take out and explore the magnificent blue Greek sea.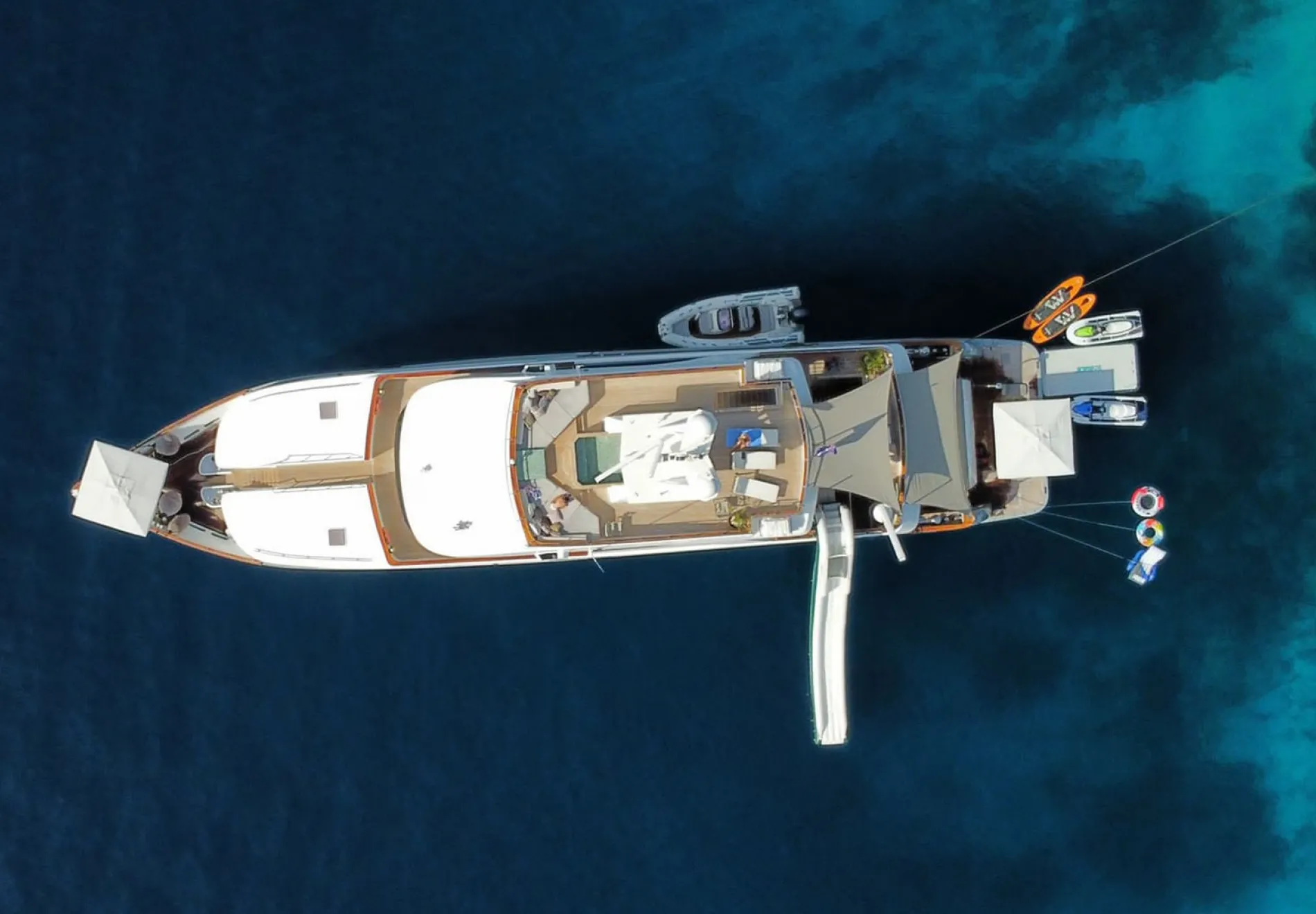 2. Ottawa IV
Ottawa IV is one of those luxury yachts that will make your Greek island hopping something special. Perfectly proportioned indoor and outdoor areas allow plenty of space for all kinds of activities. The Wi-Fi and air condition throughout the whole yacht and all 5 suites allow a pleasant stay, no matter the weather conditions. Grab a drink and head out to the jacuzzi, where you can relax and enjoy your favorite drink. Ottawa IV offers plenty of water toys, such as SEABOBs, wakeboards, kayaks, fishing equipment, paddleboards, and a water slide. There's also snorkeling equipment, ideal for exploring the Greek underwater world.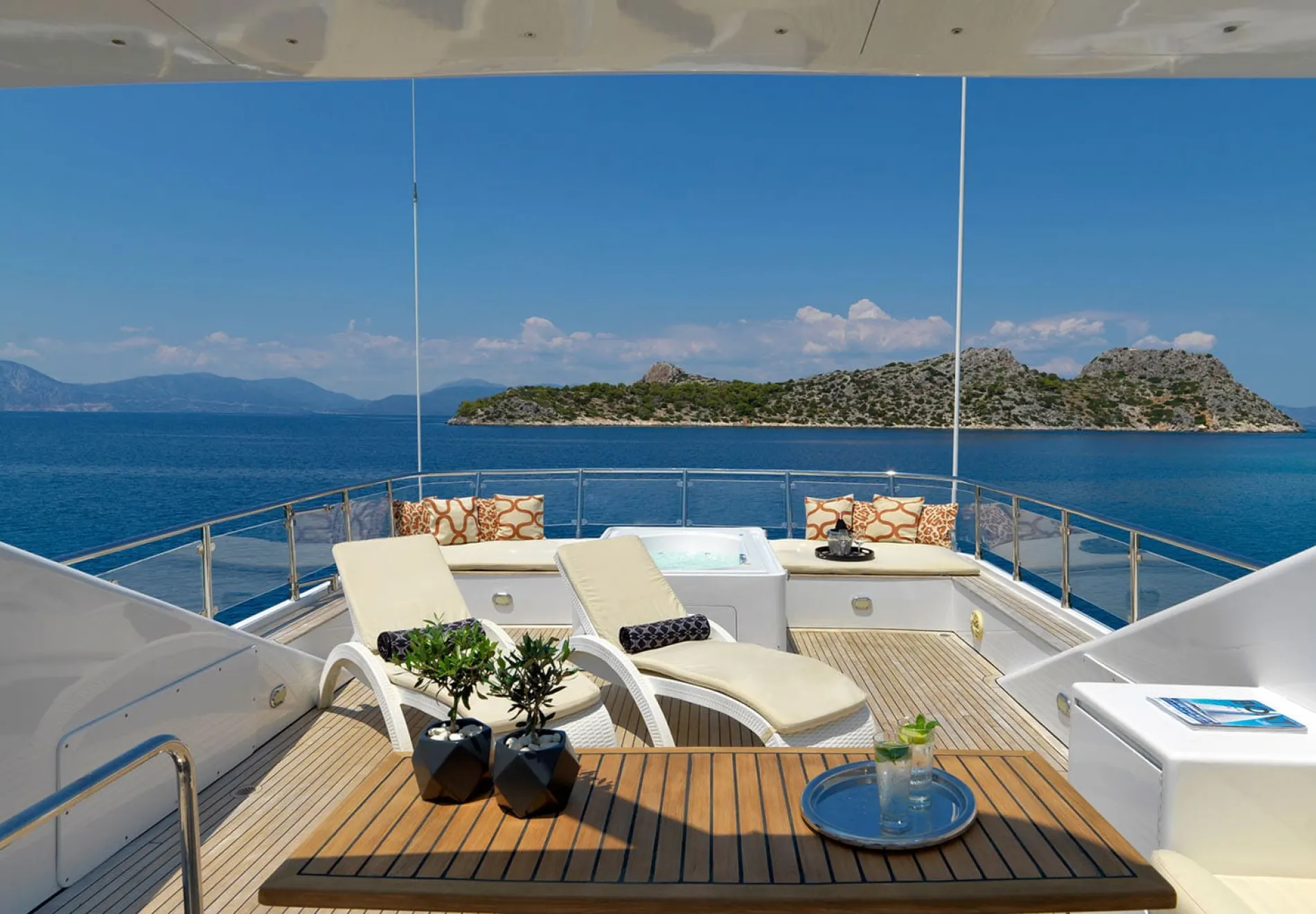 3. Idylle
The classic beauty Idylle got a complete refit in 2021 and being onboard her is a true state-of-the-art Greek yachting experience. You and your group of friends (up to 10) can enjoy her luxury amenities while exploring the Greek islands in full privacy. Her air-conditioned beautiful 5 suites with marble ensuite bathrooms and Wi-Fi connection throughout the yacht ensure a seamless and comfortable stay. The chef onboard will prepare you outstanding local meals, while a crew of 7 tends to your wishes at all times. Whether you want to cool down or warm up, take a dip in the jacuzzi on deck, and experience yachting like a VIP. Idylle is one of those yacht rentals that will make your Greek island hopping a unique and memorable life experience.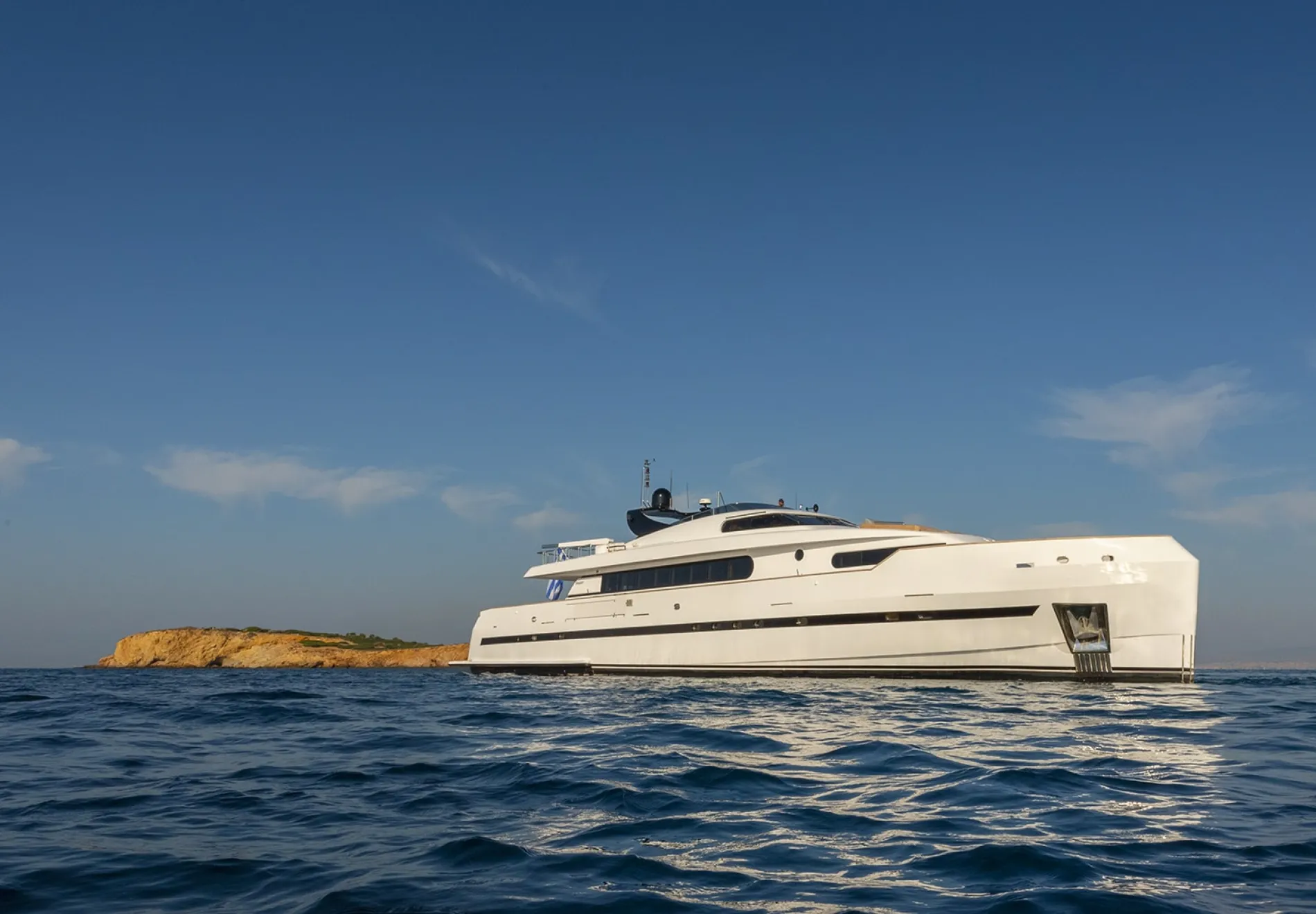 4. Project Steel
If you are looking to spend your next yachting vacation with your family, look no further. Thanks to her kid-friendly setup Project Steel ensures a safe yet luxury yacht charter in Greece. She features a sleek modern yet warm design throughout the whole vessel, giving you a feeling of a luxury hotel. You and your guests can take advantage of the well-equipped gym onboard, or if you prefer something more chill, soak in the bubbles of the jacuzzi on deck. The spacious decks offer enough space for lounging and chatting with your friends, while the kids play in the water with endless water toys available.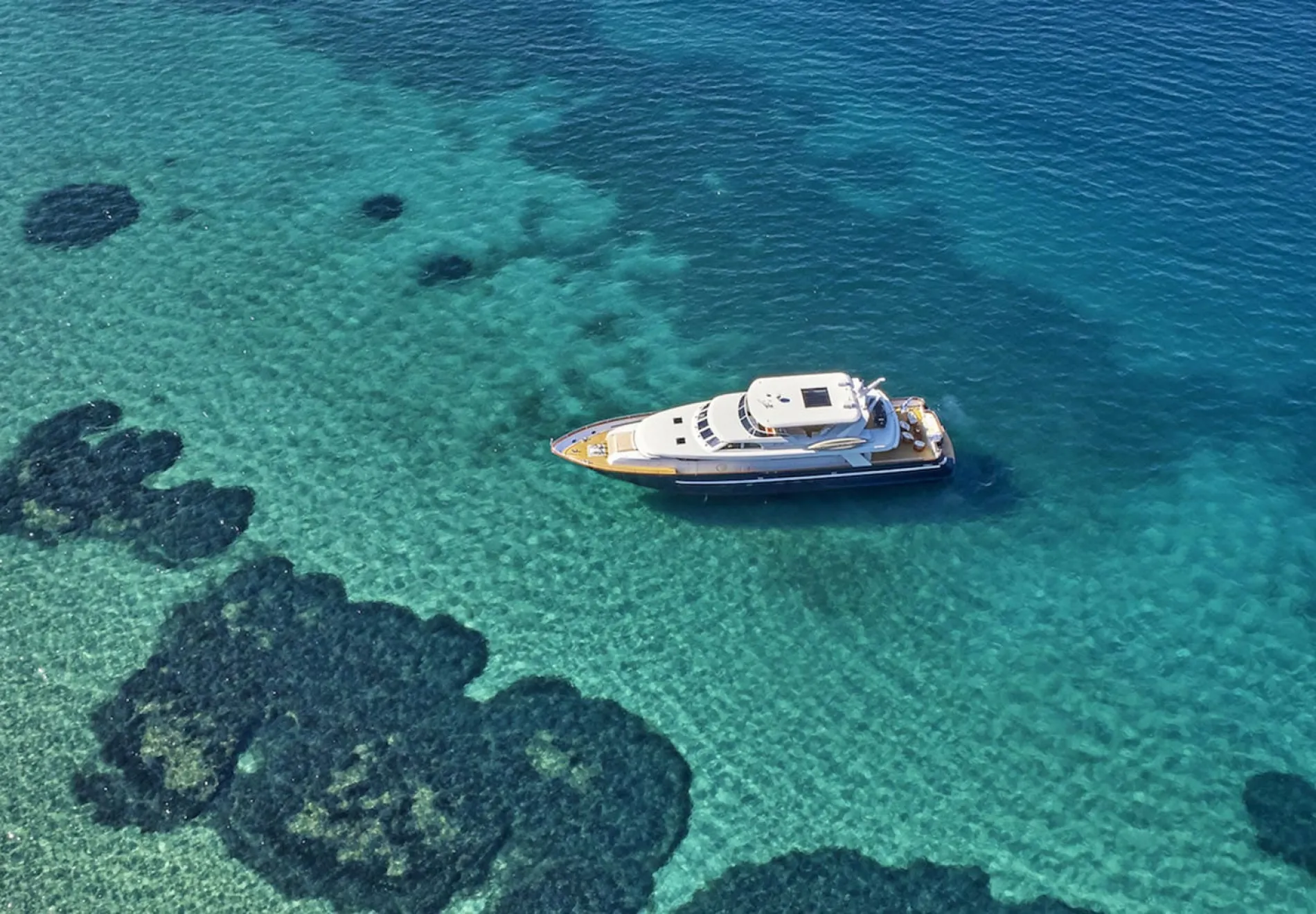 5. Mia Zoi
The luxury 31 meters (102 feet) yacht Mia Zoi can comfortably fit up to 10 guests in 4 spacious and immaculate suites with ensuite bathrooms. The interiors feature wood and bright pastel colors that give you a warm and cozy feeling. The partly shaded deck has a beautiful dining table and a comfortable sitting area where you and your guests can enjoy the delicious typical Mediterranean meals, prepared by the chef onboard. Mia Zoi is definitely one of the yacht rentals that will make your Greek island hopping a truly unforgettable yachting experience.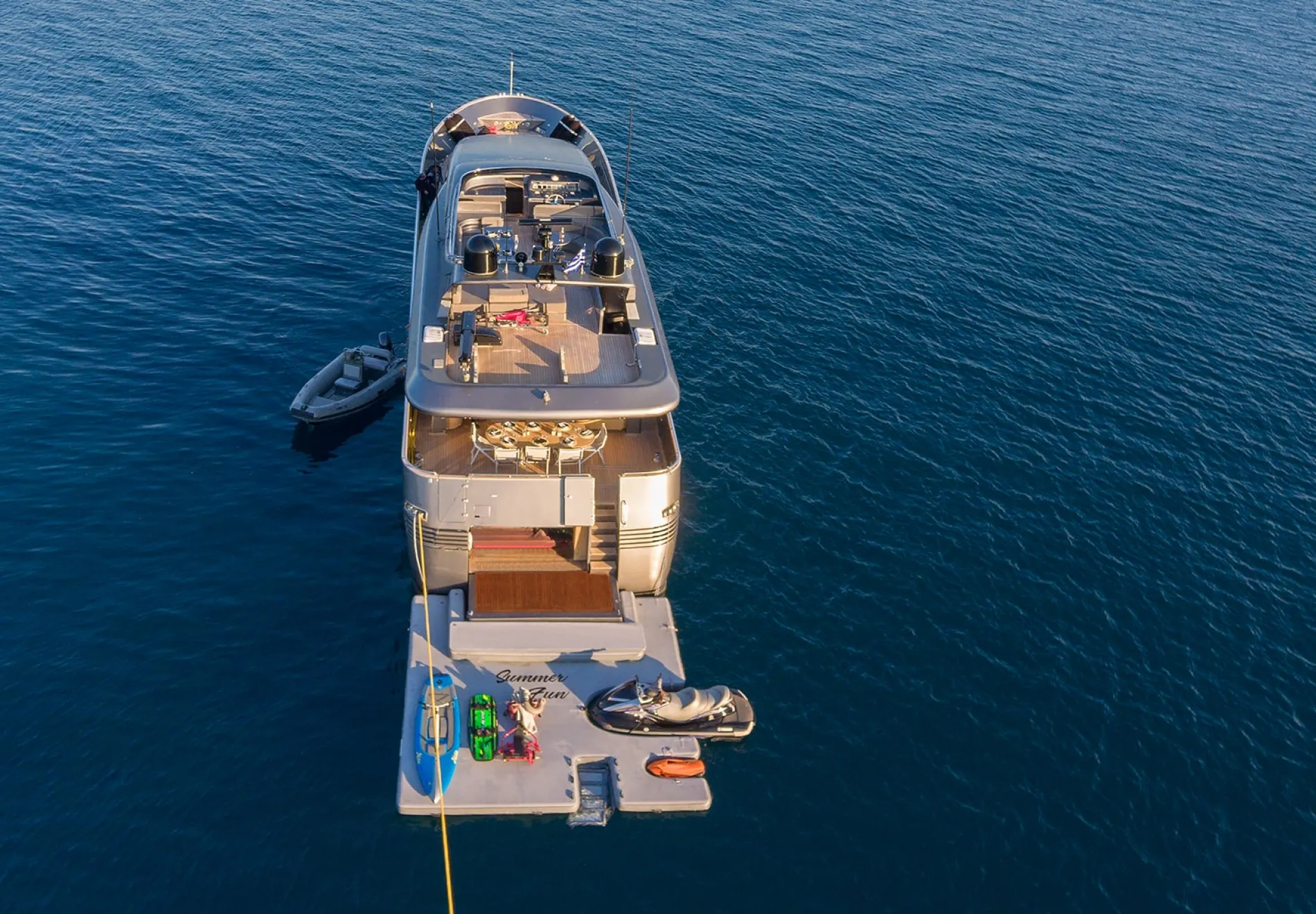 6. Summer Fun
Hence the name, yacht Summer Fun is here to make your summer really fun! Besides her pristine interiors and all the amenities of a luxury yacht, she offers a wide range of water toys that allow you to explore the Greek sea and have an adventurous summer. Her 6 suites feature a TV, a sitting area, and a large ensuite bathroom. The indoor salon with a large dining table and a comfortable sofa is the perfect area for indulging the delicious meals and your favorite cocktail or local wine. If you prefer enjoying your meals outside, there is also a dining table on the deck.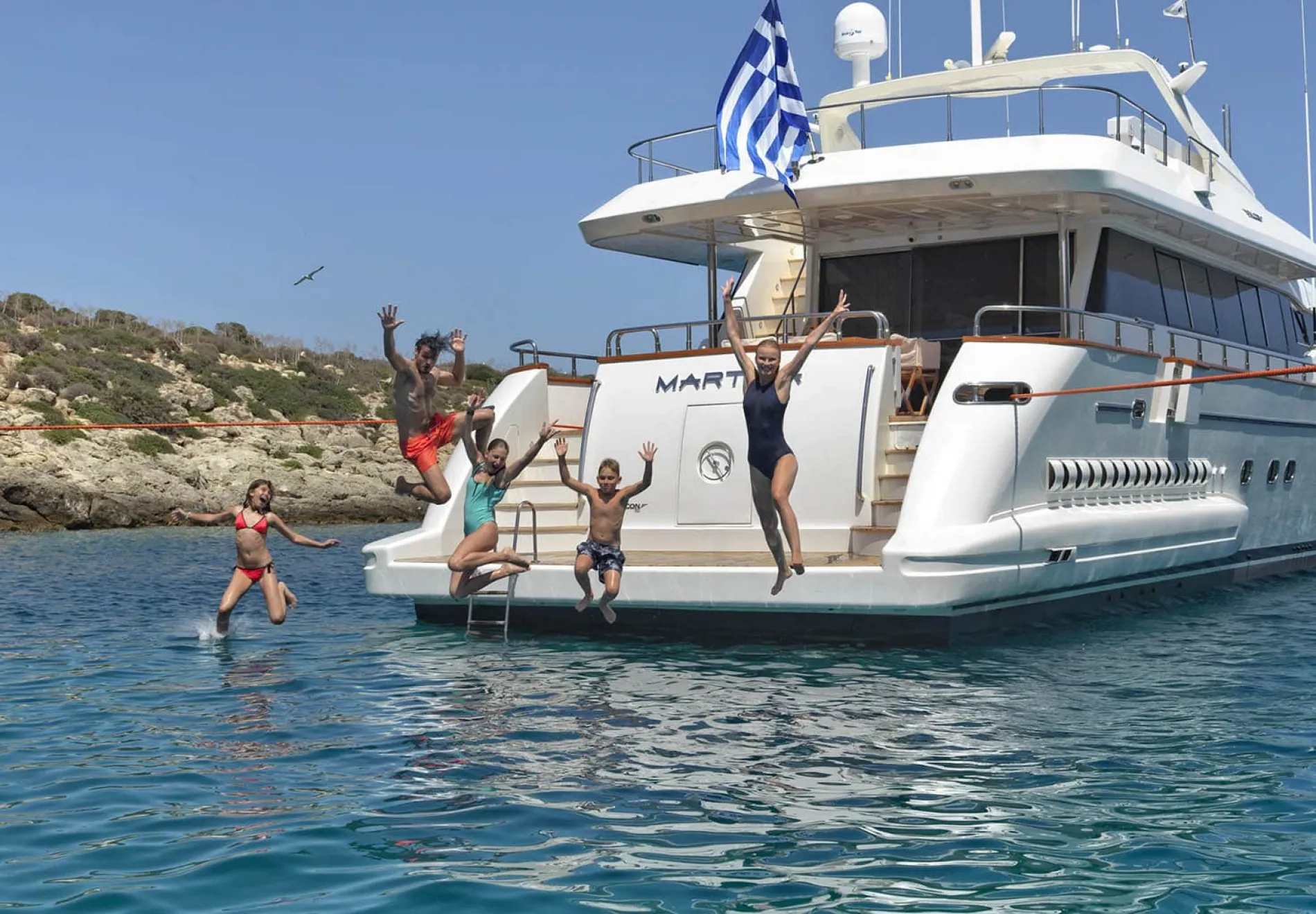 7. Martina
Yacht Martina is another great yacht rental ideal for families that want to discover Greece safely and in great comfort. She can accommodate up to 12 guests in 5 spacious suites, while the crew of 6 makes you feel at home at all times. With plenty of indoor and outdoor space, the guests can roam around without ever feeling cramped. The chef onboard will prepare mouthwatering meals using only the freshest ingredients and always keeping in mind your dietary preferences. So, book this sophisticated and unique luxury yacht quickly, and get ready for a memorable Greek vacation.
8. Divine
This truly Divine luxury yacht is definitely something special. Her cozy indoor salon features a fuzzy carpet and a comfortable large sofa from where you can watch TV or read your favorite book. There is also a beautiful wooden dining table where you and your friends can sit together and catch up on life. The master suite has its own study, where in case you have any work to do, you can do it in all privacy. Thanks to the ever-sunny Greek days, you can enjoy your breakfast at the outdoor table, or dine under the stars. Divine also features fun water toys like 3-seat SeaDoo GTX LTD Jet-Skis, a SeaBob, paddleboards, a kayak, a wakeboard, and fishing, and snorkeling equipment.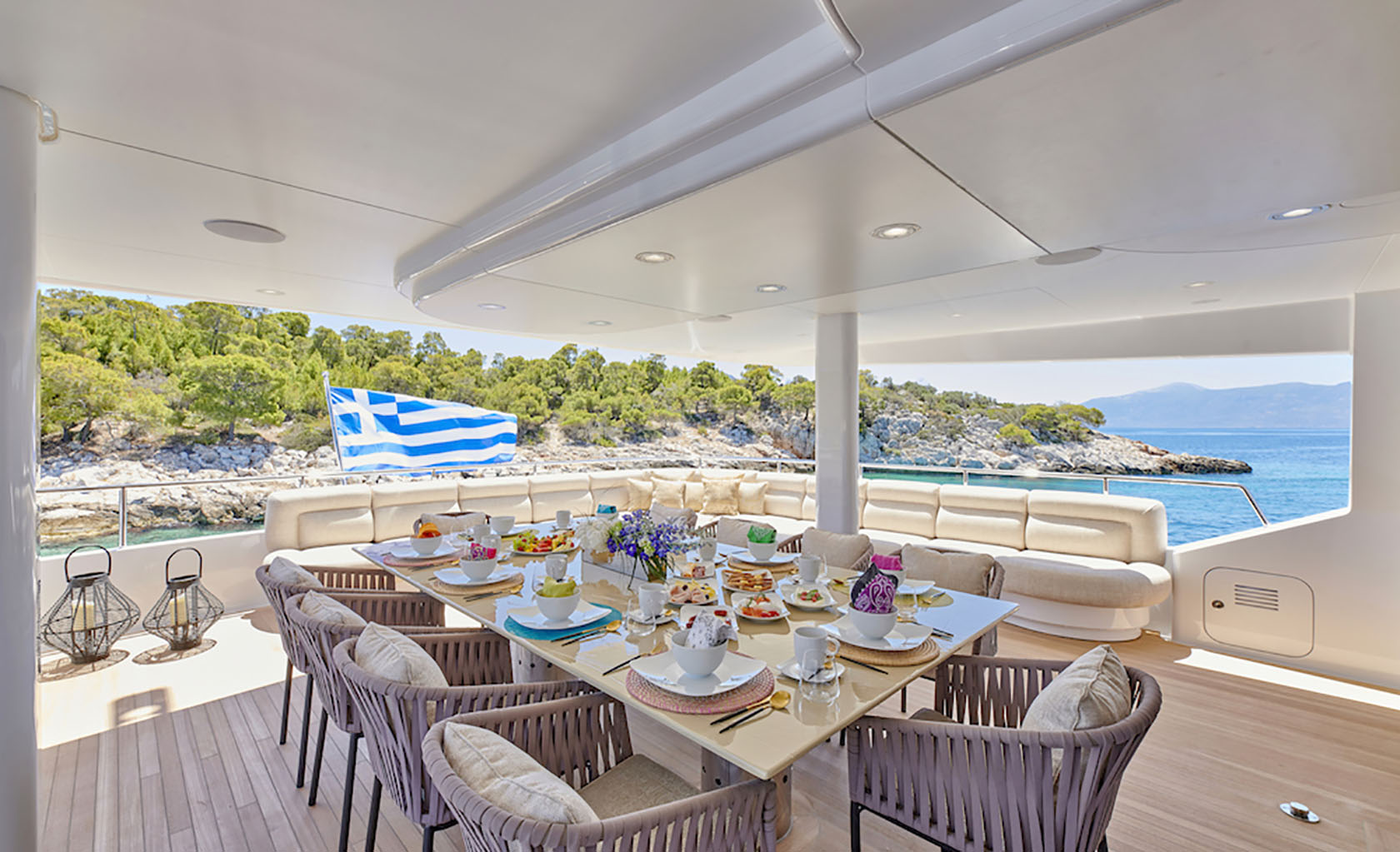 Daloli's outdoor dining area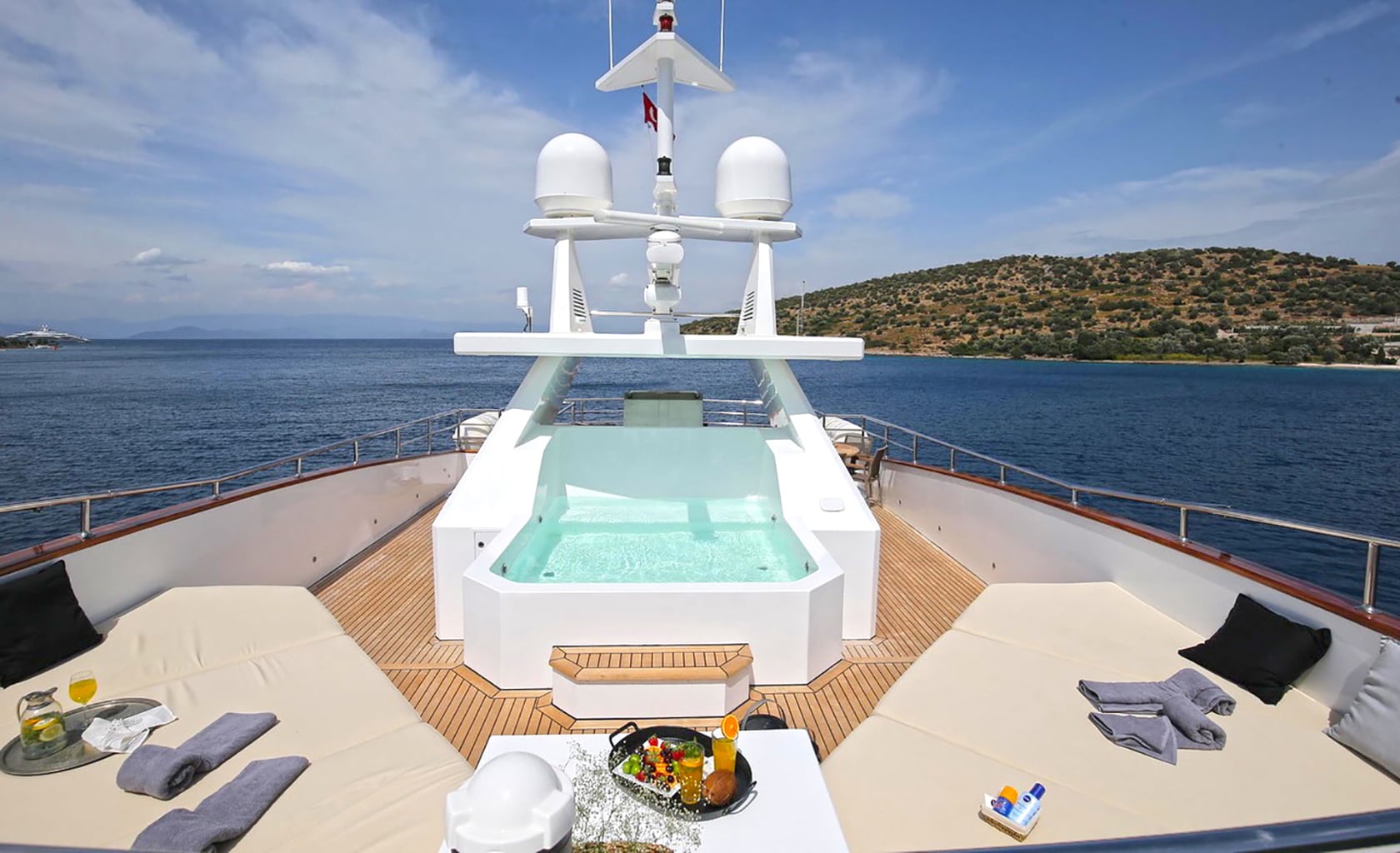 Jacuzzi on Ottawa IV's sundeck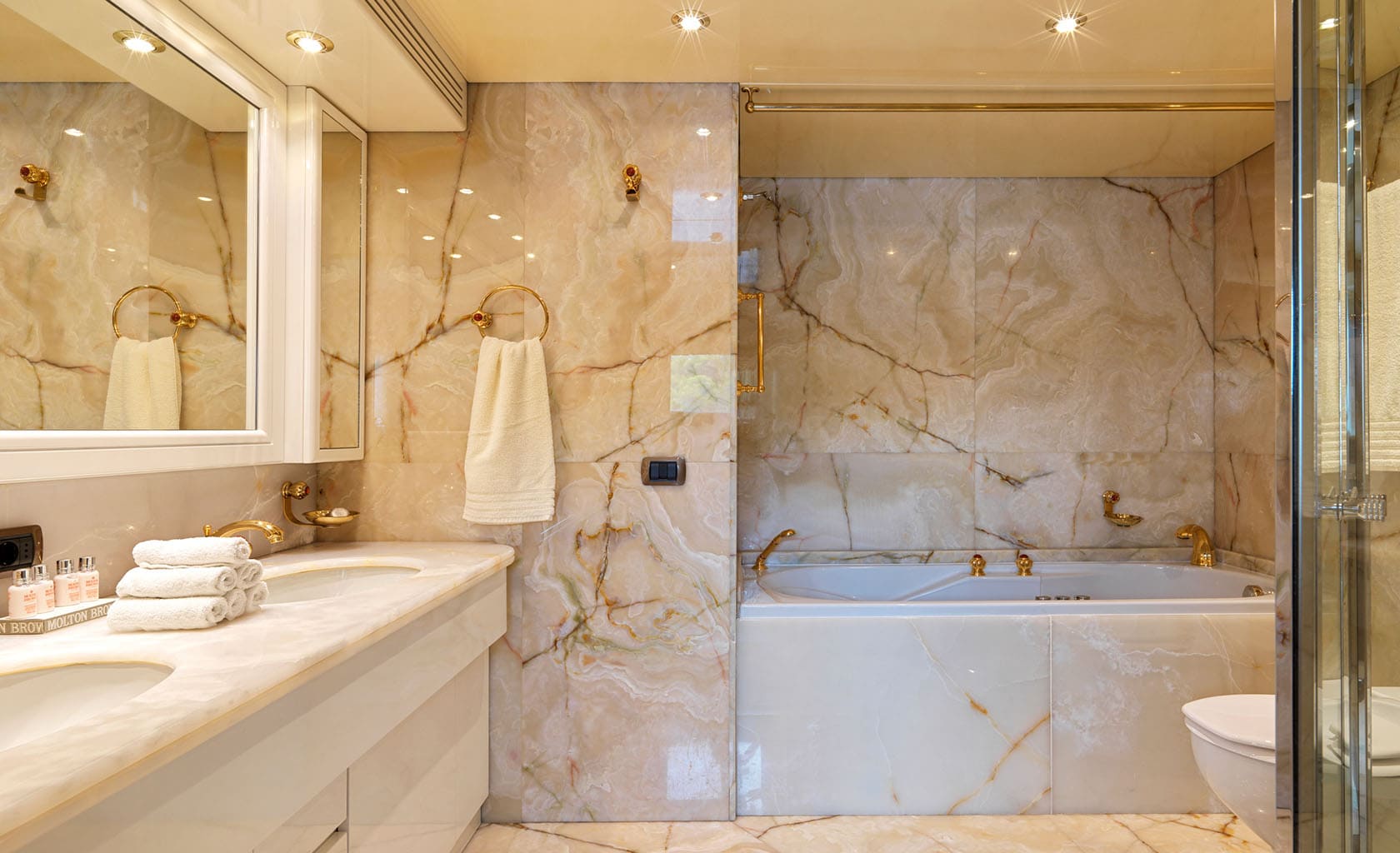 Beautiful marble master ensuite bathroom onboard Idylle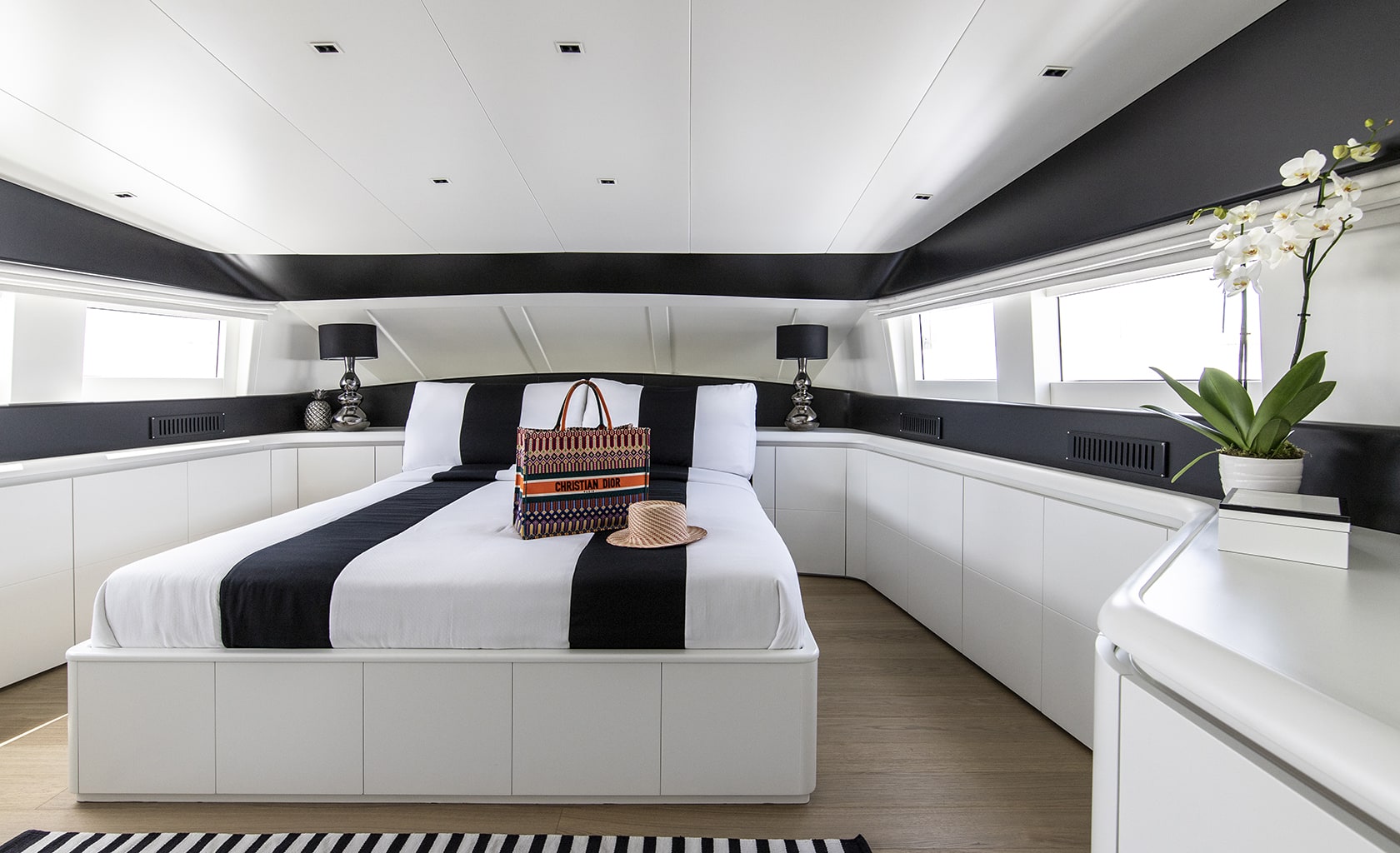 Project Steel's modern and elegant master suite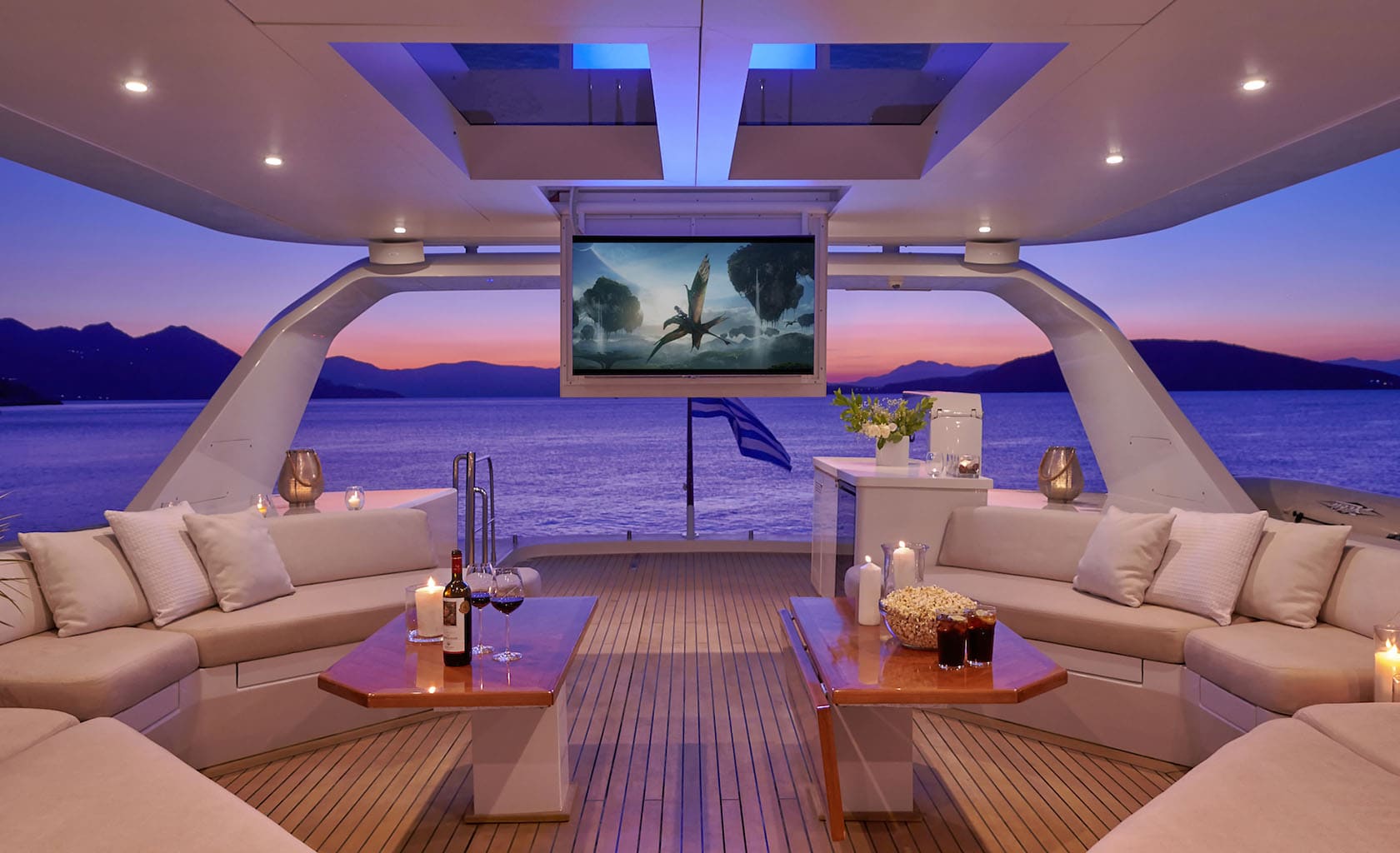 Enjoy a Greek sunset onboard Mia Zoi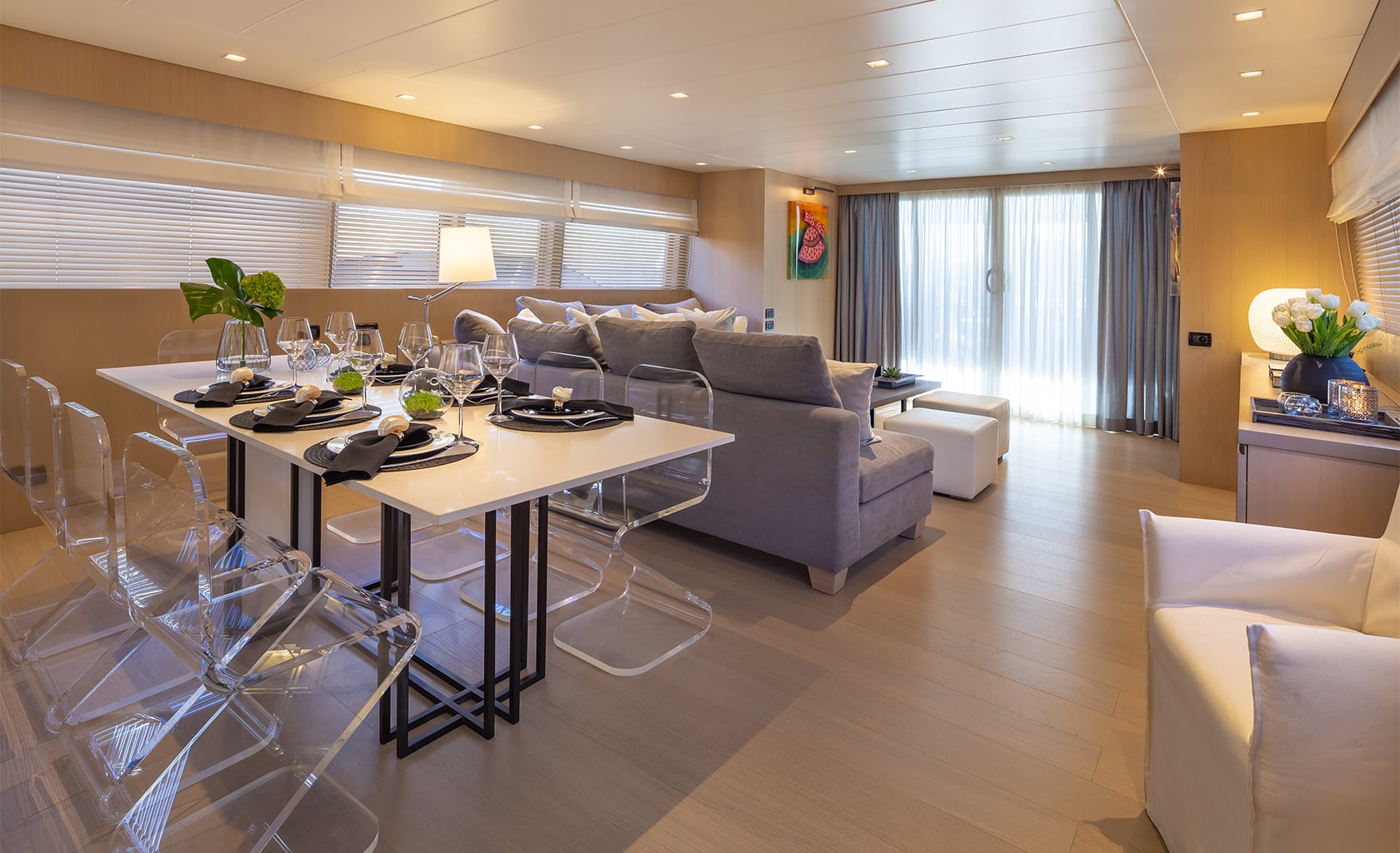 Summer Fun's elegant indoor dining and lounging area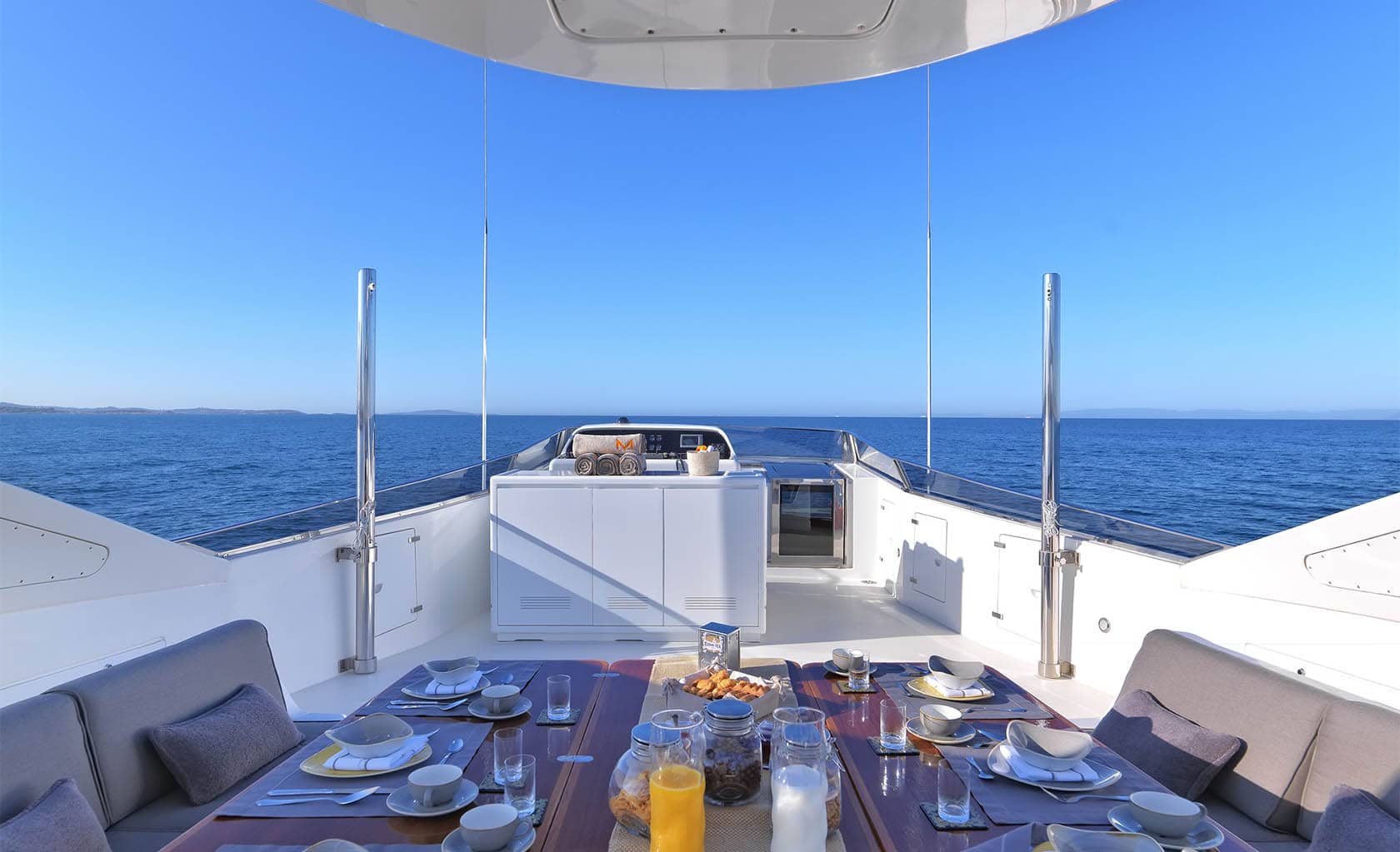 Perfect breakfast onboard yacht Martina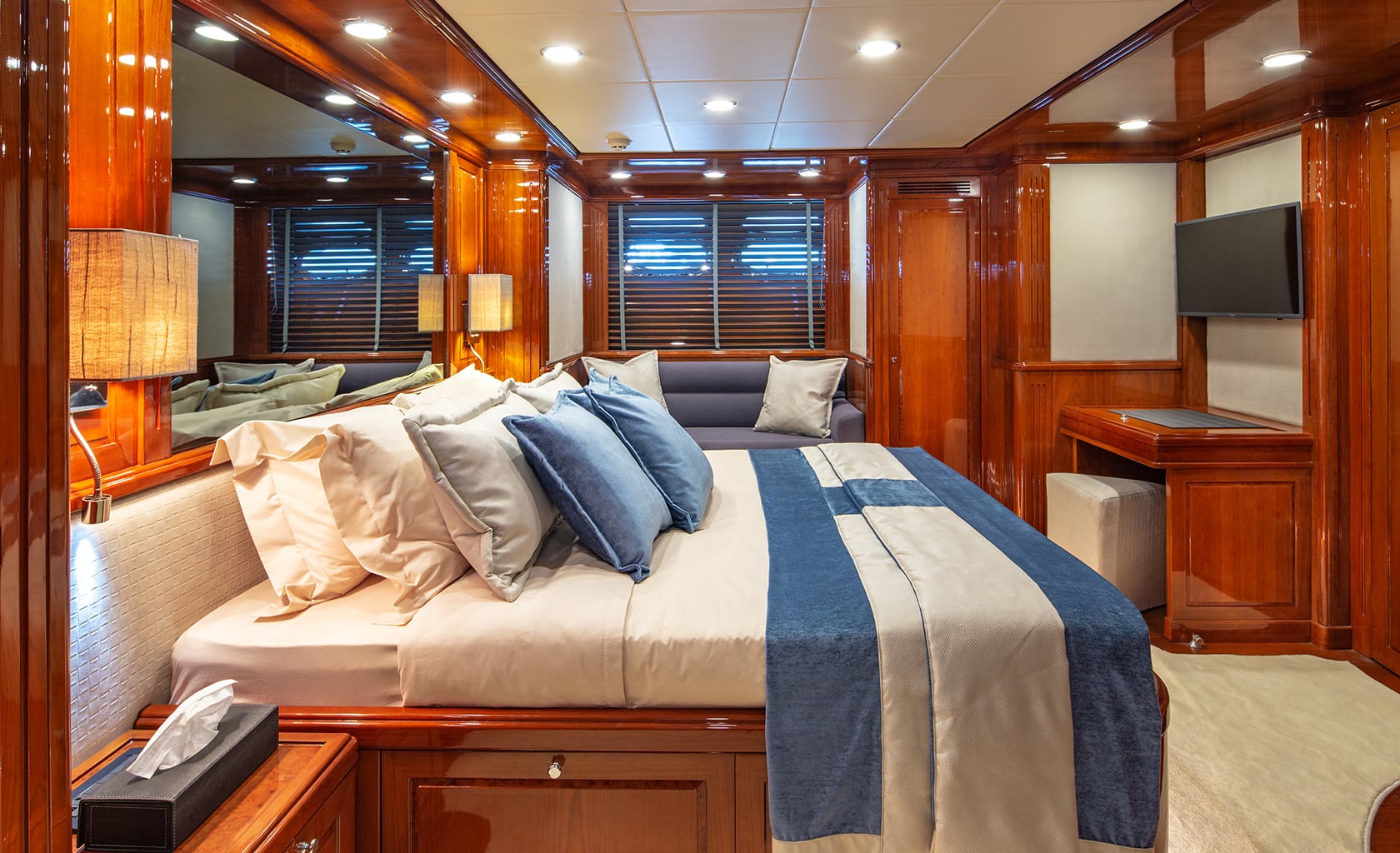 Warm and cozy Divine's double cabin
Choosing any of these luxury yacht rentals for your Greek island hopping will guarantee you a truly magnificent yachting experience that you will hardly forget. If you need help with picking one, just contact us and we will gladly help.